A DAC for Every Sound System
It's that time of year again, and we're taking a look at our top products for 2023. There's no sugarcoating what our top gear is - because it's all based on what you lovely folks are getting. These are not just the top 5 selling desktop DACs of 2023, but the most popular as well, and for good reason.
Your ears deserve better, and that's why standalone DACs ALWAYS perform better because they're designed to do one thing and one thing only: to make sure every bit of data gets efficiently converted to an analog signal so that you're getting the best sound quality.
So without delay, here are our Best Desktop DACs of 2023.
The Top 5 Desktop DACs of 2023 Video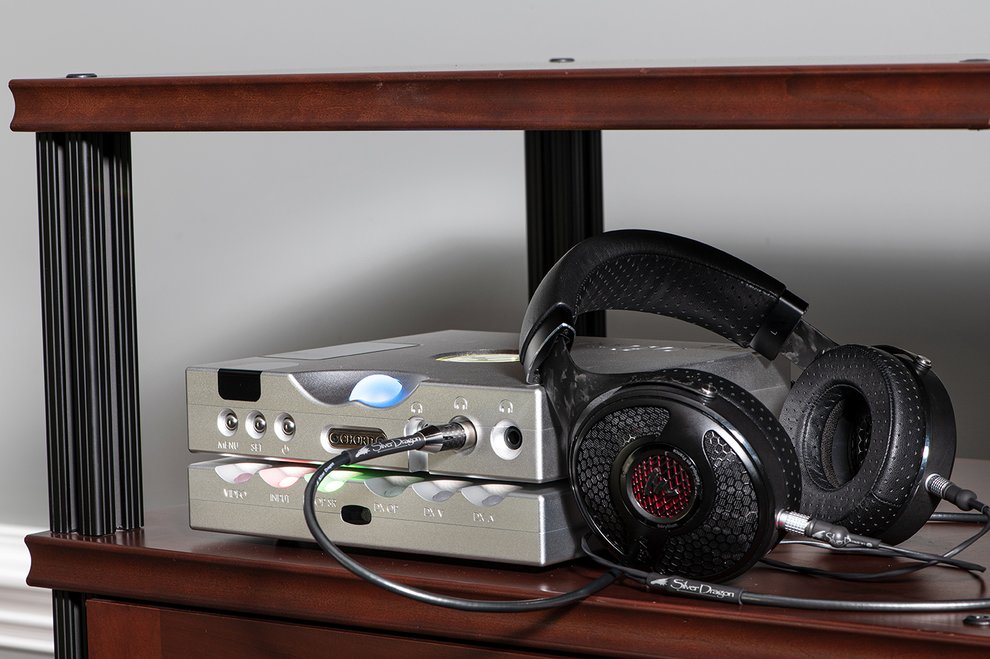 #10: iFi NEO Stream Music Streaming Music Player
The
NEO music streamer
from iFi is a great, compact headphone amplifier and DAC. We featured it previously in the
Best Audiophile Gaming Headsets and Gear of 2022
buying guide. The NEO is iFi's three-in-one DAC, headphone amplifier, and music streamer. You can connect it to any system in a variety of ways with its excellent I/O selection, featuring USB, optical, coax, XLR, and RCA. It's a great option for headphone users, and can adequately power most full-size headphones out there, including the HD 800S from Sennheiser. You can also connect wireless headphones via Bluetooth. You can audio input from an analog source, connect it to a computer using USB, and then output audio via a wireless connection or via a wired connection with the various output options. Note that there are two models of the NEO, both with varying I/O. The
Performance Edition of the NEO
features dual headphone jacks on the front and stereo XLR and RCA outputs on the rear. It also has coax, optical, and USB audio inputs. The NEO Stream (non-iDSD version) features an ethernet port, optical(sc), USB-C (for system upgrade), dual USB 3.0 (with the bottom port having built-in ANC for USB Audio), and a series of outputs with I2S, 4.4mm Balanced, L&R RCA, optical, coax, and AES/EBU.
You'll find the plethora of iFi Audio's sound enhancements, and it's a capable Hi-Res Audio player, being able to handle PCM data to 32-bit/768kHz, DSD up to DSD512, and single and double-speed DXD. It contains a Burr-Brown DAC which has a natural and balanced signature. It will present most genres like Classical, Jazz, Rock, Alternative, and more with extreme accuracy and faithfulness. It's an honest sound. Along with that, the NEO Stream's analog circuitry features a balanced design with a symmetrical twin-channel output stage. You usually find this in more expensive amps since balanced designs are more costly and complex, but this also results in reducing noise and crosstalk for superior sound and clarity.
3-in-1 DAC, Headphone Amplifier, and Music Streamer
Excellent Input/Output Selection
Cable Recommendation: Silver Dragon USB Cable
_________________________________________________________________________________________
#9: Bricasti M3 DAC
The M3H easily drives the most demanding headphones on the market. We have put it to the test with the Hifiman Susvara & HE6, Sennheiser HD800, and just about every planer dynamic headphone from Audeze and Meze. It has little problem with the control of demanding drivers. The Susvara is one of the hardest and the M3H provides adequate power for the bulk of the market. Bar the guys that like to make their eardrums bleed. The Voltage rails do a very good job of controlling the high-impedance swing of the Sennheiser HD800. We typically recommend tube amplifiers for this headphone because of the need for higher voltage. The amplifier is very quiet with sensitive IEMs we have here at Moon Audio. It's on the warm side yet very detailed and controlled.
The M3 features 2 digital audio conversion paths, 1 for PCM which utilizes a sigma-delta type as found in the M1, and one for DSD, a true one-bit modulator of our own design and unique to the industry. This DSD conversion is a true 1-bit analog converter followed by an analog post-noise filter. There is no chip or part for the DSD per-say; it's a very high-speed analog switch that will run up to 10Ghz with an analog filter, all the mutes, level changes, fade-outs, etc. are done by the analog level control. You can say it is an analog discreet design. The result is a pure DSD playback, unlike any other converter in the market. Both converters create a true differential analog waveform from the digital data stream, and as in the M1, the M3 also employs a discrete current-to-voltage conversion stage to create a true balanced signal. Clocking is implemented with a technique called DDS (direct digital synthesis) which takes clock-induced jitter to immeasurable levels. It's a premium-quality DAC with the option of integrating a headphone amplifier. Classical, EDM, Rock, Folk, and Singer-Songwriter genres sound exquisite. The Bricasti M3/M3H is one of our favorite DACs at Moon Audio.
Natural and Warm-leaning Sound
Lots of Power and Premium Design/Circuitry
_________________________________________________________________________________________
#8: TEAC Audio UD-701N Headphone Amplifier, USB DAC, and Network Player
https://www.moon-audio.com/ud-701n-headphone-amplifier-usb-dac-and-network-player.html
The TEAC UD-701N functions as a USB DAC at its foundation but combines a network player, an analog preamp, a headphone amplifier, and various other functions for this ultimate all-in-one. This TEAC flagship with a newly developed TEAC ΔΣ (Delta Sigma) discrete DAC has achieved a new level of sound fidelity. As a USB DAC and network player, 22.5MHz DSD and 384kHz/32-bit PCM are supported. Using the newly developed TEAC ΔΣ discrete DAC, all digital signals are converted to analog signals with high audio quality. Not only can this be used for all kinds of digital playback, from systems centered on a PC or Mac to audio server systems using NAS and streaming playback, but it can also fulfill a core role in systems as a preamp with analog and digital inputs. The UD-701N is an all-around unit that flexibly supports new listening styles in a new age. Along with allowing listening through speakers in combination with a power amplifier, it also supports balanced headphone output using a 4-pin XLR jack.
The TEAC UD-701N is an impressive black box. The design is sleek, and is a great option for a Roon Ready endpoint or for those who rely heavily on streaming services - and it will especially help you get the most out of your higher-resolution streaming audio. One of the biggest draws to the unit however is the fully balanced circuitry combined with the Delta Sigma discrete DAC. The sound is superb, and combined with a resolute headphone, makes for an outstanding standalone system. Of course, you can configure it as a single element in your system as well, either a designated streamer source, an analog preamp, a USB DAC, etc. It's an incredibly versatile device that excels at each individual component, not just the unit as a whole. If you're looking for a music player that does it all, then the TEAC UD-701N is a solid choice that we give a big thumbs up to. The internal design, discrete DAC, great sound, and even more impressive functionality with streaming integration, wireless and high-resolution Bluetooth codecs make the UD-701N a little black box that deserves a designated shelf in your system.
New Discrete DAC Sounds Awesome
Fully Balanced, All-In-One
_________________________________________________________________________________________
#7: iFi Zen Stream
Beneath its classy exterior, the ZEN Stream is a technological streamer-de-force. It has one purpose – to send music simply from the Internet to your DAC with no loss of quality. True hi-res performance of PCM384/DSD256 via WiFi/LAN. Just add your smart device as a remote and away you go. Optimized open-source architecture – works with multiple dedicated platforms, completely and perfectly future-proofed as it is constantly updated. Ease of use + audiophile implementation. Follow our simple set-up guides on YouTube. It is the bee's knees of Streamers. ZEN Stream is a true ground-up design by iFi — the hardware and software implementation is quite exceptional: two SuperSpeed USB3.0 ports with Active Noise Cancellation II, a S/PDIF out with the iPurifier built-in, and iFi software developed with Volumio open-source as the starting point, then coded and optimized to achieve the purest streaming software bar none. These are some of the factors behind why the ZEN Stream is at the cutting edge handling PCM384/DSD256 on LAN and WiFi (802.11n, with 100Mbps on 5Ghz).
The ZEN Stream has one of the most fully-optimized software platforms in the world. From the device's drivers to the kernel (the heart of the operating system), to the shell (which interfaces with the kernel), to the applications and the user interface — everything is fully optimized for seamless operation and excellent sonic performance. An ingenious part of the ZEN Stream's design is the ability to select between 'Exclusive' modes – individual settings dedicated to specific modes of operation to deliver the purest possible performance. All other programs are shut down – to minimize 'software jitter' — an often overlooked aspect that negatively impacts the quality of computer audio playback. This ensures that the ZEN Stream is not merely a 'jack of all trades', but a master of all too.
Neutral Sound, Capable Streamer
Tons of Features, Great Entry-Level Price
Cable Recommendation: Silver Dragon USB Cable
_________________________________________________________________________________________
#6: Auris Audio Euterpe DAC & Headphone Amp
According to Greek Mythology,
Euterpe
was one of the nine Muses, the Goddess of music and a ''giver of delight'' and that's exactly what Auris Audio Euterpe brings to the audiophile community, more happiness. The sound it provides is soothing but quite capable of providing a big sound from such a small package. It's a great sound from an ergonomic and unique design for desktop listening with headphones.
Upon first glance, it's difficult to tell exactly what the Euterpe is. Auris Audio has always done an amazing job tastefully designing its components with precision craftsmanship. The marriage of natural materials with technology has always been an important part of the company. "Back to Nature" as their motto really encapsulates their philosophy: "rooted in Superior design, natural materials, and skills of making, which give us the right to claim that our products are handcrafted with soul." Products like this have to be handcrafted. The Auris certainly is and it shows.
Auris Audio headphone amplifiers have the original mechanical and electric conception which results in the high-end sound quality. Deep soundstage, great tonality, and top-level dynamics are the main features of Auris headphone amplifiers.
The Euterpe has a single-ended design, with a USB and RCA inputs. These inputs allow you to use a number of digital source devices, like your computer or a mobile device, making for a versatile amplifier. The Euterpe also has an xMos/ESS Sabre DAC, low and high impedance settings, and a number of other features.
Auris has put a lot of effort into developing a beautiful headphone amp that is truly unique in the industry. Make sure this amplifier has a prominent place in your system - don't hide it away - especially since the design also allows for a built-in stand for your favorite pair of headphones.
Beautifully Crafted, Great SABRE Sound
Original Design, Tubes, Built-In Headphone Stand
Cable Recommendation: Silver Dragon USB Cable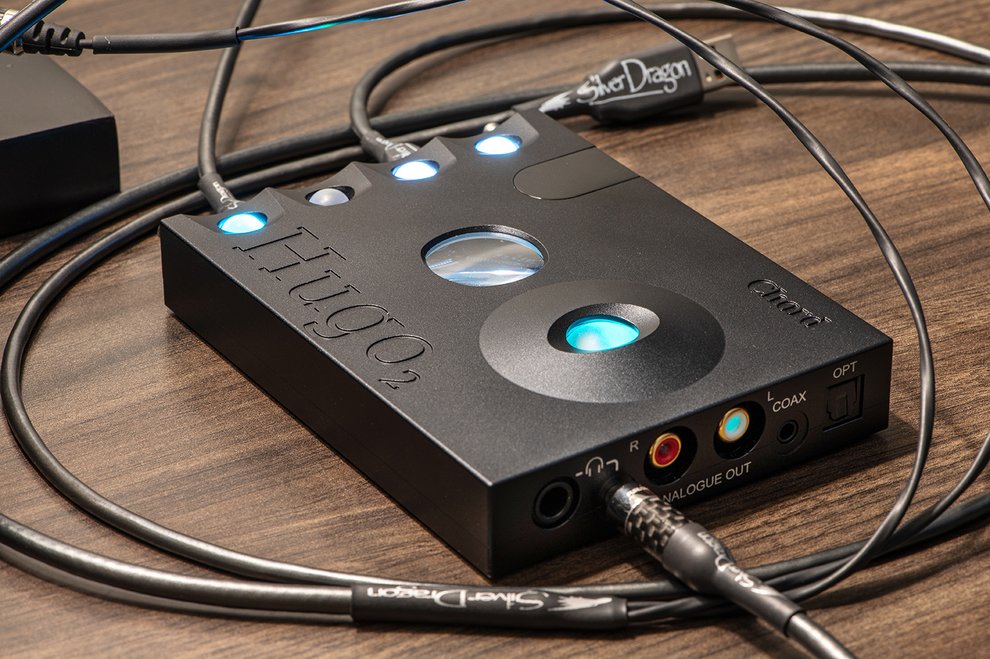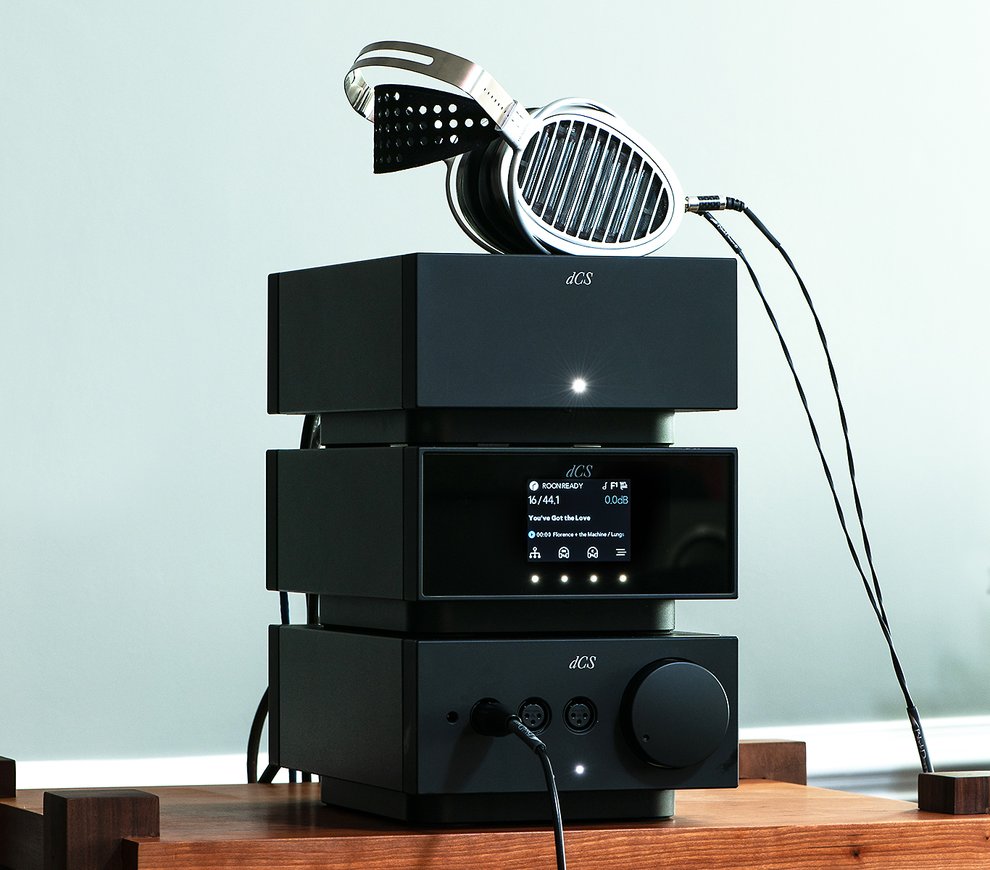 #5: Matrix Audio X-SABRE 3 DAC
Do you remember the first time you saw a movie on the big screen? What about a huge IMAX screen? It's like you didn't know there was that much to see - the size of the picture, the level of detail, the vibrancy of the colors. In a similar fashion, the Matrix Audio X-SABRE 3 DAC makes some substantial improvements that bring new amounts of detail and features - so much that it's like rediscovering your music all over again.
The X-SABRE 3 Pro DAC from Matrix Audio is one of the most popular desktop DACs on the market. The latest version of the X-SABRE DAC includes MQA decoding, ES9038PRO DAC, Crystek CCHD-950 clock, and Matrix Audio has packed it full of more flagship-level features.
It's an excellent DAC with an impressive soundstage and imaging. The signature of the X-Sabre 3 is wonderfully neutral, so it will feel at home in any system. Of course, when you're looking at DAC chips on their own, you would expect the SABRE chip to be crisp, clear, and detailed - and it is. But instead of leaning more to the analytical side of the spectrum, the X-SABRE 3 is balanced, with great low-end representation, clear and transparent mids, and great detail and sparkle at the top. Because of this, the DAC streamer will perform well with every genre out there -
classical, jazz, folk, alternative, and classic rock being standouts.
For streaming functions, the X-SABRE 3 not only supports AirPlay/Roon Ready/ TIDAL Connect/Spotify Connect, but after the latest firmware update it can use the MA Remote App. Browse and play TIDAL/Qobuz/HiResAudio/ Internet Radio are supported, and all MA Remote functions are available, except USB storage play.
The X-SABRE 3 DAC is an upgrade in every sense of the word from the previous generation DAC. Matrix Audio has put a tremendous amount of effort into improving one of the best DACs on the market and making it even better, more resolute, and packed with the latest features bringing it up to date, and putting it ahead of the competition. The addition of Tidal and Spotify Connect, combined with Roon Ready certification make the X-SABRE 3 the perfect hi-res streaming host to add to your system. The DAC is one of the best sounding on the market - hands down - and will provide a level of detail and clarity few DACs can match.
Great SABRE ES Sound, Clarity & Details
Streaming Functionality, Design is Sleek
_________________________________________________________________________________________
#4: Chord Electronics Qutest DAC
Chord Electronics' products never disappoint. Their only standalone DAC that's our top-selling DAC every year, the
Chord Qutest
, is a giant killer. Essentially the DAC section of the Hugo 2 was placed in an aluminum brick, literally an aluminum brick, Chord removed Bluetooth input, the headphone amp circuit, and the battery. Removing those features was similar to the original Hugo.
The Chord Qutest is a standalone DAC meant to replace the multi-award winning predecessor, the 2Qute. The Qutest is a pure digital-to-analog converter and does not come with a preamp or headphone amplifier like other products in the Chord lineup. It is based on the proprietary FPGS technology developed for the Hugo 2, but in a different chassis design, larger and providing more protection for the components inside. Like most Chord DACs, the Qutest leans to the analytical side of the spectrum but sounds great in just about any system. Because it leans to a more detailed presentation, genres like classical, jazz, classic rock, and more sound phenomenal.
The Qutest offers Hugo 2's proprietary user-selectable frequency-shaping filters and input selection controls. It also features RCA analog outputs for connection to integrated amplifiers, preamps, and headphone amps, plus high-resolution dual-data digital inputs for connection to future Chord Electronics products. Another feature is a user-selectable output voltage available in 1, 2, and 3V RMS outputs for flexible connectivity with a wide range of partnering devices.
The Qutest improves on the 2Qute in every way possible. Paired with the Chord Anni amplifier and the Chord Huey phono stage for turntable integration, and you have a full hi-fi system that fits neatly on your desk or shelf without taking up hardly any room. It's hard to beat the Chord sound and the quality of their products, and we're big fans of the form factor, especially for those where real estate is a factor. You're not missing out on quality sound here despite the Qutest's size, and it's another home run for Chord and their DACs. It's no wonder the Qutest is one of our best-selling DACs to date.
Superb Sound Based On Hugo 2 Architecture
Adding M-Scaler Makes for End-Game Sound
_________________________________________________________________________________________
#3: Chord Electronics Hugo TT 2 DAC & Headphone Amp
The
Hugo TT 2
is one of Chord's most popular tabletop DACs. As expected, it delivers radically improved technical specifications and measurements across the board and exhibits drastic sonic benefits over its predecessor with five times the processing power of the original Hugo TT, and double that of the award-winning Hugo 2. This powerhouse DAC supports most headphones, including harder-to-drive ones like the Sennheiser HD800S, and most planar magnetic headphones, such as the Audeze LCD-3,4, and 5.
Like other Chord products, the TT 2 is a detail freak - making it a great choice to add to the signal chain of just about any hi-fi system - no matter the sound signature. The Hugo TT 2 also upgrades from a 4-element design to a 10-element design, which works in harmony with the radically upgraded FPGA and code to deliver unrivaled audio. We also love pairing the DAC with the popular
M Scaler
- Chord's upsampler that - when paired with the TT 2 - gives even the DAVE a run for its money. The Hugo TT 2 is a bit warmer than the original Hugo and the DAVE. It's also more exciting and vibrant, and a lot of this can be adjusted in the flexibility of DAC itself and what you can do with it.
Bluetooth, digital filters, crossfeed, and a great selection of inputs and outputs, the TT 2 is a versatile DAC. Complete with a powerful headphone amplifier, you'll also find a 3.5mm and dual quarter-inch headphone jacks on the front. With a more forward-leaning sound signature, the Hugo TT 2 DAC will be sure to bring out all the details in your music. It's great for every genre of music across the board - and we like what it does for classical, R&B, jazz, acoustic music, and more, in particular.
Clean, Balanced Sound with Superb Detail
Great Selection of Inputs/Outputs
_________________________________________________________________________________________
#2: dCS LINA Network DAC
The
LINA DAC
is a giant in a small box. It features dCS' patented Ring DAC system, digital processing platform, and Expanse technology. It's fully balanced, compatible with all digital audio formats, and Roon Ready. dCS' proprietary Ring DAC technology is at the center of the LINA. Instead of using off-the-shelf DAC chips, dCS builds its Ring DACs from the ground up. One of the key advantages of the Ring DAC is its upgradeability via firmware updates. The Ring DAC uses a network of FPGAs (field programmable gate arrays) that are running proprietary dCS software that controls the digital-to-analog conversion process as well as digital filtering.
The LINA DAC is a network streaming DAC, meaning that it has integrated streaming capability - built right in. There is a lot of proprietary tech in the LINA that you won't find anywhere else. Expanse is a crossfeed processing algorithm developed by dCS. It applies different processing filters to give two different responses: E1 and E2. With Expanse, listeners get a unique headphone listening experience that stays true to the original recording. Crossfeed is the process of blending the left and right channels of a stereo audio recording, to help make audio sound more natural when played through headphones. The crossfeed setting that is most suitable for you and the music you are listening to may vary, so it is recommended that you test the different settings. It's next-level headphone listening. You can also combine the LINA DAC with the rest of the LINA system - including the LINA Master Clock and the LINA Headphone Amplifier. Using all three together is about as end-game sound as you can get and it's one of our most jaw-dropping setups here at Moon Audio. It's a true reference system for the most discriminating listener, and the LINA DAC shows off what the future of high fidelity can sound like. It plays every genre on the planet with extreme accuracy as a faithful reproduction of the original recording, and it's tough to find any faults with this DAC.
Natural, Transparent Sound
Intuitive Control App with Option to Use Roon/UPnP Software
_________________________________________________________________________________________
#1: Chord Electronics Hugo 2 DAC Headphone Amp
Our best-selling desktop DAC of the year was the
Hugo 2
by Chord Electronics. It tops our list year after year.
Wait, didn't this make the portable list too? Yep. That's the nice thing about the Hugo 2, and something that speaks to its immense popularity. And that's its versatility. It's small enough with the integrated battery to be portable, but at the same time, it's powerful enough to feel right at home in a desktop or tabletop system.
The nice thing about the Hugo 2 is that it also doubles as a headphone amplifier, which goes a long way to what the DAC amp can do for your sound quality. Chord uses their own proprietary FPGA which provides pristine and detailed sound. With an average 7-hour battery life, take it with you too whenever you leave.
Feel free to pair it with the Chord 2GO to essentially make it a fully-capable music server and streamer. The 2GO wirelessly connects to your phone or tablet where you can access and control your entire music library from the GoFigure application. You can also add the Chord M Scaler for a powerful upsampling system that sounds absolutely stunning. Chord products play well also with other devices outside of their ecosystem.
Chord products tend to lean more toward an analytical sound signature - bringing out extensive detail and tight bass response. It performs well with genres like classical, jazz, alternative, folk, and more. With an excellent selection of I/O, crossfeed functionality, filters, and more, the Hugo 2 is flagship-level portable fidelity.
Awesome Chord Detail and Clarity
2GO Pairing Adds More Features & Streaming Functionality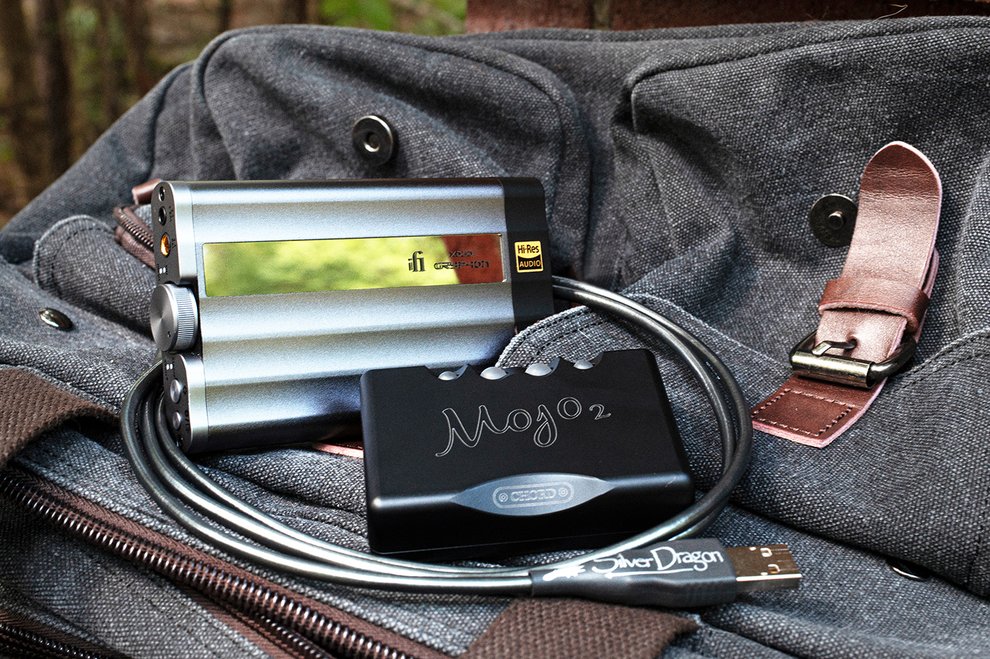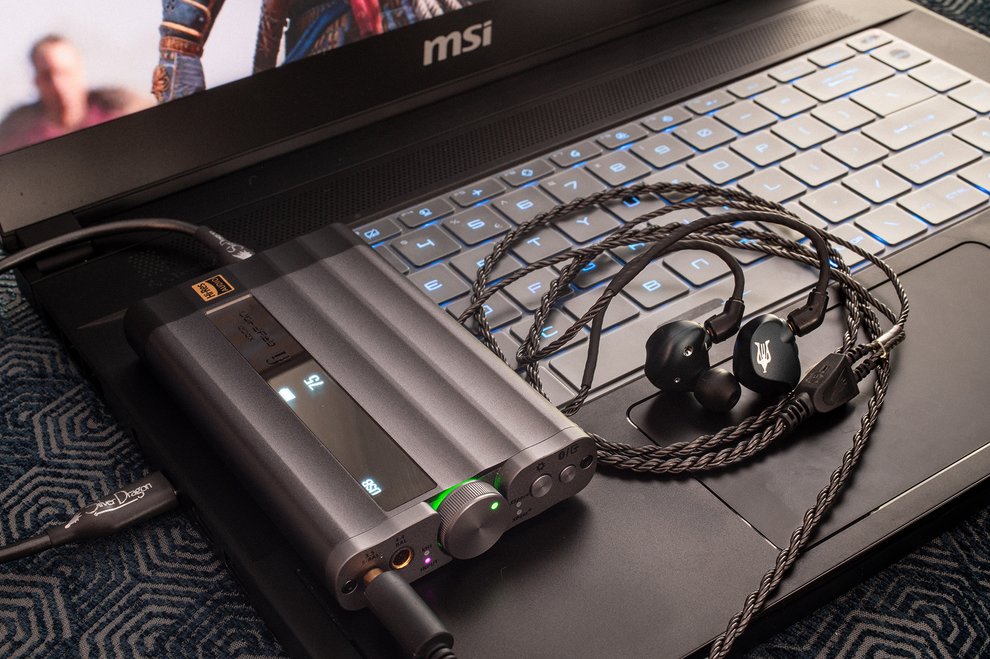 Honorable Mention #1: iFi Gryphon Headphone Amp DAC
We want to highlight another DAC on this list that does double duty as a very capable desktop DAC solution for your audio system. If you haven't seen it already be sure to check out our
face-off A/B test that we did between the Gryphon and the Mojo 2
. The
Gryphon
might be one of the most feature-packed DAC amps on the market, and one of the biggest advantages that it has over its main competitor is that the Gryphon has all of the features that people wanted in the
Mojo 2
- but never got. Namely, Bluetooth connectivity, an OLCD screen, and a 4.4mm balanced connection option. So if those things are important to you, then it's an easy choice. The Gryphon has an amazing selection of inputs and outputs for both single-ended and balanced connections, as well as settings for high-sensitivity IEMs. It comes with the standard plethora of iFi goodies and sound enhancements, including the X-Bass and X-Space settings - and they actually do A LOT to enhance the audio quality if that's what you're looking for. Because of these sound options, the Gryphon has amazing bass response and will be a great fit for those who like a more musical presentation, or more bass response. It's superb for RAP, R&B, EDM, live music, and tons more.
Since the Mojo 2 is close in price at $650, it's a tough choice. For me the decision comes down to the type of music you listen to - and which device is going to best serve that. Also, the type of features you want. Look - both the Gryphon and Mojo 2 are some of the best audiophile devices on the market as far as we're concerned, and you can't go wrong with either. The Gryphon is a stellar DAC and headphone amplifier that uses premium components - an excellent burr brown DAC, tons of power, USB audio, hi-res Bluetooth codecs, and a dynamic and fun sound, it's hard to say anything bad about the Gryphon at all.
Insane Amount of Features & Controls
Bluetooth, OLED Screen, I/O
_________________________________________________________________________________________
Honorable Mention #2: Chord Electronics Mojo 2 DAC Headphone Amplifier
Close on the heels of the
Hugo 2
was its little brother - the
Mojo 2
. Like the Hugo, the Mojo is another DAC and amp combo, providing a smaller form factor, fewer taps, and less power, but superior portability and excellent Chord sound. It's probably equally popular due to the lower price point and still retains a lot of features that make the Hugo 2 great at the same time. You could even use it in a desktop setup if you wanted. The Mojo 2 is a completely refined and even more feature-rich product than the original Mojo. Mojo stands for "Mobile Joy" and is a true-reference quality mobile DAC and high-level headphone amplifier that fits in the palm of your hand. It's one of our favorite products here at Moon Audio due to its size, amazing functionality, and sound of the DAC. It's also our top-selling portable DAC ever. New to the Mojo 2 is an added button, providing more options and control in their expanded menu system. You can now effectively control individual frequency bands to cut or boost, choose multiple filters, run it in desktop mode so you don't run out the battery while being plugged in, high and low gain settings, crossfeed, and more.
Like the Hugo 2 and the
2Go
, you can pair the Mojo 2 with the
Poly
, effectively making the Mojo act like a complete music server and streamer. The Mojo is known for its superior clarity and detail, and the Mojo 2 adds a bit more control over the bottom end if you prefer more bass presence. It also has dual 3.5mm headphone outs for simultaneous audio out if that is important to you. The Mojo 2 will excel with just about any genre out there, especially for detail freaks who like to pick out every little nuance in their music. The added bass clarity also makes it more accessible to genres like R&B and EDM too. The Mojo 2 is a tiny DAC amp with a big sound, and at $650.00, it's hard not to recommend it for just about everything.
Analytical, Hyper-Detailed, Clean Sound
Lots of Control, Crossfeed, Filters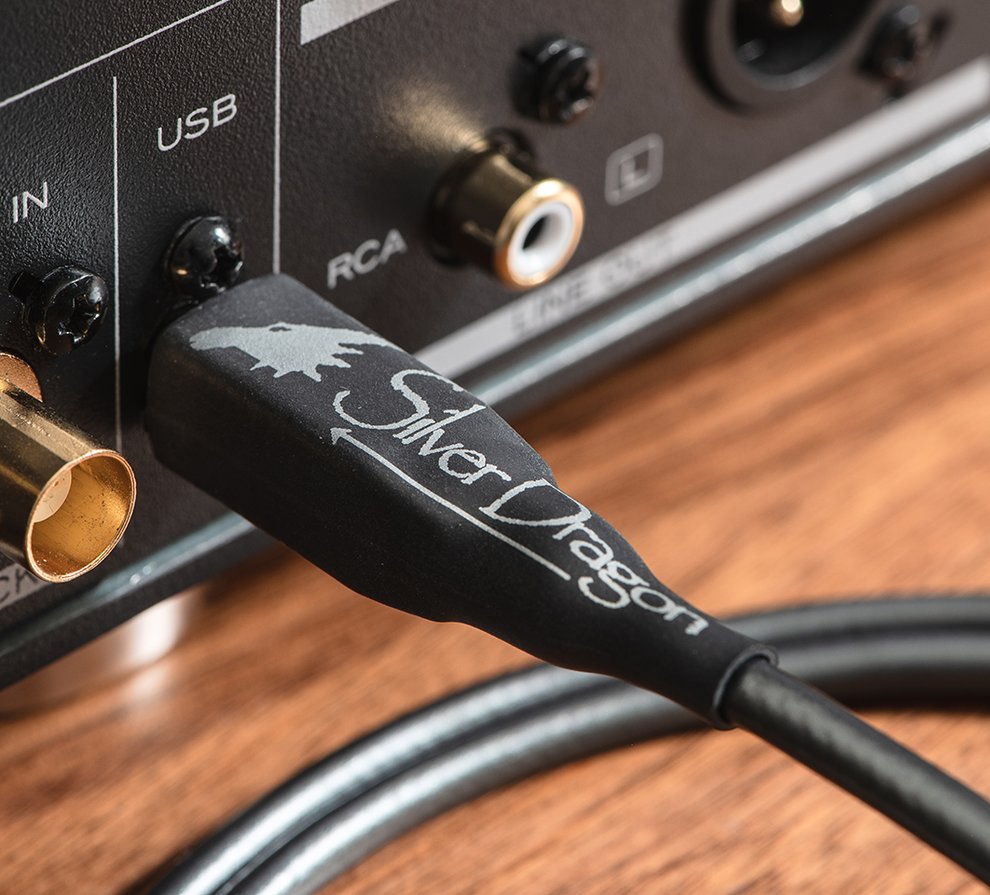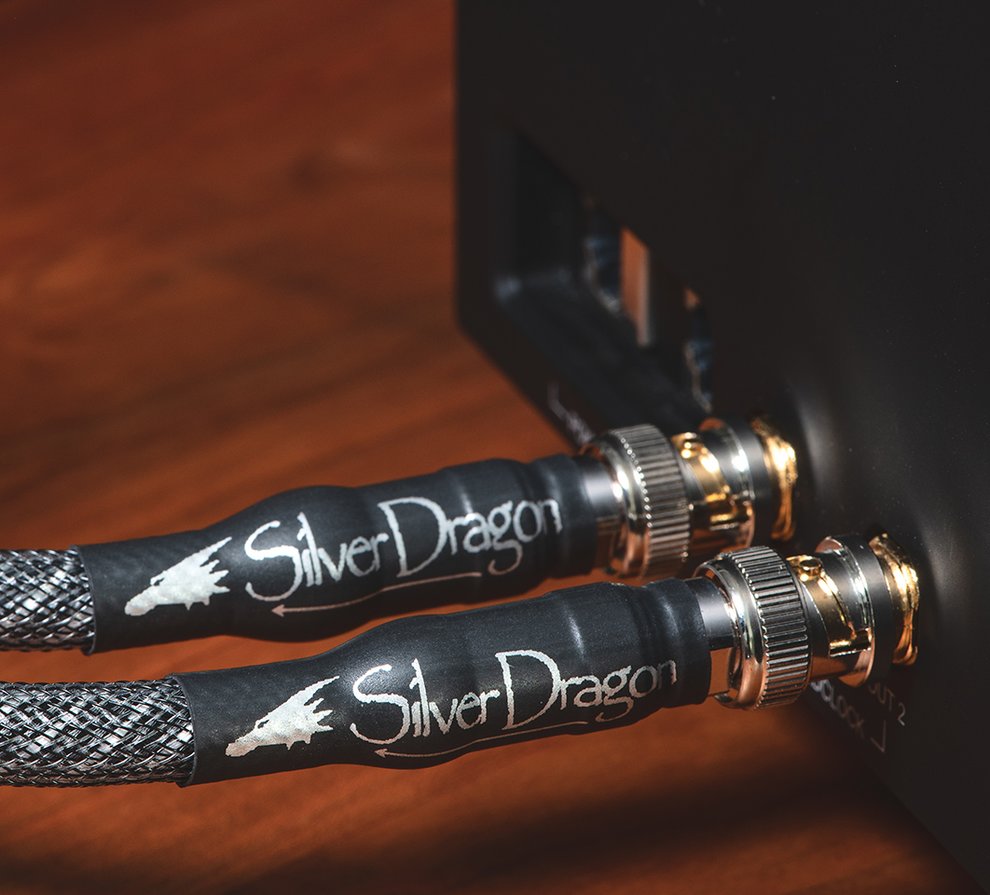 Your gear is only as good as its weakest link, and in most cases, it's the stock cables. Companies just don't put the R&D into their cables like they do for the device. That being said, for every piece of gear on this list we recommend pairing the
Silver Dragon USB
,
Silver Dragon Interconnects
,
Silver Dragon Digital cable
, or the
Silver Dragon Network cable
with your desktop DAC. They will provide more clarity, detail, and overall tighter presentation. If there was a Best Dragon Cables of 2023 list the Silver Dragon USB would be number one. Year after year this is our top-selling Dragon cable. It checks off all the boxes when it comes to the best digital transmission for your DAC.
Our cables aim to bring out more of what you love in your music and audio gear. If you love your headphones but wish they had a bit more top-end sparkle - we can do that for you. If your USB cables keep crapping out - as many stock cables do - then check out our quality USB cables. We say time and time again that materials matter, and our cables and custom geometries, silver or copper conductors, can actually help to bring out those desired properties in your gear and music. We make tons of custom options for our customers so that you can get the right cable for your exact needs. If you have any questions feel free to contact us and we'll be more than happy to help.
Generally, stock audio cables are manufactured with subpar materials, metals with impurities, poor geometries, and an overabundance of layers to make them look and feel like a fire hose. Inconsistency and lack of quality control in stock cables can lead to poor sound quality and a veiled sound vs what the musician intended for you to hear and feel from the music. Dragon cables are handcrafted with the highest standards and made to order according to your specific needs. At Moon Audio, we create a custom cable for you using the highest quality UP-OCC silver or copper conductors that can be manufactured. UP-OCC metals are void of impurities and are optimized for signal transfer and sound quality. We have one of the largest collections of audio and headphone connection options available online and we create limitless audio cable options depending on your specific gear and needs.
Why Dragon Cables?
You've heard the saying that a chain is only as strong as its weakest link, right? Well, the same applies to your brand-new audiophile-grade headphones or other audio components. The weakest link, in this case, is your stock cable or the cheap interconnects the manufacturer threw in the box just to get you up and running. Why is the cable always an afterthought, when it's just as important as the rest of your system? At Moon Audio, we use the best raw materials in our cables to unveil your music. We believe the materials matter and your audio cables should have the same care and craftsmanship that manufacturers put into their audio components and headphones. Audio cables are ultimately the connection to your music. The fact remains that cabling is often considered the last priority to that of the main product and a means to cut down the overall production costs. It's as simple as that.

Related Videos
Best Portable and Desktop DACs of 2022
Best Portable DACs of 2023
We Answer Your FAQs on DACs