---
We recommend using Dragon Audio Cables to maximize the performance of your Aurender home audio system. Aurender puts a lot of thought into its music servers, equipping them with state-of-the-art features and capabilities. Dragon cables will be the icing on the cake that will elevate your system to the next level.
Dragon cables are made with ultra pure, single-crystal silver or copper strands. Our wire is void of impurities and crystalline boundaries, leaving nothing between you and your music. When you mix Dragon Audio Cables with the Aurender product line, you are creating an environment designed by and for music lovers.
---
Dragon Audio Cables: Deciphering the Differences
When you see Black, Silver, and/or Blue options for our analog and digital Dragon cables, you may be wondering how to choose.
With analog cables (interconnects, speaker cables, and headphone cables), you will find variations in coloration or sound signature. With these cables, the Silver Dragon lends detail and clarity with top-end sizzle; the Black Dragon enhances the bottom end and gives a warm, full sound; and the Blue Dragon is calm and neutral.
With digital cables, the sound characteristics are more about the resolution and detail in the music. We find the characteristics of digital cables act similar to that of digital filters options on DACs. Shaping the filter on the D to A with either a sharp or gentle roll-off sounds similar to our ears. Thus, we only have a couple of digital cable options.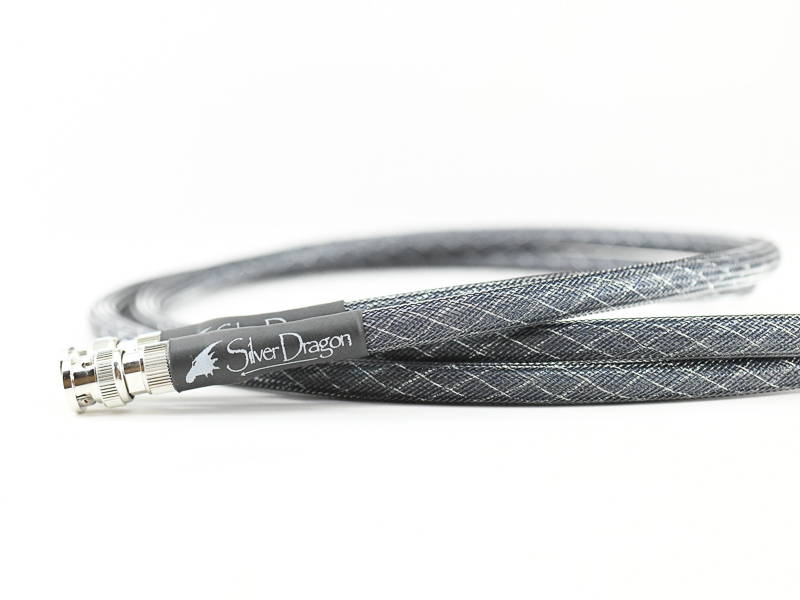 In the coax SPDIF category, for example, we offer a Silver Dragon digital cable that is the most resolute of our digital cables and based on our UP-OCC silver conductor technology. It was a no-holds-bared design for the best possible signal transfer. It is also the most flexible cable for tight turns in your equipment rack.
The Black Dragon is a copper-based digital cable and has an extra layer of shielding, utilizing a capacitor as a noise blocker. It was designed for noisy environments, when computer audio cards were more popular and required cabling that would ward of interference from being behind a cable ridden noisy computer environment. It was also intended for use in studios where cables run all over the place and quiet signal transfer is a must.
---
All Aurenders come with a USB output. In most cases, this is the most desirable Audio output. The USB can output PCM audio streams as well as DSD.
Upgrading to Dragon USB cables will help you optimize your Aurender home audio system. The most important consideration with USB cables is that they are designed to true USB specifications. In other words, the geometry of a USB cable is very important to the transfer of digital data transmission. Many of the cheap USB cables you buy at a computer or electronics store don't follow the standard specifications required for USB cables, resulting in potential issues with data packet loss, etc. Dragon USB cables were designed to adhere to USB specifications and use the highest quality materials to ensure a proper and protected digital transfer.
Moon Audio produces both a Silver Dragon and a Black Dragon USB cable. The Silver Dragon utilizes UP-OCC silver and the Black Dragon uses UP-OCC copper. The silver is more resolute, but really both are fantastic digital transfer cables. In most cases, this is the most flexible digital transmission medium in terms of data transfer over the other digital cables we discuss on this page. The USB cable will allow for both PCM and DSD transfer from your Aurender to your DAC. Whether USB sounds better vs. the other mediums we have talked about really comes down to the design of the digital circuit in your DAC. So if the Aurender model you purchased has more than one option and so does your DAC, we recommend experimenting to see which is most desirable to your ears.
---
The higher-priced Aurender N10, N20, and W20SE have multiple digital outputs. These can output PCM audio streams but also DSD via all-digital output. However, a compatible DAC must have the ability to process DSD digital stream via these formats to work. If the DAC can only do PCM, then the higher-level Aurender units use the best in FPGA digital conversion to convert DSD to PCM without any discernible sound difference.
Why would you use some of these digital outputs over USB? In some cases, the DAC design may sound better from one of these formats. USB can sound better in some DAC designs and vice versa. Thus you have some flexibility to find the best transfer possible based on your DAC.
Our Black Dragon AES/EBU balanced digital cable is a hybrid design implementing a silver-plated copper conductor. For the Aurender players that have this option, this is the best digital format. Whereas standard SPDIF coax cables utilize a 75ohm impedance, these offer 110ohm. We use a double shield to avoid low- and high-frequency interference, and the higher impedance allows for more data transmission. With the W20SE, you can do dual data digital output via the two AES digital outputs, allowing for a higher-resolution data transfer to your DAC.
---
---
Choose the Right Connection
There are many ways to connect your Aurender to your DAC.
With the Chord Qutest, Hugo TT2 or the M Scaler, you could do either USB or coax SPDIF. Which you choose may come down to the resolution of the files you host on your Aurender. Each digital input option offers a different tonality, and choosing which one is best will come down to experimentation.
With the Hugo TT2, the choice may come down to the best resolution transfer or highest resolution transfer option. In the case of the M Scaler, which does resolution upsampling, this can become a little less important, and focusing on which input circuit offers the most pleasing results your ears may overrule.
The Bricasti M3 offers the option of utilizing the AES input, which we really love at Moon Audio. The higher-level Aurender servers offer both PCM and DSD via AES and can really sound wonderful. The M3 has every digital format you can think of, so feel free to experiment.
---
---
Dragon Power cables will fuel your Aurender system without noise interference from your electrical sources. The Black Dragon Power Cord features 4x 21.5 AWG UP-OCC copper conductors. The Blue Dragon Power Cord is an amazing "bang for the buck" power chord, with 3x 12 AWG UP-OCC copper conductors.
---
If you find your system sounds too forward, Black Dragon interconnects might be best. If you're looking for more detail and resolution, the Silver Dragon is the way to go. The Blue Dragon, meanwhile, is a neutral cable that will add another layer of clarity to your music.
---
The Aurender A10, A100, A30, N10, and W20SE have toslink inputs. This can come in handy for your other digital sources -- maybe a CD player you still use for spinning discs. The DAC in the Aurender might be a much newer design than what was implemented in your CD player, thus offering new life to your CD collection.
---
If you are connecting the Aurender A30 to a pair of headphones, Dragon headphone cables are a perfect way to customize the sound to your preferred tastes.
Each headphone cable has unique characteristics. The Silver Dragon is light and airy, the Black Dragon offers a more controlled bottom end, and the Blue Dragon is a very neutral cable that you can think of as a lens cleaner for your eyeglasses.