If you've been holding out for a hero, Empire Ears has you covered. One of the company's two new in-ear monitors in 2020, Hero has been hailed as a relative of Empire's earlier flagships the Legend X and Zeus XIV. While Hero shares some DNA with its predecessors, it carries a smaller price tag at $1,349. I tested the Hero recently and quickly found that while its monetary footprint might be smaller, this is a stellar IEM that looms large in Empire's X Series lineup.
For some context, Empire Ears has been around for five years, springing from VP Jack Vang's previous EarWerkz company. Jack and his father, Dean, a veteran of hearing aid design and OEM IEM manufacturing, teamed up to form Empire Ears after Jack found himself over his head with the success of EarWerkz. Empire Ears handcrafts universal and custom IEMs across two product lines, one geared toward music professionals and the other geared toward audiophiles. Hero belongs to the latter lineup.
---
Materials, Quality & Comfort
In-ears can be problematic for me. The shell sometime slips out of my left ear, and they often cause me discomfort after a while, both mechanically and in terms of listening fatigue. These were lightweight (maybe a little lighter than I expected) and caused no discomfort. Because my left ear canal is slightly smaller than my right (I think!), I had to play around with ear tips to find the right fit. I ended up using one of the Type E's that came standard in my left ear and something else I had on hand in my right.
The universal model comes with Empire Ears' exclusive Black Tide faceplate, a black with white marbled design. The shells are a black acrylic. My only complaint is that the black and white don't exactly go with the copper cable. But that's ... really minor. And I like the look of the cable; it almost has the appearance of a braided necklace, though it does not lie quite as smoothly as I like for an IEM cable.
The Alpha-IV 26AWG UP-OCC Copper Litz cable is a premium handcrafted 4-core cable made from proprietary 26 AWG UP-OCC Litz Copper with multi-size stranding. It features a durable, overmolded, .78 2-pin connector offered with either a 3.5mm right angle or 2.5mm balanced termination.
---
Hero is a four-driver hybrid featuring three proprietary balanced armature drivers (mid, mid-high, and high) and one next-generation Weapon IX+ (W9+) subwoofer - Empire's solution to a dynamic driver that provides expansive low-end reach. It's safe to say that with the Weapon IX (and the newly updated Weapon IX+), Empire Ears has developed a technology that can handle subharmonic frequencies better than any other IEM driver on the market.
Traditional dynamic drivers can suffer in low-octave frequencies and very much rely on internal shell enclosures for volume, limiting form factor and vastly reducing efficiency with limited extension. The key to the W9's performance is that the woofer is enclosed in a tuned bass-reflex system with a front-firing port and rear-firing vent. This helps to reduce distortion and boost frequency extension.
Like other Empire models, Hero features a trademark synX Crossover Network and A.R.C. anti-resonance technology. Hero has a frequency response of 5Hz-40kHz, lending a good amount of detail and definition and lowering distortion; and an impedance rating of 17.6 Ohms @ 1 kHz.
With a sensitivity rating of 105dB @ 1kHz, 1mW, I wanted to pair the Hero with a headphone amplifier/DAC (digital-to-analog converter) that would be good for high-sensitivity IEMs, which require a very low output impedance and a quiet power supply. A common issue with home-based gear is the power supply can interject hiss in the signal path of a high-sensitivity IEM. For my review, I chose the Roon-certified Element X by Matrix Audio music streamer/server/DAC/headphone amp. If you're looking for an all-in-one desktop solution that is also excellent with IEMs like the Odin and Hero from Empire Ears, I would strongly recommend the incredibly quiet Element X.
---
Sound Signature Impressions
"Everything was there to me to take in: Ian Anderson's rough, nasally (but pleasing to me) voice, his flute, the gorgeous acoustic strings, drums, the accordion, the xylophone ... it was all there, clearly separated and yet working in unison to create one of the most whimsical, cheerful, and pleasing presentations of this song I've ever experienced."
I found the comparison to Legend X to be spot on. Hero, to me, didn't present with quite as much energy and emotion as Legend X, but boy, did it deliver. This is an emotive, vocal-centric IEM. Hero definitely "did something" for my test tracks in terms of detail retrieval, warmth, and a sort of "x-factor" that made my music sound both intimate and engaging. I'd put it this way: the Legend X makes me want to dance; the Hero makes me want to smile.
I chose Jethro Tull's "Skating Away" for my first track. This is a song that's both dear to my heart and also provides layers of instrumentation that make it a good reference track. It turned out to be an excellent choice. Everything was there to me to take in: Ian Anderson's rough, nasally (but pleasing to me) voice, his flute, the gorgeous acoustic strings, drums, the accordion, the xylophone ... it was all there, clearly separated and yet working in unison to create one of the most whimsical, cheerful, and pleasing presentations of this song I've ever experienced. I felt very much "in it" but not so lost that I missed anything. This was in contrast to my experience with the Empire Ears Legend X, where this track was all about energy and excitement. With the Empire Ears Odin, on the other hand, this track had more of a laid-back feel, where I was taking in the instrumentation and little details here and there.
Test tracks:
Grateful Dead: "Box of Rain"
Jethro Tull: "Skating Away on the Thin Ice of a New Day"
Natalie Merchant: "Beloved Wife"
Pink Floyd: "Pigs (Three Different Ones)"
Tested with stock cable connected to Element X by Matrix Audio music streamer/headphone amp/DAC.
On "Box of Rain," I found myself more focused on the vocal harmonies than usual. I know Jerry Garcia's voice is back there in the mix, but I heard him so much more. Now, maybe it's because I'm usually so focused on Phil Lesh's unusually decent-sounding voice on this track, but still. I also really had a sense of imaging with this one, a feeling of the musicians and instruments at various compass points in my head. "Box of Rain" is a wistful track, and yet I wanted to dance. I also honed in on a particular guitar riff at one point. It's not that I had never noticed it before, but it stood out to me more; it was just a bit more defined than on the Legend X.
"Beloved Wife," a somber, heart-wrenching track, came across stronger and bassier than I'm used to -- but that wasn't a bad thing. Natalie's vocals were definitely up front, rich, and full, and that's the key on this track. To my ear the piano was stronger than the strings, yet I did get some really pleasing string detail in my left ear. There is a way in which I might describe the bass as slightly boomy at points, but this is not something that bothered me.
As for "Pigs (Three Different Ones)," the echoing "oinks" really had my attention ahead of the sharp (but not over-piercing) wispy synth that ushers in the music. And the mid-track screaming "pigs" (David Gilmore's "talk box") came on strong and defined but not ear-splitting, which they sometimes can. Roger Waters' vocals were gritty and powerful and up front, and there was a somewhat unexpected "funk factor." At the same time, I found myself noticing and appreciating some subtle background sounds here and there that were a nice complement to the gritty, frenetic, forward-thrusting nature of this track. PS: Bring on the cowbell!
Dragon Cable Recommendation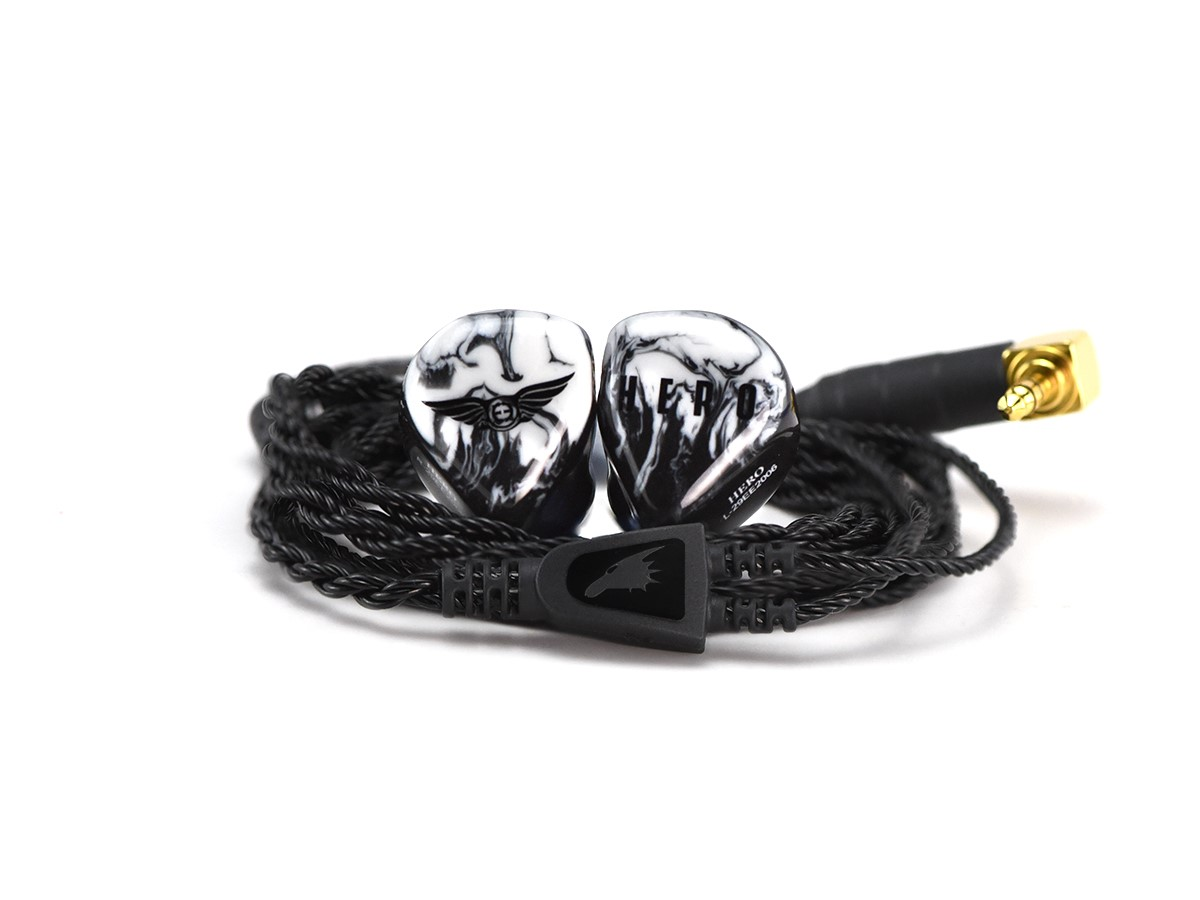 Hero's sound signature is what I would classify as warm and mid-centric. If you wanted to augment that signature with a cable upgrade, my recommendation would be the Black Dragon IEM cable, which tends toward the warm side of neutral.
Featuring ultra-pure, single-crystal silver and copper strands, the Black Dragon is a sort of "jack of all trades" cable that supports a balanced sound that is not too forward and not too laid back. The listener gets some detail plus some fullness and warmth. As the Hero already leans warm, the copper in the Black Dragon will retain that musicality and tighten up the low frequencies while the silver will provide a level of detail retrieval that can make well-known and well-loved tracks sound new again.
---
For someone who is very much into vocals and also enjoys good bass and warm musicality, the Hero satisfies with a smooth, detailed midrange; punchy bass, and highs that are pleasing without being overdone. Hero breathed a lot of life into my test tracks, lending emotion and warmth that really resonated with me.
You may be wondering how Hero compares to Empire Ears' new flagship, the Odin. For me, Odin is all about a natural presentation. Vocals are not as warm as they are with the Hero, and emotion is not pouring forth, but what you get with Odin is an amazing amount of layering and detail where nothing is compromised and nothing is lost.
At $1,349, the Hero is not inexpensive, but price can be relative. This is a really good IEM that houses some of the best of Empire Ears technology and quite honestly sounds every bit as good as pricier IEMs in the Empire Ears lineup.
---
---
Hero sits proudly in a stately and sturdy square black box. The main compartment contains the IEMs and stock cable, thank-you card, quick-start guide, and two stickers. A pull-out drawer holds a cleaning tool, 10 Type E ear tips in various sizes, and a round stainless steel storage case with cleaning cloth.
---
---
4 Proprietary Drivers, Hybrid Design
1 Next Generation W9+ Subwoofer - Sub-Bass/Bass
3 Proprietary Balanced Armature Drivers - 1 Mid, 1 Mid-High, 1 High
4-Way synX Crossover Network
A.R.C. Resonance Mitigation Technology
Impedance: 17.6 Ohms @ 1kHz
Frequency Response: 5 Hz - 40kHz
Sensitivity: 105dB @ 1kHz, 1mW
Cable: Handcrafted Alpha-IV 26AWG UPOCC Copper Litz Cable
---