Kitchen Sinks Never Sounded So Good
---
Back in high school, I had a 1993 Toyota Camry. It wasn't stylish. It wasn't getting me dates. But it got me from point A to point B. It was like an old dog, forever faithful to its master. Sometimes it's not about style and finesse. At the end of the day - it just has to work.
In much the same way, the TEAC NT-505 is that trusty steed, that will do just about anything you throw at it. Coming from a company with a similar reputation for reliability over the many years they've been around, you know you're getting more than just what's in the package when purchasing a TEAC device. In my opinion, staying power in a volatile market goes a long way in gaining my trust in not just a company, but their products too. So can the TEAC NT-505 gain my trust after my time testing it?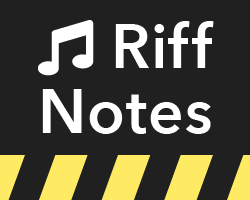 Great sound - Flagship VERITA AK4497 DACs
Expandable upgrade with Master Clock
Tons of features - kitchen sink of players/amplifiers
Styling is nothing to write home about
Would like additional headphone port sizes on the front panel
---
TEAC Is a known and reputable name in the industry, creating a wide array of products that are accessible to the novice music lover all the way to the professional or audiophile. Since 1953, TEAC was the first to create the 1/2-inch 4-track cassette recorder, the 8-track reel-to-reel/mixer combo, the first R-DAT recorder, and the first MiniDisc digital multi-tracker and CD scratcher. But they are not just pro audio. TEAC creates some of the cleanest and feature-packed units in the audiophile and consumer audio market.
In a way, it makes sense that you want an audio company to have both hands in the proverbial cookie jar of pro and consumer audio. With a grounding and product line of recording equipment, it seeks to complement consumer audio gear, with the understanding of how effective recording is done which should ultimately translate into more efficient and accurate high-end audio playback devices. Knowing how to record audio helps to understand not just how to play it back, but to better recreate the original sound. TEAC knows this and it plays to their advantage.
TEAC also includes the latest technology in their equipment and implements them well which we'll see in the features section later. Enough history, let's check out the NT-505 player.
---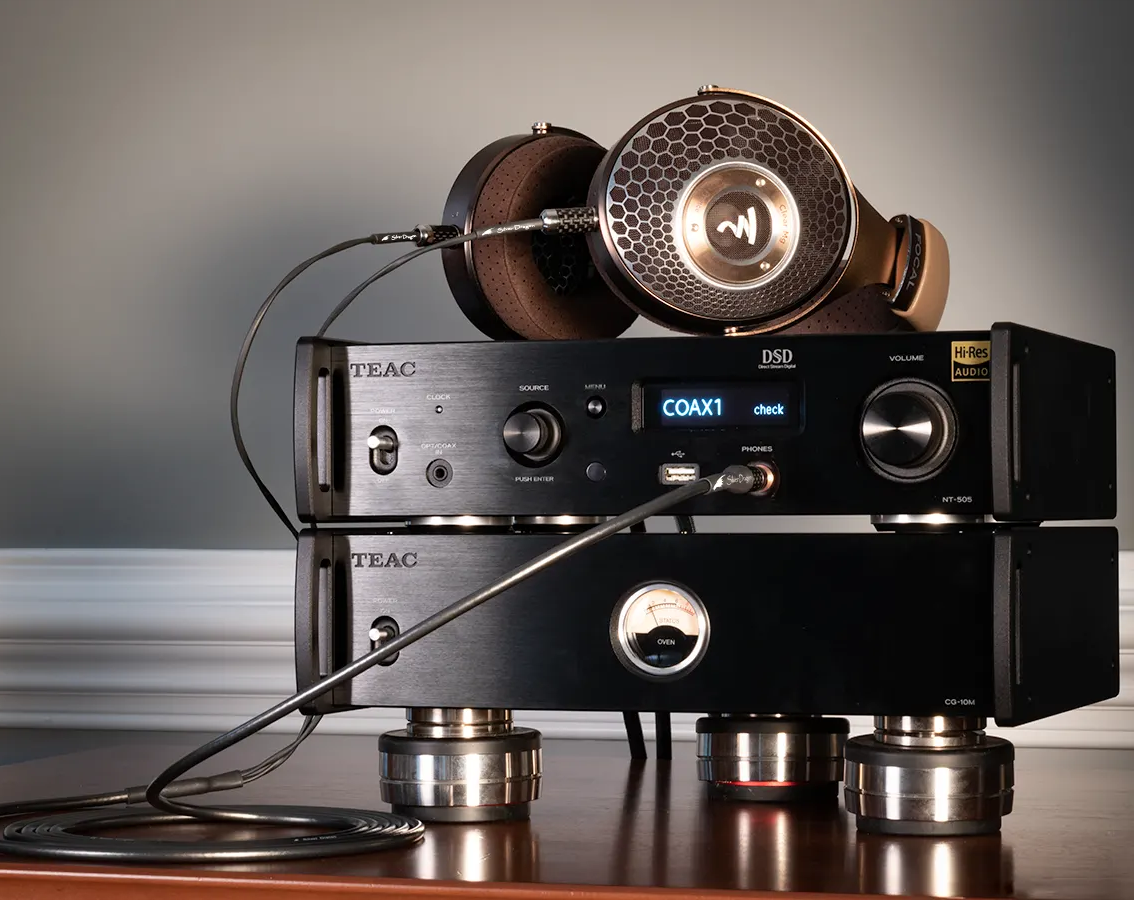 The NT-505 is made from aluminum-alloy panels and a robust metal chassis - all in a compact A4 size. The all-black design is striking, especially when paired with a matching 500 series or the CG-10M master clock generator (more on that later). I wouldn't say the styling is inspiring like other units on the market (see the Naim Uniti Atom Headphone Edition), but more importantly, it's functional and highly effective at isolating the internal circuits from electromagnetic noise. In my opinion, it's what's under the hood that really makes the NT-505 shine.
On the inside of the NT-505, you'll find a dual monaural circuit configuration, from the power supply (including the power transformers) to the D/A converters in the digital section, and the analog output stage. Each element is configured for single-channel processing - a design choice meant to prioritize clean audio. This prevents "mutual interference effects while reproducing a rich acoustic expressiveness." In addition, the Analog audio signals of both the left and right channels are processed in full balanced mode soon after the D/A converters all the way to the output terminal, contributing to an improved S/N ratio and extended dynamic range. This allows the fantastic sense of air that Hi-Res formats possess to be processed and conveyed without any losses. All this just means that if you are going to get a fully balanced design, this is the way to do it. TEAC's configuration of the NT-505 ensures that you will get outstanding SNR and little to no interference.
The chassis itself implements iconic side guard bars, assuring the controls on the front panel are protected. On the front panel you'll find (from left to right):


On the front panel you'll find (from left to right):
On/off toggle switch
Clock LED
Opt/Coax input
Source Knob and push button
Menu button
Full-dot OLED display
USB-Type A port
3.5mm Headphone port
Volume knob
On the back of the unit you'll find a section of ports:
Ethernet
Left and Right XLR Line Out
Left and Right RCA Line Out
USB B port
Coaxial In
Optical In
Clock Sync
Power Cord input
The knobs, switches, and ports all feel great and of high quality. The plus side to all this is that you feel like James Bond when controlling the unit. Arming torpedoes? No, just turning on the unit. It's a very different experience from a device like the Naim Uniti Atom which is primarily controlled via remote despite the large, oversize volume knob on the top of the device. The Naim unit is designed for aesthetics, whereas the NT-505 is designed for functionality. There is a nice sense of precision as well in the TEAC design, knowing that you can adjust or access what you want without having to flip through a ton of different menus and mapping. There is some menu flipping of course, but the NT-505 makes for a very tactile and pleasant experience when navigating the unit.
Considering the number of ports, the NT-505 is a versatile network player with even more features and functionality up its sleeve. But first and foremost there's no denying that it sounds amazing.
---
The TEAC NT-505 utilizes high-performance VERITA AK4497 DACs - the latest flagship-level converters by Asahi Kasei Microdevices on each of the left and right channels. AK DACs are the other side of the coin with ESS chips. ESS chips are typically regarded as more -detail-oriented and analytical, whereas AK chips are warmer and more musical side of the spectrum. One is not better than the other, as both chip types excel at what they do. But depending on your choice of genre or your existing gear, one might be a better choice than the other for you. Being an AK chipset, the TEAC NT-505 is going to provide a warmer and fuller sound, than say, the Element X from Matrix Audio. In my listening and testing sessions, I used the TEAC NT-505 with the Meze Audio 99 Classics and the Focal Clear MG with a Premium Black Dragon Headphone Cable.
I wanted to see how the TEAC handles depth with an ethereal track in the choral genre. The Divine Liturgy of St. John Chrysostom is, for lack of a better phrase, an experience. Rachmaninoff's choral masterpiece is otherworldly and is a one-way emotional trip to the heavens. The work has to be listened to as a whole to truly appreciate the intention of the divine liturgy from start to end. The work was composed for the Divine Liturgy of St. John Chrysostom which is the most celebrated liturgy of the Byzantine Rite, or the Eastern Orthodox Church.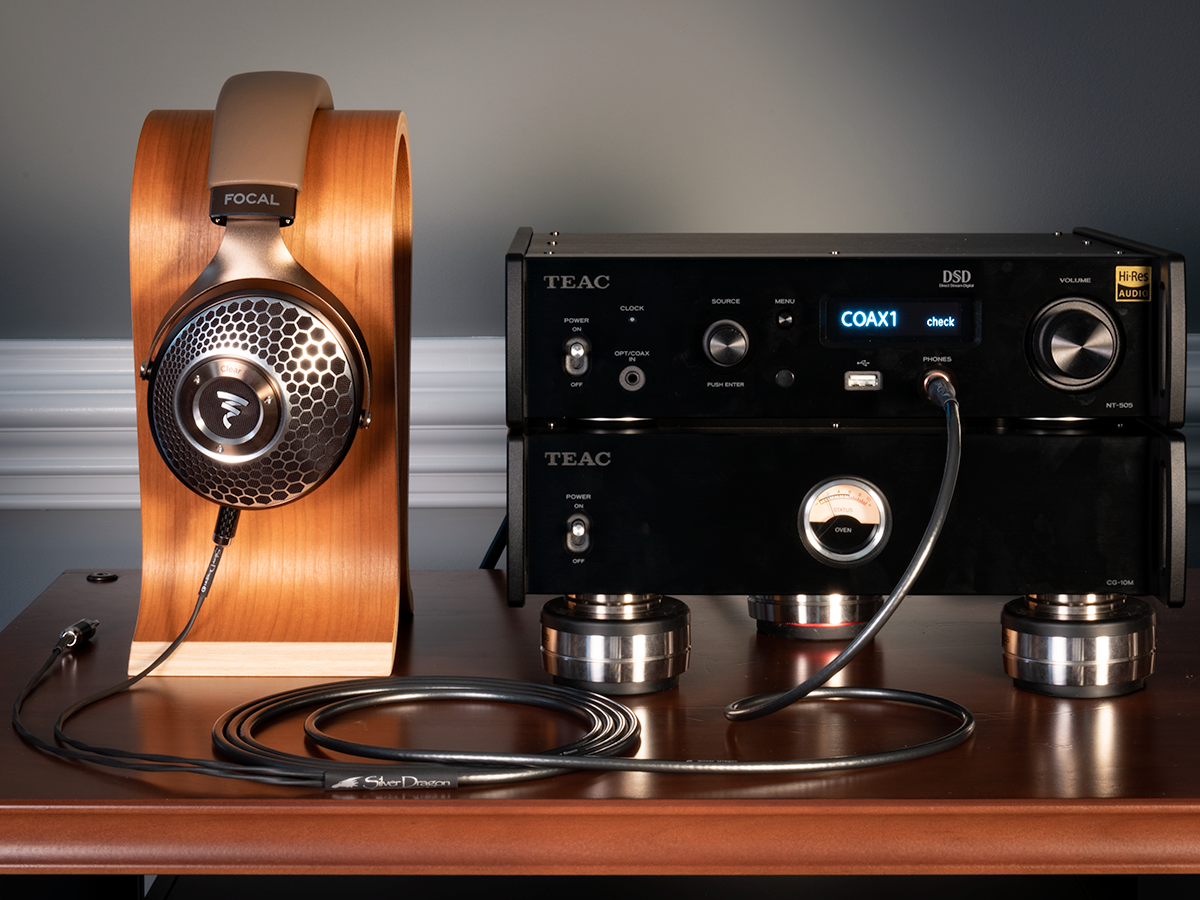 Composed of twenty parts, it was written by Rachmaninoff in 1910, but the liturgy itself has been around since St. John himself when he was Archbishop of Constantinople (398-404 AD). The thing to appreciate about Russian choral works is that they don't shy away from deep, male bass parts. The power exuded by these passages is incredibly emotional, especially as the parts crescendo. The TEAC delivers here. There is noticeable depth to the choir sections, and the soundstage provides wonderful separation and imaging. The TEAC's SNR really shines with this piece too, making for an incredibly dynamic listening experience from the quietest lows to the rumbling fortissimo parts. Also a personal recommendation here: listen to the version by the Latvian Radio Choir from 2010. Not all ensembles are created equal, but they are a talented and seasoned choir that does the liturgy justice.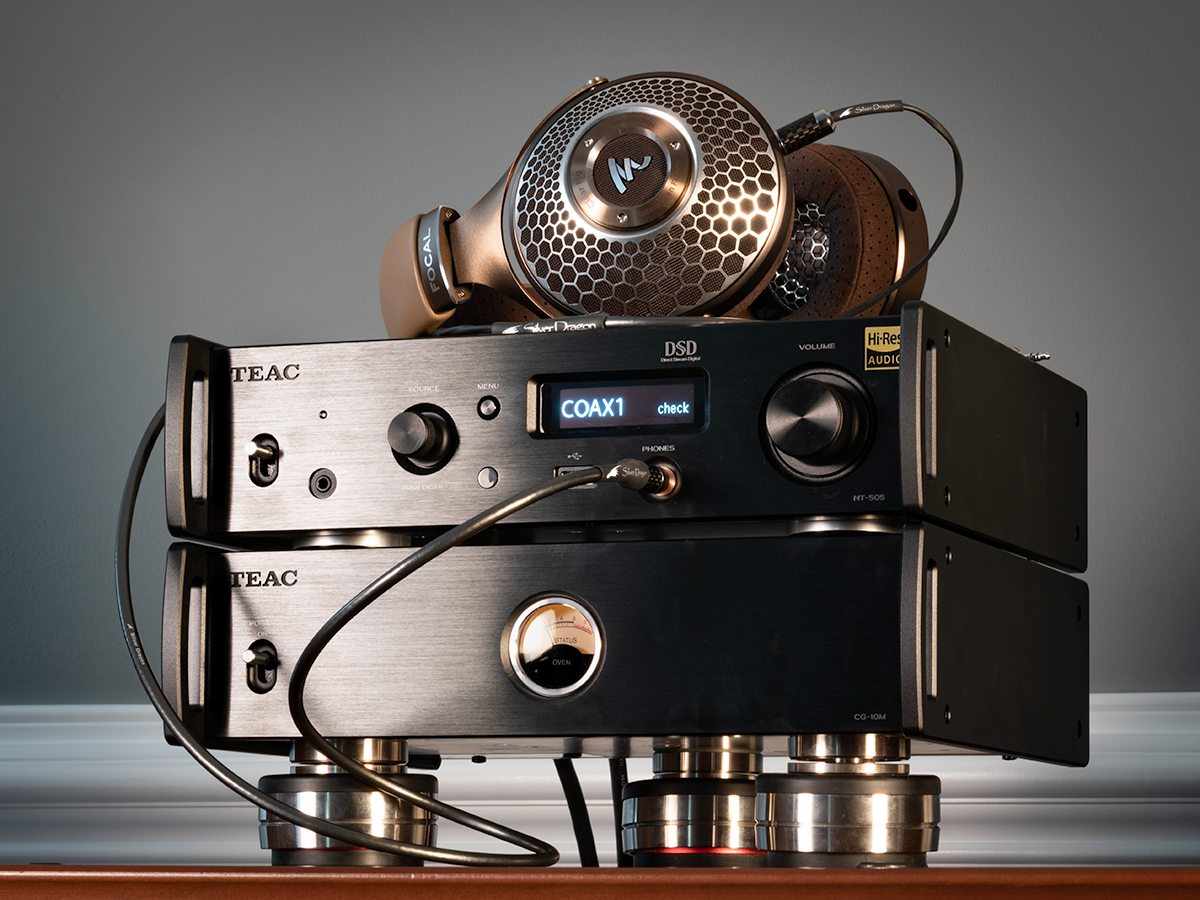 The Beatles' Fixing a Hole is yet again another Beatles song I am continually noticing new details that high-end gear is affording me the opportunity. The TEAC's imaging here revealed a subtle intonation that I never heard before when Paul and John are singing in unison together in falsetto - John's voice gets gravelly on the second time. It is something that can easily be missed and covered up, but the TEAC makes it plain as day. I appreciate these moments, especially in a time where digital recording and polishing can make a very imperfect performance near perfect, and ultimately hide bad musicians from the good ones. The bass is punchy and lively, bouncing around the song with a life I hadn't felt before. The TEAC unit produces accurate low end, and depending on your personal setup, can be more or less pronounced depending on your headphones, but overall I'm pleased with the bass response.
Of course, I have to test out every setup with some synthwave for the overall response time and decay. There's a lot of reverb on The Midnight's album Days of Thunder, which hearkens back to a great time for synth-pop in the 1980s. The Midnight has some great pad synth lines and envelope settings which help to emphasize the soundstage and response as the envelope opens up. The TEAC NT-505 handles this genre nicely, as oftentimes in less resolute units the music can become muddy with the layered reverb on the various instruments and tighter rhythm section. The Midnight passes this test with flying colors.
Barenaked Ladies is another choice that shows off the versatility of the TEAC NT-505, with its precision on the acoustic guitars on the intro, you can clearly hear the picks strumming against the strings. The clarity is striking so much that I can tell they're using a thin-rated guitar pick. You can visualize the plastic easily bending - sorry, my musical background comes out at times. The band explodes open on the chorus with the other instruments coming in, expanding the soundstage from 100 to a full 180-degree spread. The stand-up bass is incredibly transparent on the outro taking over the lead line, clearly hearing the plucking of the strings and the imprecision of the rundown fills (being a fret-less instrument). It almost makes the performance come alive in a way that studio recordings rarely do.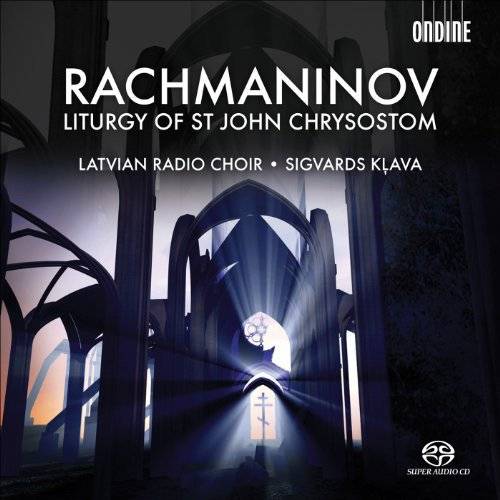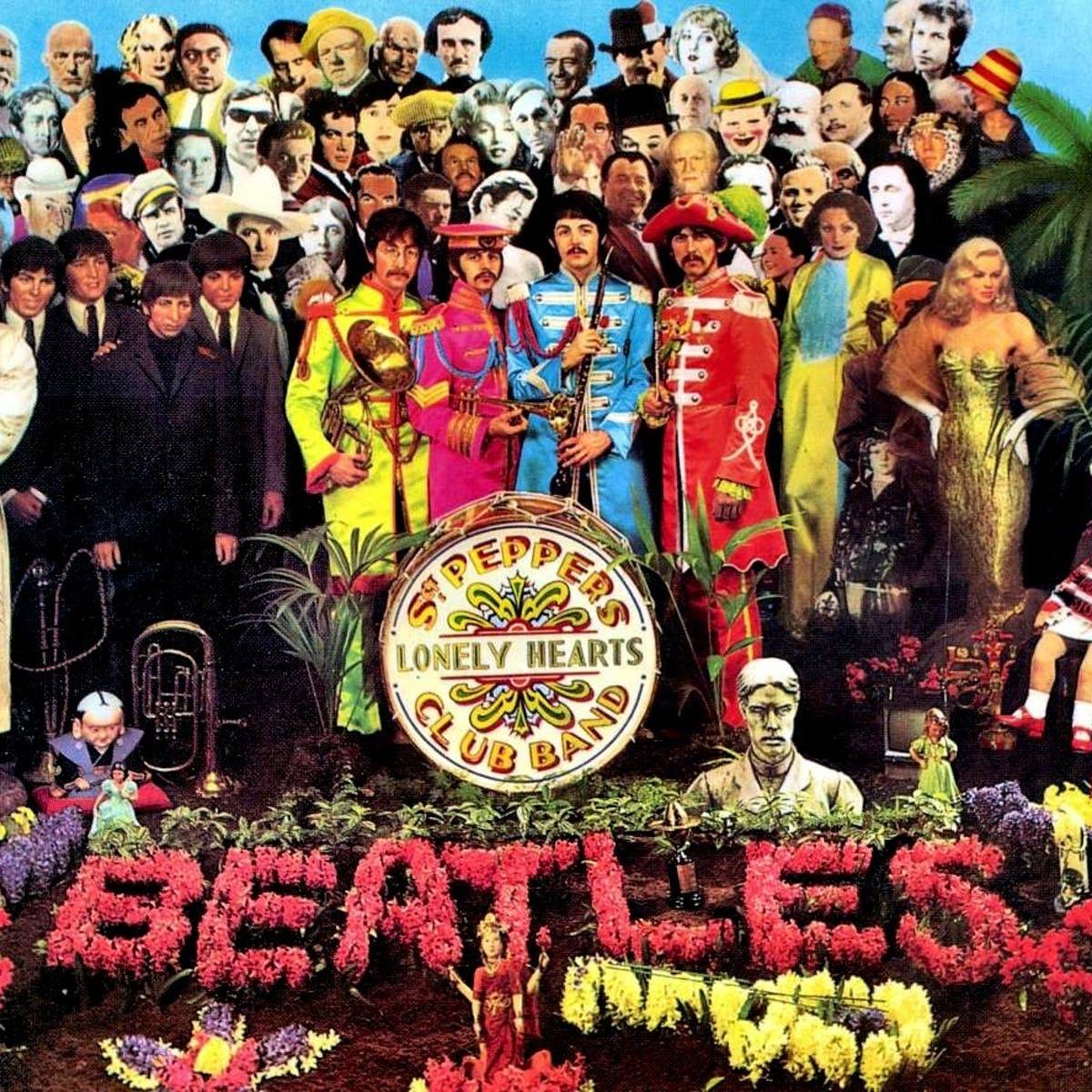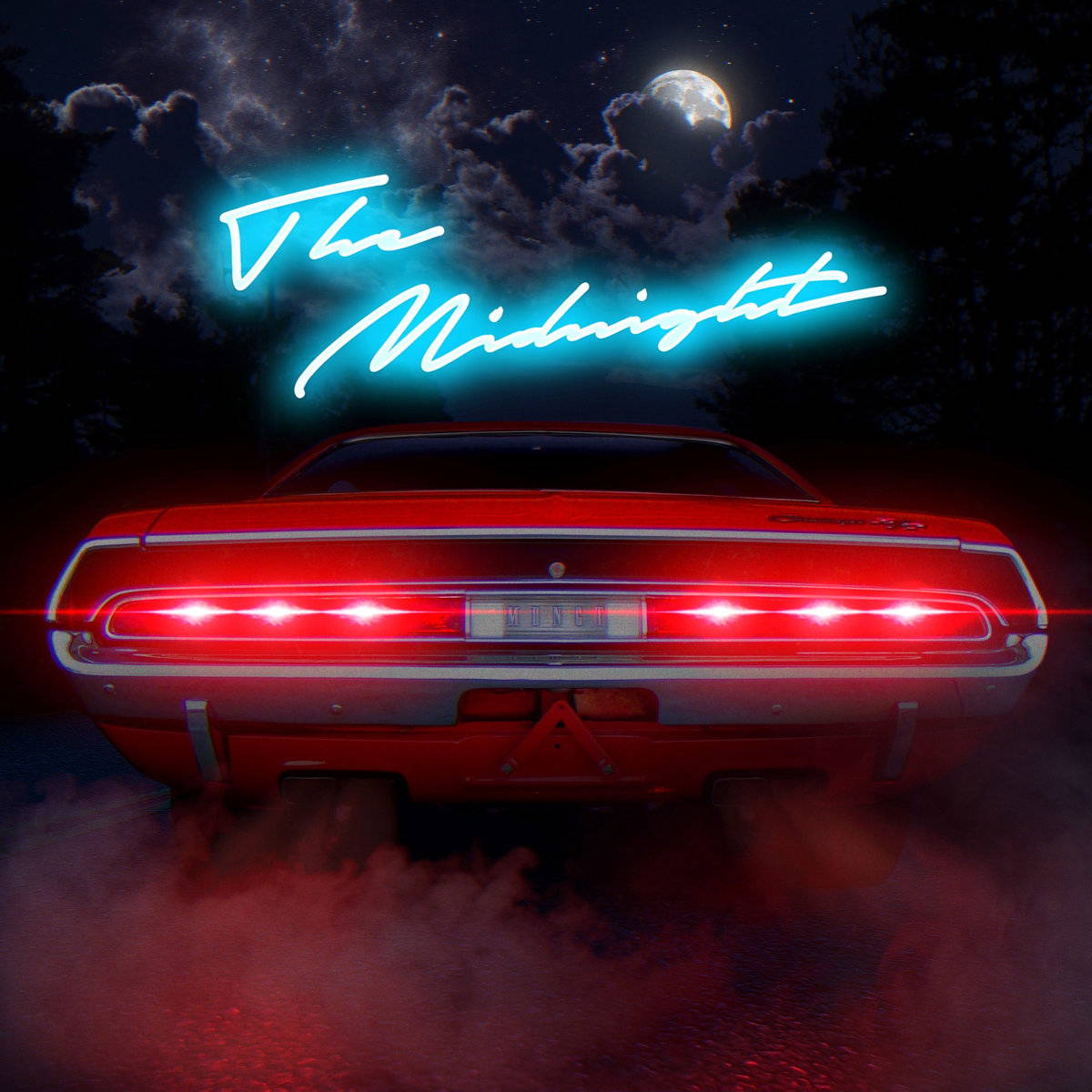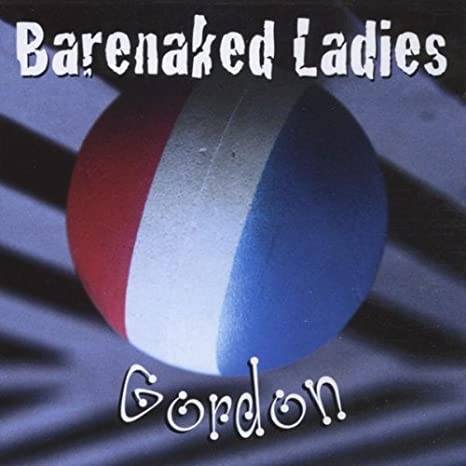 Albums/Songs
The Divine Liturgy of St. John Chrysostom (Rachmaninoff) - Latvian Radio Choir / Sigvards Klava
Fixing A Hole - The Beatles - Sgt. Pepper
Gloria - The Midnight - Days of Thunder
Brian Wilson - Barenaked Ladies - Gordon
---
Again, I wouldn't classify the TEAC NT-505 as a "pretty" box. But it's about the prettiest kitchen sink you'll see. Bluetooth, HD codecs, multiple PCM filters, USB audio, MQA, Roon Ready, Streaming services, and more, it seriously does everything. Let's go over the two best features in my opinion:
Upconversion
Employing RDOT-NEO (Refined Digital Output Technology NEO), a fluency algorithm that renders digital audio signals smoothly, the NT-505 up-converts PCM digital signals up to 384kHz/32-bit PCM and 24.5MHz DSD. With the up-conversion function activated, you will hear an improvement in quality, even with music that you are familiar with. Even though some of the increased frequency bandwidth might not be truly audible, there is a legitimate perceived increase in energy and liveliness to the audio. The upconversion settings do result in clearer imaging and transparency, although keep in mind that the higher resolution your audio is to 384kHz/32-bit the more subtle the differences and improvements will be.

Digital Filters
On the NT-505, there are two types of DSD filters and another five types of PCM digital filters, allowing you to apply the filter that best matches the file format or type of music you're listening to. The filter can be changed at the touch of a button on the remote control, allowing you to enjoy the different sonic nuances of each filter. I advise just trying out each one to see which one complements your music best.
PCM Digital Filters:
Sharp Roll-Off: FIR filter with a steep roll-off that sharply cuts signals outside the audio band.
Slow Roll-Off: FIR filter with a slow roll-off that gently cuts signals outside the audio band.
Short Delay Sharp: Short delay filter with a steep roll-off that sharply cuts signals outside the audio band.
Short Delay Slow: Short delay filter with a slow roll-off that gently cuts signals outside the audio band.
Low Dispersion: Short delay filter with low dispersion that cuts signals outside the audio band.
*When receiving signals at 352.8kHz, 384kHz, or higher, the digital filter will be disabled during processing regardless of the above setting.
DSD Digital Filters:
Narrow: Cut-off frequency of 39kH (at 2.8M), 78kH (at 5.6M), 156kHz (at 11.2M), or 312kHz (at 22.5M).
Wide: Cut-off frequency of 76kHz (at 2.8M), 152kHz (at 5.6M), 304kHz (at 11.2M), or 608kHz (at 22.5M).
Overview:
Hi-Res audio playback supporting DSD512 (22.6MHz) and PCM 768kHz/32-bit PCM
Dual monaural circuit design with a high-end AKM VERITA AK4497 DAC on each channel
Supports MQA decoding
Spotify, TIDAL, and Qobuz music subscription services
Roon Ready
DSD128 (5.6MHz) and PCM 192kHz/24-bit Network streaming from NAS/PC
5 types of PCM digital filters and 2 types of DSD digital filters
Up-conversion up to 24.5MHz DSD and 384kHz/32-bit PCM
Dual on-board clocks for 44.1kHz and 48kHz frequencies, and 10MHz external clock input
Bluetooth® receiver supporting LDAC™ and Qualcomm® aptX™ HD
TEAC-HCLD output buffer circuit and TEAC-QVCS volume control for high quality sound
Dual toroidal-core power transformers
Digital Isolator for separated digital and Analog sections
1/4" (6.3mm) stereo TRS jack supporting ground-separate drive
"Bulk Pet" USB transferring technology with four transfer modes for various sound characters * "Bulk Pet" is a registered trademark of Interface Corporation.
USB audio port for Hi-Res audio input from Windows/Mac
Coaxial and optical digital inputs on both front and back
Front USB port supporting Hi-Res playback from USB flash drive
Analog outputs with balanced XLR and conventional unbalanced RCA outputs
High-contrast full-graphic organic EL display with dimmer
Full-metal body with an A4-sized footprint
Free TEAC HR Audio Player for DSD512 and PCM32/768 playback
Free TEAC HR Streamer app for iOS/Android devices
Compliant with RoHS\
Great channel separation via the ground-separate drive mode: completely separates the grounds of the left and right channels from the amplifier section to the output jacks
Headphone amplifier capable of driving many impedance ratings
A superb pre-amp, thanks to its combination of outstanding Analog processing performance, a wide range of analog/digital inputs, and fixed/variable level XLR (balanced) and RCA (unbalanced) outputs
You can read much more about the plethora of features on the TEAC NT-505 page HERE.
---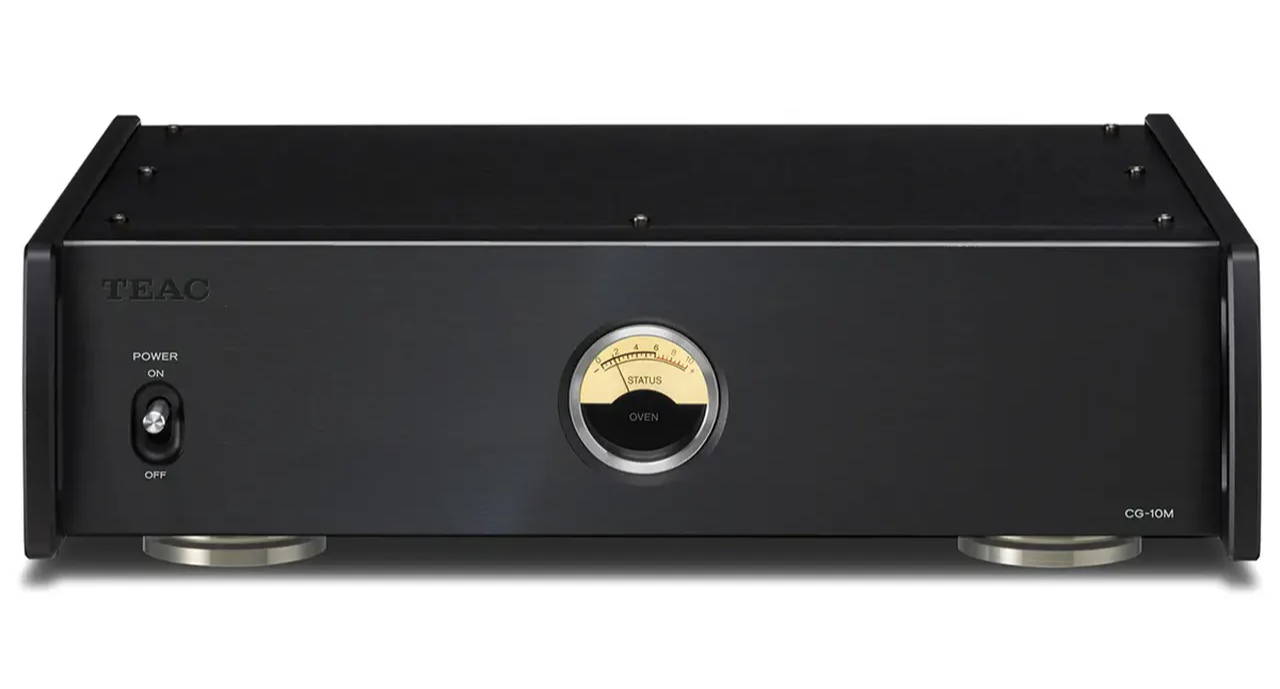 Instead of referencing to an unstable and noisy PC clock during USB audio playback, a more accurate and on-board clock is generated by a high-precision, low phase-noise, audio-grade crystal oscillator for USB asynchronous transfer mode. The NT-505 accommodates two onboard clocks exclusively for 44.1kHz and 48kHz sampling frequencies and applies the appropriate one to incoming digital signals - which eliminates jitter effects on the audio signal. In addition, an external 10MHz clock input is also provided, to synchronize with an even higher-precision master clock generator, such as the TEAC CG-10M, for yet further upgraded audio playback with excellent sound quality.
For my testing session, I connected the NT-505 to the CG-10M Master Clock Generator, which helps to produce this ultra-high-precision 10MHz clock signal - within ±3 ppb of frequency temperature characteristics and within ±0.1 ppm of frequency precision - to USB DACs and digital players. The CG-10M also includes four gold-plated BNC connectors to provide up to 4 signals to multiple devices (up to four devices can be connected simultaneously).
Like the NT-505, each circuit of the CG-10M is also independent and isolated from the others to prevent interference from outside signals and noise. TEAC also incorporates a buffer-amp into each circuit which prevents any degradation of the signal waveform when the clock signal is being shared by multiple devices. The clock also includes three patented "pin-point" feet under the device, which apart from support and stability, also help to improve the accuracy of the clock by minimizing vibrations and exterior resonances.
I found the onboard clock of the NT-505 to be plenty accurate for my tastes, but if you are a stickler for precision, or have multiple devices you need to connect to a single source, then the CG-10M should be a serious consideration. Plus, it makes for a beautiful stack paired with the NT-505 since aesthetically they are built similarly.
---
The Dragon Cable Experience
For my testing purposes, I connected the TEAC CG-10M Master Clock to the TEAC NT-505 player using a Silver Dragon Coax Digital Cable with BNC connectors. The Silver Dragon Cable will provide plenty of detail and an open presentation. It will also provide a more cohesive sound with very fast attack and tight bass. This is a great pairing for the TEAC devices due to the warmer nature of the AKM DAC chips and will provide the best digital transmission possible for your digital gear. The Silver Dragon Cable is fairly flexible and makes bends easily, but be sure to never kink a cable as it will introduce jitter.
Silver Dragon Sound Signature
Silver strands clarify instrument separation, increase soundstage, and find previously lost high and mid-frequency sounds. Transients appear more cohesive and the bass tighter for a more controlled sound. The detail and clarity of the Silver Dragon make it a perfect match for classical music and other genres with many nuanced instruments.
For more information on finding your signature sound, visit our Sound Signature Guide.
---
TEAC has made a very good product in the NT-505, capable of playback for virtually everything, it's a true kitchen sink of music players. Combined with the CG-10M Master Clock, the NT-505 is about as precise as they come, with superb resolution and imaging. The flagship AK4497 DACs are more than up to the task and combined with TEAC's design of a dual monaural circuit configuration and amazing SNR measurements, the NT-505 is one of the best sounding music players to come across my desk in a while. Fans of Classical, Choral, Alternative, Metal, Pop, and more should be very pleased with the NT-505's performance. At $2000, it's priced well below the competition for the number of features and specs in this category. I guess I can say in the end, TEAC gained my trust after all.
---
---
Video Review (Coming Soon)
---
Technical Features
USB Input:

PCM: 16/24/32 bit; 44.1k/48k/88.2k/96k/176.4k/192k/352.8k/384k/705.6k/768k Hz
DSD: 2.8M/5.6M/11.2M/22.5M Hz

Coaxial digital input:

PCM: 16/24 bit; 32k/44.1k/48k/88.2k/96k/176.4k/192k Hz
DSD: 2.8M/5.6M/11.2M/22.5M Hz

Optical digital input:

PCM: 16/24 bit; 32k/44.1k/48k/88.2k/96k/176.4k/192k Hz
DSD: 2.8M/5.6M/11.2M/22.5M Hz

DAC Section:

USB DAC: Asahi Kasei Microdevices AK4497×2
Up-conversion: up to 384kHz/32-bit PCM, 22.5MHz DSD
Digital filters-PCM filters: Sharp Roll Off, Slow Roll Off, Short Delay Sharp, Short Delay Slow, Low Dispersion, off
Digital Filters-DSD cutoff frequencies:

Narrow : 39kHz (at 2.8M), 78kHz (at 5.6M), 156kHz (at 11.2M) or 312kHz (at 22.5M)
Wide : 76kHz (at 2.8M), 152kHz (at 5.6M), 304kHz (at 11.2M) or 608kHz (at 22.5M)

LAN Section:

Connector: RJ-45×1(1000Base-T)
MQA Decoder: Built-in

Headphone outputs:

Connector: 1/4" (3.5mm) Stereo TRS jack×1 (gold-plated)
Maximum output: 500mW + 500mW (into 32Ω)
Supported impedances: 16 to 600Ω

Audio performance:

Frequency Response: 10 to 80,000 Hz (+1/-3 dB, 192kHz PCM input, RCA output, digital filter off)
Total harmonic distortion: 0.002% or less (192kHz PCM input, RCA output, digital filter off)
S/N ratio: 110dB or higher (192kHz PCM input, RCA output, digital filter off)
Performance
Audio Inputs:

USB (rear): USB B port, USB 2.0, asynchronous mode transfer, bulk transfer
Compatible Software: TEAC HR Audio Player (Windows, Macintosh)
COAXIAL digital (rear): RCA pin×1 (gold-plated)
Input level: 0.5Vp-p
Input impedance: 75Ω
Optical digital (rear): TOS-link×1
Input level: -24.0 to -14.5dBm peak
Coaxial digital (front): 1/8" (3.5mm) mini×1 (combined with optical digital input, detected automatically)
Input level: 0.5Vp-p
Input impedance: 75Ω * 1/8" Mini - RCA conversion cable included
Optical digital (front): 1/8" Mini Optical×1 (combined with coaxial digital input, detected automatically)
Input level: -24.0 to -14.5dBm peak
USB (front): USB A port
Supported media: USB Flash Drive
Bluetooth®: version 4.0
Output class: Class2 (Range: approx. 33ft/10m)
Supported profiles: A2DP, AVRCP
Content protection: SCMS-T
Supported codec: LDAC™, Qualcomm® aptX™ HD, aptX™, AAC, SBC
No. of paired devices: maximum 8 devices

Audio outputs:

XLR balanced: XLR×1 pair (gold-plated)
Output level: Fixed (0dB), fixed (+6dB), variable, output off (selectable)
Maximum output level:
2.0Vrms (1kHz, full scale, into 10kΩ, when set to fixed (0dB))
4.0Vrms (1kHz, full scale, into 10kΩ, when set to fixed (+6dB))
12.0Vrms (1kHz, full scale, into 10kΩ, when set to variable)
Output impedance: 188Ω
RCA unbalanced: RCA pin×1 pair (gold-plated)
Output level: Fixed (0dB), fixed (+6dB), variable, output off (selectable)
Maximum output level:
2.0Vrms (1kHz, full scale, into 10kΩ, when set to fixed (0dB))
4.0Vrms (1kHz, full scale, into 10kΩ, when set to fixed (+6dB))
6.0Vrms (1kHz, full scale, into 10kΩ, when set to variable)
Output impedance: 150Ω
---
---