A Beautiful Box with a Great Personality
---
Naim is a name that's been around for a while, and the sole fact that they've been around since the 70's should say something. I'm a fan of all-in-one desktop units, and the Naim Uniti Atom certainly caught my eye when I first saw it. The world of audiophilia is filled with eccentric electronics of all shapes, sizes, and stylings. It takes a lot to grab my attention nowadays, but dang it's a good lookin' box.
But like the gentleman I am, I'm not just falling for this unit based on looks alone. It has a great personality too. And that's where the amplifier really shines. So, pour a glass and sit back. Let me tell you all about my date with the Naim Uniti Atom.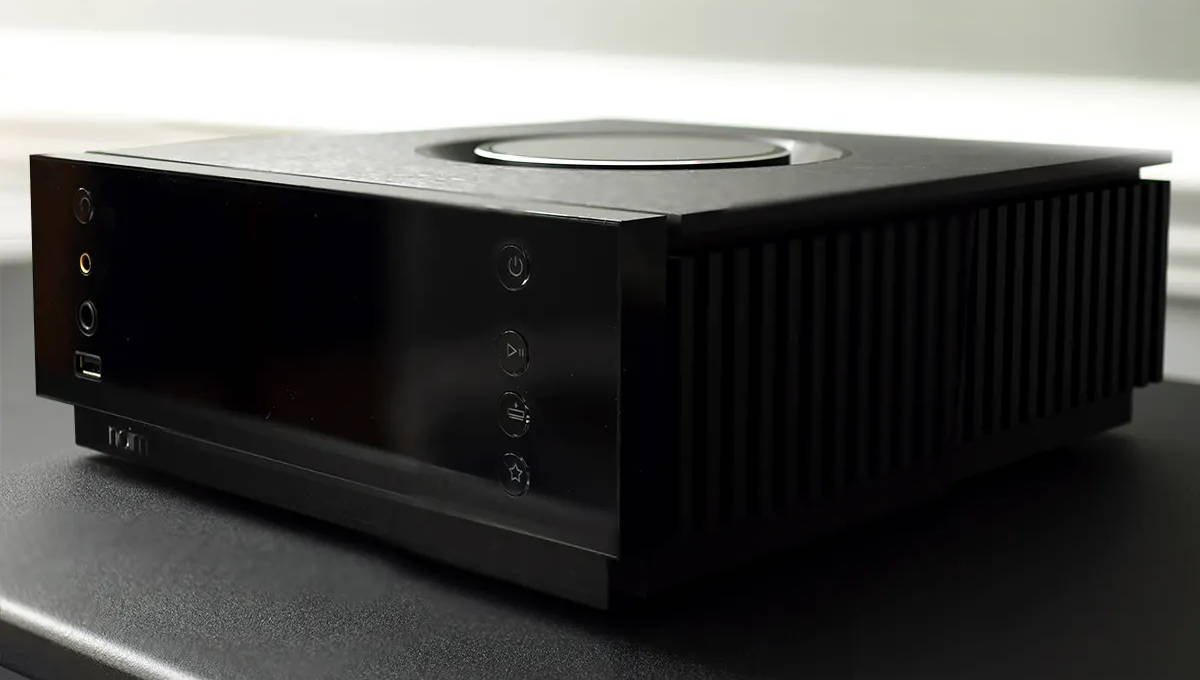 The Naim Uniti Atom Amp is a hefty piece of equipment for its size. The amplifier is built sturdily, with a brushed and anodized aluminum chassis and some great design elements which make it an intuitive and easy to navigate the device. The back of the amplifier has a plethora of inputs:
Digital: 2x Optical S/PDIF up to 96kHz, Coaxial RCA (up to 24bit/192kHz, DoP 64Fs)
Analogue: 1 x Stereo RCA pair USB: 2x USB 2.0 (Type A connector)
Additional outputs in the rear include an XLR balanced headphone and balanced XLR preamp and RCA preamp outputs. There is an Ethernet port for wired network access located on the rear panel as well. On the front of the amplifier, you will find 4.4mm and quarter-inch headphone jacks as well as a USB Type-A port for external media. The 4.4mm headphone jack is a terrific inclusion as well.
The sides of the amplifier are large heat sinks, which dissipate the heat well, but the star of the show is the top and front of the Uniti Atom. The front of the chassis has a smooth glass finish which features a beautiful 5-inch color TFT display. The display is sharp and although minimalist in design, is incredibly intuitive and simple to navigate. Much like a smartphone, the Uniti Atom utilizes application icons for navigation, and it makes for a great experience. The display integrates well with the included remote also. The minimalist design is carried over there too, being a mostly unassuming black rectangle with backlit buttons in much the same way the app icons are designed. The remote also automatically lights up when picked up or moved - a delightful but subtle premium touch.
Expertly crafted and built to last :

Uniti is crafted, inside and out, from aluminium – chosen for its looks, durability, and to prevent the magnetic distortion other materials can suffer from. Its casework is first machined with computer-controlled liquid-cooled cutting equipment, for absolute dimensional precision. It's then brushed and anodised to offer a beautiful yet robust appearance, with a tough, scratchand-dent resistant design ready for many years of musical enjoyment.

-Naim
The tactile experience is fully realized on the top of the amp, with the large, oversized volume knob. The smooth scrolling of the large wheel is extremely pleasant and lends to the notion that you have precise control over the volume of your music. The wheel has integrated led lighting to give you a visual of the volume level of your music, along with coordinating the numerical value on the front screen. It's an overstated design combined with an understated aesthetic, and it works beautifully.
Overall The Naim Uniti Atom Amplifier will feel at home in any system. Its black aluminum design is sleek and will compliment any shelf it's placed on. The user experience is satisfying and it's just a pleasure to look at.
Keeping it cool; making it last:

Uniti's striking heat-sinks are directly coupled to the player's floor, providing excellent thermal contact and heat transfer. This means heat is removed from the circuitry quickly and efficiently, even when your Uniti amplifier is powering out serious sounds. This thermal stability ensures consistent performance and long component life, two key parameters to Naim design.

-Naim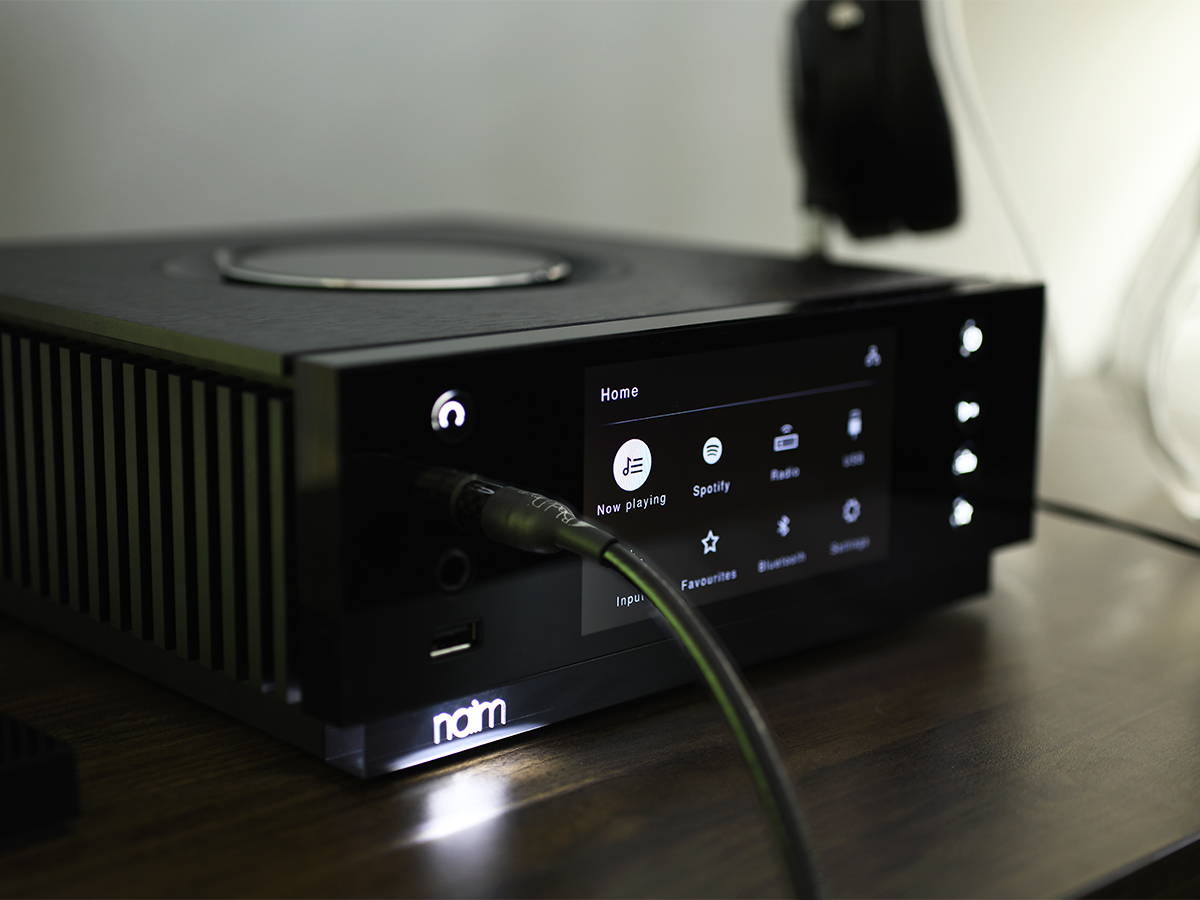 ---
The nice thing about the Uniti Atom amplifier is that is has so many inputs and outputs, you can literally listen to it however you want. For my testing purposes, I paired the Uniti Atom amplifier with the Focal Utopia headphones and a Black Dragon Premium Cable. Something with the black color scheme really made this a sexy setup, and needless to say, I was not disappointed.
Amplifier: check. Headphones: check. Power: on. Volume: up.
I feel like this is the biggest decision when testing out a new product: what is the first song I play to really get a feel for the performance of the device? It really depends from product to product, but for the Atom, I picked Thank You by Alanis Morissette. I felt that the first song really had to push some dynamic range. Right from the start, the opening chimes had a clarity that was exciting. Drums kicking in a few bars later emphasized that low end was present - not overwhelming, but balanced. The overall growth and power of the song was surprisingly expressive.
Going with the theme of dynamic, I wanted to pick a song that not only provides clarity in the forte sections but in the pianissimo parts as well. Respighi's The Pines of the Appian Way, or Pines of Rome, is one of my favorite pieces and is basically one long crescendo, with the finale introducing some of the most fantastic horn fanfares. The Uniti Atom is quiet - the noise floor is impressive and even the subtlest intonations are audible. It really provides an honesty to the recording that I hadn't experienced before.
David Gray's album White Ladder is simply phenomenal. I started up the opening track, Please Forever Me, and the clarity was there yet again. The picking on the acoustic guitar was striking - the overall imaging in this song really shows what the Uniti Atom is capable of. The rhythmic bass and kick were present still, providing a little more thump on this track, the bass response sits very balanced yet never lacking. I'm certainly not left wanting in that regard. If I had to characterize the Atom with this song it would: precision. Timing and responsiveness are great.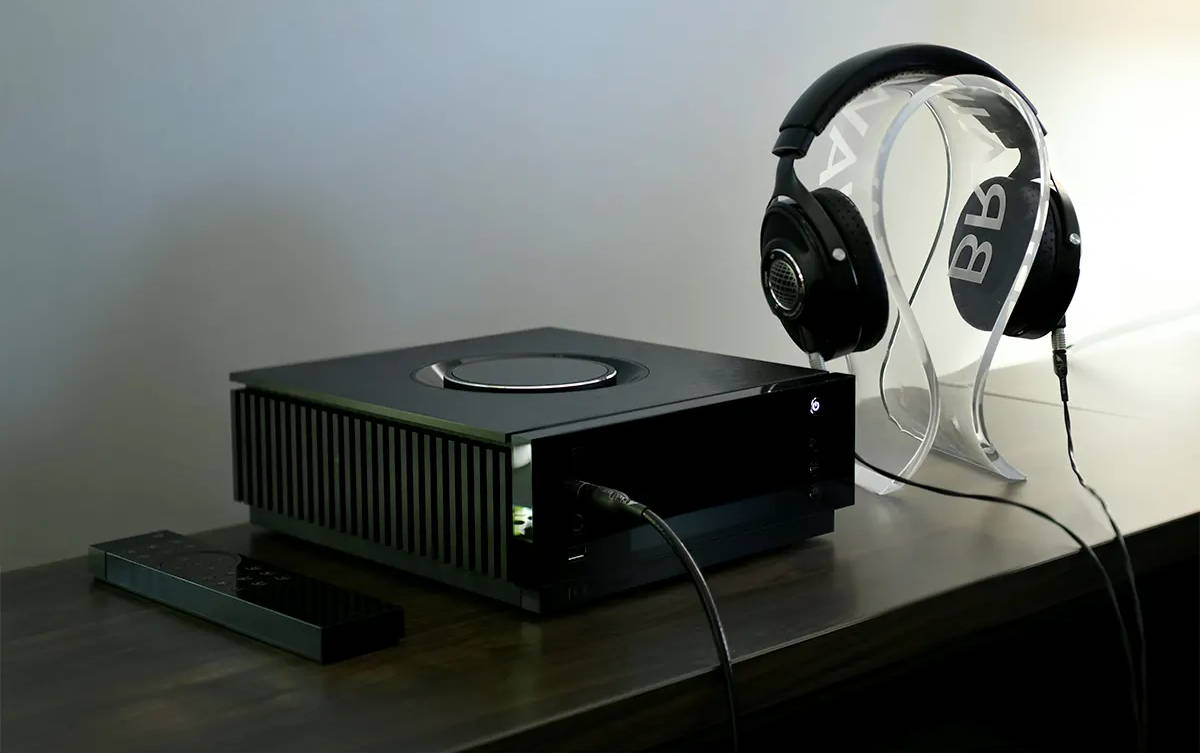 To really test the imaging I selected Wah-Wah by George Harrison. It's a rather chaotic tune, with lots of instrumentation and rhythms, but still one of my favorite George tunes to this day. The story goes that after a writing session on Let it Be, George left the studio early after John and Paul were fighting and came up with the idea of this song (don't quote me on the accuracy of this story). The guitars are nasty and raucous, but the separation among instruments really helps to tighten the song in some ways; the individual performances being able to become less competitive with each other in the frequency spectrum. The Atom really flexes its muscles on this track, and you can hear the imaging like layers of an onion. It's Impressive.
The DAC used is the Burr Brown (TI) PCM-1791A, but that has little to do with the sound quality delivered. Naim's engineers use a SHARC chip for digital signal processing and digital filtering which bypasses the filter built into the DAC. The proprietary algorithms do sample rate conversion of all signals to 24/768 before they are sent to the DAC, then after conversion there is an outstanding analog (ue) filter and an excellent analog volume circuit. These all contribute to the sound of all the Naim Uniti models.
I would say that outside of using the Focal Utopia and Black Dragon cable, I would likely want slightly more bass presence coming from the Atom. The Black Dragon adds a surprising amount of warmth to the sound, so I would certainly pair the amplifier with a warmer and more musical headphone. That would be the sweet spot for me. Regardless, the Uniti Atom amplifier sounds just as good as it looks. I easily put this in my top 10 all-in-one music players.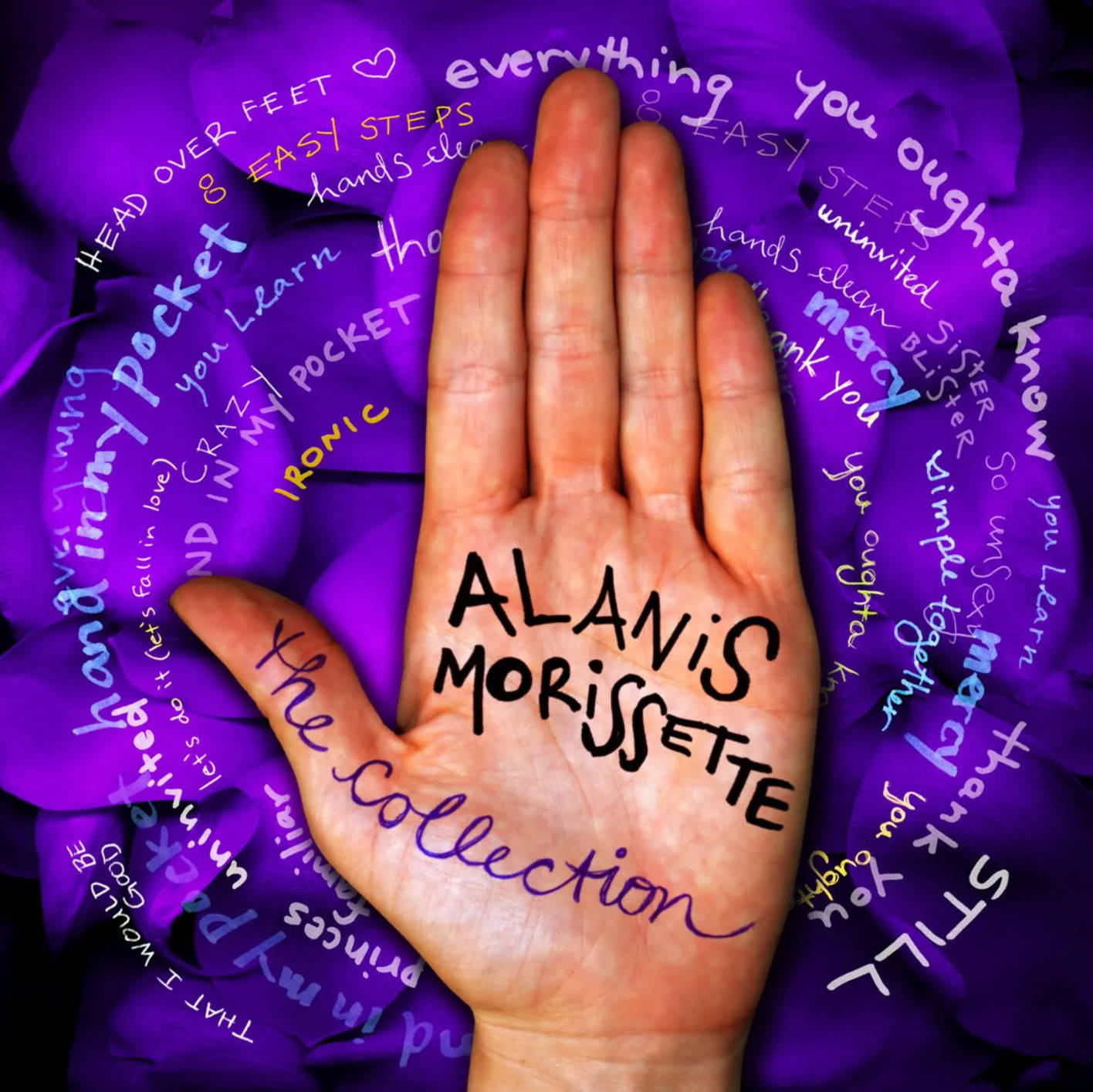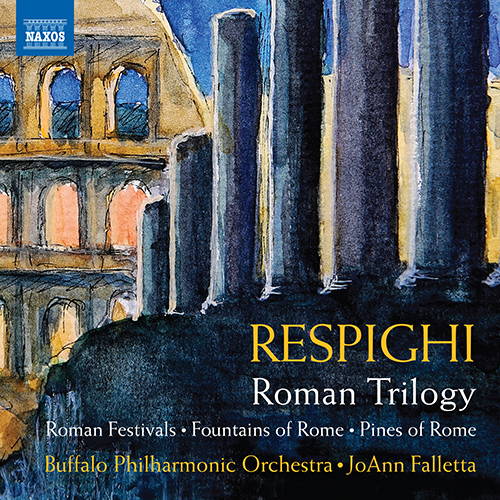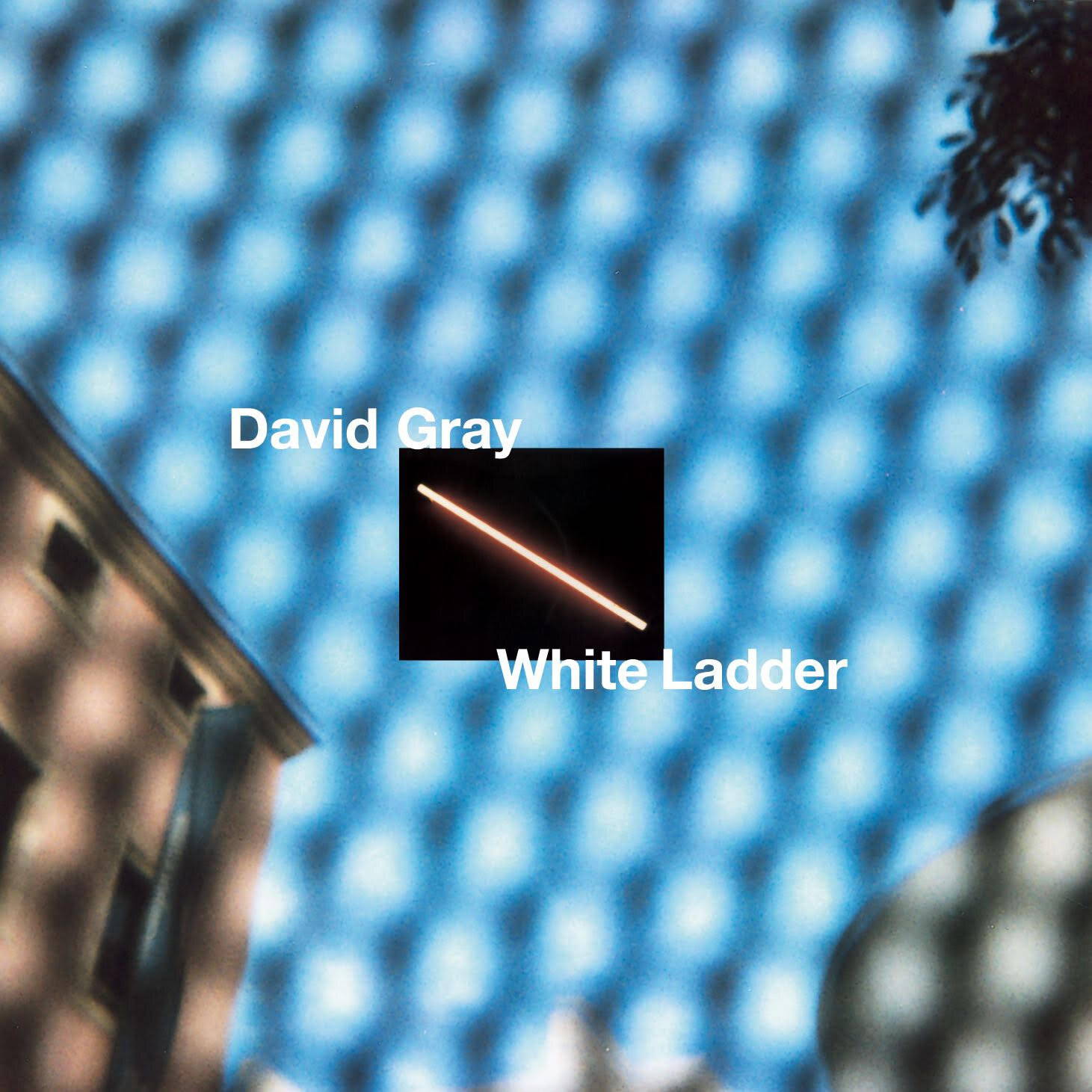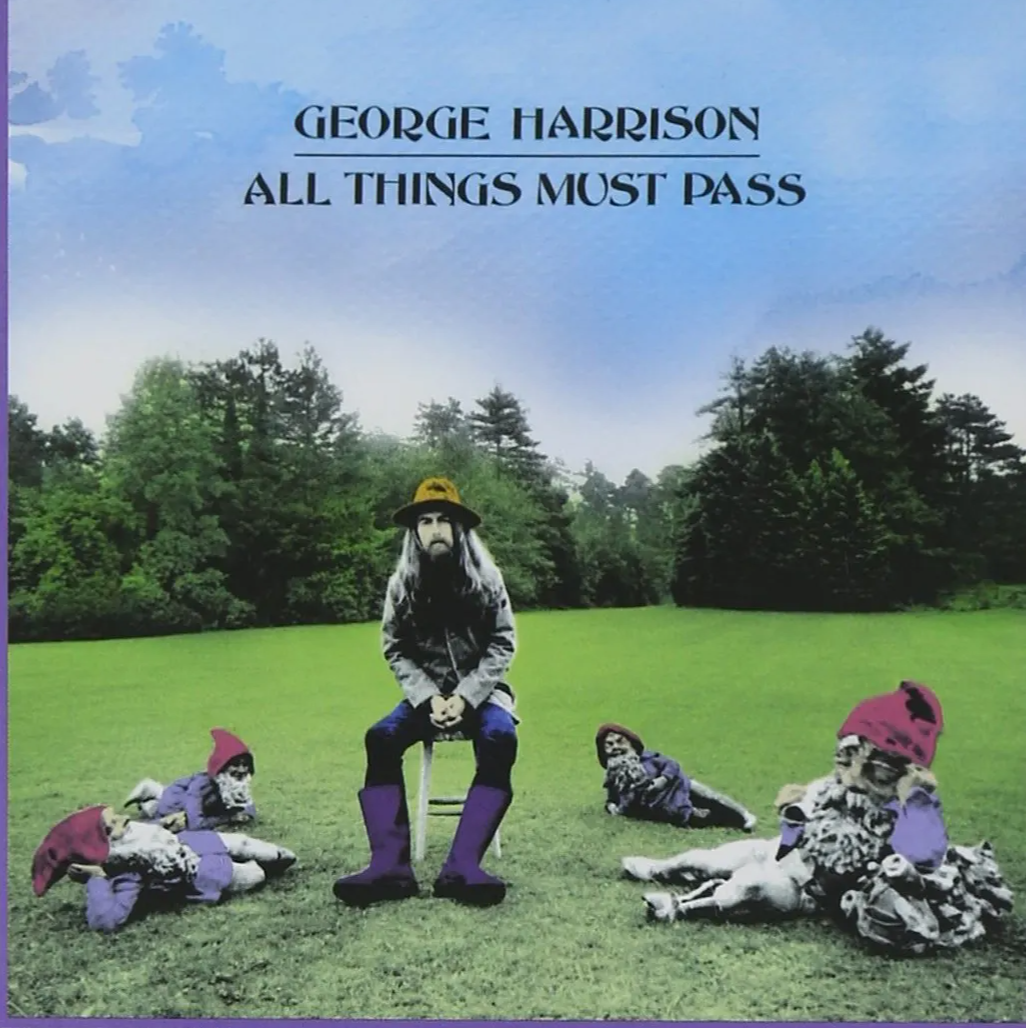 Test Tracks:
Thank You by Alanis Morissette
The Pines of Rome by Respighi
Please Forgive Me by David Gray
Wah-Wah by George Harrison
---
Where to begin. After all, it is an all-in-one box.
Streaming & Bluetooth Connectivity

The Uniti Atom is able to stream from all your favorite music streaming services. Spotify, Tidal, and Qobuz are directly integrated into the amplifier, as well as internet radio and a curated collection of HD stations and podcasts. AirPlay 2 support, Chromecast built-in, and Roon Ready status add even more streaming options, while analog and digital inputs mean you can connect many other sources too - including turntables. USB input supports playback from storage and flash drives. Bluetooth connectivity also allows you to connect to even more devices to stream your favorite music. Utilizing the apt HD codec, the Uniti Atom is able to stream high-resolution music files effortlessly via Bluetooth (more information on wireless sample and bit rates below). It's an incredible amount of options for one device.
You can also explore and curate your audio choices via the Naim App, with further control options offered by the excellent volume dial and display. The display can be turned off as well for discrete music listening in the dark. The Naim app integrates with other Naim streaming devices in your home. The application also makes it easier to navigate your music collection by source and to select favorites and presets for your device.
The Naim App is available for both Android and iOS. Click the links below to download:
You can set up your Uniti Atom amplifier as a multi-room streamer, allowing you to be able to stream your music from different locations within your home. Using the Naim Application, you can sync up to five Naim streaming devices in your home and use the app to control all your products with the push of a button.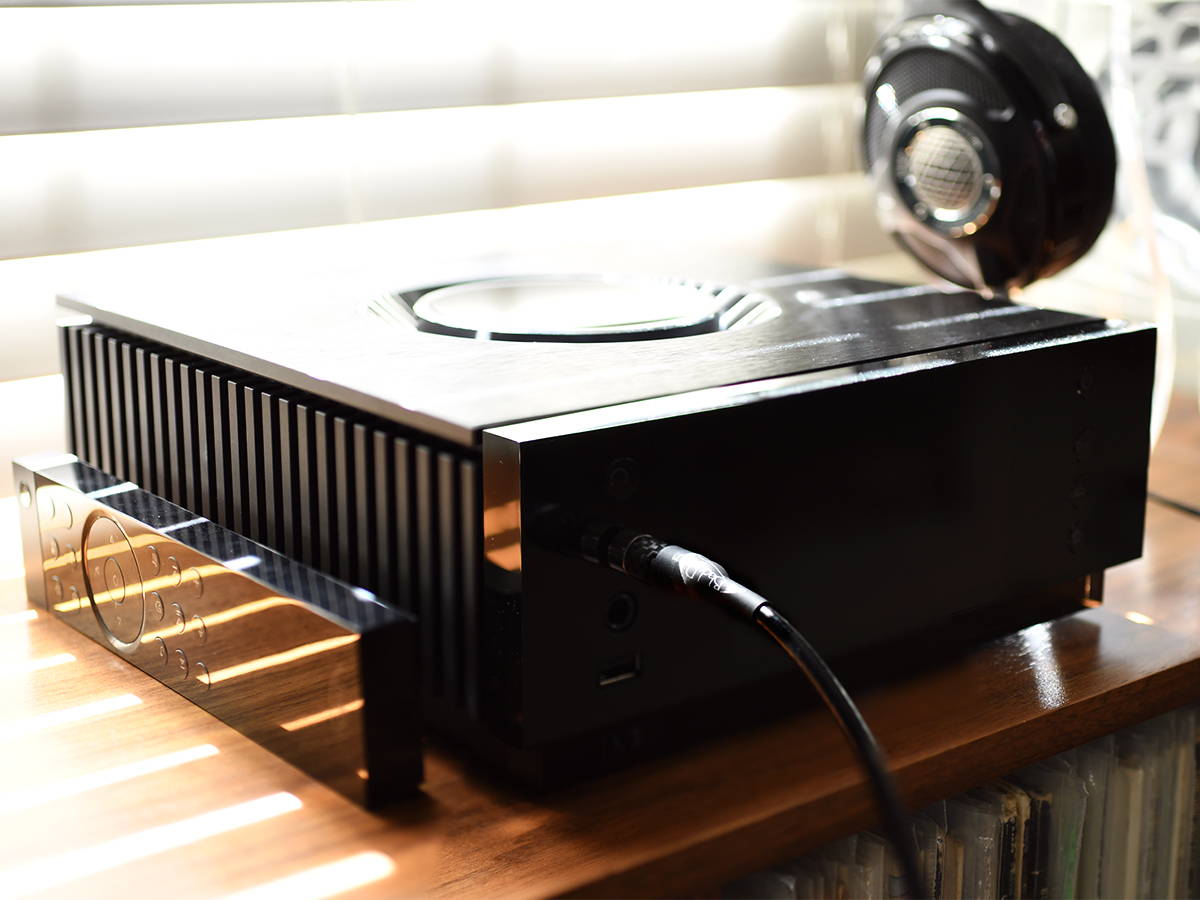 Full List of Features:
Chromecast built-in
AirPlay
TIDAL
Spotify Connect
Bluetooth (apt HD)
Internet Radio
UPnP (Universal Plug "n" Play)
Digital Input (S/PDIF)
Analog Output
Headphone Connectivity
Storage Connection
HDMI ARC (Standard Edition Only)
Multiroom Streaming
File Formats (WAV, FLAC, DSD, AAC, AIFF, Apple Lossless, WMA, Ogg Vorbis, MP3)
Wireless Updates
Roon Ready
Qobuz
The Naim Uniti Atom is also easily customizable and personalized. Naim has included a collection of curated radio stations and applications. However, in the case of Internet Radio, you can set your own radio stations to your favorites and more.
What's a Favorite? A Favorite is any type of music (e.g. Album, track playlist) from almost any source (Tidal, Core, Local music, etc) that you want to see on the Home Screen of the Naim product you're listening to.
Can anything be a Favorite? Nearly. You can Favorite all items found on: Naim server (Core), Naim Server (Atom/Star/Nova/ND5XS, NDX2, ND555), TIDAL, Qobuz, and some Spotify content (but not on: Naim Server (HDX, Uniti Serve), third party UPnP Servers).
What's a Preset? A Preset is a shortcut to play any Favorite that you want to access quickly from the app or your product.
Naim App (all Naim streaming products):

first tab of the Home Screen / Presets section in the Favourites browser

Uniti Atom, Star, and Nova (with Firmware 3.5+):

front panel star button / remote control star button
Can anything be a Preset? It depends on your product.
Uniti Atom, Star and Nova (with Firmware 3.5+):

Radio stations, Spotify, Tidal/Qobuz Albums, Tracks, and Playlists
Tapping the 'star' Favorites icon opens a browser to give you greater control over all your Favorites. Selecting any category allows you to explore your collection via detailed sorting and filtering. Naim gives the user quick access to all their favorite music at the touch of a button.
For more information about setting up favorites and presets and accessing them via the Naim Uniti Atom or Naim App, please check out the following guide HERE.
---

---
How Does the Uniti Atom Compare with the Element X?
The Element X by Matric Audio is another great streamer, DAC, amp, all-in-one box. Stylistically, it's not a statement piece like the Uniti Atom, but functionally, it's one of the best streamers on the market. The Element X has a great reference sound, very neutral and accurate in imaging. Like the Naim Uniti Atom, the Element X can drive just about any headphone you plug into it. Build-wise, both chassis are like tanks: incredibly robust and premium. The Element X takes up more room horizontally, but the Naim is about twice as tall. Keep in mind too that the functionality of the Naim Uniti Atom resides on the front AND the top of the device, whereas all the controls on the Element X are on the front of the machine.
Concerning functionality, the Element X has some phenomenal flagship-grade features, including AirPlay, DLNA, Roon Ready, a full balanced headphone amplifier, an isolated power supply, and much more. Notable differences from the Naim Uniti Atom Headphone Edition are as follows:
Matrix Audio Element X Music Streamer
Headphone Out:
4-pin XLR
Dual 3-pin XLR
6.35mm
Bluetooth: No
Application: MA Remote
Storage: USB x2; TF slot (microSD)
Integrated Streaming Apps: NO
Multiroom Streaming: NO
Full-Color Screen: NO
Naim Uniti Atom Headphone Edition
Headphone Out:
4.4mm Pentaconn
4 pin XLR
6.35mm
Bluetooth: direct device connection and streaming
Application: NAIM App
Storage: USB x2
Integrated Streaming Apps: YES
Multiroom Streaming: YES
Full-Color Screen: YES
This might be simplifying some details, but even though these two devices are somewhat in the same category and price range, the Naim Uniti Atom offers a surprising amount of features that the Element X just doesn't have. I would describe the Element X to be a streamer for the purist - someone who is wanting clean and reference sound above all with added streaming integration and features. The Naim Uniti Atom is aiming for that audiophile who wants all the bells and whistles, functionality, and style. The Element X could be considered a phenomenal tool, whereas the Naim Uniti Atom Headphone Edition is an excellent experience.
The Uniti Atom Amplifier, DAC, and Music Streamer is one of the most feature-packed do-it-all desktop units I've had the pleasure of listening to. The design is absolutely stunning and the box sounds just as good as it looks. The volume dial and the gorgeous display on the front of the unit help this device stand apart from the crowd and make for one of the best user experiences I've ever had. With more connectivity options and features than you can shake a stick at, you'll be hard-pressed to find a desktop unit that compares for the price.
If you want a box that can literally do it all, then we can't recommend the Naim Uniti Atom enough.
Oh, and it plays music too. I think date #2 is in order. ;)
---
---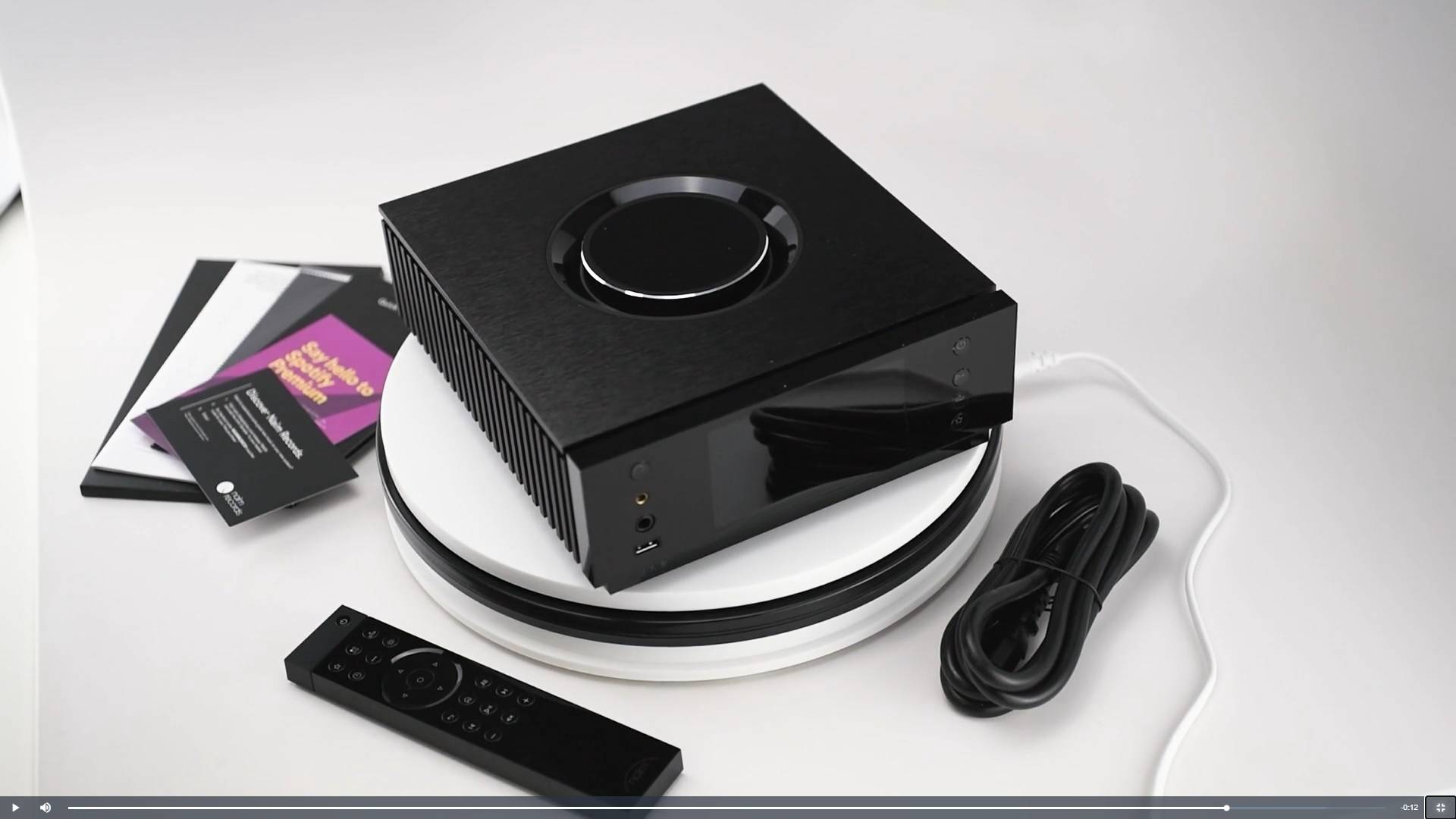 Document pack

Cleaning cloth

Remote

AAA Batteries

Power Cable
---
Naim Uniti Atom HE Unboxing Video
Naim Uniti Atom HE Video Review
---
Technical Features
Dimensions: 95 mm x 245 mm x 265 mm (H x W x D)
Weight: 7 kg
Audio Inputs
2 x Optical TOSLink (up to 24bit/96kHz)
1 x Coaxial RCA (up to 24bit/192kHz, DoP 64Fs)
1 x HDMI ARC (Not included on Headphone Edition)
1 x RCA
2 x USB Type A socket (front and rear)
Audio Outputs
1 x Stereo power amplifier
1 x RCA sub/pre output
1 x 3.5mm headphone jack
Audio Inputs
Streaming: Chromecast Built-In, Apple Airplay, TIDAL, Spotify® Connect, Bluetooth (AptX HD), Internet Radio™, UPnP™ (hi-res streaming), Roon Ready
USB
2 x USB Type A Socket (front and rear)
External portable SSD – max. 1TB
USB sticks – max. 128 GB.
Digital (S/PDIF)
2 x Optical TOSLink (up to 24bit/96kHz)
1 x Coaxial RCA (up to 24bit/192kHz, DoP 64Fs)
1 x HDMI ARC (optional)
Updates: Update your system wirelessly via the Naim app.
Network: Ethernet (10/100Mbps), WiFi (802.11 b/g/n/ac with internal antennae)
Formats - Internet Radio Formats: Windows Media-formatted content, MP3, ACC, OGG Vorbis streams and MMS
Front Panel: 5" colour TFT display and rotary volume control with proximity sensor and four buttons
Handheld: zigbee RF4CE
Audio Formats
WAV - up to 32bits/384kHz
FLAC and AIFF - up to 24bit/384kHz
ALAC (Apple Lossless) - up to 24bit/384kHz
MP3 - up to 48kHz, 320kbit (16 bit)
AAC - up to 48kHz, 320kbit (16 bit)
OGG and WMA - up to 48kHz (16 bit)
DSD - 64 and 128Fs
Notes: Gapless playback supported on all formats.
Finishes: Brushed and anodized aluminum
Auto Standby time: User selectable: adjustable from off up to 2 hours
Amplifier Output: 40W per channel into 8 ohms
Mains Supply: 115V, 230V; 50 or 60Hz
Power Consumption
Typical use: 90W
Network standby mode: <2W
Deep sleep: <0.5W
Network Standby (with SD Card and/or USB devices attached): > 15W*.
*Actual power consumption will vary depending on the size and type of attached SD card or USB devices
Storage
Store up to 20,000 tracks to a local USB connected storage device and serve to a network-connected player.
USB sticks – max. 128 GB.
Supplied with: Remote control, Power-Line Lite mains cable (UK denominations only), cleaning cloth and quick start guide.
Upgrades: Mains Cable, Power-Line mains cable
Amplification: External power amplifier or sub-woofer
User Control: App Control - Naim App for iOS and Android
---
CAN I CONNECT MULTIPLE PAIRS OF HEADPHONES TO UNITI ATOM HEADPHONE EDITION?

It is possible to connect multiple pairs of headphones to Uniti Atom Headphone Edition. Uniti Atom Headphone Edition has three different headphone outputs:
Balanced 4 pin XLR (rear mounted)
Pentaconn (front fascia)
6.3mm stereo (front fascia)
All can be connected simultaneously and Uniti Atom Headphone Edition can still be used as a pre-amp. For example, it may be useful to have multiple pairs of headphones attached if you and a friend wanted to listen at same time, or if you want to keep two sets of headphones ready to go. However, for optimal performance we'd recommend only having one set at a time attached.
WHAT FUNCTION DOES THE HEADPHONE BUTTON ON THE UNITI ATOM HEADPHONE EDITION HAVE?

When using the front-facing 6.3mm and Pentaconn headphone outputs, the Uniti Atom Headphone Edition will automatically mute the pre-amp outputs and turn on the headphone sockets - the headphone symbol on the Headphone button will illuminate to indicate that headphone output is active. To activate the rear-panel 4-pin XLR output, simply toggle the Headphone button to active; this is because the 4-pin XLR connection cannot be automatically detected, so this is not automatic. To switch to using the Uniti Atom Headphone Edition as a streaming pre-amp, simply toggle the headphone button off (the Headphone symbol will no longer be illuminated). You can keep any set of headphones plugged in – great for convenience, but also saving unnecessary wear and tear on the headphone jacks.
It is even possible to leave multiple sets of headphones attached, for example, if you and a friend wanted to listen at same time, or if you want to keep two sets of headphones ready to go. However, for optimal performance we'd recommend only having one set attached at a time.
DOES THE UNITI ATOM HEADPHONE EDITION USE THE SAME STREAMING PLATFORM AS THE UNITI ATOM?

Uniti Atom Headphone Edition uses the exact same Naim streaming platform that runs from the Mu-so 2nd Generation family, through the Uniti range right up to their flagship ND 555 player. Native services include:
Spotify Connect
TIDAL
Qobuz
Chromecast built-in giving access to other services, including Deezer
Apple AirPlay 2 support (including Apple Music streaming)
Roon Ready
The Naim streaming platform is also designed to be updated as new technologies and services arise. The Naim App provides the same control and playback functions on the Uniti Atom Headphone Edition as all other Naim streaming platform products.
WHAT KIND OF AMPLIFICATION DOES UNITI ATOM HEADPHONE EDITION USE?

Uniti Atom Headphone Edition is a class-A amplifier that runs into class-AB when the going gets exciting. When it's being used as a pre-amplifier it is pure class-A.
For example, when driving a 600Ω impedance headphone at full volume, the headphone amplifier will remain in class-A. At 300Ω at full volume the headphone amplifier will remain in class-A for all output except the last few decibles. As the impedance of the headphones drops then the point at which it slides out of class-A gets lower. Dropping to 32Ω it will be pure class-A until approximately 3.2mW and then seamlessly and transparently glide into class-AB for the remaining top 25dB.
Music is generally recorded around -20dB so for most usage Uniti Atom Headphone Edition can be considered class-A.
---