A Collaboration with Bentley Motors
Perhaps your other car isn't a Bentley, but with a debut collaboration between Focal and Bentley Motors, your other headphones can be.
Focal Radiance by Bentley headphone is a circum-aural, closed-back headphone that has been described as a "re-tuned" and decidedly warmer version of the Focal Elegia. Radiance combines the best of Focal technology with distinctive Bentley design elements. At $1,290, the Radiance is about $400 more than Elegia.
The limited-release Radiance (only 200 are being produced), available for pre-order through October 26, represents a three-way effort between Focal, Bentley Motors, and Naim Audio. Focal and Naim have been unified partner companies within the Vervent Audio Group since 2011. Focal, based in France, is known for speaker drivers, loudspeakers, and headphones; Naim Audio, based in England, is known for components and systems. Since 2008, Naim Audio has been supplying car-audio systems for British luxury automaker.
Now, the three companies have collaborated to produce two new home audio products: the Radiance headphones and the Naim Mu-so for Bentley Special Edition music player.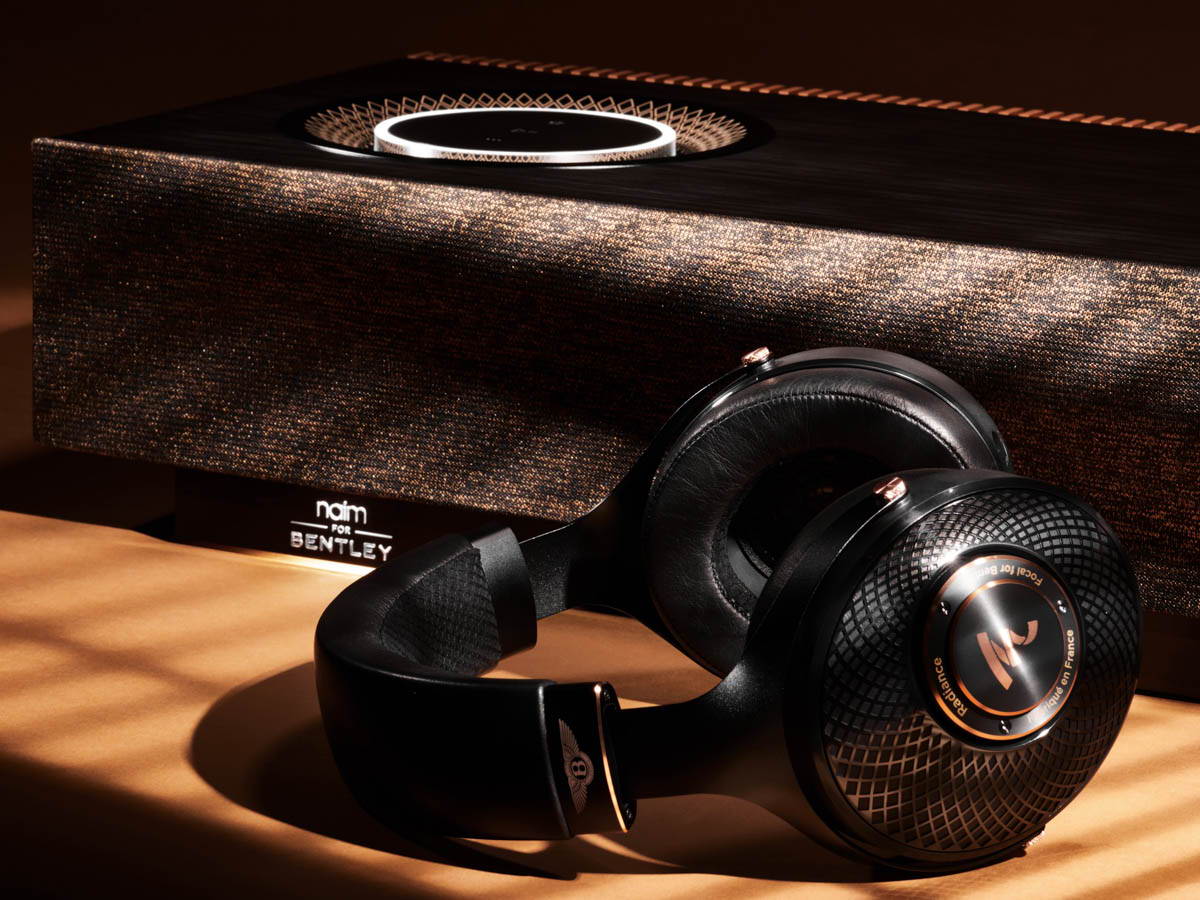 Materials, Comfort & Quality
The Radiance has a striking black and copper design and an air of refinement that pays homage to the Bentley brand in obvious (the winged Bentley logo that appears in copper just above each headphone cup) and more subtle ways. For example, the copper accents are a nod to design elements in the Bentley Mulliner Bacalar, which was inspired by the EXP 100 GT electric concept car.
The diamond pattern on the grills echoes the iconic Bentley seat quilting and some newer headlights. This design is repeated on the cable connections and the underside of the headband. These are small touches that make a big impact design-wise.
The ear cups (metallic, as opposed to plastic on the Elegia) were super comfortable even after several hours of listening. They are finished in a soft, breathable, full-grain Pittards gloving leather. Pittards produces performance leather used in fashion and other industries, and yes, it is buttery.
The inside of the Radiance cushion is bi-material, exactly to achieve the frequency curve that Focal wants to avoid unwanted reflections that can cause notches on the frequency curve above 1 kHz or important phase drop.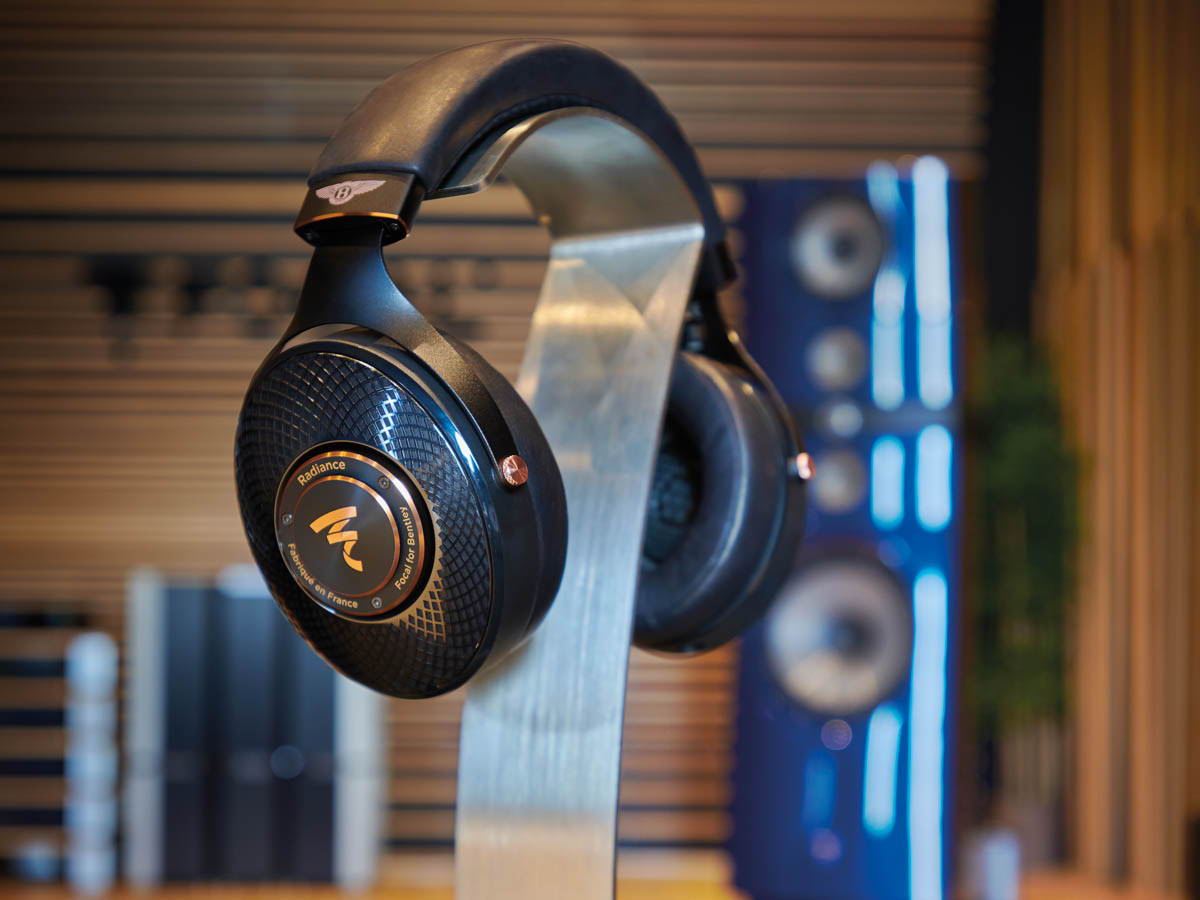 The headband is also finished in leather, and the yoke, which connects each ear cup to the headband, is made from solid aluminum. At just under a pound, the headphones neither weighed on me nor caused any discomfort. This is a headphone that feels solid without being heavy. You get a definite sense of craftsmanship and quality when you run this through your hands. It's a really nice-looking headphone.
I will say that I didn't get quite the level of suction I wanted in ear cups. It's likely the size or shape of my head (neither of which could be described as abnormal in any way), but I reached up at several points to press the ear cups in toward my ears. However, I discovered that positioning the cups a tiny bit toward my cheekbones made things better. That being said, I found sound isolation to be very good, as one would expect with a (mostly -- more on the that in a moment) closed-back headphone. Ambient room sounds were only intermittently discernible at even lower volumes.
Radiance uses a 1 5/8-inch dynamic full-range driver with an aluminum/magnesium "M" shape dome -- the same driver in the Elegia. The driver features a rear port. (Note that most drivers do not have this feature, but Focal drivers do.)
Unlike the Elegia, which had a fully sealed enclosure, the Radiance has a vent on the outside of each ear cup to ventilates excess energy that can build up inside of closed-back headphones. This allows the driver to move faster, which leads to tighter, more controlled bass. The driver plate is angled toward the listener in an effort to emulate center imaging.
The Radiance is still in the category of closed-back headphones such as Elegia and Stellia even though it is ported. We will call it a semi-closed headphone. The Focal Utopia and Clear headphones are tuned to be used in an open configuration – what Focal calls a low acoustic impedance environment. As a bass reflex for the bigger loudspeaker system, the headphones have room for tuning the back vent with dimensions and damping/diffusor materials.
With a frequency response range of 5Hz-23kHz, Radiance goes beyond what humans can hear. Extending the frequency range helps to reduce distortion and noise. Speaking of distortion, the Radiance has a THD (total harmonic distortion) rating of 0.1% @ 1kHz/100dB SPL, which is what you want to see in a high-end headphone. It means that the headphone can only distort 0.1% of the input audio. Sensitivity rating is 101dB SPL/1mW @ 1 kHz. In other words, you'll need less power to drive these, meaning you don't have to turn the volume up as high. Impedance rating is 35 Ohms, pretty common for a headphone. This means that almost any music player, including your smartphone, can drive the Radiance.
Sound Signature Impressions
For this review, I paired the Radiance with the Element X by Matrix Audio headphone amp/DAC (digital-to-analog converter). I began with the stock cable and switched to a Dragon Cable for a subsequent testing session.
As mentioned previously, Radiance has been described as a warmer Elegia. I would characterize the Radiance as warm and natural-sounding, with a slight high-end roll-off that might be a natural result of the tuning. Bass definitely plays a big part in the mix, but it's not a basshead's headphone. The bass is satisfying and robust, but not unpleasantly dominant. I'm tempted to call them laid-back, not in the sense that the sound is distant, but in the Radiance leans more mellow than energetic.
On many of my test tracks, I found the sound to be enveloping. I mean this more emotionally than literally, which would imply that the sound was all around me, i.e. a wide soundstage. Sound was mostly front and center in my head. Imaging was pretty solid. I definitely had a sense of where the different instruments and vocals were.
Those who have engaged in comparative headphone listening know how much pieces of music can vary based on tuning. A track that sounds energetic on one pair can sound more laid back on another and downright evocative on yet another. Case in point: Natalie Merchant's "Beloved Wife" can be stark and mellow or full and wrenching. With the Radiance, I got more of the latter. The piano and bass were dominant, with strings taking a back seat. Radiance lent emotion that was befitting.
"Box of Rain" was smooth and wistful -- again, befitting the nature of the track. On a more energetic headphone, this track can be almost danceable, but that's not its nature. Vocal harmonic separation was good, though maybe not quite as defined as I'm used to, particularly the higher-octave harmonies.
Test tracks
"Beloved Wife" - Natalie Merchant
"Box of Rain" - The Grateful Dead
"Diamonds and Rust" - Joan Baez
"Fakin' It" - Simon and Garfunkel
"Fire on the Mountain" - The Grateful Dead
"Lilly" - Pink Martini
"Pigs (Three Different Ones)" - Pink Floyd
"Skating Away on the Thin Ice of a New Day" - Jethro Tull
On "Pigs (Three Different Ones), I sensed that Roger Waters' voice was on par with the cowbell, percussion, and punchy electric guitar -- neither forward nor recessed. Bass was strong on this track and slow to decay, but not to the point of excess. This wasn't the most "in your face" presentation of what is a harsh song; it was moody and Floyd-like, so much so that I got lost in it.
I did sense some high-end roll-off with Radiance. This was true on "Skating Away on the Thin Ice of a New Day," where the flute and xylophone seemed clipped at points, like I wanted the notes to stay just a fraction of a second longer. At times I felt like Ian Anderson's voice was fighting to keep up with the instrumentation.
To get more of a sense of Radiance's mid/high behavior, I listened to some more female vocals. I found Pink Martini's "Lilly" to be quite nice, with smoky-smooth, articulate vocals that had some pleasing sibilance, but the highs felt just a little muted, and I definitely got more bass than I'm used to. Joan Baez's "Diamonds and Rust" was gorgeous, full, and lush -- so much so that I listened several times, getting swept away each time. The latter two are very different songs, though: One is more whimsical; the other moody and heart-wrenching. Radiance definitely suits the latter.
I also listened to Simon and Garfunkel's "Fakin' It," which in addition to gorgeous acoustic guitar is rich with little pops of sound, clapping percussion, and background details. Of note, I picked up on the bassline more than usual. When, mid-song, we hear the opening of a door with a bell and a woman speaking, I sensed her moving as she spoke, with her voice moving across the right side of my head.
Of course, what fun are strong-on-the-bottom-end headphones if you don't try them where you most want to hear bass? The bassline in the Grateful Dead's "Fire on the Mountain" is my personal nirvana, and I most enjoy it in the iconic 5/8/77 version. With Radiance, it was sublime. The latter part of "Fire" is a gorgeous, layered, climactic jam where I like to hear everything without losing sight (er, sound) of that bass. Radiance gave me a treat here with some sub-bass that lightly danced through the back of my head and upper body.
I would characterize the Radiance as warm and natural-sounding, with a slight high-end roll-off . Bass definitely plays a big part in the mix, but it's not a basshead's headphone. The bass is satisfying and robust, but not unpleasantly dominant. I'm tempted to call them laid-back, not in the sense that the sound is distant, but in the Radiance leans more mellow than energetic.
Dragon Cable Recommendations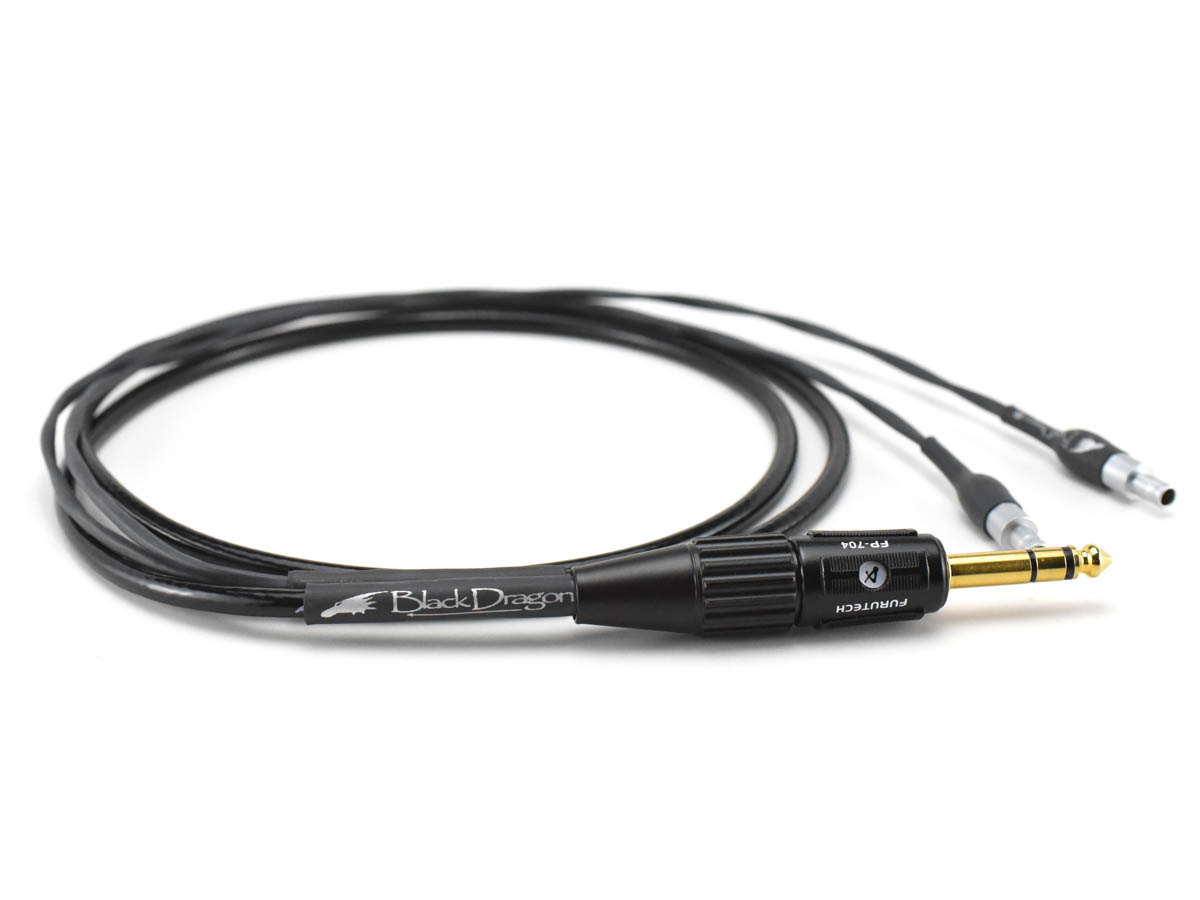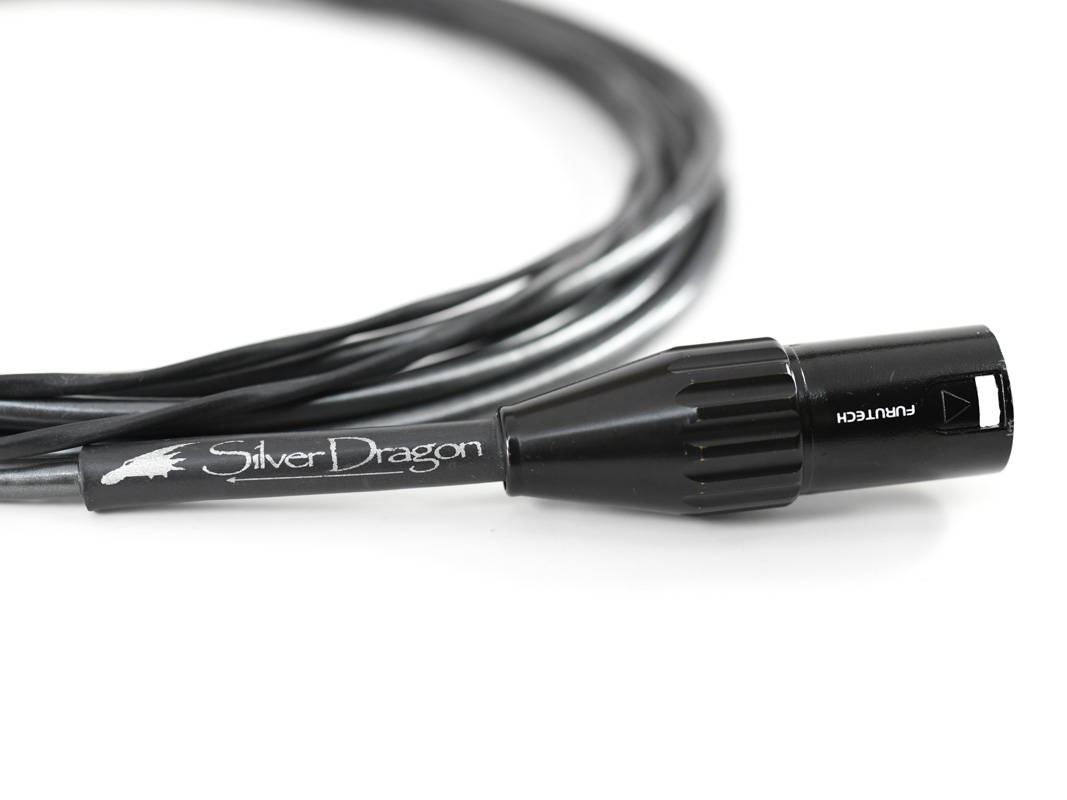 To upgrade or not to upgrade: That is the question. If you think of an audio cable as the air filter for your car, the answer is clear, no pun intended. The right cable will help your headphones "breathe," smoothing out impurities and adding a layer of clarity. The question then becomes, what qualities in your headphone's sound are you looking to enhance or minimize? This will guide your Dragon Cable choice.
If you want to augment the warmth of the Radiance, the Black Dragon Headphone Cable is a good choice, as it mirrors the Radiance's warm and natural signature. Copper strands in the Black Dragon will give extra weight to the bottom end while smoothing out the top end. The Black Dragon is great for people who enjoy a warm, musical tonality and a full sound but who aren't looking for "laid back" or "lush."
Now, I love a warm, musical sound signature. But sometimes I prefer a cleaner, crisper sound, one where I'm not so entirely swept up in the music but where I'm enjoying it while listening for known details and maybe finding new ones. For that reason, I really like the Silver Dragon Headphone Cable with the Radiance. Silver strands in the cable pull more from the mids and highs and increase instrument separation. The Silver Dragon retains the warmth and musicality that I love while supporting a clean sound with the details that I adore.
With the Silver Dragon, I enjoyed added separation in the strings on "Skating Away." Xylophone and flute sounded sweeter. On "Box of Rain," the vocal harmonies were more defined, especially the higher ones. Lead vocals were stronger, and the overall sound was clearer. And on "Diamonds and Rust," I was really taken with the strength and definition of each opening guitar pluck. On every track I listened to with the Silver Dragon, I felt like I was getting the best of both worlds in terms of musicality and detail.
There is a way in which I think Radiance is a misnomer for this headphone. "Radiance" to me conjures up shimmer and sparkle, qualities used to describe (among other things) treble. This, however, is a warm headphone. (Then again, heat radiates, so maybe I'm off base.) Semantics aside, Radiance really shines on tracks that are suited by strong bass and warm musicality. That being said, I especially enjoyed the Radiance paired with a Silver Dragon cable. The Silver Dragon retained and tightened up the bass that I love, while adding in some detail and polish on tracks where it's warranted. Tying things back to the "re-tuned Elegia" assertion at the beginning of the review, I will say that I think Focal has accomplished something special with Radiance. There was a way in which the Elegia was perceived as somewhat flat and dry. Not so with Radiance! In fact I hope that it becomes a permanent part of the Focal headphone collection, because in my view, it's a keeper!
Radiance comes in a Focal hard-shell carrying case that both echoes the shape of the headphones and reminds me of a 1960s purse. It is finished in a woven copper and black design. Of note, the design can also be found on the Naim Mu-so music player. The carrying case is enclosed in a faux leather Focal by Bentley box. Included with the headphones is a 4-foot OFC 24 AWG cable with 1/8" TRS jack connector and a jack adapter, 1/8-inch female -- 1/4-inch male.