Audiophile-grade Sound In Your Pocket
We know you want better sound – and there are so many ways you can get that without having to pay thousands and thousands of dollars on extremely expensive sound equipment. I'm gonna let you in on a little secret – you don't need to be rich to be an audiophile. You just have to ask for more from your music. These days lossless music isn't hard to come by, and with more streaming services offering high-resolution playback, the only thing that is really holding people back is what they're listening on. I'm sorry, but if you're streaming hi-res Tidal on your phone speaker – you're doing it wrong.
As we say time and time again, a DAC is the easiest way to improve the sound of your music. DAC stands for Digital to Analog Converter – and is necessary for taking the digital audio files and converting them to an analog signal which can then be outputted to a speaker so that we can hear them. Pretty much every consumer product like a phone or a laptop that has a built-in speaker also has a DAC. The problem with these consumer devices is that they're not built to prioritize sound quality. They're built to do everything WELL, but not one thing GREAT. So, for instance, like the DAC, they use cheap factory converter chips that will get the job done. But – you're not here because you just want to get the job done, are you? No of course not, because your music, and your ears, deserve better. DACs come in all shapes and sizes, and like Mama always said: Life is like a box of DACs – except we're here to show you exactly what you're going to get based on what you want.
So, this is the best PORTABLE USB DACs of 2022. Criteria are 1) they have to be portable, and 2) they have to connect via USB. That being said, all the DACs in this video are portable in the sense that they either have a built-in battery or run passively from the source's power. Also, all these DACs connect to the source via USB A or C, and in some cases as a bonus, even Bluetooth. It's a new year, and of course, we have some new gear, so let's briefly name the DACs that make our Best of 2022 vid before we start breaking it down:
This year we have some new additions from iFi: the Go Bar, the Do Blue, the Hip DAC 2, the Clarus CODA makes a return appearance, Astell&Kern have their new HC2 DAC, the Gryphon and Diablo from iFi, and the Mojo 2 and Hugo 2 from Chord Electronics. So, let's get to it.
---
---
At the bottom of the price point totem pole is the Hip DAC 2. At a mere $189, this flask from the future has everything you need for a sonic-tini. I was surprised when making this list that it was the least expensive of the bunch, but it's certainly no budget DAC. I would have easily put this a couple of spots up for what I thought it was worth - and iFi could rightly charge double the price for the sonic upgrade this DAC provides you listening experience. More power means more headroom with your music and better dynamics. If you're wearing some full-sized headphones and want more meat to the music, the hip DAC 2 is a great option. With the Burr Brown chipsets you get in the iFi lineup, you'll find a surprisingly natural and balanced tonality to the device – very little coloring, but if you want that extra bass and low end, the hip DAC can deliver. iFi's X Bass sound enhancement is featured here, and it's much more prominent than it is on the Gryphon. So Bass heads – look no further. It's a steal at this price too.
Great power for such a small size
---
iFi Go Blu Headphone Amp DAC
The Go Blu headphone amp might be one of the most unique items on the list this year. Don't let the size fool you, it packs a surprising amount of premium features. The nice thing about the Blu is that it's Bluetooth, allowing you to add reliable wireless functionality to your favorite headphones. Bluetooth 5.1, LDAC and aptX HD high-resolution codecs, balanced and unbalanced headphone jacks, iFi's X-Bass and X-Space sound enhancements, a 10-hour battery life, and there's not much this thing can't do. Oh yeah, I almost forgot to mention the most unique feature – the built-in microphone. Yup – you can now answer incoming calls on your favorite headphones or IEMs if you're pairing the Go Blu with your smartphone. Most devices in this price range are simple USB-DAC dongles, but the Go Blu offers amazing features and is built just as impressively to ensure great HiFi sound quality across the board.
---
Astell&Kern HC2 USB-C Dual DAC Cable
New this year is Astell&Kern's update to the popular PEE-51: the HC2 USB-C dual DAC cable. Like the previous year, the Astell&Kern dongle is a great value for those who like a more analytical listening experience. With dual CS 431 98 chips, the HC2 is on par with AK's A & Norma line of DAPs sonically, only this time in a much more compact form factor. It's even able to do native DSD 256 and 32-bit 384 support, which is impressive for a device of this size. Astell&Kern supports a plug–and–play approach with the HC2, just simply connect and you're ready to go. There are no features, no frills, no gimmicks, just plain old great sound. The HC2 has a 4.4mm balanced headphone jack and connects with the attached USB C connector. They've also included a USB-C to lightning adapter for iOS-supported devices. The Astell&Kern HC2 dual DAC cable is a great option for those who just want a small plug-and-play device for clear and detailed sound.
---
Cayin RU6 Portable USB DAC/Amp
The Cayin RU6 is one of our favorite USB DACs at Moon Audio. Cayin represents a great value for the quality of sound and features you get, and the RU6 is no different. The star of the RU6 is the incredibly natural-sounding R-2R DAC circuit. The R-2R DAC circuit in the RU6 is quite demanding on incoming data integrity and the digital volume control on mobile phones will inhibit the overall sound quality. When off-the-shelf volume options didn't meet the high precision, low noise, and low power consumption requirements of the RU6, Cayin developed their own discrete resistor array volume control. There are 0-99 steps though 9 sections of resistors and switching relays in the RU6, meeting all the requirements and transparency to maintain the natural soung signature of the R-2R DAC. It sounds natural and organic, whereas some DACs at this price sound filtered or digitalized. You'll be sure to maintain all the emotion from the original recordings with the RU6 with high and low gain options, PCM support up to 384kHz, DSD support up to 256, and more.
iOS/Android/Windows/MacOS/DAP compatibility
---
Clarus CODA Headphone DAC Amp
The CODA stands the test of time and returns this year as one of the best portable USB DACs on the list. About the size of a flash drive, I love the simple type A connector with the cable attachments, that way, if something goes wrong with the cable, you don't have a dead product. Of course, I would find that unlikely at this price point, hoping that people don't treat this like a throwaway flash drive. It has a sturdy metal body, and physical volume up and down buttons that also double as a filter selector. The Clarus CODA sports a quality ESS SABRE DAC – providing a great amount of clarity, details, and a wide soundstage. I'm a HUGE fan of the SABRE sound and combined with the 2 Vrms output it makes everything sound better. There is no balanced option as it only has a 3.5mm headphone output, but the form factor, sound quality, and small features make it one of the best small-form-factor USB DACs on the market.
Excellent compact size, sturdy build
---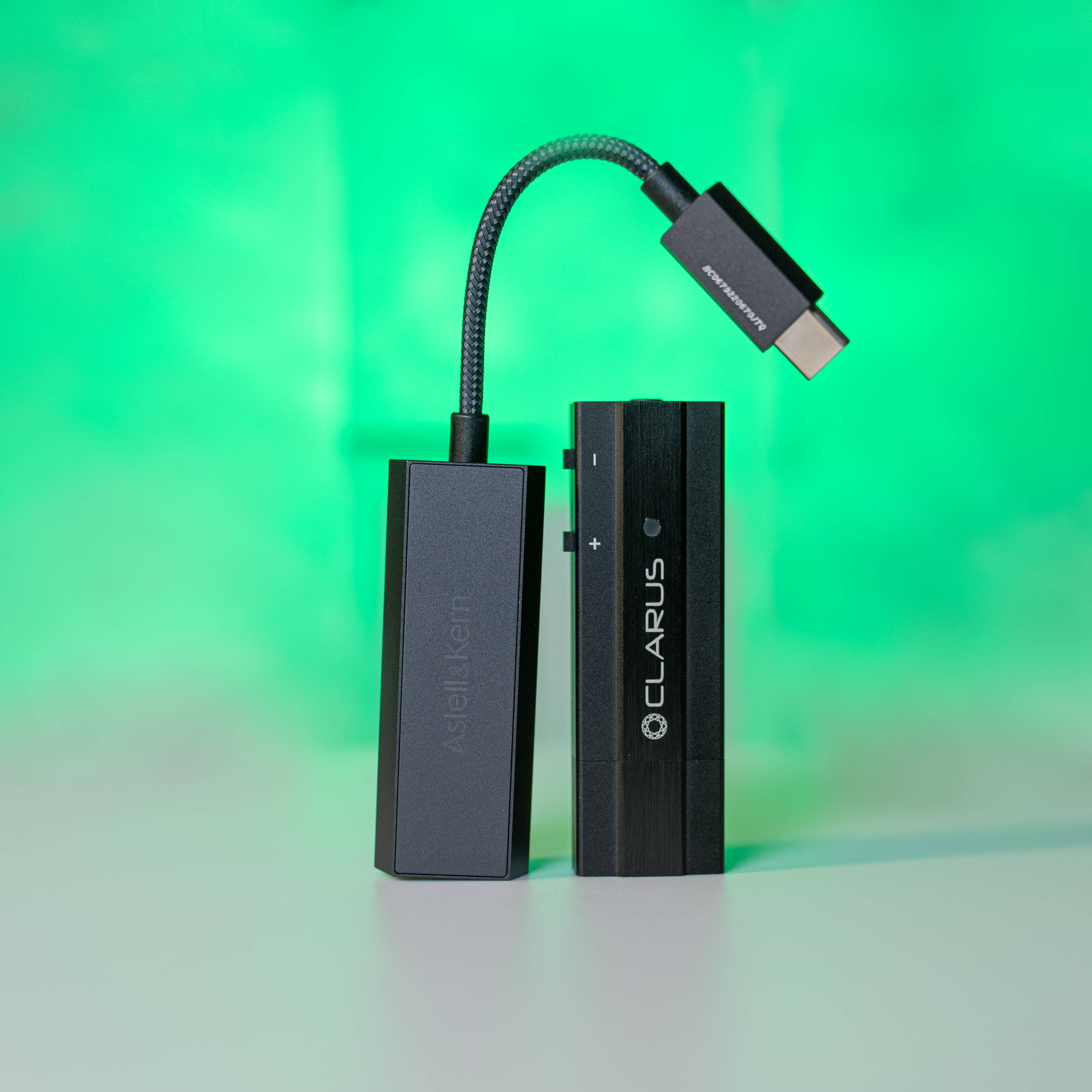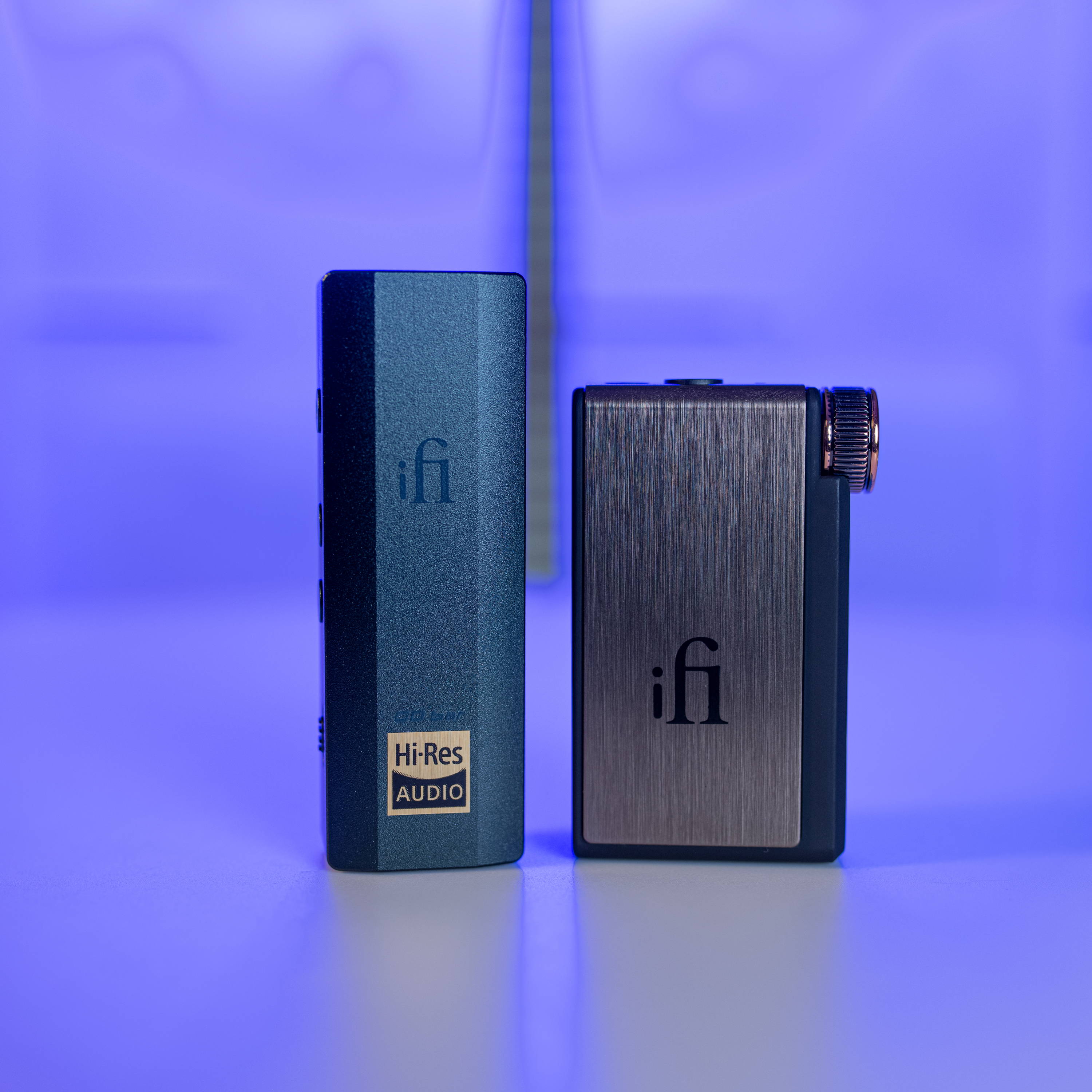 ---
iFi Go Bar Headphone Amp DAC (+ Gold Anniversary Edition)
The Go Bar... raises the bar... from what the Go Blu can do. iFi Audio calls this their top-of-the-line ultraportable USB digital-to-analog converter and headphone amp, and it certainly checks off the box for "ultraportable." It's about the size of a large, chunky flash drive, but the Go Bar has both unbalanced and balanced headphone connections, physical volume buttons, X-Space and X-Bass sound enhancements, digital filters, and more. For its size, the Go Bar packs quite the punch when it comes to power output, including a 6dB gain boost for harder-to-drive headphones. It also comes equipped with iEMatch - which attenuates power to suit high-sensitivity headphones and IEMs. Like other iFi products, the Go Bar is made with premium-quality materials and the build construction is superb. The Go Bar also comes in a shiny and sleek gold anniversary edition, which is constructed with a copper chassis and plated in gold. The limited anniversary edition also includes an enhanced power supply and is heavier than the original model due to the weight of the materials.
Great build, lots of features
---
iFi xDSD Gryphon Headphone DAC Amp
The Gryphon is probably one of the most feature-packed headphone amp/DACs on the market. It's a bit larger than the hip-DAC2, but it still retains excellent build quality and a very portable form factor. Equipped with a phenomenal-sounding Burr-Brown DAC chipset and a PureWave analog section that pumps out plenty of power for almost every headphone out there, it's a serious contender for the best portable DAC/Amp. In our review of the Gryphon, a major point of consideration was that it contains a number of high-quality features audiophiles and music lovers wanted in the ever-popular Chord Mojo 2, but didn't get. This consists of Bluetooth, a balanced 4.4mm headphone connector, an amazing OLED screen, MQA decoding, and more. The Gryphon comes with the standard plethora of iFi goodies and enhancements, including X-Bass and X-Space. Look out Mojo, the Gryphon is coming for you, and it's probably my favorite on the list here. It's hard to beat the number of features and versatility at this price point, which is why it gets my BEST DAC OF 2022 award. Get one. Really.
Amazing controls and features
Bluetooth, OLED screen, I/O
---
Chord Electronics Mojo 2 DAC Headphone Amp
Close on the heels of the Gryphon is of course the Mojo 2 by Chord. The Chord Mojo 2 is by far the most popular portable DAC on the market and a favorite at Moon Audio. Mojo stands for "Mobile Joy" and is a true reference-quality mobile DAC and a high-level headphone amplifier. Chord made some quality-of-life upgrades to the Mojo by adding a more in-depth menu with tons more control over your music and audio quality. You can select specific frequency bands to boost or cut, choose filters, run in desktop mode, have high and low gain volume control, and much much more. They added USB-C finally for data connection, and they still have the dual 3.5mm headphone jacks along with the dual micro B's for continued compatibility with the Poly streamer. I/O is great with coaxial, optical, USB-C and micro-B, and dual 3.5mm jacks. The Mojo was known for its great clarity and detail, and the Mojo 2 adds a bit more control over the bottom end if you prefer more bass presence. It's a compact DAC amp with a big sound, and can even power two headphones simultaneously with dual ports if that's something you're interested in. Chord Mojo 2 gets runner-up best DAC on this list.
Big improvement over Mojo 1
---
iFi iDSD Diablo Headphone Amp DAC
If you want more than enough power for your headphones away from home then look no further. The Diablo from iFi is the most powerful portable headphone amp in their product line. With a flashy red color scheme, making a deal with the devil never sounded so good. Packed with a dual-Burr-Brown DAC chip and fully separate left and right channels, the Diablo forgoes any of the bells and whistles found on other iFi devices and focuses merely on great, natural sound quality. No X-Bass and X-Space, no screen, no Bluetooth - the Diablo gives you everything you need for great sound: good materials, excellent circuitry, and design, and balanced and unbalanced headphone connection options. With three gain stages, you can provide just enough juice as needed to your headphones or IEMs. With an estimated max battery life of 12 hours, the Diablo is the perfect accessory to bring your power-hungry headphones everywhere you go.
Tons of power in a portable package
Crisp and dynamic sound, resolute
---
Chord Electronics Hugo 2 DAC Headphone Amp
At the top of the price point list is the high-end award-winning Hugo 2. It's been out for years, and yet, the amazing sound that comes out of this thing keeps it coming back year after year on our Best DACs list. The Hugo 2 is the most popular DAC in the Chord Electronics product lineup. The nice thing about the Hugo 2 is that it can do double duty as a portable DAC or fit right at home on your desk/shelf as a console unit integrated into your audio system. With plenty of input and output options, the DAC is also equipped with crossfeed for headphones, meaning that it cross-feeds a 400-millisecond delay in shaping music from left and right output to different channels based on advanced binaural audio research to emulate the effects of listening to music in a room with a stereo and speakers. It's the only DAC on the list that has RCA analog outs, so it creates opportunities to be an incredibly versatile device in almost any system. The sound signature is on the forward side, and the Hugo 2 provides amazing depth to your music, especially on higher resolutions. Battery life will get you about 7 hours on one charge, which considering the size and power of the Hugo 2, is pretty great. On top of that, Chord has developed a number of products that integrate seamlessly with the Hugo 2, providing even more functionality than ever before. The Chord 2GO will turn your Hugo 2 into a high-performance streamer and server via a wi-fi or ethernet-enabled device. The Chord M Scaler is also a great way to easily enhance the performance of the Hugo 2, The Hugo 2 is simply one of the best DACs on the market.
---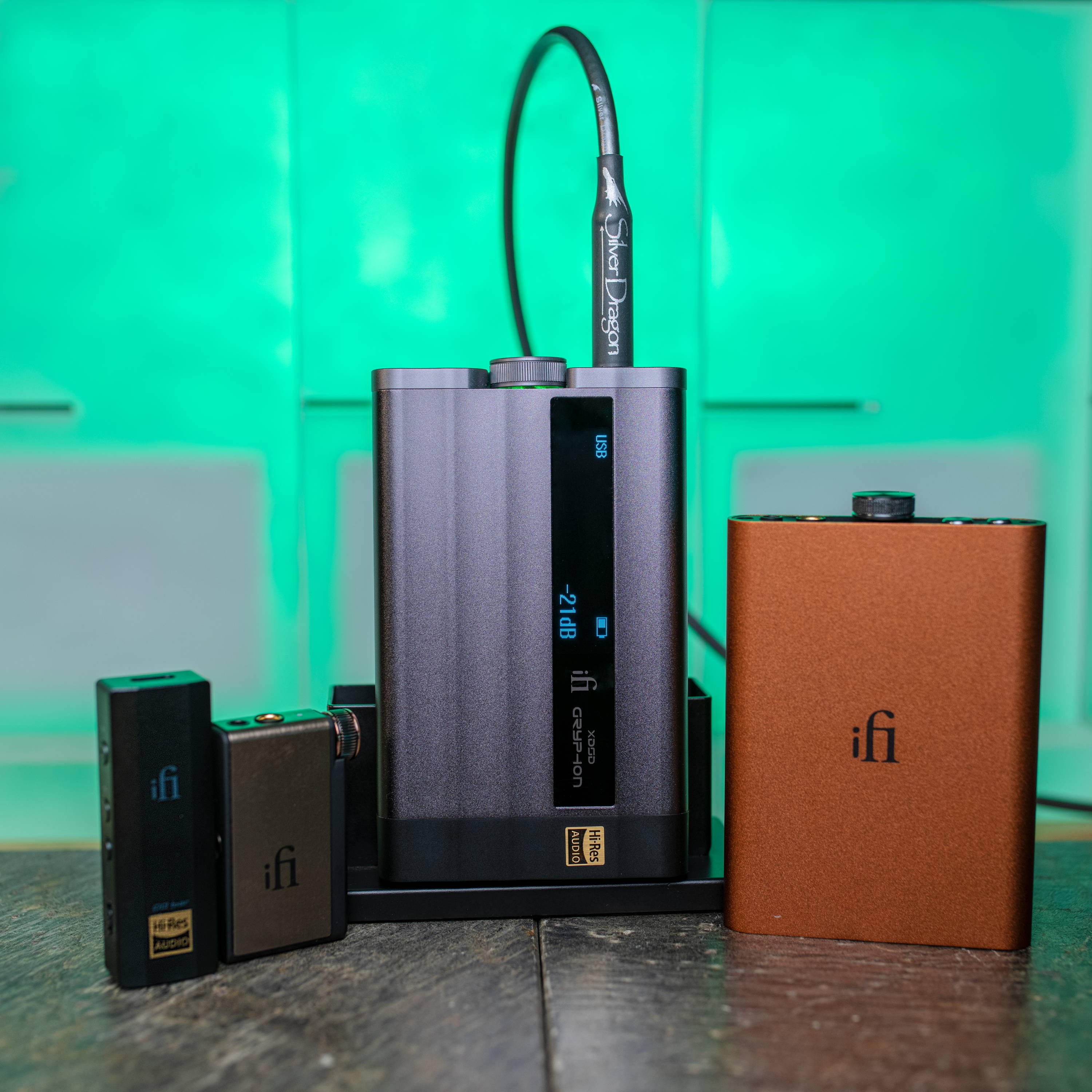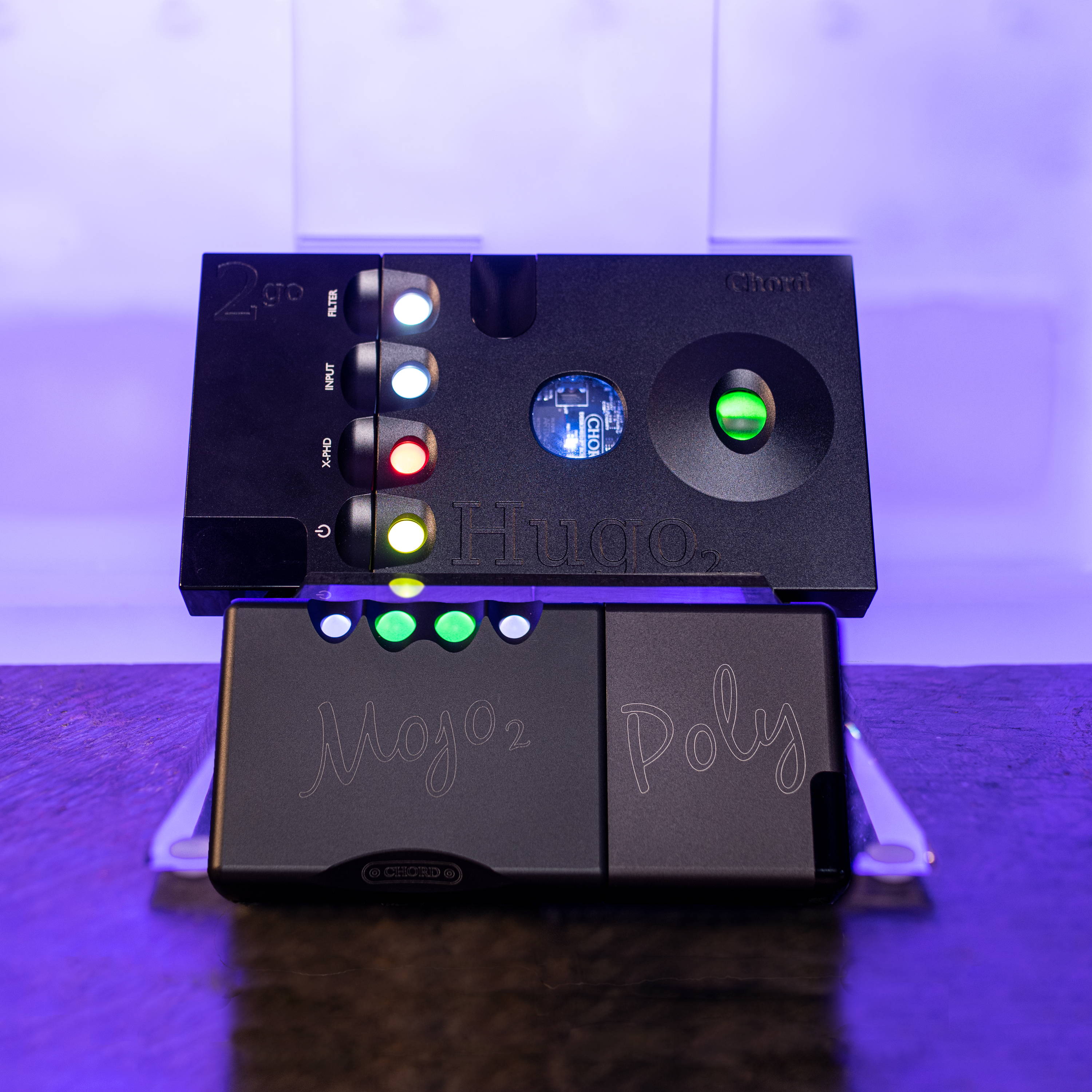 ---
Which DAC Is Right For Me?
So, there you have it, our best portable USB DACs of 2022. Which one is right for you? That depends on a few things.
One – what's your budget? Obviously what you're willing to spend is going to be a huge factor in determining what is right for you. The good news is that if you're coming from just listening to your airpods or beats headphones, then all of these products are going to be a step up in fidelity. I actually think some of the best gains are made this year with our cheapest products, namely the hip DAC and the Go Blu. They're a surprising value considering the features and overall boost in sound quality.
Two – How are you going to be listening to music? Do you want something that can run double-duty as a desktop DAC amp? Do you need something with a microphone to answer calls? Do you want a plug-and-play device or every control possible over your music? Do you want something super small or are you fine with a larger accessory? Each DAC on this list has pros and cons, and when, where, and how you are going to listen to music will tell you what kind of DAC you are looking for.
Three – What kind of music do you like to listen to? Each DAC has its own sound signature and will influence your music in one way or another. Chord products are known to be detailed and analytical, iFi products, with their Burr Brown chipset are super natural and balanced. So these are some things to also keep in mind when deciding what device sound signature to pair with your favorite music.
Bottom line: you can't go wrong investing more in your music and gear.
Chord Mojo 2 Review Video
Chord Hugo 2 Review Video