Is the Gryphon a Mojo killer?
Okay, let's face it: the Mojo isn't the only portable DAC on the market. There are a lot of other great options out there if you just know where to look. Moon Audio just picked up the brand iFi, and they have some pretty sweet portable DAC options that might just be a better bang for your buck depending on what you are looking for.
iFi isn't a budget brand by any means - as the build quality and myriad of features can show - but let's dig a little deeper and see how the Gryphon stands in a large world of portable DAC amps.
About iFi
iFi has been around since 2012. Headquartered in Southport, UK, they oversee the design and development of more than 50 products. They source their parts from all across the globe, including Germany, USA, and Japan.
Clear and neutral sound
Plenty of features
OLED screen
Well-implemented controls and design
No case
Volume issues (fixed when updating firmware)
The Gryphon is a nice-looking piece of tech. Right out of the box I'm just gonna say it looks like a cyberpunk flask, and that's pretty cool. Size-wise it's about on par with an external hard drive, which is a reasonable size for a portable headphone amp and DAC like this. It's surprisingly lighter than I expected it to be, but iFi has done a great job with the materials to keep the weight down while maintaining the premium feel of the device.
I/O
The front of the DAC amp has both a 3.5mm unbalanced and 4.4mm balanced headphone jack. 1). I am really glad to see the 4.4. balanced connection option. I'm a big fan of the more sturdy balanced connector over the 2.5mm option. 2). Yay for balanced ports. More power. More connection options. You'll also find LED indicators for both the audio format and input selection to the right of the balanced jack. The volume knob has a nice tactile experience with smooth and clicky scrolling, as well as a multi-function button when you press inward for mute, on/off, and menu navigation. The volume knob also has an LED light that changes color corresponding with the volume level. Next, you will find LED indicators for iFi's XBass and XSpace sound enhancements which we'll get more into in the Features section. The 'gear" button will access your menu settings when you press and hold. It will also switch between the sound enhancement modes when quick-pressed. The last button on the right will select your input modes. One small detail that I appreciate is the symmetry iFi has implemented in the design, with the buttons mirroring the size of the headphone jacks. Well done iFi.
On the back of the Gryphon, there is a three-way switch to select the sound enhancements of bass, presence, or both bass and presence. There are two USB-C ports, the left for charging (up to 5V input) and the other for audio data transfer. There is a S/PDIF input jack as well as both 4.4mm balanced and 3.5mm unbalanced inputs for additional connectivity. The bottom of the Gryphon features an "iEMatch" switch where you can select the 3.5 or 4.4mm jacks for sensitive IEMs.
One of my favorite aspects of the DAC amp is the OLED screen on the top of the device. It's a sharp-looking display, and the mirrored finish hides the fact that it's even a screen when the DAC isn't powered on. There's an impressive amount of information displayed on the screen and more importantly, iFi has implemented SilentLine technology meaning that the display does not add extra noise to the system. If you don't trust them you can always just turn off the display in settings too.
On the underside of the DAC amp, you'll find four small rubber feet that are perfect for desktop use and provide a great grip to scroll and activate the buttons single-handed. The Gryphon also comes with three braided cables: USB Type-A to USB-C, USB-C to USB-C, and USB-C to Lightning. The USB-A cable is longer than the others (1 foot) for applications like connecting to a computer. The others are ideal for connecting to mobile devices and are thus shorter in length.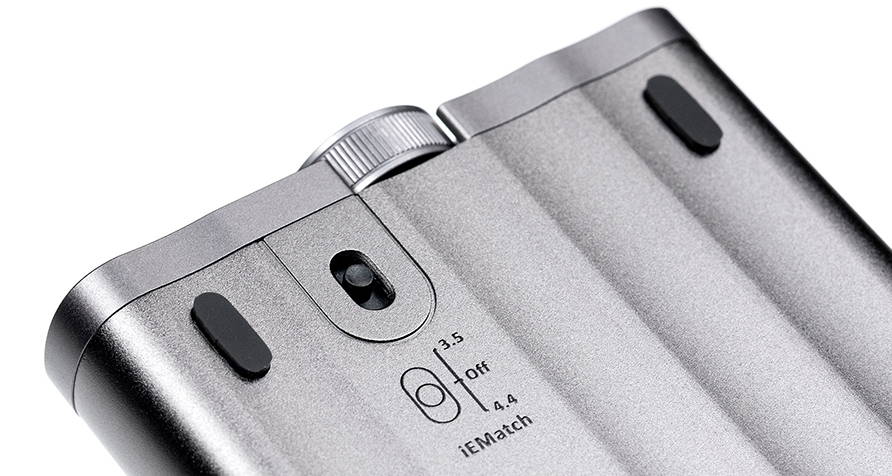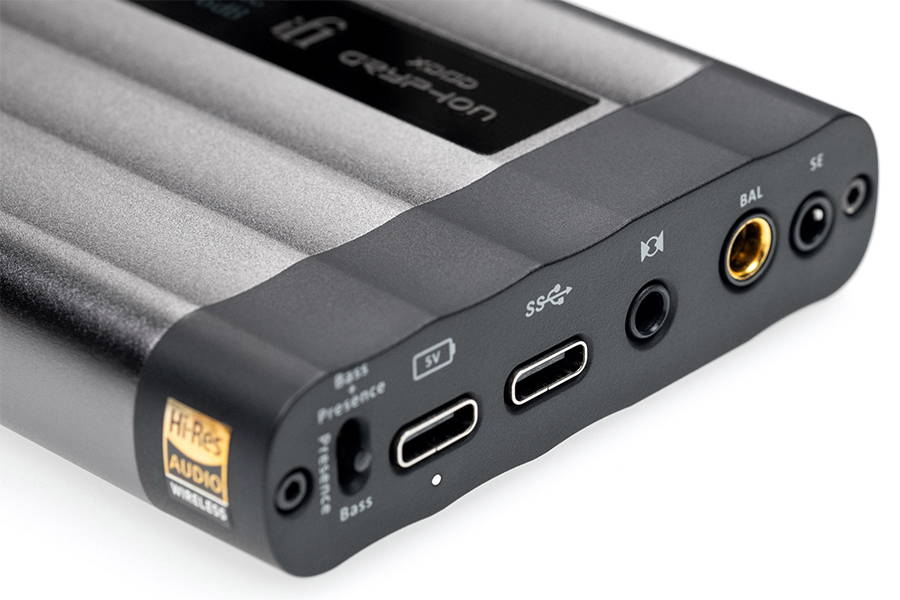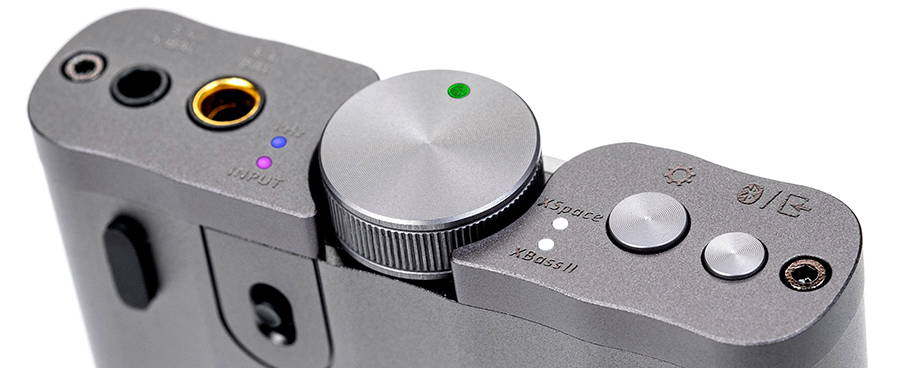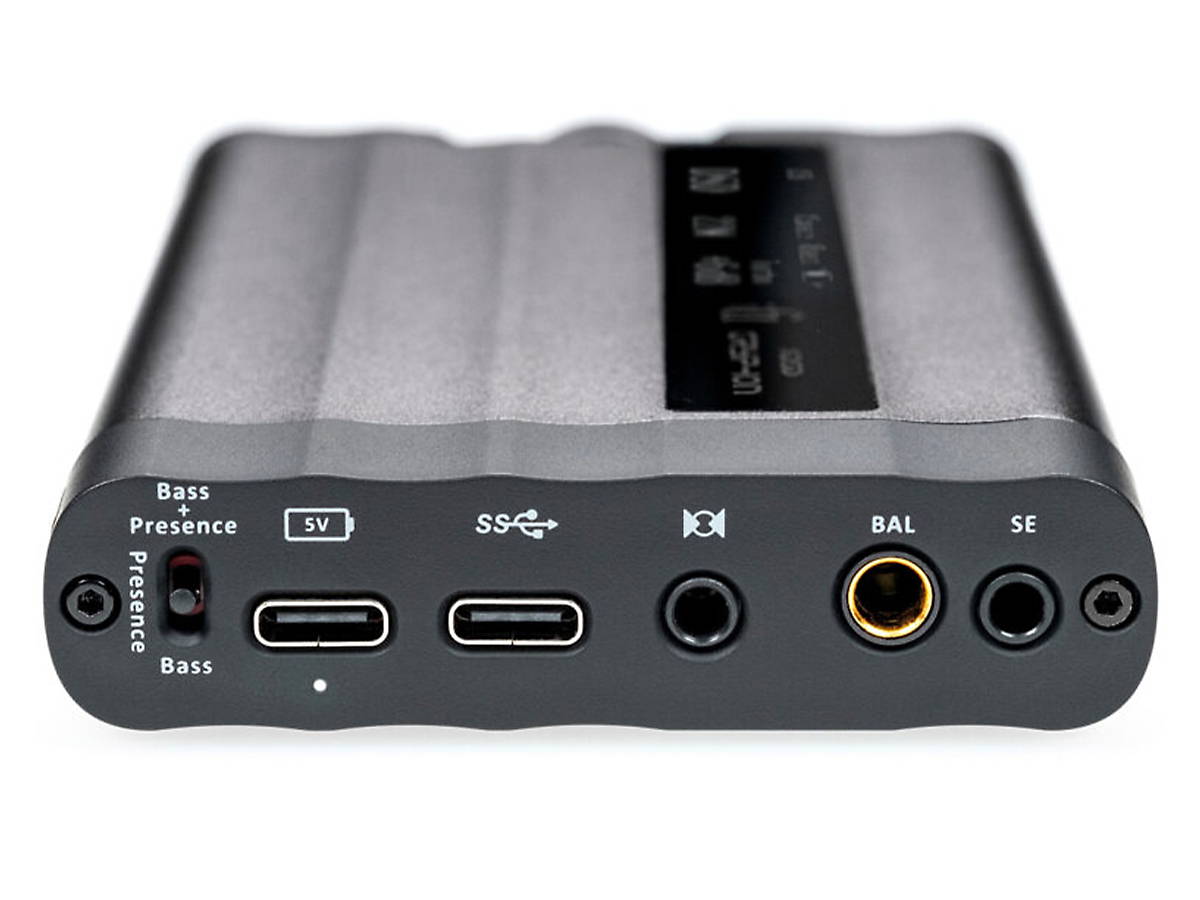 iFi includes a velvet drawstring bag to carry your Gryphon in. It's nice enough, but I would probably feel better carrying it around in a hard case when I'm not using it. The bag has an opening on the bottom which is just wide enough for you to adjust the volume knob while in the bag, for instance, if you were using it in Bluetooth mode. Luckily the Gryphon is about the size of a portable external hard drive, so finding a cheap and compatible hard case shouldn't be too difficult.
Overall, the Gryphon is a premium product with some lovely flagship-level features. All things considered, I would imagine a device like this easily going for twice the cost. But the features are just part of the equation. The important thing is: how does it sound?
The Gryphon handles pretty much every format ever created using a hybrid Burr-Brown DAC chipset which is the same as used in ifi's $3,000 flagship, the Pro iDSD Signature. It handles up to DSD512 and PCM 32BIT/768kHz including MQA.
I'm a big fan of the iFi Burr Brown signature. It's balanced and realistic – with some nice bottom-end engagement that I miss in other portable DACs. Low frequencies are present and tight, and can always be boosted with the XBass setting if you want more. And it will give you more. I found the Xbass setting more controlled than in the hip DAC that we'll discuss in a bit for the comparison section. Mids were accurate for the most part – sitting at a comfortable level, not too much, not too little. But there's some sparkle on the top end that really lends to the clarity of the Gryphon, giving the overall signature a very pleasant sound. It's natural sounding with great imaging. The noise floor is impressively quiet as well.
The XBass enhancement really adds some thumpy bottom end for listeners who like to feel what they are listening to. I was surprised with how much they fill out different headphones at various volume levels. It's never bloated, but the low frequencies will sound different depending on your cans.
The XSpace setting simulates a holographic sound field, giving the illusion of opening the soundstage – kinda like crossfeed. They call it an analog headphone spatializer. It does a well enough job of expanding the sound, so much that I found myself preferring the setting if I was just zoning out listening to music while writing. If you're a purist, you might not like it for most things, but it's effective for just about any genre out there.
Lastly, the Gryphon has three digital filters – bit-perfect which leaves the signal with no filtering, GTO upsamples to 384 / 352 with minimum filtering, no pre-ringing and minimum post-ringing. STD is your standard modest filtering, with modest pre and post ringing. They're subtle changes, and I found myself either using the bit-perfect or standard filters most of the time.

WARNING: VOLUME ISSUES
Be sure to download and install the latest firmware on the Gryphon since iFi has implemented fixes for this volume issue.
I did experience a max volume blowout when connecting the Gryphon to my iPhone only once. It defaulted to the max volume when changing the input selection settings and reconnecting the DAC to the phone. I could not recreate this from happening again, but I'm sure it could. It's best to disconnect your headphones when changing inputs and manually turning the device volume down when you know it is properly connected before plugging back in your headphones.
---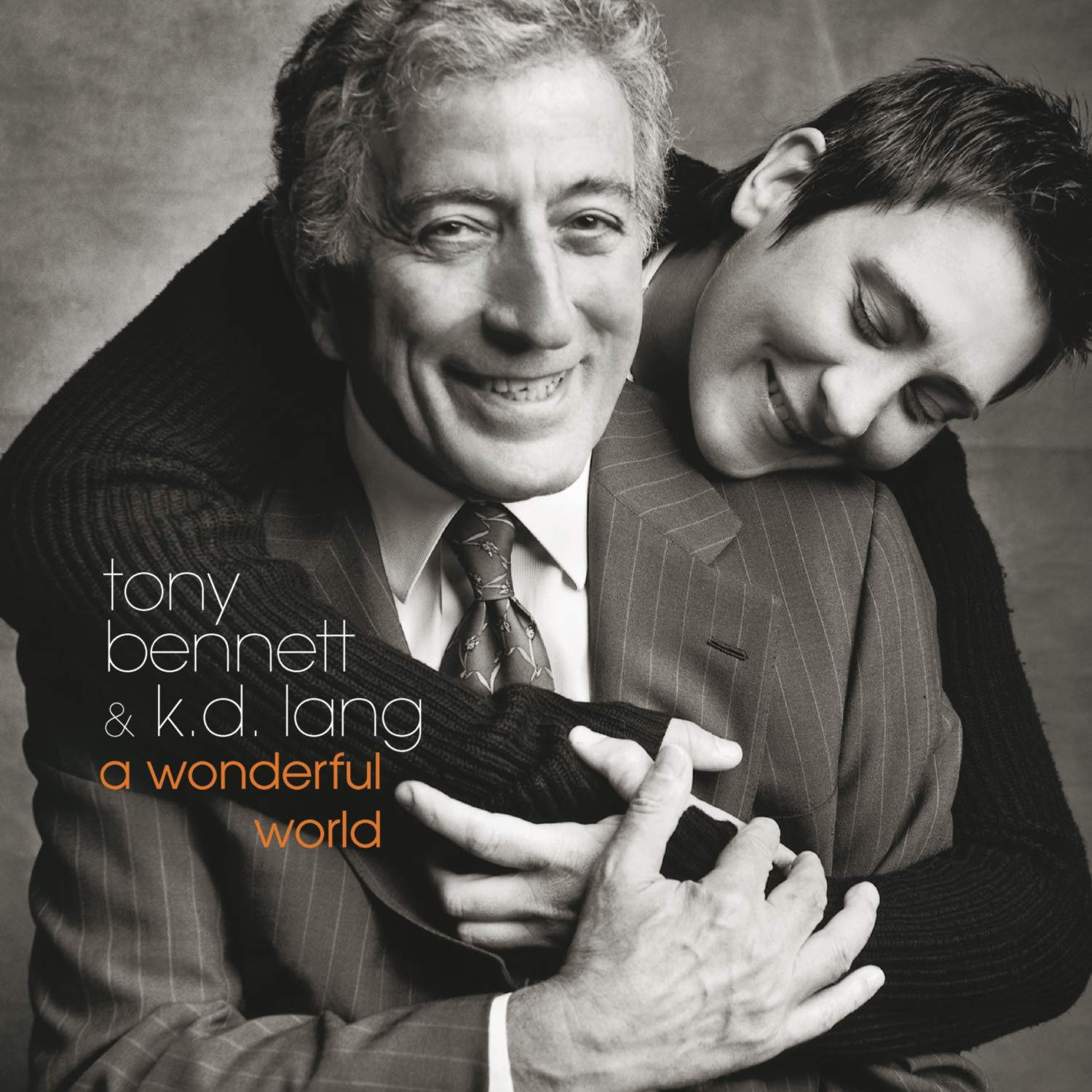 La Vie En Rose
by Tony Bennett and KD Lang
(A Wonderful World)
Digging for Something
by Superchunk
(Majesty Shredding)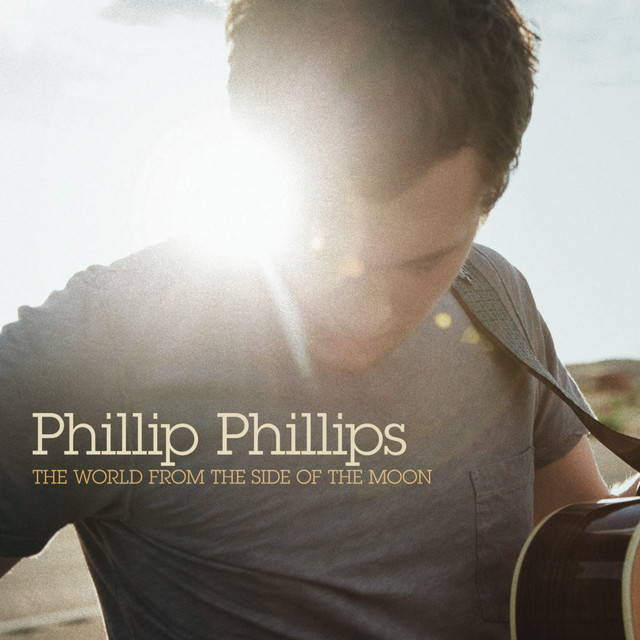 Gone, Gone, Gone
by Philip Phillips
(The World from the Side of the Moon)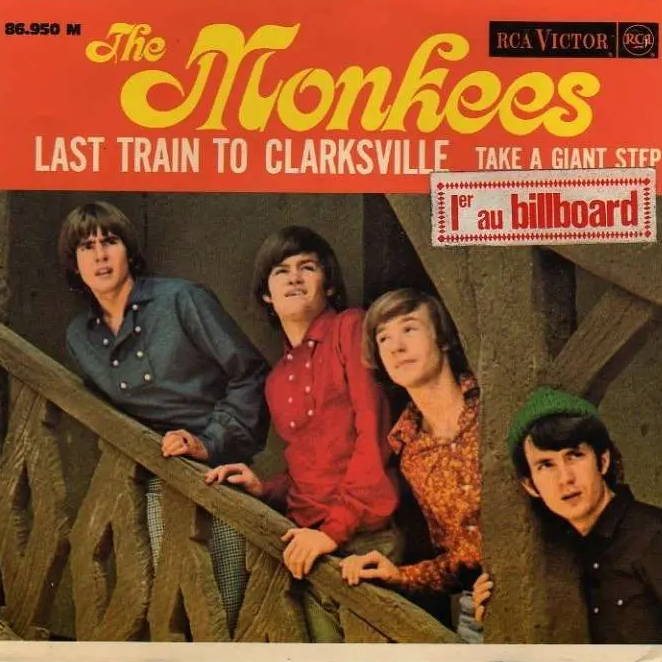 Last Train to Clarksville
by The Monkees
(Anthology)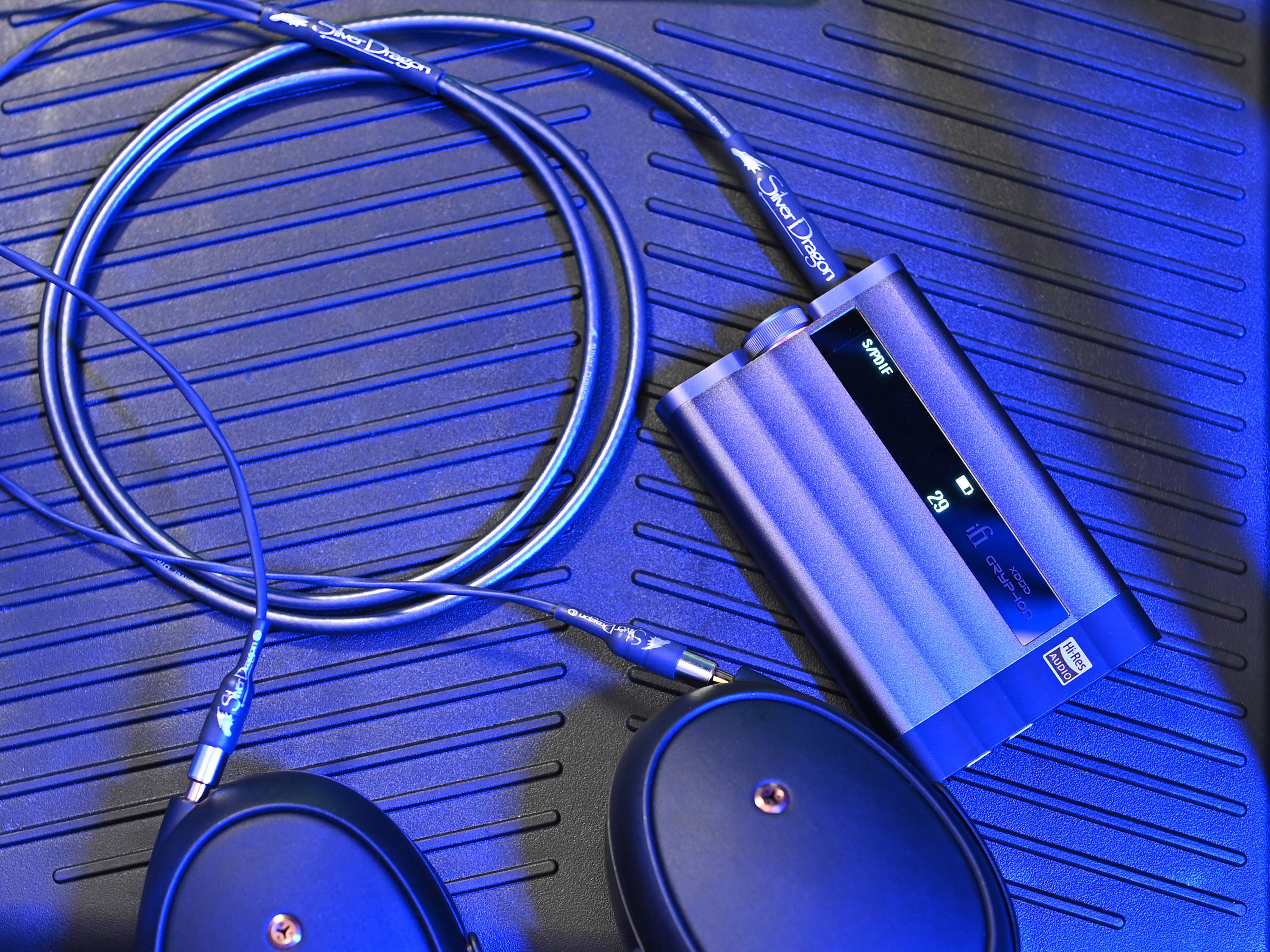 Hi-Res Bluetooth Codecs: Ifi uses Qualcomm's new QCC5100 Bluetooth processing IC in combination with proprietary circuits to create an audibly superior 'Bluetooth engine'. All the current high-definition Bluetooth audio formats are supported – Qualcomm's aptX Adaptive and aptX HD, Sony's LDAC and HWA's LHDC, regular aptX and aptX Low Latency, AAC (Apple iOS devices) and SBC (the 'plain vanilla' Bluetooth codec). Of the 24-bit-capable codecs, aptX Adaptive and aptX HD support up to 48kHz, while LDAC and LHDC reach 96kHz. iFi's 'Bluetooth engine' can also be updated over-the-air, so future codecs may be added.
Burr-Brown: The Burr-Brown True Native® chipset means file formats remain unchanged or 'bit-perfect'. This means you are listening to music as the artist intended in the format in which it was recorded. At iFi uses Burr-Brown extensively in their products having selected it for its natural-sounding 'musicality' and True Native architecture. Their experience with this IC means they know how to make the most of it.
MQA: MQA (Master Quality Authenticated) MQA is an award-winning British technology that delivers the sound of the original master recording. The master MQA file is fully authenticated and is small enough to stream or download. The xDSD Gryphon adopts MQA technology to receive and decode MQA audio and provide master-level sound. Visit mqa.co.uk for more information.
Balanced Circuits: It is a superior method to the traditional single-ended circuit approach. Balanced circuits reduce noise and crosstalk. Less Interference – clearer sound. You normally find this set-up in products at the higher end of the price spectrum such as the Pro iCAN but iFi is now using this across its range to produce the best quality audio for all iFi customers.
S-Balanced Performance: The iFi exclusive S-Balanced technology made its debut in the original Pro iCAN. Since then, it has become a significant feature across the iFi range and features as an integral part of the xDSD Gryphon. It delivers maximum performance from both single-ended and balanced headphones. The S-Balanced (single-ended compatible balanced) 3.5mm headphone output delivers the benefits of the balanced connection to single-ended headphones.
OptimaLoop: 'Negative feedback' is used in amplifier circuits to compare the output signal with the input signal and correct errors, in order to control gain and reduce distortion. For sound quality, this is positive; BUT commonly applied, one-size-fits-all 'global negative feedback' can also highlight different problems at the same time as solving others – corruption of the error signal, phase shifts, group delay and so on can all have a negative impact on sound quality. Ifi recognized that different parts of a circuit benefit from specifically optimized feedback loops and have developed a negative feedback system that is much more accurate than the usual approach. This incorporates multiple feedback paths instead of a global loop, each path optimized for a particular function and working synergistically with the others to deliver optimal overall performance.
PureWave: Balanced, differential analogue circuit design has long been championed for its ability to reduce noise and cross-talk within the signal path by fully separating the left and right channels. PureWave is a new, balanced, symmetrical dual-mono topology with short, direct signal paths. The name refers to the sonic purity it achieves thanks to exceptional linearity and infinitesimally low levels of noise and distortion.
SilentLine OLED: The OLED in the xDSD Gryphon sports a SilentLine design. This ensures that there is no electrical noise to interfere with the audio signal. The way its switches between settings has been engineered to ensure sonic transparency – FET-based switching is handled by a microcontroller, which only 'wakes up' when the user changes a setting, thus eradicating any sonically deleterious interference.
CyberSync: CyberSync is a software-driven volume control that operates in the analogue domain and the way it synchronizes with any digital source to which the xDSD Gryphon is connected is very different. It provides perfect volume synchronization between the source and the DAC. It detects which operating system (OS) the DAC is connected to – iOS, Android, Windows, Mac OS or Linux – and instructs the source's OS to bypass its software volume control. Whether the volume is adjusted using the xDSD Gryphon's rotary control or on the source device, CyberSync ensures the change is performed purely by the Gryphon's superior analogue control chip, while also displaying the adjustment on the source device's screen. Volume curves differ between operating systems and apps, but CyberSync ensures perfect synchronization between the source device and the DAC every time.
There are a few devices that iFi develops in the vein of "really great portable DACs." I'm speaking primarily of the Hip DAC2 and the GO blu Bluetooth module. The Hip DAC is going to be the more apples-to-apples comparison here and is designed in much the same way ("flask") just a little smaller. The I/O is reversed on the front, with a power-match button first, which selects the best match for a headphone's impedance and sensitivity in order to generate their highest operational efficiency. The next button is the XBass - note that XSpace and the combo options are not available on the Hip DAC2 like they are on the Gryphon. I will say that the bass boost on the Hip DAC2 affected the music much more prominently than the Gryphon, for better or worse, depending on what type of music you like to listen to. It uses a Burr-Brown chip like the Gryphon, and sonically they sound similar enough - clarity on the high-frequencies, a good amount of mids and low-end with some great dynamics for an entry-level DAC and amp. I can see the XBass setting a must-have for lovers of EDM, R&B, and other bass-heavy genres. But even so, it adds something else to genres like classical too, without covering up the clarity in the mid and high-range. The connections on the back are a male USB-A for audio data and a USB-C for charging. The male type-A connector might throw some people off guard, but you can easily connect to the apple CCK dongle directly this way, without the need for further adapters. Otherwise, it has less I/O than the Gryphon and is not quite as powerful. I see the Hip DAC2 being a great first buy for those wanting to try out something a bit more than their budget dongles, because for one-third the price of the Gryphon, you easily get half the sound if not more.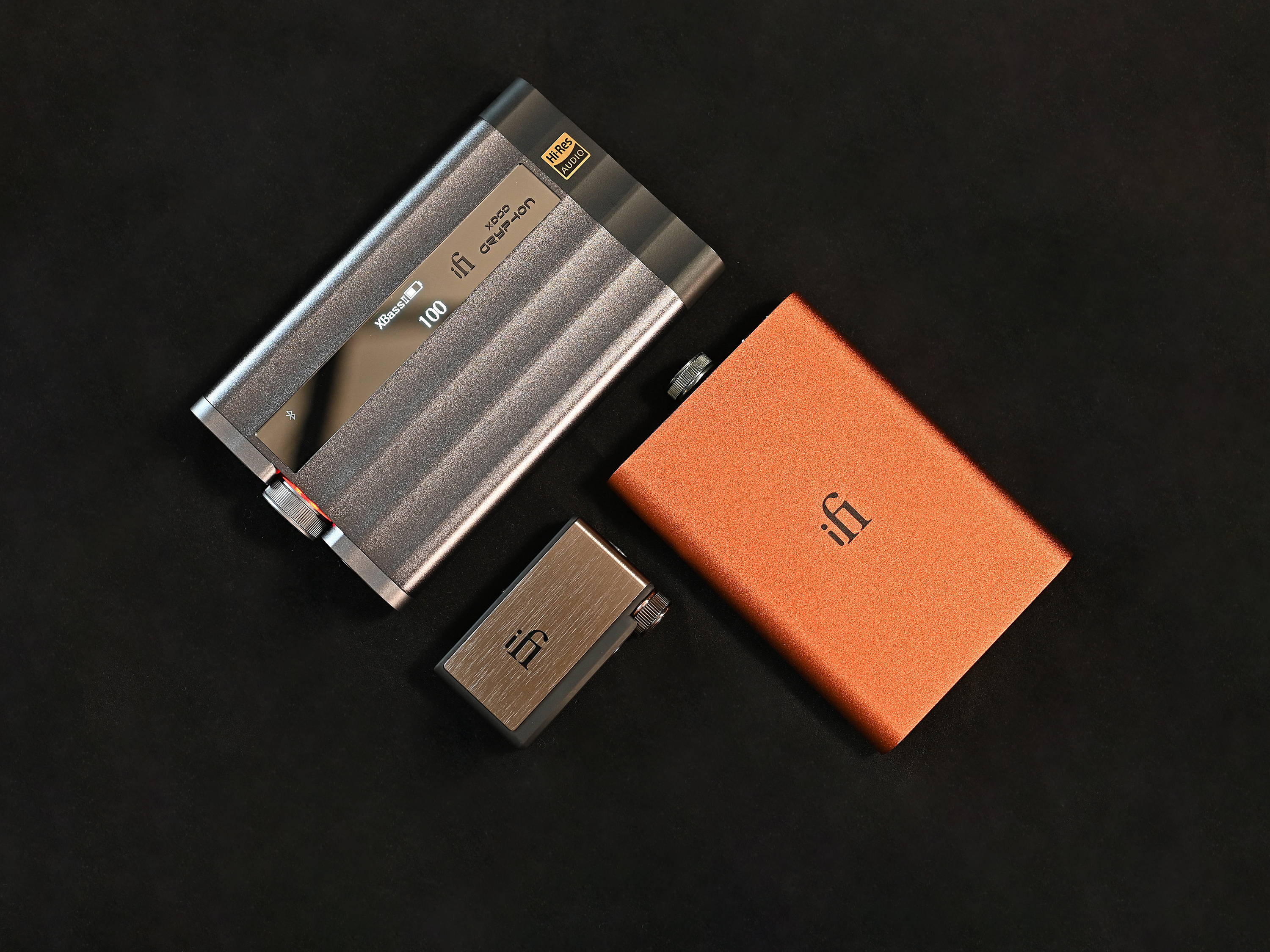 The Go blu is a Bluetooth adapter that is equipped with the same sonic improvements as the Gryphon with iFi's XBass and XSpace technology, but it's also equipped with a microphone so that you can make calls through your headphones or IEMs if connected to your phone. It's one of the few devices on the market for hi-res audio transmission that also comes with a microphone. Typically we don't like adding microphones to headphones or IEM cables as they can add noise into the signal, but the GO blu's solution is perfect for this very issue. With the latest hi-res Bluetooth codecs (LDAC, aptX HD, aptX Adaptive, etc), both balanced and unbalanced headphone connectors, and separate stages for Bluetooth, DAC, and amp, the GO blu retains a lot of the features that make the Gryphon great, at a much lower cost. It utilizes a CS43131 chip that still has some great measurements, but I did notice that despite the great power output for a device of this size, the XSpace and XBass features were less pronounced than on the Hip DAC2 and the Gryphon. Sound-wise it doesn't have the depth or soundstage that the Hip DAC or Gryphon sport, but it is highly detailed, lending itself to a more analytical signature. All in all, it's an impressive package for the size, but don't expect to get Gryphon-level sound from it. Bluetooth 5.1, 10-hour battery life, and the microphone make it a great convenience for portable travelling and the only factor better than all that is the price.
The thing that is impressive about the lineup of iFi portable amps is the power output. They can put out a ton of power despite their size. Now they're not gonna power a Susvara, but they'll do pretty much everything else. The Go blu and hip DAC2 make for some great entry-level alternatives to the Gryphon, but if you want the whole kit and kaboodle – best iFi sound, most features, best I/O, then the Gryphon is a no-brainer.
Comparison with the Diablo coming soon!
Generally, stock audio cables are manufactured with subpar materials, metals with impurities, poor geometries, and an overabundance of layers to make them look and feel like a fire hose. Inconsistency and lack of quality control in stock cables can lead to poor sound quality and a veiled sound vs what the musician intended for you to hear and feel from the music. Dragon cables are handcrafted with the highest standards and made to order according to your specific needs. At Moon Audio, we create a custom cable for you using the highest quality UP-OCC silver or copper conductors that can be manufactured. UP-OCC metals are void of impurities and are optimized for signal transfer and sound quality. We have one of the largest collections of audio and headphone connection options available online and we create limitless audio cable options depending on your specific gear and needs.
Learn About Dragon Cables
Silver Dragon Sound Signature: The Silver Dragon is the original cable. Silver strands clarify instrument separation, increase the soundstage, and find previously lost high and mid-frequency sounds. Transients appear more cohesive and the bass tighter for a more controlled sound. The detail and clarity of the Silver Dragon make it a perfect match for classical music and other genres with many nuanced instruments.
Black Dragon Sound Signature: The Black Dragon is warm and smooth with a musical presentation. Copper strands enhance the body, shape, and immediacy of the music. The detail and expansiveness of the Black Dragon make it a flexible fit where a broad range of musical genres are played. It can also improve bass frequencies on bass-light headphones. The smooth, musical quality makes it a perfect fit for headphones that tend to sound a bit edgy or bright. Despite its warmth, the Black Dragon does not have a laid-back, lush sound. It is much closer to neutral, making it a very natural-sounding cable. For more information on finding your signature sound, visit our Sound Signature Guide.
I'm just gonna go ahead and say it: the Gryphon has everything that audiophiles wanted in the Mojo 2. Boom.
The obvious comparison I left for last, as the Mojo 2 is without a doubt what the Gryphon is gunning for. I don't think it sounds better than the Mojo 2, but I might like the sound better than the Mojo 2 if that makes sense. The Mojo 2 will give you more control over your EQ, but the Gryphon just has easier tone controls that sound great in their own right and some major additional features that you won't find on the Mojo 2 that many people were wanting. To me, it's the better value, it's the more versatile DAC and amp, and it has tons of power. Bluetooth, a really great sounding DAC, and a premium experience that I think many will appreciate. I'm glad we picked up iFi here, and I'm really impressed with the Gryphon overall.
iFi Gryphon Headphone Amp DAC
Cloth carrying bag
USB-A to USB-C cable
USB-C to USB-C cable
USB-C to Lightning cable
Quick start guide
Warranty
Inputs:
Wireless -Bluetooth 5.1 (aptX, aptX HD, aptX Adaptive, aptX LL, LDAC, HWA, AAC and -SBC Codec)
Wired (digital) -USB-C / S/PDIF co-axial
Wired (analogue) - Balanced 4.4mm Single-Ended 3.5mm
Formats:
DSD - DSD512/256/128/64, Octa/Quad/Double/Single-Speed
PCM - 768/705.6/384/352.8/192/176.4/ 96/88.2/48/44.1kHz
DXD - 768/705.6/384/352.8kHz, Double/Single-Speed DXD
MQA (Decoder) - 384/352.8kHz
Bluetooth -Up to 96kHz
DAC: Burr-Brown
Battery: USB-C charging. BC1.2 compliant up to 1900mA charging current
Dimensions: 123x75x19 mm; 4.8"x3.0"x0.7"
Weight: 215 grams; 0.5 Ibs
Line Section
Outputs:
Balanced - 6.7V max. (variable)
S-Bal (SE) -3.5V max. (variable)
Output Impedance:
Balanced - ≤200Ω
S-Bal (SE) -≤100Ω
Balanced - <110dB(A) @ 0dBFS
S-Bal (SE) - <110dB(A) @ 0dBFS
Balanced - <0.007% @ 0dBFS
S-Bal (SE) - <0.015% @ 0dBFS
Headphone Section
Outputs:
Balanced - 4.4mm Pentaconn
S-Bal (SE) -3.5mm SE
Output Power:
Balanced - >1000mW @ 32Ω / >74mW @ 600Ω / >6.7V max. @ 600Ω
S-Bal (SE) - >320mW @ 32Ω / >40mW @ 300Ω / >3.5V max. @ 600Ω
Output Impedance:
Balanced - <1Ω
S-Bal (SE) - <1Ω
SNR:
Balanced - <116dB(A) @ 0dBFS
S-Bal (SE) - <115dB(A) @ 0dBFS
THD+N: <0.005% (1V @ 16Ω)
---