Making the most of your Astell&Kern DAP in the car
I've been spending more time on my morning commutes checking out the latest re-releases of Abbey Road and The White Album. A lot of it I've already heard from the anthology recordings, but the drive affords me the time for critical listening that I might not have otherwise throughout the day.
Astell&Kern music players are prized for their portability and audio quality. But you've invested a small fortune in a portable high-resolution digital audio music player, and one of the biggest perks is to be able to take your music library with you, isn't it? Taking a trip, driving to work, taking kids to after school activities - your vehicle can sometimes be your second home.
So what is the current state of compatibility between Astell&Kern DAPs and vehicles? Let's find out.
"Car Mode" sounds promising, right?
In actuality, Astell&Kern's Car Mode amounts to a horizontal or vertical layout for the music player, creating larger and more manageable controls. Enlarging the play/pause, back and forward buttons, the layout transforms into a driver-friendly design much like Android Auto and Apple CarPlay does for your connected devices .
Officially, Astell&Kern Digital Audio Players are not compatible or optimized for Android Auto and Apple CarPlay. Despite Astell&Kern's players running on an Android operating system, the device has not been made to integrate into Android Auto like other Android devices have been developed to work with car systems. Why have Astell&Kern DAPs not been optimized for car systems? We're not sure, but that doesn't mean that they won't work with your car's audio.
The fact is that Astell&Kern DAP music players do one thing and they do it well: play music. Android Auto and Apple CarPlay compatible infotainment systems are designed to act as an extension of your phone and integrate various functions into your vehicles personalized control scheme.
Just because Astell&Kern hasn't officially made their devices optimized with Android Auto and Apple Car Play, doesn't mean that they won't have some functionality with the audio system. We won't get into the compatibility of the devices with different systems, since they vary so much by audio system and car manufacturer. The down side to all this is that you could have a vehicle that might integrate fairly well with your music player, whereas others might have one that hardly retains any functionality whatsoever. You'll ultimately need to test your own device with your vehicle.
Apple CarPlay and Android Auto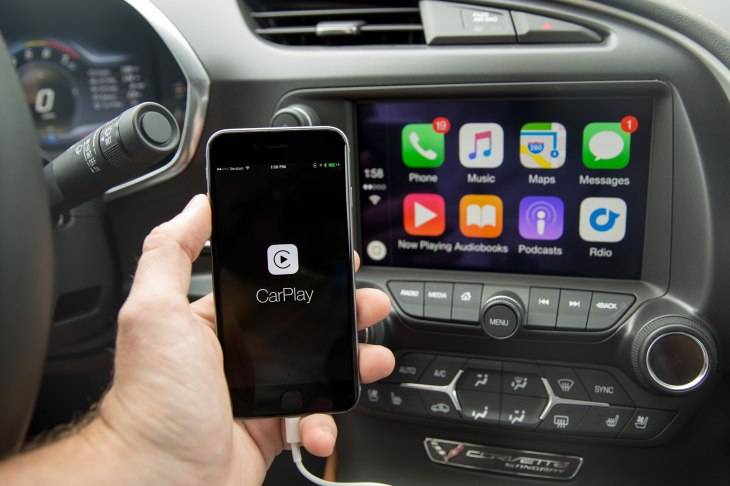 Android Auto and Apple CarPlay are car assistant systems that help integrate your Android or Apple phone into your vehicle audio/infotainment and control systems. CarPlay is optimized for Apple phones and Android Auto for Android phones. Most modern auto infotainment systems allow for both OS types to be integrated into the vehicle, unless otherwise stated. As phones become more of an extension of ourselves, the more essential it is for them to be assimilated into our vehicles to provide a safer driving experience free from distractions that require us to look away from the road.
Of course, we are not here to determine whether car assistant systems make you a safer driver, but one thing that is certain is we like to have our devices ready at the touch of a button. The biggest draw of the CarPlay and Android Auto integration is the ability to make calls with your audio system. This is something that will obviously be a moot point to Astell&Kern users, and should not play a big part in determining how your device will work with your vehicle.
The main question is how will your music player work connected to your vehicle?
The good news is that vehicle functionality shouldn't be your deciding factor in choosing an Astell&Kern DAP, since none of the music players are officially compatible and should work in the same way across the entire product line. So your SA700 will work just like the KANN Cube depending on how your vehicle integrates external audio devices.
The bad news is that since Apple CarPlay and Android Auto are designed to integrate various functions of say, your phone, this won't be the case with your Astell&Kern music player. Since the sole purpose of the device is to play music, this will be the only functionality that will transfer to the vehicle infotainment system (if at all). So don't expect to be able to make calls, use GPS and map features, along with various other application support.
How many devices can you connect to your vehicle?
The other thing to consider is that Android Auto and Apple CarPlay can only connect to one host at a time, essentially becoming an extension or accessory of your phone. That means if you are wanting to connect your phone and DAP simultaneously, you'll have to choose one or the other for CarPlay or Android Auto functionality. Your best setup scenario would be to connect your phone directly to your vehicle's infotainment system and your DAP via Bluetooth audio playback.
The good news is that when it comes to your regular run-of-the-mill Bluetooth connection, you shouldn't have any problem transmitting your audio from your Bluetooth-compatible Astell&Kern device (as long as your vehicle supports Bluetooth connectivity). Regarding transmitting audio through a Bluetooth connection, your Astell&Kern DAP will work in the same way any other Bluetooth device transmits audio. Of course, overall audio quality will depend on various codecs and compatibility.
Generally speaking, if your vehicle has Apple CarPlay or Android Auto, it's as simple as connecting your device to the audio system and selecting the Bluetooth Audio in the menu options. Your audio should then transmit through your vehicle's speakers.
This is the most reliable and only "official" way that your Astell&Kern DAP music player will work with your vehicle audio system.
Wireless audio quality is going to greatly depend on the Bluetooth codec that the device utilizes. You can learn more about codecs and how they differ from our Digital Music and Music Downloading Guides linked below.
Astell&Kern music players have been around for some time, and because of this, there have been advancements in Bluetooth technology. This is why you'll find that some of the older DAPs use an earlier version of Bluetooth. For instance, the SR15 has Bluetooth 4.1 whereas the newer SR25 uses Bluetooth 4.2. I don't know why Astell&Kern hasn't upgraded to Bluetooth 5.0 in their newer DAPs considering it's been out for a while now, but I suppose there are more important things to worry about in the world.
---
If your vehicle has an auxiliary port, then the easiest way for you to get the best quality audio from your device is to connect via a cable. A cable is always going to give you better quality sound over a wireless option. With wireless audio you can experience dropouts and most Bluetooth codecs do not support high-resolution audio. Wired audio is the most reliable way to get the most fidelity out of your music, no matter the ergonomic scenario you find yourself in.
When it comes to cables, it's important to note that not all are created equal. Usually the stock cables that come packaged with your gear will get the job done. I find that very few manufacturers put the care and consideration into their cables like they do their headphones or other audiophile-grade equipment. Apart from the overall quality of the cables, materials matter as well, and they can adjust the sound signature of your device and music to your preference.
Our Dragon Portable Headphone Cables make the perfect auxiliary connection for your Astell&Kern DAP to your vehicle. The braided cable is durable yet flexible enough to configure in your vehicle to lay out exactly where you need it to go. Each Dragon cable has its own sound signature that will pair perfectly with your favorite genre of music. You can find out more at the links below.
If your vehicle has a USB audio in/out, then our Silver Dragon USB cable would be a great choice as well. Make sure your vehicle manufacturer supports USB Audio before ordering. If you have the option, a cabled connection from your Astell&Kern DAP to your vehicle audio system is the way to go.
---
Ultimately, if you want to play your Astell&Kern DAP music player in your car, you have a number of options. Don't expect to use Apple CarPlay or Android Auto with it anytime soon, as official support for it is not expected nor in the pipeline to be implemented. It seems Astell&Kern knew it would be a tricky thing to do, but did alleviate some of the issues with their implementation of "Car Mode." Chances are if you're using it already you've figured out how to play your music too.
For those curious others it seems the only options for now are the use of Bluetooth Audio or a wired auxiliary (aux) connection. So your portable music player can indeed remain portable! If you have any questions about connecting your DAP to your vehicle's sound system, please leave a comment below. We'd love to see how you were able to connect your DAP to your vehicle. Please share your successes, pics and/or questions about which cable to buy to connect your DAP to your vehicle below and our engineers will be happy to help you. Happy listening!