Good Sound is Everything. So is the APERIO.
---
I'm just going to put it out there right now:
The Warwick Acoustics APERIO Headphone System isn't cheap. Not even close.
But you already know that, and the fact that you're reading this review indicates that the audiophile in you is undaunted -- or at least curious. And your curiosity will serve you well here, because you're about to become acquainted with an exceptional audio product.
APERIO – Latin: to uncover, open, reveal.
"The model name for Warwick Acoustics' flagship reference headphone system is a literal match for our design goal: to reproduce and reveal all recorded audio content definitively, without alteration." - Warwick Acoustics
The APERIO is a fully balanced, complete sound reproduction system. Designed as a reference studio monitoring headphone system for high resolution audio production (recording, mixing, mastering), it's also a high-end playback device for consumer use. The APERIO is fully suitable for networking, exceeding typical DLNA limitations and allowing digital audio reproduction of native or DoP 256 fs DSD and higher sample rate PCM formats to 384kHz.
The APERIO electrostatic headphones come with a specially made unit that acts as a preamplifier, DAC, headphone amplifier, and energizer for the headphones. It also includes a line out section so you can use it with conventional headphone amps and loudspeakers. The Line Output feature, in conjunction with DAC, preamplifier functionality, and outstanding audio fidelity, enable the APERIO to perform optimally as the central hub of a state-of-the-art, two-channel studio monitoring system or ultra-high-end home audio system. But beyond being "specially made," this unit is crucial to the operation of the APERIO headphones, which are electrostatic and require specialized voltage.
Because the APERIO is a complete sound reproduction system, the electronics are optimized specifically for the APERIO headphone. Every element of the sound reproduction chain between raw audio data input (from an analog or digital source) and output to the headphone is included and fully optimized within the APERIO electronics.
---
Who Is Warwick Acoustics?
Warwick Acoustics' headquarters are located in one of Europe's largest and most comprehensive automotive technology facilities, the Mira Technology Park in Nuneaton, England. Why an automotive park? Because Warwick Acoustics Ltd. (previously known as Warwick Audio Technologies Ltd.) is also a key innovator of premium car audio solutions disrupting the delivery of entertainment within the next generation of electrified and autonomous vehicles. These in-car ElectroAcoustic systems deliver the same remarkable listening experiences as Warwick Acoustics' globally acclaimed headphone solutions. The Sonoma Model One Headphone System, recipient of 25 awards, was the precursor to the flagship APERIO.
Founded in 2002, the company spun off from work being done on electrostatic transducers (aka drivers) in the School of Engineering department at the University of Warwick.
The folks on the Warwick Acoustic R&D team bring experience in academia and high-end audio, in particular developing tools needed for the production of high resolution audio recordings. Warwick Acoustics leverages decades of professional audio development from a team responsible for some of the most advanced and innovative applications products for the consumer and pro audio markets. Warwick Acoustics has developed a portfolio of seven fundamental patents on structures and manufacturing processes associated with bonded thin film electrostatic speakers.
---
For the APERIO headphone, Warwick Acoustics had two primary design objectives:
1) The headphone must provide the optimum mechanical and acoustical conditions for the BD-HPEL transducer that enable the best audio performance and sound quality possible, and
2) The headphone must be comfortable for the user, even under critical monitoring conditions, for extended periods of time.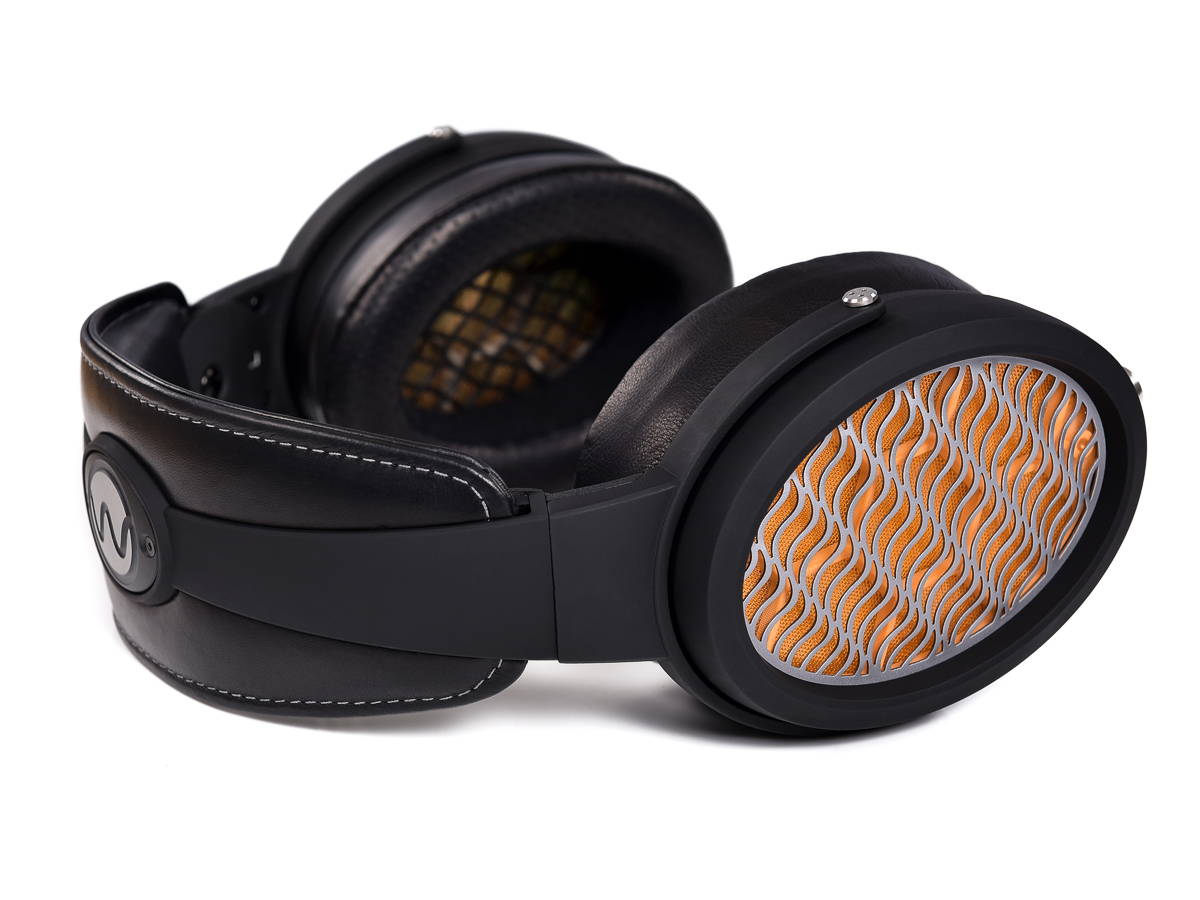 Aesthetically, the headphones are a mix of classy and functional. What struck me right away is how substantial they look, with a big, thick, generously padded headband. The top of the headband is adorned with a simple silver "W" logo etched on a black circle.
When it comes to comfort, Warwick's goal for the APERIO was to minimize weight and optimize geometry. The headband was designed around the ideal geometry for a range of head sizes, with optimum clamping force to ensure a good air seal and stability on the head, without excessive pressure that could be problematic during long listening sessions. The headband maintains this optimum clamping force over the full range of adjustability (extension of the headband and ear cup position).
The headphones weigh 406g, or a little over 14 ounces. They're not the heaviest as far as headphones go, but they're not the lightest, either. The ear cups and other major structural components of the headphones are fabricated using injected magnesium, which Warwick says is rigid but both lighter and significantly better damped than aluminum and most polymers. Key structural fasteners are made from stainless steel. Gaskets are formed from closed-cell foams that are well-damped and free from compression-set.
The grills are a cool-looking wave design that gives a glimpse of the copper-colored mesh behind the drivers. The ear pads, which are on the firm side yet perfectly comfortable, are covered in sustainably sourced Cabretta leather, the finest grade sheepskin. The leather is perforated to help with heat dissipation. The inner perimeter of the pads features foam that is acoustically absorbent in order to prevent reflections and refractions inside.
More about the ear cushions:
To achieve outstanding low frequency performance, the APERIO requires a small sealed air volume between the driver and the listener's head. The APERIO maintains this air volume and requisite air seal through key design features that eliminate air leakage, even with variations in head and ear shape. And in order to minimize acoustical standing waves within the enclosed ear volume, which in turn creates resonances, the ear cushions feature acoustically-absorbent foam around their inside perimeter. The ear cushions maintain the necessary air seal to the user's head while absorbing damaging acoustical reflections within the enclosed air volume.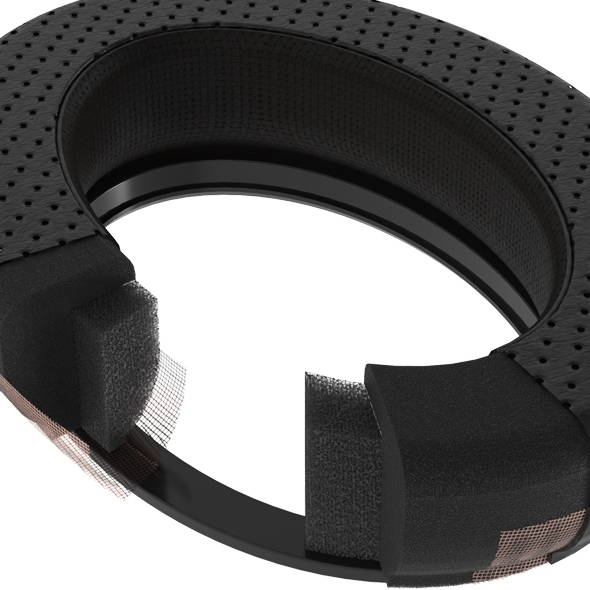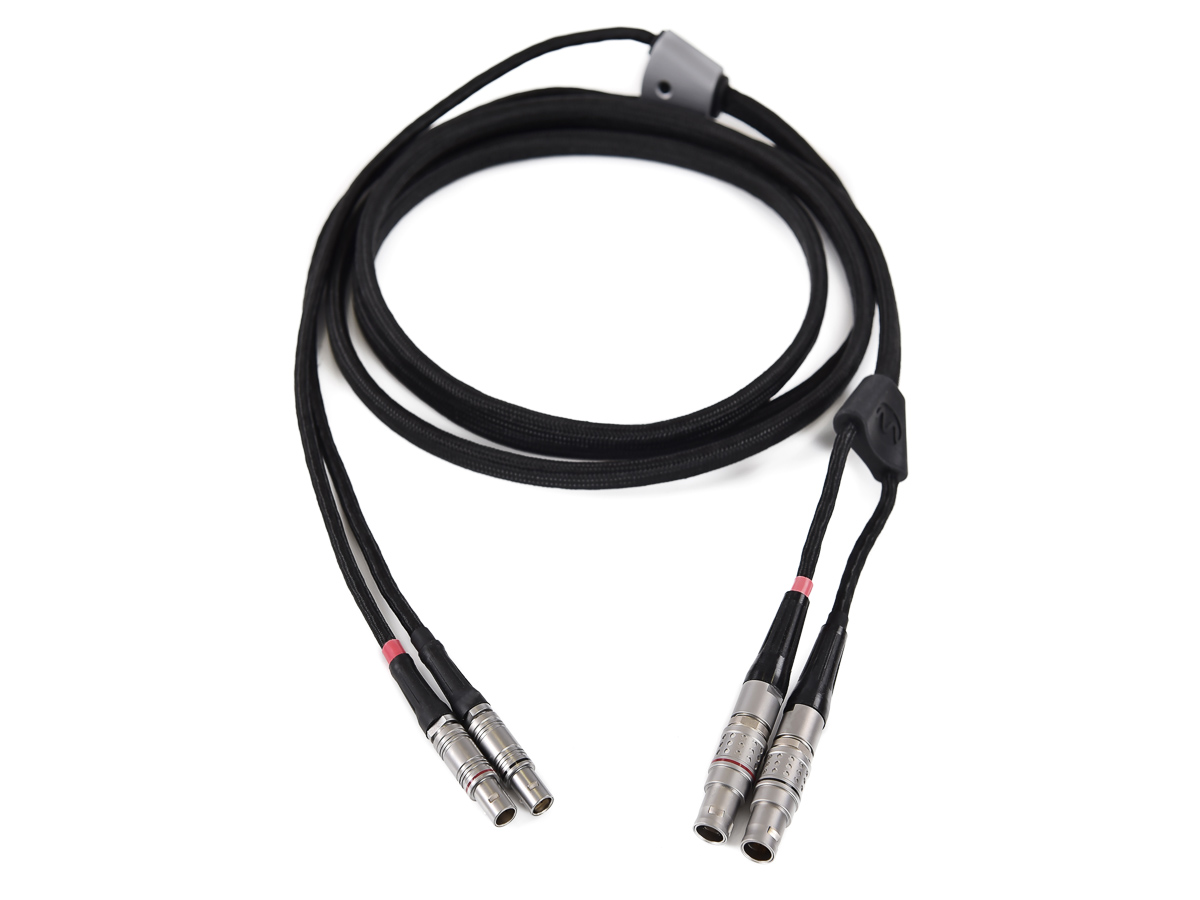 Warwick Acoustics developed a special ultra-low capacitance cable with high precision, self-latching connectors that ensure ideal signal transfer between the amplifier and the headphone. The headphone cable, which measures a bit over 6 1/2 feet or 2 meters, is on the thicker side, and it's flat and somewhat heavy. Keep in mind that electrostatic headphones require specially made low capacitance cables, so you cannot use any old cable with the APERIO.
A note about safety: Because high voltages are required for operation, the APERIO is designed with a high degree of electrical isolation and multiple safety features. The BD-HPEL transducer is electrically isolated from the conductive magnesium components. The headphone body is electrically grounded and features double-insulated electrical connections; internal wiring is insulated with High Voltage Silicone and Teflon. High performance, polarized, self-latching, stainless steel connectors with gold-plated copper, multipole contacts are utilized for electrical connection to the headphone cable.
"The development team carefully designed the ear cup components to minimize acoustical reflections and diffraction, on both sides of the transducer. Similarly, acoustic impedance is optimal on each side of the transducer. The APERIO is extremely "open" to the surrounding air, with a minimum of obstruction between the transducer diaphragm and the listener's ear. Unlike most headphones, the APERIO does not have regions over the transducer covered with acoustical materials that impede air flow or spectrally filter the sound (aka passive equalization). This common approach is not needed for the APERIO and has deleterious effects on sound quality, especially with regard to detaiI, resolution, and sonic neutrality." - Warwick Acoustics
---
The main unit of the APERIO functions as a full-feature preamplifier with line output; DAC; headphone amplifier; energizer; and network player via Roon.
Crafted from machined aluminum, the top of the unit features three rows of the same wave pattern from the headphone grills for the air vents. The aluminum chassis sections interlock and are fastened together using stainless steel hardware with thread-locking compounds that help to prevent loosening and vibration over time. The front of the unit features a power button, input knob, high-resolution color LCD screen, volume control, headphone outputs, and a toggle switch for headphone out mode and line out mode.
As for the overall aesthetic ... I can't explain it. It's not like it looks remarkably different from other components, but there's something just really classy and eye-catching about it. Maybe it's little details such as a ring of shiny silver at the tip of the matte silver aluminum volume and input knobs. As for size, the unit is about 16.2 inches by 13.8 inches by 2.6 inches and weighs about 16 pounds. While it takes up a fair amount of horizontal desk space, it looks sleek and pretty and I hardly mind the intrusion.
The APERIO preamp function features a range of inputs, including:
Balanced analog
Unbalanced analog
AES3 (AES/EBU)
S/PDIF coaxial
USB for digital
Ethernet (LAN) for network streaming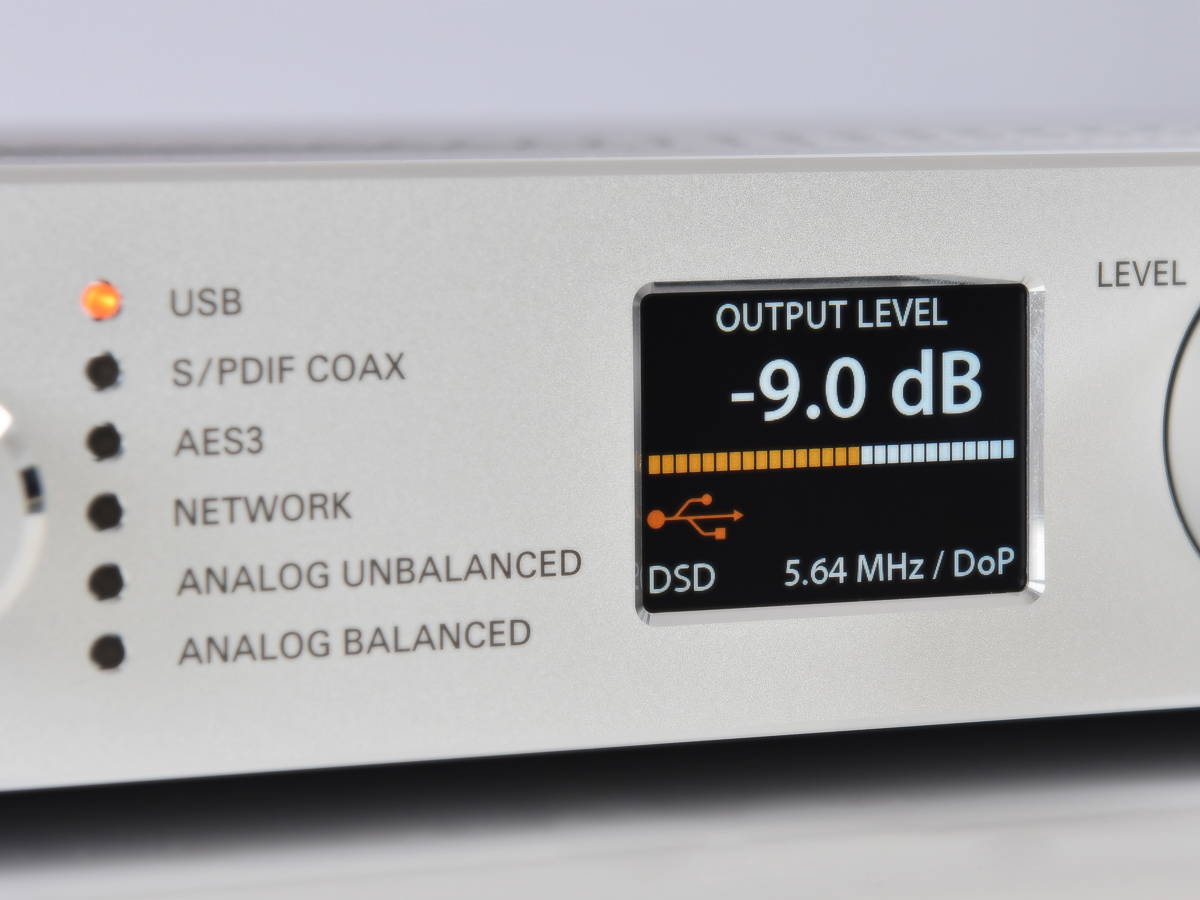 ---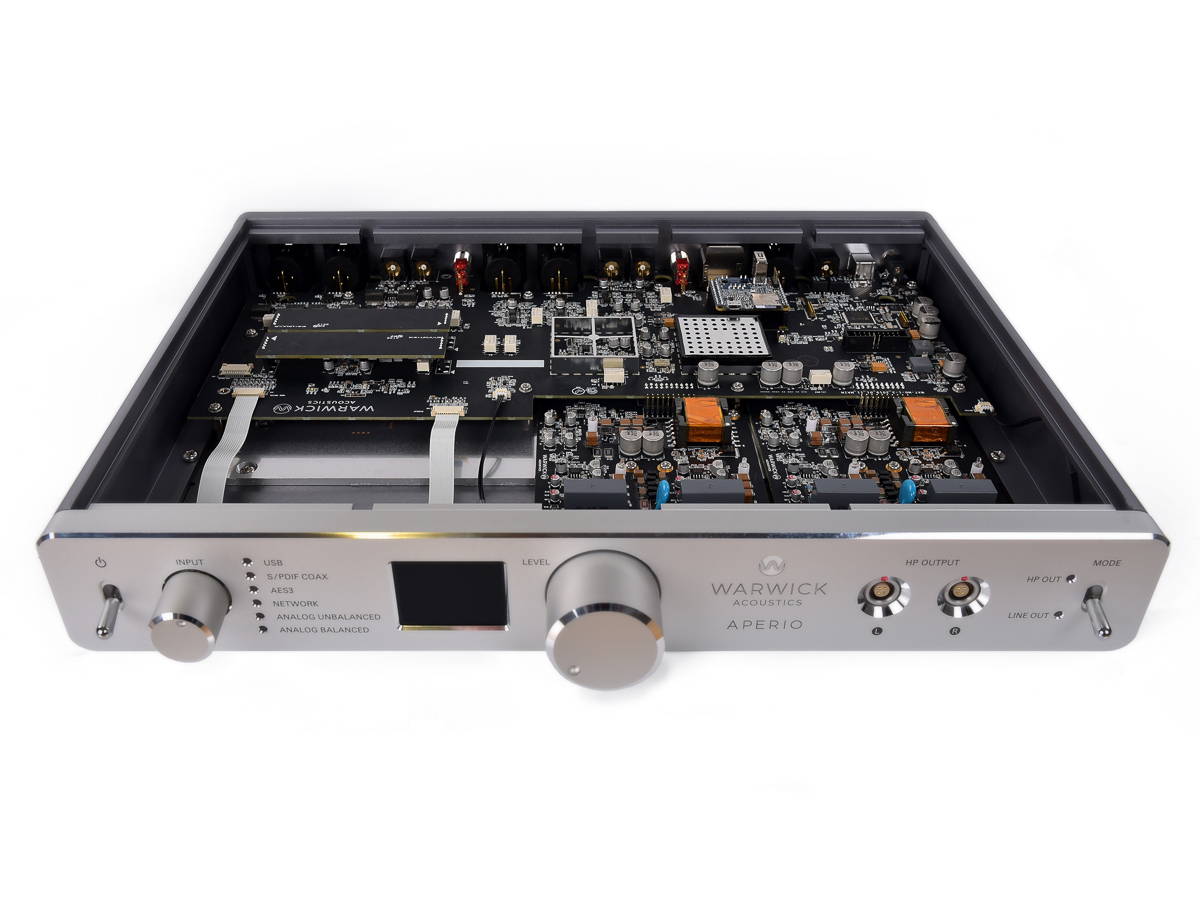 The DAC:
The APERIO utilizes dual 32-bit, 8-channel DACs -- one per channel in dual mono configuration.
The DAC can decode both high-resolution PCM files with sample rates to 384kHz and DSD files (native or DoP) up to DSD256. Warwick Acoustics is committed to high resolution audio, but DSD is at the company's heart.
Within the APERIO all audio signals are kept in their native domain and format: analogue always remains analogue; DSD stays DSD until its final conversion to analogue; PCM sample rates are never converted. The signal path is pure, as direct as possible and unadulterated.
The APERIO is unique in being fully suitable for networking while exceeding typical DLNA limitations and allowing digital audio reproduction of native or DoP 256 fs DSD and higher sample rate PCM formats to 384 kHz.
---
The analog line output section:
Features a novel Class A circuit that can output very high voltages with tremendous current, allowing it to effortlessly drive outboard electronics in any pro or consumer application, even with very long cables.
Input cables:
The APERIO comes with two custom-designed, high-performance input cables: a USB 2.0 Type A to B cable and an Ethernet cable.
Both of the cable utilize:
Superior SF/FTP construction with double overall shielding (aluminum-mylar foil and copper-plated Aramid fiber braiding) as well as internal shielding of each of the double-helix twisted pair conductors.
All internal data wiring is formed from 66 strands of micro-fine OFHC copper per conductor, each plated in pure Silver.
The wiring insulation is high-grade Polyethylene (PE), with a very low dielectric constant (< 2.0).
The outer jackets are formed from low durometer Thermoplastic Elastomer (TPE) covered with a multifilament woven Polypropylene braid for durability and a soft texture.
The USB cable connectors are high-quality, gold-plated Type A and B plugs. The USB cable is designed to be impervious to noise, interference and emissions while maintaining an optimal 90 Ω characteristic impedance over the full operating bandwidth; it is fully compliant with USB 2.0 standards.
The Ethernet cable connectors are the finest quality, ruggedized plugs available: professional, full-metal shielded XLR (RJ45) type from Neutrik and universal, full-metal shielded RJ45 type from Telegärtner. The Ethernet cable also is designed to be impervious to noise, interference and emissions and maintains an optimal 100 Ω characteristic impedance over the full operating bandwidth. While the connectors are certified as CAT6A type, the cable is compliant with CAT7 standards.
---
"The BD-HPEL is manufactured under strict laboratory conditions using proprietary, semi-automated, cell-based production techniques. We control all aspects of sourcing, production, testing, and quality assurance. Every transducer (driver) produced is tested in our lab, graded, and matched within 0.5dB to a complementary unit to form a matched pair. Only the best-performing matched pairs of BD-HPELs are installed in APERIO headphones."

Warwick Acoustics
First, a quick refresher on electrostatic drivers. E-stat drivers feature a membrane between two metal plates that is set in motion by static electricity. E-stat drivers are driven by very high voltages. The APERIO has a uniquely high bias voltage of 1800 VDC. This is a higher bias voltage than conventional e-stat designs, giving the APERIO wider dynamic range; deeper, more linear bass; less distortion; more linear delivery.
The APERIO utilizes a new Balanced-Drive HPEL Transducer (BD-HPEL) – a symmetrically-driven variant of Warwick Acoustics' High Precision Electrostatic Laminate (HPEL) transducer, originally developed for the Sonoma Model One headphone system. The core technology of the BD-HPEL has been refined to be impervious to environmental changes such as temperature and humidity variations; stable in performance and sound quality over time; and very durable.
The updated BD-HPEL features a super-thin membrane of .7mm with a metal mesh on both sides (it was only on one side in the Sonoma One's driver). According to Warwick, this provides less distortion and greater linearity. The BD-HPEL requires symmetrical, high-voltage drive signals to generate a differential electrostatic force that moves the diaphragm
The BD-HPEL features a patented cellular structure that reduces and distributes resonant phenomena and extends the bandwidth to over 60kHz. Subdivided cells act as smaller, phase-aligned planar sources whose parallel-driven outputs combine acoustically to form a cohesive planar wave front.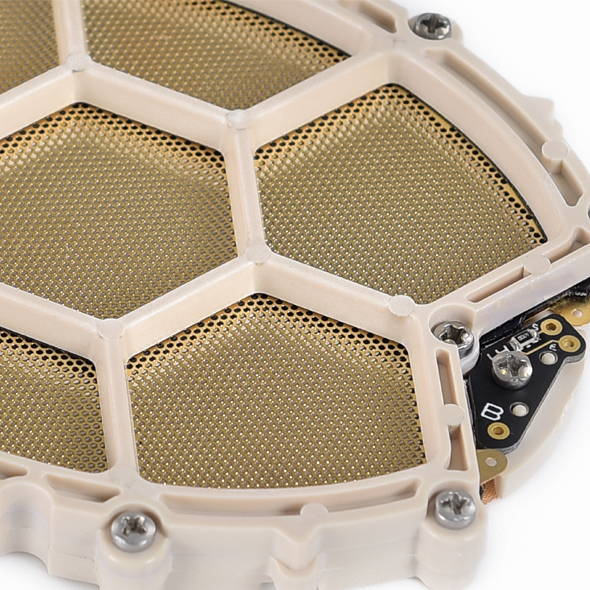 The diaphragm
The BD-HPEL diaphragm is a composite design made up of two layers of 7µm BOPP (bi-axially-oriented polypropylene) film. This film features:
A low and stable dielectric constant
A very low dissipation factor
High breakdown strength
Very low hygroscopy (<0.2% water absorption)
Between the film is a vapor-deposited conductive layer of 24kt gold acrylic-based bonding agents within the lamination have high internal damping properties that act to further suppress resonances in the film assembly.
The overall diaphragm assembly is super-thin -- less than 1/4 the thickness of a human hair -- and also has a very low mass. The diaphragm design is impervious to moisture and resists arcing at voltages much higher than used in operation. The diaphragm is charged via an 1800 Vdc bias to generate the required electrical field strength. The design is carefully optimized to decrease high voltage leakage currents that could compromise and degrade performance to less than 0.08 uA.
The diaphragm is centered between two thin, high-precision electrical stators using laser-cut polypropylene spacers. Each stator is formed by photo-chemical etching of OFHC copper, which is then gold-plated. This is the finest grade of copper available, refined to reduce the level of oxygen and other impurities to less than 0.001%. Electrical contacts are made through a gold-plated copper, FR-4 glass epoxy PCB, which includes a novel circuit to safeguard against electrical shock. The entire assembly is built into a high-precision frame fabricated from 40% Glass-Filled Polyphenylene Sulfide (PPS), a highly stable, ultra-rigid and inert engineering polymer. This frame ensures that the assembled transducer is held totally flat and is invulnerable to warpage or bending.
---
Except where noted, I tested the APERIO using DSD files streamed via Roon.
There's a purity to APERIO that makes your ears perk up with the realization that this is the natural sound you've been looking for. It's refined yet unadulterated. You get the feeling that you're hearing something special, but also that the sound has not been tinkered with. It's quick and clean, very nicely balanced, and beautifully immersive. It's detailed without being in your face, and it has a fullness that doesn't seem to rely on unnaturally boosted bass. That being said, the bass response is surprisingly robust for an electrostat. There's great definition and body in this range.
My first listening session was on a cloudy but warm late-summer day, the type of day that begs you to find music to match this mood of being on the cusp of two seasons. For me, this was David Elias' Coffeehouse DSD Playlist #1: Mellow, doleful, evocative, part folksy, part country. On instrumental tracks, the plucking of the acoustic strings was simply out of this world: delicate yet crisp and impactful. In fact, every instrument just sounds so full of character and nuance. You can choose at any point to hone in on a particular instrument and enjoy it; nothing ever gets lost. At the same time, the music does not feel fractured; it's easy to enjoy tracks as cohesive musical units. On vocal tracks, Elias' voice was incredibly present and textured. You could discern breathiness and diction. But I never felt like the vocals overshadowed anything else.
Switching to some classical, I enjoyed recordings of the Budapest Festival Orchestra. On Rachmaninov's Symphony No. 2, I was awakened by the deep cello and then lulled into relaxation by the velvety violins. On Schubert's Symphony No. 9 in C Major, the APERIO's strong dynamics shone, with soft flute notes and grand horn blasts presented with equal ease. Jaunty and busy sections of the composition were presented as adeptly as quieter, more somber parts. The violins had a sweet smoothness to them that felt like a massage for my brain.
You know what I really enjoyed? Rod Stewart. I listened to "It's All Over Now" from Gasoline Alley. Side note: I never knew he recorded this song, having previously been familiar with versions from the Stones and Grateful Dead. Anyhow, this version sounded great. The drums were so punchy and enjoyable! The bassline was as prominent as the tinkling piano keys, and neither they nor anything else obscured the rest of the song. The bass guitar had a deliciously pleasing twang to it. and Stewart's gravelly shrieks were placed just right, neither overpowering the instruments nor fighting for prominence. I felt like the APERIO lent great energy to this track.
Venturing beyond DSD files, I called up the Latin-inspired "Lilly" by Pink Martini. What really surprised me here was that my ears were honing in on the bass in a way I have not previously experienced. I was not expecting this on an electrostatic headphone. It was subtle, but a nice touch on a track that is heavy on higher-frequency sounds. Lastly, I listened to a song that's been heavy in my rotation lately, Elton John's "Captain Fantastic and the Brown Dirt Cowboy." Hello, brain tickle. If you're not familiar with the headphone "brain tickle," let me hand the APERIO to you so you can experience it. It's hard to describe, but it's a super-pleasant and exciting phenomenon that feels like a tingle in your head and down your spine. Now, "Captain Fantastic" is a song that's easy for me to love from any source, but I was unprepared for just how amazing it sounded on the APERIO. It truly was as if Elton was performing on a stool in front of me in a quiet club. The clarity here was just insane.
Admittedly, soundstage isn't something I always pay full attention to (does that make me a bad audiophile?). That being said, I paid attention on the APERIO, because it was really creating some imagery in my mind's eye. The "stage" felt like an arc extended out in front of me, and I found myself "seeing" vocalists and instrumentalists in various spots. There was some depth and height here. It was neither notably wide nor constricted. For me, it was a nice balance of airiness and intimacy.
There's a purity to the APERIO that makes your ears perk up with the realization that THIS is the natural sound you've been looking for.
---
Limited Edition Gold APERIO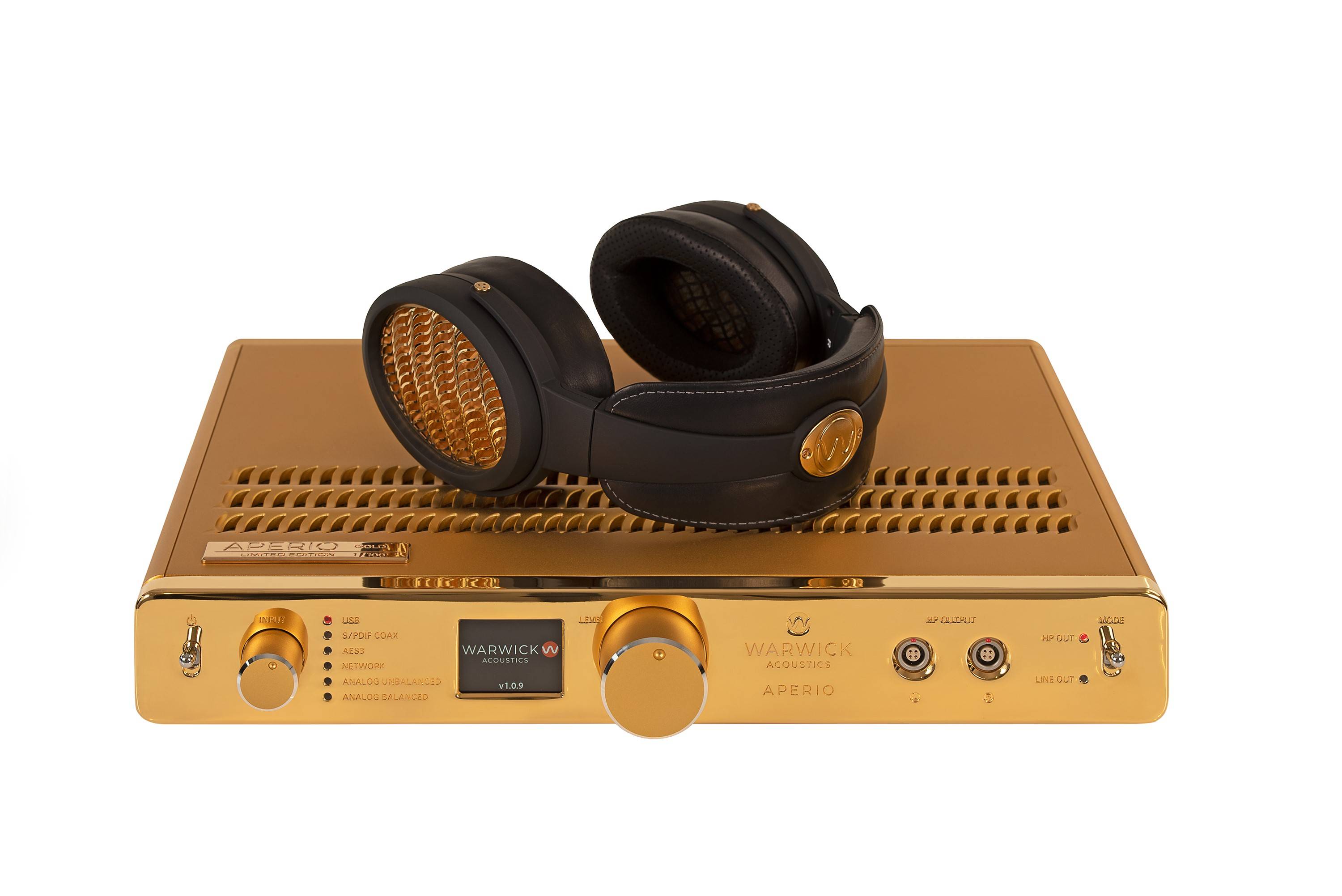 Warwick Acoustics has gone all out and created a limited edition Gold APERIO, with the headphone grilles, hardware, and amplifier front panel all custom hand-finished in 99.9999% pure 24 karat gold. Each Gold APERIO also showcases a unique, individually numbered "Limited Edition" nameplate that sits on top of the amplifier. The limited edition Gold APERIO also uses the highest grade and closest matched BD-HPEL drivers for the very best performance.
This limited edition is plated and hand-finished in the UK's historic Jewellery Quarter in Birmingham, which has been described by English Heritage as a "national treasure." The Gold APERIO retails for $35,000 can be seen and heard exclusively at Harrods department store in Knightsbridge, London. Other custom finish options will be available soon.
---
If you are a fan of electrostatic headphones, these are among the best of the best, with a level of transparency and detail that is simply off the rails, and a bass response that is not so typical of this headphone type.
There are jokes in our hobby about forgoing certain key expenses to pursue one's dream headphone. Now, I'm not suggesting that you skimp on your mortgage payments, college savings, charitable giving, etc., to acquire the Warwick Acoustics APERIO. That would be silly. I am, however, suggesting that if you have the means and the desire for a ground-breaking and versatile high-end audio product, put the APERIO on your must-see list. If you are a fan of electrostatic headphones, these are among the best of the best, with a level of transparency and detail that is simply off the rails, and a bass response that is not so typical of this headphone type. The sound is refined, natural, airy, unadulterated ... all good things for listening to the finest recordings. I enjoyed the APERIO with classical music, folk, and jazz, but also found that it had enough energy and bass to satisfy my ears on many rock tracks. True to its Latin-derived name, the APERIO will uncover and reveal every last iota of content in your audio files. For a taste of hi-fi heaven, I heartily recommend the APERIO headphone system.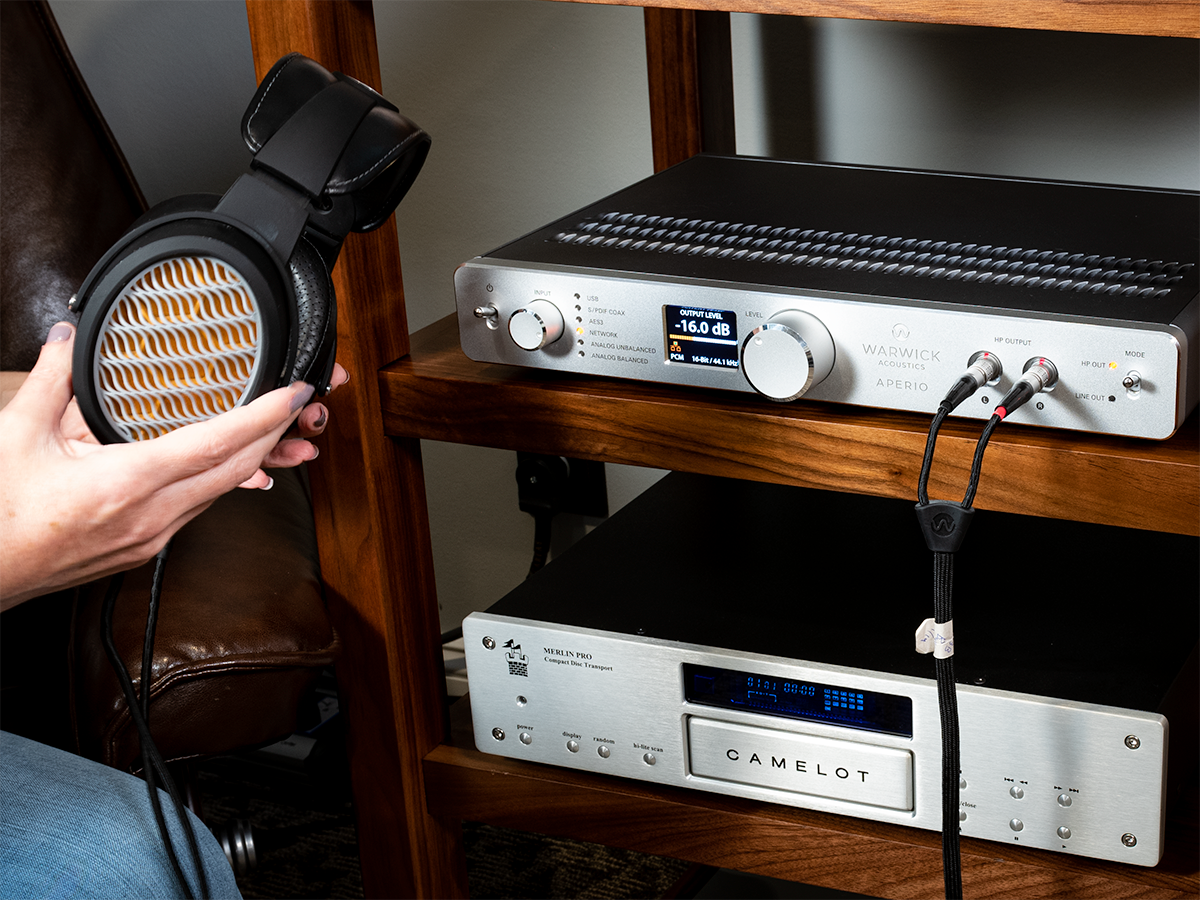 ---
---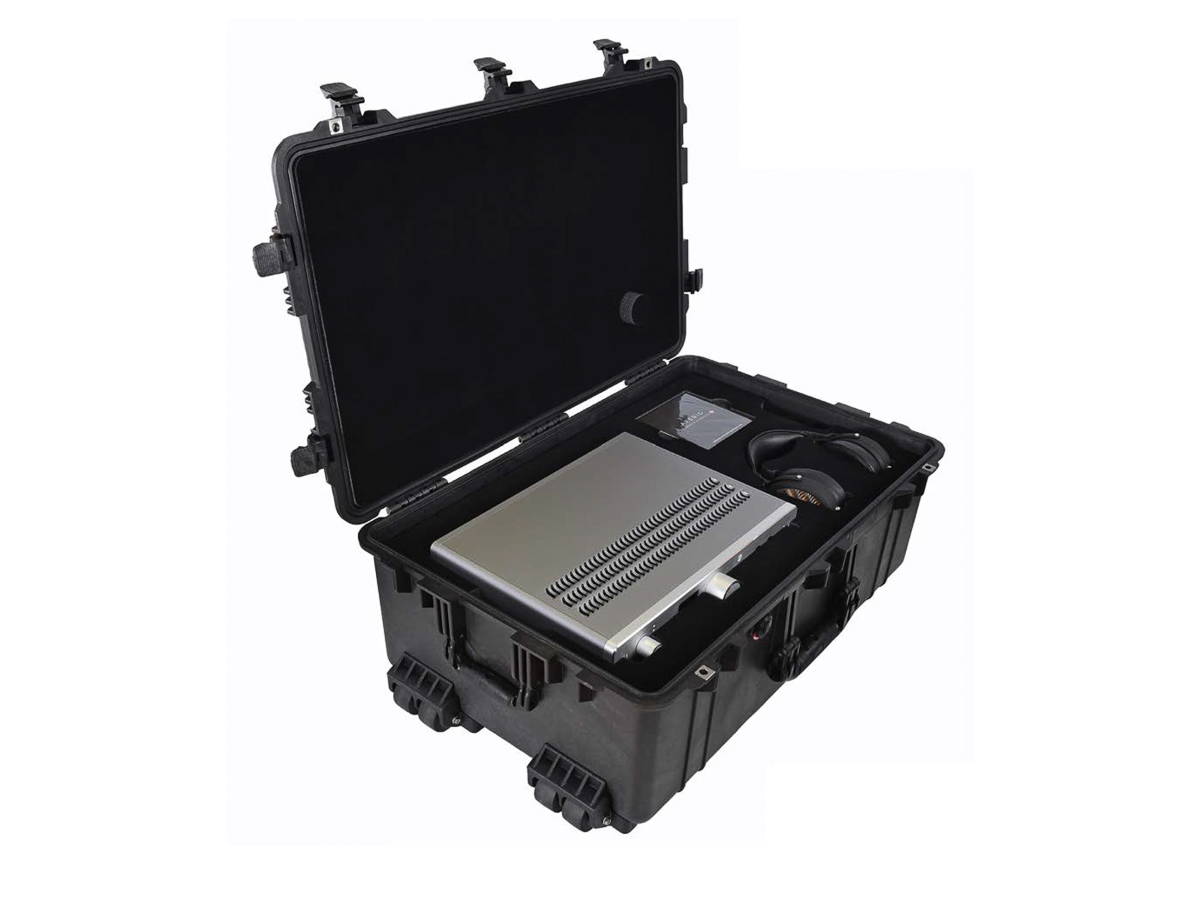 APERIO headphones
DAC/amp/energizer unit
Power supply
Headphone cable
Ethernet cable
USB cable
The APERIO comes in a heavy-duty polypropylene travel case that is waterproof, crush, and dust resistant. It features an automatic pressure equalization valve that balances interior pressure, keeping water out. This wheeled case features a retractable extension handle, stainless steel hardware, and double-foam lining. Inside, the top layer houses the amp and headphones; underneath are the power supply and cables.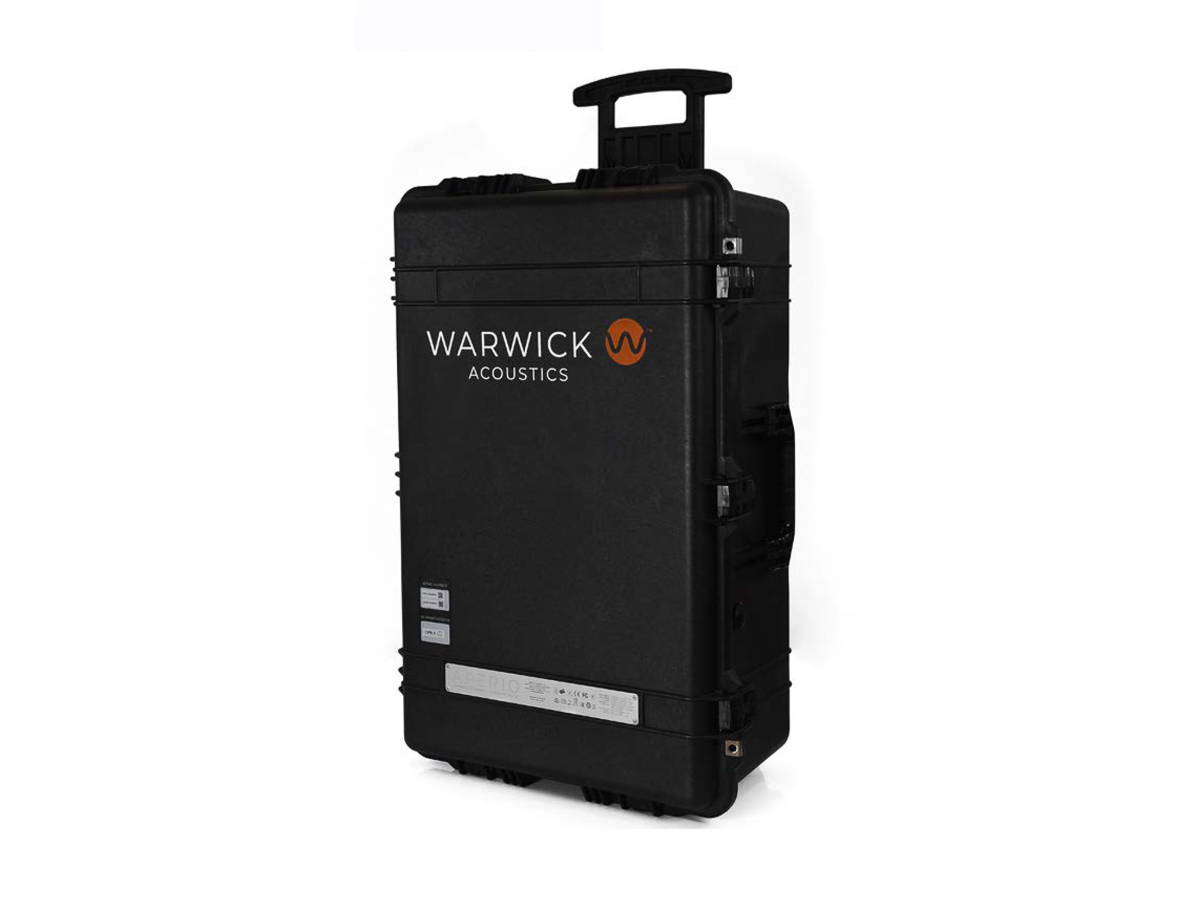 ---
Warwick Acoustics APERIO Headphone System Review
---
Headphone

Type: Circumaural, open-back, electrostatic headphone
Drivers: Balanced-Drive High Precision Electrostatic Laminate (BD-HPEL)
Effective diaphragm area: 3570mm²
Frequency response: 10Hz–60kHz
Output Level (SPL): Compliant with EN 60065/A12:2011 (EN50332) when driven by APERIO electronics (for all inputs); digital input: ∽ 104 dB; analog input: ≥ 106 dB
(continuous, est.)
Ear and Headband Cushions: "Cabretta" top-grain, sheepskin leather; perforated surface on ear cushions
Input: Polarized, 4-pin, self-latching connectors for left and right channels
Drive Cable: Dual mono, shielded, ultra-low capacitance; silver-plated OFHC ultra-fine
stranded copper, silicone insulation and Kevlar reinforcement; 2 meter length
Weight: 405 grams (14.2oz), without cable


electronics
Balanced Analog Inputs: Dual (female) XLR jacks; switchable (high / low) input range; 18 dBu / 10 dBu
Unbalanced Analog Inputs: Dual RCA jacks; switchable (high / low) input range; 5.0 Vrms / 2.1 Vrms
USB Digital Input: Type B jack; USB 2.0; accepts digital audio formats up to 32-bit / 384 kHz PCM and DSD (DSD64/DSD128/DSD256) via DoP or Native
Network (Ethernet LAN) Digital Input: RJ45 jack; DLNA-compatible; accepts digital audio formats up to 32-bit / 384 kHz PCM and DSD (DSD64/DSD128/DSD256) via DoP or Native
AES3 (AES/EBU) Digital Input: XLR (female) jack; accepts digital audio formats up to 24-bit/192 kHz PCM
S/PDIF Coaxial Digital Input: RCA jack; accepts digital audio formats up to 24-bit/192 kHz PCM
Line Outputs: Balanced and unbalanced, high current outputs; +5 dB gain; switchable
electronics Cont'd

Digital Formats: PCM: 16-32 bit / up to 384 kHz; DSD: up to 256 fs DoP and Native
Digital Signal Processing (DSP): 64-bit (double-precision) fixed-point processing at native sample rates
Switchable Gain: Rear panel switch; high level / low level selection for balanced analog input (professional audio and consumer levels) and unbalance analog input
Source Selection: Multi-position front panel selector with indicator LEDs for all sources
Level Control: Front panel, 31-position; digital & analog domain volume control (HP & Line Out)
Status Display: Front panel, 51 mm, full color, QVGA, TFT LCD (240 x 320 pixels)
Display Functions: Digital readout and bar graph of volume control setting; display of digital audio data format; display of rear panel analog input (gain) settings; display of
Ethernet and USB data link transmission lock; display of detected fault modes and output clipping
Auto Fault Detection: Automatic detection, display and protection for: output amplifier clipping, unplugged connections and malfunctioning wiring, over-temperature conditions and internal electrical faults
DACs: 2 x dual mono, 32-bit / 384 kHz DACs; balanced outputs, for PCM & DSD inputs
Amplifier/Energizer: Balanced, discrete MOSFET, high-bias, single-ended Class A output; dual mono topology, including power supply; 1800 VDC bias (charge) voltage
Distortion + Noise: < 0.001%
Bandwidth: > 65 kHz
Enclosure: CNC-machined 6063 aluminum; earth-grounded
Power Supply: External -- world voltage compatible (90-264 Volt AC, 50-60 Hz); 24 Volt DC, 200 VA (8.333 A), fixed frequency, class B-compliant SMPS; Internal-- isolated, dual mono; switching and ultra-low-noise linear regulation
AC Mains: Types B, G, F, I; IEC-60320 C14, earth-grounded power cable; 1.5 meter length
Dimensions: H x W x D: 68 mm (2.68 in.) x 413 mm (16.2
Weight: 7.4 kg (16.28 lbs), not including power supply
---