You Will Be Blown Away By the Clear, Natural, Resolute Sound
---
My ears are absolutely glowing after listening to the Shure KSE1500 Sound Isolating electrostatic earphone. This truly is something special.
I know a person can become jaded in any high-end hobby. You reach a point where you think you've seen and heard it all, and nothing manages to "wow" you anymore. Of course, products do get over-promoted, and there are certainly some that don't live up to the hype.
But even if you have reached epic levels of jadedness, every once in a while a product comes along that commands your attention. In the audiophile world, one such product could very well be the Shure KSE1500 Sound Isolating Electrostatic Earphone System ($2,999). It's the world's first Sound Isolating electrostatic earphone, or in-ear monitor. So you get all of the benefits of electrostatic technology plus the ability to block up to 37dB of ambient noise.
Electrostatic drivers feature a tiny, thin diaphragm that sits between two conductive metal plates. When an audio signal is applied, the metal plates move the diaphragm, creating moving air that is converted into acoustic sound pressure. As a result, music has a finer clarity as opposed to other driver types.
Imagine a personal listening device that makes you feel like you're enjoying your music in a sound-proof chamber. No phones. No vehicle motors. No outside conversations. Just you and your music delivered with amazing clarity, speed, realism and nuance with virtually no distortion. You get subtlety and precision on a whole other level.
The KSE1500 consists of single-driver electrostatic earphones matched to a special headphone amplifier that incorporates a digital-to-analog converter (DAC) with EQ control. Electrostatic headphones and earphones have special high-voltage amplification. What this means is that the amplifier with the Shure KSE1500 can only be used with these earphones, and that these earphones can only be used with this amp.
You have the option of connecting the KSE1500 directly to your phone, other portable source, or computer, or using an external DAC via the analog input -- more on that later. What's more, the KSE1500 is Apple MFi certified.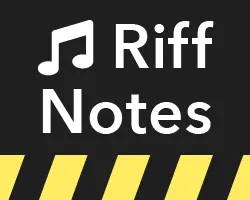 Natural, realistic, lifelike sound
Brings out precision and nuance in music
Very low distortion
Highly resolving
Expensive
Must use special amp (included)
Not for bass fanatics
---
MFi Certification and Overview of Features

MFi certification stands for Made for iPhone/iPod/iPad. It's a program that makers of accessories for these "i-devices" must go through to have their hardware approved by Apple. It's an arduous process, but when a product is MFi-certified, you can be sure it's safe to use. The MFi-Certified rating is important because it protects your device from potential damage or harm that could come from using an unauthorized accessory. This includes overheating, improper charging or harm to the battery, port damage, or even iOS inefficiencies. The bottom line is a non-MFi-certified cable can damage your device. That's not a risk you'd want to take with a $3,000 device like the KSE1500.
Shure KSE1500 Overview of Features
7-10 hours of battery life

Analog input

Color OLED screen

MFi certified

Hold switch for locking controls

Sound Isolating sleeves block up to 37dB of ambient noise

Support for digital, streaming, and analog sources

4-band parametric EQ for customizing an audio signal from the source

3.5mm analog line input for any audio source

Selectable pad for attenuating analog line input signals to 0dB, -10dB, or -20dB

24-bit, 96kHz internal DAC with Micro USB input for audio from iOS, Android, and other streaming sources

EMI Filter -- filters out electromagnetic Interference from mobile phones

Ability to convert digital audio to analog audio from most portable digital devices: PC, Mac, iOS/Android devices using 24-bit/96kHz sampling rate

Compatible with Mac, PC, iOS and Android devices via included accessory assortment, featuring Micro-B to Lightning and Micro-B OTG cables
---
About the KSE1500 DAC/Amplifier
Enhanced Audio Control
Designed exclusively for the KSE1500 electrostatic earphone system, the DAC amplifier has a 6-pin LEMO connection and electrical circuit customized completely for single-driver electrostatic earphones.
Digital audio input via USB

Bit depth: 16-bit / 24-bit

Sample rate: 44.1 / 48 / 88.2 / 96 kHz

Analog signal path via standard 1/8" (3.5 mm) "Line In" input/switch

Bypasses digital processing for pure analog audio ("Bypass" mode)

Analog input pad settings (10 dB or 20 dB) for managing high input levels

Input level meter for monitoring signal gain structure

Volume level meter

User-selectable limiter
The KSE1500 has an internal DAC. It does 24-bit/96kHz and below very nicely -- it's a very resolving DAC. And the majority of people are only going to use below 24/96 anyway. And most of the music that people listen to is 24/96 or below. So we don't see the fact that the KSE1500's DAC only does 24/96 as a negative. For the listener who only wants to use two devices, with their phone being the source, then they're good to go.
For the listener who wants a high-resolution experience (DSD, 24/192), we recommend adding an external DAC like the Chord Mojo. You put it in line out mode, which bypasses the headphone amp in the Mojo and goes to the KSE1500. This would be for the user who's going to do a desktop system; you're likely not going to want to walk around with three devices (KSE1500, your phone, and a DAC).
Shure spent many years developing the amp/DAC for the KSE1500, much of which was the process of seeking MFi certification. The reason they haven't changed the DAC chip and go to one that does a higher resolution is that going through MFi certification again would be very time-consuming. Again, the DAC with the KSE1500 is very good. But for the listener who wants the best of the best in sound, an external DAC is an option.
Materials, Quality & Comfort
The amplifier box is relatively small -- about 2 by 4 inches. It's not much heavier than my iPhone. The body is made from black anodized aluminum, and it looks and feels quite sturdy. It has two inputs: a 3.5mm jack and a micro-USB for hooking up to a PC, Mac, iOS, or Android device.
On the right side of the box are the power/previous screen button as well as a hold switch for locking the KSE1500 to prevent any accidental setting changes. A large, tactile knob on the top left controls the volume and allows you to navigate the color OLED display screen, which displays the output volume, battery level, and EQ settings. The screen is small -- maybe 3/4-inch wide and not quite as tall, but it's about as big as it needs to be.
A notable thing about the KSE1500 is the cable, which deviates from your typical flat and wide electrostatic cable. This cable is round, Kevlar reinforced and connects to the amp via a six-pin Lemo connector. The KSE1500 also comes with a Micro-B to Lightning and Micro-B OTG cables.
The earphones themselves are small, lightweight, and designed to minimize ear fatigue. The housing is plastic, which some might find disappointing for a $3,000 earphone. But I found them to be extremely comfortable -- like, I inserted them into my ear canal and then forgot about them. They fit me so well. Design wise, the shells are clear, showcasing the black components underneath. The KSE1500 comes with three types of sound isolating ear sleeves (aka ear tips): soft flex sleeves made from rubber, soft foam sleeves, and triple-flange sleeves. I used the soft flex sleeves.
The USB-rechargeable lithium ion battery offers 7-10 hours of playback and is charged by USB. You get about seven hours when you use the DAC or equalizer, and 10 hours when you use the analog input or EQ bypass. It can charge from the provided wall charger or computer, even when streaming USB audio from a computer.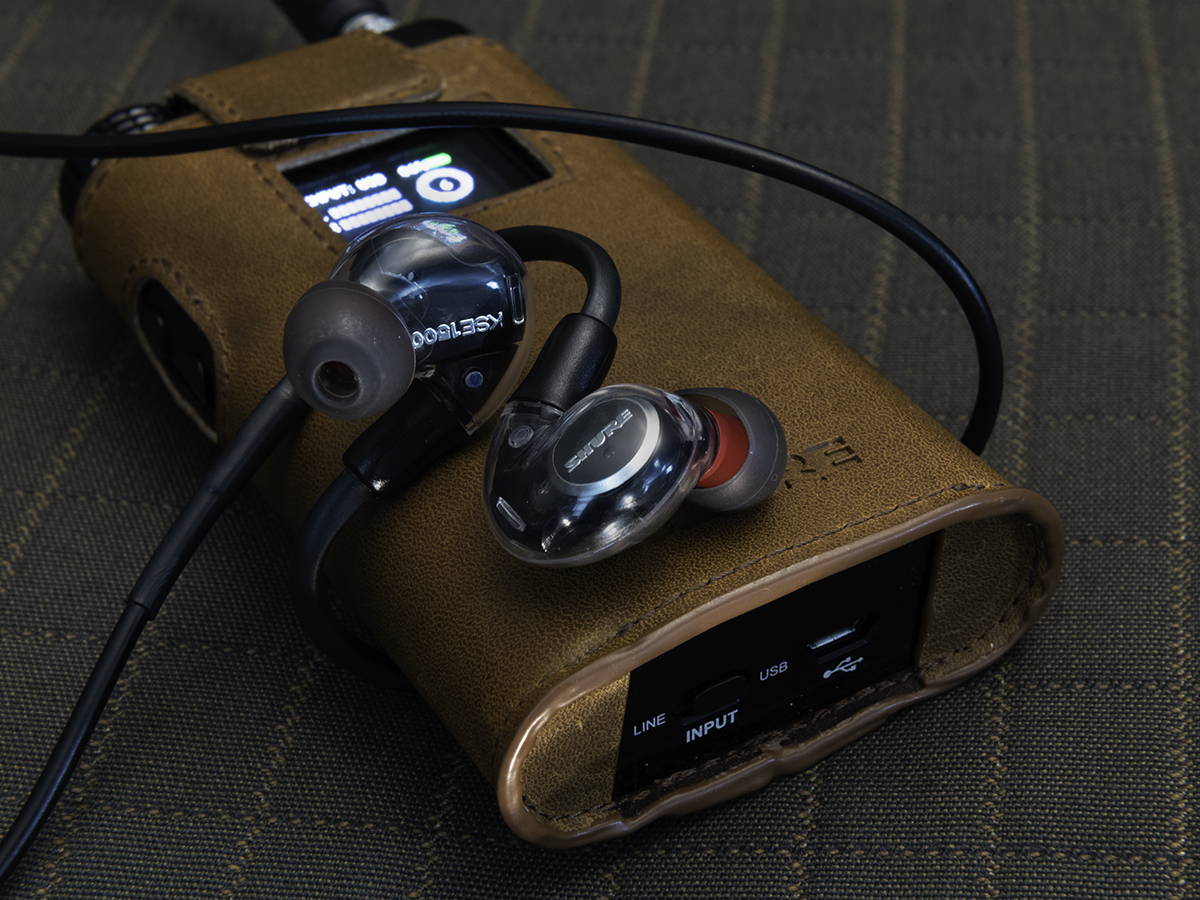 ---
Electrostatic Driver Technology
An electrostatic driver (aka transducer) operates by placing a static charge directly onto a super-thin and nearly massless diaphragm. The diaphragm holds a continuous electrical charge and sits between two metal plates called stators to which the audio signal is applied. One of the stators will have the same charge as the diaphragm, and the other will have the opposite charge. The diaphragm will be pushed away by the place with the same charge, and then pulled toward the one with the opposite charge. When an audio signal is sent into the headphone or earphone, the signal of these metal plates switches back and forth at a high rate of speed, causing the diaphragm to stir and displace the air around it, which creates sound.
Electrostatic drivers differ from other driver types in that the diaphragm is the only moving part in the equation. In fact, it can be lighter that the air it is displacing!
Now, electrostatic headphones require specialized high-voltage amplification, which is why the KSE1500 comes with its own discrete amplifier. The bias voltage for the KSE1500 is 200 volts.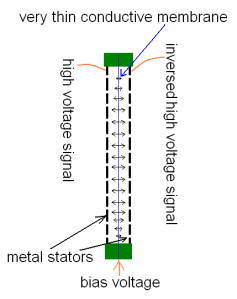 Electrostatic drivers are known for producing sound that is clear, fast, detailed, and tight. Their excellent transient response and low distortion make them ideal for critical listening. They are all about subtlety, finesse, and precision vs. impact and emotiveness. Many people enjoy them with classical, jazz, acoustic rock, blues, and other genres where nuance and subtlety abound.
"Each single MicroDriver Sound Isolating electrostatic earphone features a virtually weightless, massless diaphragm, surrounded by an electrostatic field generated by back plates that manage charge oscillation. This technology provides the fastest, most accurate transient response available resulting in unmatched audio clarity and detail." - Shure
---
"This is one of my all-time favorite IEMs. It's all about finesse and detail. The plucking of strings is just absolutely amazing."

Moon Audio founder Drew Baird, PE
This was not my first electrostatic headphone listening experience. I've listened to the Dan Clark Audio VOCE and the HIFIMAN Shangri-La Jr. And I've listened to IEMs with multiple driver types that include one or more e-stat drivers, such as the Empire Ears Odin and Empire Ears Valkyrie MK-II. But until the KSE1500, I had never listened to a single-driver electrostatic earphone.
Almost immediately after I started listening to the KSE1500 sound isolating earphones, I felt like I had been transported to a soundproof chamber. The only thing -- and I mean the only thing -- I was hearing was my music. No ambient office sounds, no cars whizzing by outside, no coworkers conversing down the hall. This both startled and delighted me. With absolutely no outside distractions, it was like I was hearing music in a whole new way. I should note that there were renovations happening in my building at the time of my review, and I did not hear any of it when I had these earphones in.
My first thought about the sound was how incredibly clear and present it was. There was absolutely no veil, no haze. Nor was there anywhere for any element of the music to hide. Everything that existed in a track was there for me to observe, take in, and dissect. It made me think of a face with no makeup: you see the features exactly as they are. Overall, I found the sound to be natural and pleasant but with a certain heft to it. This was not a light or delicate sound.
The bass on the KSE1500 was more robust than I expected. I would describe it as tight, defined, sometimes punchy. It lent enough fullness to my music such that it never sounded weak or thin. Now, I'm not someone who's looking for big, booming bass, but I do love a good bassline. Bass guitar is one of my favorite instruments; I love its tone, timbre, and texture. On several tracks that I listened to, I heard the bassline with incredible clarity, but never in a way that it became too prominent in the mix.
Mids were very revealing, starting with vocals. More about nuance than emotiveness or impact, they were highly natural, clear, and generally pretty forward. Listening to Elton John, I truly felt like he was singing directly into my ear, not that I was listening to a studio recording. There was great diction and texture. In tracks with multiple instruments happening at once, I found that the KSE1500 let them have their space, with nothing competing with anything else.
Electric guitars were about what I expected for an electrostatic headphone. With little distortion, they seemed to lack the bite or "dirtiness" to make them fully satisfying on heavier tracks from Led Zeppelin and David Bowie. "Hang On to Yourself" by Bowie, for example, sounded slightly anemic and sped up. But while the overall sound was a little thinner than I would like, I did find that the bassline was extremely tight and defined.
Highs on the KSE1500 were relaxed and pleasant while infusing my music with great energy and detail. Natalie Merchant's vocals, which can sound syrupy or too rich on a warmer headphone, were delightfully sweet and clear. I heard subtle mouth sounds and inhalations that I'm not used to hearing. To me, that's part of what makes music sound "real." And the higher-register piano on her "Beloved Wife" was a nice highlight in a track that has a fair amount of rich bass to it.
What I really loved with the KSE1500 was the amazing resolution and layering of sound. Whooshes and pops and clicks and mouth sounds were all there to complement the instrumentation. And the definition and separation of instruments was phenomenal. When I heard an acoustic guitar strum, it was as if I could count the individual strings.
On a classical track, Vangelis' "Conquest of Paradise," I was simply blown away by the expansiveness of the soundstage. The majestic sound swirled around me, giving me a feeling of flying through the music. The massed vocals sounded as clear as I have heard them. I don't know Latin, but the individual words were decipherable to me in a way they usually aren't. (File this under "you learn something new every day": Apparently the lyrics are "pseudo-Latin," aka Dog Latin.)
---
Create Your Own Sound Signature
A great feature of the KSE1500 is the four-band parametric EQ, which features four customizable settings and five presets: flat, low boost, vocal boost, loudness, and a "de-esser," which reduces sibilance. I had fun playing with these presets. To my ears, the "low boost," "vocal boost," and the "de-esser" produced the most noticeable differences in my music. Listening to vocalists whose voices had a lot of sibilance, I found that the "de-esser" really did mute some of those exaggerated "S" sounds. Low boost, meanwhile, provided a discernible bass boost in every track in which I tested it. Finally, vocal boost made singers' voices sound louder and more forward.
Each user-defined setting features four customizable EQ points (low shelf up to 630 Hz, two frequency-variable peaks, high shelf down to 800 Hz), allowing detailed personal control, shaping and tuning for different musical tone preferences.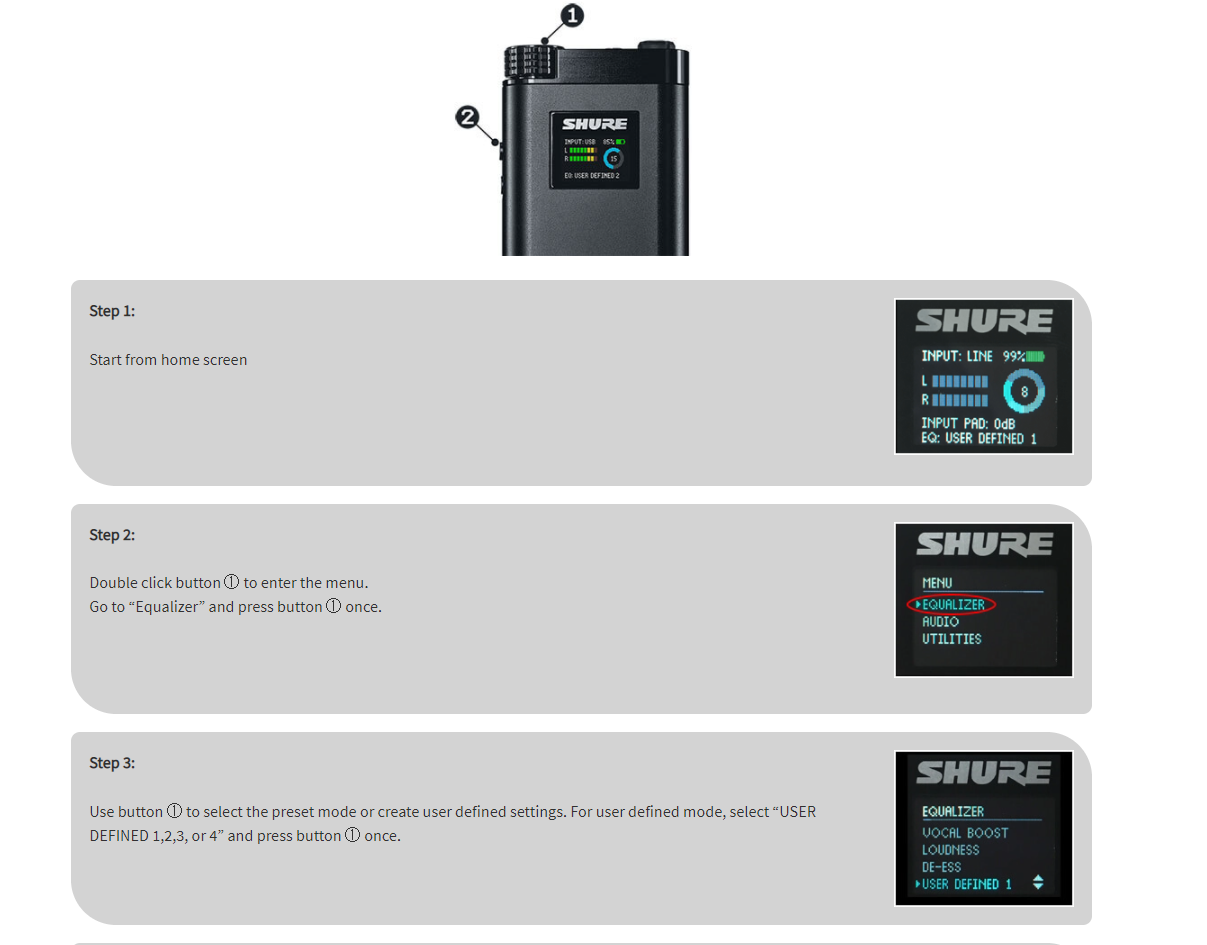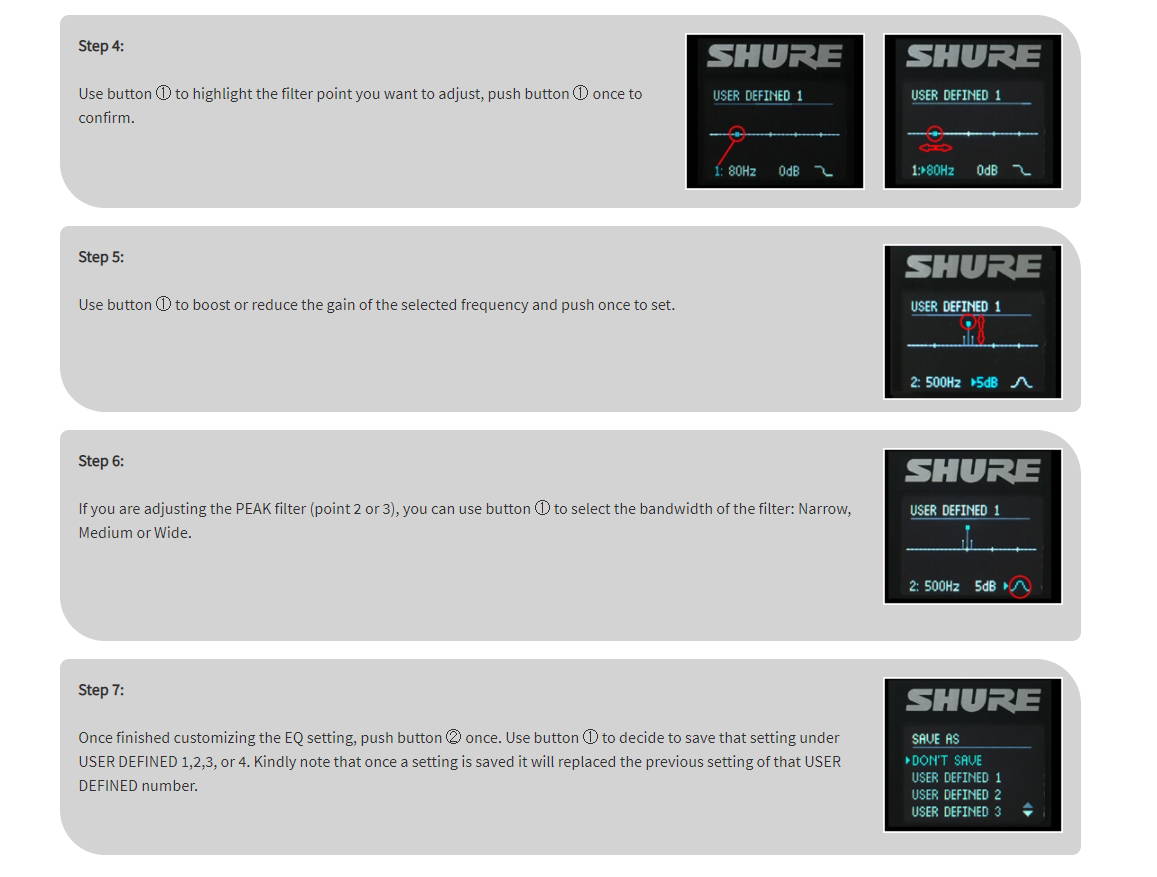 ---
Shure's years of development on the KSE1500 has yielded a truly remarkable audiophile product: an electrostatic earphone with Sound Isolating technology. If your ears appreciate detail, transparency, openness, and realism, you'll want to give the KSE 1500 a listen. You will be blown away by the intensely clear and natural sound. Electrostat novices should know that it's not going to sound like your typical dynamic or balanced armature IEMs. This is not a "fun" sound, nor is it for those who want a warm or bassy sound (although you do have the option of tweaking the sound via several EQ settings). It's not an analytical or sterile sound, either -- it's got some musicality and some life to it. Connect it to your phone or portable DAP or use it at home in a desktop scenario with an external DAC of your choosing. The KSE1500 is great for acoustic music, classical, jazz, blues, and folk music. If you want an electrostatic experience but don't want to be tethered to full-size headphones and amps, the KSE1500 is a wonderful option.
---
Chord Mojo 2 coming early 2022!
---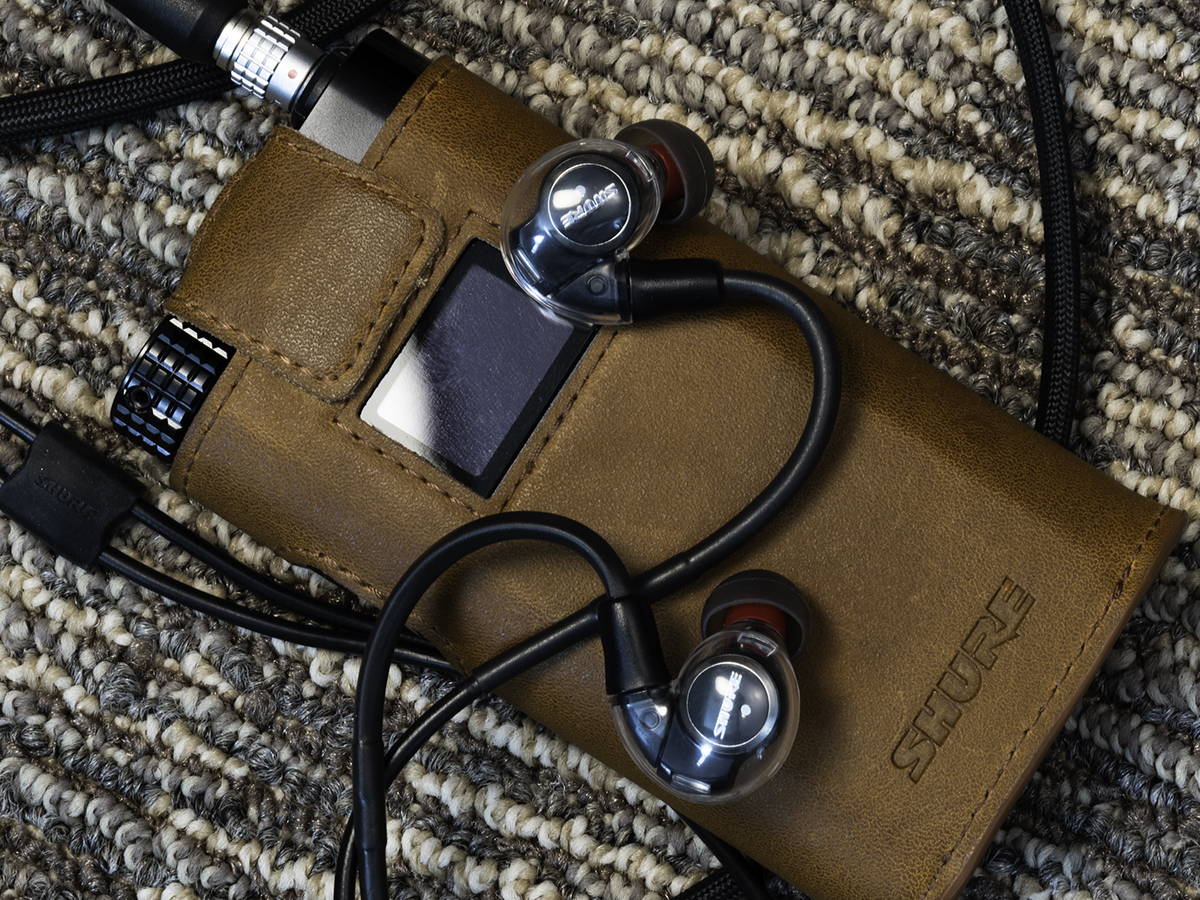 Micro-USB-to-Lightning Cable

Micro-USB OTG Cable

Micro-USB to USB Cable

3.5mm Cable (6")

3.5mm Cable (36")

Leather Case for Amplifier

Earphone Carrying Case

Earphone Sleeves

Airline Adapter

1/4" Adapter

Volume Attenuator

Cable Clip

Microfiber Cleaning Cloth

Rubber Retention Bands (2x)

USB Power Plug

2 Year Limited Warranty (see warranty information)
---
Shure KSE1500 Electrostatic Earphones Review
---
general
Bias Voltage: 200 V DC
Output Voltage: ±200 V, max.
Output Current: ≤1 mA
Noise Attenuation: ≤37 dB
Operating Temperature Range: 0 to 45 °C (32 to 113 °F)
Storage Temperature: -18 to 57 °C (0 to 135 °F)
earphone
Transducer Type: Electrostatic
Connector Type: LEMO Connector
Frequency Response: 10 Hz to 50 kHz
Maximum SPL: 113 dB SPL
THD: 1 kHz at 3%
Net Weight: 44 g (1.55 oz)
Battery
Battery Type: Rechargeable Li-Ion
Nominal Voltage: 3.6 V DC
Battery Life:

Analog in (BYPASS EQ mode) up to 10 hours
USB Input Analog in (EQ mode) up to 7 hours
Amplifier
Bit Depth: 16-bit / 24-bit
Sampling Rate: 44.1 / 48 / 88.2 / 96 kHz
Signal-to-Noise Ratio: up to 107 dB A-weighted
Adjustable Gain Range: -40 dB to +60 dB
Limiter: Selectable Analog RMS Limiter
Equalizer: 4-band Parametric
USB Input: USB Micro-B Receptacle
Line-In: Input 3.5 mm (1/8")
Charging Requirements: USB-powered: 5 V/0.5 A to 1 A
Housing: Black Anodized Aluminum
Net Weight: 182 g (6.42oz)
Dimensions: 111 × 59 × 21 mm (4.4 x 2.3 x .8 in) (H x W x D)