Everything You Need To Know About Chord Electronics
Chord Electronics is a name that hardly needs any introduction. Based out of the UK, Chord makes some of the best portable and desktop DACs, Amps, and more. Versatile gear that gives you some of the best audiophile-grade sound quality out there. Chord is known to give the listener absolute discovery of every single detail in the music with the utmost clarity. A lot goes into the research and development of their products, and we're here to give you some of the details on their products. In this guide, we'll go over the portable and desktop Hi-Fi solutions that will astound audiophiles new and old. Chord makes a range of products, which is great because there is a range of music lovers out there and everyone hears differently. Let's find out about Chord Electronics a little bit before we get to the products.
---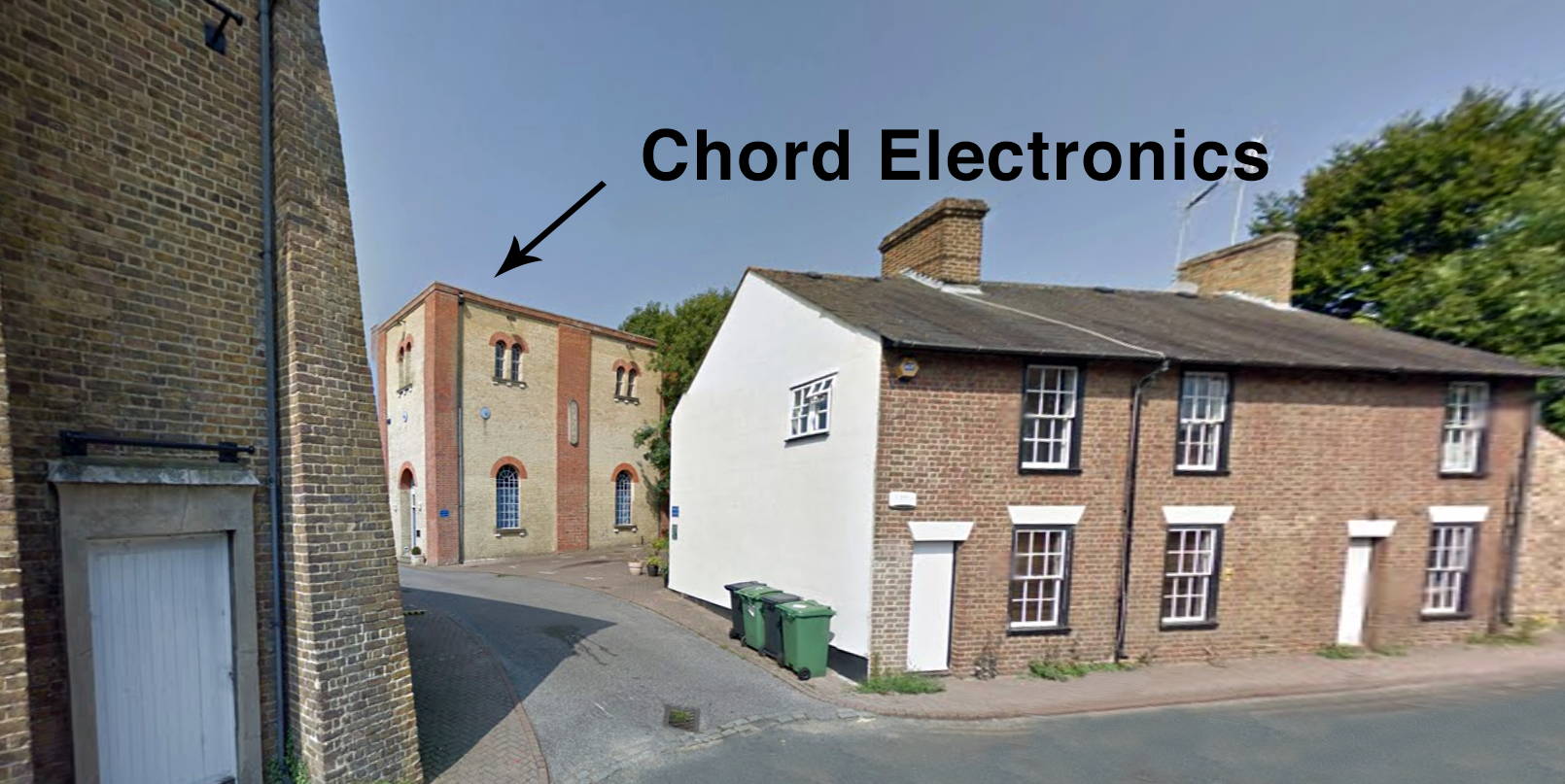 Not far from London, across the English Channel from Calais, is a village founded in 1549 whose coat of arms is a golden lion on top of the heraldic symbols for river. The river Medway wanders through the center of a town called Maidstone, where a small team of music lovers and engineers are creating a portable and digital music revolution in "The Pumphouse." The Pumphouse, built in 1878 as part of a waterworks complex, once housed "state of the art" steam turbines at the turn of the century. Today, the pumphouse is home to one of the most advanced electronics research and development facilities in the word – a company called Chord Electronics.
Chord Electronics has been in business for over thirty years. In 1989 their Founder, Chief Engineer, and Owner John Franks had an idea while working as an electronics engineer for Marconi Avionics. He decided it was time to create a new kind of HiFi company.
Like most visionaries, John was early. The digital music revolution wasn't far. John's idea stemmed from sound design for aviation – where sound quality and acoustic design is paramount to communication and overall safety of the aircraft. By 1989 John succeeded in his goal of producing accurate and high-end amplifier designs with the SPM 900. A year later Chord began co-developing their first broadcast-quality amplifier with BBC – known as the AM820. This became the new industry standard at BBC for years to come and more clients soon followed suite. Now they have world-famous Abbey Road Studios, Sony (New York), Toshiba (Japan), Skywalker Sound (L.A.), and many more utilizing their products. Proudly, these installation products are amplifiers that they still service and maintain for the studios today, a testament to the commitment, quality, and durability of their products.
In the early days the company was focused on analog technologies, but it soon went the way of digital after their Founder John Franks met Rob Watts. "A Panda," was Rob Watt's answer. The interviewer asked what kind of animal his new technology - the Chord Hugo - would be. The "father" of the Chord Hugo, a portable Digital Analog Converter (DAC) revolutionizing the musicality of our many digital music sources, met Chord Electronics founder John Franks at the Consumer Electronics Show in 1994. The movies would have the Chord Hugo instantly appear once John and Rob discovered their common English roots. However, real life is oftentimes very different than the movies. John and Rob worked for years pushing the envelope in improving the overall quality of digital music, and their hard work paid off with the new chip and the revolutionary Chord Hugo DAC. From Chord Electronics' inception in 1989 until 2014, their presence rapidly expanded internationally because of the quality and unique craftmanship of their high-end audio products.
But it was the introduction of Hugo, a transportable DAC, in 2014 that drove their popularity amongst a much younger demographic, quadrupling turnover; Hugo 2 became a landmark product with legendary status. The business again tripled in turnover when Mojo, an affordable, portable DAC, was launched in 2015, allowing consumers, regardless of budget, entry into Chord Electronics ownership. When John's golden lion met Rob's panda magical things happened and are continuing to happen by the Medway River in the United Kingdom. Almost the day after he returned from CES after hearing the Chord Hugo for the first time, Moon Audio's Founder Drew Baird, P.E. set to work making Dragon cables that are compatible with Chord's products. Dragon cables help music lovers connect their Chord products to all their favorite gear, bringing out the very best performance of your audio system and ensuring that nothing comes between you and your music.
Moon Audio will continue to follow, support, and learn from this great company.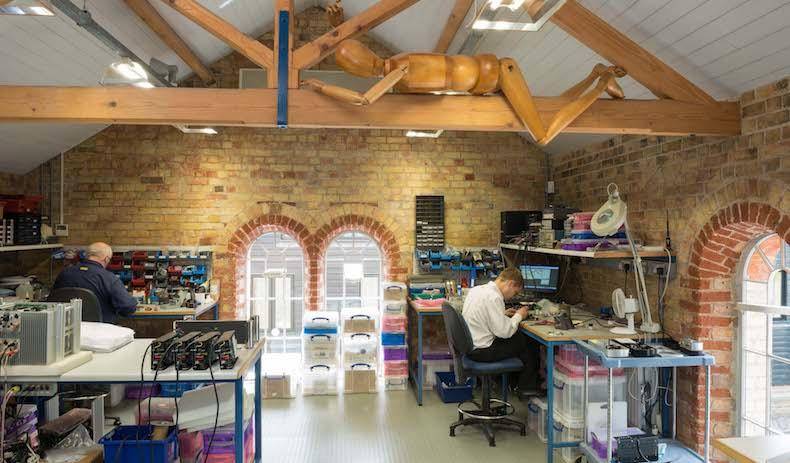 ---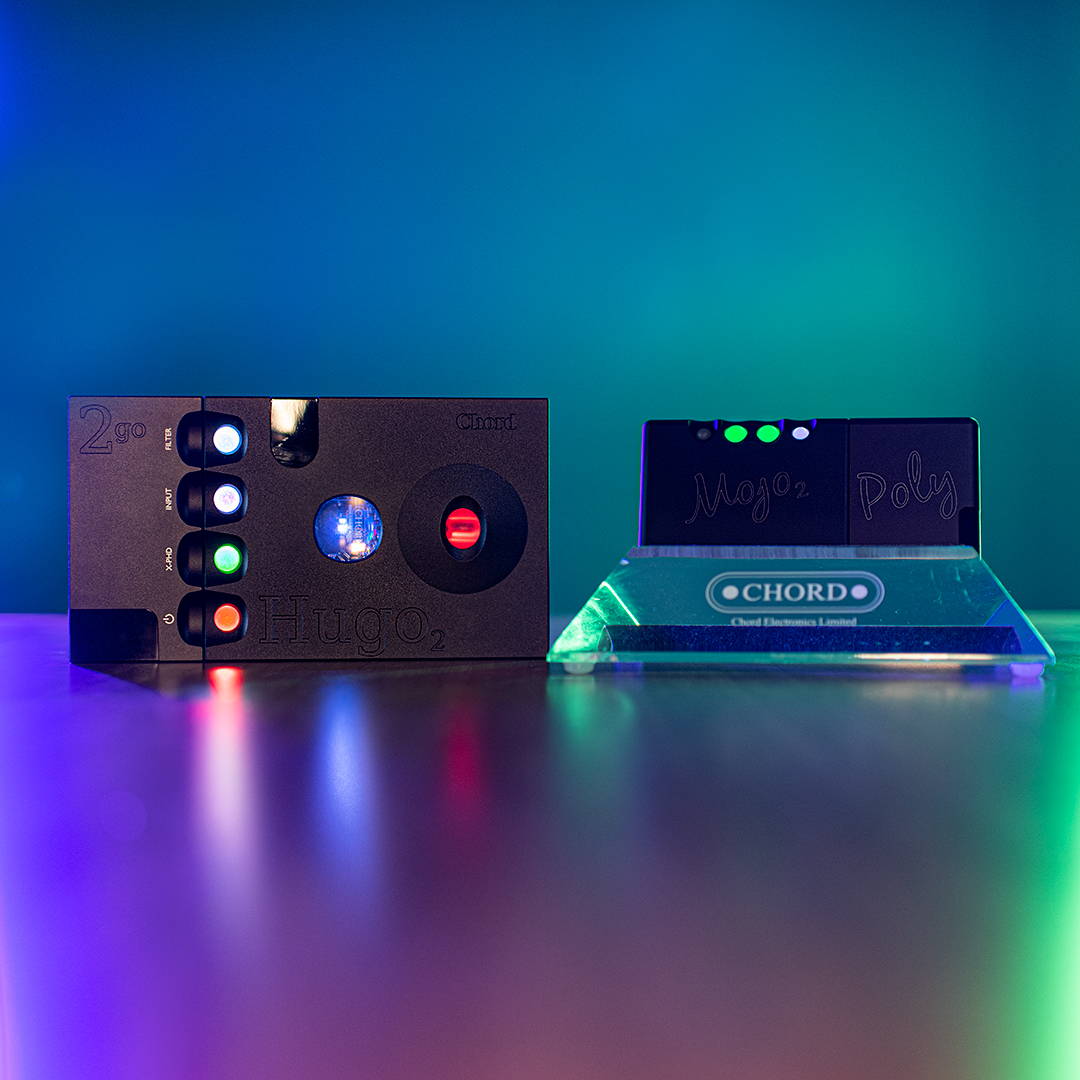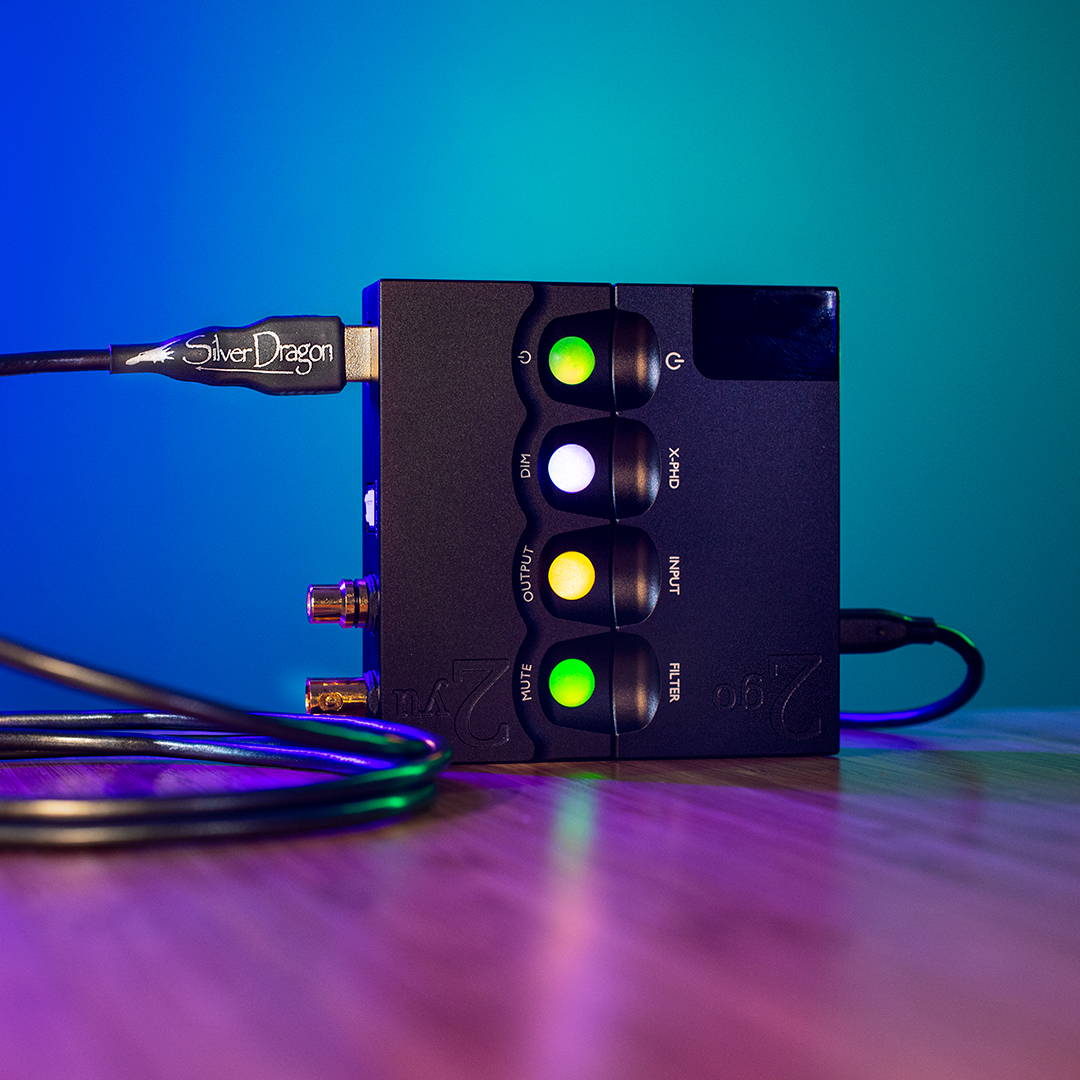 ---
Chord Electronics Portable Products (by price)
The 2YU is a neat product from Chord, allowing you to connect it to the 2GO and making the pair act functionally like a standalone music streaming and server. It's only a direct interface for the 2Go - giving you digital outputs that can be used to provide a LAN connection when combined with other DACs. It connects directly to the 2Go to add toslink optical spdif, coax RCA and or BNC, as well as USB Audio out. Essentially, you can turn any DAC into a ROON endpoint without a direct connection to a computer. The Chord color balls add controls for the output select, power, mute and dim functions. If you're wanting to connect to other legacy DACs for full-on streaming integration, then the 2YU is a simple but effective product to add to your system with the 2GO.
Pairs with the Chord 2GO.
Compatibility with Chord Legacy DACs.

Adds LAN Connection.
---
The Mojo 2 DAC is incredibly portable, built well, has plenty of great I/O, and most importantly, sounds amazing. The best thing about the Mojo 2 is that it gives the user more control over how their music sounds, with an expanded menu system, allowing you to adjust things like high or low gain, specific frequency bands, select filters, crossfeed, and more. The noise floor is also improved from the last generation, and overall sound impressions are better as well, with more bass extension, and a noticeable boost in depth and detail. The menu system can be a bit daunting at first, since Chord maintains its colored ball controls, but after playing with it for about a day it was becoming familiar enough. Coax, Optical, USB-C and micro B audio transmission, dual 3.5mm headphone jacks for simultaneous playback with two headphones, and you have a high fidelity do it all powerhouse box that fits in your pocket.
One of the best portable DACs on the market.
Great Chord sound.

Major improvements over last generation.
---
The Poly is the wireless streaming attachment for the Mojo, allowing you to turn the Mojo or Mojo 2 into a fully functional high-res streaming device. The Poly had a rough launch to be sure, but since the update to the version 3.0 firmware the experience has been the real fully fledged experience it was meant to be. It connects right into the micro-b jacks on the Mojo and is designed to fit like a seamless extension of the Mojo itself. The Poly adds Bluetooth for connection to your source device, and can access music by streaming over wi-fi, network storage devices and even libraries stored on micro SD cards with the built-in slot. Poly can run for about 9 hours on a single charge and has pass through charging as well, so you can charge the Poly and the Mojo at the same time which is nice. Airplay, Roon ready, DLNA compatible, support up to 768, DSD512, it does it all. And combined with the Mojo, and there's hardly a portable setup that compares.
Pairs with the Chord Mojo/Mojo 2.
Makes the Mojo into a fully functional streaming device and server.

Little brother to the Hugo/2GO pairing, keeping much of the features.
---
The 2GO is like the Poly but for the Hugo 2. It's a high-performance streamer and server that transforms the Hugo 2 into a full featured Wifi or ethernet enabled device. Like all the Chord streaming devices, you'll set it up and control through the GoFigure App, and can be configured with 2.4 Ghz wifi or ethernet. It has dual micro sd slots so you can pack tons of local storage on there, and can also be configured as a roon endpoint and server. It does everything the Poly can, except it only goes up to DSD 256 whereas the Poly can do 512. Add multiroom streaming and gapless playback and you have a feature packed portable hifi setup that has everything you would possibly want. It's also compatible with the 2YU making it a fully standalone music streamer with digital output. I think one of the coolest things about the 2Go is hotspot mode, which allows the 2GO to broadcast its own wifi signal if it cannot connect to a static network. The 2Go and Hugo 2 pairing will offer much better sound quality and power than the Mojo and Poly, and should be a serious consideration for those wanting the best in what portable hifi has to offer.
Pairs with the Hugo 2.
Makes the Hugo into a fully functional streaming device and server.

Top contender for best portable sound setup.
---
The Hugo 2 is one of the most premium portable DAC and headphone amplifiers on the market. Despite the size, I think it works just as well in desktop systems too, and it certainly has enough power for your favorite headphones in both cases. You'll find optical, coax, HD USB, a pair of RCAs, 3.5mm and quarter inch headphone jacks. The Hugo 2 features Chord's love-or-hate colored knobs for controls - they're certainly unique in the industry, but they work well. It's on the analytical side when it comes to sound signature like most Chord products, and there is no shortage of detail and clarity. It's hands down one of the best sounding DACs on the market, and Chord includes crossfeed and filter options to tailor the sound to your liking. Battery life is good with around 7 hours for a device of this size. Chord designs their products to integrate well with other Chord products, and if you want one of the best sounding setups I've ever heard, then you can pair it with the M scaler which I'll introduce next. It also pairs seamlessly with the 2GO, transforming it into a full fledged streamer and server. The possibilities are endless, and the Hugo 2 keeps me discovering new things in my favorite music all the time. It's a sonic wonder and one of the best audiophile products out there.
Best portable DAC on the market (Moon Audio Award).
Premium Chord sound and features.

Crossfeed, filters, powerful, great battery life.
---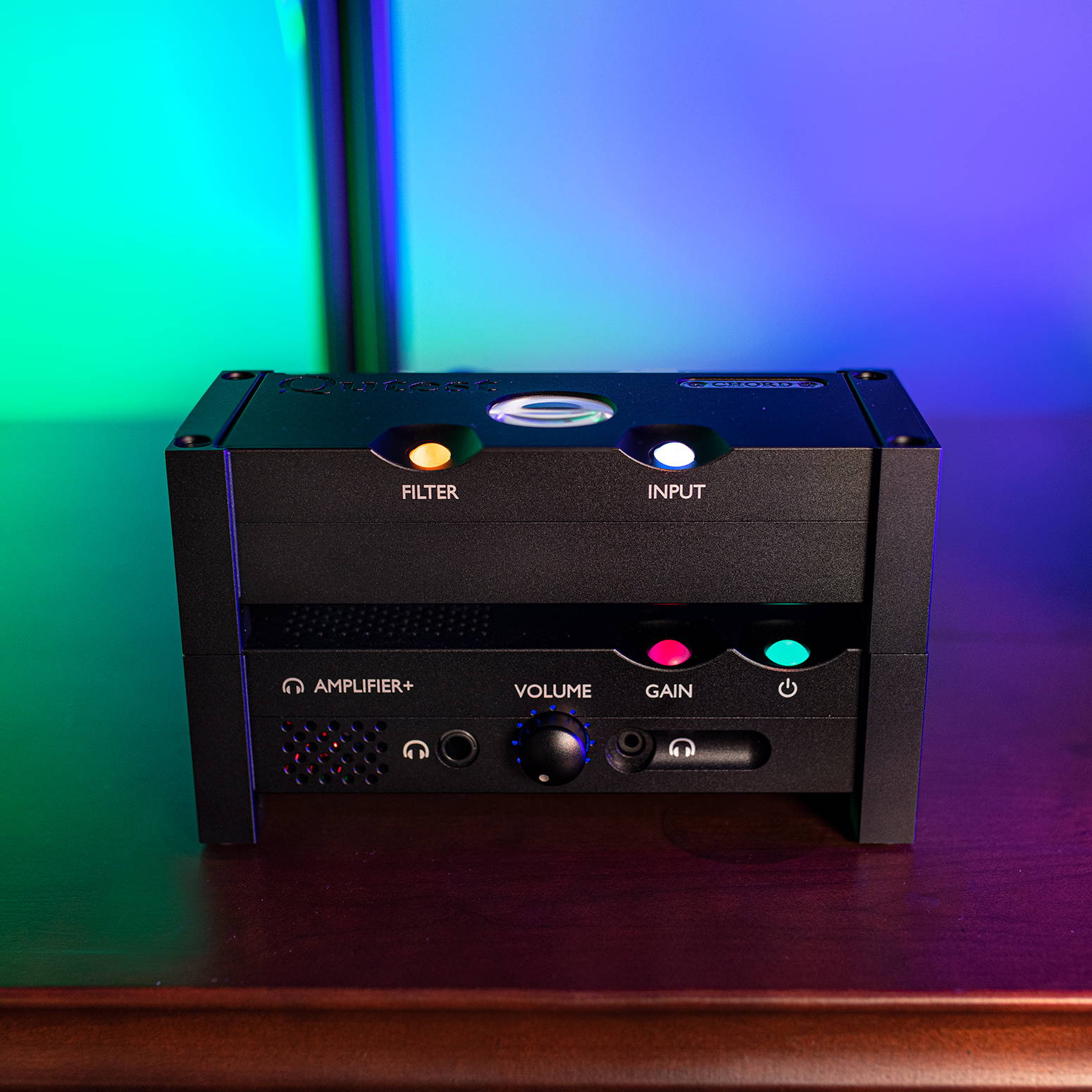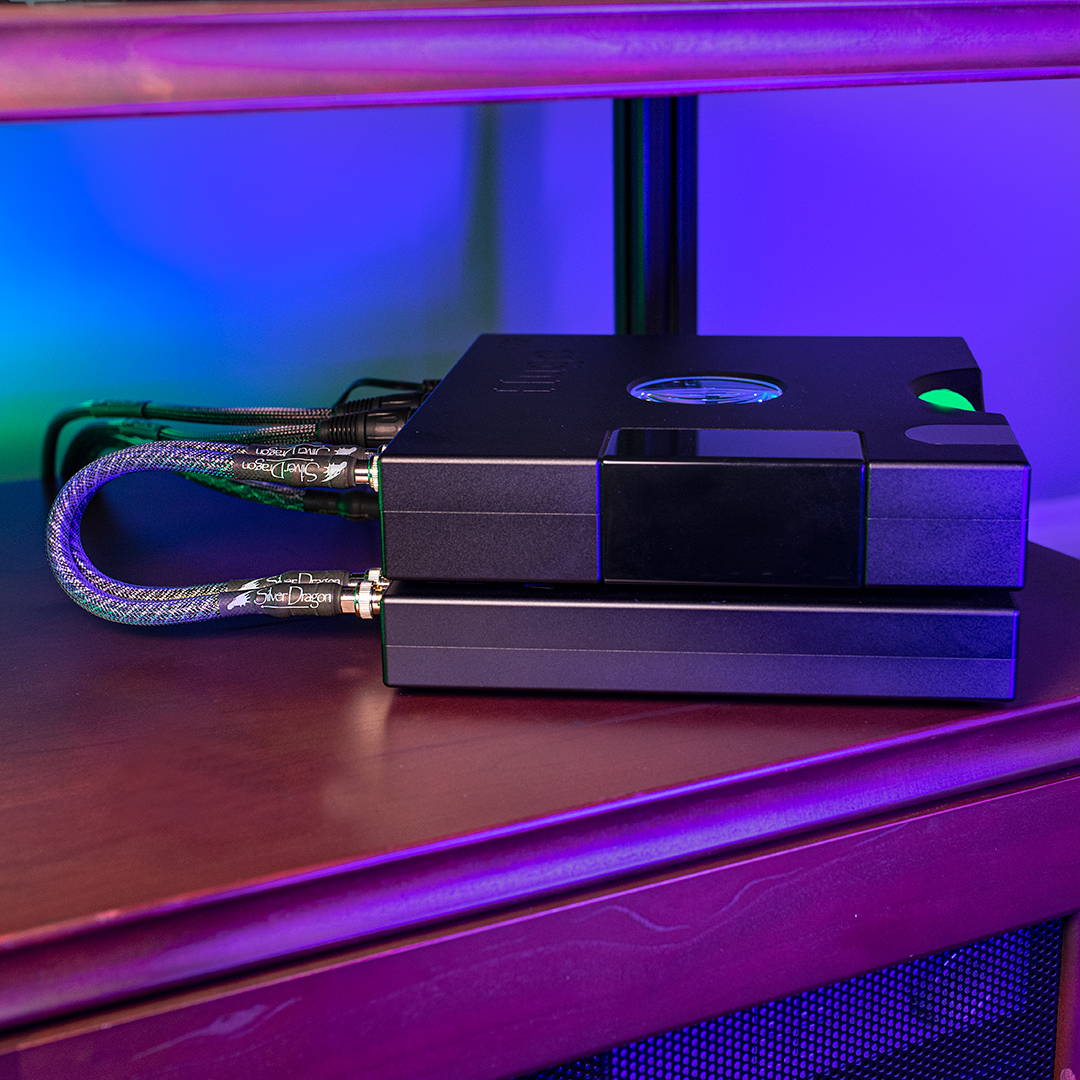 ---
Chord Electronics Desktop Products (by price)
The Chord Huei is one of the best pairings with your turntable. It helps integrate turntables into your hifi system, and has both moving magnet and moving coil functionality. The Heui is compatible with a large number of cartridges and has high and low gain and impedance matching options to help I like the form factor - small and doesn't take up a lot of room but also doesn't sacrifice top-quality features and functionality. it fits in the stack pack from Chord with the Anni and the Qutest as well. I tested it in my setup for the Anni review and was impressed with not just how simple it was to set up and integrate the turntable into the system, but also how clean it helped the signal sound. It has RCA balanced and XLR unbalanced outputs and a pair of RCA inputs as well. If you're a vinyl lover then the Heui is a no-brainer.
Small form factor that pairs well with the Anni and Qutest.
Outstanding integration for turntables.

High performance features.
---
Anni is Chord's first ever desktop integrated amplifier, meaning that it's both an amp and a preamp. It fits pretty well with the Huei and the Qutest, and Chord even developed a nice stackable stand for the three since they have the same form factor. Now the Anni can power both headphones and small bookshelf speakers, and has connections for both obviously. I like the compact design of the Anni (and the other two units) and it makes a perfect small form factor setup without sacrificing high-quality sound. The Anni keeps the well-known Chord detail which is great for analytical listeners, but I also found it paired especially well with warmer-toned headphones and speakers, helping to offset the analytical nature of the amp while keeping a lot of the detail and crispness. The Anni has a good amount of functionality for the size, and whereas it might seem a bit pricey for the size, it's completely justified by the sweet sounds that come out of this thing. Check out our review of the Anni for more sound impressions, specs and details. There's plenty to talk about with the Anni despite its size, and will make a great option for those wanting big amplification without a big footprint.
Small form factor that pairs well with the Huei and Qutest.
Lots of power in a small package.

High performance features.
---
Qutest is based on Chord's award-winning proprietary FPGA technology developed for the class-leading Hugo 2 DAC/headphone amp, giving it proven class-leading technical and sonic performance. Perfectly equipped to bring the benefits our digital technology to a wide range of connected devices, it features a galvanically isolated USB-B, optical and coaxial digital input, giving an instant performance upgrade, plus the ability to modernize aging digital source components. The Qutest chassis is all-new, too. It has significantly greater mass than its predecessor and has been precision-machined from solid aircraft-grade aluminum billet. The Qutest PCB nestles within a shallow cavity in the solid aluminum chassis, giving the circuit board greater protection within the casework and additional isolation from external vibration compared to previous designs. Qutest offers Hugo 2's proprietary user-selectable frequency-shaping filters and input selection controls, available via two fascia-mounted spheres, introducing useful flexibility. It also features RCA analog outputs for connection to integrated amplifiers, preamps, and headphone amps, plus high-resolution dual-data digital inputs for connection to future Chord Electronics products. A further new feature is a user-selectable output voltage available in 1, 2 and 3V RMS outputs for flexible connectivity with a wide range of partnering devices.
Stacks with the Huei and Anni.
Amazing Chord sound in a compact form factor.

Pairs well with the M Scaler.
---
The TToby has been designed to complement Chord's desktop DAC/headphone amplifier, the Hugo TT or Hugo TT 2. The TToby shares the same compact form factor as the M Scaler and TT 2. The combination of Hugo TT and TToby provides a high-quality hi-fi system, with desktop dimensions and a space-saving footprint. Despite its size, the TToby takes full advantage of Chord Electronics' proprietary amplification technology and design know-how. The addition of TToby, enables owners of the Hugo TT and TT 2 to fully exploit the device as a 'digital preamp', effortlessly driving a wide variety of loudspeakers, large or small, in addition to the Hugo TT's headphone prowess. The TToby is a 100-watt design, featuring both an unbalanced and balanced input, to take advantage of the Hugo TT and TT 2's XLR output. Stacking the three units makes a great compact high-fidelity system that is hard to match. The styling of the chasses are also multifunctional as heatsinks due to the aluminum casework. It's a perfect pairing sonically with the TT 2 and sufficient power for both headphones and louspeakers. If you're wanting a compact form factor without sacrificing any power needs, then check out the TToby.
Stacks with the M Scaler and the TT 2.
100 watts.

Balanced and single-ended I/O.
---
Chord Electronics M Scaler
The M Scaler is Chord's standalone upscaling device, and is capable of outputting all the way up to 768 kHz. Now the big draw with the M scaler other than the upscaling is the benefit it will add to any chord DAC. Compatible with the Hugo 2, TT2, Qutest, heck even the Mojo 2 if you wanted, regardless, you'll still see some major gains in audio performance. The Hugo M Scaler brings the unrivaled advantages of Chord's ground-breaking FPGA-based WTA (Watts Transient Alignment) filtering technology to digitally connected audio devices, dramatically improving sound quality. Although optimized for use with selected Chord Electronics DACs (for the maximum 768kHz upscaling/decoding benefit), the Hugo M Scaler can be used with other DACs with suitable inputs, subject to their decoding capability. In line with other models in the Hugo and Hugo TT series, the device features a number of illuminable fascia-mounted spherical controls, governing input selection, output sample rate and video mode for lower latency. The control spheres display data visually including input source and the incoming sample rate, using a polychromatic scale. Easily upscale your system with the Chord M Scaler.
Stacks with the TToby and the TT 2.
Provides serious gains in sound quality.

Great I/O.
---
The Chord Étude has been designed to both complement and exploits the full potential of the multi-award winning DAVE DAC, which has preamp functionality, and the brand new topology has even faster power delivery than exiting designs, offering unrivaled dynamics, life-like delivery of transient information, plus effortless control over loudspeaker drive units. The design for Étude is based upon multi-feedback and dual feed-forward error-correction amplifier technology that intelligently adjusts and compensates the individual linearity of the 250-watt lateral structure high-power proprietary MOSFETs. Internally there are three individual high frequency switch mode power supply units, one for each active power rail and a final for the auxiliary rails. When paired with advanced internal shielding, active cooled plenum chamber design, and custom Chord Electronics MOSFETs, you have Étude, a world-class extremely fast crystal clear amplifier. Although the amplifier is conservatively rated at 150W into 4Ω, if you run Étude in bridged mono mode you can increase this to 300W into 4Ω.
Pairs with the DAVE.
Great power output.

Adds great clarity and separation.
---
Chord Electronics Hugo TT 2
The Chord Hugo TT 2 has been radically redesigned from the ground up. It features beautiful new casework by Chief Designer, John Franks, as well as 5 times the processing power of the original Hugo TT — double that of the multi-award-winning Hugo 2. Hugo TT 2 includes over 20 years of digital development by Rob Watts and takes advantage of the very latest technology. It delivers radically improved technical specifications and measurements across the board and exhibits drastic sonic benefits over its predecessor with 768kHz PCM and DSD 512 playback. This powerhouse DAC supports most headphones, including harder to drive ones like the Sennheiser HD800S and most planar magnetic headphones, such as the Audeze LCD-3 and LCD-4. Compared to the 256-tap filters of traditional chip DACs, Hugo TT 2 is an infinitely more powerful Xilinx Artix 7 FPGA, custom-coded by Chord Electronics' Rob Watts with 86x 208MHz cores running in parallel to create an advanced 16FS WTA 1 filter with 98,304-taps. That doubles the power of its multi-award winning transportable brother, Hugo 2 (49,152). Hugo TT 2 also upgrades from a 4-element design to a 10-element design, which works in harmony with the radically upgraded FPGA and code to deliver unrivaled audio.
Pairs with the TToby and M Scaler.
Outstanding Chord sound.

Big upgrades from the original TT.
---
Chord Electronics Ultima Pre 3
Built from the ground up, the ULTIMA PRE 3 takes advantage of the very latest developments in advanced low-distortion power supplies. These advanced devices offer exceptionally low noise and outstanding amplifier operation. Coupled with our latest design developments, the PRE 3 offers new levels of preamplifier performance. The UTLIMA PRE 3 is equipped with five analog inputs (two balanced and three unbalanced) all of which benefit from individual buffering and are selectively filtered against potential ingress from radio frequency interference. Externally, the PRE 3 benefits from a completely redesigned aesthetic with a central circular power sphere flanked by a new volume control and balance/AV bypass selector, both of which benefit from a new ergonomic knob design. Additional features include an AV bypass, plus a 5 V charging USB Type-A port.
Striking design, advanced shielding, convection cooled.
Fully balanced circuitry and analog signal path.

Chord quality and sound.
---
Chord Electronics Ultima 6
The ULTIMA 6 currently offers the most affordable way into our next-generation ULTIMA family of stereo power amplifiers. It builds upon its award-winning predecessor, the SPM 1050 MK II, adding our ground-breaking next-generation ULTIMA amplifier topology. The new 180-watt model, which benefits from John Franks' ground-breaking dual-feed-forward circuit delivers a lightning-fast response coupled with effortless power for astonishing dynamics and timing, delivering unrivaled fidelity. 30-years-in-the-making, our new dual-feed-forward topology offers breakthrough performance and is our first all-new circuit in three decades. ULTIMA amplifiers have been engineered for the very finest hi-fi systems; ULTIMA is the ultimate expression of the finest high-performance, ultra-fast, high-power amplifier technology available today. The ULTIMA 6 has an incredible 16 proprietary MOSFET power devices which demand the most advanced and refined drive circuitry, featuring an ultra-low-distortion, high-voltage amplifier operating at very high speed: 300 volts per microsecond. ULTIMA 6 shares the same DNA as the flagship and reference-level monos, yet benefits from greater practicality and affordability, due to a differing power output.
Outstanding build quality and aesthetic.
Flagship-level features from Chord's more expensive amps.
Clean sound, great dynamics, gold-plated I/O.
---
Not all DACs are created equal. Using proprietary technologies painstakingly developed by Robert Watts over the past twenty-years, DAVE is Chord's most advanced FPGA DAC to date. The DAC, which is also a reference-level headphone amplifier and 'digital preamp', distills twenty years of Chord research, development, and advanced engineering into one device. At its heart lies a new version of the advanced Spartan 6 Field Programmable Gate Array (FPGA) with 1,000x the processing power of the traditional mass-produced chip DAC. DAVE's FPGA is loaded with over a million lines of code to confront complex timing issues head-on, with speed and precision. The FPGA's extraordinary capability enables a number of key sonic benefits, including significantly improved timing and the best noise-sharper performance of any known DAC. DAVE's technology delivers music with unmatched reality and musicality, with an unrivaled timing response. It features the very best conversion technology available, using proprietary techniques never seen before. DAVE stands for 'Digital to Analogue Veritas in Extremis', a moniker that best reflects the product's capability; a device so advanced and with so few compromises, that it is absolutely truthful in the extreme.
One of the best DACs on the market.
Superior Chord sound and technology for your music.

Great I/O and hi-res music capability.
---
Chord Electronics Ultima Pre 2
The fully modernized ULTIMA PRE 2 is built to complement stereo systems of the highest order and represents the finest Chord Electronics engineering inside and out. Just as a preamplifier should, the ULTIMA PRE 2 adds nothing to the original waveform and instead preserves it with zero coloration. This is thanks to our latest advances in switch-mode power supply design, developed from aerospace technologies, and our ultra-low-noise proprietary solid-state circuitry which is both carefully shielded and equipped with premium system components. As a result, the ULTIMA PRE 2 is able to achieve unprecedented noise floor performance of -130dB, meaning your source will always sound like your source and nothing else. Where connectivity is concerned, the ULTIMA PRE 2 has hi-fi systems (and more!) covered. Featuring eight inputs, four stereo pairs of XLRs for balanced connections and another four RCA for unbalanced connections, each of these can be gain-matched and individually selected. For outputs, a single stereo pair is available via XLR or RCA, to accommodate a single stereo amplifier such as the ULTIMA 5 or a pair of mono blocks such as the ULTIMA 3s. Naturally, headphone users are catered for, too, for personal and late-night listening with the addition of a high-resolution 6.35mm output on the front fascia.
The ultimate Chord hub for your system.
8 stereo inputs and 1 stereo output.

Great S/N measurements, all inputs with switchable gain.
---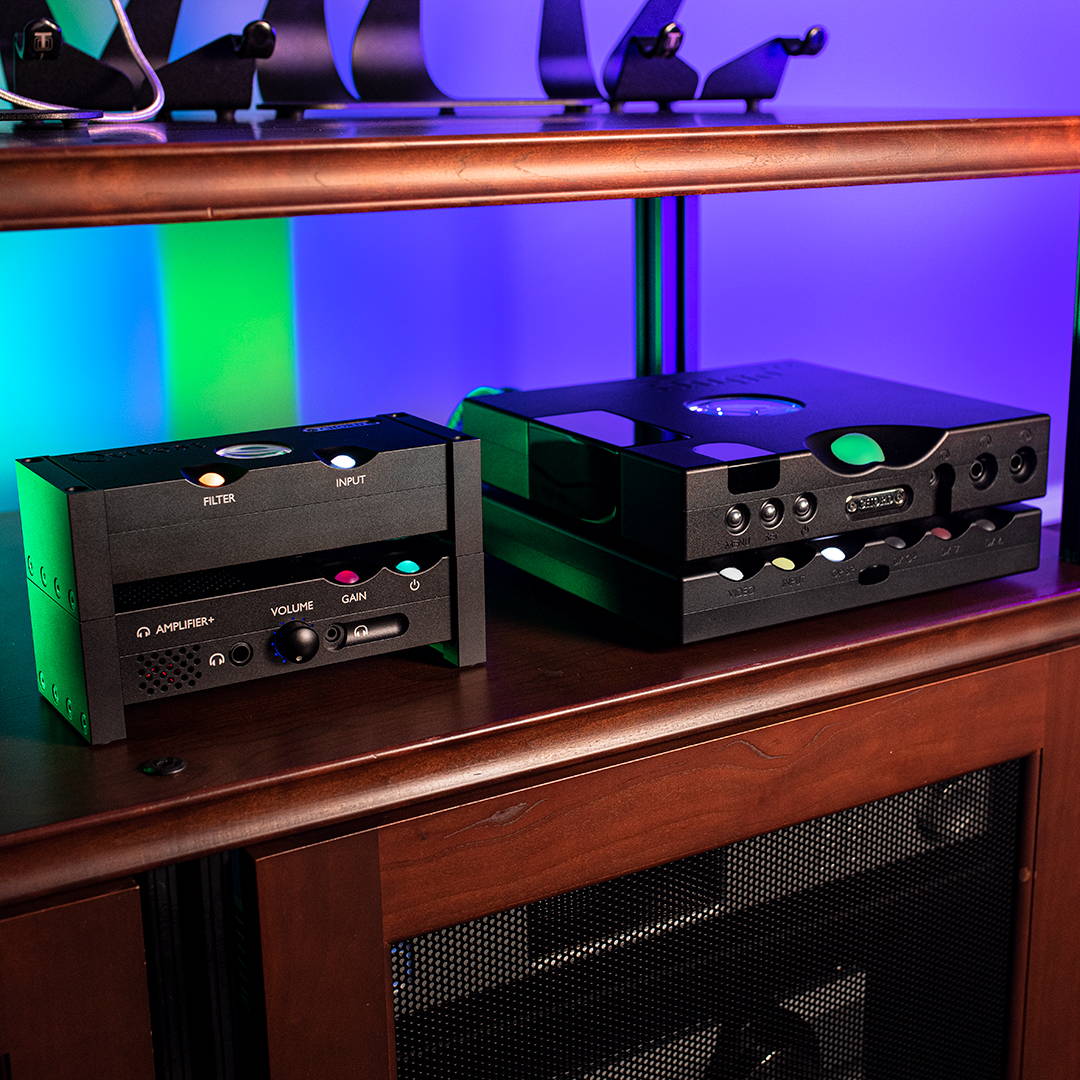 ---
Generally, stock audio cables are manufactured with subpar materials, metals with impurities, poor geometries, and an overabundance of layers to make them look and feel like a fire hose. Inconsistency and lack of quality control in stock cables can lead to poor sound quality and a veiled sound vs what the musician intended for you to hear and feel from the music. Dragon cables are handcrafted with the highest standards and made to order according to your specific needs. At Moon Audio, we create a custom cable for you using the highest quality UP-OCC silver or copper conductors that can be manufactured. UP-OCC metals are void of impurities and are optimized for signal transfer and sound quality. We have one of the largest collections of audio and headphone connection options available online and we create limitless audio cable options depending on your specific gear and needs.
Silver Dragon Sound Signature: The Silver Dragon is the original cable. Silver strands clarify instrument separation, increase the soundstage, and find previously lost high and mid-frequency sounds. Transients appear more cohesive and the bass tighter for a more controlled sound. The detail and clarity of the Silver Dragon make it a perfect match for classical music and other genres with many nuanced instruments.
Black Dragon Sound Signature: The Black Dragon is warm and smooth with a musical presentation. Copper strands enhance the body, shape, and immediacy of the music. The detail and expansiveness of the Black Dragon make it a flexible fit where a broad range of musical genres are played. It can also improve bass frequencies on bass-light headphones. The smooth, musical quality makes it a perfect fit for headphones that tend to sound a bit edgy or bright. Despite its warmth, the Black Dragon does not have a laid-back, lush sound. It is much closer to neutral, making it a very natural-sounding cable. For more information on finding your signature sound, visit our Sound Signature Guide.
---
Chord Mojo 2 Features Explained
Chord Mojo 2 v. iFi Gryphon
How To Connect Your Chord M Scaler
Hugo TT 2 & M Scaler Review