Downsize Your Headphones Without Downsizing Your Sound
What makes a good IEM or earbud for gaming? It's interesting really, because the criteria aren't that much different than a full-size headphone. It has to be comfortable and it has to sound good, right? People ask all the time what the best headphones for gaming are - but what about IEMs? Where do IEMs fit into the picture? And the answer is: the same place headphones do. IEMs in many ways are much more convenient than full-size headphones - smaller, easier to drive, easier to travel with, and the kicker: they can sound just as good, if not better, than your full-size headphones (depending on what you're comparing them to, of course).
It actually makes a lot of sense when you think about how IEMs are compatible with various gaming setups. Most of the time IEMs aren't even a consideration because of the sheer quantity of headphones and cheap earbuds out there. That being said, I think gamers need to start seriously considering the benefits that IEMs have over full-size headphones. Just because they're smaller doesn't mean the sound quality is equally small. When it comes to portable gaming (and gaming in general), there's no comparison. If you can get awesome sound from your IEMs - why would you travel with full-size headphones when you can literally have something that sounds just as good and fits in the palm of your hand?
Portable and home gaming is everywhere, and chances are that you have a PlayStation, Nintendo Switch, Xbox, Steamdeck, and/or a phone and tablet that you play games on. Likewise, you probably own a gaming headset or gaming earbuds too. But the question remains: are you getting the most out of your gaming-branded headset or earbuds? Sometimes you need to look outside of the gaming spectrum to find some of the best-sounding gear for your games. Here are just a few...
VIDEO: The Best IEMs for Portable Gaming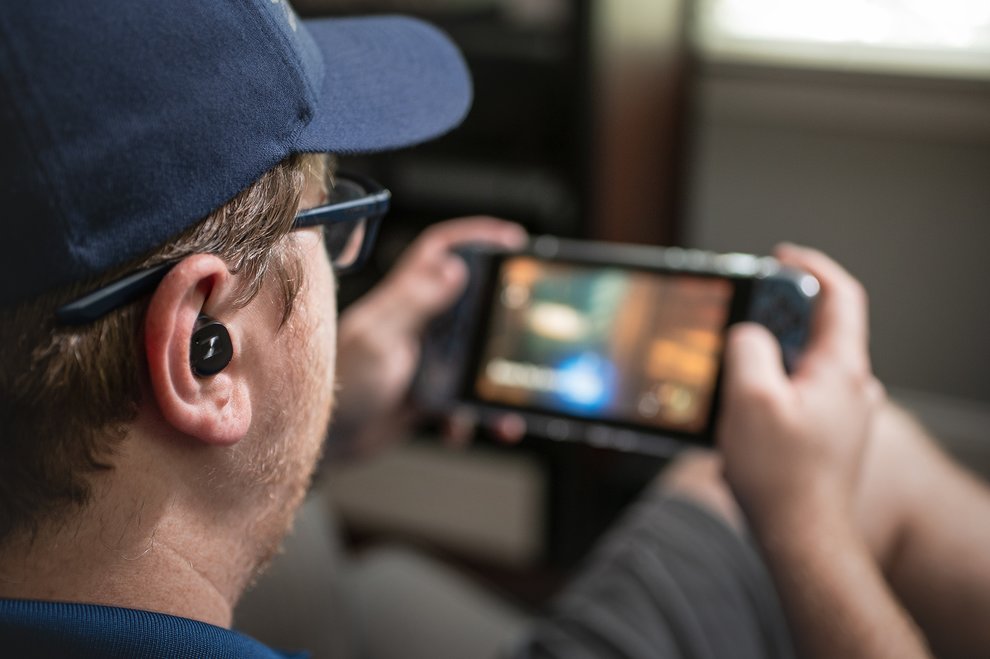 Best Budget-friendly Earbuds
We'll start off with the most affordable and likely, the most familiar with gamers out there. The Wireless Earbud. The Sony WF-1000XM5 and the Sennheiser Momentum True Wireless 3 earbuds are great options if you are looking for wireless capability and even some noise cancellation. These are the only wireless options on the list, so automatically they're going to be best for mobile gaming, Steamdeck, laptops, and MACs that can run the proprietary software for further sound control. Bluetooth is not recommended for console gaming from the get-go (due to severe latency issues). You're better off using cabled or wireless USB dongle headphones specifically for your console. The XM5 and Momentums are small, and work effortlessly with your phone (just pop them in and they auto-connect), making them great for media consumption and casual gaming on the fly. Sony gets extra points here for their top-of-class noise canceling and software. The Momentums have a bit more clarity and detail, but I would say the Sony XM5 will get you better immersed in the game with the ANC. Both are great options here.
Sony WF-1000XM5 Wireless Earbuds
When it comes to noise-canceling, few do it better than Sony. We're certainly impressed with how they legitimately improve upon the technology from one generation of product to the next - because there are true quality-of-life (and sound) improvements being made with the XM5. Sony has completely revamped the design of the WF-1000XM5, making them smaller, sleeker, and more comfortable. Somehow they even managed to pack more (and better) tech inside. The driver redesign sounds dynamic and resolute - we're getting a lot more top-end clarity and tightening in the bass response from previous iterations. You can certainly hear the differences and improvements when A/B testing the XM5 with the XM4. It's night and day. Compatibility is typical for both Apple and Android, and the connection process is easy and seamless for both.
This translates well when it comes to gaming. Longer gaming sessions, better immersion, and portability for all the mobile gaming you can handle. The active noise cancellation is also a nice feature so that you can block out your surroundings if you're gaming in a noisy environment. It does a lot well, and for the price, it'll knock your Apple AirPods out of the water. For music, it's a solid earbud for a lot of music due to the fun and dynamic V-shaped sound signature. Rock, Alternative, Rap, and EDM are some standouts, and with Sony's signature sound, these earbuds put you in the action of the music. It does the same for games too with a close soundstage, these provide nothing but excitement and energy for your game audio. As far as we're concerned, they're the best gaming earbuds out there, at least for wireless options.
King of ANC for Earbuds, Excellent Sony Sound
All-Day Battery Life, Wireless
Read the Review
_________________________________________________________________________________________
Sennheiser Momentum True Wireless 3 Earphones
The
Momentum True Wireless 3 earbuds
from Sennheiser are a great alternative to the larger ANC over-ear headphones. Compared to the XM5 earbuds from Sony, the True Wireless gaming earbuds have more defined, clearer high frequencies, and an overall more audiophile-friendly tuning and audio quality. The bass response is great, considering the form factor and the proximity to your eardrum. The earbud style does well to accentuate those frequencies that often get lost or overpowered in full-size headphones.
The adaptive NC is a nice feature, allowing the earbud to automatically adjust the level of noise-canceling based on your environment. 28 total hours of battery life (with the charging case) and 7 hours on a single charge ensures you have music whenever you want during the day or night. The carrying case also has Qi wireless charging via USB-C which is a nice feature. The Momentum is IXP4 water-resistant and has three advanced noise-canceling microphones on each earbud for clear and quiet calls.
The Momentum is great for those gamers who like to pick up on every little detail in your game. This is especially helpful for competitive scenarios when directional cues can make the difference between life and death. The Sennheiser Momentum 3 has a wider soundstage than the Sony WF XM5 earbud, and because it's more in line with the "audiophile" sound in terms of details and tight bass response, it's going to be great for genres like Classical, Jazz, Folk, R&B, and Alternative. They'll work in much the same way as the Sony earbuds due to their design as wireless earbuds, and they are solid recommendations for portable and mobile gaming. Of course, they'll work well for any Bluetooth-enabled device, and with the great ANC performance you'll have fewer interruptions and more immersive gaming sessions.
Sennheiser Signature Sound, Analytical
28hr Battery Life, Adaptive Noise Canceling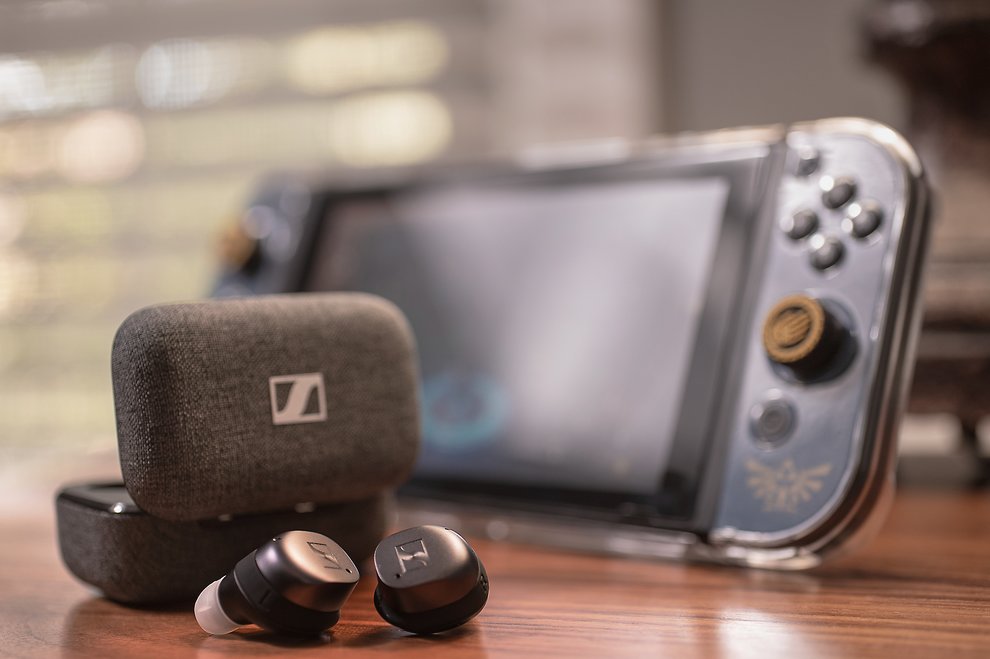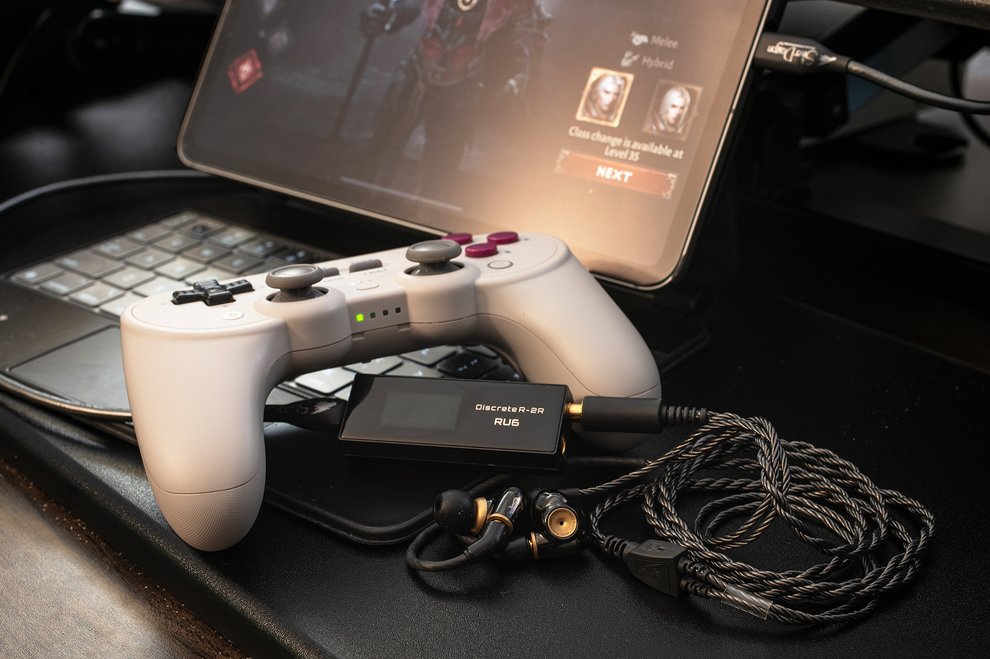 Moving up the ladder, we are getting into all-wired IEMs. This means that each recommendation below does not have the option to be used wirelessly and that they'll work with PC/MAC, mobile, console, portable consoles, and more. Everything out there that has a headphone jack is compatible with the following earphones. Likewise, the cost goes up compared to the budget-friendly recommendation, but keep in mind that what you sacrifice with your wallet you make up for in sound quality (typically speaking - but this is certainly the case here). Get ready for better sound for all your games!
Sennheiser IE 600 Earphones
The
Sennheiser IE 600
is a great option for audiophiles who want an IEM with a small footprint and a natural, detailed sound. The IE 600 is not as neutral or detailed as the flagship IE 900, but it's pretty good on both of those counts. The sound is relatively intimate, as you'd expect with an IEM, but the IE 600 still does a pretty good job with imaging and keeping various instruments and vocals in their respective places. While appropriate for a variety of music styles, the IE 600 works especially well with
vocals, acoustic music, folk, blues, and Americana
— anything that calls out for a natural yet expressive presentation. I enjoyed it with stringed instruments, and I especially enjoyed it with vocals. Some might prefer a bigger, wider sound for genres like classical or jazz, but the IE 600 is more than up for the task of making your music sound fantastic with a more intimate presentation.
The Sennheiser IE 600 IEM is an excellent option if you're looking for detail retrieval. The IE 600 sound leans to the analytical side of things, which is great from a gaming perspective. You're not missing out on critical elements of the experience - especially if you're in a competitive situation. In our
full review of the IEM
, we described the sound as "clear, natural, and intimate with a kiss of warmth." There's some lovely sparkle on the top end that provides some excitement to the listening experience, and these are a delight for soundtracks as well.
The IE 600 is on the small size as far as IEM chassis go, and that's great for people with smaller ears and canals. They only come in a universal option.
From a gaming perspective, if you lean more toward wanting excellent detail in your mix then we recommend pairing the IE 600 with the Silver Dragon IEM Cable for Sennheiser. The Bronze Dragon IEM cable will provide some additional warmth into an otherwise analytical IEM, adding meat to the sound for gaming and music at a price point more in line with a serious gamer budget. For me, more warmth and a musical presentation in my gaming sessions added to better overall immersion.
Clear, Natural, Engaging Sound
Small and Very Comfortable
_________________________________________________________________________________________
Meze Audio ADVAR IEMs
Overall the
Meze Audio Advar
is an impressive IEM - offering much more than the entry-level Solo and coming darn close to the performance of the
Rai Penta
given the mid-level price point. There's no surprise that the infamous Meze soundstage still manages to wow and amaze with each new product and iteration that they come out with, but it's the low-end presence, mid-level energy, and the high-frequency roll-off of the Advar that makes for a smooth, dynamic, and fun IEM. Lovers of all things
Rock, EDM, Folk, Alternative, and even Jazz
will find much to love about the Advar, and many other genres will find a way to shine through these IEMs. There are many things to give Meze Audio credit for, but consistency is a big one. They just keep putting out awesome-sounding IEMs and headphones that don't disappoint. The
Bronze Dragon IEM Cable for Meze Audio
will add additional warmth and musicality to the IEM, boosting and tightening up the bass response and providing an incredibly lush and musical experience.
We love the ADVAR IEM for its wonderful fit - this results in some seriously long gaming sessions. We can leave these in for hours with no fatigue, and combined with the smooth presentation it makes for some enjoyable and immersive gaming sessions. Soundtracks are incredibly lush in the background, and the definition provided by these is next level when compared to an entry-level IEM. It's a stylish design to boot, so you'll look great while gaming too. If you're a fan of getting lost in your games then the ADVAR will help in that regard. Forget the world around you and be sure to check these out.
Lovely Tight Bass and Midrange Response
Soundstage, Beautiful Design, and Weight
_________________________________________________________________________________________
Empire Ears Bravado MKII Universal IEMs
Bravo to Empire Ears on the
Bravado MK-II.
This is a great-sounding IEM that belies its entry-level position in the Empire Ears X Series. Empire Ears has taken what was already a fabulous all-purpose IEM and brought it to the next level. Empire's declaration that Bravado works with multiple genres is no joke — we enjoyed it with an array of
rock, classical, folk, and jazz.
It brought the energy when we wanted it but performed equally well with more mellow music. At $799 universal/$999
custom
, you'll pay $200 more for the Bravado MK-II over the original. We think this is a modest price hike for a major upgrade and still keeps the Bravado within an entry-level audiophile price range.
The Mark 2 makes some notable improvements over the original in several ways. The MK-II features a tribrid design, meaning it has three different driver technologies. First, there is an upgraded W9+ subwoofer for the lows. This is the upgraded version of Empire Ear's proprietary dynamic driver that packs the punch of a true subwoofer. A balanced armature handles the mids, with two electrostatic drivers for the highs and ultra highs. Be sure to pair it with the Black Dragon IEM Cable for Empire Ears IEMs - it provides ample clarity in the full spectrum, tightened bass response, and transparency in the mids and highs. It's a great pairing overall.
There are many good things to say about the Bravado MK-II. Instrument separation is astounding when listening to music - and that translates to gaming as well - giving you an expansive presentation and large open sound. The imaging too - precision in where sounds are coming from - is a game changer when you're comparing good headphones or earphones to bad ones. The bass extension is equally impressive - packing a punch in the sound design when you need it most. Making you FEEL those moments in-game goes a long way in your gaming sessions providing impactful and meaningful moments.
Tribrid Design - Amazing Dynamics, Warm-side of Neutral
Beautiful Chassis, All-Purpose IEM
_________________________________________________________________________________________
Astell&Kern AK ZERO1 IEMs
The
ZERO1 IEM from Astell&Kern
is a mid-tiered in-ear that packs AK's finest sound in a small and portable package. To Astell&Kern, "ZERO" is a number that represents the reference point; the beginning of things. That being said, the ZERO1 IEM represents a new start for Astell&Kern which aims to be the standard for IEMs in the industry. Three things define the ZERO1. The first of these is Hybrid: Astell&Kern creates the perfect balance by considering different preferences of listeners. Essence: Astell&Kern believe that wherever you are, the highest quality should be fulfilled as purely and honestly as possible. And lastly, Promise: Astell&Kern is embarking on new challenges to break new boundaries and enter a new era of high fidelity for IEMs. The ZERO1 uses three different types of drivers. Composed of a Micro Rectangular Planar Dynamic Driver, two BA drivers, and a 5.6 mm Dynamic Driver, the AK ZERO1 harmonizes the characteristics of each driver to deliver the most natural sound to your ears. It's a great match for those wanting a more personal-sounding IEM, with a closer soundstage, great layering, superb bass representation, and top-end sparkle. We found it provided great energy for genres like
Rock, Metal, R&B, and EDM.
This is a fun price point for gaming IEMs. You really start to hear the differences between audiophile-grade sound and everything that exists below. The ZERO1 hits the sweet spot of being able to carry the low end of your gaming blockbusters but at the same time being able to deliver great clarity and detail in moments that matter. It's a versatile IEM that will work well for a lot of different kinds of games - no matter if you want to play competitively or just get lost in a world a galaxy away. The price point is equally sweet for this kind of performance, and they get a solid recommendation from us for both music and gaming. Be sure to pair it with the
Bronze Dragon IEM Cable for Astell&Kern
for added body and warmth to the sound, giving weight to a lot of what you'll experience in your gaming sessions.
Great Bass Response, Top-End Sparkle
Cable Recommendation: Bronze Dragon IEM Cable for Astell&Kern (MMCX)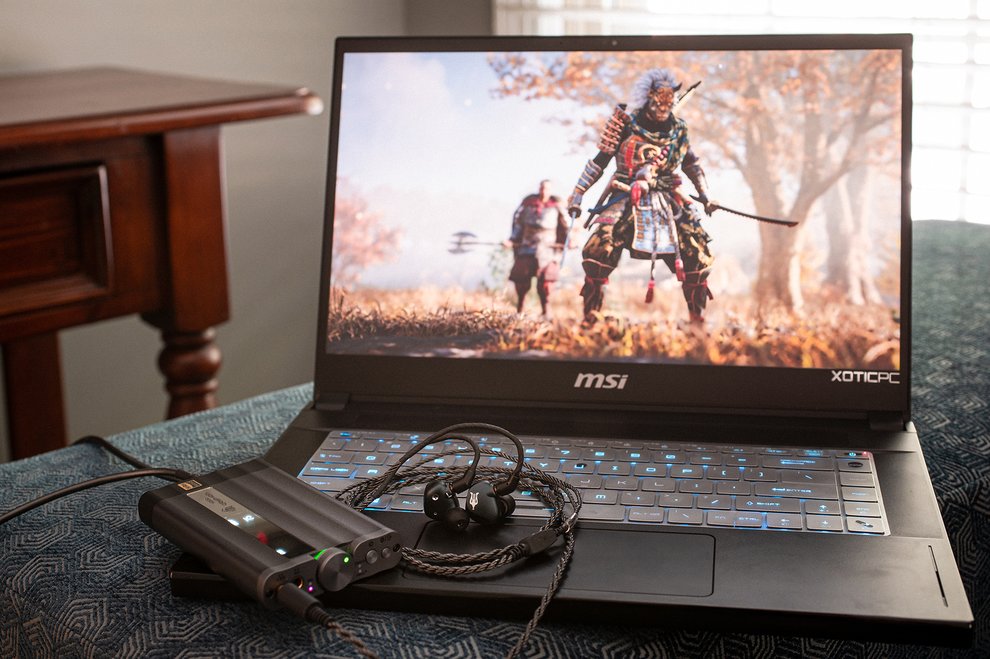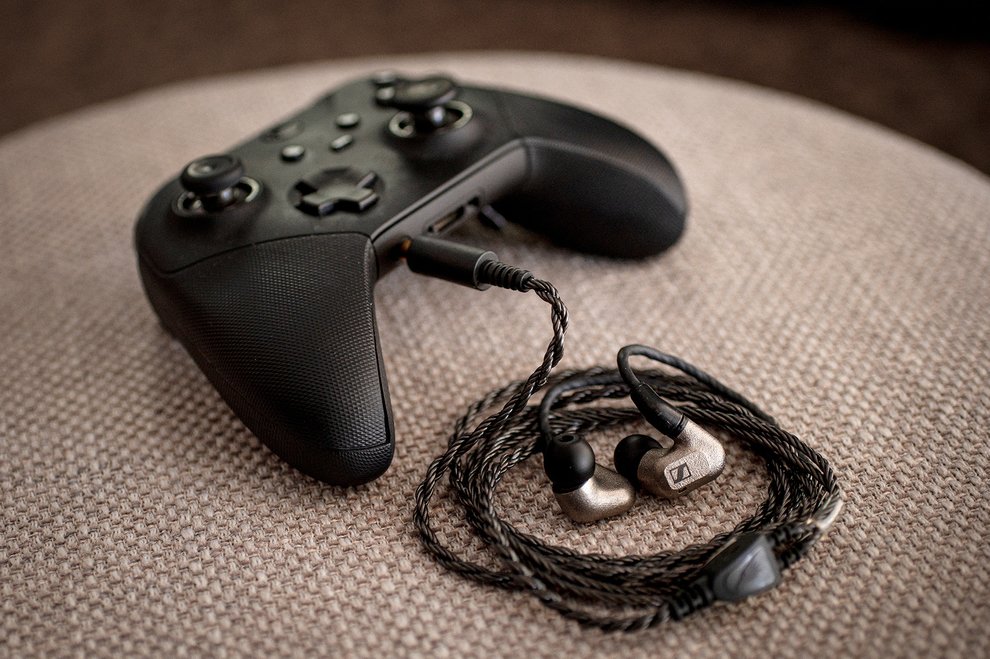 _________________________________________________________________________________________
Meze Audio Rai Penta IEM
Next up we'll take a look at what true flagship-level sound quality is like for an IEM. I want to start off with one of our favorite IEMs here - the
Rai Penta from Meze Audio
. The Penta's are aptly named due to the fact that it's a 5-driver design - which provides a warmer presentation, and amazing soundstage and imaging. The Penta-Hybrid driver consists of 4 customized balanced armature drivers and 1 dynamic driver working together to create a surprisingly wide soundstage and incredible fidelity for an in-ear monitor. Like Meze Audio's flagship headphones, the Empyrean, the Rai Penta is the big arena show sound compared to the Solo. More definition, punch, overall fidelity, and life to your music. Combine that with the amazing comfort and fit, and this is one of our favorite universal IEMs. It's a great fit for
Rock, Metal, EDM, Synthwave, and Electronica.
Combine that with the
Silver Dragon IEM Cable for Meze Audio
and you have clarity, soundstage, and full-bodied sound like no other IEM out there (made even better by the comfort).
When we talk about gaming and headphones - there is one thing that is key alongside great sound quality, and that is great fit and comfort. The Rai Pentas excel in this too, with a smaller chassis and shaped so ergonomically that it fits like a universal. It just fits right in there - no added pressure, great seal, super comfortable. And now I don't have heavy headphones or earbuds falling out all the time to distract me and take away from my gaming sessions.
The soundstage in these is going to go a long way to immerse yourself in whatever gaming universe you want. Be sure to check out our full review of these in the link below. The overall fidelity of the Rai Penta is impressive, and combined with the ergonomic and anatomically shaped shell, you have the best of both worlds: great sound and comfort.
Wide Soundstage, Musical, and Dynamic
_________________________________________________________________________________________
Sennheiser IE 900 Earphones IEM
You know you've found a keeper of a headphone or IEM when you want to keep on listening to every single piece of music you know and love. This was our experience with the
IE 900 from Sennheiser
: a pleasure to listen to and super comfortable to boot. A nice, full sound that sounds natural and clear -- great with
blues, folk, acoustic strings, and music with lots of detail.
Vocals are super clear and emotive. Treble on the IE 900 is definitely something to write home about. Lots of sparkle. Piano on several tracks sounded absolutely gorgeous. If you're deciding between the IE 600 and the IE 900, choose the IE 600 if you want a more fun sound for on-the-go listening/gaming, the IE 900 if you are all about detail and clarity and are not willing to compromise. You won't be disappointed. Of course, cost plays into it, but ultimately with Sennheiser, you get what you pay for. Be sure to add in the
Bronze Dragon IEM Cable for Sennheiser
for additional warmth and musicality - you'll really feel the motive properties of the IEM.
Even though the IE600 and the IE900 might look the same, there is a substantial difference between the two sonically. You'll find a more refined sound, resolution, and slightly better imaging in the IE900. Sennheiser is known for its clarity, and the IE900 is one of our top picks for competitive gaming. The chassis is on the small side, making it super comfortable for longer gaming and listening sessions. The s
oundstage on the IE 900 is intimate, with layers of sound and everything clearly delineated. This is great for both immersive and competitive gaming, and we can't recommend the IE 900 IEMs enough for any gamer out there.
Clean, Balanced Sound with Superb Detail
Three Cable Options, Lightweight
_________________________________________________________________________________________
Empire Ears Valkyrie MKII IEM
Our experience with the
Valkyrie MK-II in-ear monitor
wasn't so much different from the original. It's not a radically changed IEM. What we got with the MK-II was a little more control in the low and high ends and a slightly more forward midrange. If we were to make a comparison between the update and the original, the MK-II has a slightly more refined sound. It's like the wild child has grown up into a "work hard, play hard" adult. Even with a bit of refinement, the Valkyrie's sound quality is nothing short of captivating. So strong was our urge to move, to engage, to marvel at how active the music sounded - it was hard to get any work done at the office! If you're looking for an emphasis on vocals or a more analytical sound, the Valkyrie MK-II may not be for you, but if you enjoy a fun sound signature with a bit of an adrenaline rush and a substantial bottom end, you may have met your match. It's great for EDM, Rock, Metal, R&B, and lots more, including
faster-paced, bass-heavy, or moody music. C
ombined with the Black Dragon IEM Cable for Empire Ears, you'll get an even tighter low-end presentation and more clarity on the top end.
The Empire Ears Valkyrie MK-II is a tribrid IEM, meaning it has three driver types. In fact, it was Empire Ears' first tribrid model.
Valkyrie MK-II features a Weapon IX+ subwoofer for the bass and sub-bass. This is the upgraded version of Empire Ear's proprietary dynamic driver that packs the punch of a true subwoofer. A balanced armature driver handles the mids, while an electrostatic driver is tuned for the highs and ultra highs.
It's all controlled by a 4-way synX Crossover Network, designed to keep the three driver types working harmoniously.
In gaming sessions, the Valkyrie will help you feel and experience what you're living in-game. It's an impactful presentation and helps to immerse the player in the gaming world.
Booms sound boomier, ka-pow's sound ka-powier.
It's a fun and exciting sonic experience and it does amazingly well as a high-end gaming IEM.
Highly Energetic and Fun Sound
Tribrid Design, Upgraded Weapon IX+ Subwoofer
_________________________________________________________________________________________
Astell&Kern Pathfinder IEM Earphones
Finally, we have the
Pathfinder
- which is a beautiful marriage of both Astell&Kern and Campfire Audio's design philosophies. Astell&Kern's aesthetic is based on the principles of light and shadow, which gives their products an industrial, futuristic look. Campfire Audio, meanwhile, likes to incorporate aspects of nature into their designs. The IEM is a hybrid design that uses two dynamic drivers and three balanced armature drivers.
Great sound in a gorgeous package. That's the Pathfinder in a nutshell.
Two of the most striking sound aspects of the Pathfinder are the depth and punch of the bass and the clarity. The bass is definitely beefy, but it doesn't overpower. The sound is rich with some midrange warmth, but also crisp, clear, and peppy. The Pathfinder strikes a nice balance in those regards.
There's plenty of definition throughout the upper ranges, but the presentation is smooth. This makes the Pathfinder a versatile IEM. Rock, Folk, Bluegrass, and Jam Band music, and more shine on this IEM. The low-end weight coupled with a smoother top end will appeal to Jazz listeners - classical, too. Paired with your favorite AK DAP or other digital music player, the Pathfinder IEM is going to give you a versatile option in both sound and ergonomics for your on-the-go hi-fi listening. Be sure to pair it with the Silver Dragon IEM Cable for added clarity and detail.
The way IEMs design their drivers - in this case - for different frequency spectrums goes a long way to enhancing the "expressiveness" of a monitor. In terms of gaming, this helps your environments come alive - giving you a presentation that you're actually there in the game experiencing the sound firsthand. The Pathfinder excels at this, providing a balanced and impactful experience in both gaming and music listening time and time again.

Midrange Clarity, Low-End Representation, Smooth
Striking Design, Lots of Accessories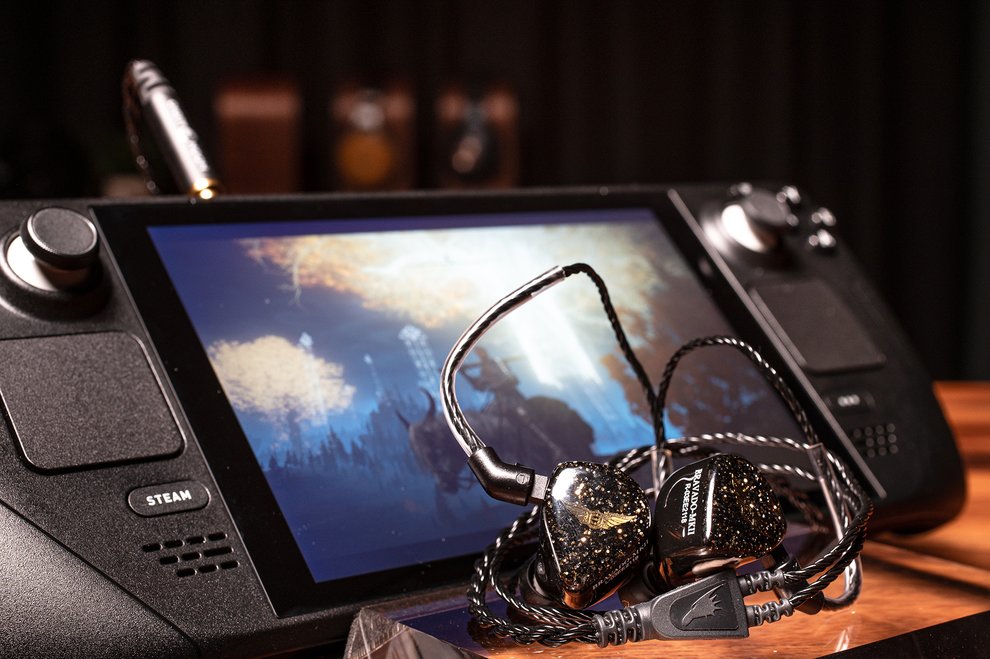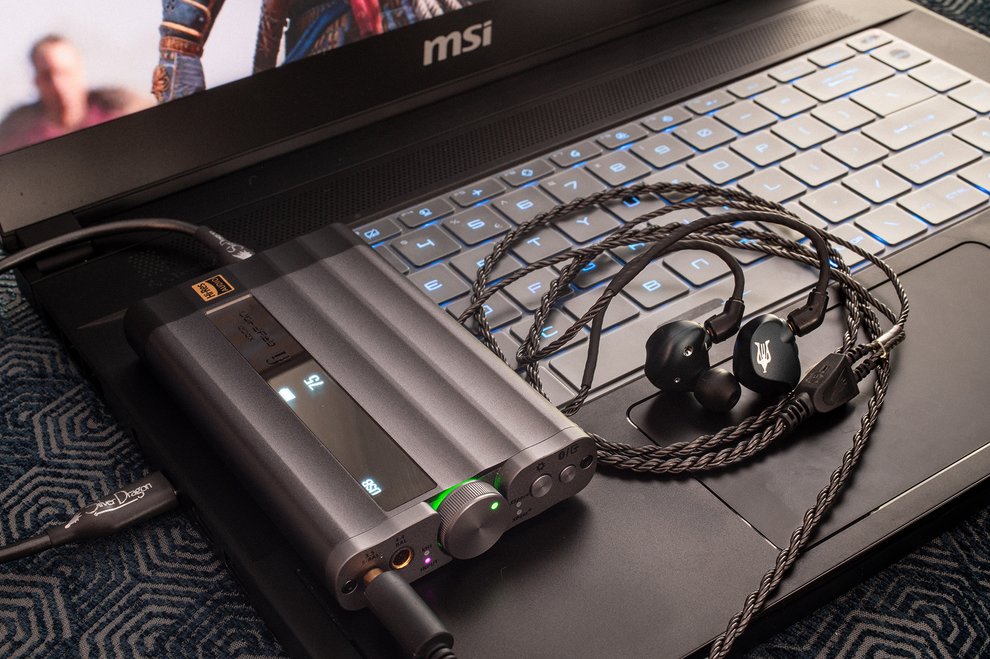 Your gear is only as good as its weakest link, and in most cases it's the stock cables. Companies just don't put the R&D into their cables like they do for the device. That being said, for every piece of gear on this list we have recommendations for cable pairings - you'll see it on the pop up during this video - be it Silver, Black, or Bronze Dragon IEM Cables. They will provide more clarity, detail, an overall tighter presentation, and more. Our cables aim to bring out more of what you love in your music and audio gear. If you love your headphones but wish they had a bit more top end sparkle - we can do that for you. We say time and time again that materials matter, and our cables and custom geometries, silver or copper conductors, can actually help to bring out those desired properties in your gear and music.
With the reintroduction of the new Silver and Bronze Dragon MMCX cables we have you covered on taking the sound of your IEMs that I just talked about, up a couple of levels - in terms of performance. For you die-hards that need to hear every possible footstep of the opposing player, then go with the Silver Dragon. For those of you that want more powerful explosions and a fuller-bodied presentation, take a look at the Bronze Dragon for the MMCX connection. We make tons of custom options for our customers so that you can get the right cable for your exact needs. If you have any questions feel free to contact us and we'll be more than happy to help.
Generally, stock audio cables are manufactured with subpar materials, metals with impurities, poor geometries, and an overabundance of layers to make them look and feel like a fire hose. Inconsistency and lack of quality control in stock cables can lead to poor sound quality and a veiled sound vs what the musician intended for you to hear and feel from the music. Dragon cables are handcrafted with the highest standards and made to order according to your specific needs. At Moon Audio, we create a custom cable for you using the highest quality UP-OCC silver or copper conductors that can be manufactured. UP-OCC metals are void of impurities and are optimized for signal transfer and sound quality. We have one of the largest collections of audio and headphone connection options available online and we create limitless audio cable options depending on your specific gear and needs.
Why Dragon Cables?
You've heard the saying that a chain is only as strong as its weakest link, right? Well, the same applies to your brand-new audiophile-grade headphone or other audio components. The weakest link, in this case, is your stock cable or the cheap interconnects the manufacturer threw in the box just to get you up and running. Why is the cable always an afterthought, when it's just as important as the rest of your system? At Moon Audio, we use the best raw materials in our cables to unveil your music. We believe the materials matter and your audio cables should have the same care and craftsmanship that manufacturers put into their audio components and headphones. Audio cables are ultimately the connection to your music. The fact remains that cabling is often considered the last priority to that of the main product and a means to cut down the overall production costs. It's as simple as that.

Here are two important things to remember when picking your new earbuds or IEMs:
Custom vs Universal
What's the difference? IEMs come in two fit types: universal and custom. Universal IEMs are made to fit a broad range of ear canals. Most people can have an enjoyable fit and listening experience with universal IEMs. Is it going to be as good a fit as customs? No. But with the right silicone or foam ear tips, a good fit is within reach for most users. Most IEMs come with a variety of ear tips.
For those looking for the utmost in fit and comfort, custom fit IEMs are the way to go. Each pair of custom IEMs is specifically molded for the user's unique ear canal shape. As such, you don't need to use ear tips with custom IEMs. To learn more about the process of obtaining molds for custom IEMs, be sure to check out our guide HERE.
Fit and Seal
The seal and the fit of the earbud make an impact on the sound quality that you'll get. Lots of times people just stick a bud in and expect it to sound great - and sometimes it does. But if your fit isn't sealing properly then try a new tip. The tip is supposed to fit just inside the canal and provide just enough room to provide a seal to isolate the outside noise as well as provide just enough pressure to keep it stabilized in your ear. If the seal is too loose then you'll lack a lot of the bass response. If the ear tip is too big then you'll experience a lot of pressure in your ear and get fatigued rather quickly, resulting in short and unenjoyable listening sessions. Fit is key with earbuds. Tips are 75% the solution to comfort with universal IEMs. If the tips that came with the IEM don't fit right make sure to purchase tips from other Brands. There are literally hundreds of options. Reach out to us if you need help with tips.
IEMs are a great choice to be used as gaming headphones/earphones for a number of reasons. When it comes to portable gaming, you can't beat the size and ease of taking these small earphones with you in your bag, pocket, wherever, and just plug them into your portable console or phone. The fact is that a lot of these IEMs pack a punch in the sound department, and perform just as well as full-size headphones in this regard - only they're smaller and more efficient or easier to drive. We'd guess that most gamers out there who are playing portably are already using cheap wireless earbuds or something as equally unimpressive, and the IEMS in this list are an easy upgrade.
The lovely thing is that these IEMs already make audiophile-grade sound quality for your music. D you know what the best gaming headphones are? Probably the ones you use for your music - and if you like using IEMs then you should seriously consider using them for gaming too. There are plenty of standalone microphone options while gaming and built-in microphones aren't as heavily relied on in the industry anymore. So get yourself a pair of high-end IEMs and get more from your gaming experiences. They'll go a long way to helping you get better immersed and more competitive. It's time to level up your sound.
_________________________________________________________________________________________
Related Videos
Best Audiophile Gaming Headphones & Audio Gear of 2022
Audeze Maxwell Gaming Headphone Review
Best Wireless Headphones of 2022