Read time: Approx. 18 min.

The Best Wireless Earbuds Just Keep Getting Better
How do you improve upon the already best-in-class noise-canceling earbud? I don't know, but Sony sure has found a way. The new WF-1000XM5 noise-canceling earbuds from Sony are completely redesigned this year, offering a smaller, smart-looking chassis and even more tech thrown inside. It's an impressive feat, to say the least, but let's take a look at what's new and just how much is improved.
Still reigns kings of ANC for earbuds
Excellent sound quality; Fun, V-Shaped signature
Great battery life for all-day listening
New chassis is smooth - gets slippery if working out/wet
Smaller design for a more in-ear fit - great for comfort, not great for dexterity or those without nimble fingers
Sony WF-1000XM5 Wireless Earbuds Review
The new WF-1000XM5 noise-canceling earbuds from Sony are completely redesigned this year, offering a smaller, smart-looking chassis and even more tech thrown inside. It's an impressive feat, to say the least, but let's take a look at what's new and just how much is improved.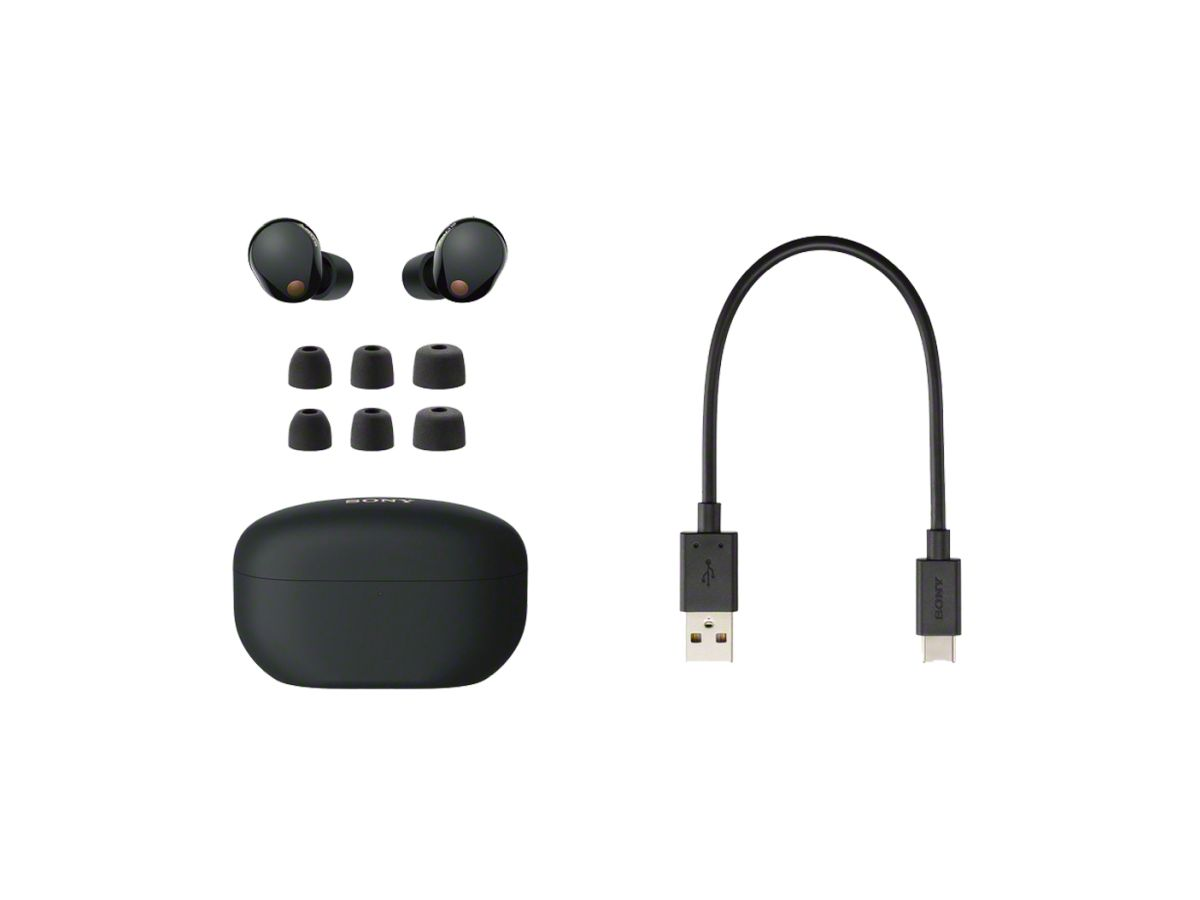 The best truly wireless noise-canceling headphones on the market.
Astonishing sound quality with High-Resolution Audio.
Sony's best-ever call quality with AI-based noise reduction algorithm and bone conduction sensor.
Small, light, and beautifully designed.
Smooth switching and a clear Bluetooth signal with a powerful new Integrated Processor V2.
Adjusts to the world around you with adaptive sound control, using AI to offer the ideal listening experience.
Talk and only hear ambient sound using Speak-to-Chat which pauses the music when you start talking.
Water-resistant for everyday use so splashes and sweat won't stop you.
Designed with the environment in mind with construction from recycled plastic materials and 100% paper packaging.
Battery life up to 8 hours (24 hours with case). Quick charging - 3 min. for up to 1 hour of listening.
One of the first things that you'll discover is that the chassis has been redesigned from the previous generation. Sony opted for a smoother, sleeker-looking bud design that fits more like a universal IEM, sitting more inside the crevasses of your ear than previous models. From a comfort standpoint, this is a great move, as I can leave these buds in for hours at a time with little to no pressure or discomfort. The new XM5 bud is about 25% smaller than the XM4 bud just for comparison.
A big part of this comfort is the ear tip and making sure you have the right size for your ear canals. Making sure you have the right size will not only ensure you have a more comfortable fit, but also establish the correct seal so that the low-end frequencies will perform the way they're supposed to and that the noise-canceling features are working appropriately. Sony has included 4 different sizes of ear tips to make sure you have enough options, and the foam is pliable and soft enough for establishing a great seal without adding pressure. I would consider myself extremely sensitive to IEMs and sticking things down my ear canals, and apart from the Meze Audio Rai Penta IEM, Sony is the only other design that does it for me. I've been thoroughly enjoying listening to these all week while testing.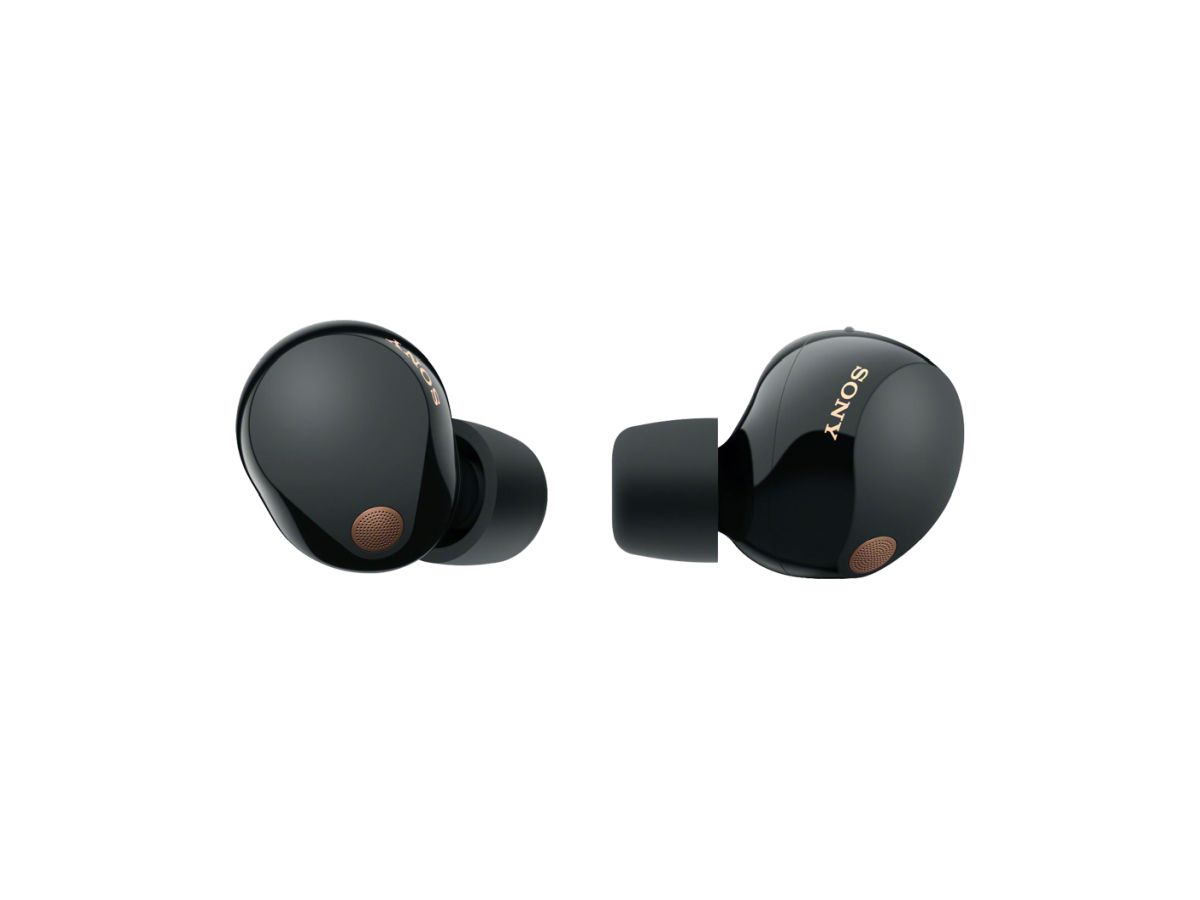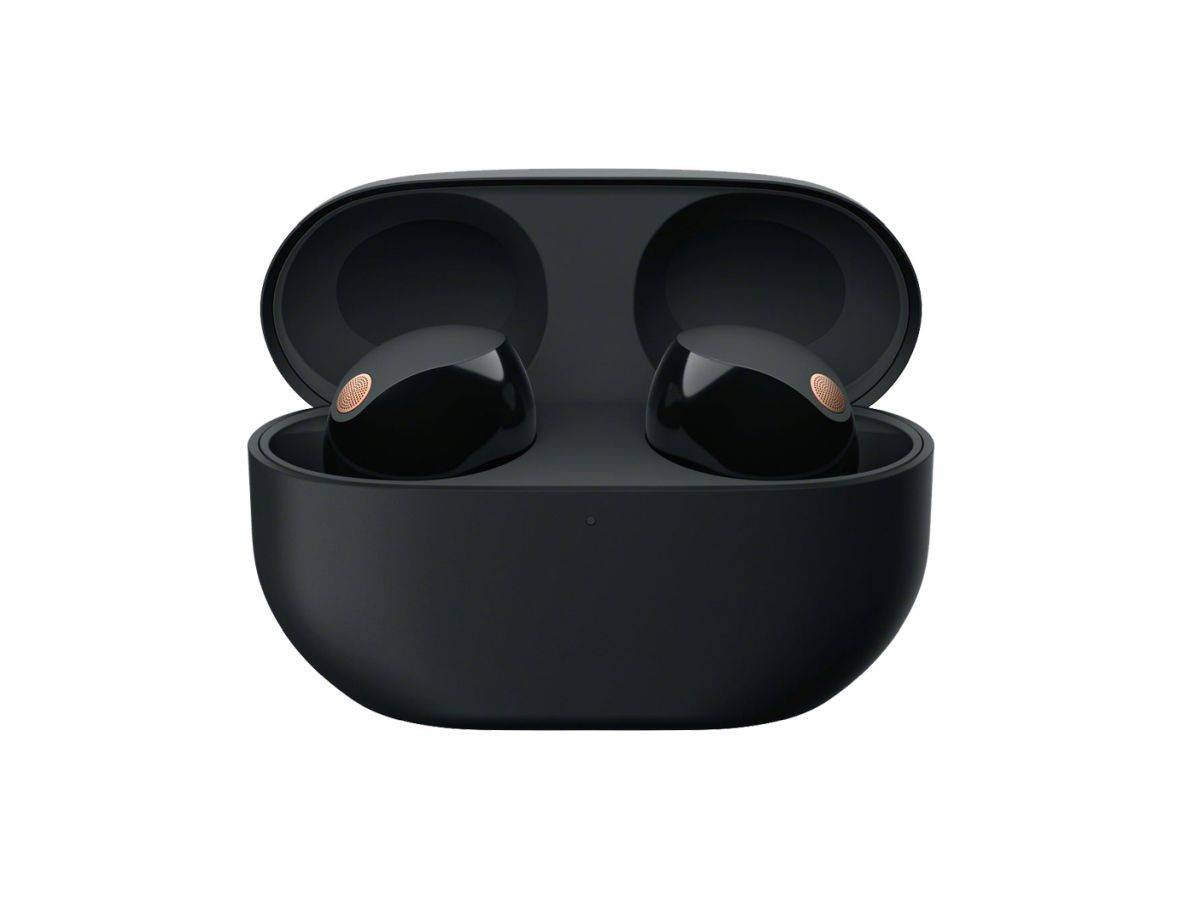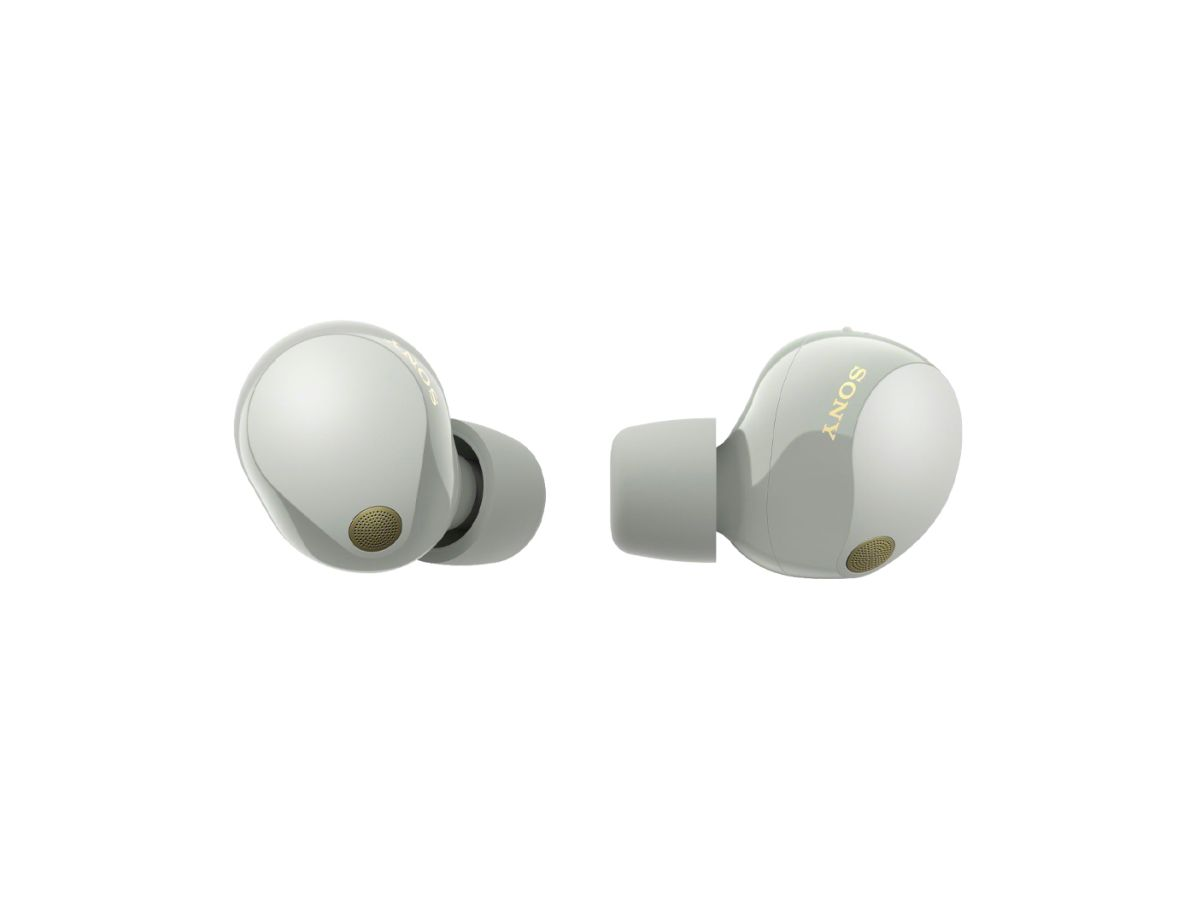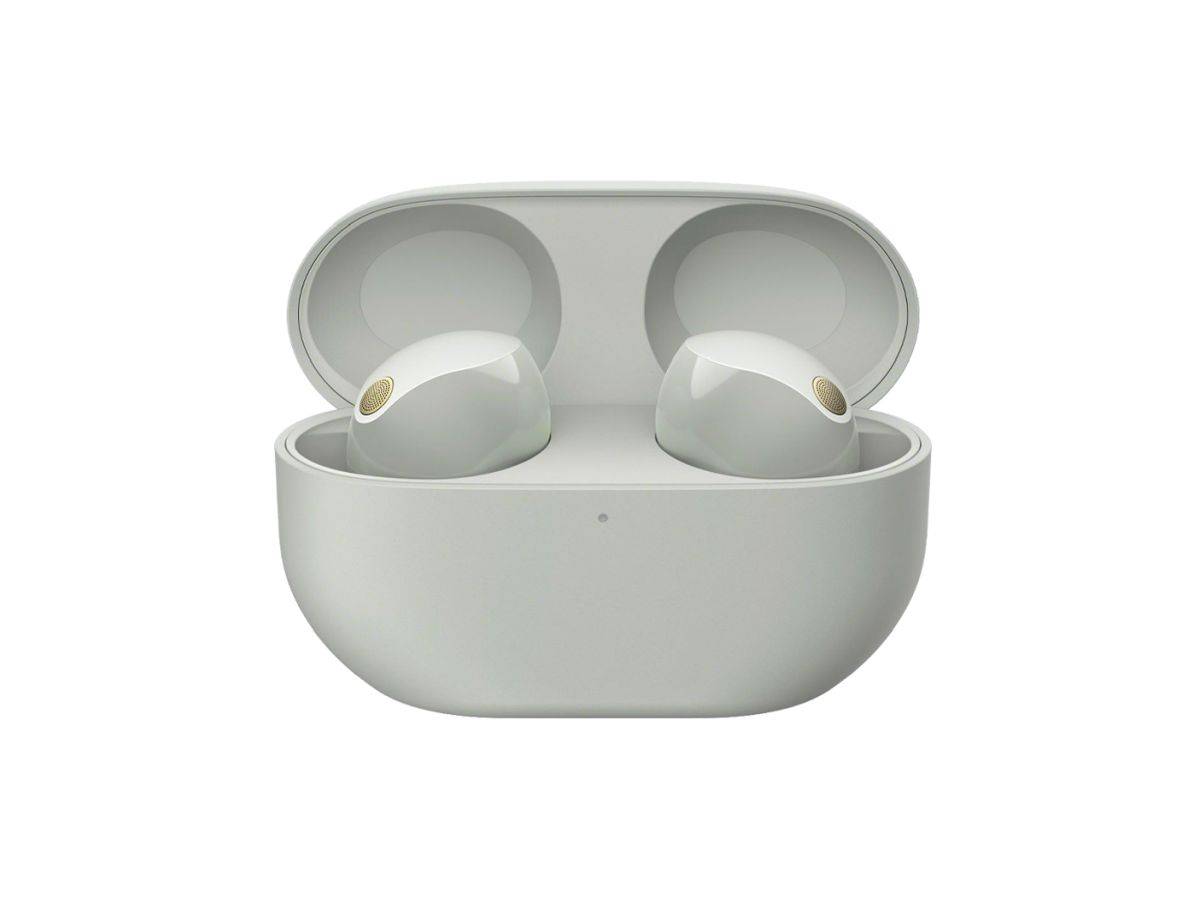 The charging case is also wonderfully compact and provides up to 24 hours of battery life. It's quite a bit smaller than the WF-1000XM4 case as well. I'll admit, if you have sweaty fingers the buds might be a little difficult to take out at times, but I found the best way if you're having trouble pulling them straight up is to actually pry each bud towards the ear tip to disconnect them from the magnets. It's a lot easier to pull them out this way. The case is heavy plastic, and I do feel as though they would be adequately protected inside if a fall occurred. The magnets on both the earbud attachment and the lid to the case are strong and I wouldn't necessarily feel as though they would fall out or disconnect just from being jostled a bit inside a bag.
On the back of the charging case, you'll find a lone USB-C charging port along with the sync button for setting up Bluetooth connections. Another thing to keep in mind, like all earbuds or IEMs designed with removable ear tips, feel free to experiment with multiple tip sizes and materials to see what you like most. Different materials (foam, silicone, etc) can also affect the sound properties as well as the tightness of the seal. It's about finding the right fit for you.
The WF lineup of earbuds from Sony has always amazed me. The fact that they cram so much of the technology from the WH full-size headphone lineup into these tiny buds is astounding. The WH-1000XM5 full-size headphones are our top noise-canceling headphones here at Moon Audio, and you'll find a lot of the tech and sound enhancements in the WF-1000XM5 earbuds too. First things first, you'll need to download and install the Sony Headphones Connect application to access a lot of the features and customization options for your earbuds. The Sony Connect app is available on both iOS and Android. We'll get more into the app in a bit.
Sony has raised the bar when it comes to the sound quality of the XM5 buds over the XM4. The WF-1000XM5 features three microphones on each earbud, which optimizes the efficiency of the ANC performance, especially in lower frequencies. They've also included dual feedback mics in this design. The new Integrated Processor V2 makes sure that all 6 microphones (in total) are working effectively and efficiently at utilizing the best performance out of the advanced HD Noise Canceling Processor QN2e.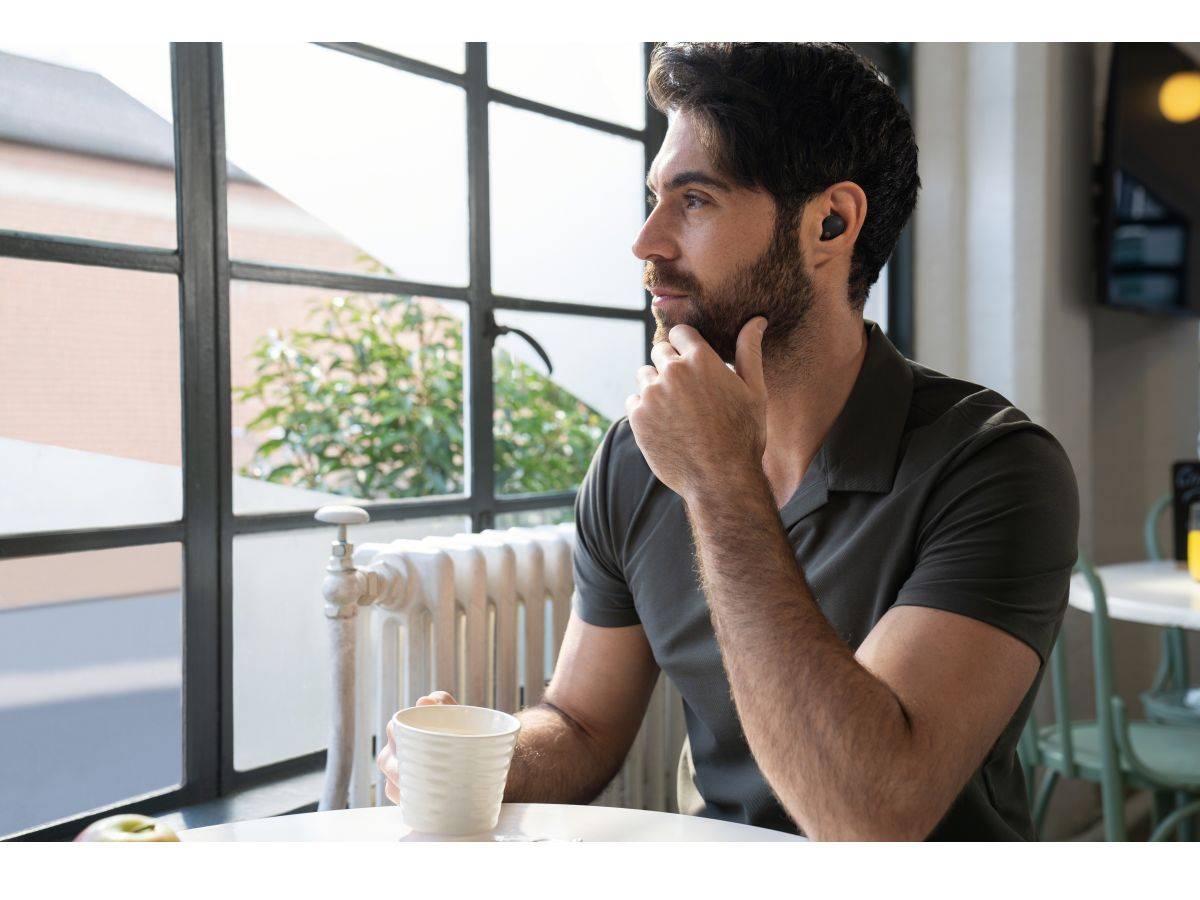 I'll say that the ambient noise settings sound more transparent than on the XM4 - the previous iteration just sounded like a thin door opening to the work around you. The XM5's ambient setting sounds more perceptively open-sounding as if it were temporarily an open-back headphone. It doesn't take away from the music listening, but I felt as though it gave me a better sense of my surroundings as well. I could see this especially helpful in high-traffic areas on work commutes or during runs, etc. The ear tips do a great job of sealing out the outside naturally on their own without the help of the ANC, so having a clearer "picture" of your surroundings is quite nice.
Obviously, it's a different fit than the full-sized WH-1000XM5, but I dare say that the active noise-cancellation is on par with the over-ear performance. Needless to say, from an ANC perspective I'm impressed.
The WF-1000XM5 is designed with Sony's Dynamic Driver X - which is aptly named - because it is a single dynamic driver in each earbud. The Dynamic Driver X is able to reproduce lower frequencies thanks in part to a new dome-edge separation structure. This new design combines different materials which supposedly allows for a more accurate generation of cancellation waves in lower frequencies. This is huge because I personally always gave kudos to Bose for their lower frequency cancellation - which was especially effective when traveling in a plane. The effectiveness of cutting out the engine noise was the true test for me and Bose always did an outstanding job in this regard. It was primarily the only reason I held onto them. Upon some simulation testing I did, I have no reason to hold onto my Bose headphones. The WF-1000XM5 does an effective job now in canceling out these problem frequencies. Now, more than ever, Sony reigns as ANC king.
For my testing setup I paired the WF-1000XM5 with the NW-A306 DAP from Sony. Keeping buds like this in the Sony ecosystem really pays off with the proprietary sound enhancements, and it also shows off the real value of the NW-A306 as a standalone portable music player. Not only does the combo sound great, it's affordable and highly recommended.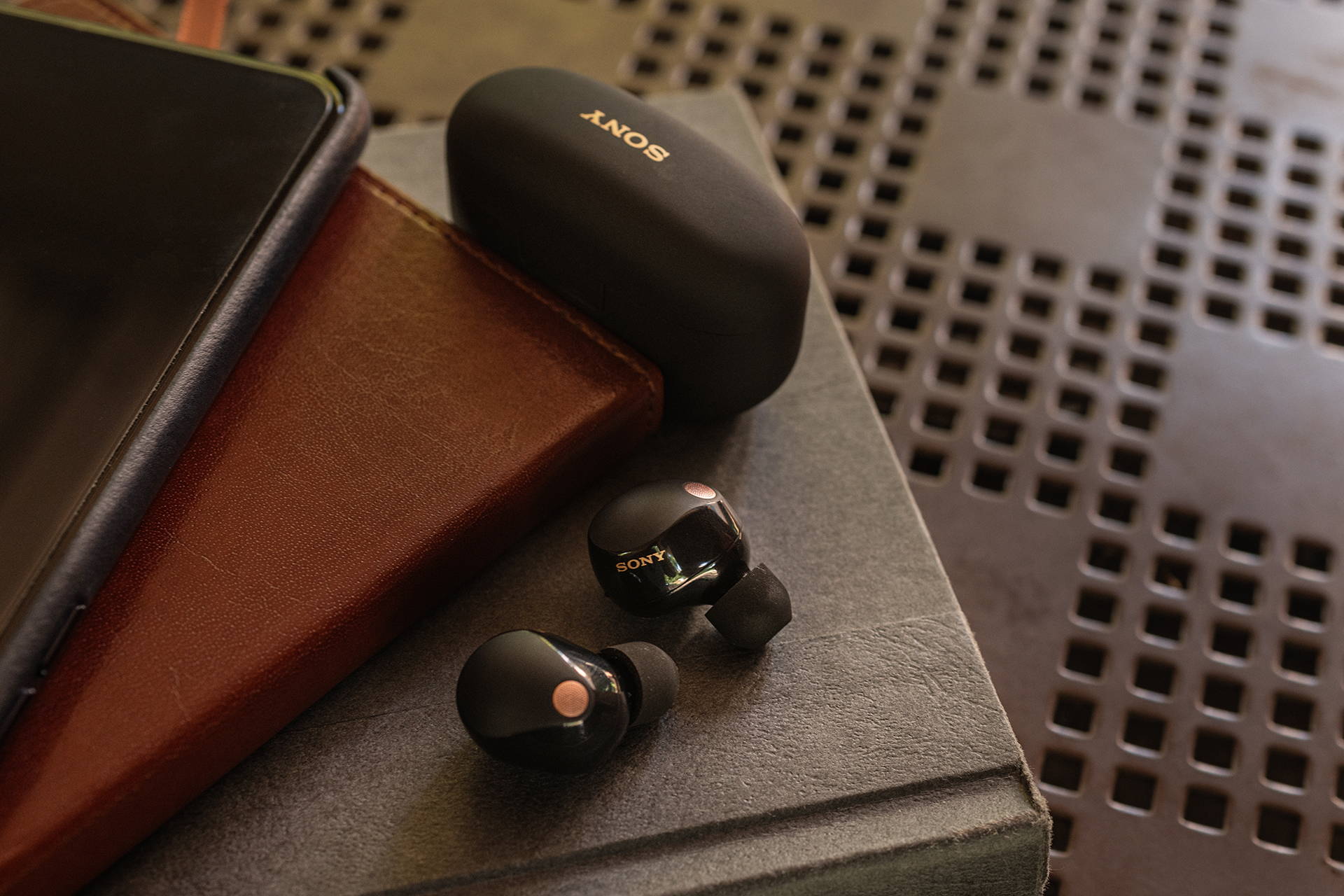 Like the driver redesign in the WH-1000XM5 headphones, the earbuds also have a richer and more detailed presentation thanks to the diaphragm structure on the Dynamic Driver X. Using different materials for the dome and the edge, Sony is able to achieve low distortion while maintaining super clean sound quality.
The Sony sound is not the audiophile sound - I'll go ahead and be upfront about that. But the WF-1000XM5 (just like the full-sized headphone) is getting closer to that audiophile-grade sound. Sony has a fun and V-shaped sound signature on a lot of their headphones and earbuds. It's historically a consumer-friendly sound, due to the boosted lows and highs. With that sound, oftentimes the detail and clarity go missing, and you're left with an artificial-sounding bass response and an EQ'd high end to try to balance that low end so it doesn't sound like a bloated carcass of bass. The Dynamic Driver X, despite its singular driver design, has none of that. The bass response is tightly controlled, the mids are surprisingly transparent and present in the mix, and the highs are clear, detailed, and unveiled. It still retains a lot of that Sony signature with a close soundstage and putting you "in the action," but the presentation is surprisingly dynamic and energetic.
As I said previously, the seal and the fit of the earbud make an impact on the sound quality that you'll get. Lots of times people just stick a bud in and expect it to sound great - and sometimes it does. But if your fit isn't sealing properly then try a new tip. The tip is supposed to fit just inside the canal and provide just enough room to provide a seal to isolate the outside noise as well as provide just enough pressure to keep it stabilized in your ear. If the seal is too loose then you'll lack a lot of the bass response. If the ear tip is too big then you'll experience a lot of pressure in your ear and get fatigued rather quickly, resulting in short and unenjoyable listening sessions. Fit is key with earbuds. Feel free to reach out to us for other great tips to try out - there are literally thousands of options out there if you don't like the stock tips and we'll be more than happy to help. The tips can make or break the ear bud or IEM.
Sony does a lot of things well when it comes to making a product that serves a lot of genres and represents them well. That is in part why the V-shaped sound signature is so popular. The XM5 buds do a great job with Rock, Alternative, and Metal due to the energy of the dynamic drivers. The wall of sound they provide can't be beat for this price range of earbuds. Classical and Jazz sound intimate and articulate - which is saying a lot coming from the last generation in my opinion. It even handles Rap and R&B with ease - the lower frequencies are well-defined and they carry the weight in these genres. The dynamic driver is tuned extremely well - and it's certainly the best in class for ANC and sound quality for an earbud in this price range.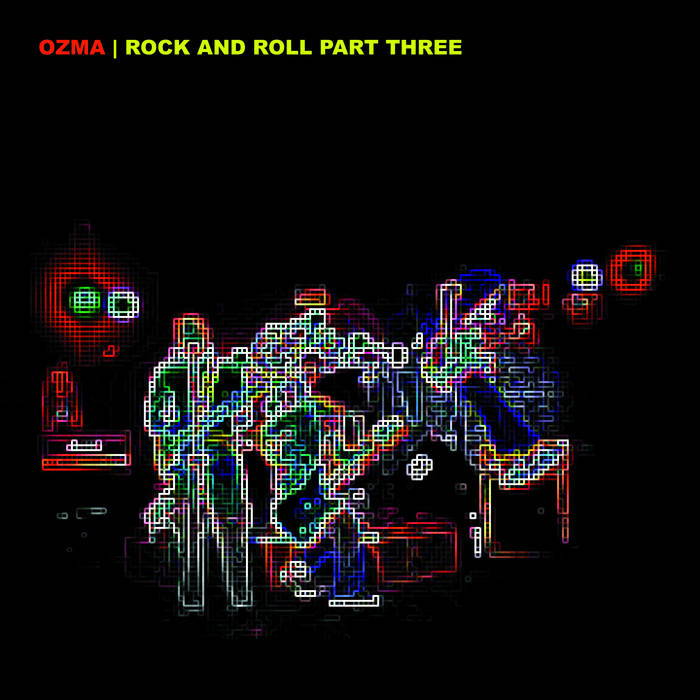 Battlescars
by OZMA
(Rock and Roll Part Three)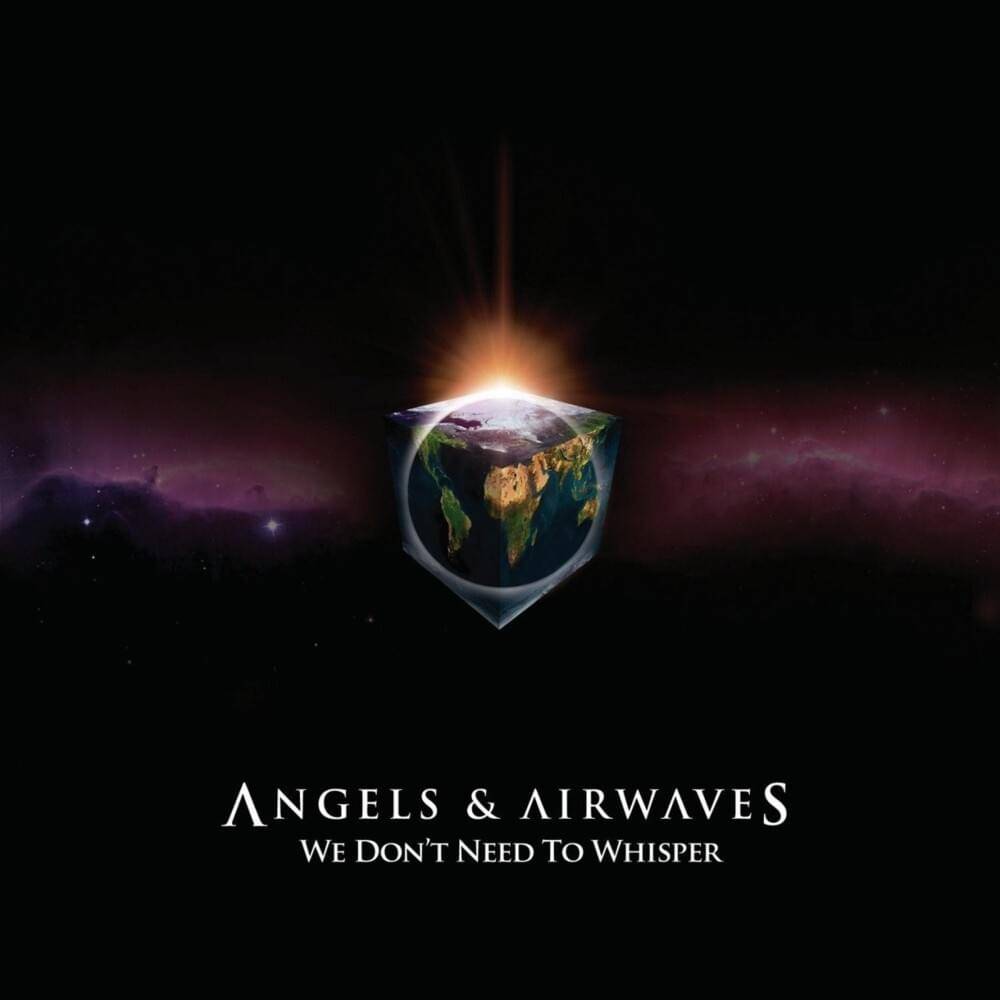 It Hurts
by Angels & Airwaves
(We Don't Need to Whisper)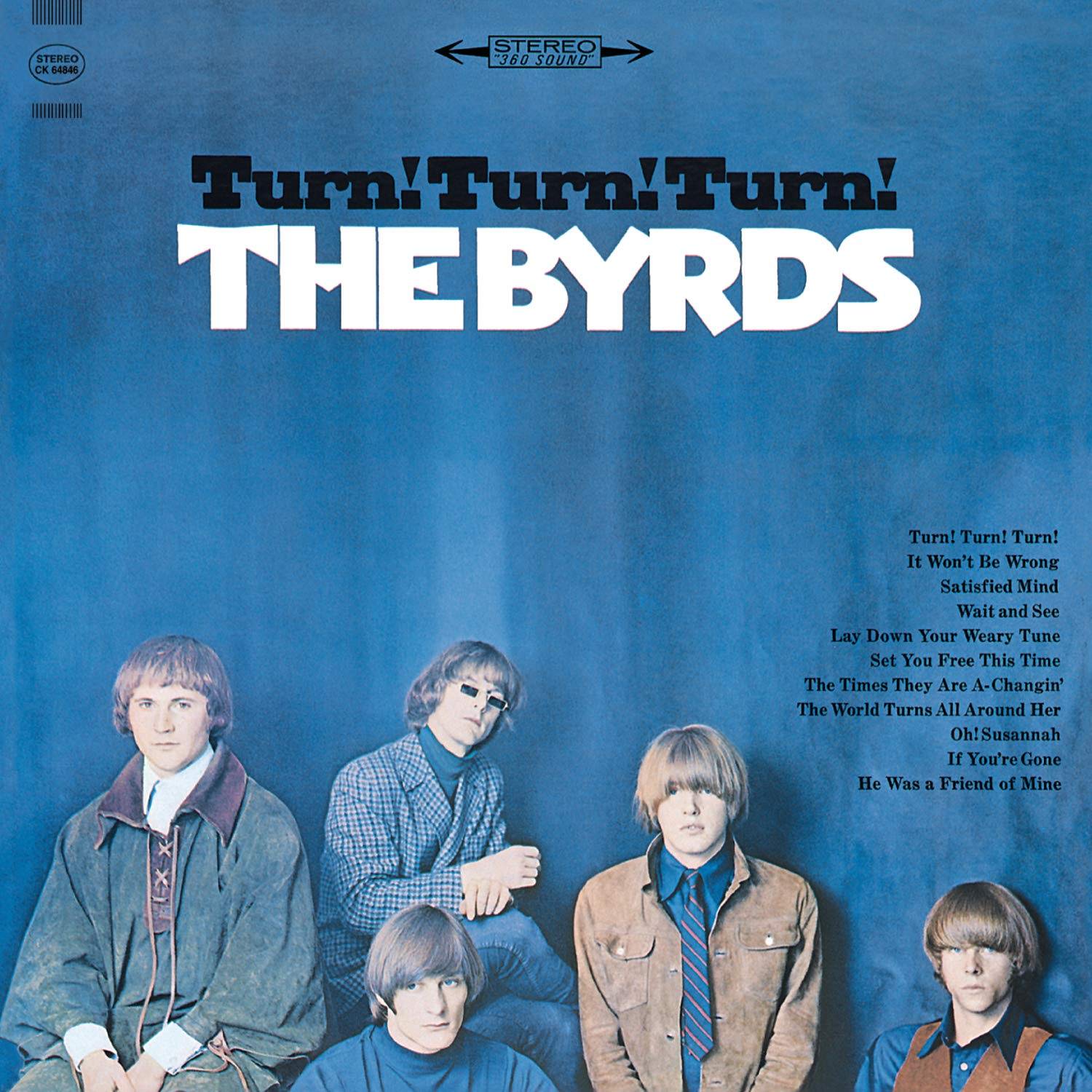 He Was a Friend of Mine
by The Byrds
(Turn! Turn! Turn!)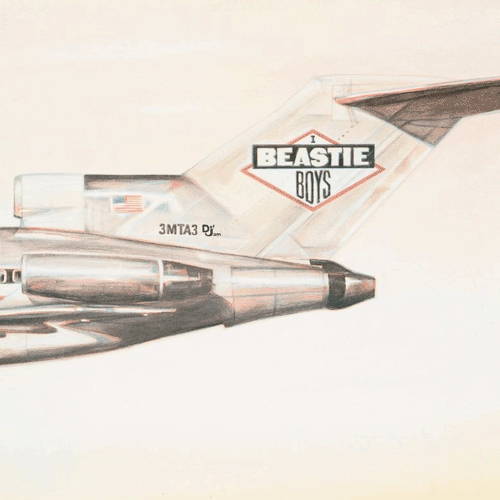 Fight for Your Right
by Beastie Boys
(License to Ill)
The Best Truly Wireless Noise Cancellation: The WF-1000XM5 reduces external noise over a wide bandwidth, from low to high frequencies. It contains two proprietary processors that cancel more external noise than ever, a new high-performance driver unit Dynamic Driver X, dual feedback microphones, and innovative Noise Isolation Earbud Tips for a more stable fit. Real-time noise-canceling processing can be optimized to provide the best performance for your environment so you will hear a big difference, especially in airplanes, trains, or buses.
Multi Noise Sensor technology: Three microphones on each earbud, including dual feedback mics improve low-frequency cancellation performance. This is our biggest step forward in noise canceling, resulting in ambient sound captured even more accurately so you can enjoy one of our purest sounds.
Noise Cancelation technology: Exclusively developed by Sony, the Integrated Processor V2 unlocks the full potential of our HD Noise Cancelling Processor QN2e. The unique combination of technology controls the six microphones, across both ears, to deliver unprecedented noise-canceling quality that can be adapted to provide the best performance for your environment.
Enjoy High-Resolution Audio: The WF-1000XM5 supports High-Resolution Audio Wireless, thanks to LDAC, over industry-adopted audio coding technology. LDAC transmits approximately three times more data than conventional Bluetooth audio for exceptional High-Resolution Audio quality that is closer than ever to studio recording.
AI technology for precision sound: Using Edge-AI, DSEE Extreme upscales compressed digital music files in real-time, including those from popular streaming services. It dynamically recognizes each song's instrumentation, musical genre, and individual elements, and restores high-range sound lost in compression.
Head tracking function: Head tracking ensures a realistic and compelling listening experience by automatically adjusting sound fields to compensate for your head movement. Sounds are precisely aligned with your smartphone screen, even as you move, to completely involve you in your viewing by connecting to compatible smartphones/services.
Spatial sound with 360 Reality Audio: With 360 Reality Audio headphones and the Sony Headphones Connect app, an advanced personal optimization algorithm gives you an even greater sense of sound space, distance, and height, allowing you to become even more immersed in the music. It's as if you are at a live concert, or with your favorite artist in a recording studio. With 360 Reality Audio, music has never been so immersive and so real.
Additional Features: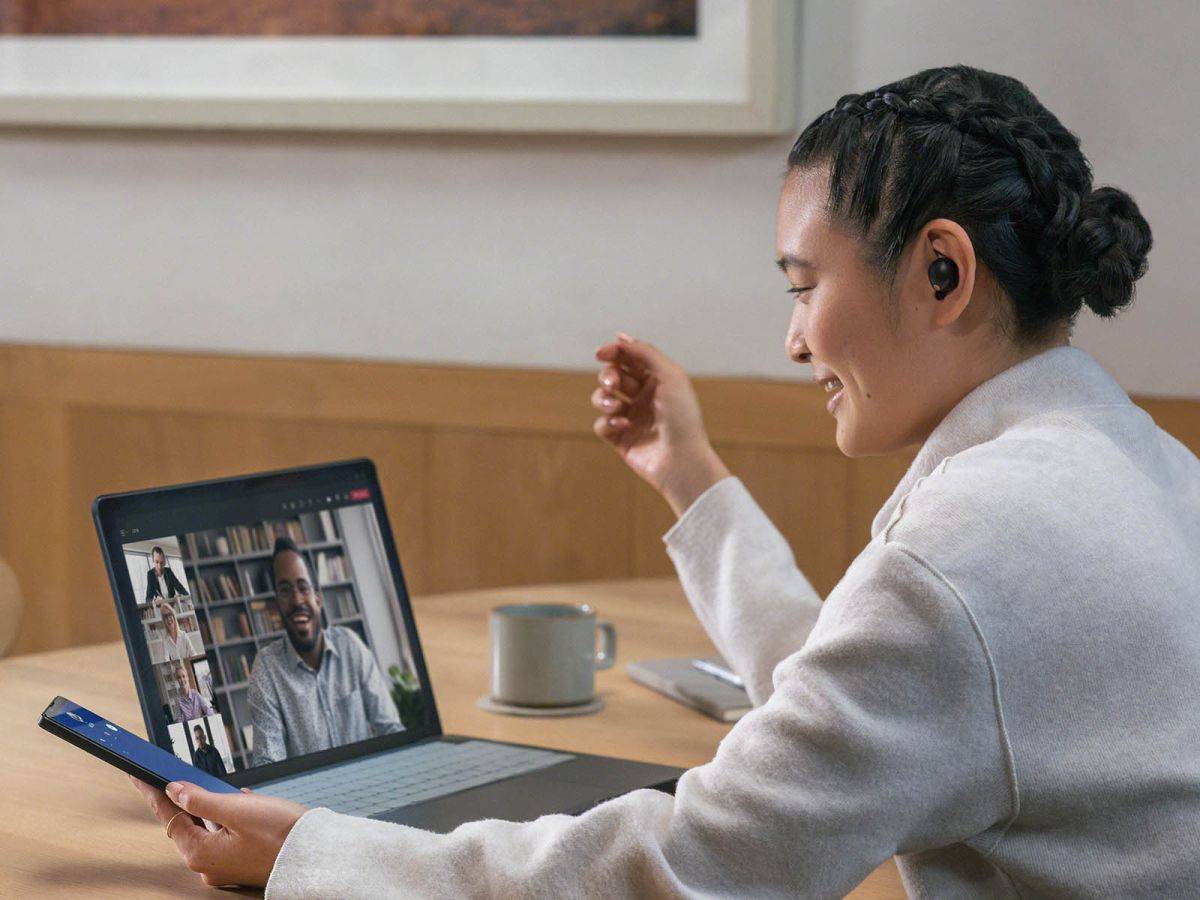 Detects speech vibrations to enhance clarity - includes bone conduction sensors
Designed with an AI-based noise reduction algorithm for better ANC during calls and music listening.
Adaptive sound control senses where you are and what you're doing. Over time, the AI learns your behavior and adapts to your environment more efficiently.
Multipoint Connection 3: can be paired with 2 Bluetooth devices and will switch automatically if a call comes in.
New AR sound experiences for gaming: If you're looking for new entertainment options beyond music and movies, the WF-1000XM5 uses new sensors and spatial sound technology to deliver immersive sound for Augmented Reality games.
Quick Access: set your quick access action by configuring two or three taps - configure through the Sony app.
Head gestures: You can operate your earbuds using natural head gestures like receiving or declining calls or operating Auto Play by nodding or shaking your head.
Superior battery life: Battery life of up to 8 hours (24 hours with case). Quick charging - 3 min. for up to 1 hour of listening.
Water resistant: With an IPX4 resistance rating, splashes and sweat won't stop these headphones – so you can keep moving to the music.
NOTE: This setup guide is for the WH-1000XM5 headphones but works exactly the same way for the WF-1000XM5. Just pretend in the images below that they're the earbuds rather than the full-sized headphones :)
Setting up your XM5 is a pretty straightforward process after downloading the app. Available on both iOS and Android, head over to your app store and download the "Headphones Connect" application by Sony. The app will guide you through the rest of the steps:
1) Download the "Headphones Connect" app by Sony.
2) On the Welcome screen, check the box before clicking the "Start" button.
3) Next, make sure the headphones are powered on and click "Next."
4) Wait for the spinning wheel to find your headphone - if for some reason the headphone does not show up or get detected, you can always turn off the device and repeat steps 2-3. Otherwise feel free to register the headphone through your device's Bluetooth settings or from the list.
5) Once the app detects your XM5, you'll see it pop up at the top of the screen. Simply tap the image to proceed.
6) The next screen will display a prompt. Click next to continue.
7) The name of your headphone should pop up: "WH-1000XM5." Tap on this to select the headphone.
8) The following screen will show that your headphones have registered. Click "OK" to continue.
9) Setup is now complete and you can click "Go to the dashboard" to finish.
10) Welcome to the dashboard!
*Note: There will be a lot of pop up screens in between these steps to set up, so continue the setup according to your personal preferences. Steps 1-10 are the necessary steps to configure the XM5 headphones to your device.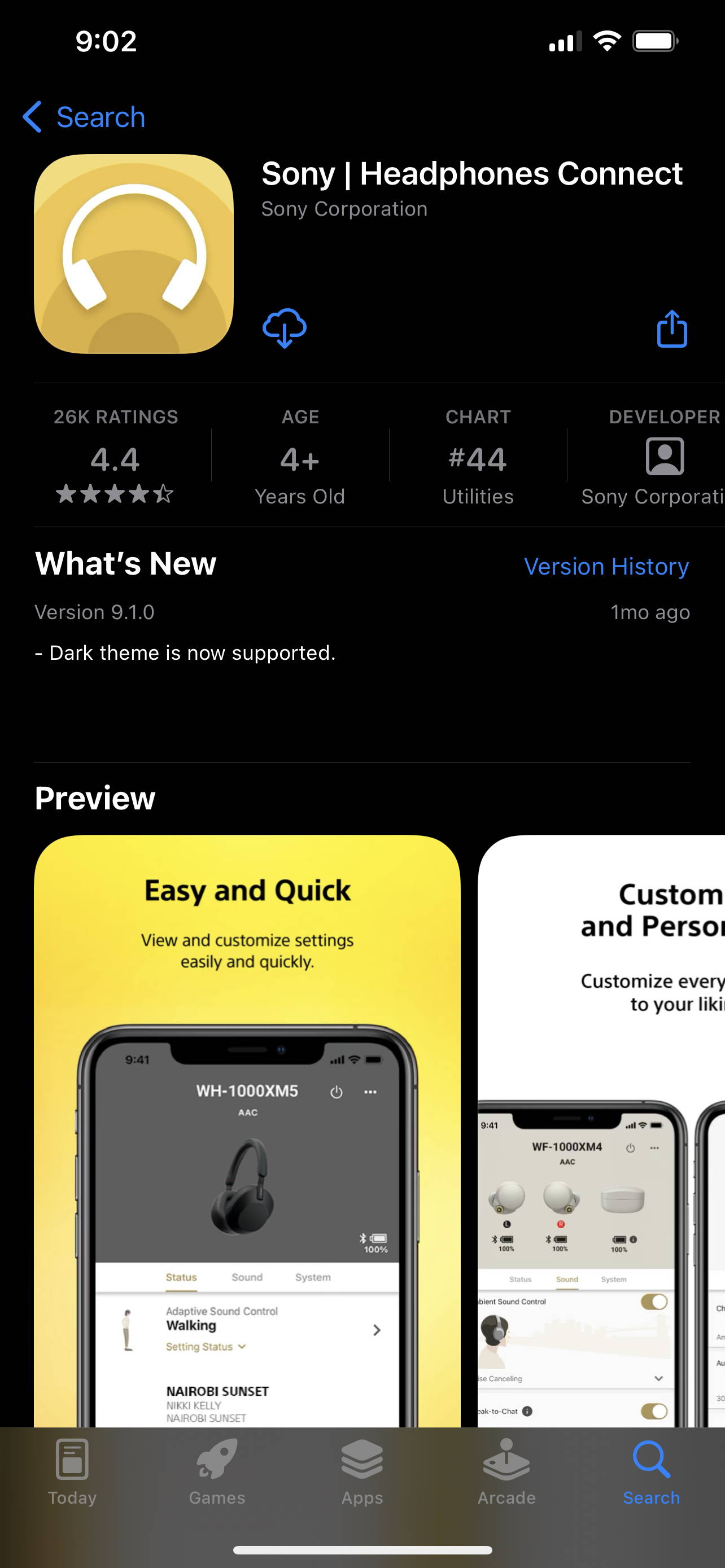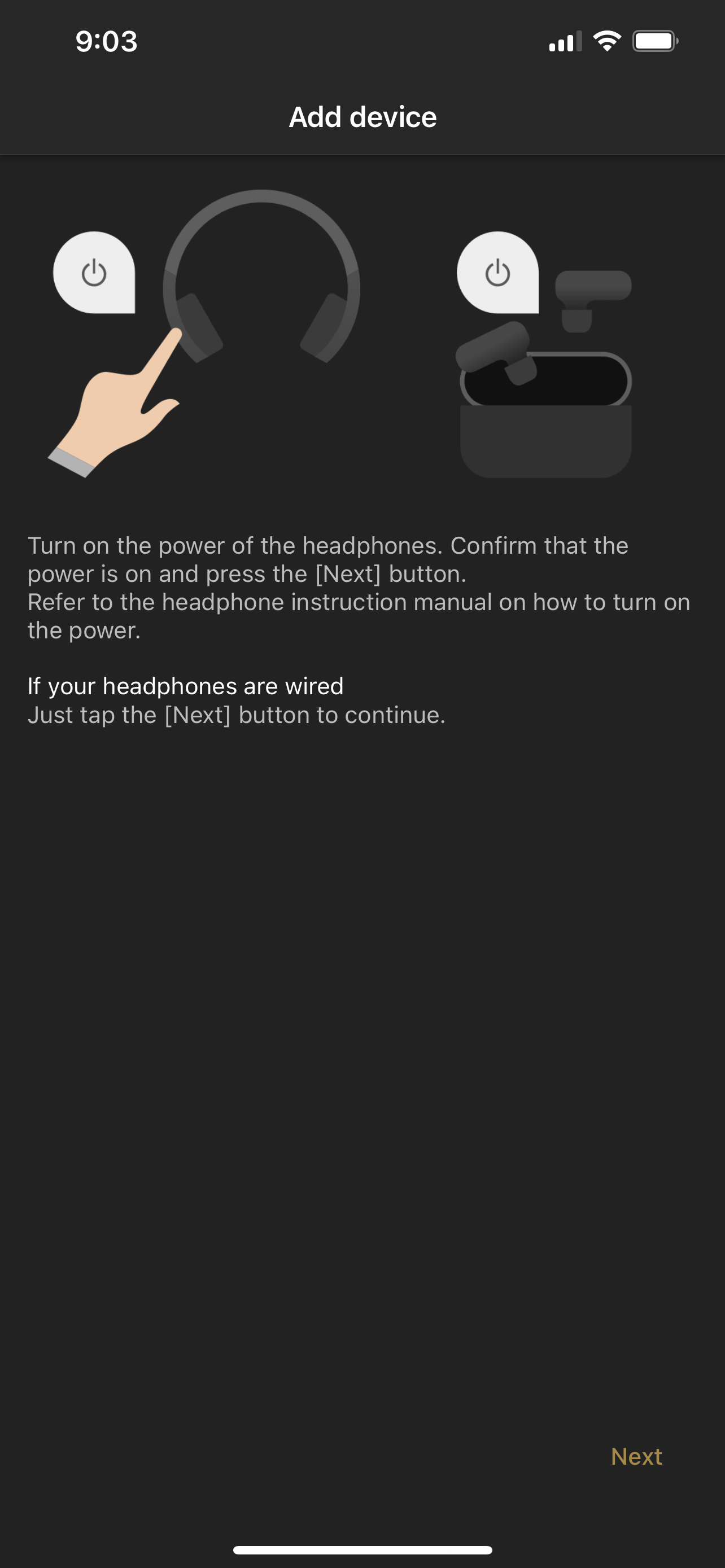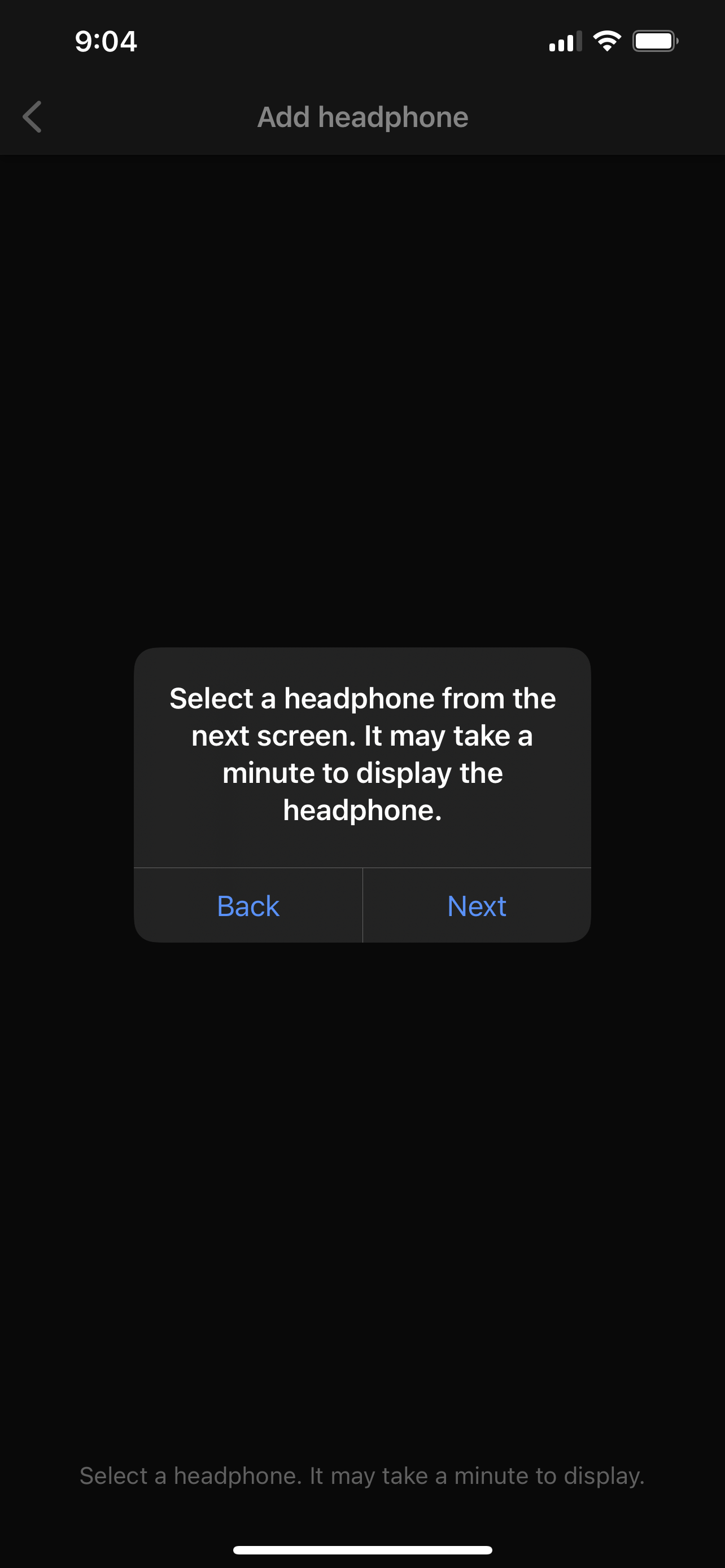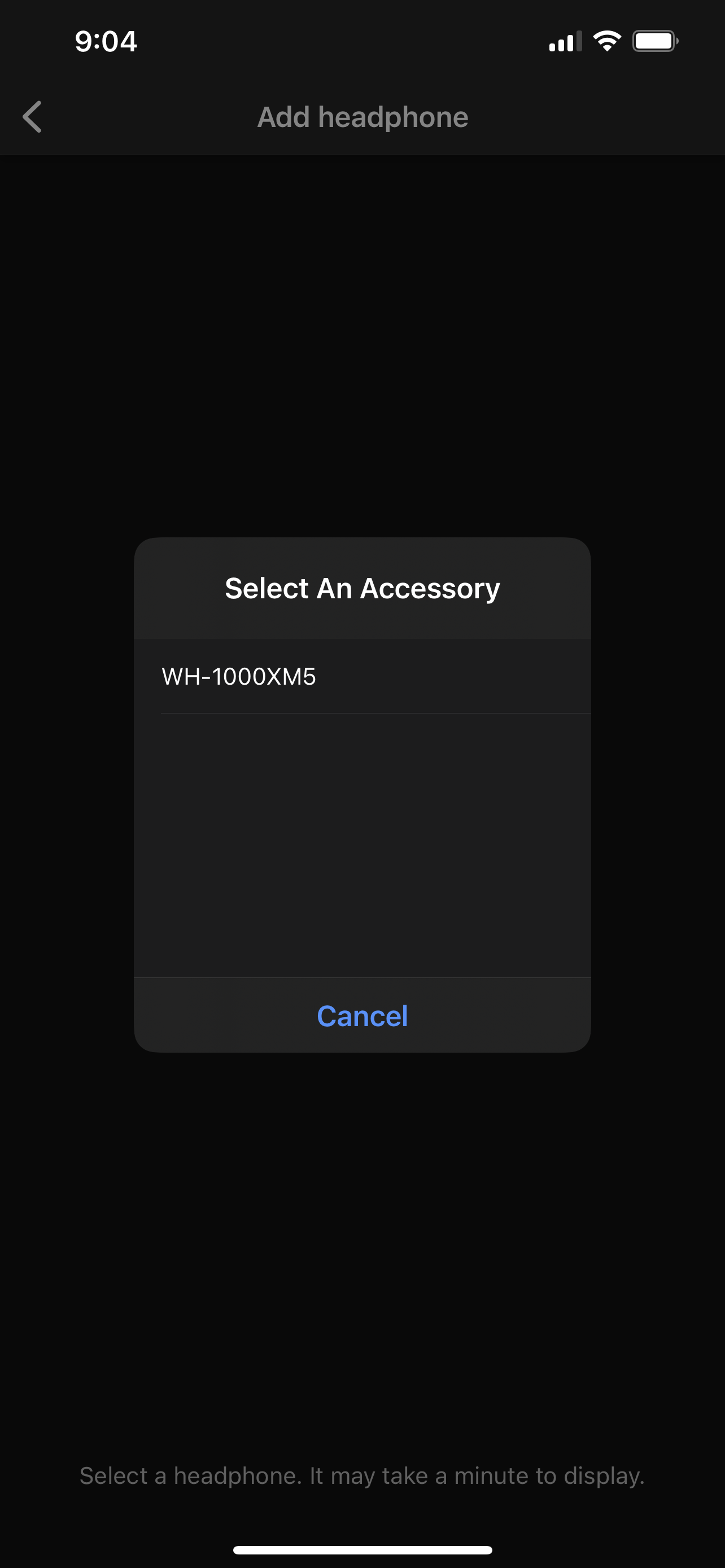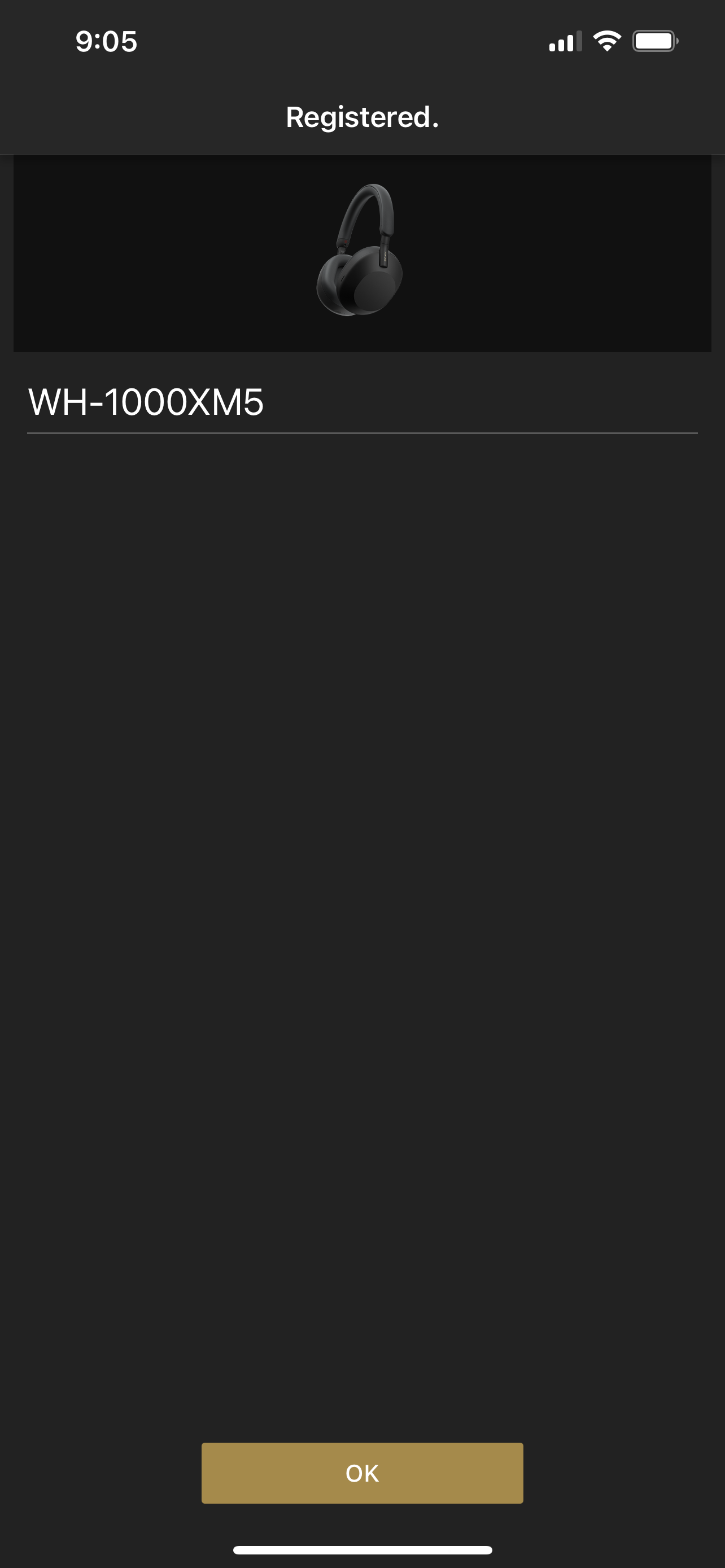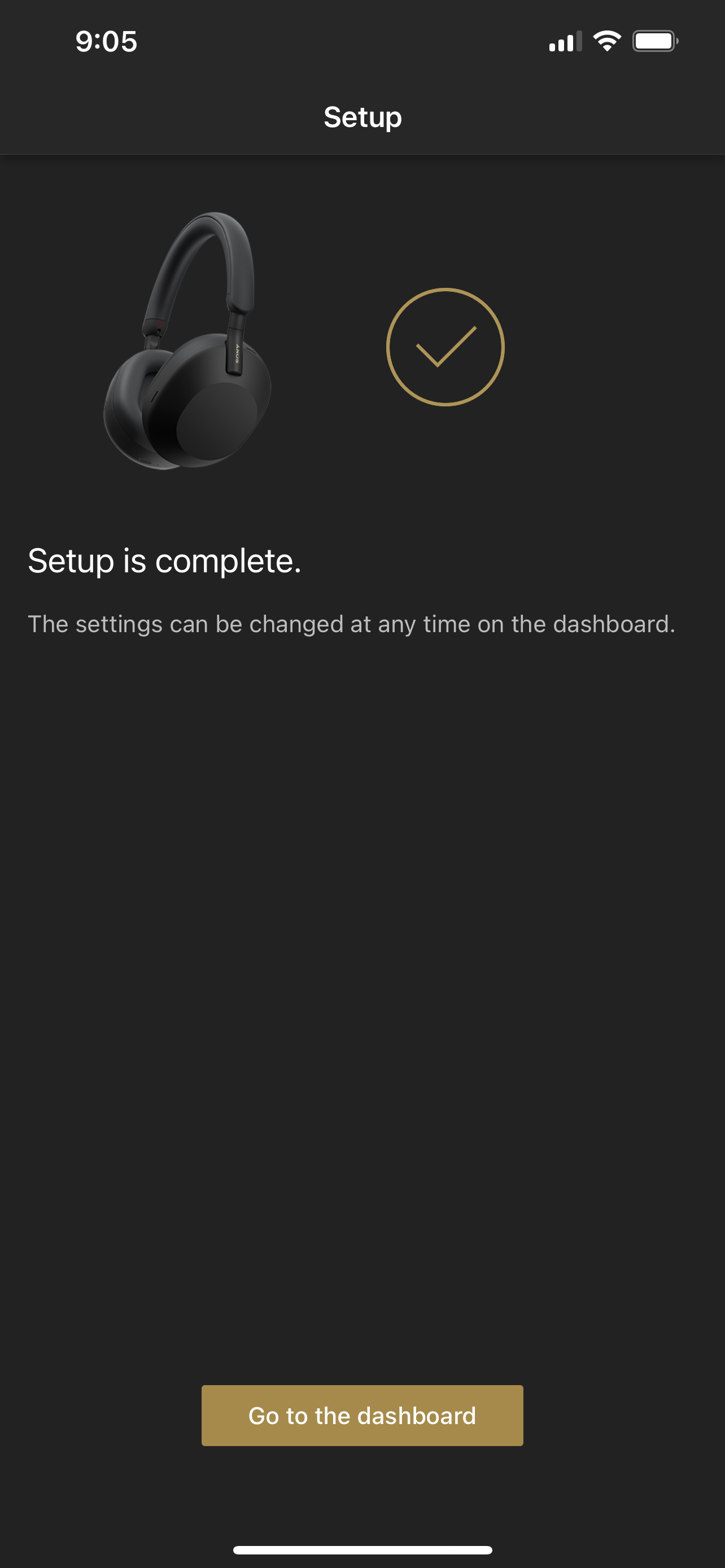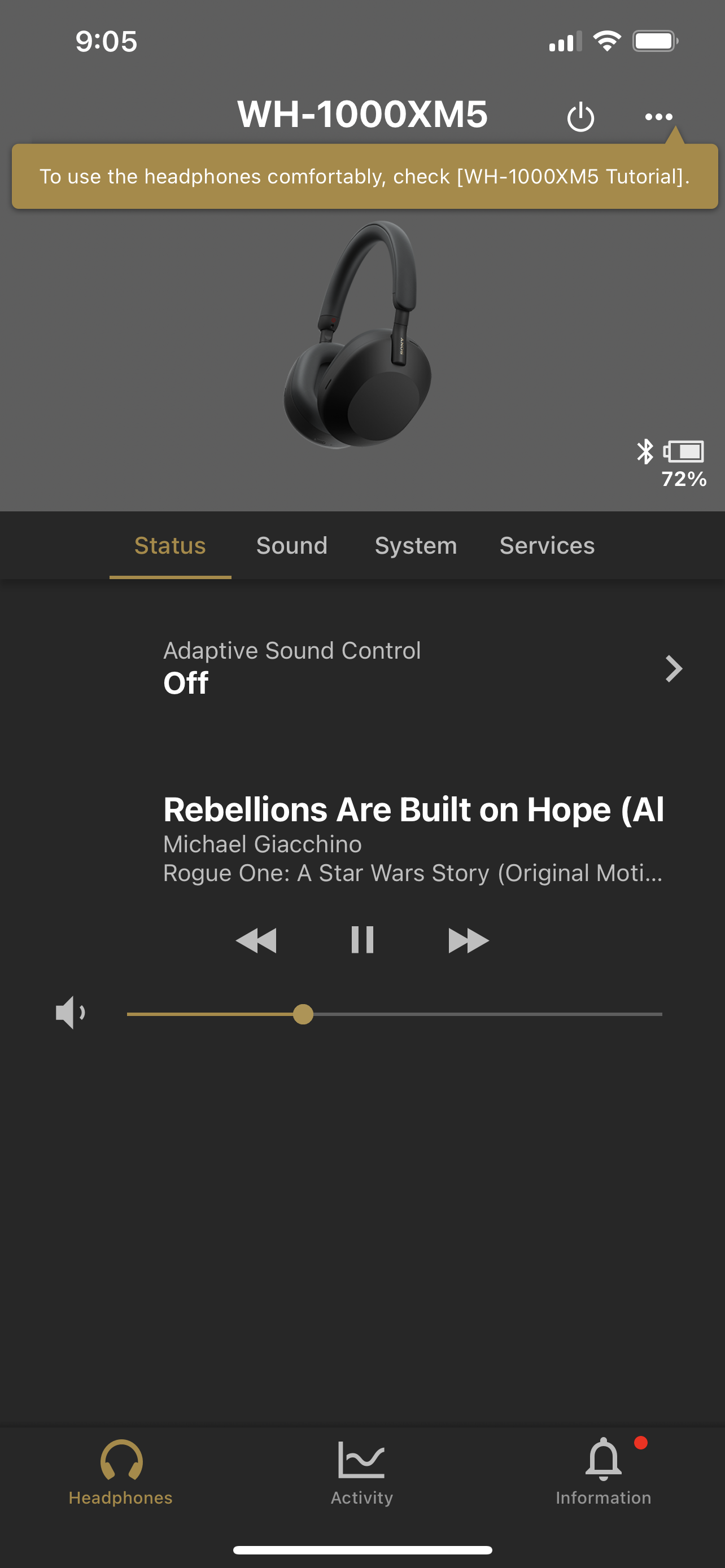 The Headphones Connect application is one of the best experiences for wireless and noise-canceling headphones - giving you complete control to assign button operations, set EQ, dsee extreme, adjust adaptive ambient settings, and more. The app will even learn your environment and frequented locations - allowing the headphone to learn your behavior and settings to automatically adjust to your preferences when you need them. There are also some neat options for the headphone to learn the shape of your ear so that the optimizer influences your music accordingly. There are also specific streaming services like Deezer that use 360 Reality Audio - this is not compatible with all streaming services however. The app itself hasn't changed much from the past year or so, and it's compatible with both the WH and WF headphone and earphone lineup, including the WF-1000XM4, WF-1000XM5, and WH-1000XM5. It's a sophisticated and robust user experience, and I have yet to find a headphone/app pairing that beats it.
Generally, stock audio cables are manufactured with subpar materials, metals with impurities, poor geometries, and an overabundance of layers to make them look and feel like a fire hose. Inconsistency and lack of quality control in stock cables can lead to poor sound quality and a veiled sound vs what the musician intended for you to hear and feel from the music. Dragon cables are handcrafted with the highest standards and made to order according to your specific needs. At Moon Audio, we create a custom cable for you using the highest quality UP-OCC silver or copper conductors that can be manufactured. UP-OCC metals are void of impurities and are optimized for signal transfer and sound quality. We have one of the largest collections of audio and headphone connection options available online and we create limitless audio cable options depending on your specific gear and needs.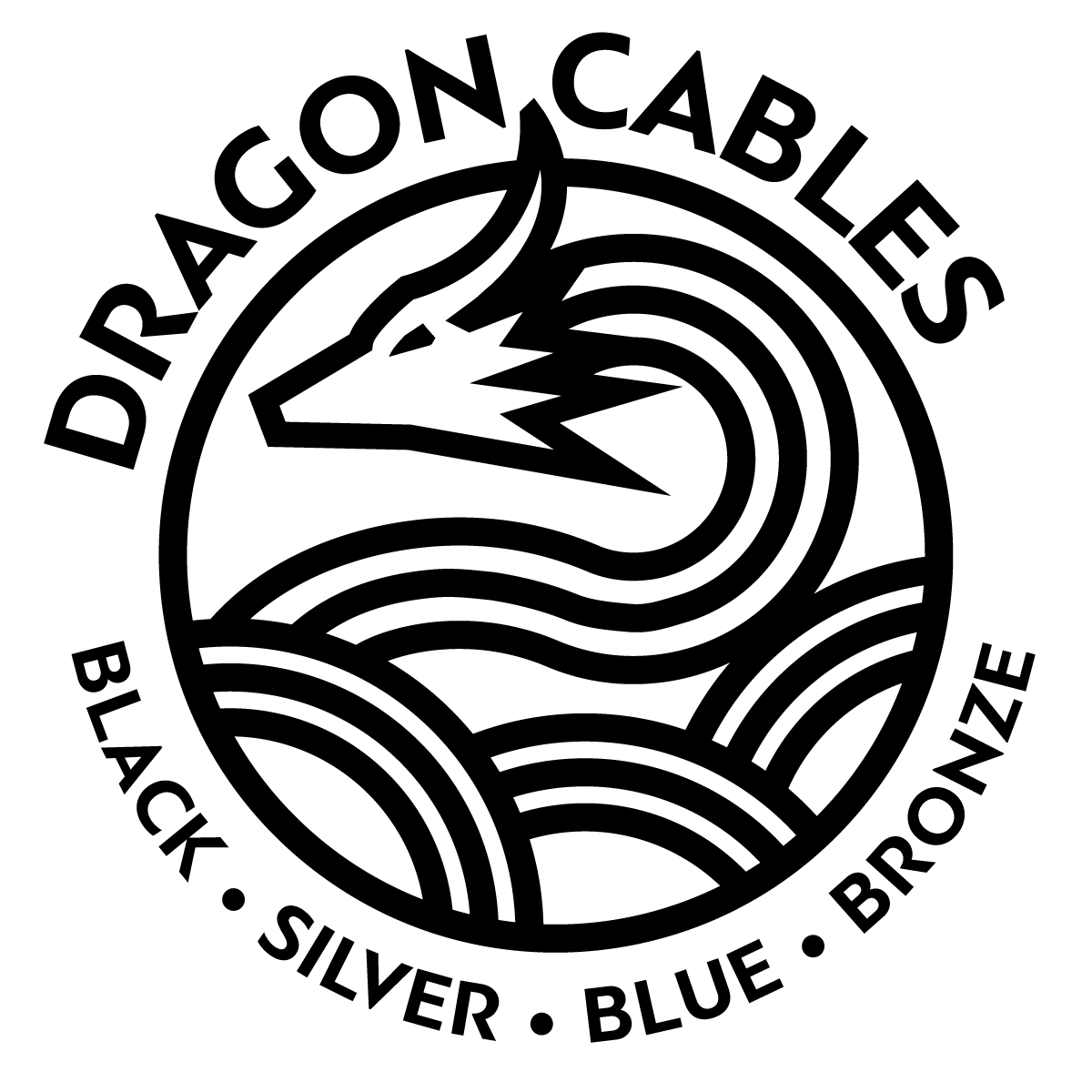 Why Dragon Cables?
You've heard the saying that a chain is only as strong as its weakest link, right? Well, the same applies to your brand-new audiophile-grade headphone or other audio components. The weakest link, in this case, is your stock cable or the cheap interconnects the manufacturer threw in the box just to get you up and running. Why is the cable always an afterthought, when it's just as important as the rest of your system? At Moon Audio, we use the best raw materials in our cables to unveil your music. We believe the materials matter and your audio cables should have the same care and craftsmanship that manufacturers put into their audio components and headphones. Audio cables are ultimately the connection to your music. The fact remains that cabling is often considered the last priority to that of the main product and a means to cut down the overall production costs. It's as simple as that.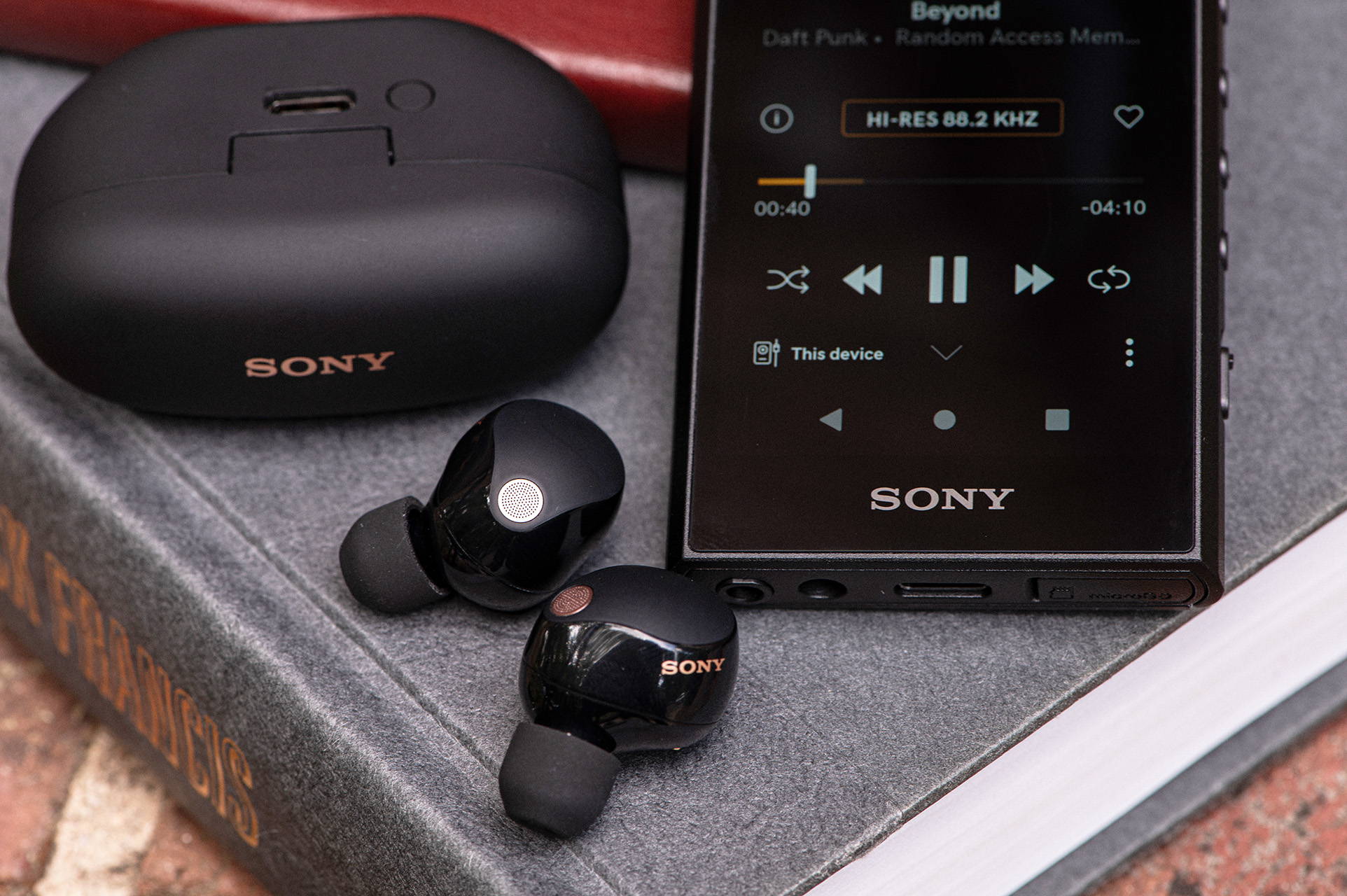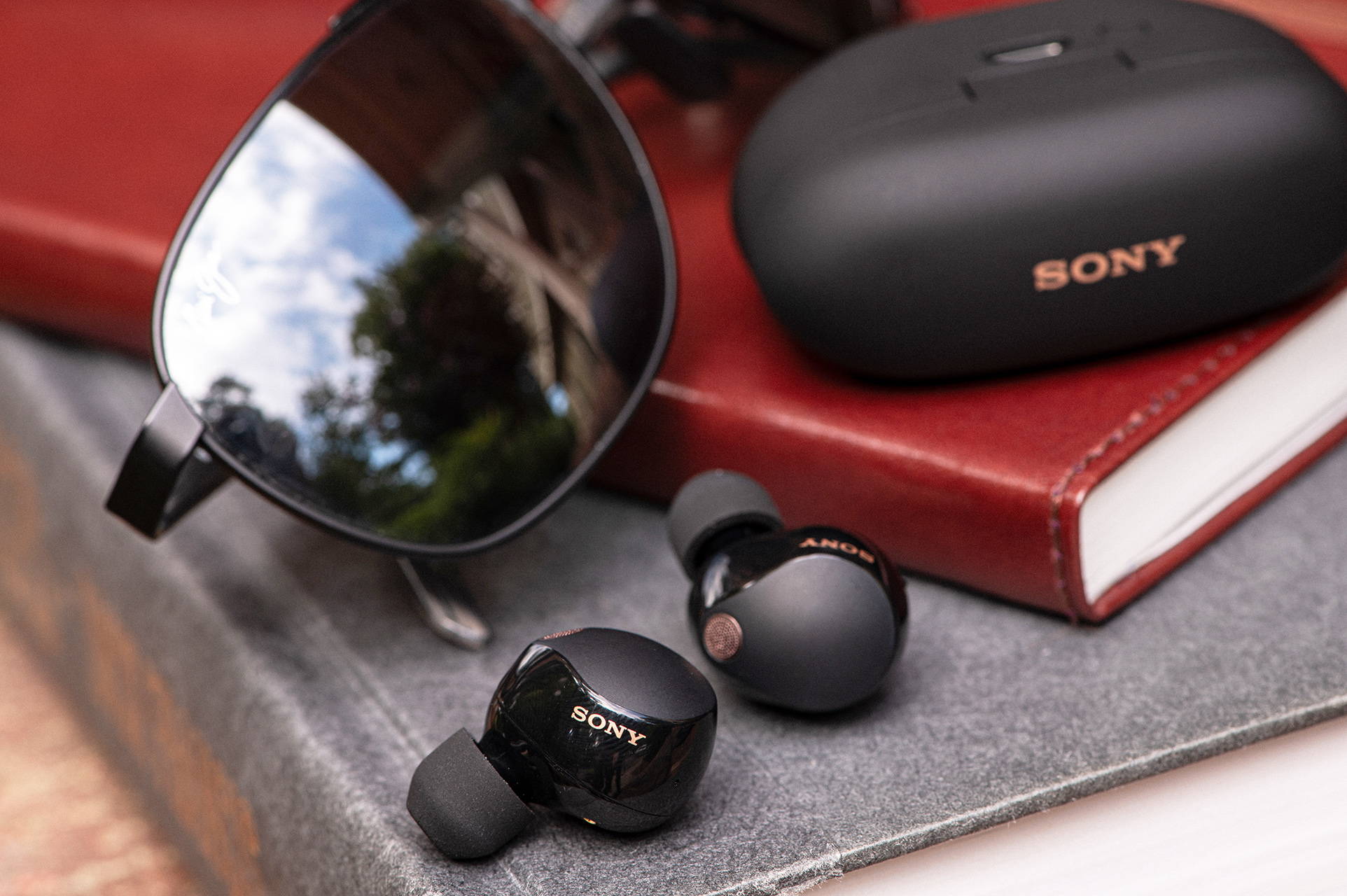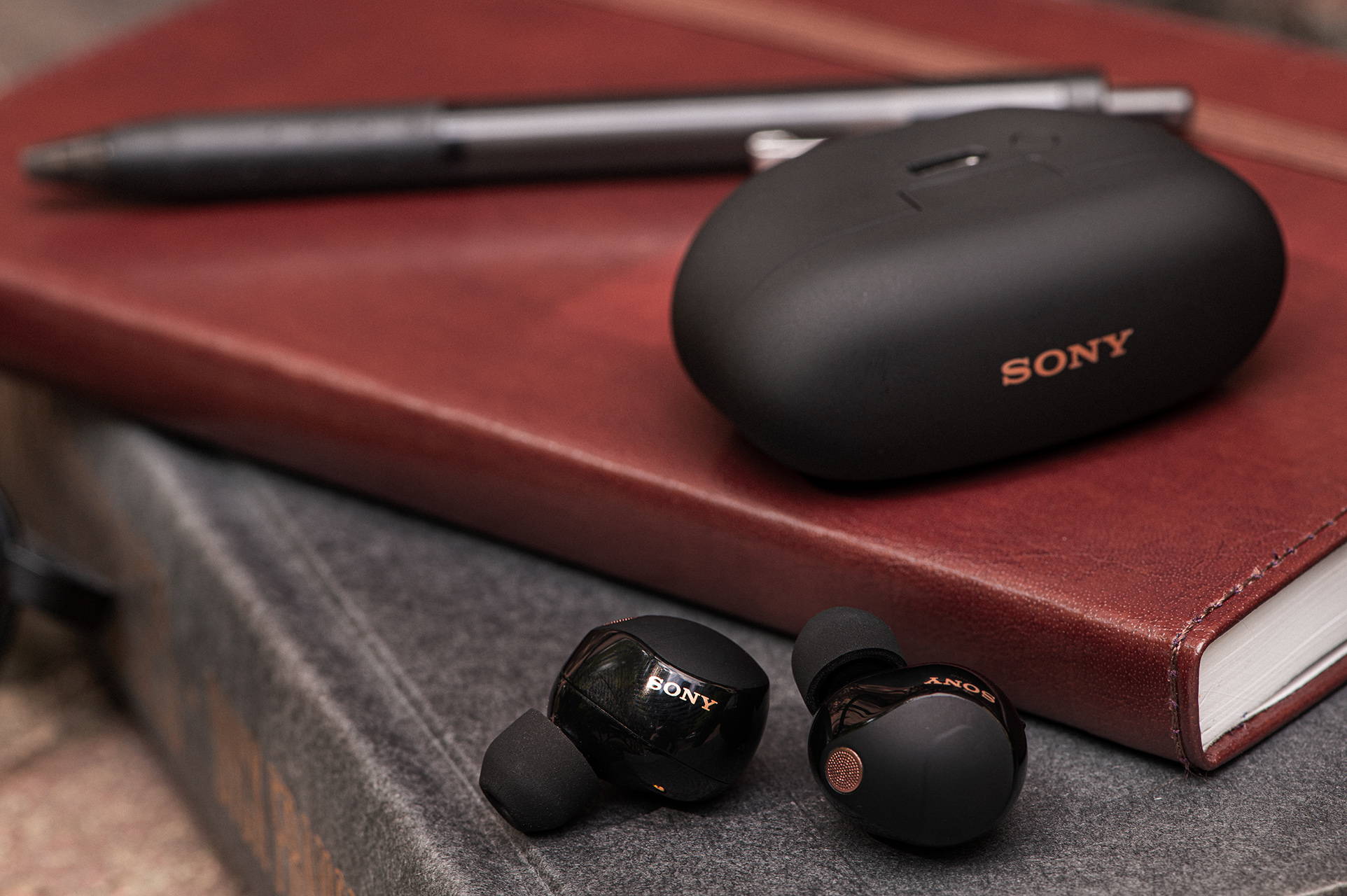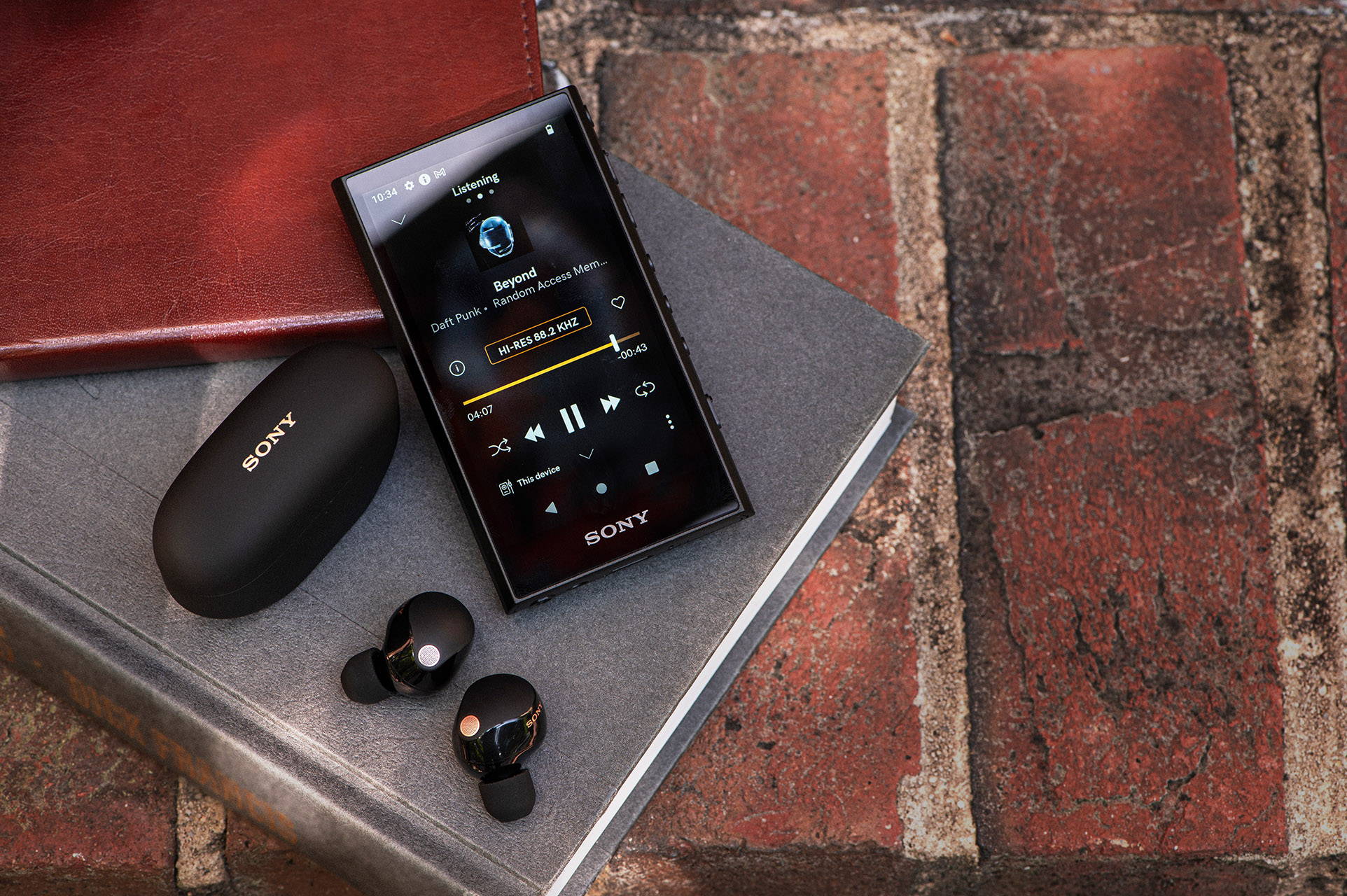 When it comes to noise cancellation, few do it better than Sony. I'm continually impressed by how they legitimately improve upon the technology from one generation of product to the next because there are true quality-of-life (and sound) improvements being made. I joked with the XM3 headphone review that they simply put a new number on the box and called it a day. Well, I think that joke fell flat because that couldn't be further from the truth.
Sony has completely revamped the design of the WF-1000XM5, making them smaller, sleeker, and more comfortable. Somehow they even managed to pack more (and better) tech inside. The driver redesign sounds dynamic and resolute - we're getting a lot more top-end clarity and tightening in the bass response from previous iterations. You can certainly hear the differences and improvements when A/B testing the XM5 with the XM4. It's night and day.
Although the app experience hasn't changed that much, it hasn't necessarily needed to. You have all the control and customization at your fingertips, and it makes for a great user and listening experience overall.
Sony continues to reign as king when it comes to high-end consumer audio. The WF-1000XM5 is the real deal, and if you're in the market for some incredibly premium earbuds with more features than you can shake a stick at, then look no further. The WF-1000XM5 is the earbud to beat.
Sony WF-1000XM5 Wireless Earbuds
Charging case
USB-A to USB-C cable
4 Different Eartip sizes
Quick start guide
Warranty
Sony WF-1000XM5 Earbuds Review Video
Sony WH-1000XM5 Headphone Review
Sony NW-A306 DAP Music Player Review