To be [wireless], or not to be. That is the question.
Yep, we, Moon Audio, makers of all things cables, are going to talk about Wireless headphones today. Whether you're an audiophile, music lover, or just someone wanting to listen to music from time to time, I think we can all agree that wireless headphones are a great convenience. Even if you're an audiophile or not, I would argue that the tech has improved enough that you don't necessarily have to sacrifice sound quality for convenience, as many of the latest wireless and/or noise-canceling headphones have the ability to playback high-resolution audio files via hi-res codecs or USB audio.
Are they going to be as good as wired audiophile-grade headphones? Certainly not, but if you want something that does it all - wireless, noise-canceling, great sound quality, wired options, smart app support, then there is no better time to get a wireless headphone.
So without further delay, here are our Best Wireless Headphones for 2022.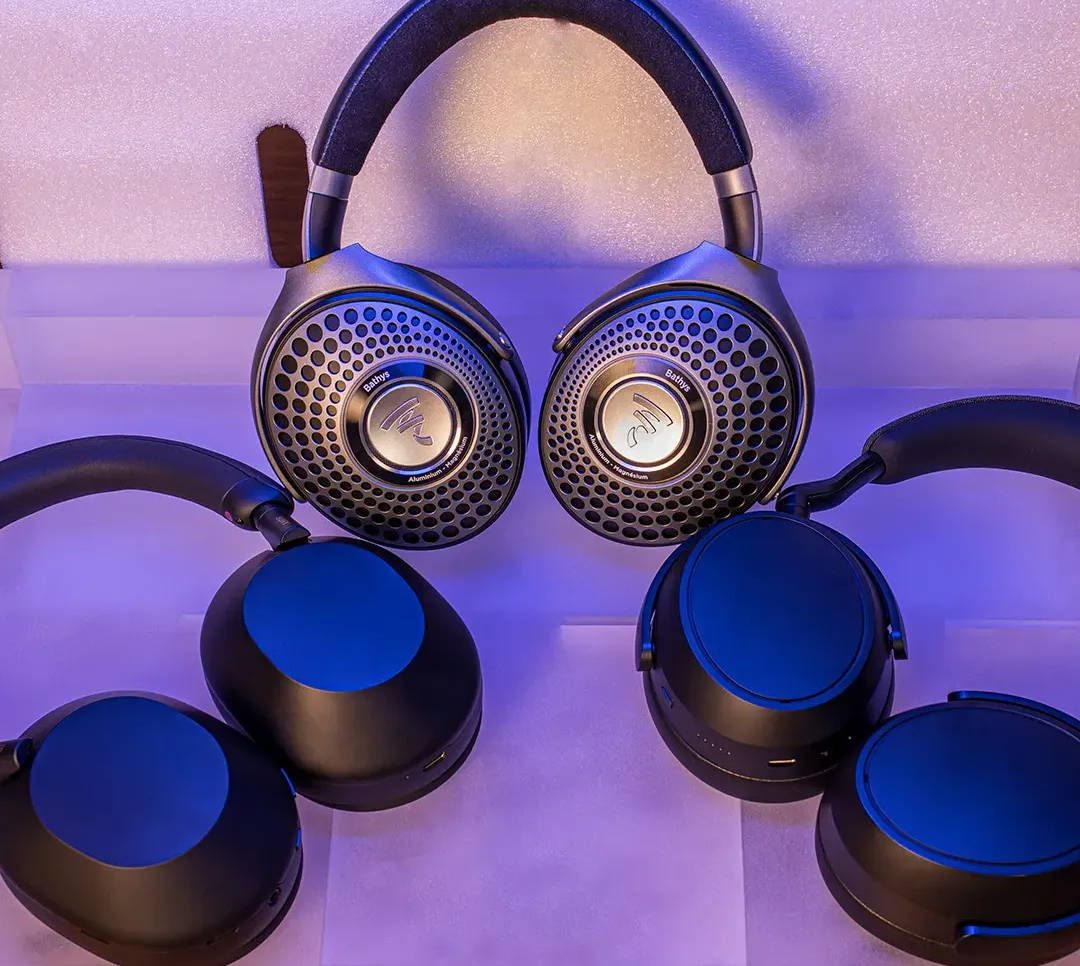 Wireless convenience
Noise-cancellation in some models
Lots of functionality
Great sound quality in latest models
Sacrifice in sound quality (in some cases)
Cheaper materials than high-quality headphones
Wireless Headphones (by Price)
Audeze Maxwell Gaming Headphone
As a gamer and a music lover, I'm a big fan of the Maxwell gaming headphones. The little brother of the Mobius and Maxwell uses absolutely superb-sounding 100mm planar magnetic drivers in a closed-back design, and anyone who has read my reviews knows I'm a big fan of closed-back planars. The sound is rich, energetic, and has some great bass response and dynamics compared to any headphones in this price range.
The Maxwell's construction is much more premium than its predecessors, the Mobius and the Penrose. The Maxwell has a few more tricks up its sleeve, and of course, makes our list, but you can read more about it in the written review. Gamers, the Maxwell is a super good headphone to up your audio game. Bluetooth 5.3, detachable boom mics, Dolby Atmos, a 3.5mm headphone jack, USB-C audio, the entire headphone is a swiss army pocketknife for any kind of gaming or music listening scenario. The Maxwell easily beats out other gaming cans from Logitech, Steelseries, and Turtle Beach, but the real value is that take off the mic and they're amazing wireless headphones for any music listening scenario. $299 to $329 depending on the gaming console. Unbelievable value.
1) Noise-Canceling: NO
2) Detacheable Microphone
3) Great closed-back planar sound

The Momentum is Sennheiser's premium noise-canceling wireless headphones. Back when the Momentum 3's came out we did a comparison with the XM3 and the Bose QC35. The Sennheisers were the best standalone sound quality of the bunch, with crisp top end and defined low frequencies, most in line with an audiophile-style of music listening. Sennheiser has updated its styling this generation and takes some obvious influences from Sony with a minimalist button design and touch-sensitive ear cups for gesture controls. I'm a big fan of the slim design all around, and it packs away nicely for a great portable pair of headphones. Another thing that is going to set the Momentum 4 apart is the whopping 60-hour battery life on a single charge. It's impressive, to say the least, and Sennheiser has really upped their game since the last gen.
The Sennheiser app is a highlight of the overall experience, giving you control over your sound at the touch of a finger - EQ settings, presets, sound modes, and more, you can tailor everything to your listening preferences. The noise canceling itself is still great, but the Sony still beats it in comparison. Call quality is also great with the new generation of ANC headphones, and they're able to not only block out the noise so you can hear the call better, but they also block your background noise, allowing the person on the other end to hear you more clearly. The new Momentum 4 is one of the best-sounding audiophile-grade headphones on our list, so if sound quality is the most important thing to you - for $349, be sure to check out the Sennheiser Momentum 4.
1) Noise-Canceling: YES
2) Great-looking redesign
3) Audiophile-grade sound quality

Sony WH-1000XM5 Headphone
Do you want to know what the best noise-canceling headphone on the market is? That's the WH-1000XM5 from Sony. These are the newer, better, full-size headphone version of the Xm4 buds that are also on our list. I just had the pleasure of reviewing these fine headphones last month and needless to say, I didn't think they could improve on an already stellar design, sound quality, and functionality. But, they did. First off, the design finally got an overhaul. The XM4s looked just like the XM3, which looked similar enough to the XM2. It was just time for a facelift. And they look slick. The responsiveness of the gesture controls is greatly improved, the ANC is best in class, and the XM5 sports a new 30mm driver design that results in some great boosts in overall sound quality. With clearer sound, tighter bass response, and with hi-res codecs, you can be sure you're listening to your favorite music with all the bits and sample rates your heart desires.
Battery life isn't as impressive as the Momentum 4, but you can still get 30-40 hours on a single charge which is just fine in my book. The Sony Headphones app gives you control over gestures, transparency mode, EQ, ambient settings, 360 reality audio, and more, making for one of the best app experiences for wireless and noise-canceling headphones around. Do you want the best ANC headphones on the market? Here they are: Sony WH-1000XM5.
1) Noise-Canceling: YES
2) Best-in-class ANC
3) Best sound quality and ANC in one headphone

Brand new to the list this year is Focal's latest wireless and noise-canceling headphone: the Bathys. Their previous foray into wireless was the Listen, and the Bathys just isn't even in the same category as some of these others on the list. Other than the Ananda BT, it's one of the more expensive options here, at $799, but the Bathys provides more more in regards to sound quality and overall fidelity that audiophiles will appreciate more than the lower-tiered consumer-friendly options under $400. Styled like the Stellia, I like the gray/silver and black aesthetic - they look somewhat modern industrial - it definitely has that French flair, and something our other options on the list lack. So they've been working on these things for about 3 years, and it shows. Equipped with Bluetooth 5.1 with apt-x and apt-x adaptive codecs, over 30-hour battery life, and effective active noise-cancellation, it's pretty on par with our other offerings.
What makes the Bathys stand out however is the USB-DAC mode which can offer up to 24-bit, 192 resolution thanks to the integrated DAC and amplifier. It's also the sound quality that sets it apart. Great soundstage for a closed-back headphone, the bass response is tight and thumpy, and the mids and highs are clear and detailed. It's a great Focal audiophile sound, just in a portable and wireless package with noise canceling. I mean, what's not to love? Oh and if that wasn't enough the logos light up on the side too. Now I need some light-up sneakers to match when I wear them.
1) Noise-Canceling: YES
2) Amazing Focal audiophile-grade sound quality
3) French styling & design

Hifiman Ananda BT Headphones
The HIFIMAN Ananda-BT headphones have made me a believer in the power of wireless technology and where it's going. If you're in the market for a wireless headset that doesn't sacrifice sound quality, then look no further. The biggest thing the Ananda-BT brings to the wireless headphone table is the sound quality. It's the best-sounding wireless headphones I've tested, with the Focal Bathys pretty much on par with it. The Ananda-BT is one of the more expensive wireless headphones at Moon Audio, but the fidelity and soundstage are unmatched by the competition. HIFIMAN states that the Ananda-BT gets 10 hours of battery playtime, with about 2.7 hours to fully charge. I was getting about 8-10 hours depending on volume. After all, planar magnetic drivers require a lot of power, so although the battery life could be considered abysmal compared to other wireless headphones on the market, I'm getting almost 10 full hours of free-ranging sonic enlightenment. I'm not complaining. I'd happily trade shorter battery life for a better quality listening experience any day. The HIFIMAN Ananda-BT is the wireless headphone for the audiophile. Sure, it's not going to be as good as plugging directly into a quality tube headphone amp, but it's one of the best Bluetooth headphones on the market.
1) Noise-Canceling: NO
2) Large planar drivers = nice big sound
3) Detachable boom mic, sturdy build, comfortable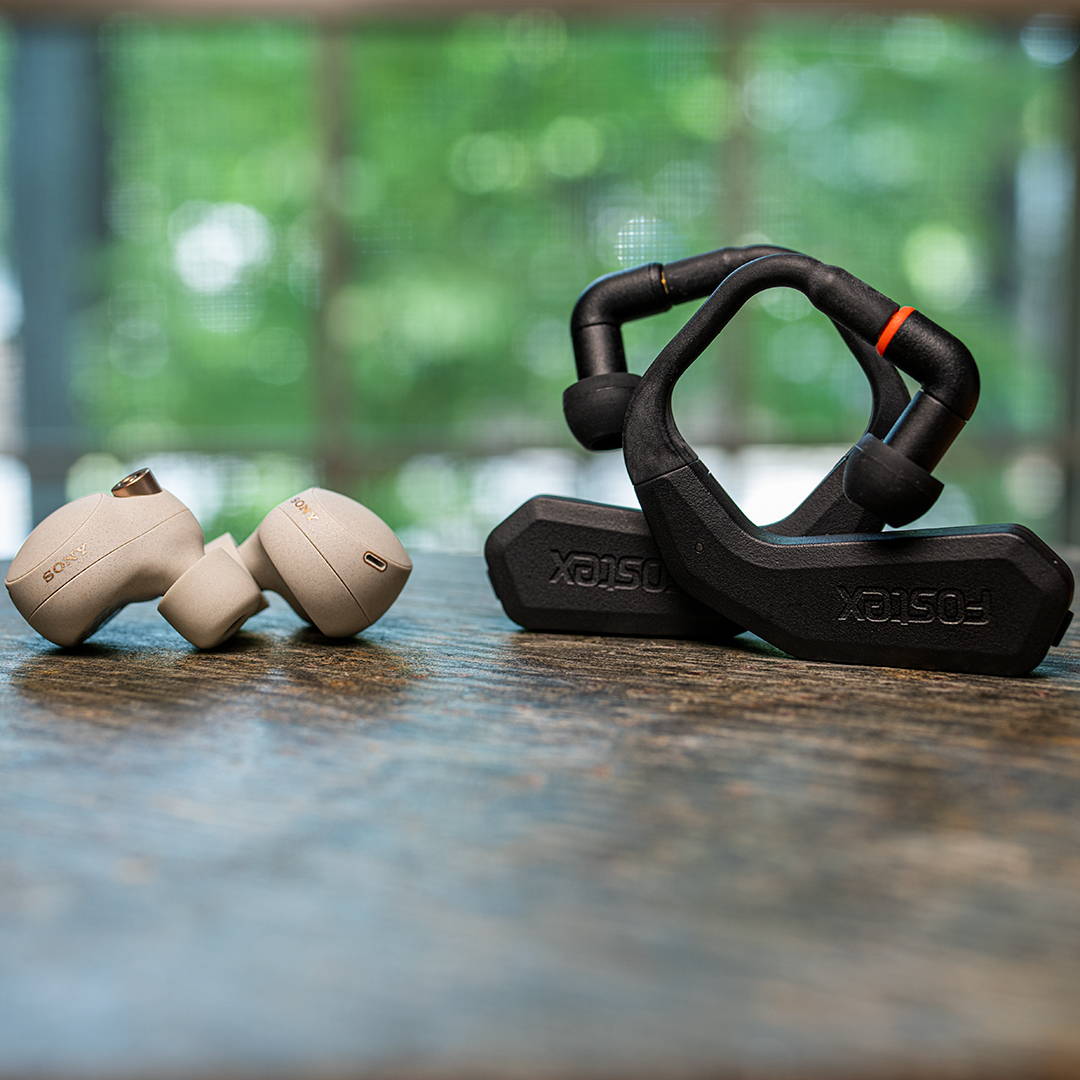 Wireless Earbuds (by Price)
The impressive thing about sound tech nowadays is that even earbuds can have huge, simulated sound like headphones in some cases. I think that's the case with the WF-1000XM5 earbuds from Sony. It essentially retains all the functionality of the full-size headphones with noise-canceling (the WH-1000XM5), app integration, control, adaptive sound, everything. The WF-1000XM5 uses a newer designed 8mm driver that has the quintessential Sony sound: fun, v-shaped signature, dynamic, and puts you "inside the action" - it's an immediate and close soundstage, but very energetic and engaging earbuds to listen with. I don't think it's any surprise by now that I'm not the biggest fan of cramming things down my ear canals, but I actually didn't have any issues with the XM5 earbuds when I reviewed them on release. The noise isolation ear tips are a very malleable and comfortable foam polyurethane material and didn't apply too much pressure inside my ear. It's a very comfortable fit.
If you're looking for something that keeps all the best functionality, sound quality, and features of the best noise-canceling headphones on the market but wants to save some space - or if you just want the top of the line noise-canceling earbuds and the best wireless earbuds - then the Sony WF-1000XM5 is for you.
1) Noise-Canceling: YES
2) Full-size sound in a small package
3) Has all the functionality of the WH-1000XM4/5

Sennheiser Momentum True Wireless 3
The Momentum True Wireless 3 earbuds from Sennheiser are a great alternative to the larger ANC over-ear headphones. Compared to the XM4 earbuds from Sony, the Momentums still have more defined, clearer high frequencies, and an overall more audiophile-friendly tuning. The bass response is great, considering the form factor and the proximity to your eardrum. The earbud-style does well to accentuate those frequencies that often get lost or overpowered in full-size headphones.
The adaptive NC is a nice feature, allowing the earbud to automatically adjust the level of noise-canceling based on your environment. 28 total hours of battery life (with the charging case) and 7 hours on a single charge ensures you have music whenever you want during the day or night. The case also has Qi wireless charging which is a nice feature. The Momentum is IXP4 water resistant and has three advanced noise-canceling microphones on each earbud for clear and quiet calls. If you're wanting a more analytical listening experience than the Sony XM4 earbuds, then the Momentum True Wireless 3 Earphones from Sennheiser will do the trick.
1) Noise-Canceling: YES
2) Great Sennhesier audiophile tuning
3) Adaptive noise-canceling and wireless charging

Fostex TM2 True Wireless In-Ear System
The TM2 is a special audio device on our list with the ability to connect your favorite IEMs for a wireless solution. Note that these do not work with the Ultimate Ears IPX connection. The TM2 True Wireless system comes with either the MMCX, FitEar 2-pin type, or the CIEM 2-pin type adapters for whatever connection you need (TM2 comes paired with MMCX in the box). They feature a pair of main receiver units with a touch sensor and multiple buttons, detachable short cables, and a detachable 6mm dynamic driver unit.
The QCC3026 Qualcomm chipset allows independent connection to the left and right earpieces and includes Bluetooth 5.0 for longer and more stable connections. There's also a role swapping function that automatically switches the master and slave for efficient battery consumption to realize long-term operation. The cables are short and flexible enough to fix various types of ear shapes with or without glasses, making them great for anyone wanting a reliable and inexpensive way to enjoy your favorite IEMs without a cable.
1) Noise-canceling: NO
2) Wireless solution for your favorite IEMs
3) Various connection options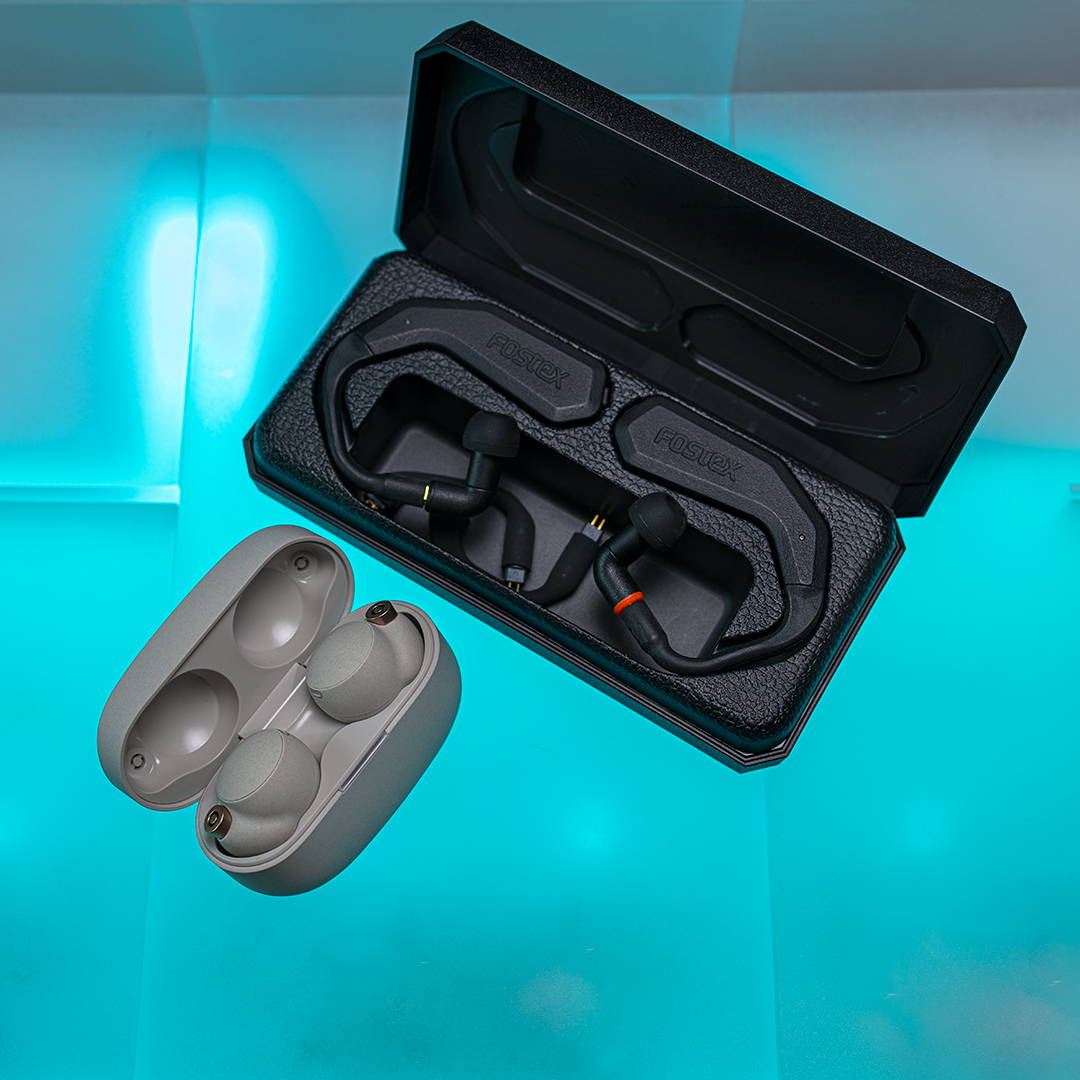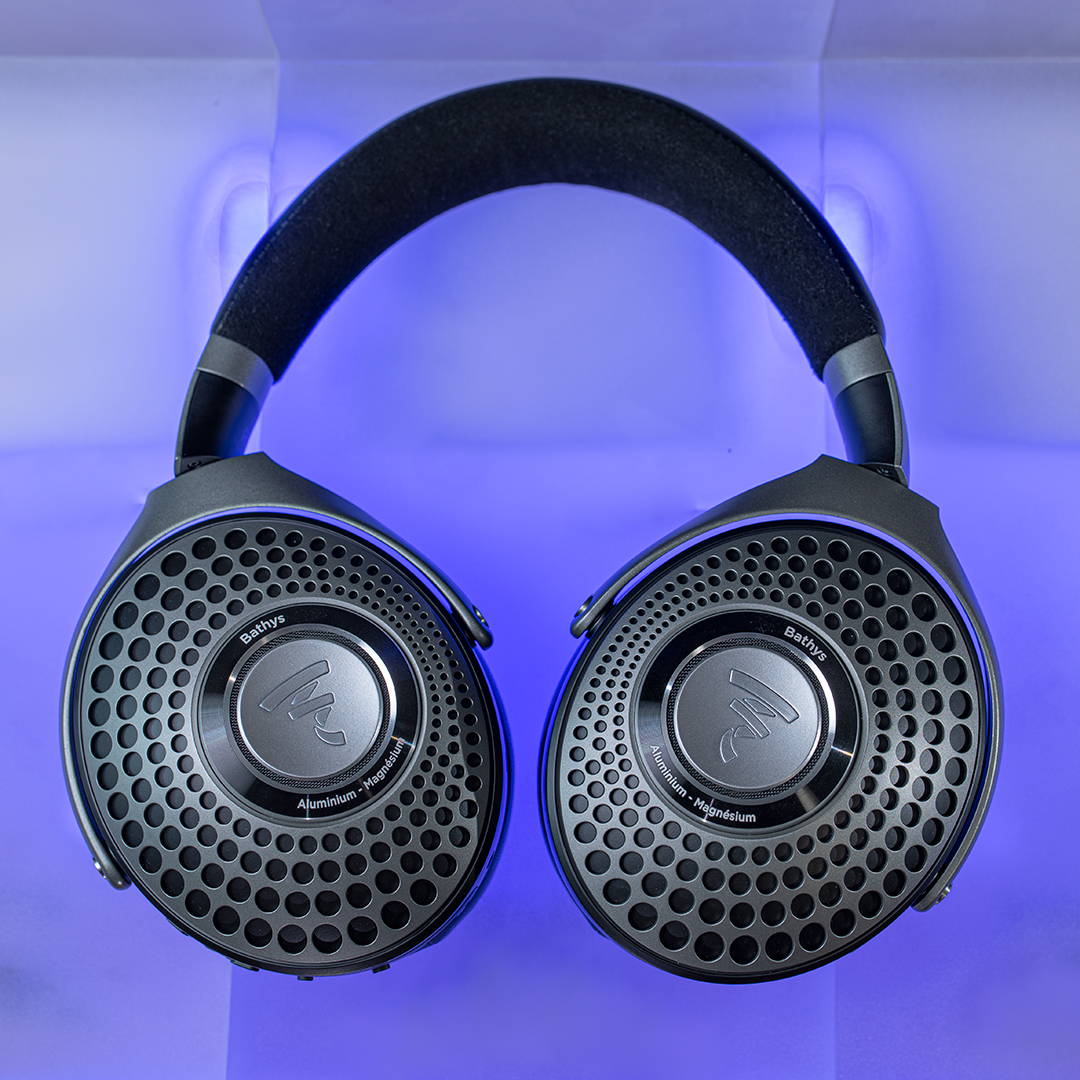 Generally, stock audio cables are manufactured with subpar materials, metals with impurities, poor geometries, and an overabundance of layers to make them look and feel like a fire hose. Inconsistency and lack of quality control in stock cables can lead to poor sound quality and a veiled sound vs what the musician intended for you to hear and feel from the music. Dragon cables are handcrafted with the highest standards and made to order according to your specific needs. At Moon Audio, we create a custom cable for you using the highest quality UP-OCC silver or copper conductors that can be manufactured. UP-OCC metals are void of impurities and are optimized for signal transfer and sound quality. We have one of the largest collections of audio and headphone connection options available online and we create limitless audio cable options depending on your specific gear and needs.
Silver Dragon Sound Signature: The Silver Dragon is the original cable. Silver strands clarify instrument separation, increase the soundstage, and find previously lost high and mid-frequency sounds. Transients appear more cohesive and the bass tighter for a more controlled sound. The detail and clarity of the Silver Dragon make it a perfect match for classical music and other genres with many nuanced instruments.
Black Dragon Sound Signature: The Black Dragon is warm and smooth with a musical presentation. Copper strands enhance the body, shape, and immediacy of the music. The detail and expansiveness of the Black Dragon make it a flexible fit where a broad range of musical genres are played. It can also improve bass frequencies on bass-light headphones. The smooth, musical quality makes it a perfect fit for headphones that tend to sound a bit edgy or bright. Despite its warmth, the Black Dragon does not have a laid-back, lush sound. It is much closer to neutral, making it a very natural-sounding cable. For more information on finding your signature sound, visit our Sound Signature Guide.
The nice thing about all these headphones is that they're tuned to sound great in all genres. The noise canceling technology in most of these is great. Unless you had the opportunity to AB test them side by side, would you be able to really figure out the nuances of the ANC quality. If you've never had a pair of noise-canceling headphones before, then any of the options would be great. If you want the best ANC, our vote is the Sony XM5. Also, keep in mind that not all of our wireless headphone options have noise-canceling. We've made sure to note which ones have them and which ones do not. Noise-cancelation is a convenience to be used when you want to tune the world out and focus on your music. To that end, it does the job well.
When it comes to sound quality though, the cans that stand out are the Ananda BT, Focal Bathys, Sony XM5, and the Sennheiser Momentum 4. The Ananda BT and the Focal Bathys are some of the best-sounding wireless headphones on the market when it comes to audiophile-grade sound quality. The spatial audio and fidelity in the Ananda BT are astounding for an open-back wireless headphone. The Sony and Sennheiser headphones have a much closer soundstage, so if you like feeling like you're inside the music they are great picks. App integration nowadays also plays a big role in the overall functionality of the headphone, and each app is tailored well to its respective headphones or earbuds. The XM5 and Momentum 4 have a lot of great functionality that incorporates well into your daily life and are smart enough to adjust to your surroundings without having to manually set anything.
Ten years ago I would have said if you want great-sounding audiophile-grade headphones STAY AWAY from wireless options. However, today the technology has become advanced enough that the hi-res Bluetooth codecs can transmit just as much data as wired connections. If you're wanting to get a pair of wireless headphones or true wireless earbuds then there's no better time. Being wireless doesn't mean you have to sacrifice sound quality anymore.
Video: Best Wireless Headphones of 2022
Yep, we, Moon Audio, makers of all things cables, are going to talk about wireless headphones today. Whether you're an audiophile, music lover, or just someone wanting to listen to music from time to time, I think we can all agree that wireless headphones are a great convenience.
Best Hi-Fi Gear for Travel
Noise-Canceling Headphone Comparison