Ah, the Sony Walkman. You might think it's a relic from the annals of audio history... but you'd be wrong! The Walkman revolutionized the way we listen to music, and the audio innovations kept right on coming: The world's first CD player. The world's first portable CD player. The world's first in-ear headphones.
How The Sony Walkman Changed Music (And Still Does)
Step back in time with the Sony Walkman. Are you ready to embark on a journey through time, tracing the evolution of one of the most iconic inventions in music history? Discover how the Walkman became a global sensation, transcending borders and languages to create a shared love for music. The Sony Walkman's legacy continues to influence modern audio technology and portable music players, shaping the way we enjoy our favorite songs today.
The Sony Story: From Flop to Fortune
Sony traces its roots to the 1940s. The two men behind the venture, Masaru Ibuka and Akio Morita faced their share of trial and error within the electronics market until they struck gold with the transistor radio in 1952. In a matter of years, Sony's pocket-sized radios were market leaders. By the time the 1960's arrived, Sony had an incredible reputation as an electronics brand. The Sony Corporation of America set up shop in New York City with a store on Fifth Avenue that featured the Japanese flag, reminding customers of the company's roots.
Since then, the company has grown from a two-man venture into a multinational conglomerate. The company's headphones, earphones, and digital music players are renowned for their technology, quality construction, and robust, musical sound.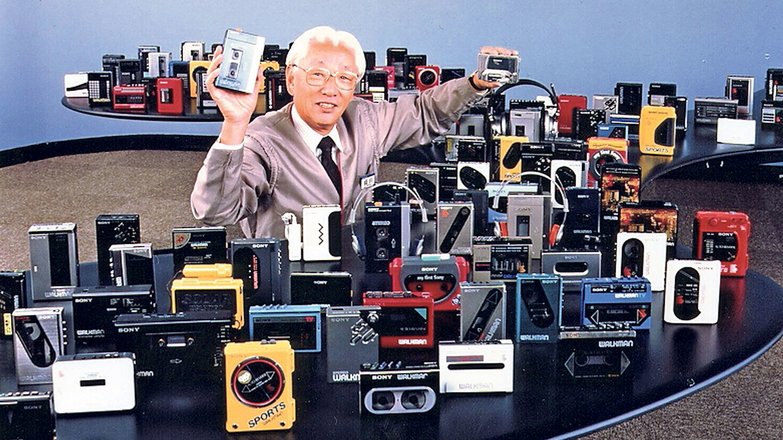 A Brief History of the Walkman

We go about our lives listening to our own private soundtracks like it's no big deal, but it hasn't always been that way. In fact, it became a very big deal when Sony introduced the first Walkman to the U.S. American market in 1980, a year after it was unveiled in Japan.
The story goes that Sony co-founder Masaru Ibuka wanted to "listen to music in stereo on an airplane while traveling abroad." A Sony engineer created a prototype personal listening device based on the Sony Pressman cassette recorder. Introduced in 1979, the Walkman (which was originally known as the Soundabout in the U.S. market) transformed the way we listen to music. This blue and silver box was called the TPS-L2, and it came with its own headphones. the TPS-L2 cost $150 (that's about $622 in today's dollars) — So, yeah, it wasn't inexpensive.
Sony ended production of the cassette player Walkman in 2010, but the Walkman brand is still very much alive and well. The Sony Walkman evolved over the years from a cassette, to CD, to MiniDisc, to MP3 player, to high-resolution streaming, but it's still a Walkman.
Today's Walkman models are hi-res streaming music players that let you download apps and enjoy a level of on-the-go sound quality that was only a dream back in 1980. Let's take a walk down Walkman memory lane.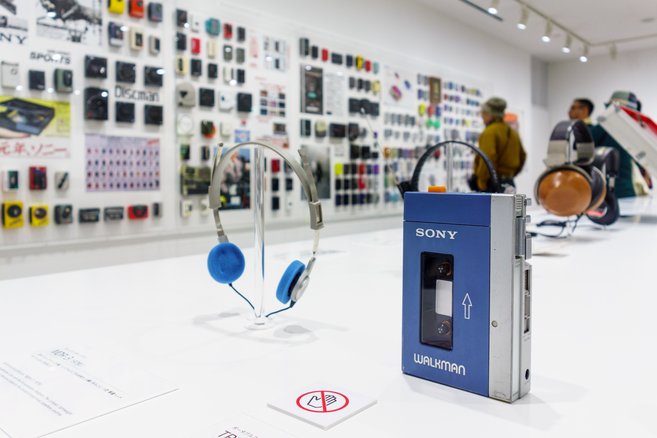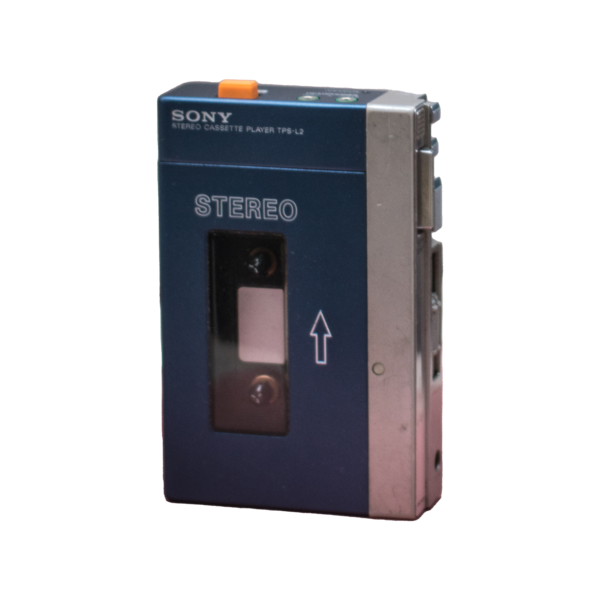 Sony TPS-L2 "Walkman" Cassette Player
The first model of the first-generation Walkman, the TPS-L2 Walkman featured two headphone jacks and something called a "hot line" button that you could use to mute music and turn on a built-in microphone. This allowed two people to share the Walkman and carry on a conversation without removing their headsets. Get this: Sony co-chairman Akio Morita was worried that it would be seen as rude for one person to be listening to music alone. Ah, how times have changed!
The TPS-L2 initially sold slowly but with skillful marketing, demand soon soared. With the TPS-L2 a whole new market had been created and within a couple of years, every major Japanese electronics manufacturer had begun to offer something similar.
Sony WM-2: Walkman II
The WM-2, or the "Walkman II," followed in 1981, with many other cassette player models to come (45 more, to be exact). Much lighter than the first generation, this new Walkman supported metal tape and featured an anti-rolling mechanism.
Do you remember the Sony Sports Walkman in bright yellow? That first came out in 1984. It was waterproof, so you could play your favorite mixtapes without worrying about splashes from the pool.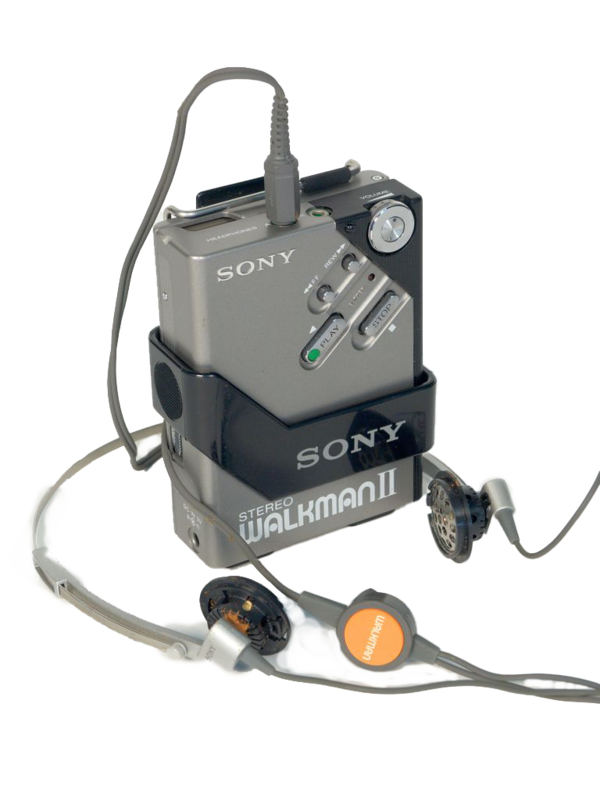 Sony D-50: Discman
The cassette tape was far from dead, but something new was on the horizon: A circular disc known as the CD. In fact, the compact disc was co-developed by Sony and Philips. And in 1984, Sony released the D-50, the world's first portable CD player. You may know it better as the Discman, which Sony rebranded it to in 1999. It was portable, but a bit clunky.


Sony TCD-D3
In 1990, Sony released the TCD-D3 Walkman, which used the digital audio tape format. It was similar to a compact cassette player, but smaller and digital instead of analog. The first ultracompact, lightweight DAT Walkman, the TCD-D3 was small enough to fit in one's palm. DAT could record at sampling rates equal to, as well as higher and lower than a CD. However, the DAT format was never widely adopted.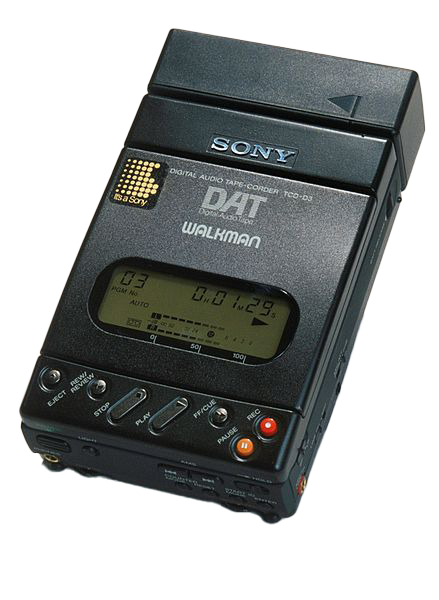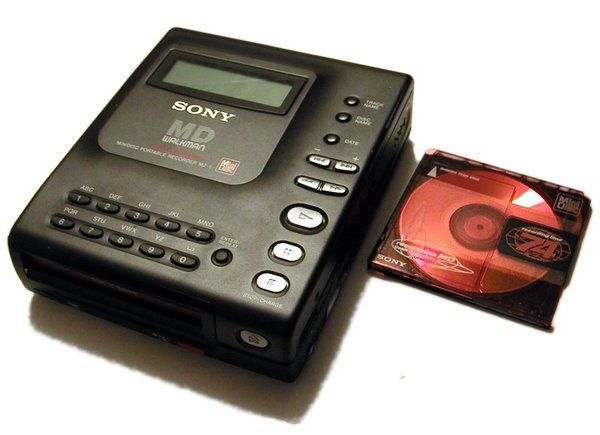 Sony MZ-1, MZ-2P MiniDisc
In the early 90's, Sony unveiled a new generation of personal audio using small discs: The MZ-1 and MZ-2P MiniDisc players. The first "MD" Walkman was resistant to vibrations when carried, and was designed to prevent discs from being damaged if you recorded while in motion.
The Sony MiniDisc is a small form of storage that is shaped like a tiny CD. These players could be used to record audio. Personal MiniDisc players write directly to the physical media instead of requiring you to use a computer to burn the data onto a CD. The MD's were never marketed as devices that could be used "whenever, wherever, and easy, like the Walkman."




Sony NW-MS7
Fast-forward to 1999, and digital file playback became a reality for the Sony Walkman with the NW-MS7. The super-lightweight player stored music from your computer on a tiny "MagicGate" memory stick. You could download songs from the internet, or rip tracks from your CDs, then transfer the music to the Memory Stick Walkman via your computer's USB port. The music, whether streamed or copied from a CD, was stored on your computer's hard disk using Sony's own "ATRAC3" audio compression technology.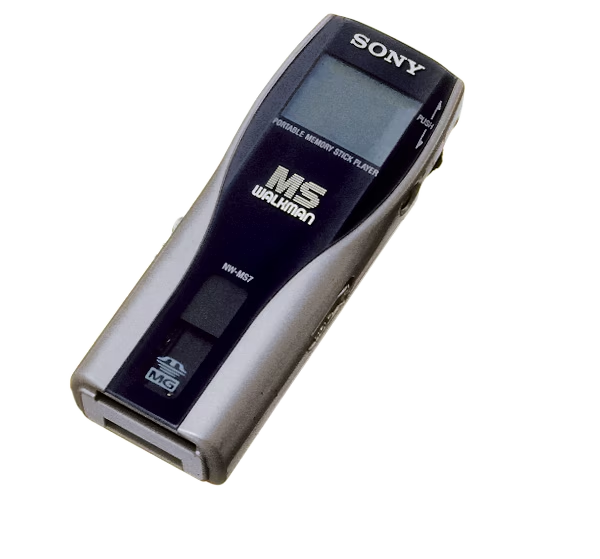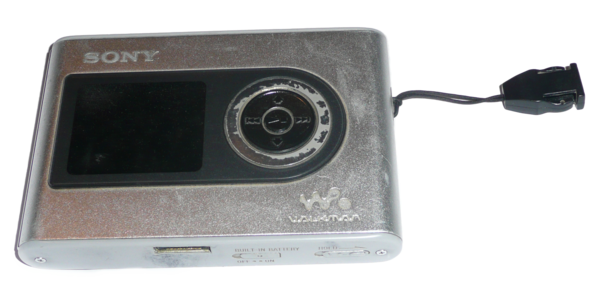 Sony NW-HD1, NW-HD3
In 2004, Sony released its first network Walkman with 20-GB internal hard memory. This model was capable of approximately 30 hours of continuous playback, however it only played Sony's ATRAC3 format, not MP3.
It wasn't until the NW-HD3 in 2005 that Sony had a player that could play MP3 file formats natively. By this time, Sony was playing catch-up with the Apple iPod, which came out four years prior. The iPod wasn't the first MP3 player (that distinction goes to the Eiger Labs F10 in 1998), but it massively popularized the MP3 format.




21st Century Portable Audio
2009 was a turning point for Sony Walkman models. Sony unveiled its X-Series Walkman that delivered an unrivaled portable audio/video experience. The X-Series was the first Walkman to support Wi-Fi and it was also the industry's first video MP3 player to offer integrated digital noise-canceling technology.
The NW-Z1000 Series in 2011 was the first Walkman to run on Android, allowing users to enjoy music, video, and a variety of applications. In 2013, the NW-ZX1 was the first Walkman to support high-resolution audio.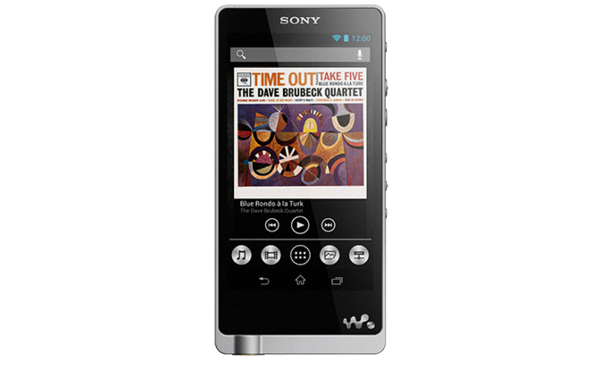 Current Sony Walkman Lineup
That brings us back to the present. There are four modern-day Walkman models: The NW-A306, the ZX707, the WM1AM2, and the top-of-the-line WM1ZM2. Each one has features and designs you could hardly imagine back in 1979. Things like AI-powered DSEE Ultimate upscaling and wireless capability. They all have two cool throwback features: A cassette tape user interface and a digital volume knob that looks like an analog knob. All of these models are supported by Android and compatible with Wi-Fi and Bluetooth, so you can stream music or access your own digital files.
These players all show off the signature Sony sound: Warm, clear, rich and bold, but with increasing degrees of power and sound transparency as you go up the price ladder.

Sony NW-A306 Walkman DAP Music Player
Priced at $349.99, the NW-A306 is an entry-level model. With sleek black styling, a 3.6-inch screen, and a weight of only four ounces, it's the smallest Walkman model, making it effortlessly portable. A tiny DAP (Digital Audio Player) that's packed with features, it can literally fit in the palm of your hand. These days when portable devices need a separate bag to tote them around in, Sony's size for the A306 is a welcome one.
The A306 comes with 32GB of internal storage, with the option to add an SD card. You are going to get up to 36 hours 44.1 kHz FLAC playback. Given its lower power output, you'll get the best performance from the A306 with IEMs (In-Ear Monitors). Pair it with the Sony WF-1000XM5 earbuds for the ultimate portable audio setup.
Key Features
Wi-Fi compatible for direct download and streaming
Made with a rigid aluminum frame and gold solder inside a precisely engineered chassis
Up to 36 hours of 44.1kHz FLAC playback
Supported by Android
Connect to a PC to access your digital music collection
Lightweight and designed for pockets
NW-A300 series high-quality PCM conversion
DSD audio formats up to 11.2MHz
360 Reality Audio
Sony NW-ZX707 Walkman DAP Music Player
The Sony NW-ZX707, which sells for $899.99, is a step up from the NW-A306. It's got a sleek black styling with copper accents and a generous 5-inch HD display. It weighs twice as much, at about eight ounces, and it's a bit bigger. The ZX707 has a warm, rich, and wonderfully clear sound that is especially good for Rock, Classical, Jazz, Blues, and vocals.
You get 64GB of internal memory, plus the option to add a SD card. The ZX707 will provide up to 25 hours of 44.1kHz FLAC playback. The ZX707 is a balanced design, with more complex circuitry than the A306. This means you'll be able to drive a variety of lower-impedance headphones to peak performance.
Key Features
High-end parts you'd expect in a top-range sound system
Up to 25 hours of 44.1kHz FLAC playback
Supported by Android and compatible with Wi-Fi for direct download and streaming
Upgraded components for an enhanced sound
64GB integrated memory and microSD card slot
DSD audio formats up to 11.2mHz
Inclusion of larger audio parts to enhance sound quality
Volume UI on the ZX700 series echoes the classic analog design
aptX HD audio compatibility is available
Sony NW-WM1AM2 Walkman
Moving up the Walkman latter is the NW-WM1AM2, which costs $1,399.99. You get a jump in power here, giving the WM1AM2 the ability to drive higher-impedance headphones — Something the previous two players can't do. Enjoy the subtlest nuances of studio-quality sound in higher than CD quality with high-resolution audio. This second-generation model has been updated with Android, Wi-Fi, a bigger screen, better battery life, and more.
While it's not much heavier than the ZX707, the WM1AM2 is a larger player. Here you'll get 128GB of memory plus the SD card option, a 5-inch display, and up to 40 hours of playback. That's pretty stellar. The WM1AM2 also has more power, enabling it to handle a range of headphone impedances.
Key Features
128GB of built-in memory plus a Micro SD memory card slot
Support for Android and Wi-Fi
Up to 40 hours of continuous high-resolution audio playback (FLAC 96kHz / 24bit)
4.4mm balanced and 3.5mm single-ended headphone outputs
DSEE HX rebuilds on audio lost during digital compression
S-Master HX digital amp technology reduces distortion and noise across a wide range of frequencies
Support for native DSD audio files
Premium LDAC wireless codec with 3x the bitrate of standard Bluetooth technology
Aluminum frame, oxygen-free copper cable, and MELF resistors for optimal sound quality
READ MORE: Sony NW-WM1AM2 Walkman Music Player Review
Sony NW-WM1ZM2 Premium Walkman
Finally, the WM1ZM2, which costs $3,699.99. In case the gold and the price don't clue you in, this is Sony's top-of-the-line music player. It's housed in a high-grade gold-plated OFC (Oxygen-free Copper) chassis, and the OFC purity has been bumped up to 99.99% over the original WM1Z. The copper lends the player its unique natural, acoustic sound and its conductivity and raw strength reinforce the Walkman with unrivaled audio performance. It's been called the Golden Brick, and yes, it does weigh a bit more at just over 17 ounces. We like to call it an Apple iPod on steroids! This second-generation Walkman adds Wi-Fi for streaming capability and Android for downloading.
Key Features
Wi-Fi and Android
Up to 40 hours of playtime
256GB of internal memory plus an SD card slot
4.4mm balanced standard connection
High-grade gold-plated oxygen-free copper chassis
DSEE Ultimate upscales music to high-resolution quality
Support for native DSD audio files
DC Phase Linearizer works to effectively replicate a wide variety of sonic signatures
Premium LDAC wireless codec with 3x the bitrate of standard Bluetooth technology
READ MORE: Sony NW-WM1ZM2 Walkman Music Player Review
Well, it's been quite a trip down memory lane. We hope you've enjoyed this retrospective on the Walkman. It's hard to imagine what might be next for the iconic portable music player, but we bet Sony will come up with something amazing.
Related Videos