Aurender's One-Box Digital Hubs for the Music Streaming Enthusiast
Aurender's design philosophy has always been to get the computer out of the audio equation. I support this. Why mix business with pleasure? The South Korean company has a range of high-end digital audio solutions. For those who want an all-in-one streamlined component for headphone or loudspeaker listening, Aurender offers the A30 and A20. The A30 is Aurender's flagship analog output server – and the first Aurender to include a headphone amplifier – and it's chock-full of features. The A20 is somewhat of a scaled-down version. Both have the same basic circuitry topologies, form factor, and sound quality; the difference is in the features and functionality.
We are big fans of Aurender here at Moon Audio. In our opinion, they make some of the best music streamer-servers on the market. Would I like to spend a few days playing around with these one-box wonders? Yes, please!

Limitless storage options
Excellent DAC with natural, detailed sound
Aurender Conductor App
Features galore
Not compatible with Roon
Costly
A30 vs. A20: Quick Comparison
A20 Caching Music Server
$14,000.00
Perfect for: The digital music lover whose library is already digitized and who wants a full-fledged, high-performance server, streamer, preamplifier, DAC, and headphone amplifier.
Optional storage: 2 x 2.5" (15mm height) bays for SSD or HDD
1 headphone output
A30 Caching Music Server
$18,000.00
Perfect for: The customer seeking a comprehensive digital focal point for their system with top-notch features.
One-touch CD ripping with metadata and cover art retrieval
Includes built-in "Smart Tag Editor"
10 TB built-in storage
Metadata editing software
A20 Caching Music Server
$14,000.00
Perfect for: The digital music lover whose library is already digitized and who wants a full-fledged, high-performance server, streamer, preamplifier, DAC, and headphone amplifier.
Optional storage: 2 x 2.5" (15mm height) bays for SSD or HDD
1 headphone output
A30 Caching Music Server
$18,000.00
Perfect for: The customer seeking a comprehensive digital focal point for their system with top-notch features.
One-touch CD ripping with metadata and cover art retrieval
Includes built-in "Smart Tag Editor"
10 TB built-in storage
Metadata editing software
Dual mono DAC with fully discrete ultra-low-noise dual-mono linear power supplies with built-in UPS function
Volume adjustment from app, IR remote, or front panel knob
FPGA clock with jitter reduction
High-performance headphone amplifier
Dedicated ultra-low-noise USB Audio Class 2.0 output
Full MQA decoding
Upsampling to 786 kHz, 32 bit
DSD up to 256 DoP, 512 native
Isolated LAN, USB 3.0
Remote tech support via the Aurender Conductor app
Aurender cuts no corners when it comes to build quality. These units are built like tanks, with thick aluminum chassis and heat sinks on the sides. They look and feel like they could withstand anything. Available in black or silver, the A20 and the A30 weigh in at a hefty 37.5 pounds (17kg). Without the feet, the units measure 16.9 x 3.9 x 14.0 inch (430 x 98 x 355 mm). The feet bring the height up to 3.3 inches (98mm).
I can't give enough praise to the display on the front of the A30 and A20. At 8.8 inches wide and about 2 inches high, it definitely says, "Look at me." I love seeing a large color image of whatever album I am listening to. In addition, you see the artist, track title, sample rate, and file format. I love that everything is big enough that I don't have to squint or lean in close to see it. With my eyes these days, that's a bonus.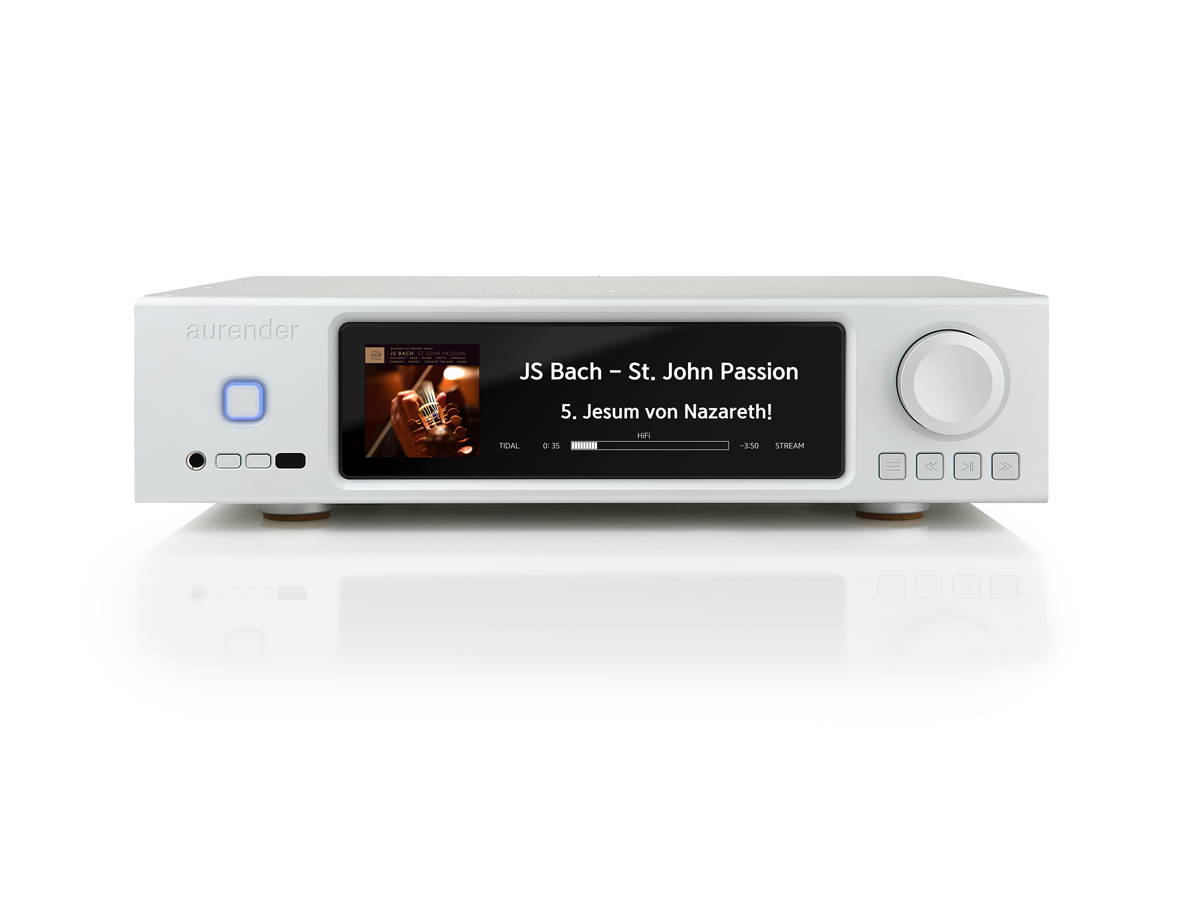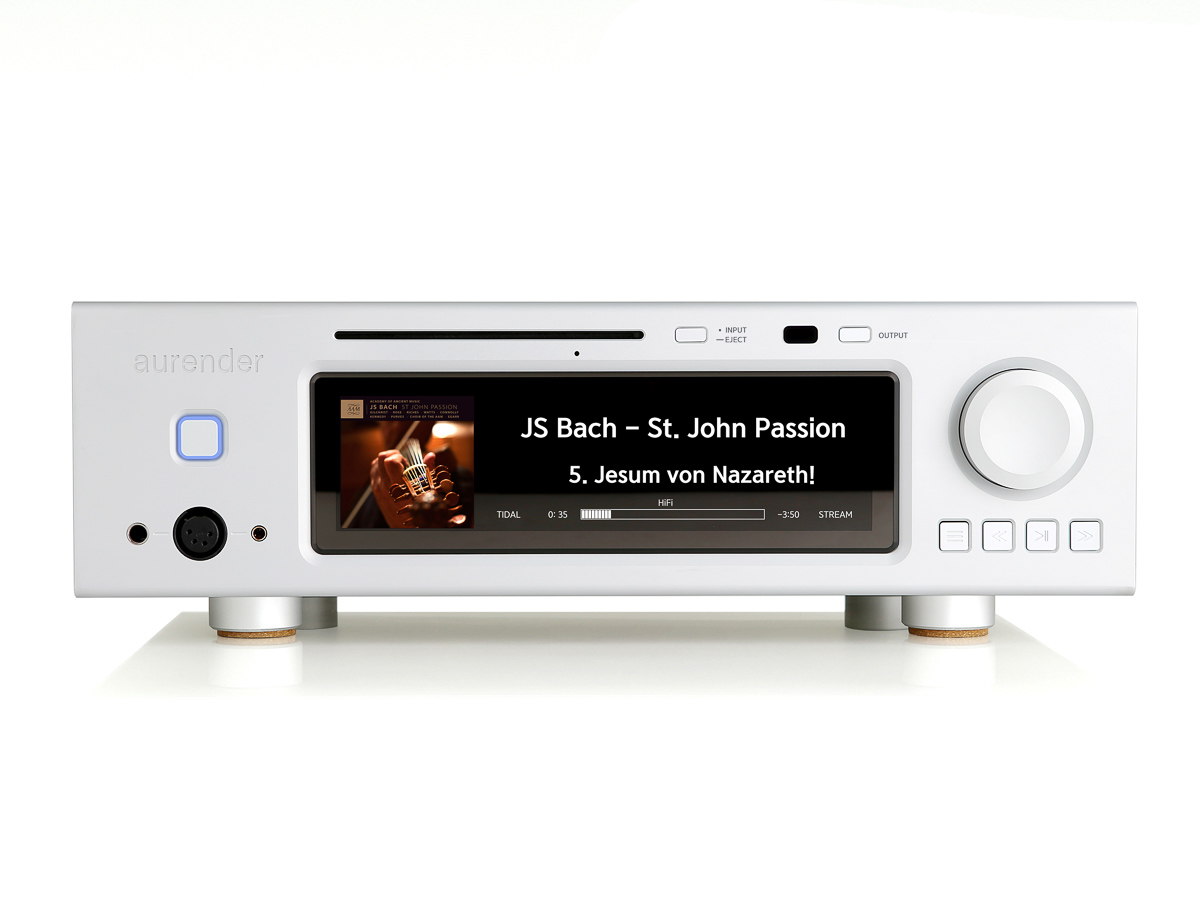 Front panel
Lighted square power button
Headphone outputs (4-pin XLR balanced, 4.4mm balanced, 6.5mm unbalanced on the A30; 1/4-inch headphone jack on the A20)
Volume knob
8.8-inch wide IPS LCD display
TEAC slot-in CD ROM (A30 only)
Input selection (doubles as eject on A30)
Output selection
Menu & playback buttons
Rear panel
Dual mono analog outputs
Digital inputs: 1x RCA SPDIF, 1x BNC SPDIF, 2x TOSLINK
2x USB 3.0
Double isolated LAN
Audio USB 2.0
Rhodium-plated AC inlet
2 trays for 2.5-inch SSD/HDD (A20 only)
Rhodium-plated AC inlet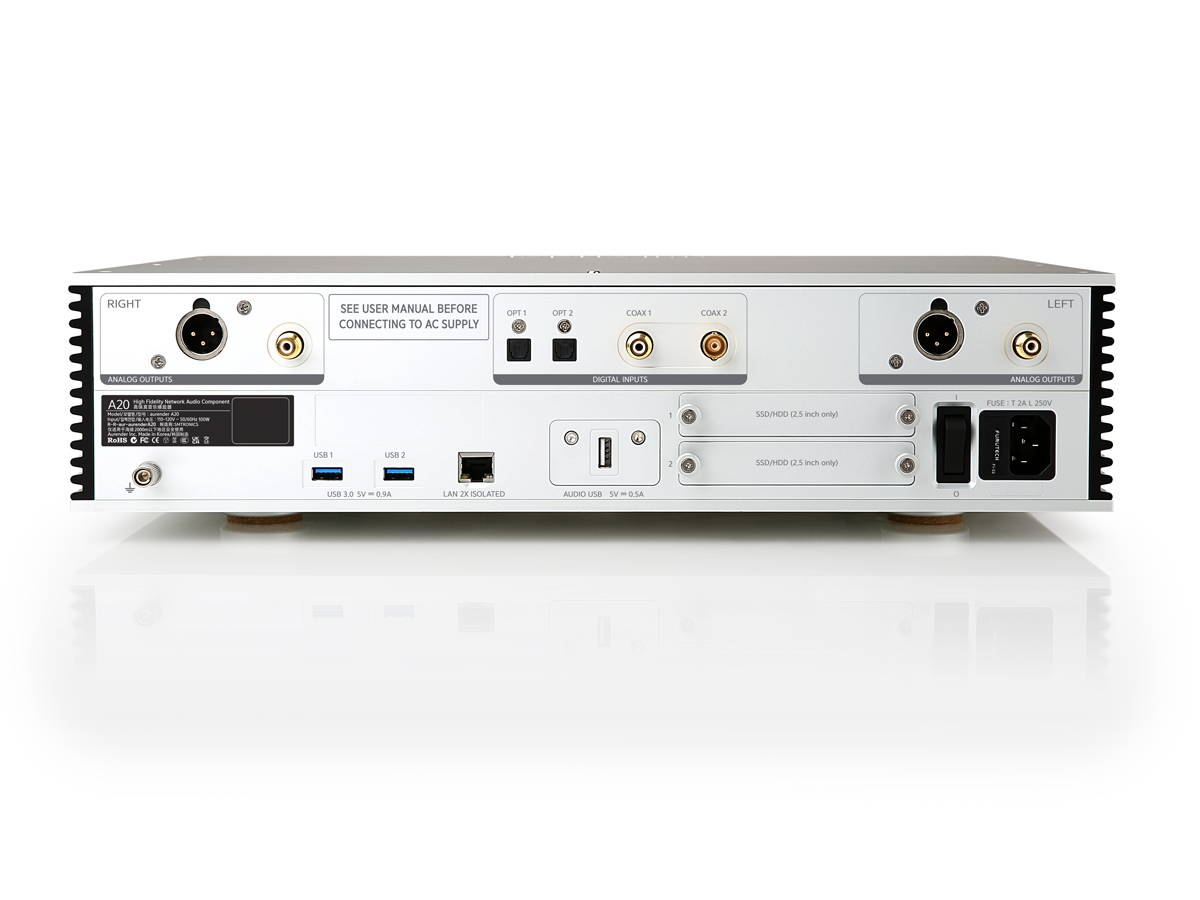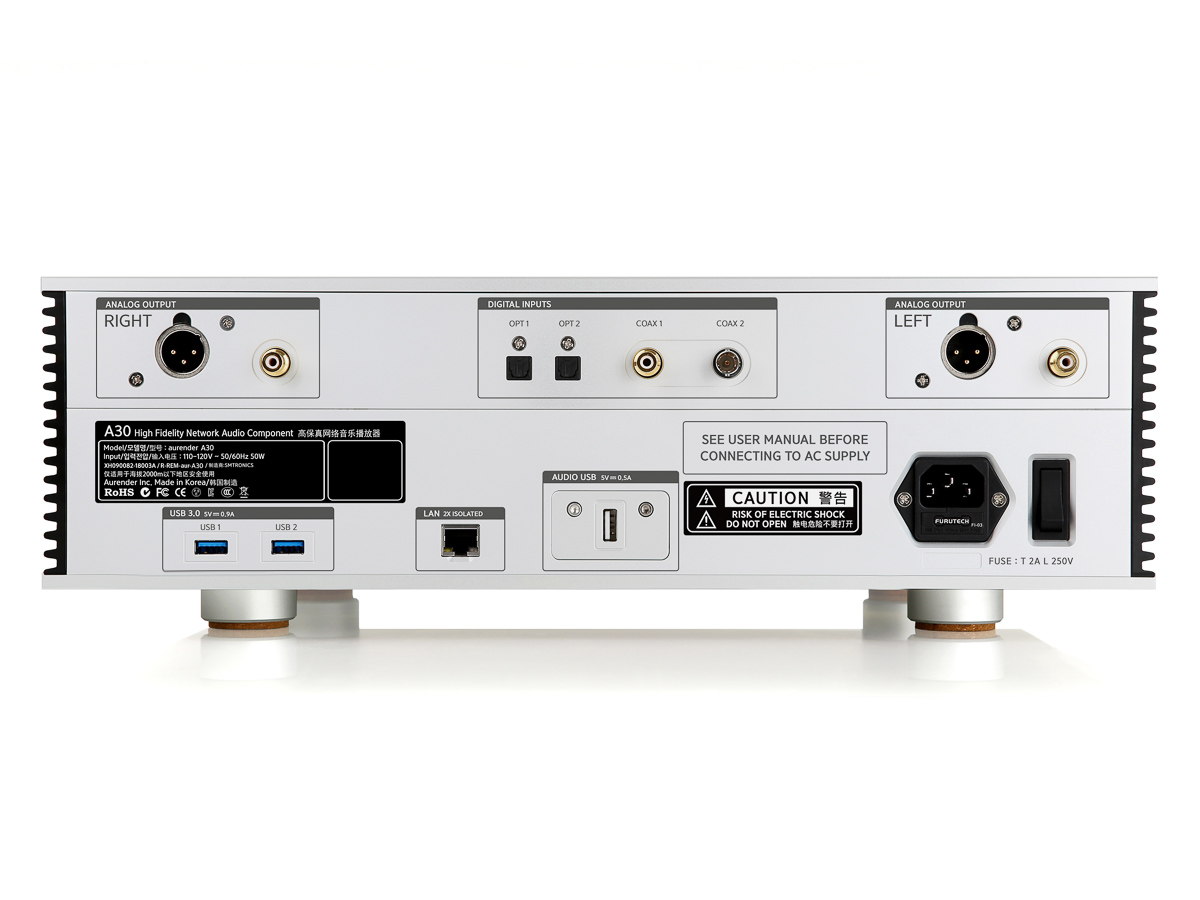 SSD caching is a great feature that Aurender has implemented into all of its servers. It's essentially a way to preserve system resources during music playback.
Your music files are stored on spinning hard disc drives (HDD), but playback occurs from a solid state drive (SSD). This method allows for the HDD to only be concerned with loading content onto the SSD for playback. When you add content to your queue via the Aurender Conductor app, that content is immediately cached to the SSD. The spinning drives go to sleep, easing the use of system resources. The caching drive does error correction, re-clocking, jitter correction, etc., and sends the content to the DAC. This works for music you've ripped and saved to the server, but also music that you stream from services. You've basically putting a brick wall behind any kind of interference that happens before it gets to the DAC.
With high-resolution streaming becoming the norm for many audiophiles, the need for hard drive storage has lessened. Aurender developed a solution that satisfies the needs of both the file collector and the streaming enthusiast: optional storage. Some Aurender models come with internal storage, while others allow you to add storage (traditional hard drive or solid state drive) to best meet your budget and intended use. The A30 has an internal 3.5-inch, 10TB HDD. The A20 has two pull-out trays for 2.5-inch HDD or SSD Drive (user installed). Now, the best audio performance occurs when music is stored on Aurender's internal drive. However, the Aurender platform is also capable of seamlessly integrating content stored on a NAS, external USB hard drive, or thumb drive. This essentially gives you limitless storage options.
Integrated Dual-Mono Full Decoder MQA DAC with Fully Discrete Linear Power Supplies
The DAC in the A30 and A20 is a 768kHz/32bit dual-mono DAC that was designed around the flagship AKM 4497 DAC chipset. The DAC includes full MQA Decoder technology, allowing you to play back MQA audio files and streams. There's also a streamer; TIDAL and Qobuz are among default options during setup. You can add other services via the Aurender Conductor app.
Support for All High-Resolution Formats
All major codecs are supported: PCM up to 786kHz/32-bit. DSD up to 256 DoP. Native DSD up to 512.
FPGA-Based Precision Clock with World-Class Jitter Reduction
The precision clock generation system incorporates Field-Programmable Gate Arrays (FPGA) with a sub 100fs jitter-reducing clock generator that precisely times digital audio data transmissions and minimizes jitter to below negligible levels.
The A30 can be paired with an Acronova Nimbie USB Plus that can load and rip 100 CDs consecutively for curating large CD libraries. Now, you can still use the Nimbie for CD ripping with the A20. You'll have to connect it to your computer and use a program like JRiver or Media Monkey, and then you can copy your files over to the Aurender. The Nimbie is available for rent for Moon Audio's Aurender customers.
CD ripping, front panel illumination, buttons, and other background functions are disabled to conserve system resources for the best possible sound quality.
Flexible Volume Adjustment
When used as a preamplifier, volume on the A20 and A30 can be adjusted from three locations: the front panel rotary control, phone or tablet app, and supplied IR remote control. When used with a preamplifier, the variable output can be set to fixed direct output in settings.
Linear Power Supply for Ultra-Low Noise Floor with Integrated UPS
A full-linear power supply and extensive shielding prevent noise from being delivered to sensitive DACs for the best sound reproduction. Four discrete toroidal transformers power the server system, digital output and dual DACs respectively. This power supply comes with a "super capacitor-based" uninterruptible power supply (UPS) for stabilizing the A20 and A30 under an abrupt power outage condition.
Upsampling of non-DSD files to 705.6/768kHz to the analog outputs. You can also choose PCM audio to reach the DAC without alteration and allow the DAC to perform its own upsampling.
7 Adjustable Digital Filters
The parameters of the digital and analog filters can be adjusted by the user for fine-tuning the sound to best compliment the audio system your A30 or A20 is used in. There is a factory default filter setting that can be selected. MQA content requires a filter setting that cannot be changed as it is fixed for the MQA decoding process.
You've got your choice of seven digital filters:
Sharp roll-off

Slow roll-off

Short delay/sharp roll-of (default)

Short delay/slow roll-off

Low dispersion/short delay

Super slow roll-off 1

Super slow roll-off 2
The first five offer a trade-off between pre- and post ringing for greater or lesser stopband rejection and treble extension.
5 Adjustable Analog Filters
For analog (aka DAC) filters, you've got:
Current mode (default is "less"; there's also max, medium, and min)

High sound default is "on")

Heavy load (default is "on")
Aurender Conductor App and Aurender A30 Manager App
While you can control the A30 and the A20 via their front panels or by remote control, I'd say the best experience happens via the Aurender Conductor app. Aurender is one of the few hardware companies that have done a great job of providing a well-thought-out and powerful control app for your music library. After all, the way you browse for and catalog your music is part of the experience.
Available for iOS and Android, the app incorporates the whole experience of browsing for and discovering new music and ensures easy access and swift browsing of your file-based or streaming music. Conductor delivers hi-res music from your own internally stored music library or from a subscription streaming service like TIDAL or Qobuz, both of which are embedded in the app. You can save recordings that you discover while streaming, and when you create a music playlist in Conductor, it will look like everything is coming from one integrated library. And it's easy to add/edit/remove content from your library.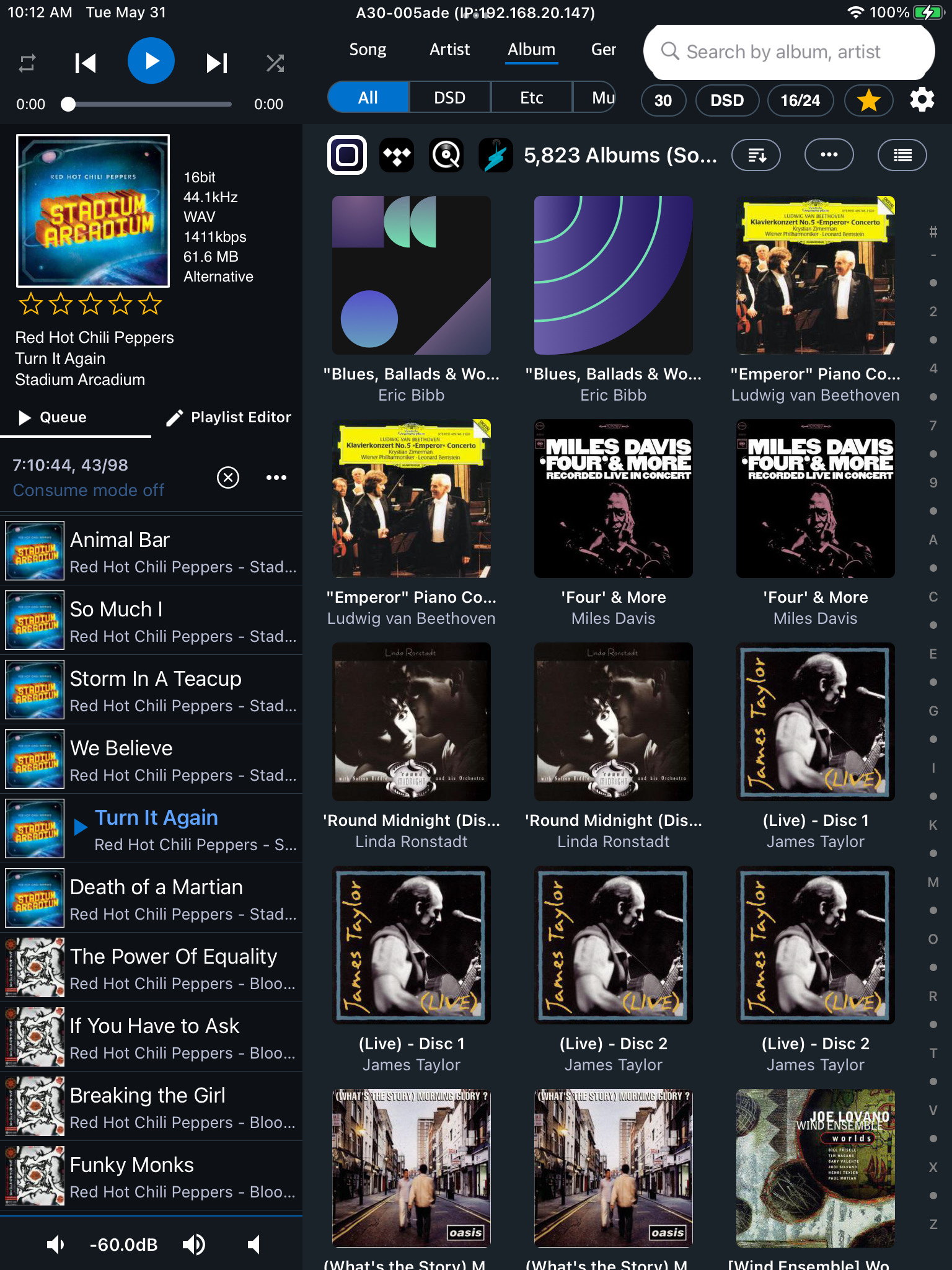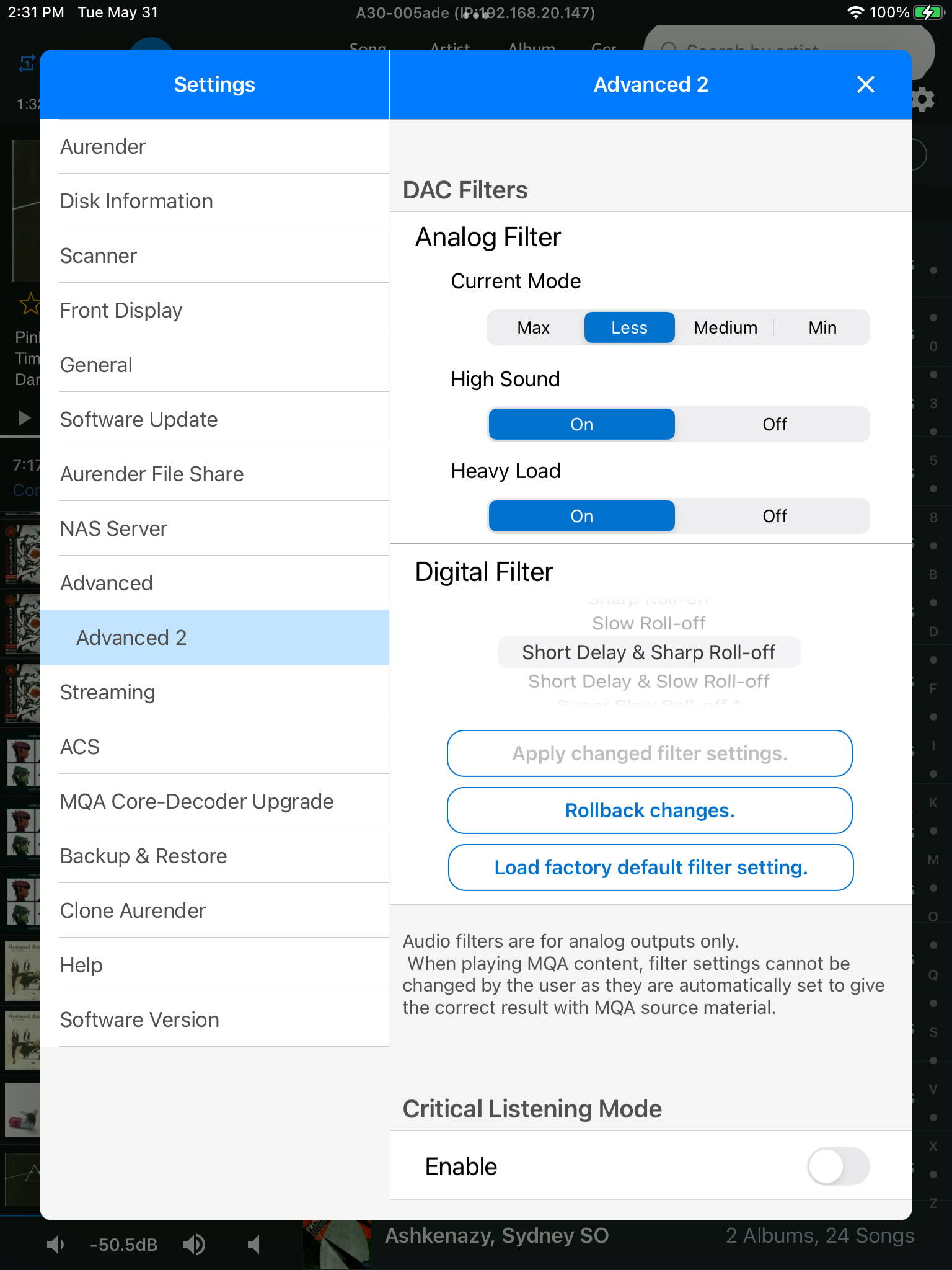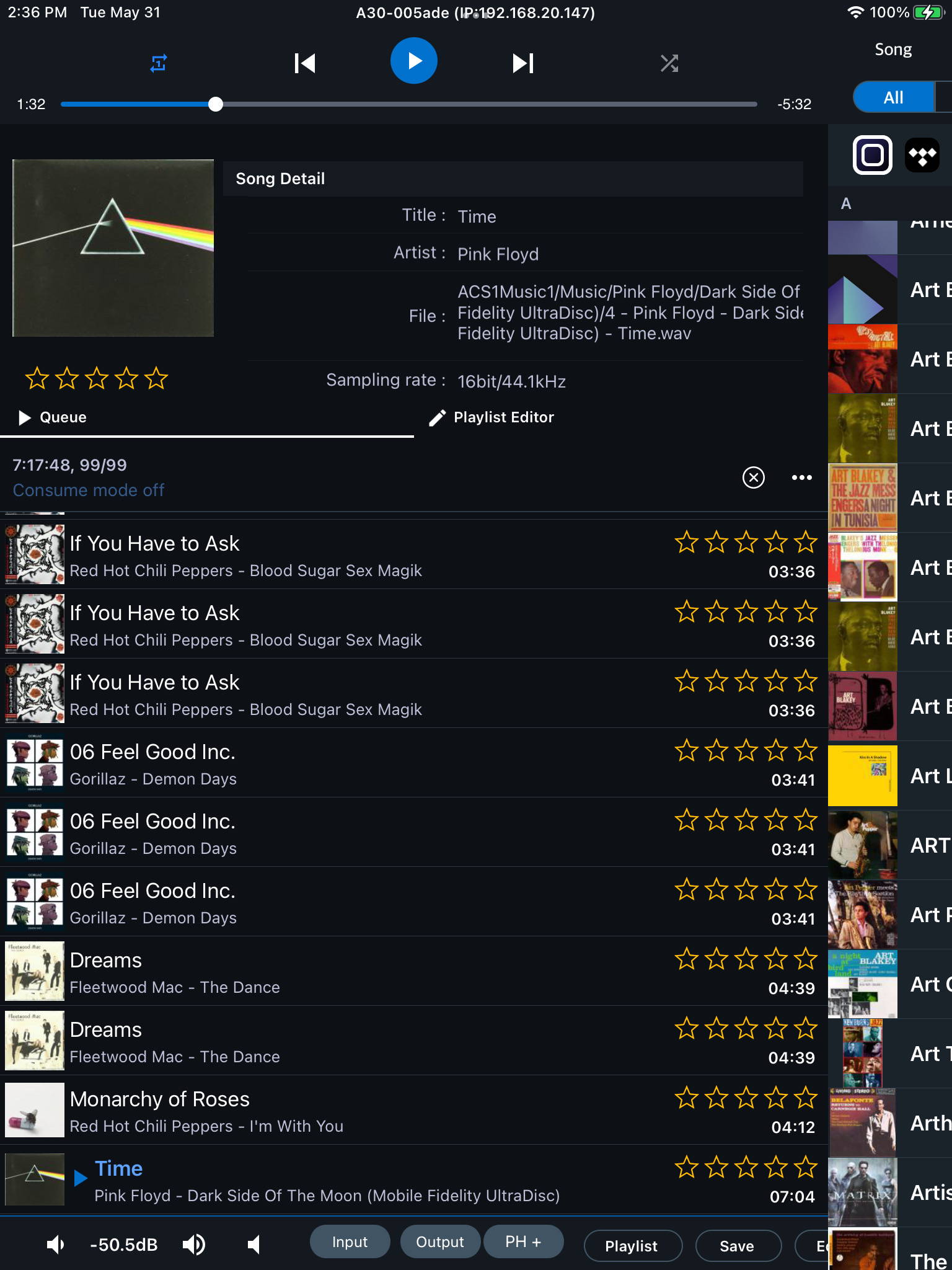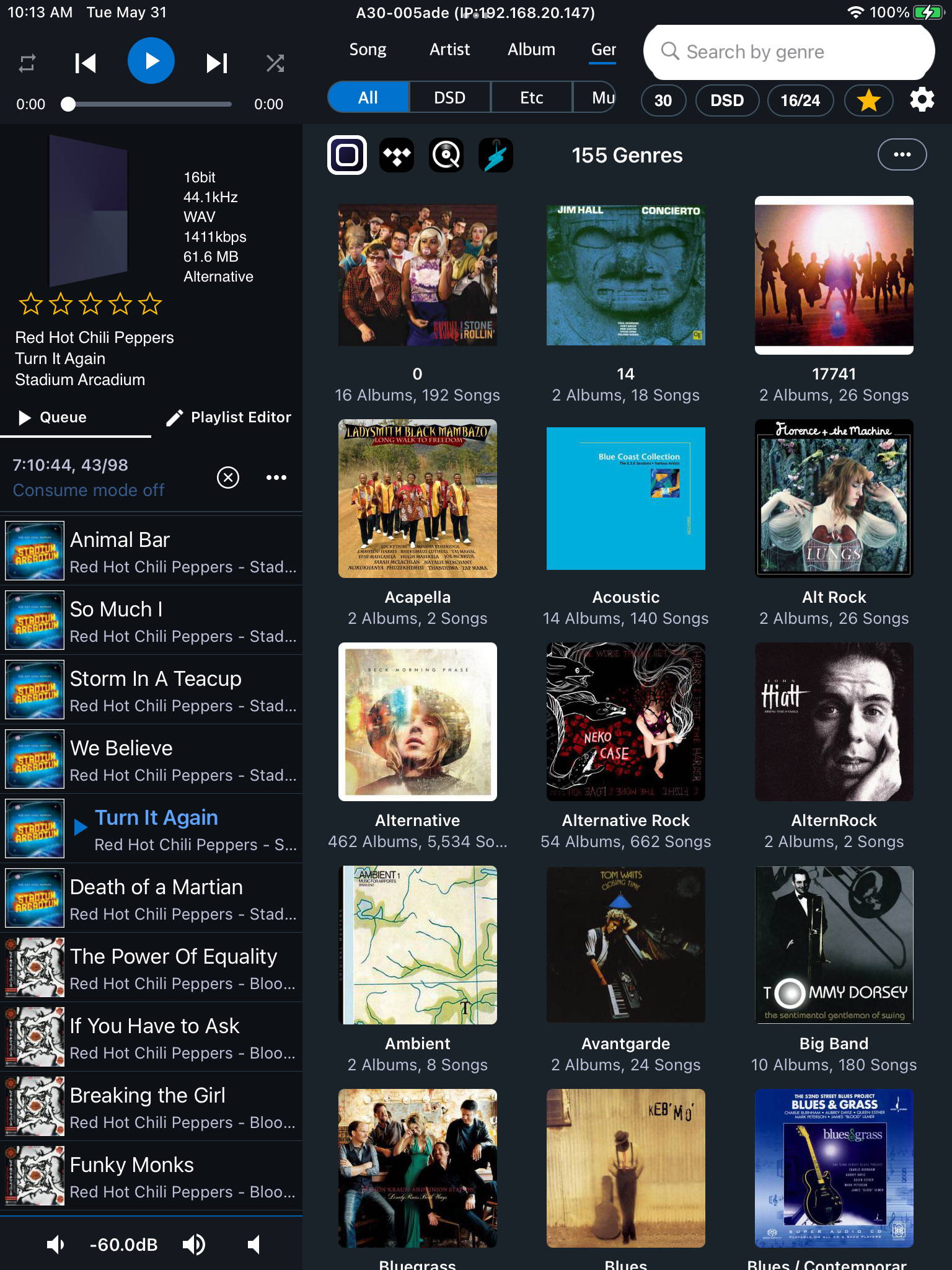 Aurender's playback engine operates on a "play queue" basis. When you select a song or group of songs to play, those files get cached to the internal SSD for best audio performance. To add a song to the queue, simply tap on its name. It will be added to your queue according to the "song selection default behavior" settings which you can set under "general" in the Conductor app settings menu. One thing I couldn't immediately figure out how to do was to play a full album. To add and play a full album, you can press and hold on the album thumbnail and then select the desired playback behavior. (Hint: The Aurender website has a bunch of helpful video clips to guide you through the app!)
In addition, the A30 has the A30 Manager App. This app is used to configure all system settings, including CD ripping preferences and behaviors. Smart Copy, Move, Delete, Editing, and Duplicate Checker are some of the library-management software-based tools provided, allowing you to organize your music library the way you want.
A really nice perk with Aurender is remote support technical assistance. You can send a remote support request through the Conductor app. If you experience a glitch in your server, you can put your Aurender into maintenance mode. Then, a technician will go in and troubleshoot. This is a premium service that comes standard with any Aurender product.
I'd be remiss if I didn't mention Roon, since many Moon Audio customers ask us if Aurender servers are Roon Ready. The answer is no. Aurender is a closed ecosystem, similar to Apple, and will not integrate with outside software. Many people enjoy using Roon for its rich metadata and music discovery features, and I am one of them. However, I also enjoy the Conductor app, and I think it's simpler to set up and navigate.
How to Choose Your Music Streaming Ecosystem: Aurender vs. Roon
There are many stops along the spectrum of sound. To my ears, the Aurender A30 and A20 are very much linear and neutral sounding. The sound is clear, uncolored, and highly detailed. It's a pleasing, straightforward sound, neither warm nor bassy nor bright. I did my audio testing with the A30, but remember that the A20 has identical sound.
When I first started listening, I was waiting for that immediate "wow" factor. But this is a sound signature that isn't going to grab me immediately. That's a "me" thing, as I'm always going to be wooed by warmth. But while the "wow" didn't come right away, the appreciation built over time. After several hours of listening, I almost felt embarrassed by my initial underwhelm. I very much grew to appreciate the honest, unadulterated sound.
A real highlight for me was listening to Tracy Chapman's "Fast Car" on the Focal Stellia headphones with a Black Dragon Premium Cable. Everything about this song sounded just right. You know how sometimes you listen to a song you've known forever and suddenly you like it so much more than you ever remember liking it? That happened, and so I immediately put it on repeat and listened several more times. The music had so much depth to it; Chapman's voice had so much clarity. As amazing as the guitar strums sounded, it was as if the space between each strum had a character all its own, if that makes sense. This was a big part of my experience with these Aurenders - noticing these types of things. This is the difference between "critical listening" and "getting lost in the music" listening. A warmer, lusher sound might have me closing my eyes and daydreaming. The Aurender A30 and A20 have the sort of sound that makes you take notice of everything. If that's your style, the A30 and A20 will appeal to you.
I went back and listened to "Fast Car" with a different headphone – the Meze Empyrean paired with a Silver Dragon Premium Cable. The Empyrean has a warm and lush sound and a notoriously wide soundstage. The song sounded a little warmer, weightier, and "bigger." The Stellia's soundstage is taller than it is wide, whereas the Empyrean has more width. That being said, the Aurender's sound was very much discernible with both headphone experiences: clean, detailed.
I would say that bass on the Aurender A30 and A20 is defined by, well, its definition. It's not overly assertive or rumbly, but it's textured and plenty satisfying. Mids are quite clear, with vocals always feeling front and center. Highs are peppy and detailed, but not shrill. A good test of "shrillness" is the alarm bell sequence at the beginning of Pink Floyd's "Time." If I wince, the sound is too bright. I did not wince here.
Sound summary: Linear, neutral, clean, detailed.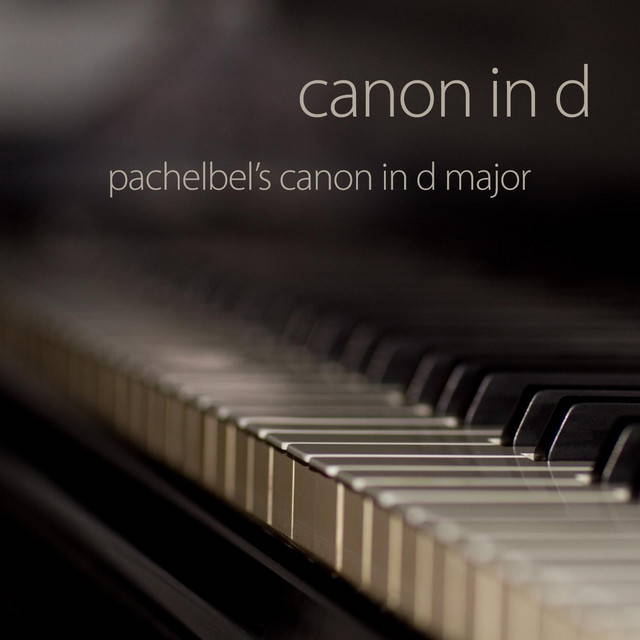 "Canon in D" (Johann Pachelbel)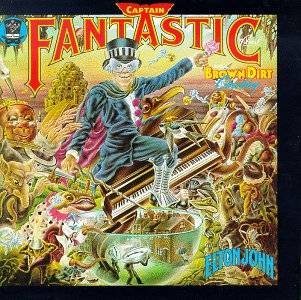 "Captain Fantastic and the Brown Dirt Cowboy" (Elton John)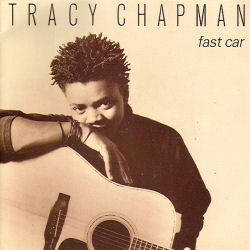 "Fast Car" (Tracy Chapman)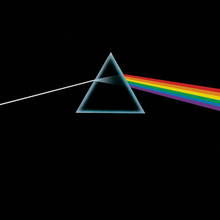 The Dragon Cable Experience
High-quality audio cables are a must for your Aurender. Generally, stock audio cables are manufactured with subpar materials, metals with impurities, poor geometries, and an overabundance of layers to make them look and feel like a fire hose. Inconsistency and lack of quality control in stock cables can lead to poor sound quality and a veiled sound vs. what the musician intended for you to hear. Dragon cables are handcrafted to the highest standards and made to order according to your specific needs. At Moon Audio, we create custom cables using the highest quality UP-OCC silver or copper conductors that can be manufactured. UP-OCC metals are void of impurities and are optimized for signal transfer and sound quality. I recommend these top-of-the-line Dragon cables for your Aurender A30 or A20:
Silver Dragon Sound Signature: The Silver Dragon is Moon Audio's original cable. Silver strands clarify instrument separation, increase the soundstage, and find "hidden" middle and high-frequency sounds. Transients appear more cohesive and the bass tighter for a more controlled sound. The detail and clarity of the Silver Dragon make it a perfect match for classical, jazz and other music genres with many nuanced instruments.
Black Dragon Sound Signature: The Black Dragon is warm and smooth with a musical presentation. Copper strands enhance the body, shape, and immediacy of the music. The detail and expansiveness of the Black Dragon make it a flexible fit where a broad range of musical genres are played. It can also improve bass frequencies on bass-light audio components.
The Aurender A30 and A20 are great options for audiophiles seeking a digital hub that covers both headphone and loudspeaker listening. This is a company that gets it right in all areas: sound quality, hardware, software, and customer service.
Choose the A30 if you are looking for integrated CD ripping functionality that will enable you to digitize your physical collection. Choose the A20 if your music collection is already digitized. Either way, you'll get a preamp, DAC, headphone amplifier, and music streamer in one.
Both Aurenders have a sound signature that is honest, accurate, neutral, and detailed. This makes them great for critical listening and for genres with lots of complexity and nuance. Jazz, classical, acoustic music, and vocal music will shine. At $18,000 for the A30 and $14,000 for the A20, these are definitely investment pieces, but they are built to last. Pair that with the excellent Aurender Conductor App along with remote technical support, and you've got an audiophile win-win.
Quick start manual

Remote (use with speakers or to change the volume on your headphones)

USB thumb drive



Aurender A30 vs. A20: Music Server Review & Comparison

Music storage (A30 only): 10 TB -3.5" 8TB HDD x 1
Compatible formats: DSD (DSF, DFF), WAV, FLAC, AIFF, ALAC, M4A, APE and others
Bits and sample rates: PCM up to 768kHz/32bit. DSD up to 256 DoP. Native DSD up to 512 (internal play only)
HDD for music library storage: Tray for User Installation 2 x SSD or 2.5 inch HDD
SSD for system and cache: 480G M.2 NVMe
DAC chip: AKM AK4497 Dual-Mono Design
Power supply: Full linear
Display: 8.8" 1920 x 480 WIDE IPS LCD
Digital audio inputs: 1 x RCA SPDIF, 1 x BNC SPDIF, 2 x TOSLINK up to 24-bit / 192 kHz
Data USB: 2 x USB 3.0 ( Rear )
Audio dedicated USB port: 1 x USB AUDIO Class 2.0
Ethernet: 1 x Double-Isolated Gigabit Ethernet
Volume control: -90 dB - 0dB, 0.5 dB step, Velocity Sensitive Operation Variable output control from front panel rotary knob, Conductor App and supplied IR remote control when used as preamplifier
CD ripping (A30 only): TEAC Slot-Load CD-ROM Drive. Automated ripping support for Acronova Nimbie Autoloader via USB 3.0 port (optional)
Clock structure: Revised Full Differential System
Headphone outputs: A30: 1 x 4pin XLR balanced, 1 x 4.4mm balanced, 1 x 6.5mm unbalanced; A20: 1x 1/4-inch jack
Main clock accuracy: OCXO Based Precision Jitter Reducing Clock Generator
CPU: Intel N4200 Quad Core
Internal UPS: Super Capacitor Based Internal UPS
USB audio output: PCM: Up to 32bit / 768kHz; DSD: DoP Up to 256, Native DSD Up to 512
Analog audio outputs: Unbalanced (RCA): 2 (2.7) Vrms, Balanced (XLR): 4 (5.4) Vrms
Software: Aurender Conductor App
Dimensions: Unit with foot : 430 x 111 x 355 mm / 16.9 x 4.4 x 14.0 inch; Unit only: 430 x 98 x 355 mm / 16.9 x 3.9 x 14.0 inch
Weight: 37.5 lbs. / 17 Kg
---