Introduction to the Bluesound NODE
The Bluesound Node unlocks the world of hi-res music streaming and multi-room audio to create a modern addition to existing HiFi systems or your favorite set of powered speakers. The Bluesound Node is an all in one Multi-Room HI-Res wireless music streamer that reinvents your HIFI systems and equipment. The Node sets your music free by providing multiple analog and digital input/output options and allows you to connect to your high-res music streaming apps like Spotify, Tidal and Amazon Music. It gives you the ability to fill your home with music through Bluetooth or Home Network connection and the BluOS controller app. Change the way you experience music in an impactful and innovative way with the Bluesound Node.
Moon-Audio is thrilled to offer our customers the Bluesound Node which we added to our catalog for a number of reasons. The Bluesound Node is a very basic, easy to understand streaming system for beginners that allows our customers to begin developing their own quality sound system for their home. Additionally, the Node is ROON compatible and allows all of your Roon certified equipment to work with one another seamlessly. We hope this document helps you enjoy your purchase for many years to come.
Specs & Features of the Node
The Bluesound Node is a wireless music streamer that supports multiple file formats such as MP3, WMA, OPUS and High-Res formats including FLAC, WAV and AIFF. The Node has a bit depth of 16 - 24, performs at a single number rating of 110dBA, operates with Microsoft and Apple operating systems and integrates with Control4, RTI, iPORT, ELAN, Airplay 2 and others.
Connect to any existing stereo amplifier, AV receiver, or powered audio system.
Powered by state of the art Quad-Core 1.8ghz ARM® Cortex™ A53 processor and a 32-bit/384khz premium DAC design.
HDMI eARC connectivity, digital, optical and analog input/output options, with wired and wireless headphone and subwoofer outputs.
Hi-res audio streaming with access to Internet radio stations, cloud music services, and your own local music library.
Dual band Wi-Fi, Gigabit Ethernet and support for 2-way Bluetooth aptX HD Bluetooth ensures music playback without interruption.
Create and control a seamless multi-room system with the intuitive BluOS Controller app.
Top panel touch controls with presets.
IR input and remote learning capability – Control it with the optional Bluesound RC1 Remote Controller.
Connect with the BluVoice skill in the Alexa app and use Amazon's Alexa voice assistant to control Players around the home.
AirPlay 2 lets you play music or podcasts from wireless stereo components throughout your house — all in sync.


Node features an audiophile-grade DAC design that not only supports 24-bit/192 kHz audio processing, but also MQA for master quality listening. Along with powerful software features like tone controls and fixed volume output, you can customize your listening preferences in detail.
Bring music into your Node using HDMI eARC, Wi-Fi or Ethernet, Apple AirPlay 2, aptX HD Bluetooth, or USB, to hear audio content from streaming services, TV, and your own music library. Listen to your music through your HiFi system or through wired or wireless headphones, by connecting to the RCA, TOSLINK optical, aptX HD Bluetooth, 3.5mm jack, Apple devices, or other Bluesound or BluOS players.
Bit-perfect music listening can happen away from your HiFi system with the Node as your multi-room hub. The award-winning BluOS platform is the only platform in the world that can support up to 64 players, all streaming in 24-bit hi-res audio. With a growing stable of brands and devices being added to the BluOS platform, the Node opens up a world of hi-res listening options throughout your home that no other player can.
Quick access controls like play/pause, track skipping, and volume are available as touch panel controls at the top of the Node, via voice assistants like Siri, Alexa, or Google Voice, or by programming your own IR remote or the optional Bluesound RC1. Advanced controls, including tone controls, subwoofer crossover optimization, and settings to enhance external DAC connections are available in the BluOS Controller app. The Node can also be integrated into a smart home with full-feature drivers for Lutron, Elan, RTI, Crestron, and other popular home control systems.
Seamlessly connect the Node to multiple Bluesound speakers throughout the home with the BluOS Controller app and create an intuitive multi-room music system unlike any other.
---
Preparing for configuration of the Node
Configuring your Bluesound Node requires the following
:
A Wifi or Wired Network connection in your home

One home power outlet

The FREE BluOS mobile app found in both Apple and Android App stores

The Bluesound Windows/MacOS desktop system that allows for advanced controlling of your Bluesound Node
---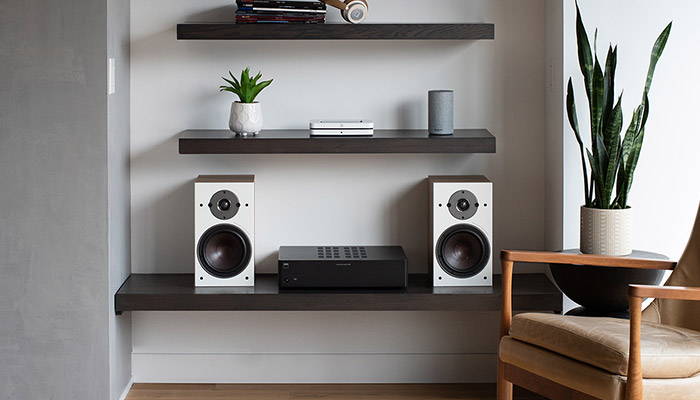 Setup & Configuration of the Node
Setting up and configuring your Bluesound Node is an easy 4 step process listed below:
1: Connect your Bluesound Node either via analog or digital to your existing system.
2: Plug the power cord in the back of the Node on the right side to your power source and watch for the LED on the front side of the Node to turn green.
3: Download the BluOS app to your Apple or Android smartphone or tablet.
4: Open up the BluOS app on your phone or tablet and follow the in-app instructions depicted in the images below to complete your setup of the Bluesound Node
---
How to Optimize Digital Transfer of your Node
To get the most out of your Bluesound Node, we suggest you use one of our Dragon audio cables. The cables will improve and increase the details and soundstage of your music, along with providing a natural dB boost. The Black Dragon USB cable is built and optimized to transfer digital audio information from your PC, portable iDevice or network streamer to an outboard USB Digital to Analog Converter (DAC) allowing you to enjoy your computer based audio in a home or portable audio system's environment. It utilizes our single crystal UP-OCC copper construction to provide you with the best possible digital transmission.
The Node transforms your music listening into an immersive experience that allows you to form an emotional and physical connection to your music. It is a system that centralizes your music, streams it beautifully, performs seamlessly and is easy to understand and operate. The Bluesound Node will give you a whole new way to experience music. By using Nucleus or Nucleus+, Roon manages all your music – on hard drives, NAS, and streaming content – and allows you to play it on all the audio devices around your home. The Nucleus is the best way to run Roon at any price.
---
---
---
Frequently Asked Questions about the Bluesound Node
How do I connect my Bluesound Node to my wireless router?
To connect your Node, place your Node into a centralized location of your home and plug into a power outlet. Download the BluOs mobile app for Apple or Android, as well as the desktop application via https://www.bluesound.com/downloads/. Once downloaded, select your player via the menu option that appears on your phone or computer and click to connect.
Does the Node have a standby mode?
Yes, the Node is actually always in standby mode. Just connect and play through your BluOS desktop or mobile application.
Is the Bluesound Node a ROON compatible device?
Yes, the Bluesound Node is a ROON compatible device. With Bluesound's most recent firmware update, the Node is now an automatically Roon Ready capable device. Your Roon connect option is found where your streaming options are found towards the bottom. Many customers choose to connect their Node endpoints to their Roon Nucleus or Nucleus Plus streaming music servers.
What cloud services and internet radio stations aren't directly supported by the Node?
At this time, the Bluesound Node doesn't support a direct Pandora Radio or Apple Music connection, but the Apple Airplay 2 capability of the Bluesound Node will allow for playback of both apps. The Node DOES support direct connection to popular apps such as Spotify, Amazon Music and iHeartRadio.
Can I use an external DAC with my Bluesound Node?
While the Node does have a built-in DAC, the Node also supports the use of an external DAC. If you are using an external DAC which is MQA certified with your BluOS device you can choose to have the external DAC handle MQA unfolding rather than your BluOS device. To enable this setting, you will need to have Output level fixed enabled as well.
We used the Chord MOJO Headphone Amp/Dac as an upgrade option for either headphones or to use as a straight Dac into a home audio system. The Mojo also has a Line out mode that will enable you to you can use the Mojo as simply just a Dac. This is a great way to upgrade the sound for around the same price point value as the Node. If you want to take it to the next level, look at the Chord Qutest Dac as a dedicated Dac for the Node. It's easy to build upon and improve the Node in your system.
Does the Bluesound Node come with a remote control?
No and a remote is not available for purchase at this time. However, the BluOS app can act similarly to a remote control, thus your phone or tablet becomes the remote.
Which is better? A wired connection or a wireless connection? 
The Bluesound Node allows you to use and implement both options with your system. However, at Moon Audio we highly recommend that you use a wired connection over a wireless one due to a wired connection's reliability, overall performance and improved sound quality. Bluesound also recommends using a wired connection over wireless connection due to the reliability of a wired connection and the lack of signal sending required to multiple wireless devices.
How do I Connect Cloud Services and Internet Radio Stations in the BluOS app?
To connect your cloud services and internet radio stations to your Node reference the instructions and pictures below:
Open the Bluesound App and click the 3 horizontal lines in the left hand corner of your screen

Scroll to Music Services and select the service/station you'd like to download and connect with

Follow the service/station prompts for connection and wait for it to become a shortcut in your BluOS menu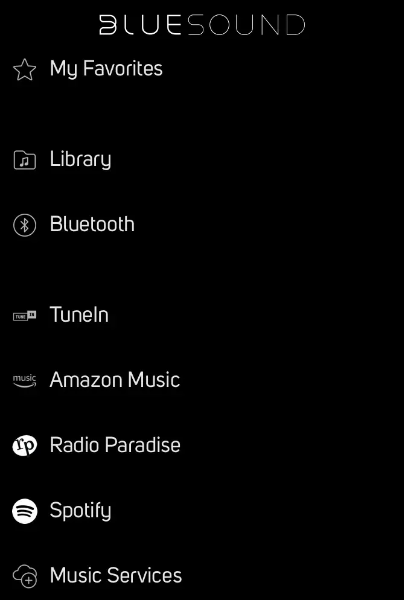 How do I play DSD files in BluOS?
Initial playback of DSD files will require downloading the BluOS app for Windows or MacOS. To enable and play your DSD files, go to settings, select playback and switch the Enable DSD File Playback option from off to on by clicking the selector on the right hand side of the page.
Who and how do I contact if I am having a mechanical problem with my Node?
If you are experiencing mechanical difficulties, issues or problems with your Bluesound Node, you can contact Bluesound via E-Mail and/or phone at the following addresses and numbers below:
E-Mail:

[email protected]

Phone: North America - 1-855 -531-4666

EU - 00 800 53 14 66 66
How do I Connect my other Bluetooth Devices to my Node?
Bluetooth devices within your home will be recognized by the BluOS application installed on your smartphone or tablet. Select the device you would like to connect to the Node and allow them to pair. The Node, through the BluOS app, is capable of controlling 16 multiple players in a wireless environment. The Node can then control up to 64 players in a strictly wired environment. Note, a wireless connection is still necessary to run the BluOS app and your Node 2i can be controlled by multiple BluOS apps.
What Supported File Formats are Compatible with the Bluesound Node?
The file formats that are compatible with the Bluesound Node are MP3, AAC, WMA, OGG, WMA-L, ALAC, OPUS and Hi-Res file formats FLAC, MQA, WAV, AIFF.
---
How-To's with the Bluesound Node
How to Perform a Factory Reset of the Node
Please Note: When performing a factory reset, ALL CUSTOMIZATION INCLUDING WI-FI NETWORK CONFIGURATION, FILE SHARES AND SAVED PLAYLISTS WILL BE LOST. YOU WILL HAVE TO RE-CREATE THESE ONCE COMPLETE.
This process is only recommended if your player is not functioning or a firmware upgrade has failed. Contact an authorized Bluesound Customer Representative via the hyperlink here before proceeding with the reset … Below are the steps necessary to perform a factory reset of your Bluesound Node:
Disconnect the player from electrical power.
-If you have a PULSE FLEX with a BP100 Battery Pack, disconnect the battery pack as well
Wait 10 seconds

Reconnect the power

Once the LED turns Red, touch and hold the Play/Pause LED on the touch panel (It will immediately turn Green and then back to Red) - do not let go of the LED

Once the LED turns back to Red, continue to hold the button for 30 seconds

After 30 seconds, the LED will begin to blink red - then release the button
IMPORTANT: Removing your finger from the LED at any time before the LED begins flashing red will cancel the factory reset and leave the player in Upgrade Mode. Just start the steps again to factory reset the player.
How to Update your Bluesound Node
In order to upgrade your Bluesound Node visit the help section of your BluOS app. Select Upgrade Check - Player, allow the app to search for updates. If there is an update available, select the option and follow the guided prompts accordingly on your Windows or MAC system.
How to Set an Alarm with the Node
Open your BluOS controller app with your smartphone or desktop and select settings. and Click on alarms at the top of the menu, add alarm and customize by selecting the time, days and the song you want to be woken up by all in one page. You can also choose to fade in your choice by sliding the fade in button to the right. Review your modifications and then press save on your alarm to complete setup of the alarm option on your Bluesound Node.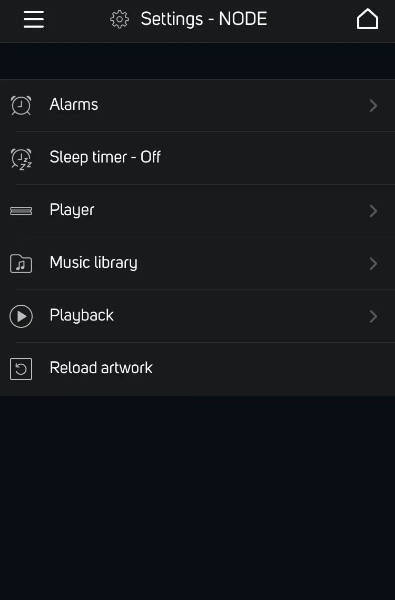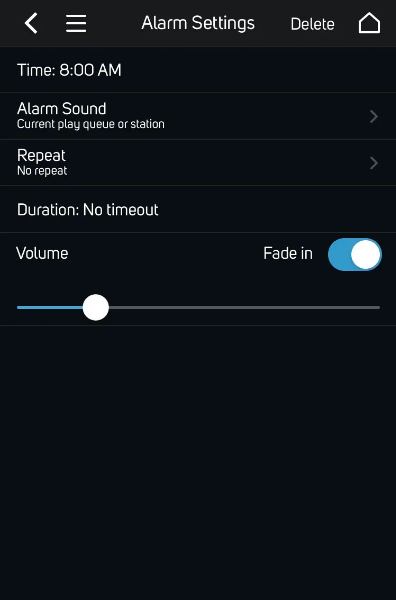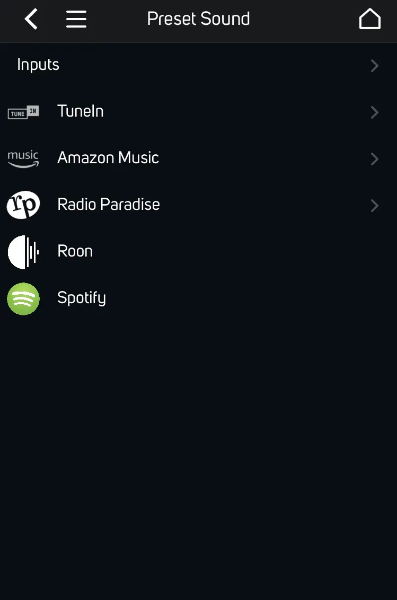 How to make Presets with the Node
To make or add a preset with your Bluesound Node, open your Bluos controller app with your smartphone or desktop and select My Presets at the top of the BluOS menu. Click the Add Preset button that appears in the middle of your app. The Node allows you to create presets from your cloud supported apps such as Spotify and Amazon Music. Create a name for your preset and press the save preset button in the middle of the screen.
How to Submit a Support Request through BluOS
Select the help option at the bottom of the BluOS app. The menu will appear and "Send support request" will be the second listed option in the help menu. Click on the option and a screen will appear to submit all your pertinent information and briefly describe what you need support with concerning your Node. Click the send request button and check the email address that you used for a confirmation email from Bluesound.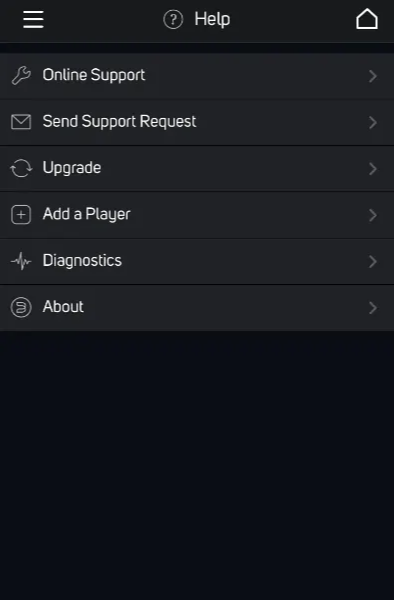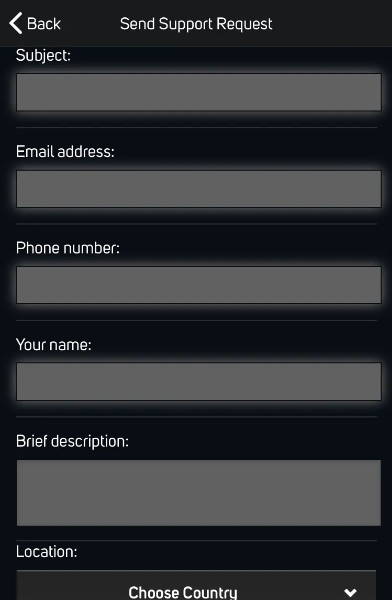 How to Download BluOS for Windows or MAC
In order to download the BluOS app to your Windows or Mac desktop visit the Bluesound website here, go to the support tab at the top of the webpage, and click the downloads option in the dropdown. Scroll down to the desktop apps options and select the download platform that is compatible with your system and follow along with the system's prompts.
To find and use the shortcuts available to you via your Desktop BluOS app, click on the help section of your app and visit the shortcuts tab (5th option in menu) in order to find ways on how to shuffle, repeat, create playlists, raise the volume of your player and more through the convenience of your keyboard.
How to Enable DSD File Playback on the Node
The Bluesound Node is not equipped to playback DSD files immediately. However, you can make your DSD files play back on the Node in a few short steps. To enable your DSD files, go to settings, select playback and switch the Enable DSD File Playback option from off to on by clicking the selector on the right hand side of the page.
Please note: Your Bluesound cannot process the DSD files via the internal Dac, thus it creates a new copy of the original DSD file but in Flac file format. If you have a lot of DSD files make sure you have the audio storage for all the new Flac files it will create or you will run out of storage space.
How to Connect the Amazon Alexa with the Node
In order to connect your Amazon Alexa to your Bluesound Node, select the Music Services tab in your BluOS app menu. Select the appropriate Roon name in your dropdown menu and login accordingly. You will then be redirected back to BluOS.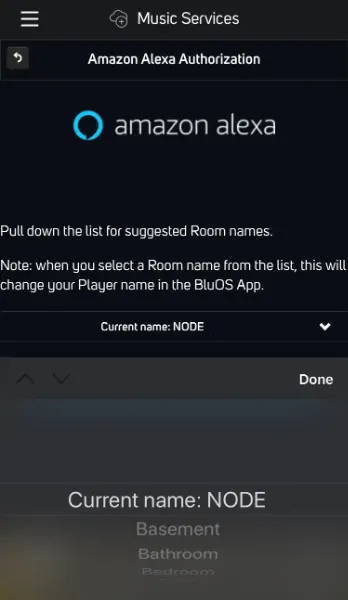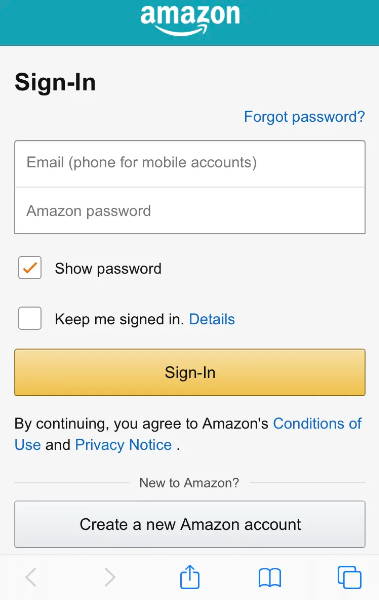 How to Control your Audio Quality and Sound Playback in the BluOS App
To customize and control the way your music sounds on the Bluesound Node, go to the settings tab in the BluOS menu, select player and proceed to the audio tab that appears. The audio menu will then allow you to control tone, select replay gain, monitor outputs and establish volume limits.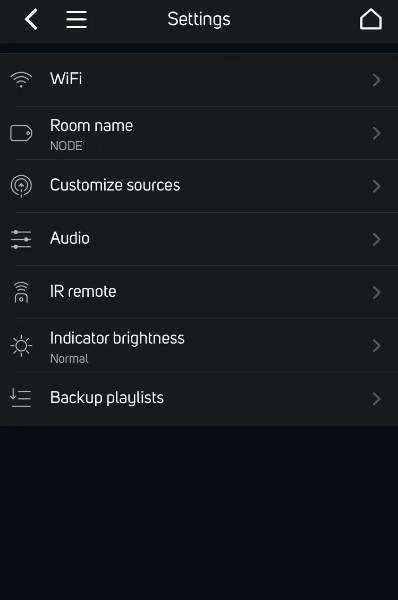 ---

---
The Bluesound Node vs. Node 2i Comparison and Review

A New Generation of Music Streamers
---
---