How To Transfer Files Wirelessly To Your AK DAP
AK File Drop or File Transfer is a newer feature for some of the latest AK players on the market, specifically the SE180, the SR25 MKII and the SP2000T. It allows you to wirelessly drop music files from your PC to your AK player so that they can be accessed locally on your DAP, rather than streaming them like you would using BT Sink. This is a big difference, and also a lot easier to get music to your DAP without having to find a cable, connect it, and drop and drag files, waiting for them to copy, and then safely disconnect from your computer. Essentially you are setting up your DAP as a network drive, which allows you to view and modify file contents remotely.
Note: Astell&Kern's BT Sink and AK File Drop are available on the latest AK DAP products. Use BT Sink when you want to stream music from an external location or device. AK File Drop allows you to use your DAP as a network drive and drag and drop music from your computer to download to your music player wirelessly.
Compatible Astell&Kern Music Players for AK File Drop
---
How to Set Up AK File Drop (Windows)
Step 1: Turn on AK File Drop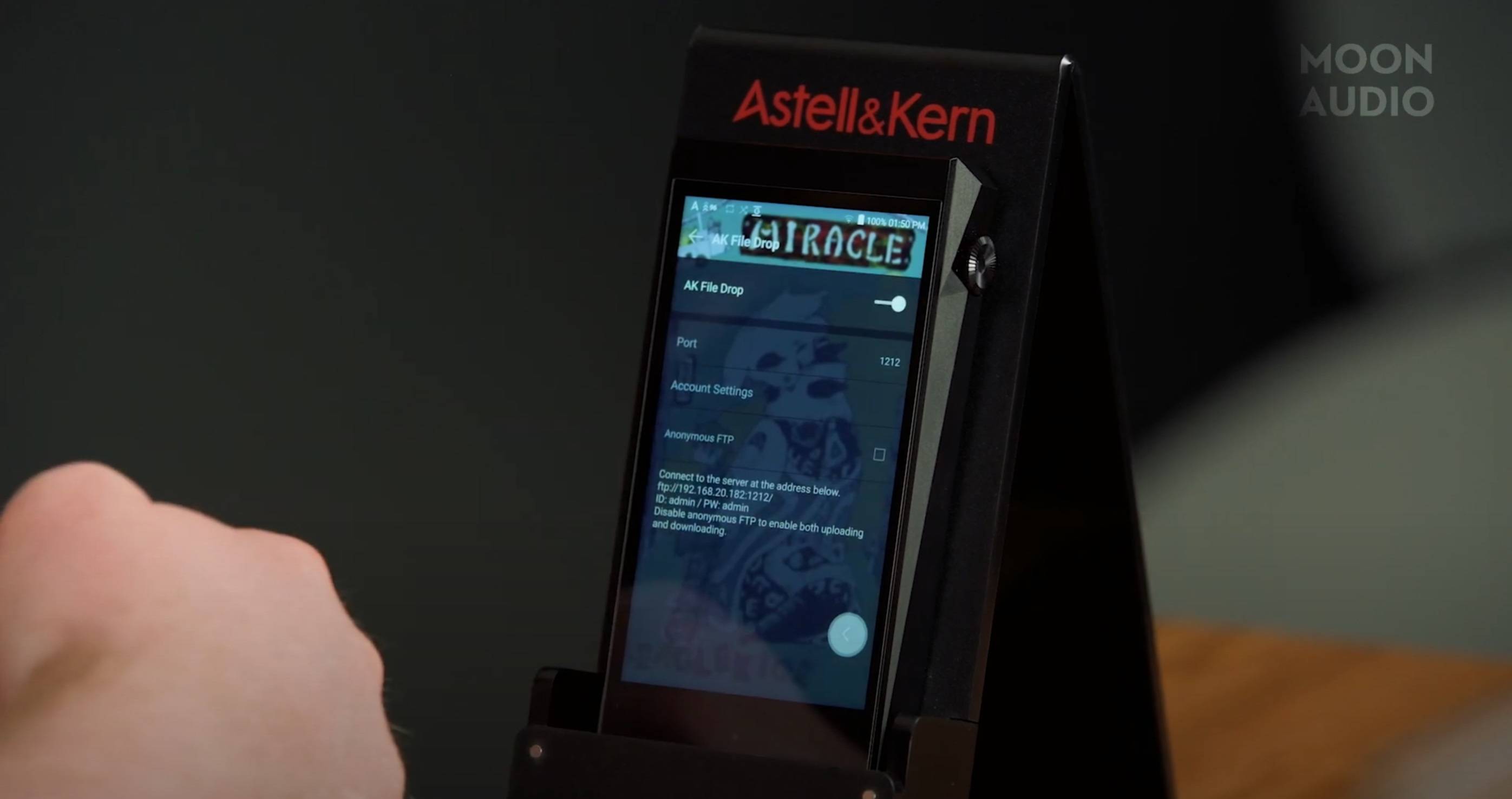 Head to the main settings for your Astell&Kern player. Click on the option for "AK File Drop" and turn it on. Once enabled you'll see connection directions pop up on the screen. Keep this accessible as you'll need them to configure the network address on your computer. *Before continuing, make sure that both your computer and DAP are on the same wireless network.
Step 2: Create New Network Location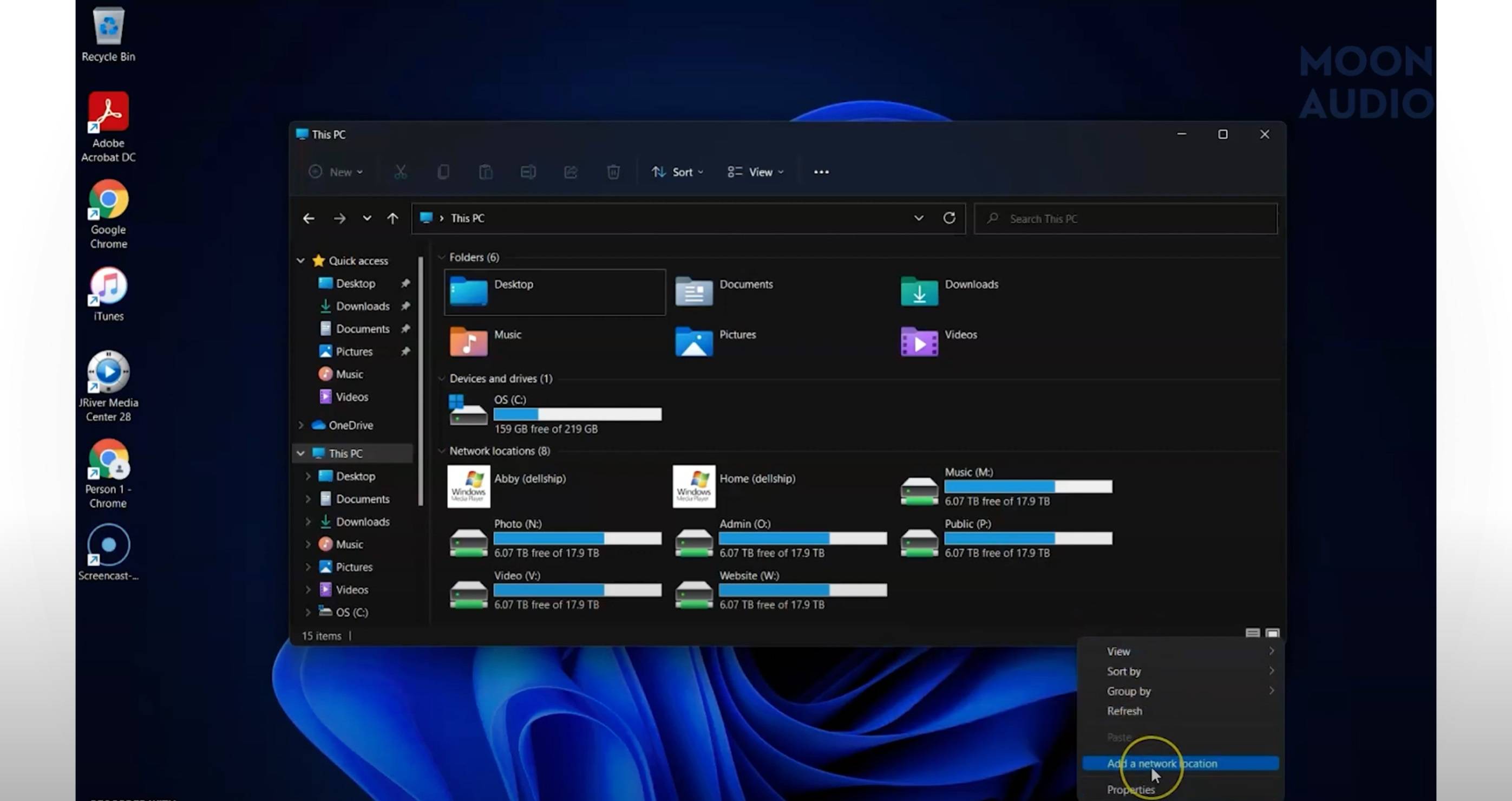 Once you have AK File Drop enabled on your Astell&Kern DAP, head to the "This PC" window which shows all your drives. We're using Windows 11 for this tutorial which be be consistent with previous versions of Windows. Mac users will need to configure their network locations accordingly. Right click on the background of the window and select "Add Network Location."
Step 3: Begin Setup Wizard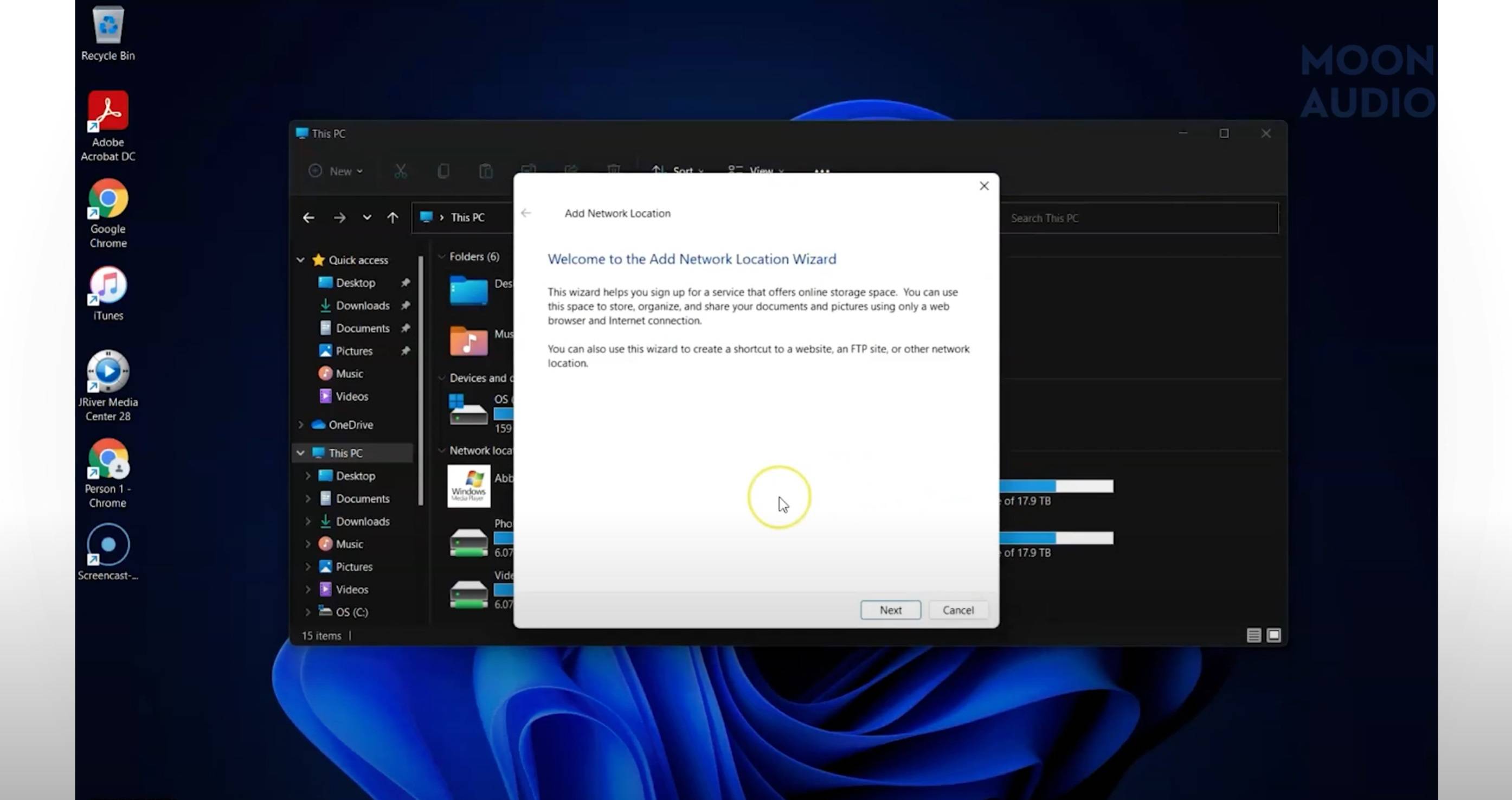 The setup wizard will automatically pop up. This will guide you through the set up process to configure your DAP as an accessible network drive that you can drag and drop music into. Click "Next."
Step 4: Choose Network Location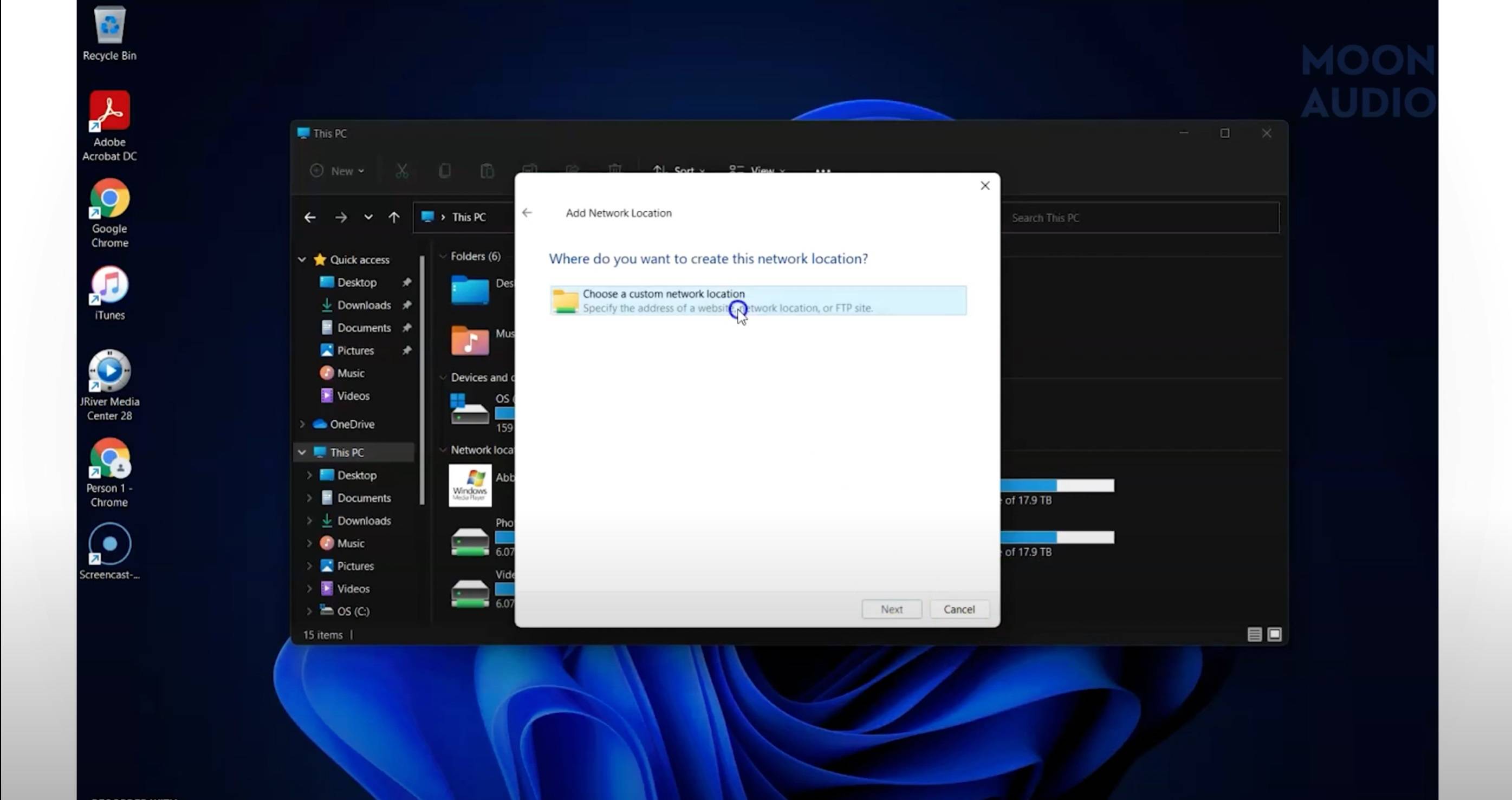 Next, you'll want to choose a custom network location. Remember that information that popped up on your DAP after you enabled AK File Drop? Get it ready. You'll need it next. Select "Choose a Custom Network Location" and continue.
Step 5: Configure Network Address
Now, you'll need to input the address given on your DAP screen and type it here. Be sure to include the "ftp://" at the beginning and do not include the forward slash at the end.
Step 6: Specify User Name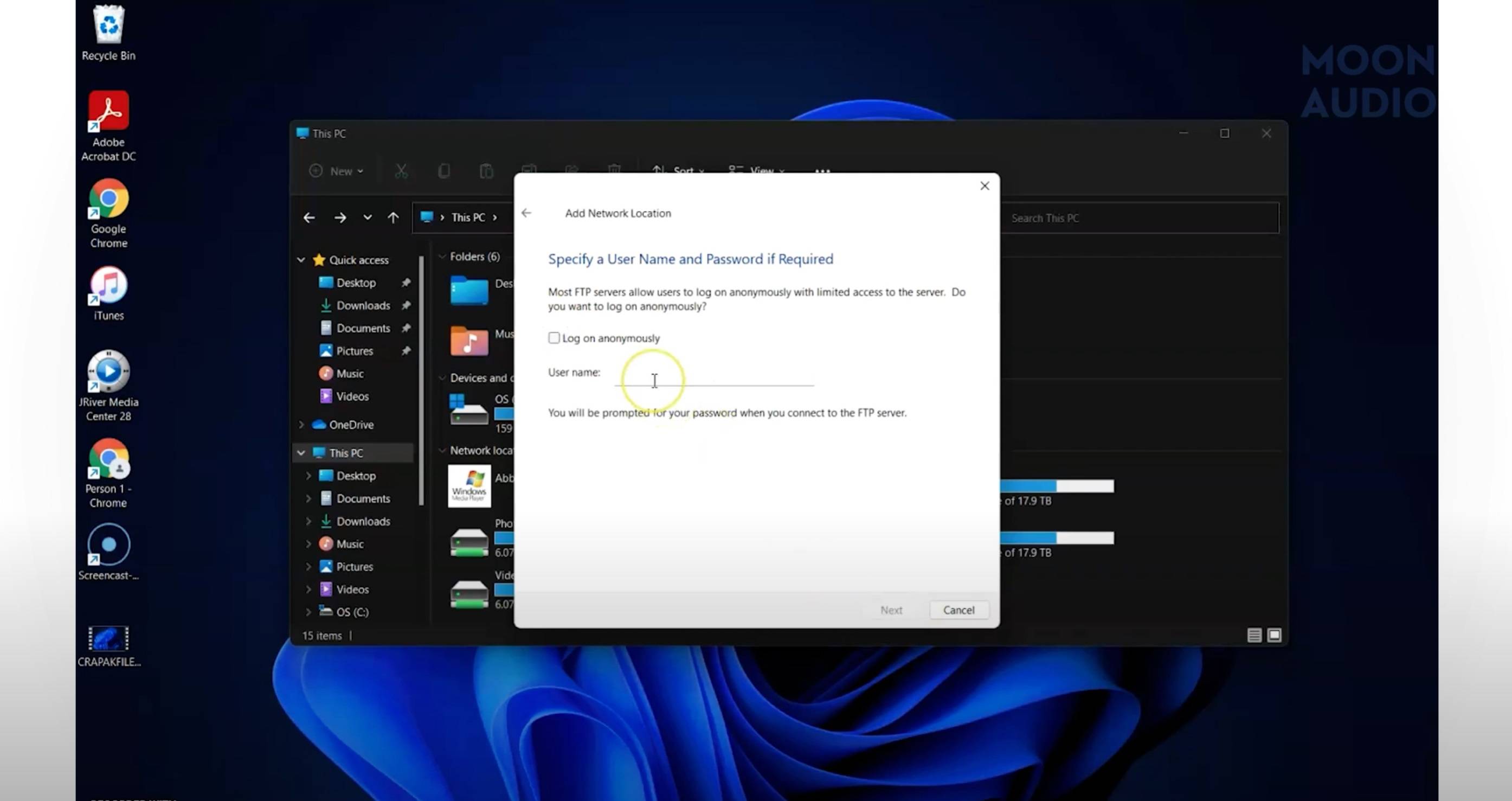 Next, designate a User Name for the device. Be sure to de-select (uncheck) "Log on annonymously" before continuing.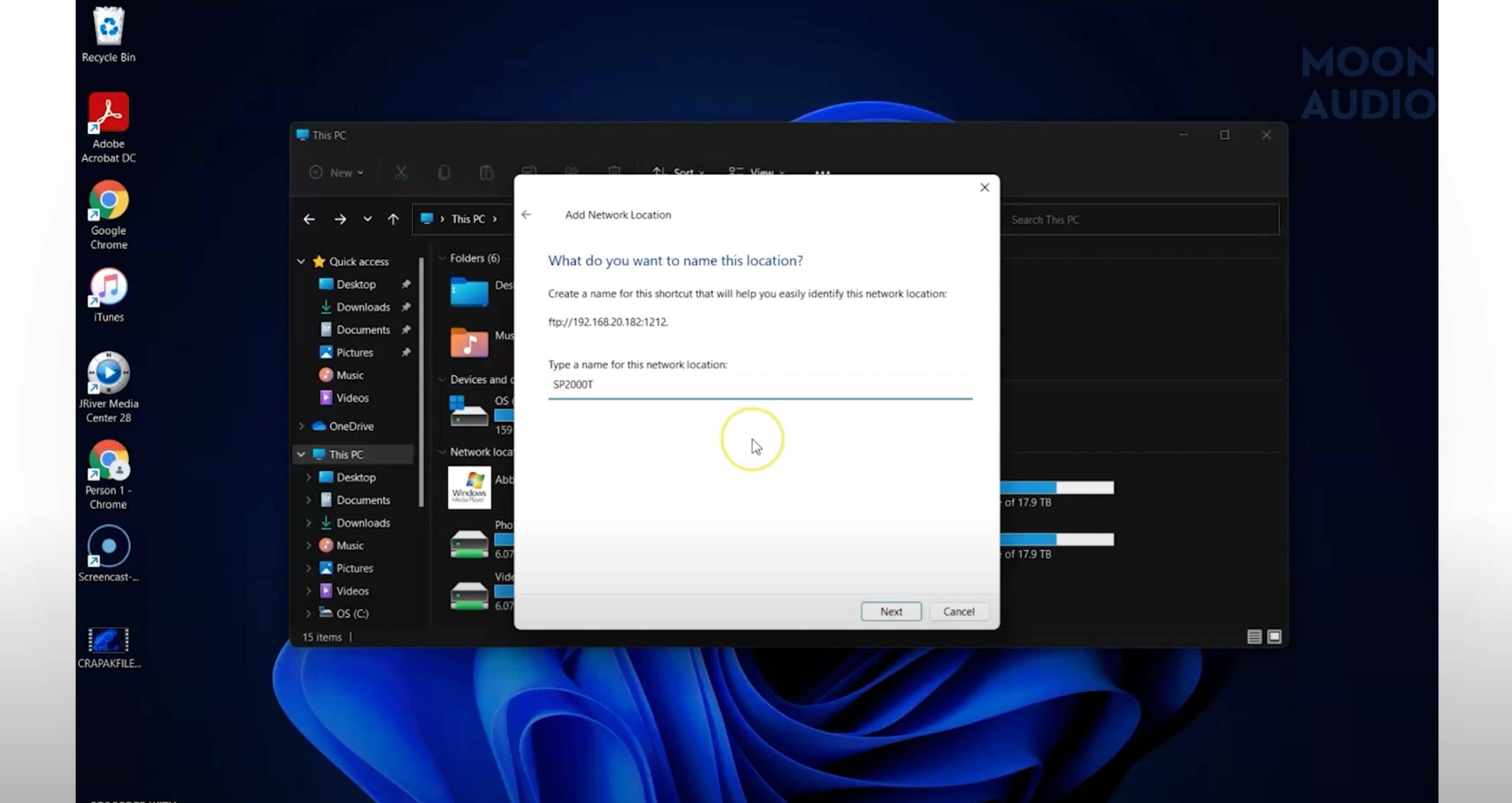 Here you have the opportunity to name the location of your Network Device as it will show up in the drive menu. We selected the name of the DAP as "SP2000T" to more easily designate the music player when transferring music.
Step 8: Finalize Settings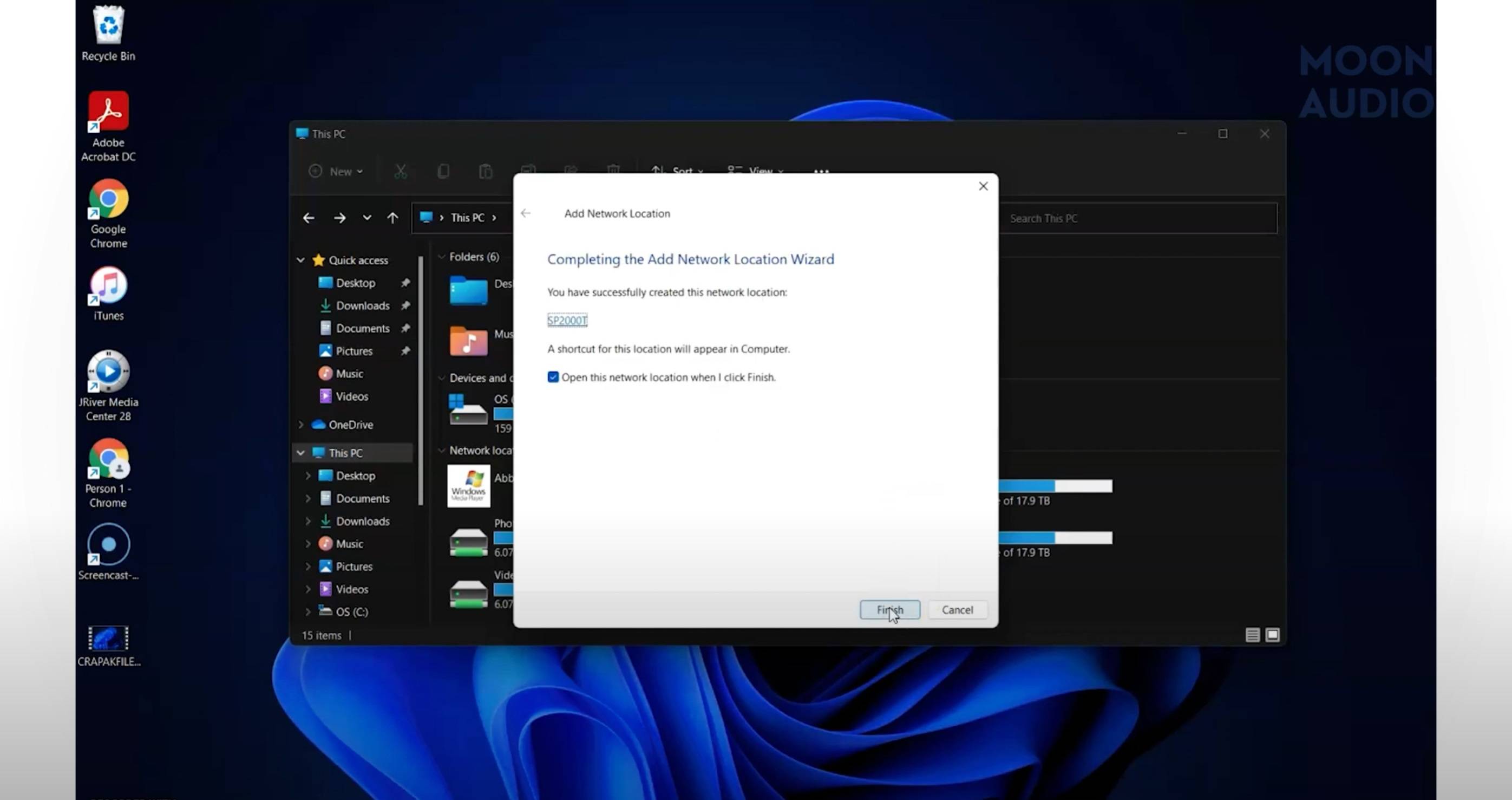 Next a screen should pop up saying, "Completing the Add Network Location Wizard." You can choose to open the network location as soon as you finish the setup wizard. Click "Finish."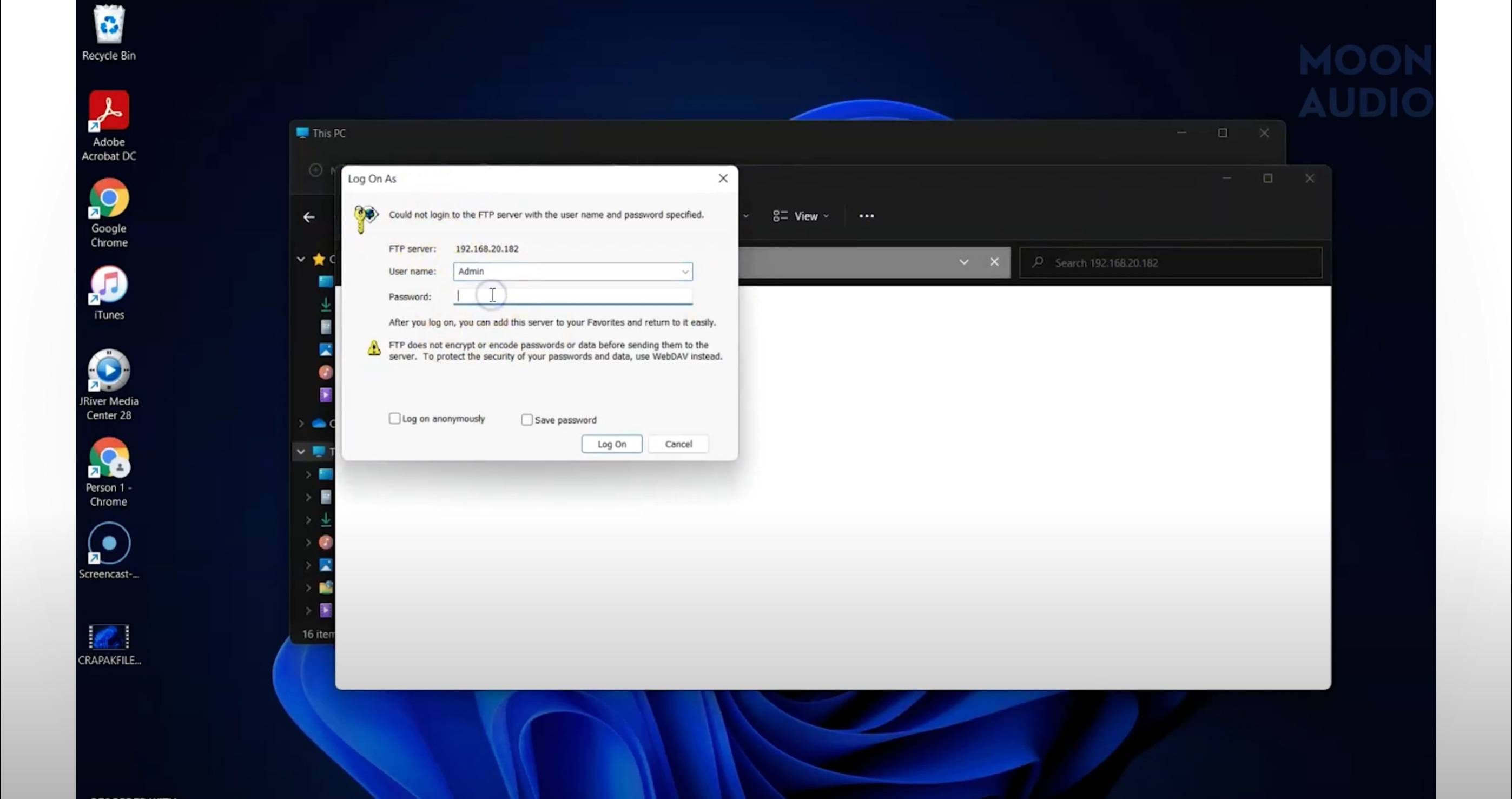 Here you will log in to the FTP server as instructed by the info screen on your DAP. User ID will be "admin" and the user password will be "admin." Make sure they are lower case as shown on the DAP. Click "Log On."
Step 10: Network Drive Now Visible
Your DAP should now be visible in the drive menu. Double click the folder to access your files and music.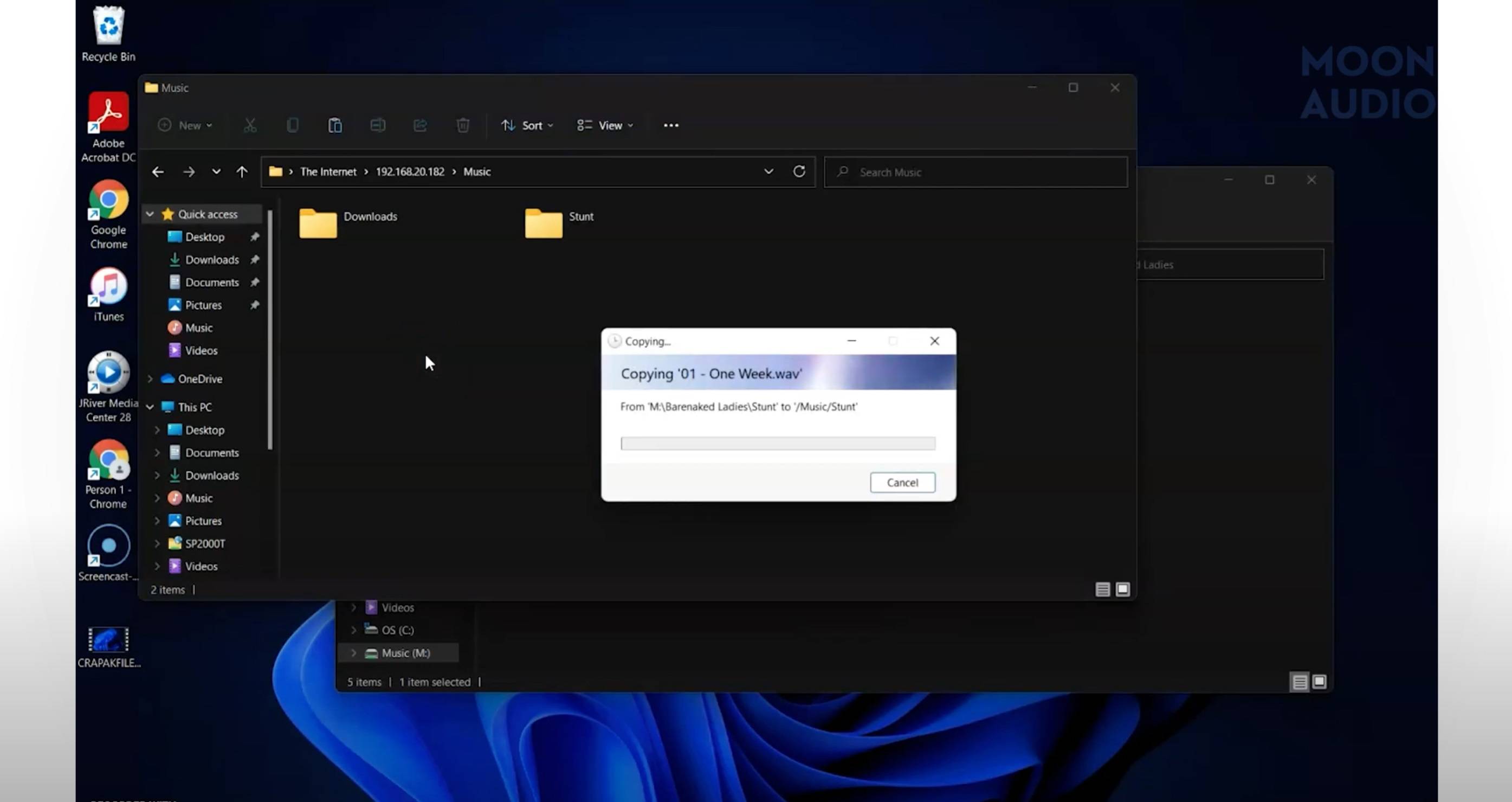 Go ahead and select the music you want to copy over to your music player. Head to the "Music" folder and simply paste your music files there. Download and transfer time will vary depending on the speed of your network and size of your files.
Step 12: Enjoy Your Music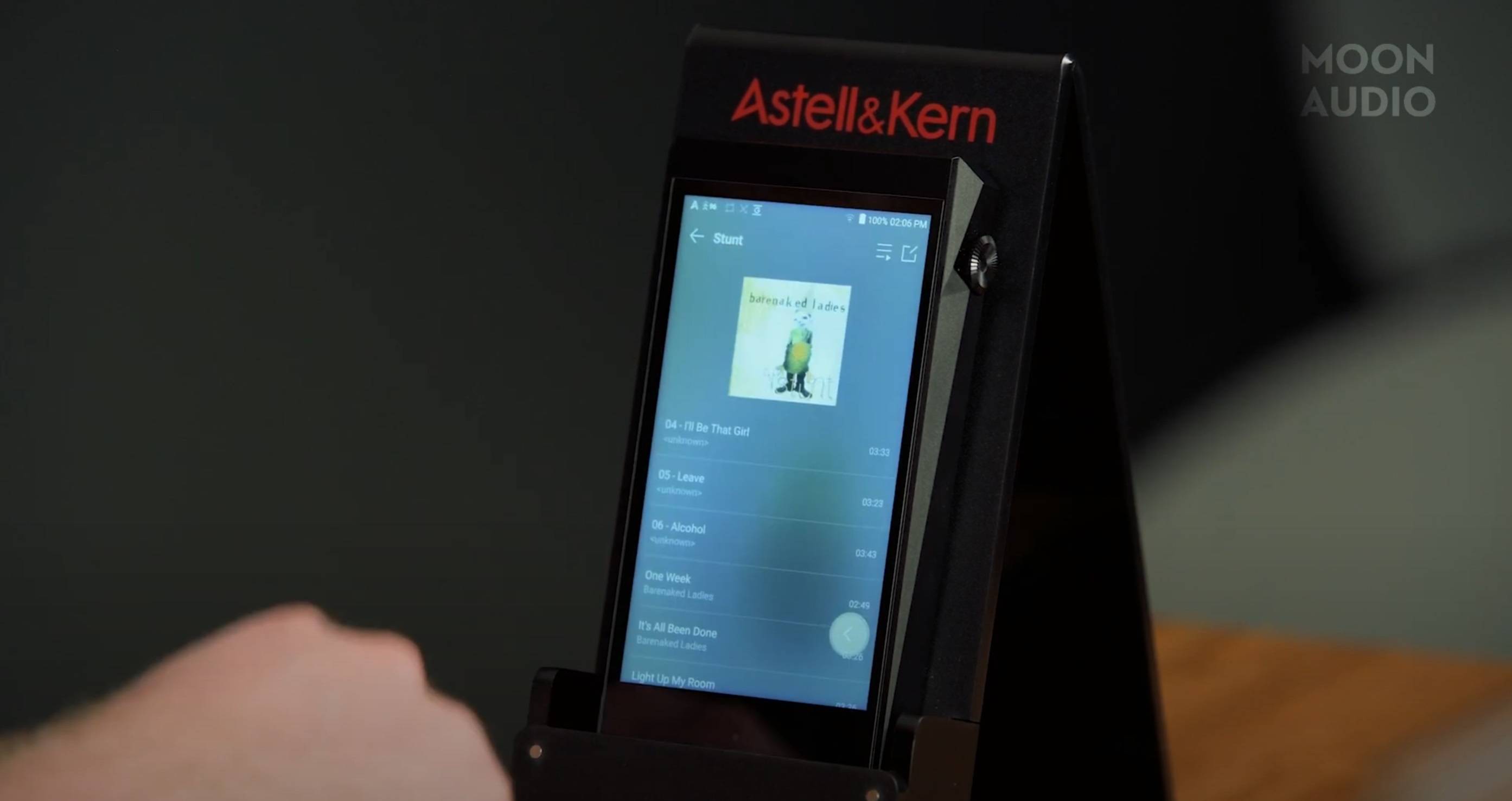 Head to the "A" main menu and click Artist, Album, etc. There you should find your newly downloaded music. Enjoy!
---
How to Set Up AK File Drop (Mac)
The process is not much different on a mac. We'll walk you through it step by step (make sure you are using Admin priveledges as accounts that don't have permissions will be unable to create a connection to the DAP/network drive):
Launch the Finder.
Click the "Go" tab, and select "Connect to Server."
Enter the path given for the Astell&Kern DAP music player to connect as a network drive.
If you're prompted for a confirmation, click "Connect."
Once the DAP is mapped, you'll find it on your desktop as a mounted drive or under the "Locations" menu in any Finder window.
The next steps are important so you can permanently mount the drive to your Mac and prevent yourself from doing this process each time you restart your computer. You'll need to enable automounting via Login items under your user account preferences. To do this:
Click the "Apple Logo" and select "System Preferences."
Click "Users and Groups."
Select the user name that has access to the drive.
Select the Login items tab.
Navigate to the drive/DAP that you wish to add. Click once to select it, and then click "Add."
Your Astell&Kern DAP should be setup now as a network drive with your mac!
---
Why Do I Need AK File Drop?
AK File Drop is going to be handy for just about anyone who doesn't want to worry about the hassle of physically connecting your DAP to your PC. It can be a time consuming process: get the DAP, find the cable, plug into the computer, transfer the files, wait for the files to transfer, disconnect, and go. The waiting is the hardest part, and with AK File Drop you don't have to wait for the files to finish transferring. As long as the DAP is connected to the same network as your PC, then the files will continue to transfer wirelessly to your DAP until either they are completed or your DAP disconnects from your home network. The download should continue once your Astell&Kern player returns to the home network.
If you have any further questions about AK File Drop, your Astell&Kern music player, or streaming music, feel free to leave a comment below. Happy listening!
---
---
Astell&Kern AK File Drop Tutorial & Review
Available on Astell&Kern's newest DAPs, AK File Drop allows you to configure your DAP as a local network location for wireless file transfer... no cumbersome cables required! Watch more to find out!
---
---
---
---