Light as a Feather, Warm as a Blanket
ETHER 2 is Dan Clark Audio's top-of-the-line open-back planar magnetic headphone, replacing the original ETHER and ETHER Flow as the company's flagship. Priced at $2,199, the ETHER 2 features an updated proprietary TrueFlow driver, motor, baffle, and headband. It's all designed to deliver lifelike sound with the industry-leading comfort and reliability for which Dan Clark Audio products are known. ETHER 2 was released in 2018 when Dan Clark Audio was still known as MrSpeakers. Its open-back design makes it suitable for home listening, and its super light weight makes it amazing for hours of listening pleasure. If you enjoy a warm, musical, romantic-sounding headphone with rich, prominent bass and a calm, laid-back feel, this headphone is for you.
---
Materials, Quality & Comfort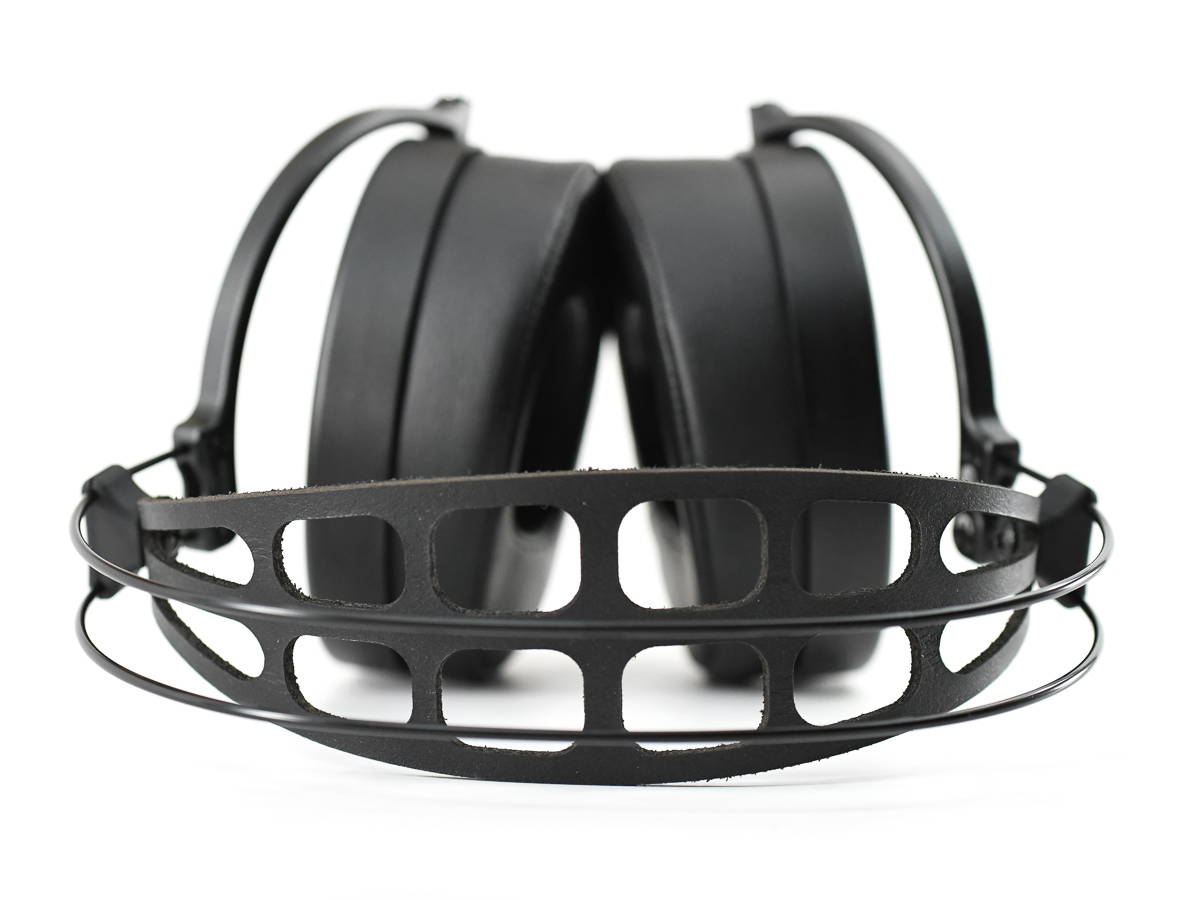 At 10.2 ounces, ETHER 2 is almost 4 ounces lighter than the original ETHER Flow. It is the lightest full-size planar magnetic headphone on the market. In fact, it may be the lightest top-of-the-line high-end headphone, period.
You might expect that plastic parts account for the ETHER 2's lighter weight, but that is not the case. The headband consists of two NiTinol ("memory metal") wires with a webbed leather head strap that is meant to keep the head cool. The cups and yokes are made of metal alloy and the driver baffles are made of carbon fiber in an eye-catching spiderweb design. The ear pads are a synthetic protein with a leather-like finish.
These headphones are really comfortable. I felt no clamping pressure whatsoever on my head or around my ears. Sometimes a full-size headphone can feel too big for me, with a sense that it is slipping or about to slip down with the ear cups grazing my jawline. I did not have this issue with the ETHER 2. They felt light on my head and right-sized.
ETHER 2 comes with Dan Clark's new flagship cable, VIVO. This fully-custom cable design incorporates silver-plated OFHC copper and is more supple and less microphonic than its predecessor.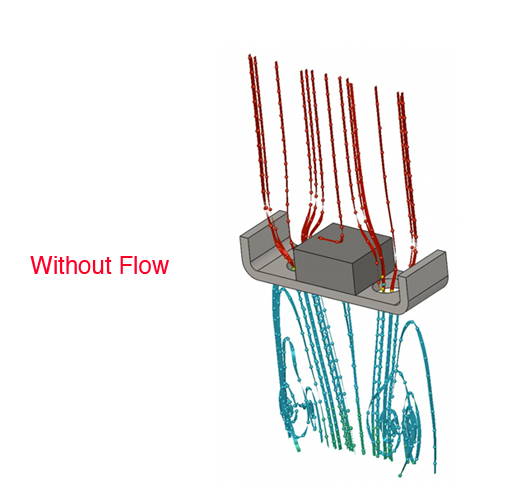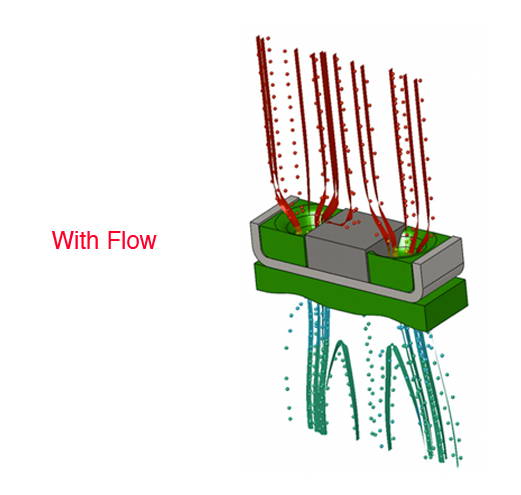 ETHER 2 features Dan Clark's TrueFlow planar magnetic driver. The driver delivers major improvements in linearity, dynamics, and detail, with a diaphragm that's 70 percent less aluminum trace weight than the original ETHER driver.
While the original ETHER driver design has TrueFlow fitted into and around it, the ETHER 2 driver itself is designed from scratch to work harmoniously with TrueFlow. For those who enjoy tech speak, here's an explanation of how TrueFlow works:
Planar magnetic drivers use magnets in their motors. These magnets create right angles through which audio waves must pass, which can be difficult. When sound waves have to travel through hard angles, turbulence in the audio-waveform tends to mask lower-level details. TrueFlow addresses this issues by filling in the area between magnets with perforated material, eliminating hard right angles so the driver moves air through a flat, perforated surface. The result, according to Dan Clark Audio, is a nearly perfect acoustical structure that yields notable increases in resolution and dynamics as well as extended frequency response. Note that Dan Clark Audio does not publish frequency response ratings for its headphones, believing that these numbers are often inflated and inaccurate.
With an impedance of 16 Ohms and a sensitivity of 92dB/mW SPL, the ETHER 2 does not require a lot of power drive, and you can drive it from your phone. However, like other planar magnetic headphones, the more power you throw at it, the better it will sound. For portable use we love the more powerful Astell & Kern KANN series of players, such as the KANN Cube or the smaller KANN Alpha. For home use, the Dragon Inspire IHA-1 is marvelous, as well Matrix Audio Element X, which was used for this review.
---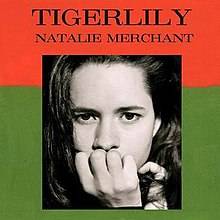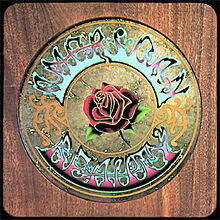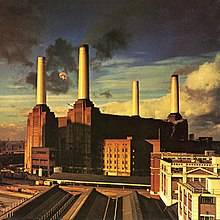 Tried-and-true test tracks:
"Beloved Wife" - Natalie Merchant
"Box of Rain" - Grateful Dead
"Pigs (Three Different Ones) - Pink Floyd
"Skating Away on the Thin Ice of a New Day" - Jethro Tull
Additional tracks:

"Cabron" - Red Hot Chili Peppers

"Canon in D" - Classical Chillout Orchestra

"Diamonds and Rust" - Joan Baez

"Dig a Pony" - Beatles

"Goldberg Variations" (various) - Glenn Gould

"Right on Time" - Tedeschi Trucks Band

"The Big Country" (Alternate Version) - Talking Heads

"Ya Mar" - Leo Kottke/Mike Gordon
I listened to the ETHER 2 with a Silver Dragon Premium Cable connected first to the Matrix Audio Element X Music Streamer, and then to the Astell&Kern KANN Alpha DAP Music Player. My impressions here are with the Element X, with notes on the KANN Alpha at the end.
Is it warm in here or is it just me? Why no, it's these headphones! ETHER 2 may be the warmest headphone I have listened to. There is a sense of fullness married with relaxed ease that has a musical, romantic feel. There is a sense at times of the music sounding "veiled," which I would describe as a haze that I sense with warmer headphones. Personally, I don't perceive this as a bad thing, though it may not be for everyone.
That being said, I found resolution to be quite good on these headphones, with the ETHER 2 pulling out (but not overemphasizing) subtleties within my music. Bass is prominent but rarely boomy; mids are nicely balanced; and highs are sweet and easygoing.
The Red Hot Chili Peppers' genre-deviating "Cabron," with its upper-octave acoustic strings and Latin rhythm, sounded peppy enough, though not as "get up and dance" as I've heard on a more energetic headphone. But the ETHER 2 did beautifully here, keeping the treble strings from piercing my ears (it has happened!) and maintaining separation in the vocal harmonies as well as the pleasing trill of Anthony Kiedis' "R's."
The guitar-driven groove on "Dig a Pony" packed the punch that this track demands. Bass did not compete with anything else or obscure some of the fun vocal quirks throughout. Additionally, with the idle chatter that happens at the beginning of this track, I really had a sense that I was right there in the studio with the Fab Four.
Bass drums on "Skating Away" had a pleasing thump that felt rich and full-bodied. It didn't rattle my chest, but it gave me a sense of this headphone reaching way down to retrieve the sound. And while treble on some other tracks wasn't quite what I wanted it to be, I found the flute and bells here to be sweet and twinkly.
Vocals are full of emotion and depth. They feel "just right" in the mix. They are neither forward, nor were they fighting for attention. Results were mixed on vocal articulation, but on a track like "The Big Country" (alternate version), with David Byrne's deliberately exaggerated diction, then it really comes through. His "esses" were slithery but not too sibilant, and you could hear the spit forming between his teeth on words with "f" and "th."
Upper mids and treble in "Beloved Wife" are sweet and pleasant, though somewhat lost in the mix in instances where there is a lot going on. The piano and strings sound a bit like they are trying to hold their own against the bass, but on their own, they sound just right. That being said, Natalie Merchant's voice is gorgeous on this track, smooth and rich and full of gut-wrenching emotion. This was a majestic yet mellow presentation that deepened the mood of this somber tune. I felt like I was listening to Merchant sing in a darkened club.
"Pigs" on ETHER 2 was powerful but its sharp edges were slightly rounded. Background sounds and effects were audible throughout, but they didn't jab the way they can on a more analytical headphone. The overall effect here was dark and moody, which is how this track should sound.
A highlight came when I put on Pachelbel's Canon in D. This was near-perfection as far as I'm concerned. The violins sounded sweet and smooth while blending perfectly with the rest of the orchestra for a pleasingly lush yet easygoing rendition of this composition.
My music overall felt very cohesive on the ETHER 2. I found it well-suited for classical tracks and many rock and roll numbers, but it may leave you wanting more sharpness or punch on pieces with diverse instrumentation, especially in the upper registers.
ETHER 2 Paired with the KANN Alpha
I found the ETHER 2 to sound slightly warmer and more laid back with the KANN Alpha than with the Element X. "Beloved Wife" came through with a relaxed wistfulness that was overflowing with emotion and depth. Likewise, "Skating Away" sounded whimsical as always but lacked a little bit of the crisp energy that I enjoy in this track. Still, Ian Anderson's idle chatter while making tea at the beginning was pretty cool; I had a real sense of his being in the kitchen, tearing open a sugar packet and clinking his spoon against the cup (I really felt that in my head!).
On a track like "Ya Mar," where I really like to feel a lot of "zing" in the percussion, I was slightly disappointed. This track uses a lot of percussion with a timbre in the higher registers, and the ETHER 2 for me didn't provide the punch there the way a more forward headphone might. I simply heard more of the deep bass here. However, Leo Kottke's deep backing vocals were more prominent than I've ever heard them, and the bass had a funky presence that allowed me to hear and feel this song differently. And that's always a treat for audiophiles, when you can experience a track you know and love in a new and different way.
I suspect every audiophile and music lover has an "aha" moment during each listening session, when our breath catches a bit and we think, "Yes. This is where this particular headphone/DAP/amp shines." For me, that happened while listening to "Diamonds and Rust" on the ETHER 2 connected to the KANN Alpha. Haunting, evocative, "buttery" vocals without a hint of shrillness — simply gorgeous.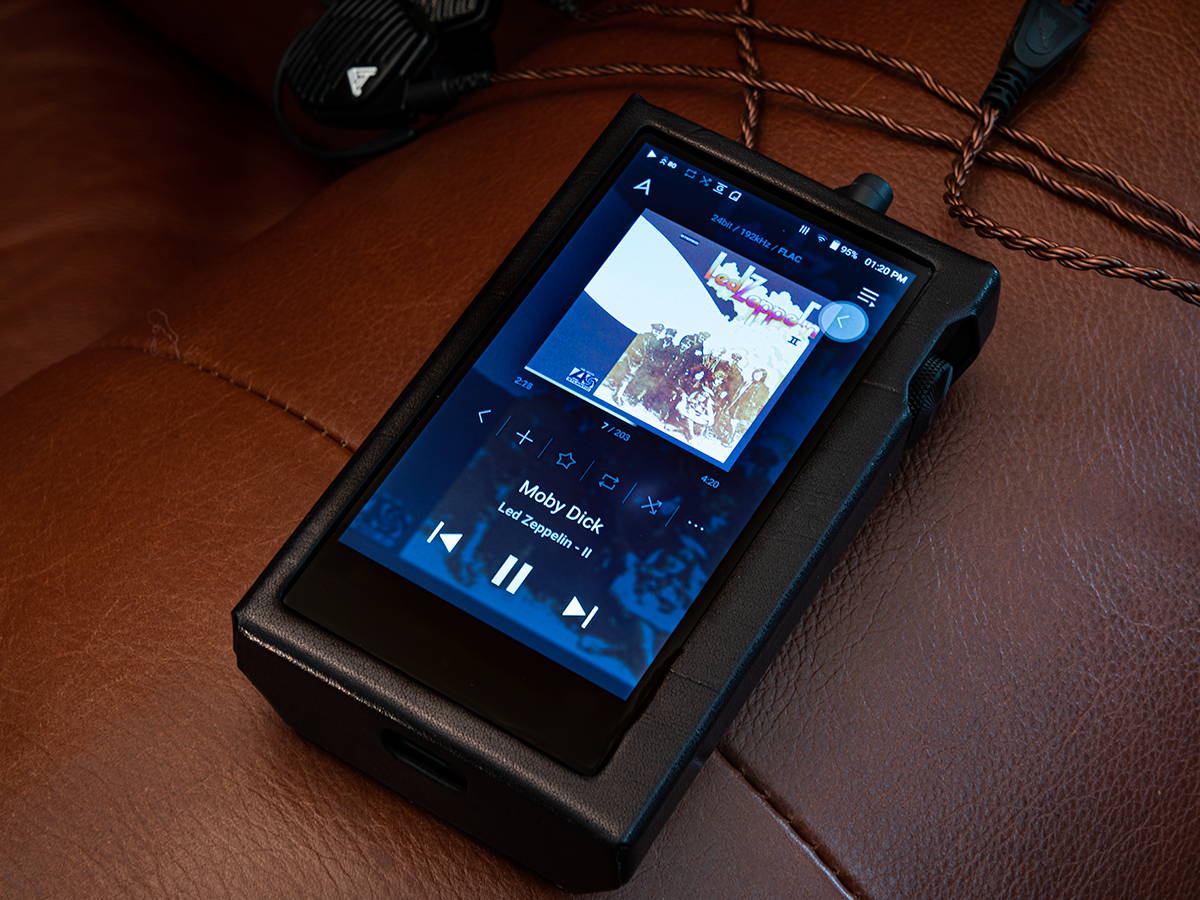 ---
The ETHER 2's Open-Back Design
ETHER 2 is an open-back design, which means you'll get a wider soundstage than on a closed-back headphone. I found the soundstage to be quite good — not the widest but in no way narrow. Imaging, on the other hand, is really good; I had a real feel for where the musicians and instruments were in my mind's eye. When special effects showed up in songs, I could clearly "see" where these sounds were originating relative to the rest of the music, like a "ping" hitting down the middle of my head or a "whoosh" coming from up above and traveling downward. Sound isolation on the ETHER 2 was what you'd expect from an open-back headphone. I wasn't able to hear background conversations, but I could hear boxes being dragged around several feet away. As far as sound leakage, a colleague could hear music from about 10 feet away, but was unable to decipher anything beyond that.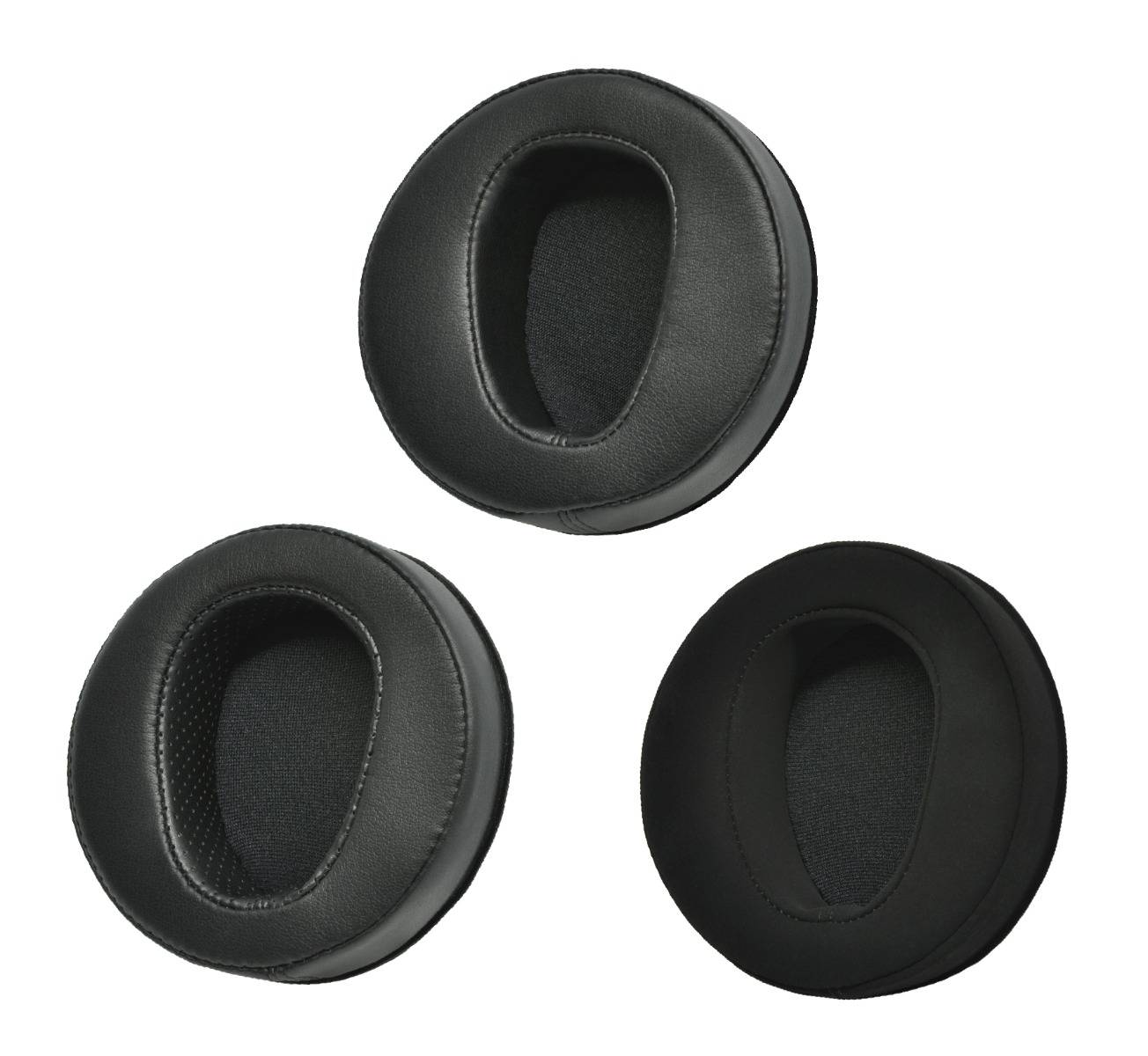 The ETHER 2 can effectively be three headphones in one, thanks to swappable ear pads that offer three distinct sounds. A patent-pending "peelable" ear pad design uses a tacky elastomer that attaches easily to the ear cups.
The synthetic leather ear pad, which comes standard with the ETHER 2, lends a midrange-forward sounds that is great for vocals and acoustic music. A perforated synthetic leather ear pad delivers the largest soundstage and increases relative bass and treble for more fun and lively voicing. Finally, a suede ear pad offers a warmer bottom end and extra sparkle up top.
Once the original leather ear pad is sold out, ETHER 2 will come standard with the perforated leather ear pad.
Pads may be ordered separately.
---
Comparison to Meze Empyrean and Audeze LCD-2
Now, let's take a look at how the ETHER 2 compares to a couple of other warm-sounding planar magnetic headphones.
The Meze Empyrean, which sells for $2,999, is actually a planar-dynamic hybrid driver design. The Empyrean is known for its expansive soundstage. It's got some warmth and lushness to it, with deep and tight bass, but its tuning is pretty neutral and versatile. It's also got these unique ovoid-shaped ear cups.
The LCD-2 from Audeze, which comes in at just under $1,000, has a warm and musical sound with a meaty low end. At 1.3 pounds, it's more than double the weight of the ETHER 2, so that's something to consider. But it's an excellent planar magnetic headphone at a more affordable price.
Among these three, I think the Empyrean and LCD-2 win for aesthetics, and the ETHER 2 and Empyrean tie for comfort. As far as sound, the LCD-2 is more musical sounding, the Empyrean has the most expansive soundstage, and the ETHER 2 is the warmest and will be the most forgiving less-than-perfect tracks.
---
Dragon Cable Recommendation
When considering a headphone cable upgrade, you need to ask yourself what you hope to accomplish. Think of cables as synonymous with your car's air filter. When it's clean, your car runs better. Likewise with the right cable, the sound coming from your headphones will be clearer.
I opted for a Silver Dragon Premium headphone cable with the ETHER 2 to counterbalance some of the warmth. This is a silver conductor-based cable that uses 4 x 99.99998% UP-OCC Stranded Silver 24AWG Teflon insulated stranded conductors. The silver strands add a layer of clarity to your headphones, supporting detail retrieval in the mids and highs and a clean, clear sound.
For the listener who wants a "clean" sound without changing anything in the sound signature, I recommend the Blue Dragon cable. The Blue Dragon is a neutral-sounding, copper conductor-based cable that promotes a calm sound. You can think of it like a cleaner for your eyeglass lenses. You're not altering the properties of the lenses; you're just removing any detriments to the clearest view.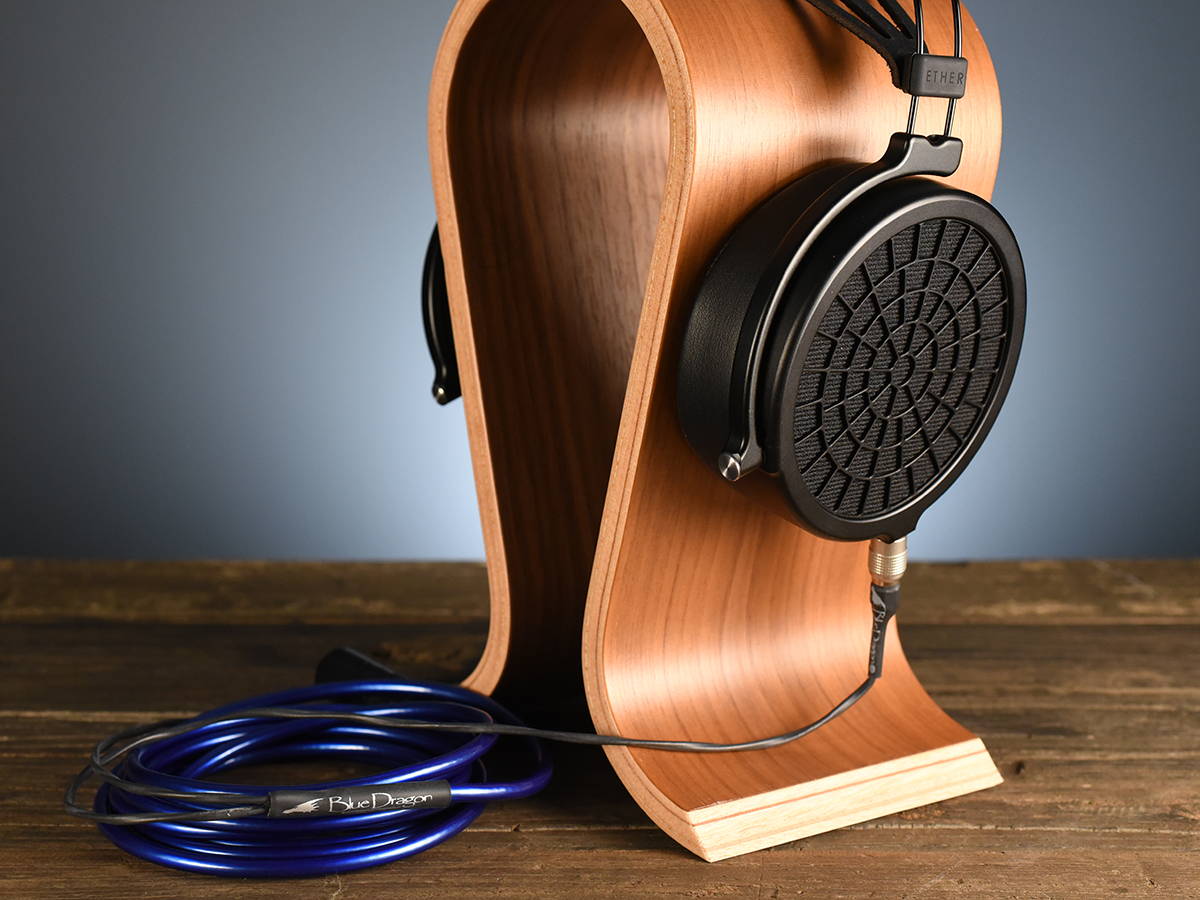 ---
I am all about the ETHER 2 for classical, blues, and some classic/hard rock. I really enjoyed the bass extension; warm, atmospheric vibe; and detail retrieval that was enhanced through a Silver Dragon Cable. The ETHER 2 has a warm, romantic sound signature that lends emotional and engaging quality to vocals. I got a lot of enjoyment out of my music with this headphone, and my enjoyment grew the more I listened. While the ETHER 2 a good job with detail retrieval, I would say the overall sound signature lends itself to relaxing or zoning out as opposed to standing at attention and mentally identifying all of the musical details.
Now, I'm a big fan of the jam band genre. Sometimes delight in picking out the details in all of the layers of music, especially looking for subtle differences in the same song jammed out in different ways on different days. Other times, I want to float along and get lost in a jam. It's all a matter of preference and what I'm in the mood for, really; neither of those qualities is better or worse than the other. That being said, I would reach for the ETHER 2 when I'm in the mood for the latter experience.
---
---
ETHER 2 comes in a sturdy black box. Inside is a hard-shell carrying case with soft protective interior, inside of which are:
ETHER 2 headphones

VIVO cable in separate netted mesh compartment

User manual

Cleaning cloth

Certificate of authenticity

Two-year warranty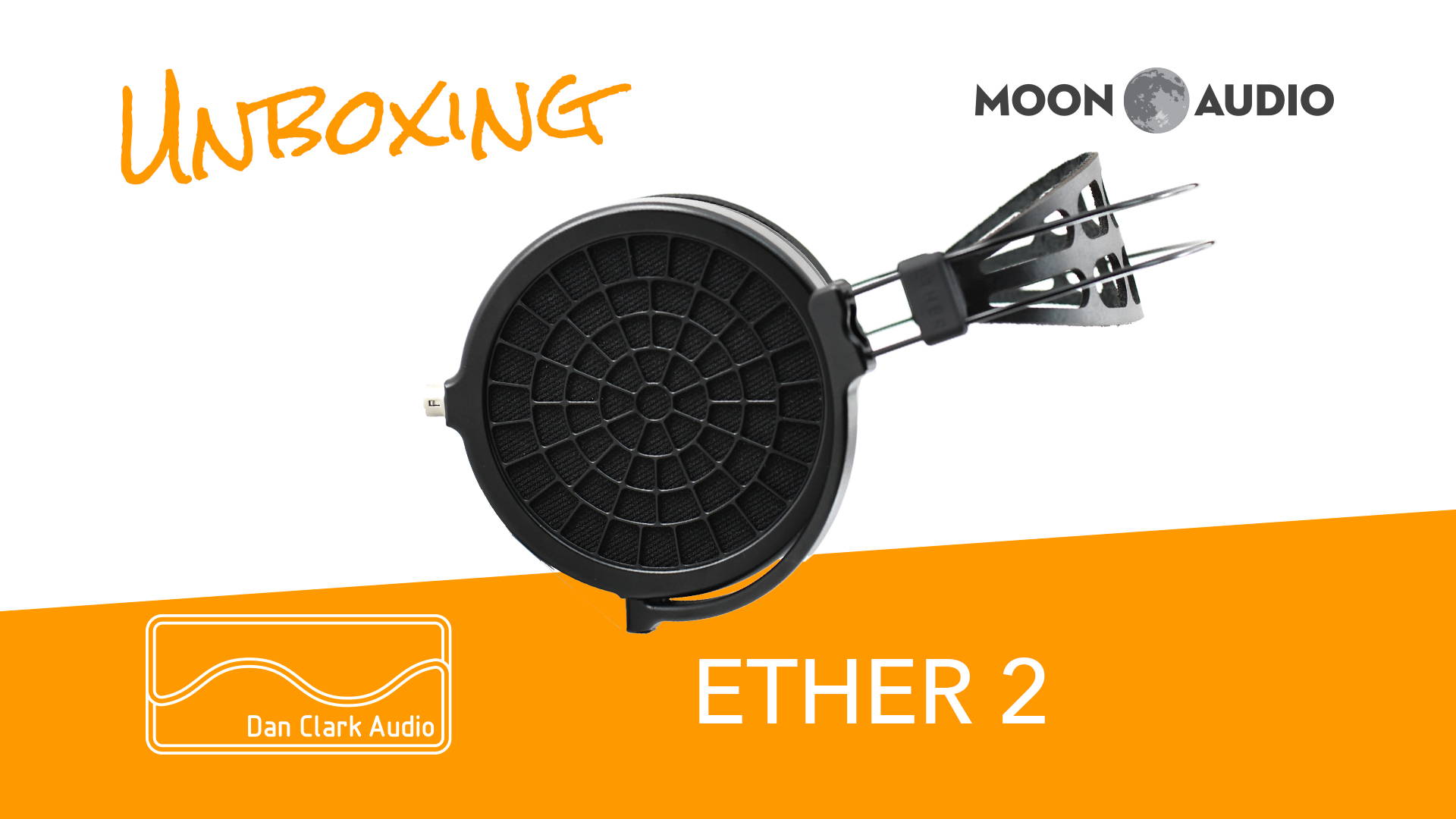 Dan Clark Audio ETHER 2 Headphones Unboxing
---
Dan Clark ETHER 2 Headphones Review & Comparison
---