Dan Clark Audio has accomplished something pretty neat with the AEON 2 portable planar magnetic headphone. Oh, and these delightfully comfortable cans cost less than $1,000.
Dan Clark Audio was known as MrSpeakers until about a year ago, and the AEON 2 was the first model to be unveiled under the new name. AEON 2 features a collapsible, hinge-free headband design that allows it to fold in to roughly half of its size, making it easy to stow in a bag or backpack. It's great for people who want a full-size headphone experience on the go.
Because these headphones make me so happy, I feel like channeling Dr. Seuss for a moment:
Folding them is not a drag,
so you can tote them in your bag.
You can take them on a plane;
they will cause your head no strain!
Now, you probably wouldn't listen to open-back headphones on a plane, but you can easily stow them in your carry-on and bring them with you to your hotel or just about anywhere else you want to listen in private (or around those who don't mind a bit of sound bleed).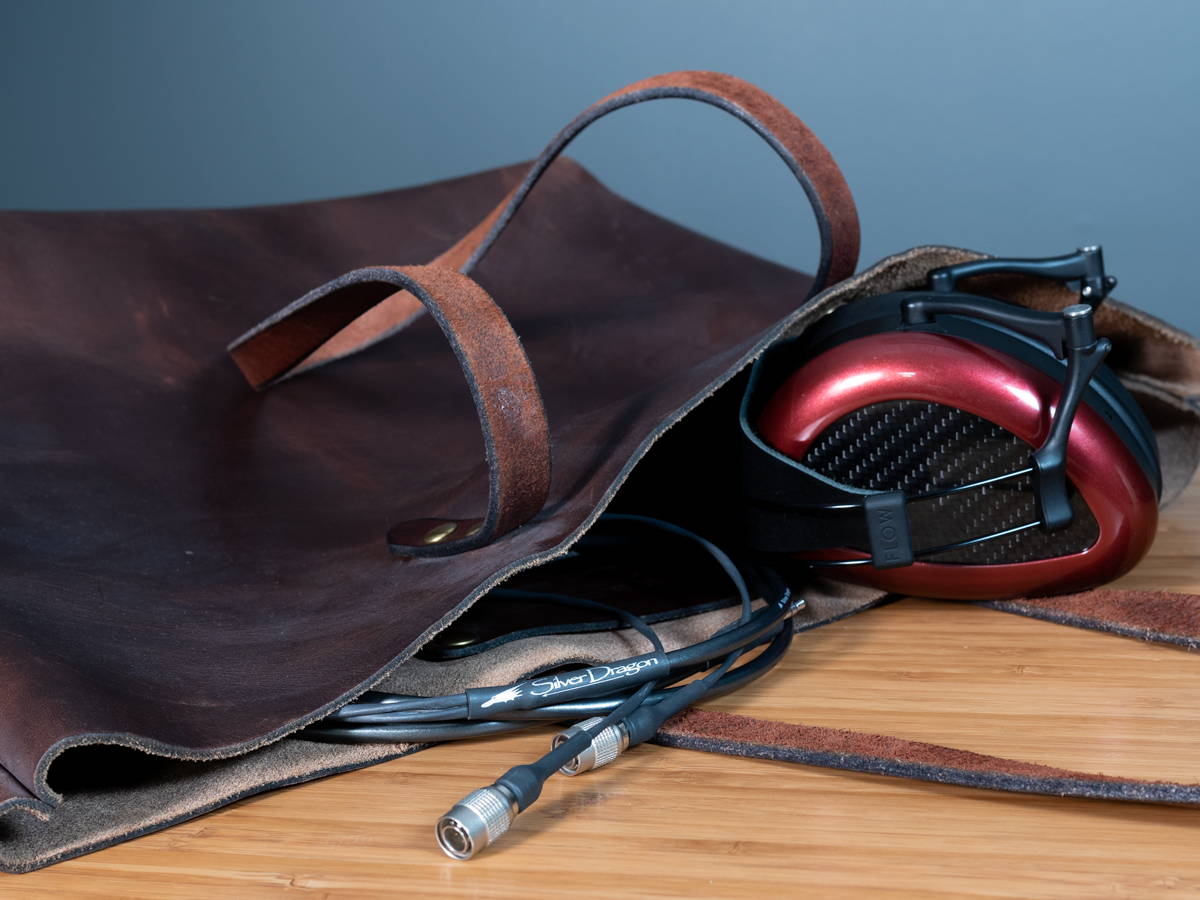 ---
Materials, Quality & Comfort
It'll be awhile before I try every headphone under the sun, but what I can say is this:
AEON 2 is the most comfortable headphone I have tried.
From the moment I put this headphone on, I had the sense that it was custom-made for my cranium: lightweight, just the right amount of clamping, super-comfy ear pads.
Beyond its comfort, the most notable physical feature of the AEON 2 is its portability. The folding process is simple and seamless, and the result is something compact enough to stow in a bag or backpack.
AEON 2 is incredibly lightweight -- about 11-1/2 ounces. That's about an ounce-and-a-half heavier than the ETHER 2, which is the lightest full-size planar magnetic headphone on the market. Still, it's well shy of a pound. Surprisingly, though, that was not accomplished through plastic parts.
The AEON 2 replaces the cast aluminum baffle on the original AEON Flow with a carbon fiber and machined aluminum design that is rigid but lighter. The headband on the AEON 2, a pair of thin wires that sit above a leather strap, is made from NiTinol, an alloy of nickel and titanium dubbed "memory metal" that is known for keeping its shape under stress.
The ear cups on the AEON 2 are shaped like, well, ears. They are designed to complement the shape of the skull, and they fit me in a pleasingly snug and natural way. The cups are finished in a glossy deep red, with a honeycomb design on the baffle. The synthetic leather ear pads are plush and comfortable, and they feel like real leather.
AEON has upgraded its DUM (Distinctly Un-Magical) cable with a new flagship VIVO cable, which Dan Clark touts as a transparent-sounding cable crafted from silver-plated OFHC copper. It is more supple and less microphonic than its predecessor.
For the AEON 2, Dan Clark took the driver from the flagship ETHER 2 and completely redesigned it. This new, 100 percent proprietary driver design features patented TrueFlow and V-Planar technology. This second-generation motor design bumps up the bass, increases soundstage, and delivers realistic dynamics.
A highly efficient transducer keeps weight down by reducing magnet size. TrueFlow improves airflow through the motor, producing a major upgrade in detail retrieval. V-Planar driver processing puts texture on the driver surface for superior low-frequency performance and improved diaphragm stability.
For the technically inclined, here's a little more on these proprietary technologies:
V-Planar
A conventional planar driver is assumed to move as a flat surface, but this is not realistic, as the driver is inflexible and "locked" at its boundaries. Thus, it moves more as a bowed surface than a plat plane. Through a technology known as knurling, deep creases are implemented in the diaphragm, allowing the flexibility needed to fit larger motions for a deeper musicality. The V-Planar driver allows expansion and contraction of sound without losing fidelity or stretching it too thin. V Planar can push more air at low frequencies, and deliver better dynamics, high-end frequency response, and lower distortion.
---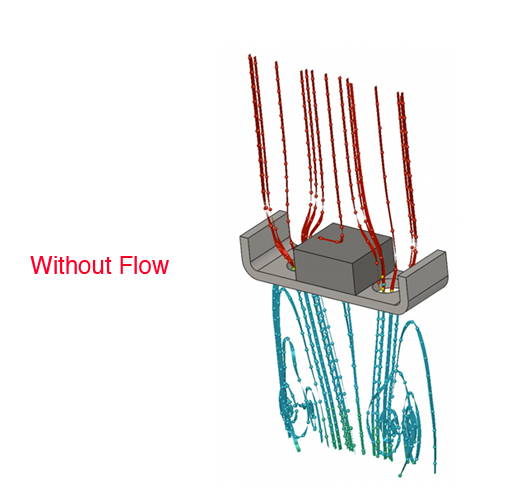 TrueFlow
Planar magnetic drivers use magnets in their motors. These magnets create right angles through which audio waves must pass, which can be difficult. When sound waves have to travel through hard angles, turbulence in the audio-waveform tends to mask lower-level details. TrueFlow addresses this issues by filling in the area between magnets with perforated material, eliminating hard right angles so the driver moves air through a flat, perforated surface. The result, according to Dan Clark Audio, is a nearly perfect acoustical structure that yields notable increases in resolution and dynamics as well as extended frequency response.
With an impedance of 13 Ohms and a sensitivity rating of 94dB/mW SPL, the AEON 2 does not not require a lot of power, but like other planar magnetic headphones, it will enjoy extra amplification. In other words, the more power you throw at these headphones, the better they will sound.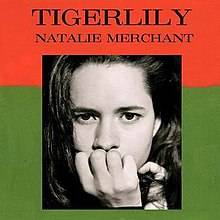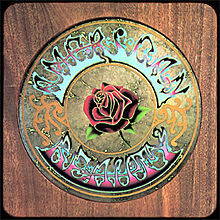 I listened to the AEON 2 with a Silver Dragon Premium Cable connected first to the Roon-certified Matrix Audio Element X Music Streamer, an all-in-ine desktop solution that is incredibly quiet. I later switched to the Astell&Kern KANN Alpha DAP Music Player. My impressions here are with the Element X, with notes on the KANN Alpha at the end.
AEON 2 + Element X
In a nutshell, these headphones are emotive and lively with a pleasant dose of warmth. Bass is thicker and more visceral than on the closed-back version, but still has enough control so as not to sound overly lush or muddy. Mids are slightly recessed at times but still engaging and full of feeling. Highs can border on aggressive, but overall play nicely in the mix.
Despite these critiques, I really love the way my music sounds on this headphone. Sound and musical enjoyment are totally subjective, and for me, the AEON 2 open-back headphone sounded like just what the doctor ordered.
The variety of percussion on "Ya Mar" played nicely with the rest of the instrumentation, allowing this song to feel full and impactful while retaining its light calypso rhythm. I got more zing in the upper bass here than with the ETHER 2, though it was still a little rounder and softer than I like. Vocals also seemed slightly muted. but there was a nice layering of sound, and the overall tone was pleasant.
Male vocals are nuanced and full of feeling. John Lennon's vocals on "Dig a Pony" are strong and gritty. I can practically "feel" the passion in his voice. Likewise, I can almost see the spittle on David Byrne's lips in "The Big Country." I really enjoyed tracks with lots of vocal harmonizing, like on "Box of Rain." They say humans aren't really designed to multitask or split our attention, yet on this track I somehow could focus on both the lead vocals and the backing vocals without losing sight of either, all the while feeling like they were part of and not separate from the rest of the music. Female vocals, such as Natalie Merchant, sound velvety and rich.
The opening acoustic treble strings on "Cabron" were zingy and tolerable, though I had the sense that they it would be "too much" if they lasted longer. But that's true on almost any headphone. There was nice energy on this track; I felt like I was riding a galloping horse.
Tried-and-true test tracks
"Beloved Wife" - Natalie Merchant
"Box of Rain" - Grateful Dead
"Pigs (Three Different Ones)" -
Pink Floyd
"Skating Away on the Thin Ice of
a New Day" - Jethro Tull
Additional tracks:
"Cabron" - Red Hot Chili Peppers
"Canon in D" - Classical Chillout
Orchestra
"Diamonds and Rust" - Joan Baez
"Dig a Pony" - Beatles
"Goldberg Variations" (various) -
Glenn Gould
"Right on Time" - Tedeschi Trucks
Band
"The Big Country" (Alternate
Version) - Talking Heads
"Ya Mar" - Leo Kottke/Mike Gordon
The flutes and xylophones in "Skating Away," meanwhile, sound sweet and not lost alongside the punchy bass and nasally tone of Ian Anderson's voice for a beautifully coherent, whimsical presentation of this song. And the upper frequencies never become fatiguing. The screaming "pigs" and wispy synth in the Pink Floyd track sound just right: distinct but never shrill or overbearing. Lower-frequency details, too, such as whooshes and clinks, sound lifelike and textured. Everything feels perfectly placed and detailed, but flows very well together.
I got lots of detail with the AEON 2, but never to the point of it being too much or detracting from the overall experience. On a more analytical headphone, details can stand out to the point of feeling separate from the rest of the music, but not so here.
I really enjoyed classical music on the AEON 2. Some people want lots of instrument separation when they listen to classical; for others, that may be too much, and they prefer a more cohesive sound. The latter is what I get with these headphones: a smooth, romantic sound that felt relaxing. Violins sounded smooth and sweet, and the overall presentation was "flowy" and not forward.
Sound isolation on the AEON 2 is what you'd expect from an open-back headphone. I wasn't able to hear background conversations, but with the volume turned down, I could hear ambient noises like metal clinking in an adjacent room. Soundstage is wider, of course, than the closed-back AEON 2, but still feels pretty intimate.
After quite a bit of listening to the AEON 2 with the Element X music streamer, I switched to the KANN Alpha DAP. I found that the KANN Alpha made my music sound slightly warmer, fuller, and mellower than it did on the Element X. I listened to several classical pieces and found the sound to have a lot of life while giving me the sensation of being wrapped in -- but not smothered by -- a warm blanket.
You can read our KANN Alpha review, but I will say this: I really liked the AEON 2 paired with the Alpha; the only drawback is that the Alpha is a bit heavier than what I would like in a portable DAP (though I think it's a trade-off I'd be willing to take). But get this: The Alpha actually weights less than the AEON 2 (by a couple of ounces). It's an odd illusion, then, to say the AEON 2 feels really light on my head but that the Alpha feels heavy in my hand.
Dragon Cable Recommendations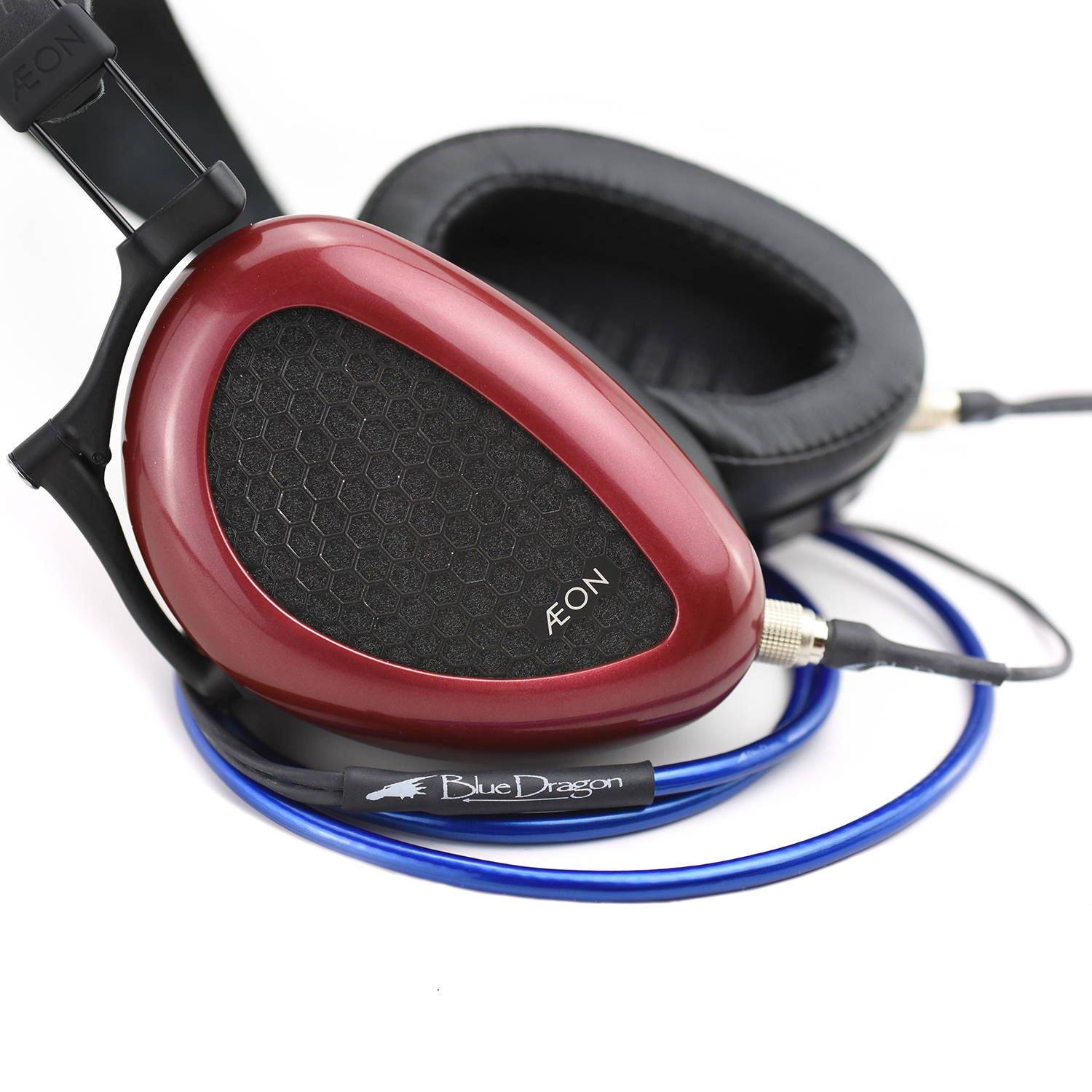 When considering a headphone cable upgrade, you need to ask yourself what you hope to accomplish. Think of cables as synonymous with your car's air filter. When it's clean, your car runs better. Likewise with the right cable, the music coming from your headphones will sound closer.
I opted for a Silver Dragon Premium headphone cable with the ETHER 2 to counterbalance some of the warmth. This is a silver conductor-based cable that uses 4 x 99.99998% UP-OCC Stranded Silver 24AWG Teflon insulated stranded conductors. The silver strands add a layer of clarity to your headphones, supporting detail retrieval in the mids and highs and a clean, clear sound.
For the listener who wants a "clean" sound without changing anything in the sound signature, I recommend the Blue Dragon headphone cable. The Blue Dragon is a neutral-sounding, copper conductor-based cable that promotes a calm sound. You can think of it like a cleaner for your eyeglass lenses. You're not altering the properties of the lenses; you're just removing any detriments to the clearest view.
Open vs. Closed-back Design
In general with an open-back design, you'll get a wider soundstage than with a closed-back headphone. I found the soundstage on the AEON 2 to be quite good, though not quite as wide as the ETHER 2. It felt intimate, with a sense that the musicians were right in front of me as opposed to off in the distance on a stage. Imaging is really good; I had a real feel for where the musicians and instruments were in my mind's eye. When special effects showed up in songs, I could clearly "see" where these sounds were originating relative to the rest of the music, like a "ping" hitting down the middle of my head or a "whoosh" coming from up above and traveling downward.
Sound leakage on the AEON 2 was pretty minimal for an open-back headphone. I tested this by cranking my music and having a colleague sit at various distances. At about 6 feet, he said he heard what sounded like a cymbal, but he could not discern anything beyond that. (Contrast that with his listening to an open-back headphone the other day across the room, and I could hear every note and lyric.) As far as sound isolation, I wasn't able to hear background conversations, but I could hear boxes being dragged around down the hall.
What a delicious headphone. "Barely there" comfort, amazing sound, and portability for less than $1,000? Yes, please. There are definitely similarities between the AEON 2 and the ETHER 2. Both have a neutral-warm sound, but the ETHER 2 is warmer and bassier, while the AEON 2 has a more lively and energetic sound. What I really like about the AEON 2 was the that it has enough warmth to add emotion, but not so much that it muddies the sound.
The sound, to my ears, was pleasantly smooth and luxurious but in no way too rich or bloated. Peppier tracks sound appropriately energetic but not so much so that I feel overwhelmed. At the risk of using an empty descriptor, I really want to point out what a pleasant listening experience I had with the AEON 2 open-back headphone. I got warmth, emotion, detail, and a feeling that I was in the middle of the music rather than listening to it from afar.
What a delicious headphone.
---
---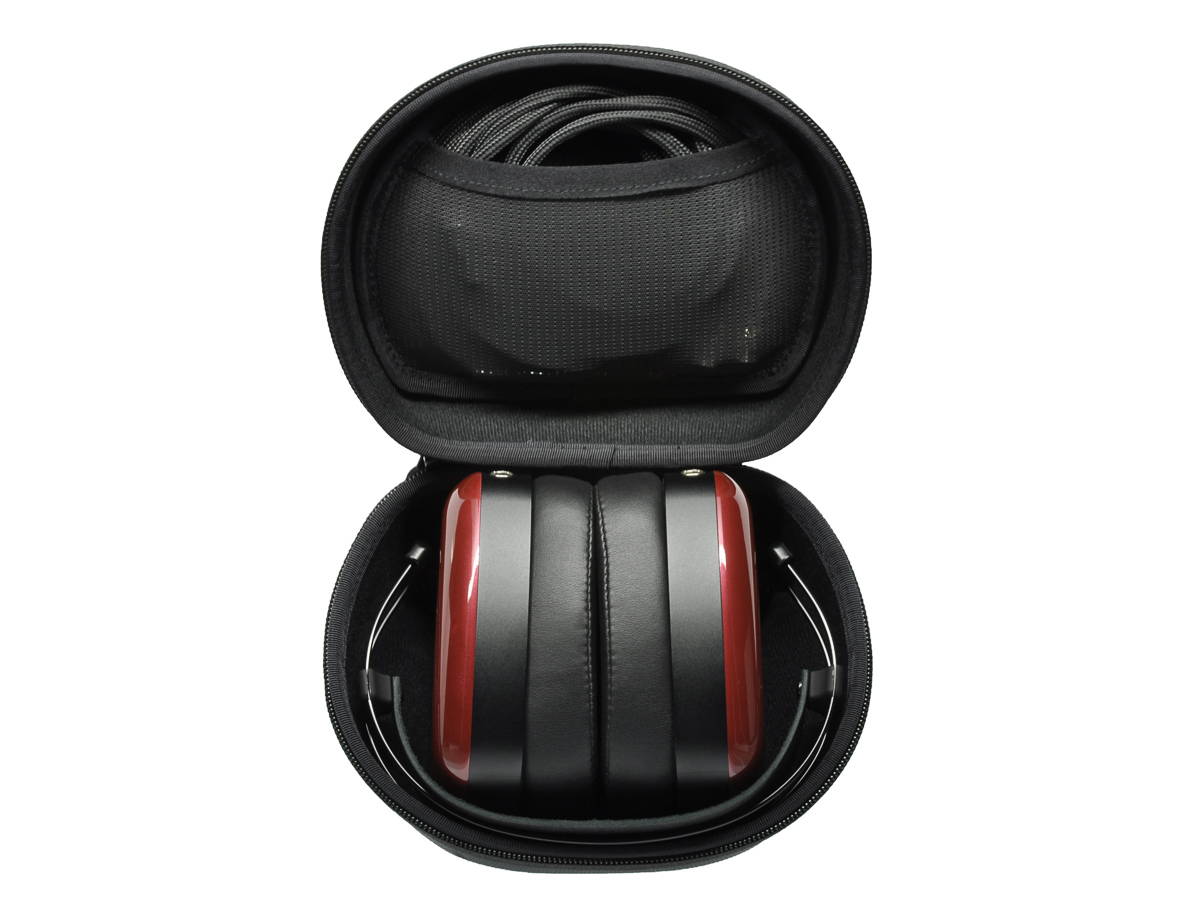 The AEON 2 comes in a sturdy black flip-top box that reveals a tidy, hard-shell carrying case with a separate small box for the cable. Inside the carrying case are:
Snugly folded headphones

Certificate of authenticity, a quick user guide

Tuning kit that includes three sets of pads
Note that this iteration of the carrying case is half the size of the original AEON case.
---
---