A New Generation of Music Streamers
Bluesound is one of our favorite streaming companies here at Moon Audio, providing a high level of functionality at a reasonable price point. As with all things, a new generation of music streamer is here: the Node. Bluesound has made some quality-of-life improvements under the hood of the new products with a new quad-core ARM Cortex A53 processor and a new DAC that operates at 32-bit/384 kHz and supports audio resolutions up to 24-bit/192 kHz. The new units also include HDMI eARC and also have a lower signal-to-noise ratio of -113 (down from -110dB) and THD+N of 0.002% (down from 0.005%). The inclusion of the HDMI makes the new Node more media-center friendly, with the ability to hook it up to your TV and entertainment system.
There have been some design improvements with an enhanced full-glass touch interface and precise volume slider. The Bluesound aesthetic remains, with a sleek looking box (in either black or white), and intuitive touch controls. You'll want to put it in a central location and show this thing off. All your music is ready for listening at the touch of a button.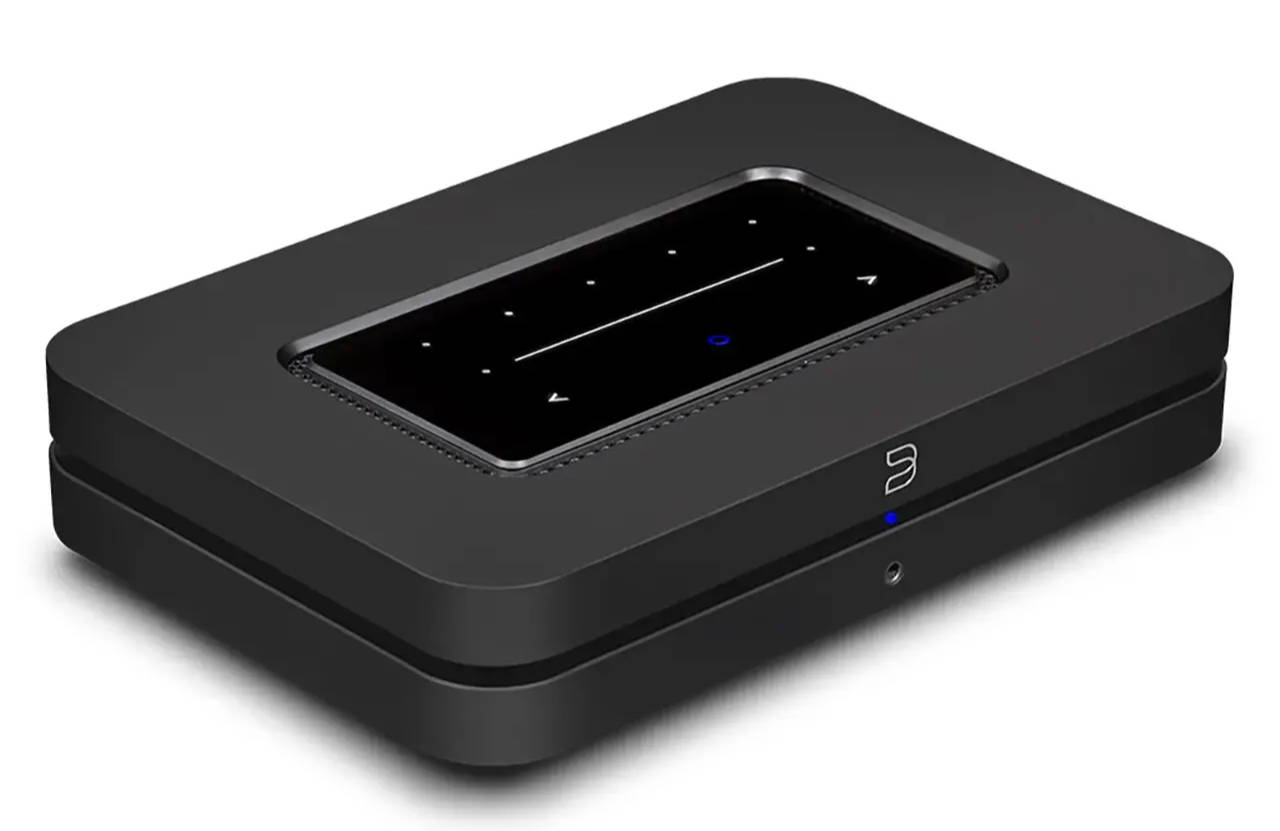 Bluesound is an award-winning wireless hi-res sound system that lets you play music in any and every room throughout your home. Choose music from your favorite streaming service or from a music library connected to your home network. Control where, at what volume, and when music plays with a free BluOS app for your smartphone, tablet, or desktop computer. Getting the crisp and detailed sound that only an audiophile-grade system can deliver has never been easier. Bluesound's streaming products are also great as an affordable entry point to work with ROON. The Vault 2i allows you to easily and effortlessly rip your CD collection and allows you to stream it to any room in your house. Both the Node 2i and Vault 2i are extremely intuitive and configurable devices that allow you to play both your streaming services and personal music library.
Bluesound Just introduced their second generation Node. They made some quality-of-life upgrades from the Node 2i, it doesn't make the old model obsolete, but expands upon your wireless HiFi system to make it even better as an additional piece.
---
Here's the kicker – the last generation Node 2i was a phenomenal device, and still is. The new Node retains all the original functionality of the Node 2i with the small addition of the HDMI eARC input. Since the Bluesound ecosystem works seamlessly with other Bluesound devices, now is the perfect time to get an amazing music streamer for even less.
The Node 2i is still a very capable device, with more than enough analog and digital input/output options to please the most dedicated audiophile. Online streaming services, internet radio, and even your own digital music library held on a computer, smartphone, or external drive – it is all integrated into the Node 2i.
Connect to any existing stereo amplifier, AV receiver, or powered audio system.
Featuring digital and analog input/output options, headphone stereo mini jack, subwoofer RCA mono.
Seamlessly stream music from a CD player or turntable through the NODE 2i to other Bluesound Players.
Simple setup directly inside the user-friendly BluOS Controller app.
Access and stream Internet radio stations, cloud music services, and your own local music library to multiple Bluesound Players.
Control music wirelessly with the intuitive BluOS Controller app.
Works with Bluesound RC1 Remote Controller
Connect Bluesound to your Amazon Echo with the skill in the Alexa app and use Amazon's Alexa voice assistant to control Players around the home.
AirPlay 2 lets you play music or podcasts from wireless stereo components throughout your house — all in sync.
---
Here's the kicker – the last generation of Node 2i was a phenomenal device, and still is. The new Node retains all the original functionality of the Node 2i with the small addition of the HDMI eARC input. Since the Bluesound ecosystem works seamlessly with other Bluesound devices, now is the perfect time to get an amazing music streamer for even less.
---
Bluesound Node Music Streamer Review
The Node hasn't changed much in appearance from the previous Node 2i, apart from an extra HDMI eArc port in the back and a larger, more elegant touch screen on the top of the device. The unit has a lovely design that tapers at the base of the device, giving it the illusion that it is levitating on the surface.
The unit is a great size for a desktop setup, not as large as other streaming devices, allowing you to have more real estate on your desk or shelf. One of the largest improvements on the build quality was to increase the size of the touch interface on the top of the unit. The previous unit had a minimal square-sized touch interface for basic controls. The Node increases the overall functionality of the interface by providing more room for additional touch controls, including a volume slider. The Node also has an integrated proximity sensor, lighting up the touch controls when your hand is over the unit. I really appreciate attention to details like this, as premium products like the Node should have an accompanying premium experience.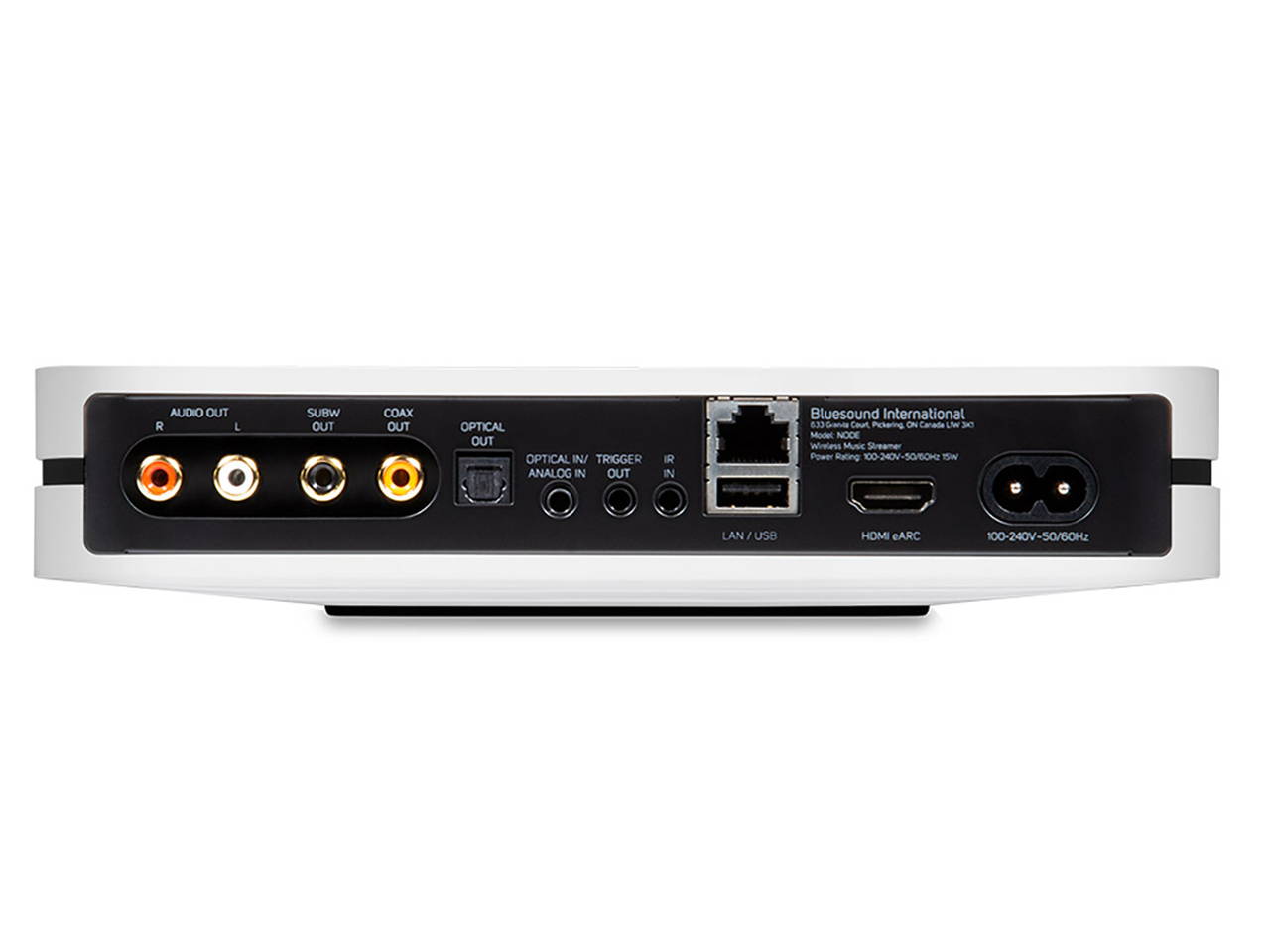 I/O (input/output) remains good in the rear of the device:
Mini TOSLINK / 3.5mm stereo combo
HDMI eARC
Analog stereo RCA (fixed or variable)
Coaxial RCA
TOSLINK digital optical
USB Audio 2.0.
3.5mm stereo out (front of device)
Bluesound includes an RCA out Network Pairing to a PULSE SUB+, allowing for the connection of a subwoofer. The addition of eARC is nice, as newer smart TV's implement the boost in bandwidth and speed. Enhanced Audio Return Channel (eARC) enables you to transmit the original full resolution audio signal through an HDMI cable and reproduce the best sound without compromise. As most audiophiles know, higher quality audio is always desired and the inclusion of eARC on the Node makes it much more compatible as a media center hub.
The Bluesound Node comes across as a relatively unassuming device, with its minimalist aesthetic and the option to control it completely wirelessly via the Bluesound application. Again, not much has changed from the original Node 2i, but you know what they say - if it ain't broke... An eventual upgrade I would like to see down the road is the implementation of a full size color touch screen capable of displaying text (and potentially graphics). That would make the Node more competitive with even larger streaming units that do the same.
---
The Bluesound Node utilizes a 32-Bit, 384kHz Differential Output design digital-to-analog converter. Its a very resolute DAC and certainly up to the task of handling your high resolution audio with ease. I would recommend connecting the audio output to your favorite DAC for an even better sonic experience. You'll have better performance from a standalone DAC than you will from an all-in-one unit any day of the week, but if you are looking at just the unit alone, you won't be disappointed. The amp section will also be sufficient for most use cases, but if you have a pair of very power-hungry headphones, you will likely need an additional amplifier. The addition of Bluetooth 5.0 is a welcome one, meaning that you'll have longer distances for devices and stronger connections. The Node utilizes aptX HD (2-way) for wireless audio transmission, which is capable of streaming your high resolution music over Bluetooth connection.
Wireless Audio Support:
Dual band Wi-Fi, Gigabit Ethernet and support for 2-way Bluetooth aptX HD Bluetooth ensures music playback without interruption.
Audio formats: MP3, AAC, WMA, OGG, FLAC, ALAC, WAV, AIFF, MQA, Dolby Digital 5.1
Sonically, the Bluesound Node has a combined analog / optical digital input and a USB port so it can act as a digital preamplifier in your system if you want to configure it that way.
In my listening sessions I was impressed with the overall fidelity and functionality of the small device. The new Node sounds similar to the previous Node 2i, but with updated hardware and the ability for higher-resolution audio playback, the Node (2021) is a worthwhile quality-of-life sonic upgrade. For my wired setup I used the Node with the Meze Audio 99 Classics, and for such a simple setup the sound was phenomenal. Bass was punchy and listening to some classic 80's bops the clarity in the midrange was immediately noticeable. I think it says a lot when a small device like the Node can power a device and allow it to flex its muscles.
For my wireless setup I was pairing the Node with the Ananda BT from HIFIMAN. The Ananda BT is one of my favorite wireless headphones for its great open back planar magnetic drivers. It's also compatible with a number of Bluetooth HD codecs and I've never had an issue with range on these headphones. Audio quality was stable without any dropouts. Connection was a breeze through the Bluesound app, just make sure your headphones are set to pairing mode when you do it, and they should connect in no time. The Ananda BT's are a great choice for the Bluesound Node because the Node transmits HD audio via the aptX HD codec, which the Ananda BT is compatible with. Mismatched codecs prevent the device from receiving the maximum bit and sample rates from your HD audio, but audio quality can still be great if you don't have a wireless headphone that is compatible with the aptX codec. I also used the Mobius from Audeze (which doesn't utilize aptX) and audio quality was still clean and crisp.
---
BluOS - The real star of the show when it comes to Bluesound streamers is BluOS. The BluOS app is one of the most intuitive and well-thought-out companion control devices for any streaming device out there. It automatically recognizes the device on your network, easily connect and integrate your music streaming services, control your devices, music settings, and much more. Bluesound has made an application with one of the best user experiences for a music streamer, and that's worth the price alone.
Music Streaming - BluOS has an incredible number of music streaming services you can integrate in your menu for easy access to all your favorite music:
Tidal, Qobuz, Spotify, Internet Radio, Amazon Music, Bugs, Calm Radio, Custom Channels, Deezer, IDAGIO, iHeartRadio, KKBOX, LiveXLive, Napster, nugs.net, Neil Young Archives, Qsic, Radio Paradise, RADIO.COM, SiriusXM, SOUNDMACHINE, and TuneIn.
Voice Control - The Bluesound Node now implements compatibility with voice assistants like Amazon Alexa and Google. This makes controlling the Node and searching your music library that much easier.
Great Connectivity and Compatibility - The app controller is compatible with iOS, Android, Windows Vista, 7, 8, 10, and MacOS 10-11. One thing to make note of here about the USB 2.0 port is that (as it stands now - 6/28/21) the USB port is for external storage only. Bluesound has announced that there will be USB audio transmission with a future update. At the time of this review however, there is no such update. We have no indication of when this update will occur, so we would recommend waiting for the update if you are primarily wanting to setup the Node for USB audio in your sound system.
---
The Bluesound Node represents great functionality and value for the price. If you are looking for a more than capable music streamer to introduce to your system, or don't want to spend thousands of dollars on a huge desktop unit, then the Bluesound Node is the perfect stepping stone to get into audiophile-quality music streaming. The Node is a capable device for high-resolution audio that sounds quite better than the original Node 2i. It's a clean and accurate sound signature that works great with all genres. For $549, the new Node is a good upgrade from the Node 2i, adding additional features like eARC HDMI, USB Audio output (eventually), and some great quality-of-life upgrades like the enhanced touch screen. Bluesound also creates one of the best user experiences with the BluOS application, making it seamless for you to integrate your existing music streaming services directly to the player. Roon Ready, AirPlay 2, and great I/O - we can't ask for anything more, and that's why the Bluesound Node Music Streamer gets our recommendation over and over again.
---
Bluesound Node 2i Music Streamer (Discontinued)
---
---
Included Accessories

120V AC Power Cord

230V AC Power Cord

Ethernet Cable

Stereo RCA to RCA Cable

TOSLINK Optical to 3.5mm Mini Adaptor

Safety/Warranty Guide

Quick Setup Guide
Bluesound Node Music Streamer Video Review
---
Specifications (Comparison)
Network: Gigabit Ethernet RJ45; Wi-Fi 5 (802.11ac, dual-band)
Audio Input: Combo - TOSLINK / 3.5mm input
Audio Output: Analog RCA Stereo with FIXED option, Coaxial RCA, TOSLINK digital optical
Bluetooth: Bluetooth 5.0 aptX HD wireless built-in, Two-Way (transmit & receive)
Headphones: 3.5mm Stereo Out, Wireless Bluetooth Out
Subwoofer: RCA Out
USB: 1 x Type-A port for external drive connection (Fat32 or NTFS formatted), 1 x Type-B (mini) for product servicing
Trigger: 12V trigger out
IR Remote: IR Sensor Built In - front panel
Power: Universal bi-pin AC Cord input (100 - 240AC)
Network: Wi-Fi 5 (802.11ac, 2.4/5GHz) Ethernet RJ45, GigE 1000 Mbps
Audio Input: Mini TOSLINK / 3.5mm Stereo combo HDMI eARC
Audio Output: Analog Stereo RCA (Fixed or Variable), Coaxial RCA, TOSLINK digital optical, USB Audio 2.0*
Bluetooth: Bluetooth 5.0 aptX HD Two-Way (transmit & receive)
Headphones: 3.5mm Stereo Out, Wireless Bluetooth Out
Subwoofer: RCA Out Network Pairing to PULSE SUB+
USB: Type-A Port for external drive connection (Fat32 or NTFS formatted)
Trigger: 12V Trigger Out
IR Remote: IR Sensor Built In - front panel with IR Remote Learning IR Input 3.5mm Jack
Power: Universal bi-pin AC cord input (100-240AC)
*Note: *Available for free with future software update
---
Supported File Formats: MP3, AAC, WMA, OGG, WMA-L, ALAC, OPUS
Hi-Res formats - FLAC, MQA, WAV, AIFF
Native Sampling Rates: 32 - 192 kHz
Bit Depths: 16 - 24
Performance: SNR - 110dBA; Distortion, THD+N - 0.005%
DAC: 32-Bit, 192kHz
Supported Operating Systems: Plays music from network shares on the following desktop operating systems: Microsoft Windows XP, 2000, Vista 7-10, Apple Macintosh 7-10
Free Internet Radio: TuneIn Radio, iHeartRadio, Calm Radio, Radio Paradise, LiveXLive, Radio.com
Supported Cloud Services: Spotify, Amazon Music HD, TIDAL, Deezer , Qobuz, HighResAudio (VAULT Required), Napster, KKBox, Bugs, Taihe Music ZONE, SoundMachine, IDAGIO, OraStream
Voice Control Integrations: Amazon Alexa & Google Assistant Skills
Integration Partners: Control4, RTI, Crestron, URC, push, iPort, ELAN, Lutron, roon, Airplay 2
Album Art: JPG
Supported Audio File Formats: MP3, AAC, WMA, WMA-L, OGG, ALAC, OPUS
Native Sampling Rates: up to 192 kHz
Bit Depths: 16-24
Performance: SNR -113dBA; THD+N, 0.002%
DAC: 32-Bit, 384kHz Differential Output design
Supported Operating Systems: Plays music from network shares on the following desktop operating systems: Microsoft Windows XP, 2000, Vista 7-10, Apple Macintosh 7-10
Free Internet Radio: TuneIn Radio, iHeartRadio, Calm Radio, Radio Paradise, LiveXLive, Radio.com
Supported Cloud Services: Spotify, Amazon Music HD, TIDAL, Deezer , Qobuz, HighResAudio (VAULT Required), Napster, KKBox, Bugs, Taihe Music ZONE, SoundMachine, IDAGIO, OraStream
Voice Control Integrations: Amazon Alexa & Google Assistant Skills
Integration Partners: Control4, RTI, Crestron, URC, push, iPort, ELAN, Lutron, roon, Airplay 2
Album Art: JPG
---
Processor: ARM® CORTEX™ A9, 1 GHz
Finish: Available in White or Black Matte
Included Accessories: 2x AC power cords; (Europe & North America); Ethernet Cable; Stereo RCA to RCA Cable; Toslink Optical to 3.5mm Mini Adaptor
Storage Environment: -10° C to 50° C, 20% to 80% relative humidity
Operating Environment: 0° C to 40° C
Product Dimensions: 220 x 46 x 146 mm; 8.7 x 1.8 x 5.7 in
Unit Weight: 1.12 kg / 2.45 lbs
Processor: ARM® Cortex™ -A53, Quad-Core, 1.8GHz per core
Finish: Black/White; Matte Satin Paint
Included Accessories: 120V AC Power Cord; 230V AC Power Cord; Ethernet Cable; Stereo RCA to RCA Cable; TOSLINK Optical to 3.5mm; Mini Adaptor; Safety/Warranty Guide; Quick Setup Guide
Storage Environment: -10°C to 50°C, 20% to 80% relative humidity
Operating Environment: 0°C to 40°C
Product Dimensions: 220 x 46 x 146 mm; 8.7 x 1.8 x 5.7 in
Shipping Weight: 2.28kg/5.03lbs
Shipping Dimensions: 300 x 300 x 74 mm; 11.8 x 11.8 x 2.75 in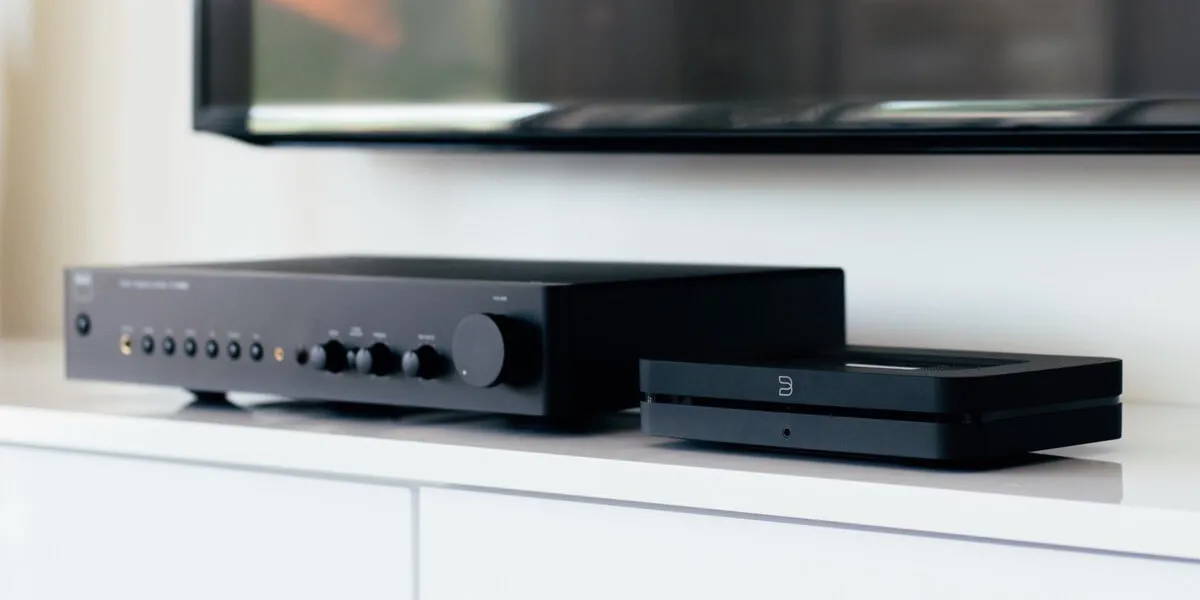 ---
Bluesound Vault 2i and Node 2i Music Streamers

New Music Streamers from Bluesound at Moon Audio

---
---