A Portable DAC Amp with A Microphone?!
The iFi GO Blu is somewhat of a sleeper hit here at Moon Audio. This portable DAC Amp is surprisingly feature-packed despite the size, and we think it deserves its own blog to talk about all the things it can do. Don't be fooled by the size or price, this is audiophile-grade gear, and it can do wonders for your music.
We've become big fans of iFi Audio here since we picked them up. All of their audio gear just sounds great. You don't have to be a broke audiophile to get an upgrade to your portable sound either, as iFi's products come in at incredibly affordable price points. So if you're always on the GO, then let's check out the GO Blu and see why it might be your new favorite portable DAC/Amp.
Great audiophile-grade sound
Small size, tons of features
Built-in microphone
Bluetooth, hi-res codecs
Great battery life, balanced and single-ended jacks
X-Bass and X-Space sound enhancements less impactful than on Gryphon
Not enough output power for larger headphones with more power requirements
Who is iFi Audio? We recently picked up iFi here at Moon Audio. You might have seen a video Drew did with an overview of the DACs, amps, and streamers, and I reviewed the popular Gryphon DAC and Diablo amp a bit ago. iFi has been around since 2012 and is headquartered in Southport UK. They produce over 50 audio devices and their mission is to do one thing: make your music sound better. 50 products is a large undertaking for any company, but iFi represents a good balance of quality audiophile-grade gear with affordable enough prices, ranging from entry-level to mid-tiered music lovers and budgets.
Be sure to head over to our iFi Audio Product Overview to get the low down on all of iFi's great audiophile-quality gear at the link below!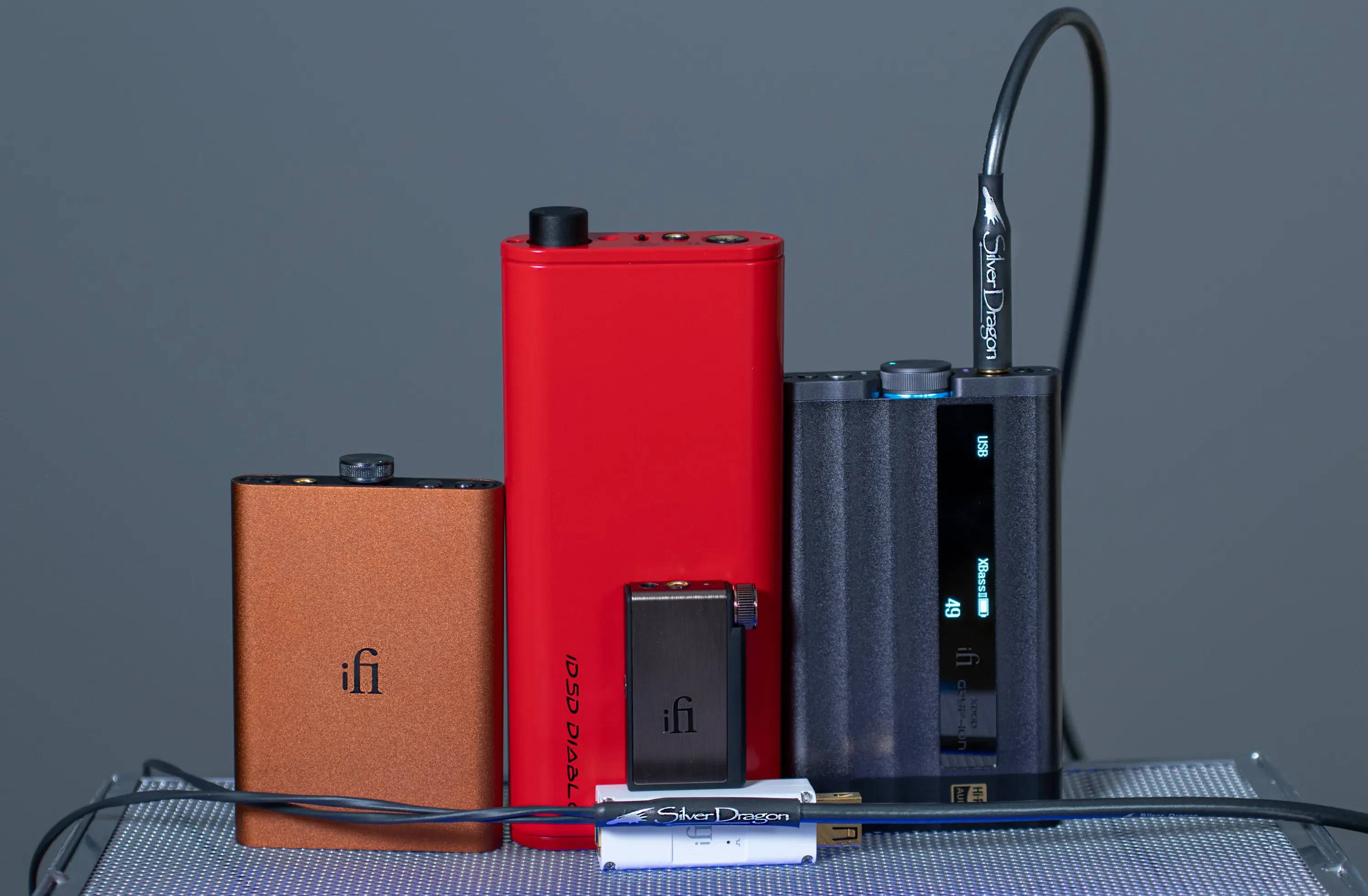 Don't judge the GO Blu just because it's small - but let's talk a bit about the size. It's smaller than a Zippo lighter, and one of the most impressive things about the design is that iFi Audio still managed to engineer the Bluetooth, DAC, and amplifier stages completely separately . Each circuit stage is designed and optimized as its own to minimize interference and maximize the overall sound quality. Here's what iFi says about what went into their engineering of such a small device:
From iFi:
Three unique stages: Bluetooth, DAC, and Amplifier. Most pocket-size Bluetooth DAC/headphone amps incorporate all-in-one 'system on a chip' solutions to deliver input processing, digital-to-analog signal conversion, and amplification. These are simple and cost-effective, but they cannot compare with expertly designed, individually optimized circuit stages when it comes to sound quality. Uniquely for a device of this type and size, the GO blu's clever design packs in separate Bluetooth + DAC + Amp stages, each engineered in distinct blocks to deliver the ideal combination of cutting-edge specification and superb sound. Others just don't have this level of execution. The Bluetooth stage makes full use of Qualcomm's latest four-core QCC5100 Bluetooth chip and supports every current high-definition format. This then feeds the DAC stage with a Cirrus Logic 32-bit DAC chip at its heart. This is coupled with a customized digital filter to minimize pre-echoes and ringing artifacts, and a precision clock system to ensure ultra-low jitter, thus reducing errors and distortion in the digital audio signal. The amp circuitry benefits from symmetrical twin-mono signal paths and utilizes iFi's Direct Drive design concept – direct-coupled to ensure a clean signal path without distortion-inducing output coupling capacitors. The amp stage delivers up to 5.6V (twice the voltage of others) – considerably more power than other similarly sized devices – handling even relatively tough headphone loads with ease. To ensure signal strength suits the sensitivity of the connected headphones or earphones, auto-gain adjusts output up or down by 6dB.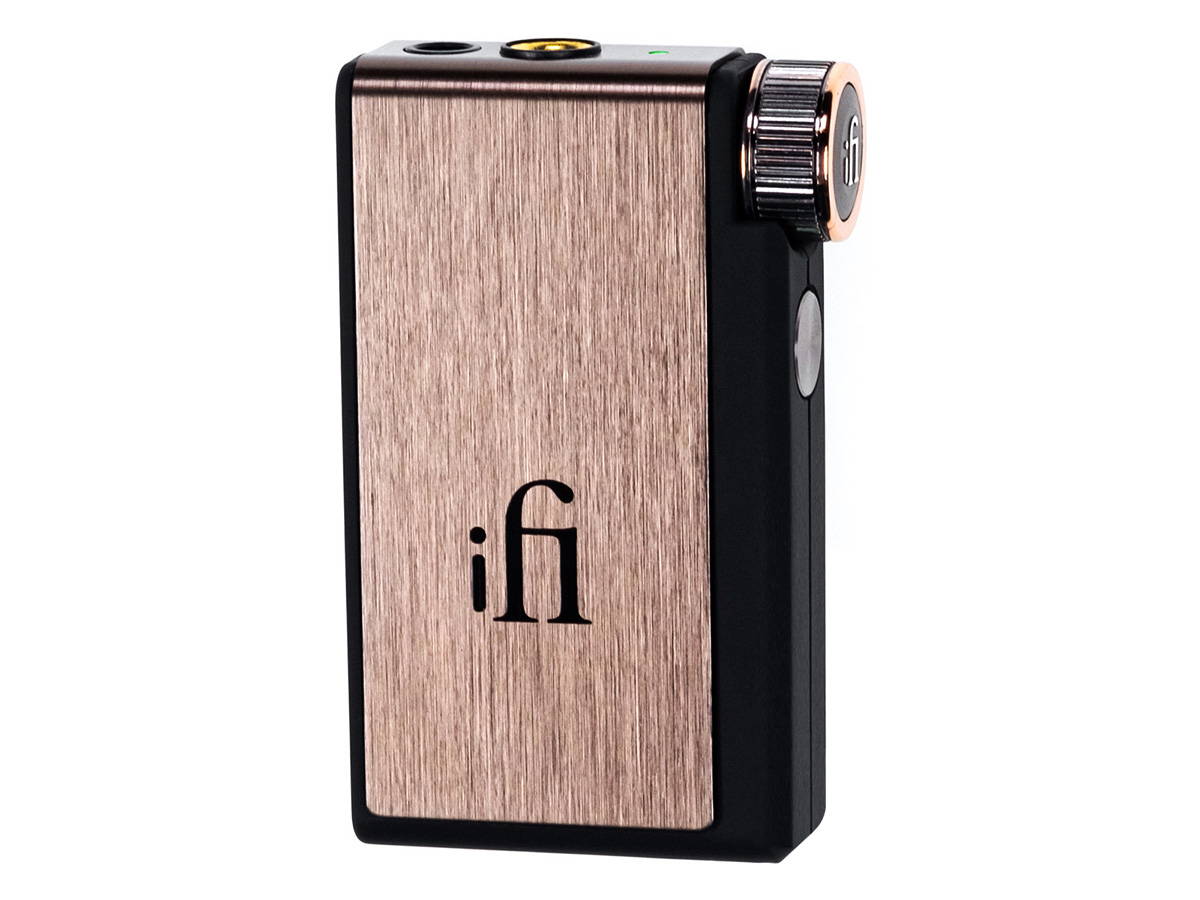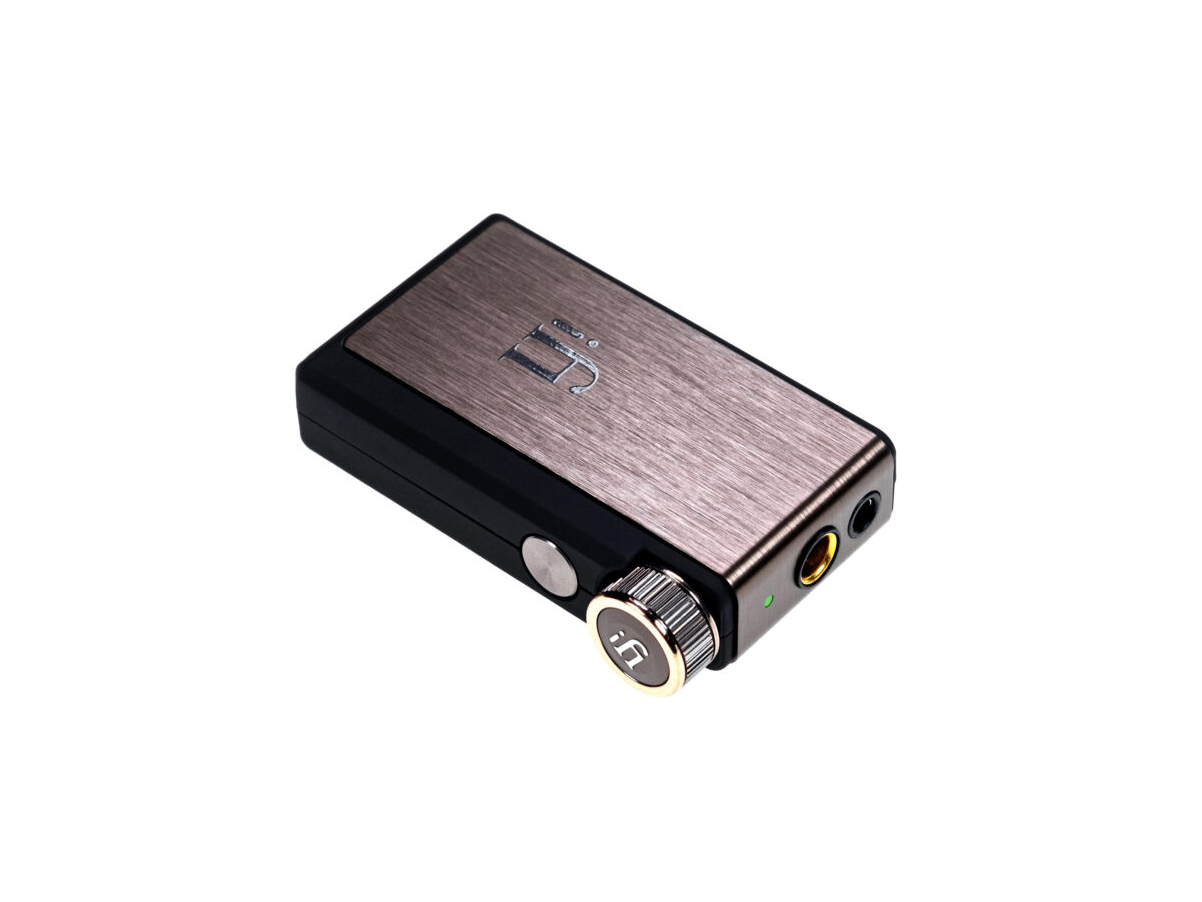 Despite the size, the GO Blu feels premium. It's light enough so that it won't add much weight to your portable setup and having both balanced and single-ended headphone outputs is something you don't even find on common USB DACs! It's impressive the amount of functionality that iFi has crammed into this little DAC amp. iFi also makes a leather case for the GO Blu which protects the finish but also comes equipped with a clip so that you can snap if anywhere you want.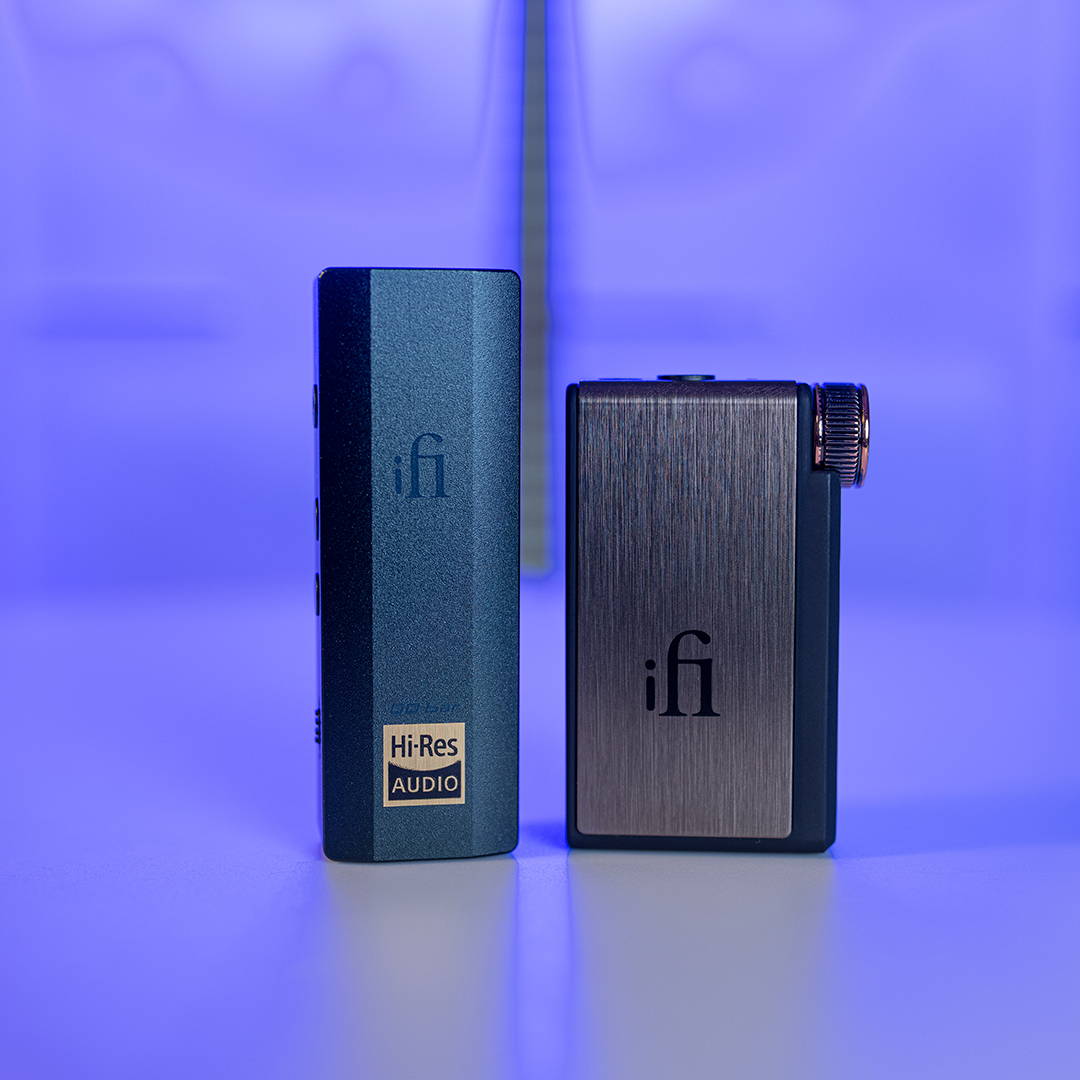 As already mentioned, the GO Blu has both a 4.4mm balanced and a 3.5mm unbalanced headphone output, providing a solid selection for compatibility with a ton of headphone and cable options out there. The Go Blu uses a Cirrus Logic CS43131 DAC chip - it's transparent, efficient, and accurate when it comes to sound reproduction. Cirrus Logic chips lean to the analytical side in general, so that means great detail and clarity throughout. Combine that with iFi's proprietary XSpace and XBass sound enhancements, and you have a device capable of adapting to (almost) any genre you throw at it.
XSpace: XSpace is the iFi analog signal improvement circuitry to get that 'music' back outside of your head for much better headphone enjoyment.
XBass: XBass is an analog headphone spatializer. It opens up your music to give you the feeling of spaciousness experienced at a live concert.
iFi's XBass and XSpace work surprisingly well, too. Usually, when you have a bass boost button it clogs up the rest of the sound quality. However, the way iFi implements these sound enhancements is incredibly effective, adding bass or spaciousness without deteriorating the fidelity or sound quality. You still maintain the clarity with XBass, and you add separation with XSpace, allowing the recording to sound much more expansive and enveloping.
The GO Blu feels like a premium product worthy to stand with other more expensive portable DACs. iFi does a great job of packing more tech and features into the Blu than any other portable DAC at this size or price. As if 4.4mm balanced and 3.5mm unbalanced headphone outputs weren't enough, the GO Blu gives users the option to go completely wireless. Equipped with Bluetooth 5.1, the Go Blu is packed with all the standard and hi-res codecs that you can shake a stick at: AAC, SBC, aptX, aptX HD, aptX Adaptive, aptX LL (Low Latency), LDAC, and LHDC/HWA. Even some top-of-the-line wireless hi-fi solutions don't have that range of compatibility. On top of that, you can even connect via USB-C for 24/96 playback. It's incredibly versatile and capable of basically any situation you find yourself in.
The battery life is equally impressive. We're getting the listed approximate 8 hours, which is great for a full day of listening. The power output is respectable on the GO Blu, providing enough juice for most headphones and IEMs. It delivers up to 5.6V, but keep in mind that larger, full-size headphones or ones with specifically high power requirements will not work optimally. Overall, it shouldn't be an issue for most users looking to spend a couple hundred on a device like this. You're probably not going to want to pair it with your $4000 flagship headphones anyway.
The LED on the top of the GO Blu next to the headphone outputs offers a great amount of information for a single light as well. For Bluetooth, it will flash blue and red when the GO Blu is in pairing mode, flash blue when it is awaiting connection, and green when it is connected. The sound enhancement button also has its own set of LED indicators, showing yellow when XBass is activated, light blue when XSpace is activated, and white when XSpace and XBass are activated together.
The thing that makes this device so distinctive on the market is the inclusion of a built-in microphone. Since streaming high-resolution music is becoming more common on things like smartphones with apps like Tidal and Qobuz, it makes sense to have a portable DAC/Amp that works in the voice functionality of your phone too. Of course, having a microphone on an audiophile-grade device like the GO Blu isn't going to give you magical studio-grade microphone quality, but it's clear enough as anything else out there. Having that functionality included in the device is nice, without having to disconnect or deactivate a setting every time someone calls you. It's cool. It works. There's no DAC/Amp out there like it.
When using the GO Blu as a USB DAC we can't recommend enough our Silver Dragon USB Cable. It's our most popular Dragon cable as it is created with ultrapure silver conductors for the best in signal transfer for your digital music. It's hard to beat this pairing. Learn more about the Silver Dragon USB Cable in the Featured Products section below.
Generally, stock audio cables are manufactured with subpar materials, metals with impurities, poor geometries, and an overabundance of layers to make them look and feel like a fire hose. Inconsistency and lack of quality control in stock cables can lead to poor sound quality and a veiled sound vs what the musician intended for you to hear and feel from the music. Dragon cables are handcrafted with the highest standards and made to order according to your specific needs. At Moon Audio, we create a custom cable for you using the highest quality UP-OCC silver or copper conductors that can be manufactured. UP-OCC metals are void of impurities and are optimized for signal transfer and sound quality. We have one of the largest collections of audio and headphone connection options available online and we create limitless audio cable options depending on your specific gear and needs.
Silver Dragon Sound Signature: The Silver Dragon is the original cable. Silver strands clarify instrument separation, increase the soundstage, and find previously lost high and mid-frequency sounds. Transients appear more cohesive and the bass tighter for a more controlled sound. The detail and clarity of the Silver Dragon make it a perfect match for classical music and other genres with many nuanced instruments.
Black Dragon Sound Signature: The Black Dragon is warm and smooth with a musical presentation. Copper strands enhance the body, shape, and immediacy of the music. The detail and expansiveness of the Black Dragon make it a flexible fit where a broad range of musical genres are played. It can also improve bass frequencies on bass-light headphones. The smooth, musical quality makes it a perfect fit for headphones that tend to sound a bit edgy or bright. Despite its warmth, the Black Dragon does not have a laid-back, lush sound. It is much closer to neutral, making it a very natural-sounding cable. For more information on finding your signature sound, visit our Sound Signature Guide.
The Go Blu is a neat portable USB DAC Amp that packs more features than products 2-3 times its price. It's small enough and affordable enough that if you're looking for a solid portable audiophile-grade solution with a swiss-army knife of configurations, it would be tough NOT to recommend checking out the Go Blu from iFi Audio. Yes, it's a budget DAC amp but the construction quality is top-notch, and iFi uses premium materials with separate BT, DAC, and Amp stages for maximum performance. The CS43131 chip sounds robust and detailed, the iFi sound enhancements aren't just gimmicks - they actually provide some nice added bass response and soundstage to the music if you prefer. There's not much to be disappointed at here when taking everything into consideration. Keep in mind that you're not going to power your Focal Utopia with this (and I'm not sure why you would want to), as there are much better DAC/Amp offerings from iFi like the Gryphon or Diablo if you need some added power.

Look, for $200, you're not going to find anything else out there like the Go Blu, and if you want something that will provide you with better sound no matter how you want to use it, then this little magic sound box is for you.
---
---