Music streaming is becoming more popular every day. Yes, we all have our personal physical music collections, but many of us also have music subscription services, giving us access to millions of songs instantaneously. Music streamers are dedicated devices to streaming your high resolution audio to various devices, depending on how you have them hooked up. Aurender, Bluesound, Roon, and Matrix Audio are some of our most popular music streaming brands, but this guide on how to set up your music streamer should work with just about any device when connected to your computer.
So, why do we want to do this? There are lots of reasons. The most common is so you can easily transfer any music you have either ripped or purchased to the Audio Storage of your Streamer/Server. Let's say you want to do the reverse and pull music from the device to load onto your digital player - this is also how you would set that up. Read on to find out how to map your streamer so that you can access the storage through your local network.
The first thing you need to do in Widows 10 (this may slightly vary for other operating systems) is make sure to turn on Network Discovery.
If you open File Explorer, go to Network, and see an error message ("Network discovery is turned off…."), you'll need to turn on Network discovery to see devices on the network that are sharing files. To turn it on, select the Network discovery is turned off banner, then select Turn on network discovery and file sharing.
The second thing to do is then allow Network Sharing. How do I share files or folders over a network now? To share a file or folder in File Explorer, do one of the following:
Right-click or press a file, select Give access to > Specific people.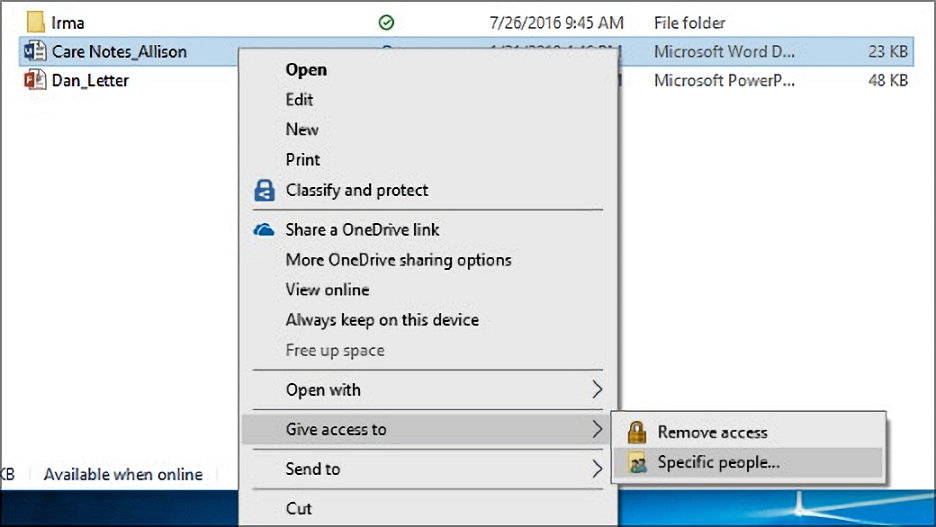 Select a file, select the Share tab at the top of File Explorer, and then in the Share with section select Specific people.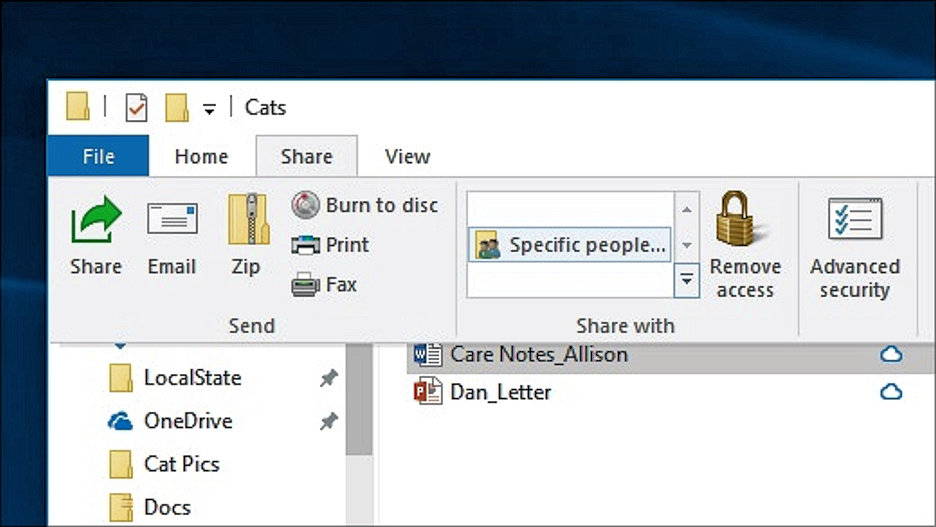 If you select multiple files at once, you can share them all in the same way. It works for folders, too—share a folder, and all files in it will be shared. If you are using a home network and your network is safe and secure then you can select to share with everyone. This makes things easier and prevents you from accidently blocking the Server.
The next thing we suggest is get this free software that will track down all the IP Addresses on your network for all devices. This will show you the unique address of say your Roon Nucleus or Aurender server. The Program is called Advanced IP Scanner and can be found here: https://www.advanced-ip-scanner.com/
Once you run the scanner you will see below which the network. Notice we have highlighted the Roon Nucleus, a BlueSound Vault and down at the bottom are 3 Aurender products.
If your using Roon Software you can also get the IP Address by clicking on General Tab in the settings menu and you will see the IP address Under the Nucleus.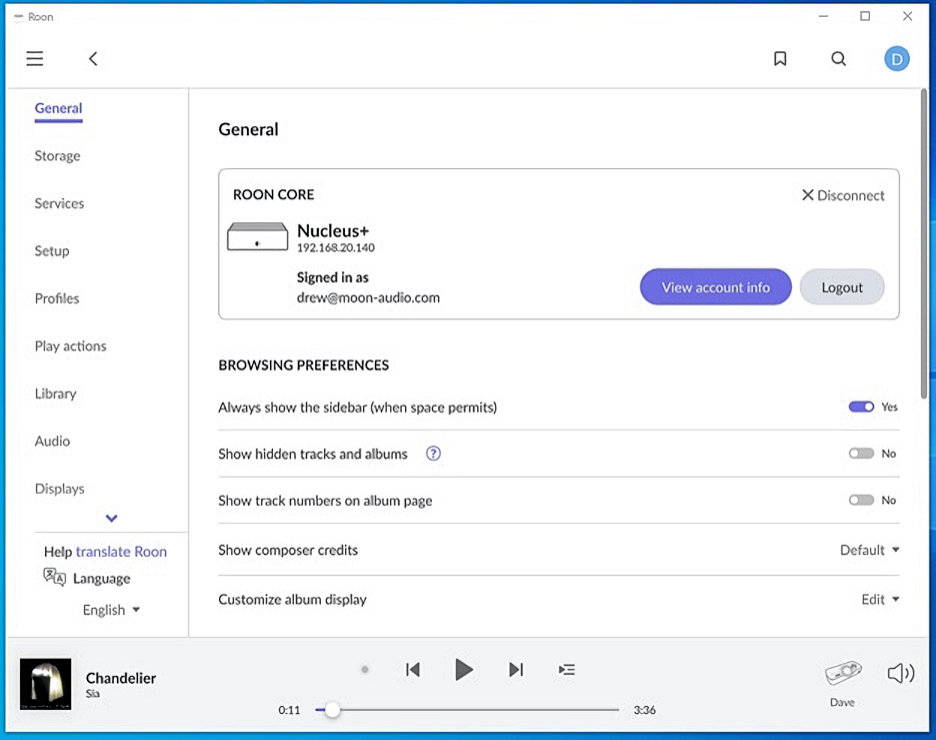 Once you have this address mapping a Drive in Windows Explorer is easy.
Map a network drive to get to it from File Explorer in Windows without having to look for it or type its network address each time.
Open File Explorer from the taskbar or the Startmenu, or press the Windows logo key+ E.
Select This PC from the left pane. Then, on the Computer tab, select Map network drive.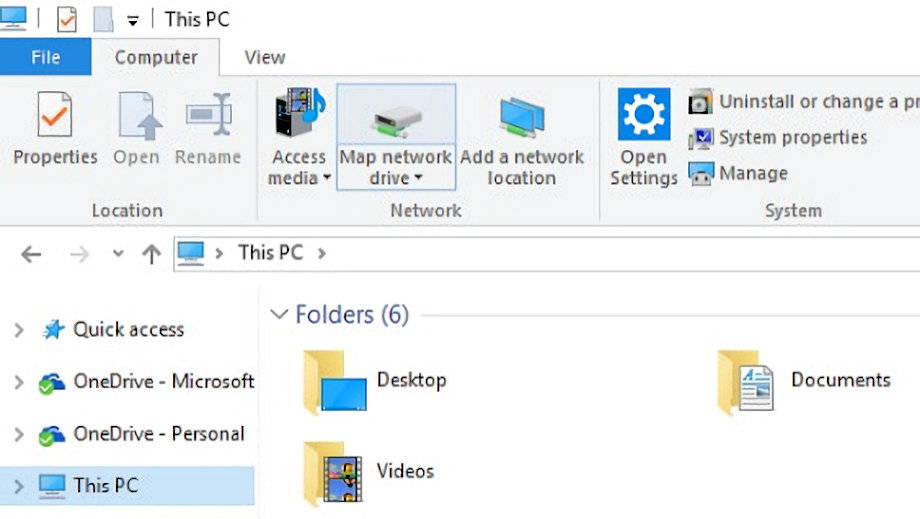 In the Drive list, select a drive letter. (any available letter will do).
In the Folder box, type the path of the folder or computer, or select Browse to find the folder or computer. To connect every time you log on to your PC, select the Reconnect at sign-in check box.
Select Finish.
Note: If you can't connect to a network drive or folder, the computer you're trying to connect to might be turned off, or you might not have the correct permissions. Try contacting your network administrator.
Here is an example of mapping the Roon Nucleus. First note we have already previously mapped it as the Drive U, but at the bottom you will see we have clicked on the Network icon and you see the IP Address: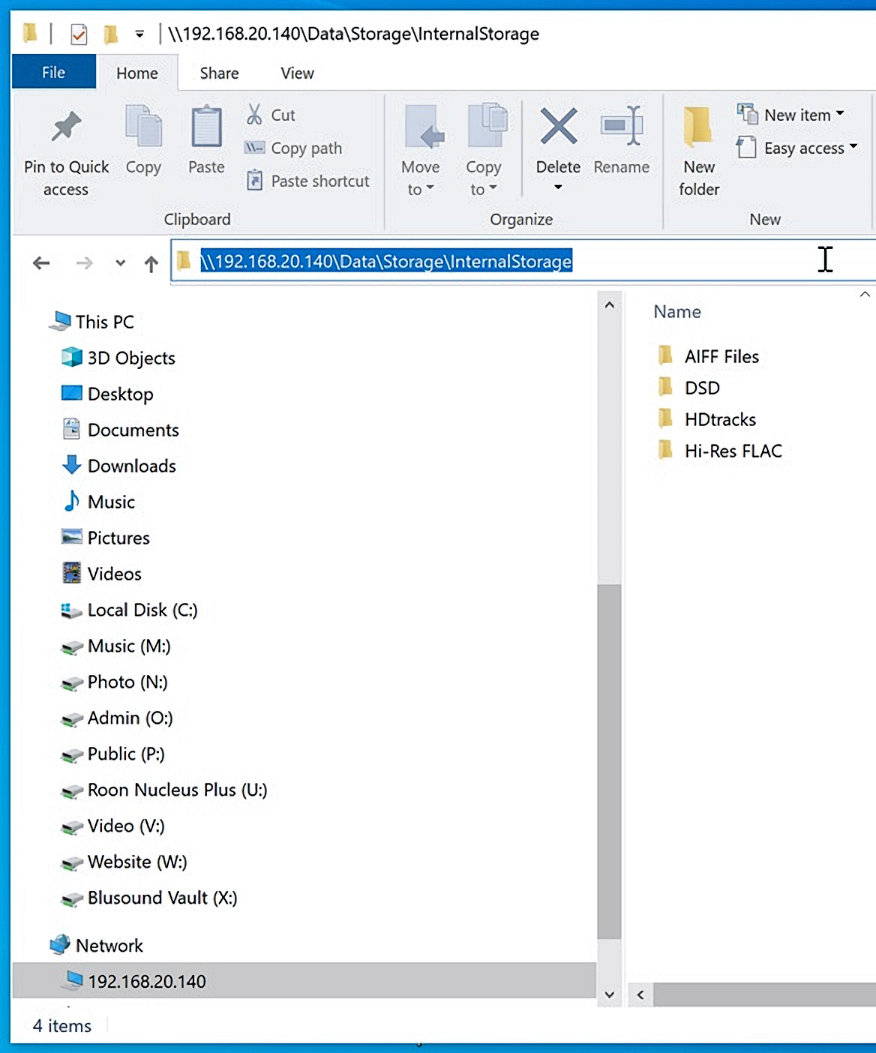 Retrieve this by either double clicking on The Nucleus in the IP Scanner software or you can type in the data field \\192.168.20.140. This is our IP address but yours will likely be different. The location of my internal drive of the Nucleus is here: \\192.168.20.140\Data\Storage\InternalStorage
Now, lets permanently map this location. Highlight This PC in Windows Explorer like below and right click on it.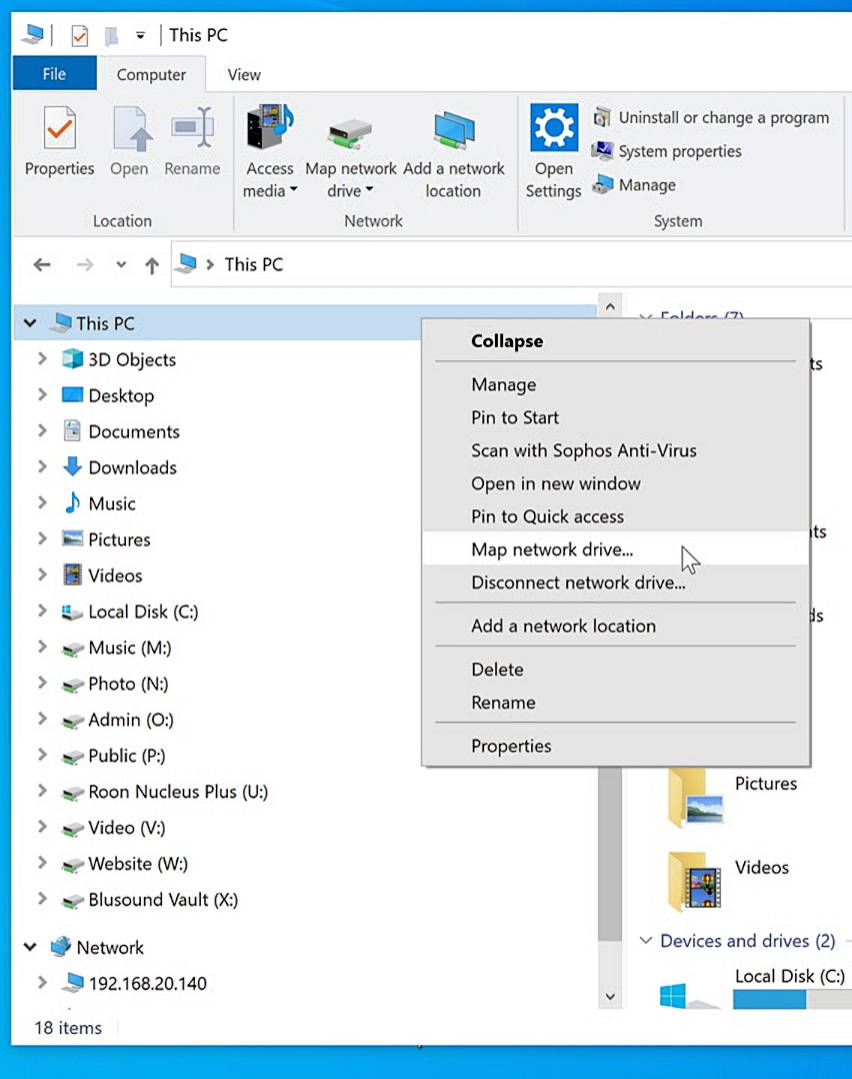 Input the Address for the drive and click Finish.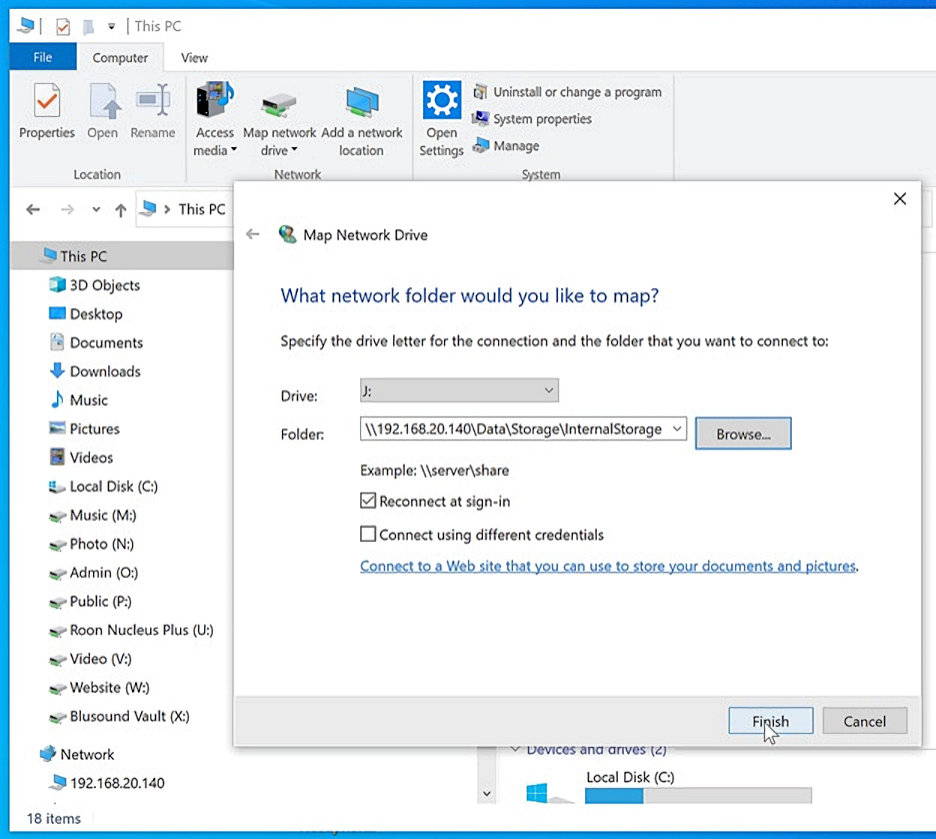 Now the storage will perminently show up in Windows Explorer. See a few of our mapped devices.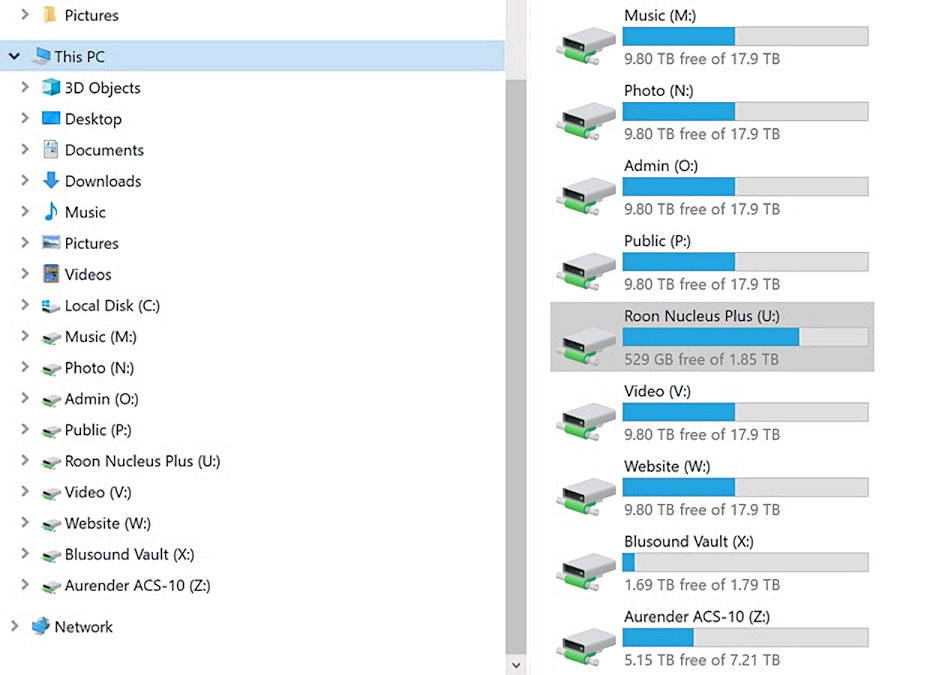 ---
If you have any questions about mapping your music streamer to your local network, feel free to leave a comment below. Happy listening!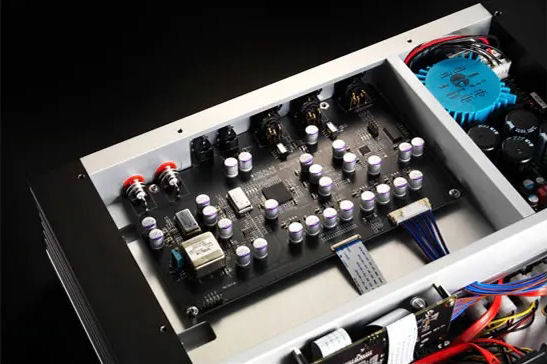 Aurender Music Servers: Complete Guide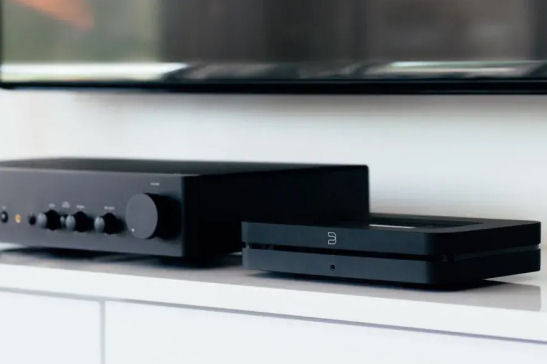 Bluesound Vault 2i and Node 2i Music Streamers
---