A Super-Comfortable 'Take it Anywhere' Headphone
Comfortable. Collapsible. Clean-sounding. Clever alliteration aside, I have nothing but good things to say about the Dan Clark Audio AEON 2 closed portable headphone. Pleasant warmth, emotive vocals, and sweet highs -- a slightly more refined-sounding version of the open-back AEON 2. It's a delightfully clean and musical-sounding headphone that keeps me smiling.
This fits with my overall impression of Dan Clark planar magnetic headphones, which is that they facilitate feelings of mellow enjoyment. Even Dan Clark's electrostatic headphone, the VOCE, has a decidedly relaxed vibe to it. They don't have a get-up-and-dance energy, nor are they forward-sounding or analytical. They have a "take a load off at the end of the day" vibe that makes for a wonderful listening experience.
San Diego-based Dan Clark Audio was known as MrSpeakers until about a year ago, and the AEON 2 is the first model to be unveiled under the new name. AEON 2's design allows it to fold in on itself to roughly half of its size, making it easy to stow in a bag or backpack. Note that the AEON 2 carrying case is half the size of the original AEON case, making for an extra-tidy travel experience.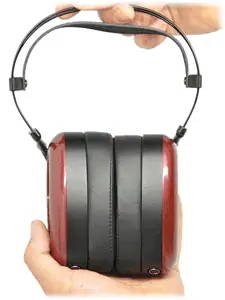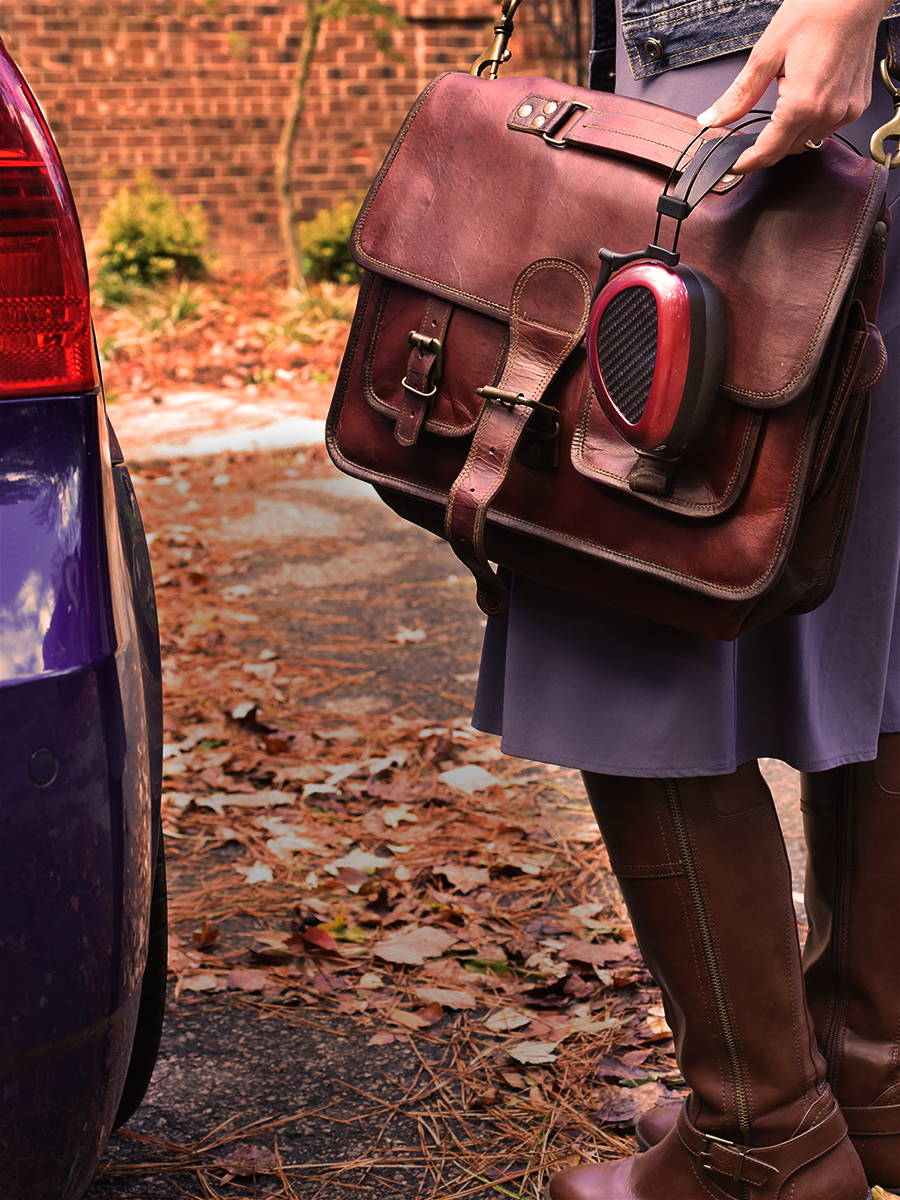 Materials, Quality & Comfort
I've yet to try every headphone under the sun, but what I can say is this: AEON 2 is the most comfortable headphone I have tried. From the moment I put it on, I had the sense that it was custom-made for my cranium.
Lightweight, just the right amount of clamping, super-comfy ear pads ... yes, please.
Beyond its supreme comfort, the most notable physical feature of the AEON 2 is its portability. It features a collapsible, hinge-free headband design that allows it to fold in on itself to roughly half of its size. The folding process is simple and seamless -- just be sure to fold both ear cups inward and upward at the same time -- and the result is something compact enough to stow in a bag or backpack.
AEON 2 is incredibly lightweight -- about 11-1/2 ounces. That's about an ounce-and-a-half heavier than the ETHER 2, which is the lightest full-size planar magnetic headphone on the market. Still, it's really light. But that does not mean it has plastic parts.
The AEON 2 replaces the cast aluminum baffle on the AEON Flow with a carbon fiber and machined aluminum design that is rigid but lighter. The AEON 2 closed has a carbon fiber insert where the grills are on the open-back version.
The headband is a pair of thin wires that sit above a leather strap. It's made from NiTinol, an alloy of nickel and titanium dubbed "memory metal" that is known for keeping its shape under stress.
The ear cups on the AEON 2 are shaped like, well, ears. They are designed to complement the shape of the skull, and they fit me in a pleasingly snug and natural way. The cups are finished in a glossy deep red, with a honeycomb design on the baffle. The synthetic leather ear pads are plush and comfortable, and I thought they were real leather. In all honesty, these are the best-fitting, most comfortable headphones I have worn to date.
AEON has upgraded its DUM (Distinctly Un-Magical) cable with a new flagship VIVO cable, which Dan Clark touts as a transparent-sounding cable crafted from silver-plated OFHC copper. It is more supple and less microphonic than its predecessor.
For the AEON 2, Dan Clark took the driver from the flagship ETHER 2 and completely redesigned it. This new, 100 percent proprietary driver design features patented TrueFlow and V-Planar technology. This second-generation motor design bumps up the bass, increases soundstage, and delivers realistic dynamics.
A highly efficient transducer keeps weight down by reducing magnet size. TrueFlow improves airflow through the motor, producing a major upgrade in detail retrieval. V-Planar driver processing puts texture on the driver surface for superior low-frequency performance and improved diaphragm stability.
For the technically inclined, here's a little more on these proprietary technologies:
V-Planar
A conventional planar driver is assumed to move as a flat surface, but this is not realistic, as the driver is inflexible and "locked" at its boundaries. Thus, it moves more as a bowed surface than a plat plane. Through a technology known as knurling, deep creases are implemented in the diaphragm, allowing the flexibility needed to fit larger motions for a deeper musicality. The V-Planar driver allows expansion and contraction of sound without losing fidelity or stretching it too thin. V Planar can push more air at low frequencies, and deliver better dynamics, high-end frequency response, and lower distortion.
---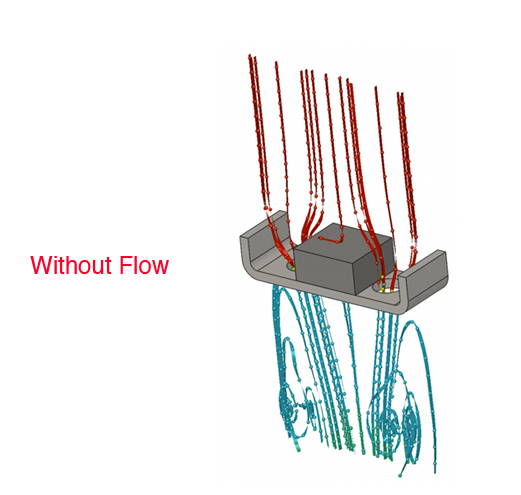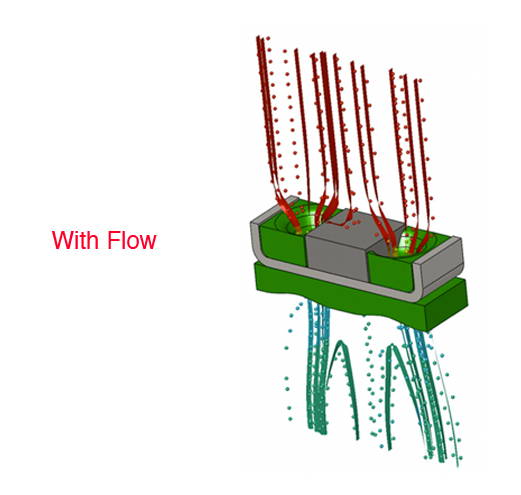 TrueFlow
Planar magnetic drivers use magnets in their motors. These magnets create right angles through which audio waves must pass, which can be difficult. When sound waves have to travel through hard angles, turbulence in the audio-waveform tends to mask lower-level details. TrueFlow addresses this issue by filling in the area between magnets with perforated material, eliminating hard right angles so the driver moves air through a flat, perforated surface. The result, according to Dan Clark Audio, is a nearly perfect acoustical structure that yields notable increases in resolution and dynamics as well as extended frequency response.
Note: With an impedance of 13 Ohms and a sensitivity rating of 92dB/mW SPL, the AEON 2 does not require a lot of power, but like other planar magnetic headphones, they will enjoy extra amplification.
I listened to the AEON 2 with a Silver Dragon Premium Cable connected first to the Roon-certified Matrix Audio Element X Music Streamer, an all-in-one desktop solution that is incredibly quiet. I later switched to the Astell&Kern KANN Alpha Music Player. My impressions here are with the Element X, with notes on the KANN Alpha at the end.
AEON 2 + Element X
The AEON 2 closed-back is a warm side of neutral headphone, though not as warm as its open-back counterpart (and definitely not as warm as the Dan Clark Audio ETHER 2)! It has a more balanced and less colored sound signature that carries a sense of purity and refinement. Bass is satisfying and punchy but it doesn't steal the show, and it's a bit tighter than on the AEON 2 open backs. Mids are clean and intimate with good resolution. Highs are controlled and sweet. They're among the best headphones I have tried.
Right out of the gate, I listened to "Ya Mar" to see how the higher-range percussion rendered. (This was a small area of lack for me on the AEON 2 open-backs.) I was rewarded with more of the zing that I like, with a feeling of the percussive hits playing out in my head. Lower bass felt tight and controlled, and the overall feel was smooth and mellow.
I use "Beloved Wife" as a test track because I find that it can sound very different depending on the headphone. On the open-back AEON 2, it sounded richer; on the closed-back version, it sounded sweeter. There is a bit of bass boom in the recording that I listen to, but I felt like it was controlled on the closed-backs, with vocals, piano, and, to a lesser degree, strings, putting themselves out there and letting themselves be heard.
Vocal articulation and harmonic layering were very nice on a track like "Box of Rain." On a more energetic headphone, this mellow and wistful track will sound more uptempo, but here, it stayed true to its nature. I also had more awareness of and heard more definition in the strings. On "The Big Country," David Byrne's already exaggerated diction is extra sharp and full of nuance.
Tried-and-true test tracks:
"Beloved Wife" - Natalie Merchant
"Box of Rain" - Grateful Dead
"Pigs (Three Different Ones)" - Pink Floyd
"Skating Away on the Thin Ice of a New Day" - Jethro Tull
Additional tracks:
"Cabron" - Red Hot Chili Peppers
"Canon in D" - Classical Chillout Orchestra
"Diamonds and Rust" - Joan Baez
"Dig a Pony" - Beatles
"Goldberg Variations" (various) - Glenn Gould
"Right on Time" - Tedeschi Trucks Band
"The Big Country" (alternate version) - Talking Heads
"Ya Mar" - Leo Kottke/Mike Gordon
On "Cabron," the opening highs were less "threatening" than on the AEON 2 open-back. By this I mean that I didn't get the feeling that my ears would start to hurt pretty quickly if those highs went on any longer than they did. The song as a whole felt tight but not as "big." Crisp, with a nice musical sound, but I'm not being lifted up and swept away.
Resolution was notable across the board, with all manner of background details and layers of sound coming through. Soundstage was spacious for a closed-back headphone, and really not all that much narrower than on the open-back version of this headphone.
AEON 2 + KANN Alpha
After quite a bit of listening to the AEON 2 with the Element X music streamer, I switched to the KANN Alpha DAP (digital audio player). I found that the KANN Alpha made my music sound slightly warmer, fuller, and mellower than it did on the Element X. You can read our KANN Alpha review, but I will say this: I really liked the AEON 2 paired with the Alpha; the only drawback is that the Alpha is a bit heavier than what I would like in a portable DAP (though I think it's a trade-off I'd be willing to take). But get this: The Alpha actually weights less than the AEON 2 (by a couple of ounces). It's an odd illusion, then, to say the AEON 2 feels really light on my head but that the Alpha feels heavy in my hand.
"Ya Mar," meanwhile, had a calm, mellow vibe (one of the mellowist presentations I've heard with this song), but still delivered some of that zing in the percussion that I like, with a pleasing thump in the lower bass.
The mellowness was notable on the intro to "Pigs (Three Different Ones)", which features both piercing highs and aggressive guitar blasts. Both felt less forceful, while Roger Waters' vocals were nicely showcased.
"Skating Away" is an auditory treat no matter what, but the overall vibe can change depending on your gear. With the AEON 2 connected to the Alpha, the effect was calm with great resolution. Lower mids, strings in particular, were delightfully defined. The xylophone and flute were pleasantly sweet, with the rough guitar blasts stepping back ever so slightly to let them shine. The bass felt very tight and controlled.
Dragon Cable Recommendations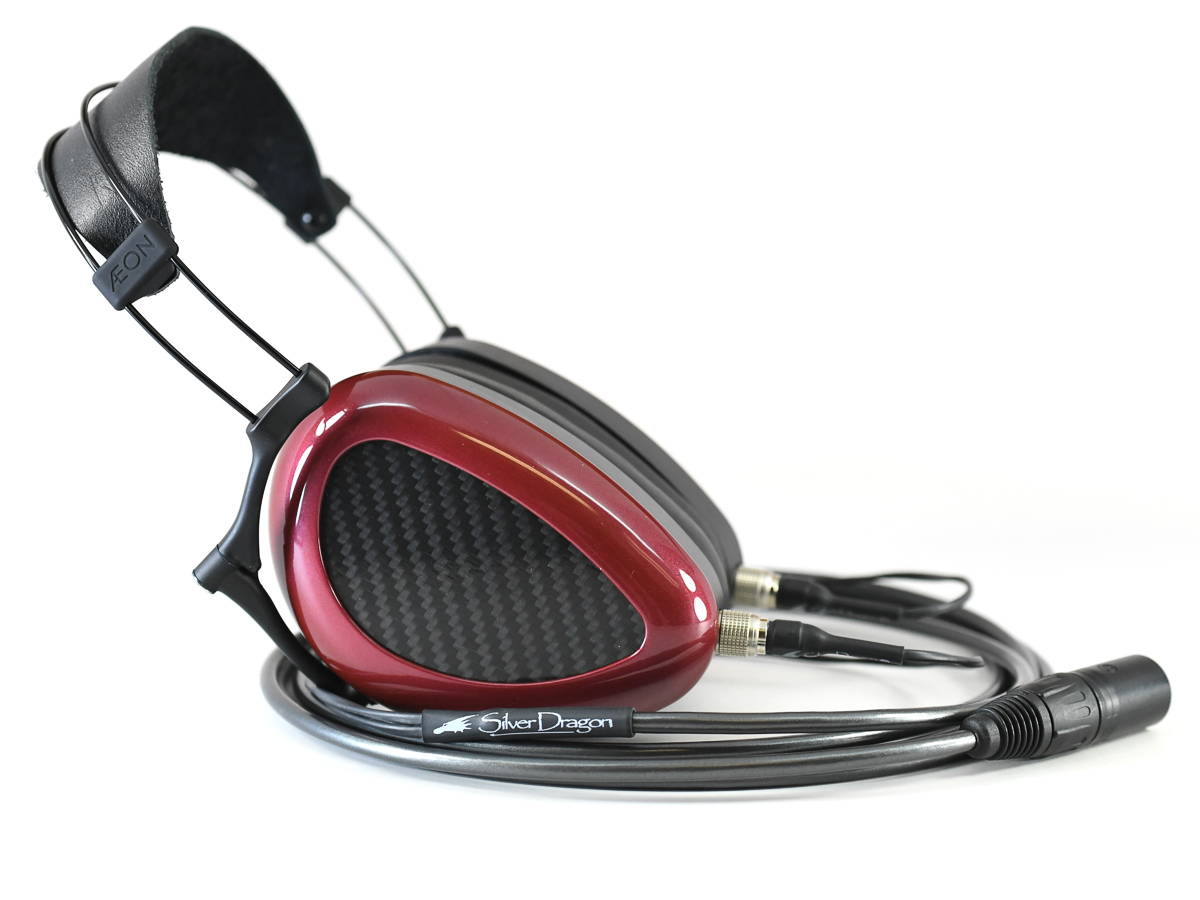 When considering a headphone cable upgrade, you need to ask yourself what you hope to accomplish. Think of cables as synonymous with your car's air filter. When it's clean, your car runs better. Likewise with the right cable, the music coming from your headphones will sound closer, with the cable "lifting the veil" between you and your music.
I opted for a Silver Dragon Premium cable with the AEON 2 to counterbalance some of the warmth. This is a silver conductor-based cable that uses 4 x 99.99998% UP-OCC Stranded Silver 24AWG Teflon insulated stranded conductors. The silver strands add a layer of clarity to your headphones, supporting detail retrieval in the mids and highs and a clean, clear sound.
For the listener who wants a "clean" sound without changing anything in the sound signature, I recommend the Blue Dragon headphone cable. The Blue Dragon is a neutral-sounding, copper conductor-based cable that promotes a calm sound. You can think of it like a cleaner for your eyeglass lenses. You're not altering the properties of the lenses; you're just removing any detriments to the clearest view.
The AEON 2 closed-back is a really nice, clean-sounding, and super comfortable headphone. It has an arguably more refined sound than the open-back version, with tighter, less dominant bass and sweeter highs. The overall presentation is relaxed, but not in a lazy way. The AEON 2 closed back is a good choice for those who like a warm-ish sound that is also quite natural and not lacking in resolution. Its portability and less-than-a thousand-bucks price tag make it even more appealing.
Aside from the sound signature, a consideration in choosing between the open and closed version of the AEON 2 is where you plan to listen to it. Both headphones are portable, but the closed back offers more flexibility when it comes to public listening. While you'll get some sound leakage with an open back headphone, a closed back keeps the sound between your ears. This makes the closed back a fine choice for the office, the library, an airplane, or anywhere else where you don't want to bother people within earshot. Pair it with a powerful and portable DAP like the KANN Alpha, and you're good to go.
---
---
---