Custom IEMs Will Provide the Most Secure Fit
If you love running or other high-intensity exercise, you know that music or your favorite podcast can make your workout all the more enjoyable. And if you love music and great sound, you don't want to be without your favorite playlist while you exercise.
So, what are the best workout headphones?
You may have tried running with your iPhone or other off-the-shelf earbuds and found that they slip out as you pound the pavement. They also might not provide the level of audio quality you desire. And traditional over-ear headphones or on-ear headphones are just too big and bulky and not likely to stay in place. The bottom line is you need a pair of headphones that won't need adjusting every five minutes.
Instead, you'll want to look at IEMs, or in-ear monitors (also called earphones). Unlike earbuds, which sit outside of the ear canal, IEMs go directly into the ear canal for a more secure fit and a tighter seal for better sound quality. The right IEMs will provide you with a better workout experience - and a better listening experience.
So, how do you know which is the best IEM for working out? Here are some factors to consider:
FIT. The first factor is fit. IEMs are available as both universal and custom models. The earpieces on a universal IEM are designed to provide a comfortable fit for most ear canals. You can adjust the fit by experimenting with various tips that fit on the nozzle. These tips are made of foam, rubber, or silicone and can be removed for cleaning. While you'll get a decent seal with a universal IEM, it's not foolproof. If you do go the universal route, look at models with smaller earpieces and a good ear hook, which will make your IEMs more likely to stay in place during vigorous activity.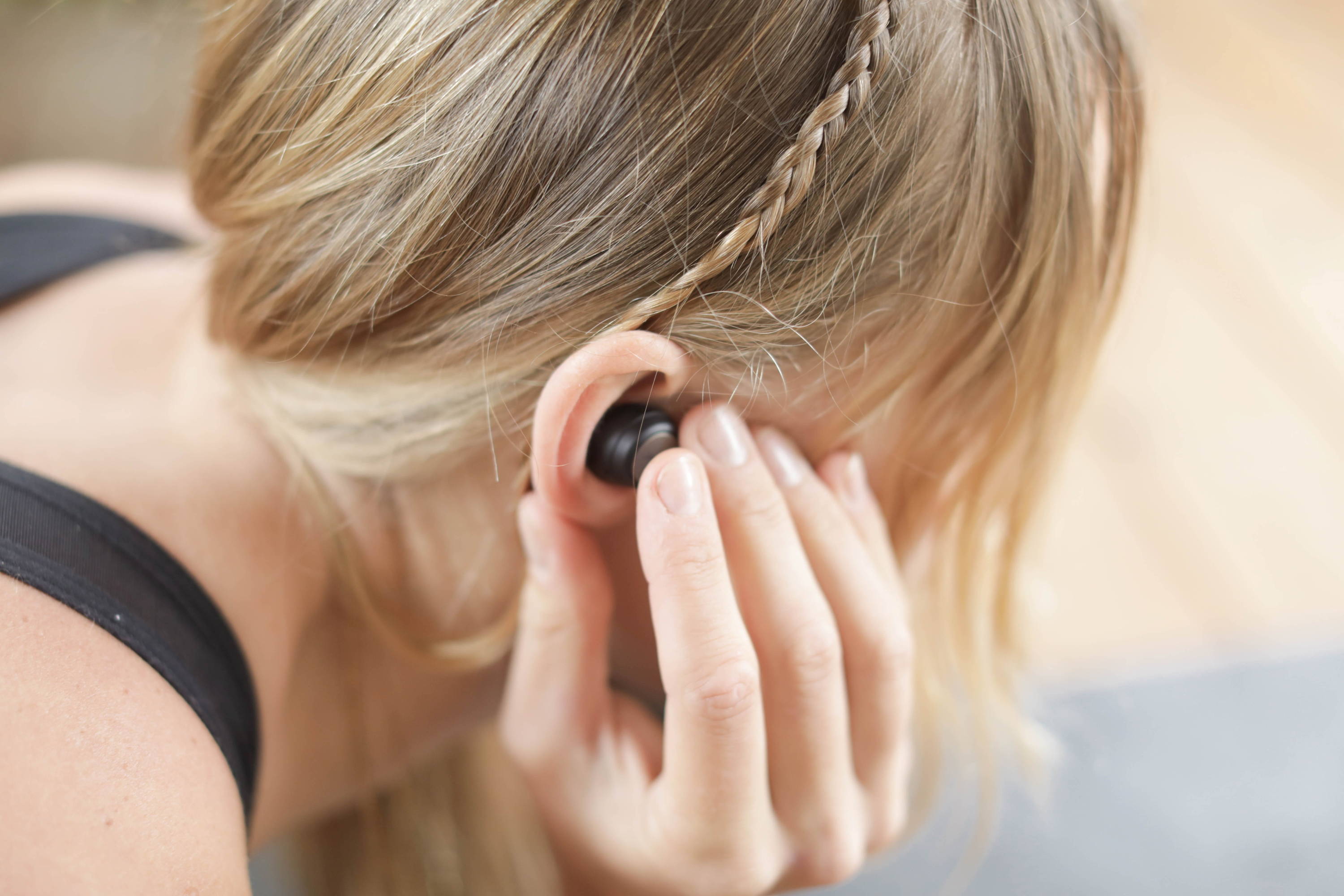 For the maximum secure fit while running, consider a custom IEM. Custom IEMs are made specifically for the listener's unique ear canal. You need to have an audiologist make impressions of your ear canals, which you will then submit to the manufacturer. The main benefit of a custom IEM is that you can be assured of a tight seal and personalized fit.
EASE OF CLEANING. Whether you are using your IEMs in the office or while exercising, one thing is certain: You will need to clean them regularly. Ear wax and other gunk will inevitably build up on the earpieces. When wearing your IEMs for exercise, you need to add in the sweat factor. Now, with universal fit IEMs, that gunk will build up on the ear tips, which you will need to remove and clean with an alcohol wipe and/or cleaning tool. Depending on how dirty they get and how quickly, you'll probably be replacing them regularly. Now, with a custom IEM, there are no ear tips to worry about. Just wipe the earpieces down with an alcohol wipe. And if the ports get clogged, you can send them back to the manufacturer to be cleaned.
WATER/SWEAT RESISTANCE. Another factor to consider with IEMs is how water-resistant and sweat-resistant they are. Let's face it: You're going to sweat when you run. And there will come a time when you get caught in a sudden downpour (or maybe you'll opt to head out when it's drizzling!). Some manufacturers designate what's known as an IP (Ingress Protection) rating to their headphones and IEMs. The rating consists of two numbers. The first number indicated dust protection, while the second number indicates water protection ("liquid ingress"). An "X" instead of the first number means the IEM hasn't been evaluated for dust. A rating of IPX4 is considered sweatproof, while IPX7 and above is waterproof, meaning the IEM can be submerged in water without failing. A score of one or two means an IEM can tolerate dripping water. Scores of three to six mean it will survive increasing amounts of rainfall for longer periods of time. Now, not all manufacturers list an IP rating with their IEMs. But think about this: In-ear monitors are designed for musicians who are likely to be sweating on-stage. In other words, they need to tolerate sweat and moisture. You can always reach out to the manufacturer if you have specific questions or concerns.
NOISE CANCELLATION -- or lack thereof -- is another consideration. When you are running outdoors, you want to retain some awareness of ambient noise. It's a safety issue. You need to be able to hear ambient sound: cars, machinery, animals, etc. So you don't want an IEM with active noise cancellation.
WIRED VS. WIRELESS. Finally, IEMs come in both wired and wireless styles. Wired headphones and IEMs will connect to your phone or DAP (digital audio player) via a cable, whereas wireless headphones and IEMs use Bluetooth to connect and will free you of what you may consider to be burdensome while you're running. Wireless earphones are the obvious choice for the person who simply doesn't want to deal with a cable. They may or may not have earhooks that go behind the ears to provide an extra layer of stability. If you are choosing a wireless style, you'll want to consider hours of battery life. How much playtime will you get on a full charge, and how long does charging take?
With these guidelines in mind, here are our top picks* for IEMs to use while getting your heart rate up. (Article updated on 1/19/23).
---
Meet Meze Audio's first IEM. Meze has some pretty impressive headphones under its belt, and they've managed to carry that quality over to their in-ear monitors. The single-driver Rai Solo has a neutral yet fun sound with amazing depth and detail, making it suitable for a range of music. The small, stainless steel housings are good-looking and very comfortable. The round, soft edges are designed to embrace the natural curves of the ear for a beautiful fit. The Rai Solo's low impedance and high sensitivity make it easy to drive, so you'll have no trouble listening on your phone or portable digital audio player. We think the Meze Rai Solo is simply one of the best-sounding lower-priced IEMs on the market.
---
Fostex TM2 True Wireless Stereo In-Ear System
If you want something that's going to make your workouts a whole lot easier, check out the Fostex TM2. Not only is this a wireless IEM with great range and battery life (up to 10 hours on a single charge), but you can also sub out the stock IEMs for a pair of your choosing--turning your high-dollar IEMs into a wireless headset. Yes, the TM2 is compatible with any IEM with a 2-pin or MMCX connector. The TM2 is a single dynamic driver IEM with a neutral, balanced sound. The incredible range means you don't have to carry your phone or DAP around with you; you can stow it in your bag or on a shelf if you wish. The TM2 features on-unit control via switch (music play/call control) and touch sensor (volume control, fast-forward, rewind). And, you can use the left or right unit independently, e.g. for phone calls. What's more, the TM2 has an IPX5 rating, meaning it is water resistant.
---
Small, strong, and so comfortable: That's the IE 600. The housings are made from amorphous zirconium, which is super resilient. These things can take a beating! The single-driver IE 600 has a clear and engaging sound that leans slightly warm. This isn't a bassy IEM, so it may not be your go-to for genres like EDM, R&B, or rap. But the natural, detailed, and expressive tuning is pretty versatile, and it's going to beautifully complement genres such as rock, blues, folk, country, and jazz. Want to listen to your favorite podcast while you work out? Voices are going to sound crisp and clear. The IE 600 comes with two cables: an unbalanced para-aramid reinforced cable with 3.5mm connector and a balanced para-aramid reinforced cable with 4.4mm connector, plus a variety of ear tips. Note: The foam ear tips are going to give a better bass response.
---
Shure SE846 Pro Sound Isolating Earphones
Four high-definition microDrivers in the Shure SE846 provide a fun sound with the punch of a true subwoofer--the punch you crave to keep you going during hard workouts. Plus, this IEM features removable nozzles with interchangeable sound filters (balanced, warm, and bright options). Comfortable sound-isolating sleeves block up to 37 dB of ambient noise, so you can focus on your music without a total loss of outside awareness. The inline remote and mic offers seamless control for phone calls, voice commands, and easily accessible operation of volume and music playback. The SE846 has a lightweight, low-profile shape with optimized nozzle angle designed to rest comfortably in the ear. The nozzles are removable for easy cleaning, and the clear housings are sweat resistant. The SE846 comes with two cables: a 64-inch wireform fit cable and a 45-inch Bluetooth 5.0 standard communication cable. The Bluetooth cable pairs with most phones, laptops and tablets with Bluetooth 5.0 connectivity, and provides up to 8 hours of battery life and 30 feet (10 meters) of wireless range.
---
Empire Ears Bravado MKII Custom or Universal IEM
The Bravado MKII from Empire Ears is available as either a custom or universal IEM. Its warm side of neutral sound is going to work with many genres, and its lively sound is going to keep you moving. The tribrid design uses three driver types: dynamic for bass, balanced armature for the mids, and electrostatic for the highs. The e-stat drivers lend a lot of detail to the Bravado, and Empire's own Weapon X dynamic subwoofer provides impactful bass. The Bravado has a two-pin IEM socket, so you are free to upgrade to a Dragon Cable for enhanced sound quality.
Suggested Dragon Cable: The Black Dragon IEM Cable supports a natural, immersive sound featuring slightly warmed lower frequencies and a smooth yet detailed top end.
---
Empire Ears Hero MKII Custom or Universal IEM
The Hero from Empire Ears is available as either a custom or universal IEM. The Hero is going to give you the fun, front-row feel of a live performance. Bass is warm and impactful, mids are forward, and highs are more relaxed. The hybrid design features dynamic and balanced armature drivers. The Hero has a two-pin IEM socket, so you are free to upgrade to a Dragon Cable for enhanced sound quality.
Suggested Dragon Cable: The Black Dragon IEM Cable supports a natural, immersive sound featuring slightly warmed lower frequencies and a smooth yet detailed top end.
---
Empire Ears Valkyrie MKII Custom or Universal IEM
The Valkyrie MKII, available as either a custom or universal IEM, has a captivating, fun, and highly energetic sound that will pair well with your workouts. The updated Weapon 1X+ subwoofer offers deep and visceral but well-controlled bass, while the balanced armature driver makes for lush and clear mids. An electrostatic driver provides crisp and detailed highs. The housings are made from acrylic, and the universal model comes with a gorgeous, jewel-toned design. The Valkyrie has a two-pin IEM socket, so you are free to upgrade to a Dragon Cable for enhanced sound quality.
Suggested Dragon Cable: The Black Dragon IEM Cable supports a natural, immersive sound feturing slightly warmed lower frequencies and a smooth yet detailed top end.
---
JH Audio JH16v2 Custom IEM
Want an IEM that's worn by more touring rock bands than you can count? Look no further than the JH16v2. This custom IEM from JH Audio has a super-fun sound with boosted bass and a prominent top end. Plus, the variable bass attenuator lets you adjust the amount of bass from 0 to +15dB. The 10 balanced armature drivers bring clarity and precision to a frequency range of 10Hz-23kHz. You'll hear individual instruments and vocals in their own space, and it all combines beautifully for a natural sound. If you're worried about sweat, fear not! The 3D-printed Acoustic Sound Chamber is a first-of-its-kind recessed tubing system that keeps sweat at bay and eliminates the need for excessive cleaning. The ear pieces are on the larger size, but the custom fit will ensure they stay put.
Suggested Dragon Cable: The Black Dragon IEM Cable supports a natural, immersive sound featuring slightly warmed lower frequencies and a smooth yet detailed top end. (Compatible only with the 2- or 4-pin version of the JH16v2.)
---