---
Q: When is an IEM review not like other IEM reviews?
A: When the IEM sounds so much like a headphone that you forget that you're reviewing an IEM!
The LCD-i4 is Audeze's flagship planar magnetic IEM, replacing the iSine. What makes it different from your typical IEM is the larger and unique ear piece shape and the partially open back design. But the REAL difference lies in the sound, which is so open, airy, and wide that you pretty much forget you're wearing an IEM.
Some have called the LCD-i4 a miniature version of the full-size LCD-4 open-back headphone, featuring the same proprietary Nano-Scale Uniforce diaphragm and powerful Fluxor magnet array. The LCD-4 has a full and immersive sound with amazing bass extension and some smoothness and warmth. I've not listened to the LCD-4, but I love every other Audeze headphone I've listened to (the LCD-X is a favorite!), so I had very high hopes for the LCD-i4. Spoiler alert: I wasn't disappointed.
---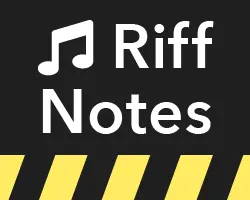 PROS:
Amazing soundstage
Comfort; great fit
Reference sound in a portable, lightweight design
Balanced tonality with some warmth and great bass

CIPHER Lightning Cable, CIPHER Bluetooth Module, and 3.5mm cable included
CONS:
Expensive
Some users may not like ear hooks

Open-back design may limit public use
---
Materials, Quality & Comfort
The ear pieces on the LCD-i4 are crafted from magnesium and have a hexagonal shape. Inside are 30mm drivers. That's pretty big, considering that IEM drivers are usually 8mm-15mm. But don't let that deter you -- at 23g (that's .8 ounces), these IEMs feel so light. The front of the ear pieces feature a gold embossed Audeze logo and a series of horizontal grooves behind which you can see gold gauze that protects the drivers.
The nozzles on the LCD-i4 are long -- the longest I've seen in an IEM. They're also rather wide, which means you may have to use some finesse getting the ear tips on. At the base of the nozzle is a ring onto which you attach your ear hooks. The LCD-i4 comes with a variety, so you can choose the one that fits your ears. Note: Use care putting the ear hooks on and off, and it's easy to snap the plastic. And if you don't like using the ear hooks, the LCD-i4 also comes with a pair of rubberized ear fins that you can use. I was fine with the hooks and so didn't use the ear fins.
Personally, I love the form factor of the LCD-i4. The ear pieces feel so secure in my ears, and I love the way they sit flat and parallel to my head. It's a different feeling than typical IEMs, earphones, or earbuds. Bopping my head up and down and turning quickly from side to side, I never felt any degree of shift and I never had to reach up and adjust.
Nor did I have to twist or turn them once I inserted them; they just felt right from the get-go. That's not to say that I have trouble with more traditional IEMs staying in place; it's just that for me, there's a very secure feeling with the LCD-i4.
The LCD-i4 uses a 0.78mm 2-pin connection for its cables. The IEM comes with a braided cable made of silver-plated OCC copper with Kevlar threads for additional strength. But that's not all. You also get a CIPHER Lightning Cable, allowing you to connect the LCD-i4 to your iPhone or any other iOS device, as well as a CIPHER Bluetooth Module for wireless use.
Featuring a Bluetooth 5.0 chipset with integrated support for AptX and AptX HD, the CIPHER Bluetooth Module delivers low latency 24 bit wireless audio that has been optimized for even the most discerning audiophile. All CIPHER devices come preloaded with Audeze's proprietary DSP to provide an optimized listening experience with both wired and wireless connections.
More about the CIPHER 2 Lightning Cable
Audeze's exclusive MFi-certified CIPHER v2 cable provides a Lightning connection to your LCD-i4, allowing you to plug into iDevices (iPhone, etc.) and take advantage of its built-in DAC and DSP. It has an iOS-compatible mic and ADC control for playback and for taking calls.
The CIPHER Lightning Cable provides Apple users with true high-resolution audio for music and voice calls. The cable bypasses your iDevice's internal DAC/amplifier and streams a 24-bit signal directly to Audeze's inline high-quality DAC/amplifier and DAC with DSP module for significantly better sound. The Apple-compatible controls allow complete control of your audio playback, while the SIRI -compatible microphone provides the best voice call quality of any headset.
When you first connect your CIPHER cable, your iPhone or other iDevice will prompt you to download and install the Audeze app. You can choose to "ignore" this if you want -- it will not affect the use of the CIPHER Cable. The Audeze app features a 10--band equalizer that changes EQ in real time, and saves two EQ curve presets that travel with the cable when switching between your iOS devices. It is recommended that you install the Audeze app to take full advantage of its features and firmware upgrades. However, the app is not required for operation.
You can also combine the CIPHER cable with additional plug-in profiles for platforms such as Roon, which has DSP functions to tweak the sound of your Audeze headphones and IEMs. To use Roon's Audeze presets, you need to open Roon's DSP Engine.
Locate your audio device on the bottom right of the screen and click "DSP."
Enable DSP Presets.
Select the LCD-i4.
After selecting your preset, the correction DSP will be applied, and artwork for your headphones be used for your zone icon. You can keep the artwork without applying the preset, if desired; simply disable the Audeze Presets Section, while leaving your preset selected. You can customize your chosen preset by tapping "Customize" at the bottom of the screen.
I played around with this a bit on Roon and found that applying DSP correction gave my music a slightly fuller sound, which I liked. I listened to a few Elton John tracks that have been in regular rotation for me, and I could definitely hear a difference. It wasn't an overwhelming difference, mind you -- but it was something my ears picked up on as I went back and forth with and without DSP correction.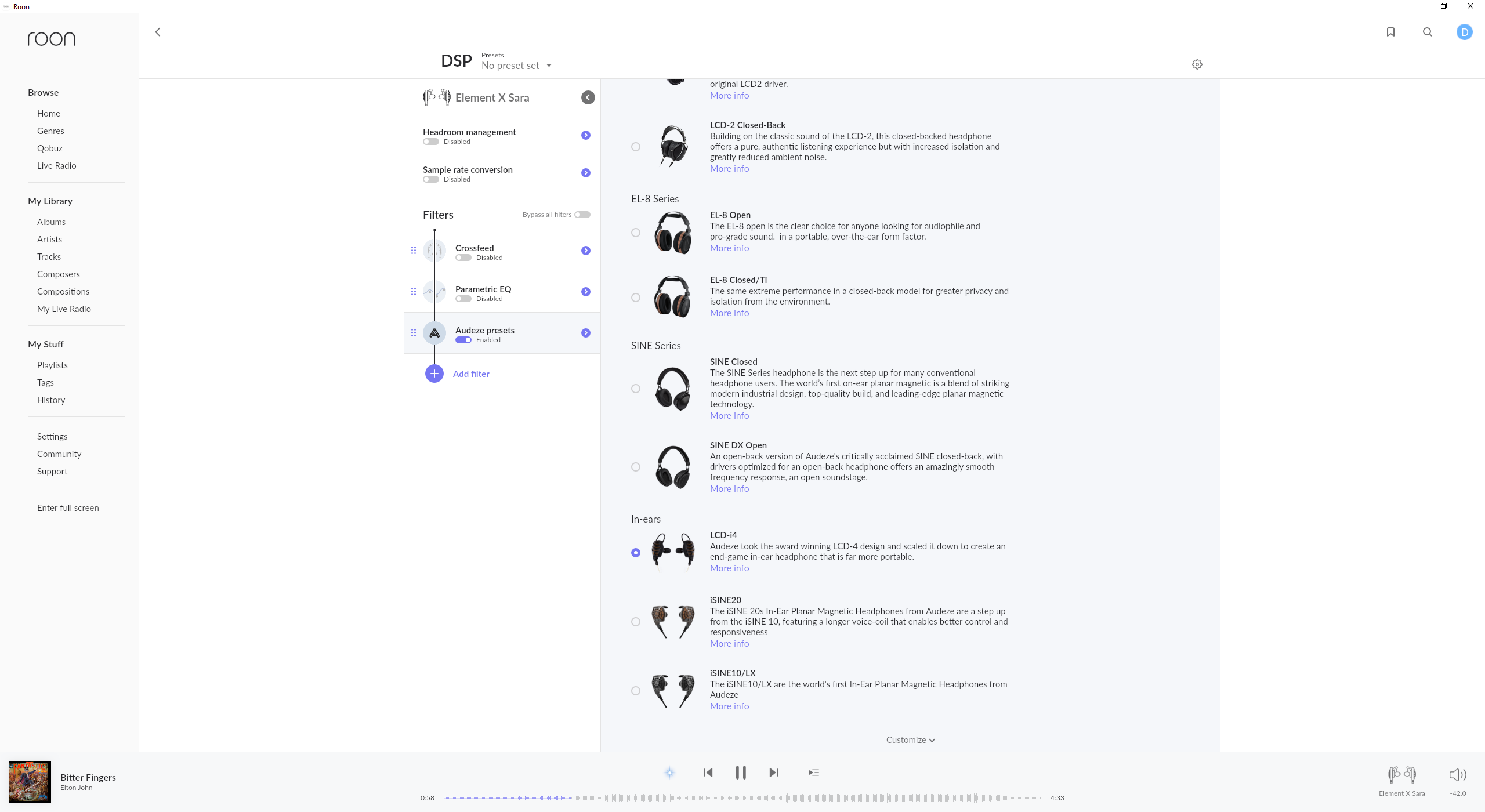 ---
Sometimes I think it comes down to chills. Did I get the chills while listening to a particular headphone or IEM? Often, it's a quality in high-register stringed instruments that will elicit this response. Other times it's vocal emotion. Or it's simply a visceral joy that comes from a full, immersive sound.
With the LCD-i4, I got chills. It was just the perfect combination of big, wide sound that comes across as organic and real but also relaxed and utterly pleasant. And the soundstage on the LCD-i4 is more than just marketing hype. You really will be blown away by this.
I want to talk about the bass on the LCD-i4. It's not boomy, but it's plenty rumbly. It's full and slightly warm and has lots of shape to it. Bass guitar lines sound defined. A drum hit has almost an elastic quality to it. In other words, this is not bass that shakes and rattles you, but it adds nice weight and texture to your music.
During my first listening session, I perceived vocals to be somewhat recessed, but in a subsequent listening session I didn't perceive this as much. That being said, I do think the LCD-i4 has a U-shaped tuning, with a slight recession in the midrange. Vocals had a lot of depth and emotion; they just weren't always as close as I wanted them to be. But I always felt like there was a nice amount of warmth to the vocals -- especially male vocals -- which lends emotion. I like that.
Treble on the LCD-i4 is exactly what I wanted. There was enough sparkle to lend air and detail to my tracks, but never so much that it became harsh, shrill, or bright.
Bass is not boomy, but it's plenty rumbly. It's full and slightly warm and has lots of shape to it. Bass guitar lines sound defined. A drum hit has almost an elastic quality to it. In other words, this is not bass that shakes and rattles you, but it adds nice weight and texture to your music.
On the day of my first listening session with the LCD-i4, I had a headache. While some people want silence when they have a headache, I always want music -- but not a bright, harsh, or bombastic sound. The warm, smooth, natural, relaxed planar sound of the LCD-i4 was the perfect thing for a headache day. Even loud and uptempo tracks did not present in a way that would overwhelm my senses (or pain receptors).
A real standout track for me was a live version of Elton John's "Better off Dead" from a 1979 Moscow show. The percussion in this track is really something else: It hits with such massive power. And Elton's piano really shines here; this was a pared-down performance with only piano and drum. I was left wanting a little more from the vocals, as I can never get enough of his voice. They sounded a little recessed here. Not muted or hollow, just a little less forward than I would like. But darn did this song sound amazing nevertheless.
I really enjoyed classical music on the LCD-i4. I listened to a recording of Beethoven's Symphony No. 6 performed by the New Jersey Symphony Orchestra and was impressed. A great combination of spaciousness and warmth.
On a variety of other songs, bass and treble were highlights, whether it was the bassline on a Red Hot Chili Peppers song where I don't always hear the bassline with this much clarity, or the strings on several tracks from Fleetwood Mac's "Rumours," which sounded absolutely gorgeous.
A note about the open-back design: Even though this is an open-back design, I was amazed that people in my vicinity (one at about 6 feet at moderate volume; another at about 8 feet at loud volume) said they could not hear my music playing. I was so surprised, in fact, that I tested this once more, this time with someone sitting right next to me while I played some music at a loud volume. This person said he could "vaguely" hear music.
---
Comparison to Audeze LCD-i3 and Audeze Euclid IEMs
In comparing the LCD-i4 to the Audeze LCD-i3 and the Audeze Euclid, it's easy to tell that the LCD-i4 is the more expensive, flagship in-ear monitor. When it comes to soundstage, the others simply don't compare (although the LCD-i3 is a decent runner-up). But soundstage isn't the end all. Some listeners crave a wide soundstage; others are happy with a narrower, more intimate presentation.
As far as sound signature, the Euclid has more of a mid-high focus, while the LCD-i3 is closer to the LCD-i4 tuning (the two IEMs may be referred to as siblings). With the LCD-i4, though, you get more bass, more musicality, and more detail.
Unlike the LCD-i3 and LCD-i4, the Euclid is a closed-back design, giving you more flexibility when it comes to listening environments. Not only will you get no sound bleed, but you'll get a degree of sound isolation not available in an open-back design.
---
Dragon Cable Recommendation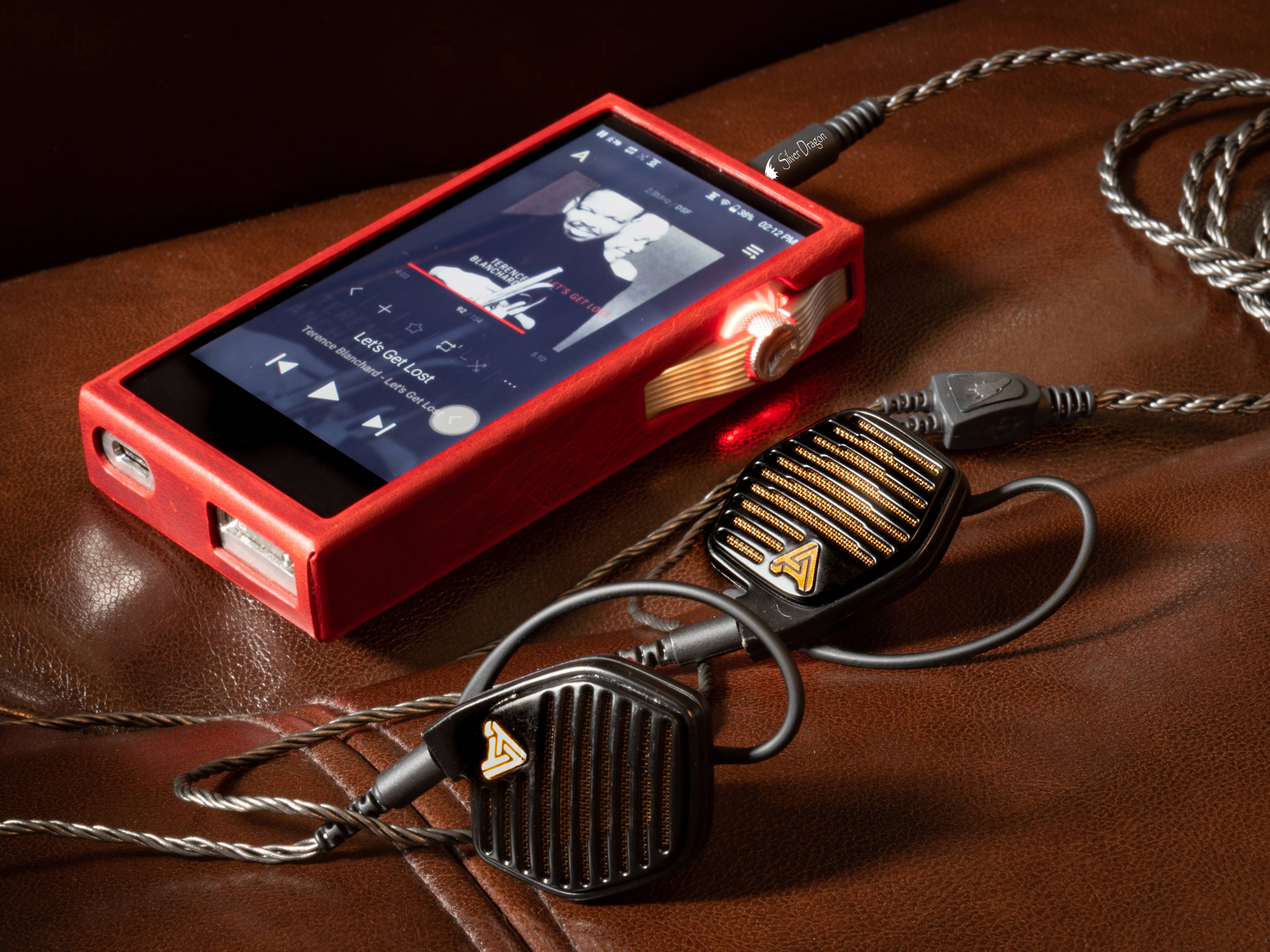 I opted to pair the LCD-i4 with a Silver Dragon IEM cable. The LCD-i4 has a warm sound, which may leave you wanting a little more in terms of detail and clarity. The Silver Dragon IEM cable adds detail, air, and definition to your music. So I was able to enjoy the full-immersive sound and great bass of the LCD-i4 while also getting a boost in resolution and top-end sizzle. Silver conductors bring out more details and tighten up the low-end frequencies.
About Dragon Cables
Generally, stock audio cables are manufactured with subpar materials, metals with impurities, poor geometries, and an overabundance of layers to make them look and feel like a fire hose. Inconsistency and lack of quality control in stock cables can lead to poor sound quality and a veiled sound vs what the musician intended for you to hear and feel from the music. Dragon Cables are handcrafted with the highest standards and made to order according to your specific needs. At Moon Audio, we create a custom cable for you using the highest quality UP-OCC silver or copper conductors that can be manufactured. UP-OCC metals are void of impurities and are optimized for signal transfer and sound quality.
---
Genres: Especially good for classical, blues, EDM, classic rock.
The Audeze LCD-i4 is the perfect solution for the audiophile who enjoys the natural, musical planar magnetic sound and desires a lightweight and/or portable solution without sacrificing the expansiveness of a full-size headphone. As soon as you start listening to music on the LCD-i4, you'll do a double-take and wonder what the heck is going on -- the sound is that close to a full-size headphone. Soundstage has both amazing width and depth, and your music will be full, organic, and relaxed with a balanced sound that leans slightly warm. At $2,495, the LCD-i4 carries a flagship price tag, but its phenomenal audio quality may make you overlook that. As an open-back planar IEM, this is a unique product worth any audiophile's attention.
---
Style: In-ear, universal fit
Transducer type: Planar magnetic, semi-open
Magnetic structure: Fluxor™ magnetic array
Magnet type: Neodymium N50
Diaphragm type: Nano-scale Uniforce™
Transducer size: 30mm
Sensitivity: 105dB/1mW
Maximum power handling: 3W
Maximum SPL: >120dB
Frequency response: 5Hz - 50kHz
THD: <0.2%, full spectrum @ 100dB
Impedance: 35 Ohms +/-10%
Cable: 1.2 OCC silver-plated premium braided cable
Cable connectors: 3.5mm stereo plug input, 2-pin plug outputs
Weight: 12g (per side)
---
---
Audeze LCD-i4 Earphones: Need to Know
Audeze LCD-i4 Universal Earphones Unboxing
---
---
---