iTunes has come a long way since the emergence of the iPod and the idea of having 1000 songs in your pocket. Even the iPod is a thing of the past now. Yes they still exist out there, but any serious audiophile has something a little more worthy of their high-resolution music library. Astell&Kern is one of the most popular music player brands in the audiophile market, but there's a downside: Astell&Kern music players aren't officially supported by iTunes. The result is that the user has to use a 3rd party application to get the music from the iTunes interface/storage to the device via computer. It's not the most intuitive or easiest process in the world, but alas, it can be done! We're going to show you how, step-by-step, so let's get to it.
---
Astell&Kern File Drop: The Quick Way To Transfer Files Wirelessly
In the latest DAPs from the manufacturer, Astell&Kern has implemented their latest process called AK File Drop. Basically, this allows you to configure your music player as a network drive on your local network. This way you can access the music player storage remotely and simply drop and drag files which will wirelessly transfer the music directly to the DAP. Unfortunately, this feature is only available on the latest AK players (at the time of writing this - March 2022):
How To Transfer Files Wirelessly To Your AK DAP
AK File Drop or File Transfer is a newer feature for some of the latest AK players on the market, specifically the SE180, the SR25 MKII and the SP2000T. It allows you to wirelessly drop music files from your PC to your AK player so that they can be accessed locally on your DAP, rather than streaming them like you would using BT Sink. This is a big difference, and also a lot easier to get music to your DAP without having to find a cable, connect it, and drop and drag files, waiting for them to copy, and then safely disconnect from your computer. Essentially you are setting up your DAP as a network drive, which allows you to view and modify file contents remotely. Here, you can read about how to use and setup AK File Drop. Don't worry, we'll walk you through the process step-by-step.
With iTunes, you can simple drag-and-drop the files from your iTunes library to your DAP network folder via AK File Drop. Keep in mind however that you will need to make sure the file format is compatible with your music player or they will simply take up storage without being able to be played.
How-To Video: AK File Drop
---
Using a MAC with Astell&Kern Music Players
AK does NOT connect to Apple iTunes
To move files from an Apple Mac to AK music players you must use Android File Transfer.
This program works in conjunction with Mac Finder. When you connect your AK music player to your Mac computer, Android File Transfer will open showing you directory locations on your AK music player for either the internal storage or your attached SD Cards in the unit.

Step 1: Download Android File Transfer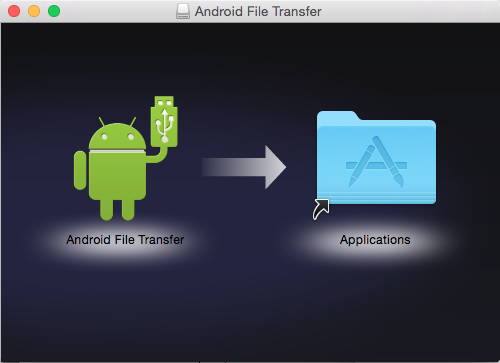 How to install: Android File Transfer
Open androidfiletransfer.dmg

Drag Android File Transfer to Applications folder
---
Step 2: Transfer Apple iTunes Music to AK Music Player
It is possible to move your iTunes library to an AK Music Player with Finder and the Android File Transfer program. Just follow these steps:
How to transfer music from Mac to AK music players
Turn on you Astell&Kern music player.

Use the USB cable that came with your AK music player and connect the player to your Mac.

Android File transfer will open automatically.

Find your iTunes music library on your Mac.

(Typically the music can be found under: Music/iTunes/iTunes content/migratedMusic)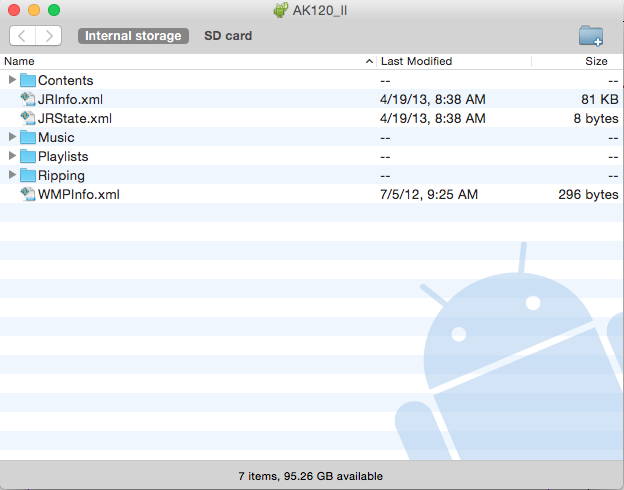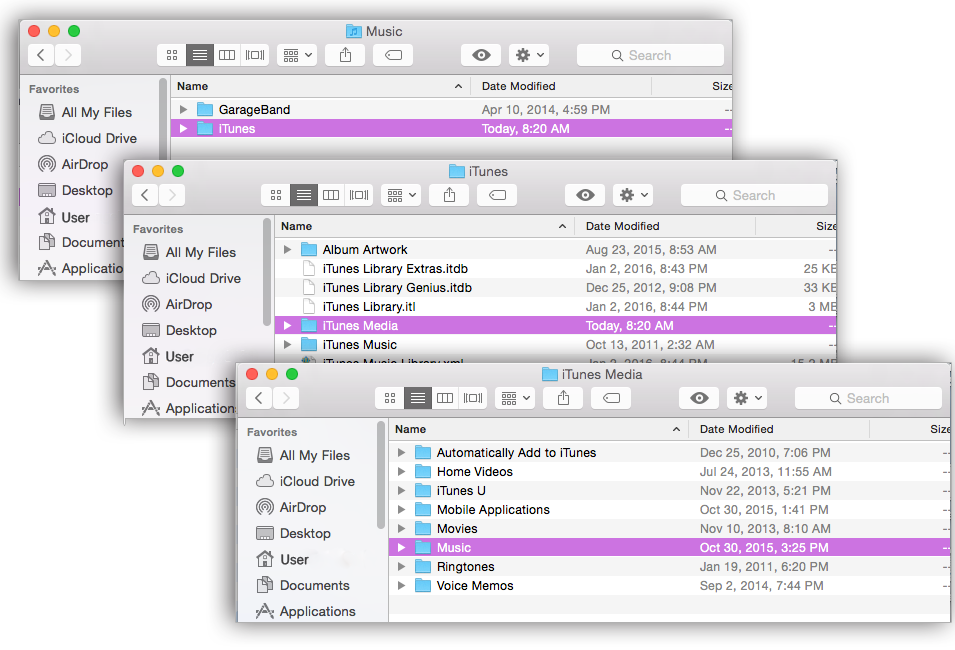 5. Highlight and copy all of the files you want transferred and paste them into the AK music player folder in Android File Transfer. With your Finder screen and Android File Transfer screen open you can drag and drop the music you want into the internal storage.

Or drag and drop the music into the external SD card that is connect to the AK music player.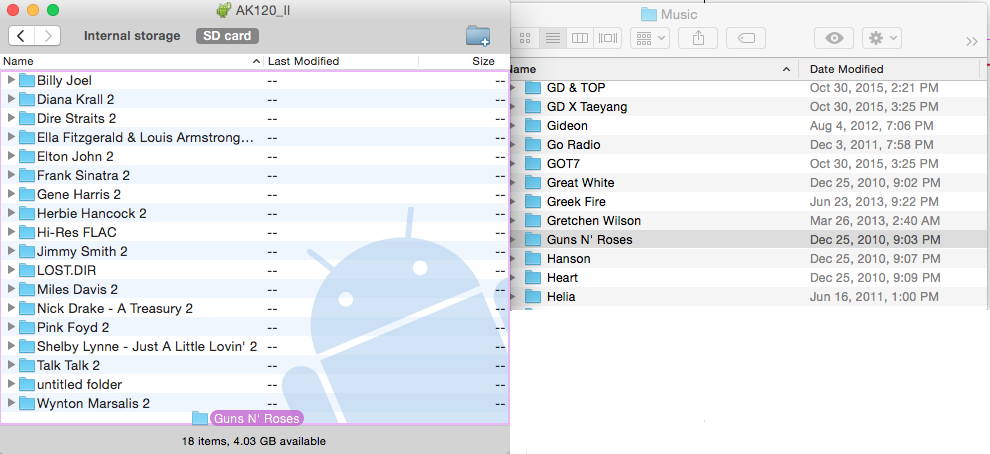 6. You will then see the music on your AK music player.
If you are transferring other music files from your MAC that are not in your iTunes library you follow these same steps. You will still generally find your high resolution music in the music folder on Finder. Once you locate your music, drag and drop it onto the AK music player in Android File Transfer.
---
DRM FREE: Removing File Protection For Compatibility
It's important to note that if you use iTunes as your primary music library, you'll likely have two different types of audio files on there: those that are purchased from iTunes and those that are not. The great thing about iTunes now is that they offer high-resolution files and version to everything that you purchase on the platform. Any music purchased from iTunes is going to be protected by digital rights management, or DRM. DRM technologies govern the use, modification, and distribution of copyrighted works, as well as systems that enforce these policies within devices (from Wikipedia). So anything you have purchased on iTunes has DRM included that will prevent the file from being modified - protecting informatioin such as the metadata and other file attributes. Essentially you cannot use a proprietary iTunes file format and have a non-Apple product read the file - like an Astell&Kern DAP music player.
That being said when you're working with transferring files from a PC or MAC, if you have DRM-protected music, in almost all cases you'll have to remove the DRM before you can edit or convert the music file to another format. There are a ton of programs out there that will do this, but for the sake of this tutorial, we'll go ahead and pick Tunesbank. Tunesbank is a great program for removing DRM and also converting files. To be sure, Astell&Kern players do read the proprietary Apple file format AAC, but if you have a file type that is not supported by your Astell&Kern player then you will have to convert the file to a compatible format.
Using Windows Computers with Astell&Kern Music Players
You'll need the same things for transferring from a Windows computer: the latest version of iTunes, the 3rd party conversion program (in this case TunesBank for example), the Astell&Kern player, and the USB cable. Here's a quick step-by-step guide on how to transfer music:
When converting music files to different formats:
Step 1) Launch TunesBank and iTunes on your computer. Note that iTunes will run in conjuntion with TunesBank, and TunesBank will load all your music contents from your iTunes library.
Step 2) Add your music to TunesBank. The "Librarys" tab at the top is where you'll find your music to select for conversion. You can select individual songs or select "Batch Conversion" to select as many songs as you want. You can also create playlists in iTunes to batch the desire music together for an easy selection in TunesBank.
Step 3) Choose your output formatting. Under the Output Settings below the music selection you can adjust the format/codec, quality, bitrate, sample rate, the output folder, and the file name.
Step 4) Begin converting your music. Simply press the "Convert" button to start the process. You can also head back to the music library and add new files to the queue for conversion. Once TunesBank finished, you can click the "Finished" tab and click "View Output File" to see the new converted music in the output location you selected.
Step 5) Connect your Astell&Kern player to the computer with the USB cable. Now you can copy and paste or click and drag the new converted music from your TunesBank file location to the Astell&Kern directory. Once the files have completed transferring you can eject the music player from your computer.
When transferring files direct to the DAP:
Step 1) Connect your Astell&Kern player to your computer via USB cable. Your device directly should automatically pop up in a new window when recognized by your PC.
Step 2) Go to your iTunes music library. Here you can simply highlight the selected music you want to transfer and drag-and-drop the music to the DAP music folder. Eject the device when the file transfer has completed.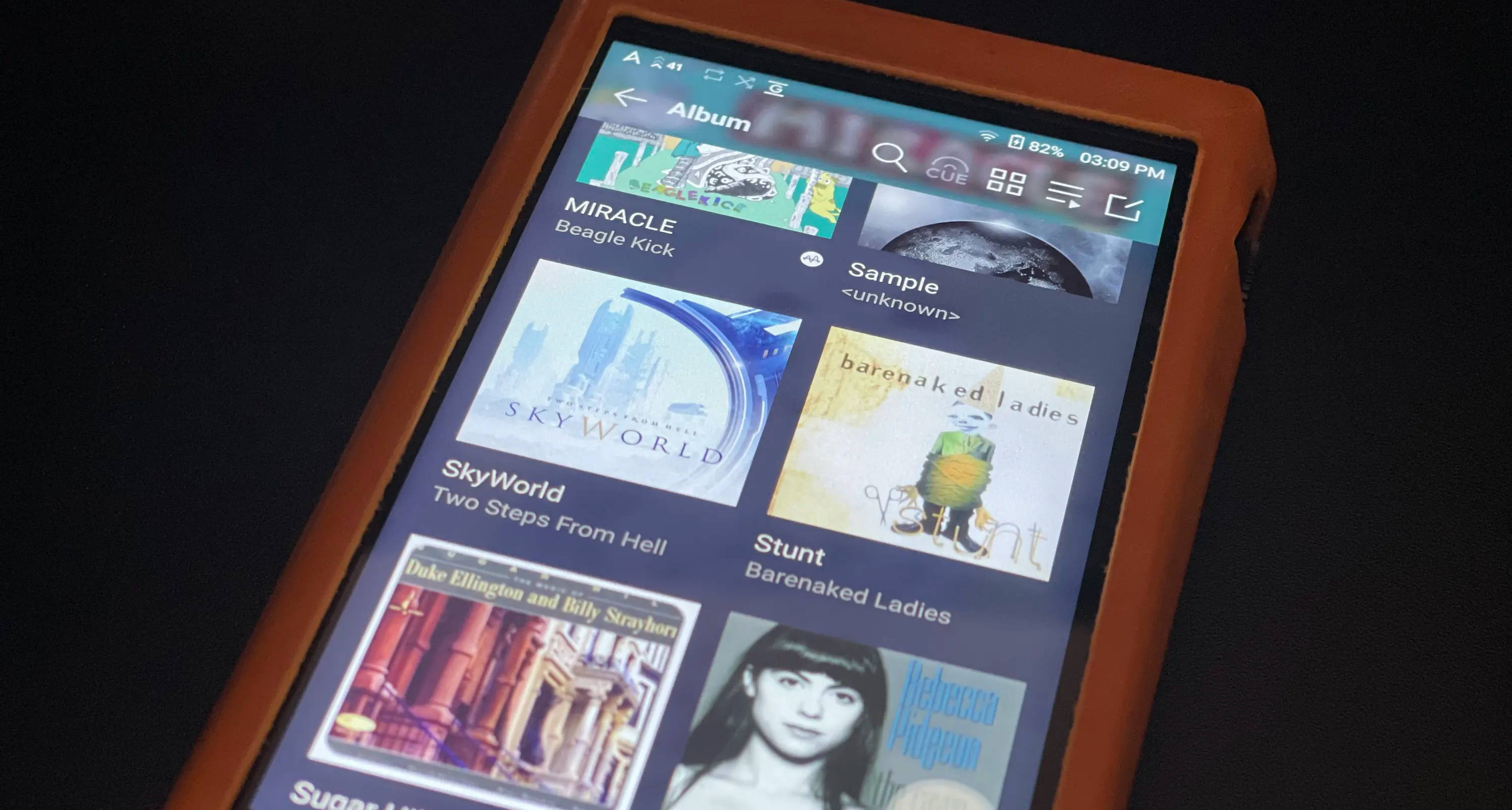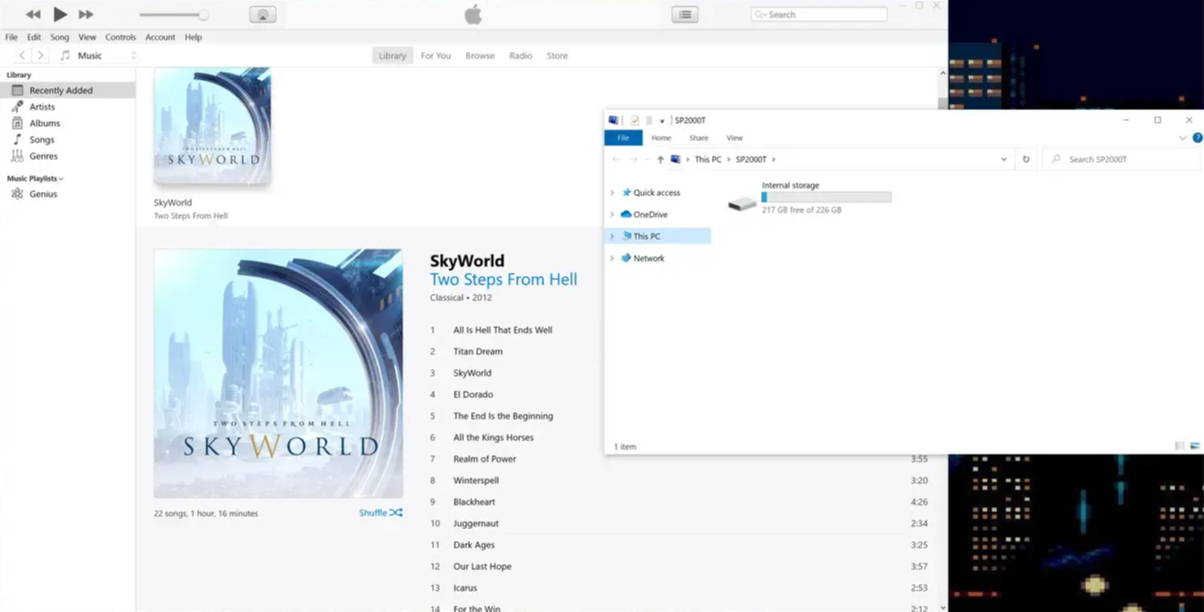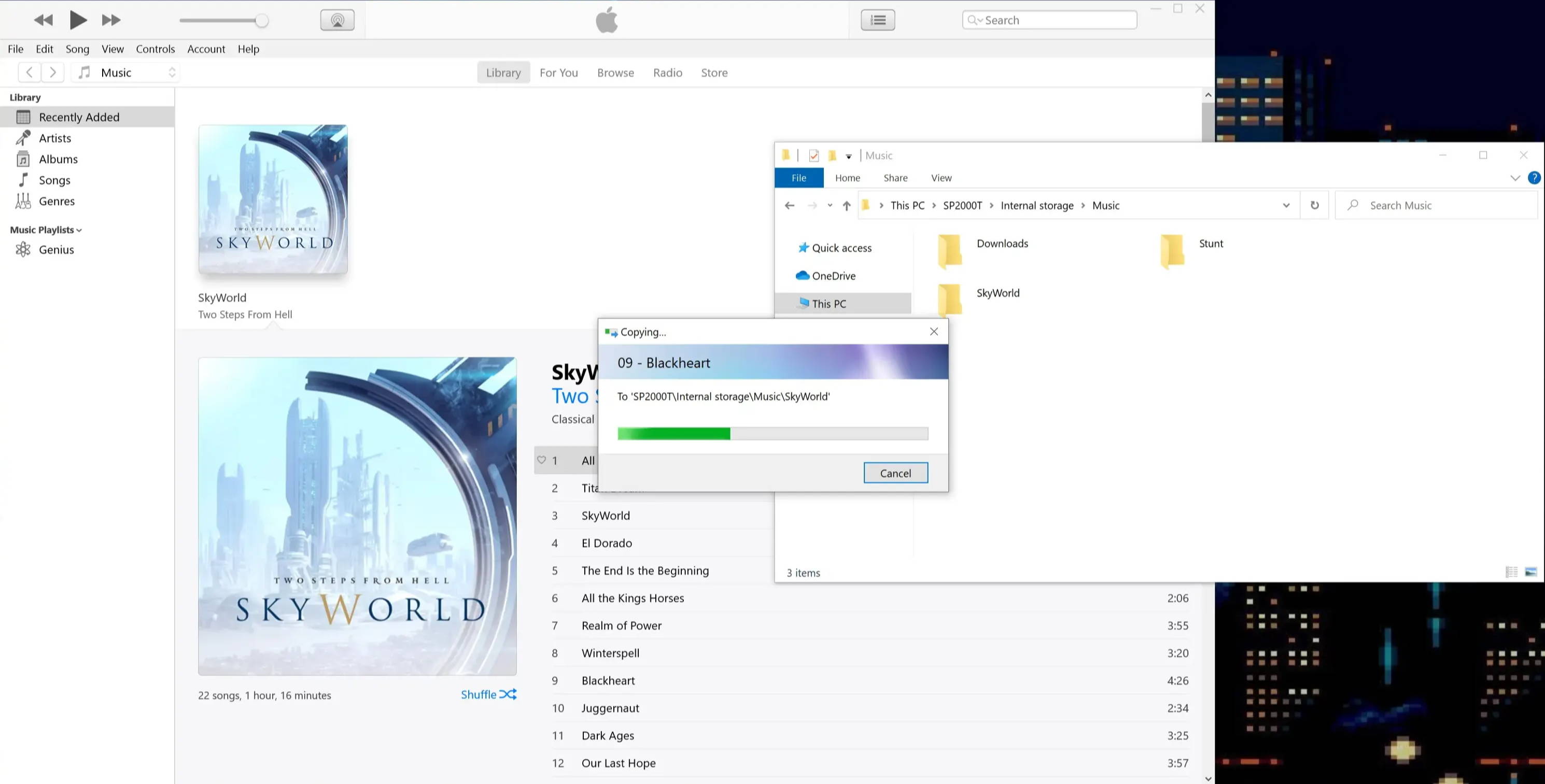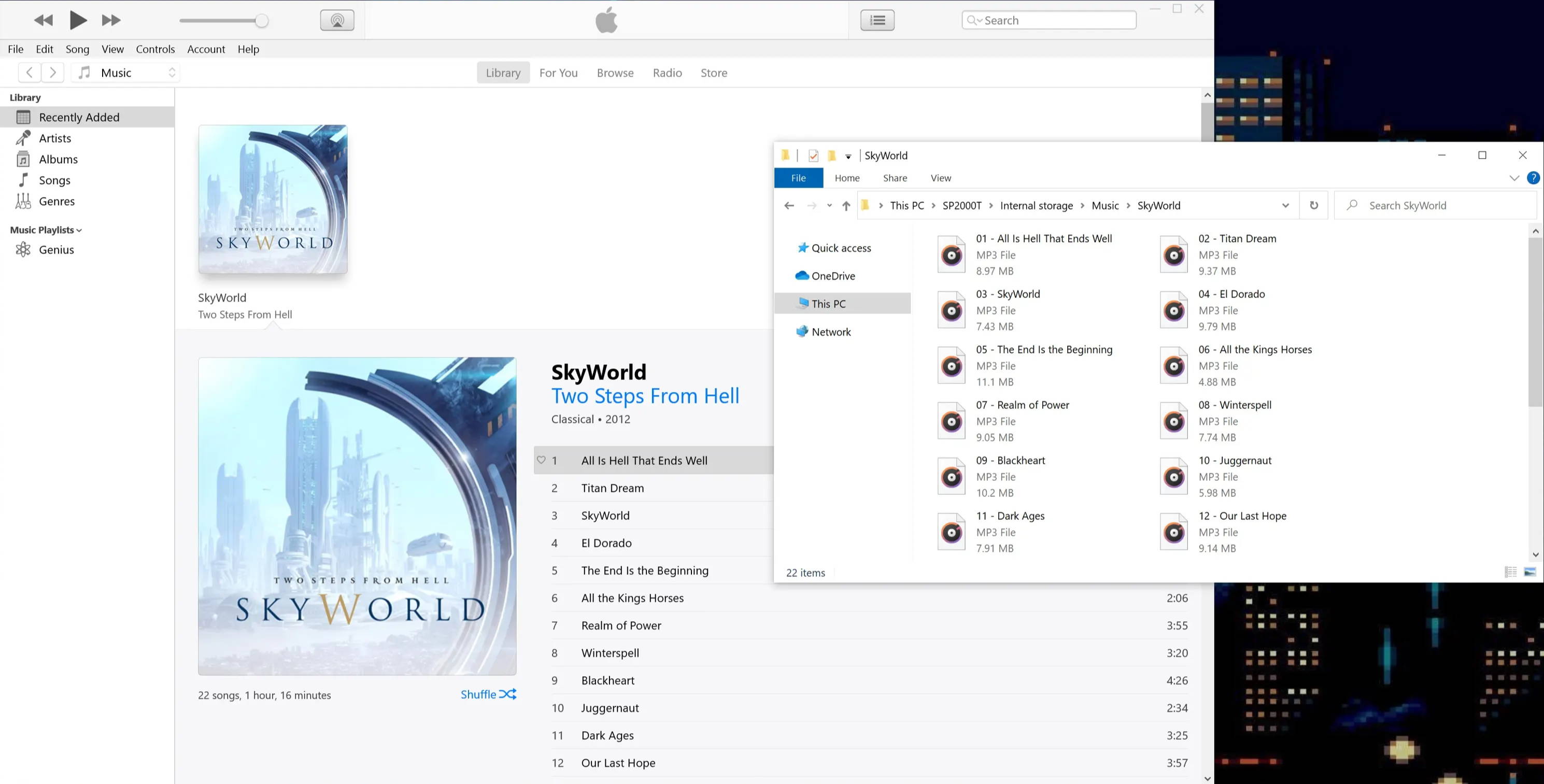 ---
If you have any questions about transferring music files to your Astell&Kern DAP music player, feel free to reach out to us or leave a comment. Happy listening!
---