A Streamer Will Enhance Your Listening and User Experience
You've decided to join the legions of hi-fi streaming enthusiasts, and you might be wondering whether you should purchase a music streamer. The simple fact is, you don't need a particular piece of hardware to stream music. All you need is an internet connection and a phone or computer.
But that may not be doing justice to your streaming experience or to your audiophile ears.
If you've got a CD collection, you know how unwieldy piles of square plastic cases can be. And those wavy CD racks that graced many an apartment in the '90s? Not so cool any more. Now, maybe you maintain a physical media collection for posterity or for the occasional listen. That's cool. But there's a more streamlined way to listen to digital music — be it digital audio files that you've ripped from your CDs or digital content that you stream from music services. And you've joined the growing club of audiophiles who enjoy streaming music, then you know this: You don't need to purchase a music streamer to stream music. All you need is an internet connection and a phone or computer. But that may not be doing justice to your streaming experience or to your audiophile ears. You may want to buy a music streamer.
Before we go any further, let's clarify what we mean by music streamer. Simply put, a streamer is a piece of hardware that allows you to access and play music via a network or internet connection. This can mean music from a streaming service such as Spotify or TIDAL, or from locally stored music files. Technically, your phone is a music streamer, as in it's a conduit for streaming music. You can download a streaming service onto your phone, buy a subscription if necessary, and start listening. What we're talking about when we say music streamer is an audio device that's specifically designed and optimized for streaming music. This could be a device with or without a DAC (digital-to-analog converter), and with or without storage. With storage, it's called a streaming server. Without internal storage, of course, a streamer can pull music from a NAS or external hard drive.
Let's take a look at how a music streamer or streaming server device can elevate and enhance your listening experience.
---
A Streamlined and Convenient Solution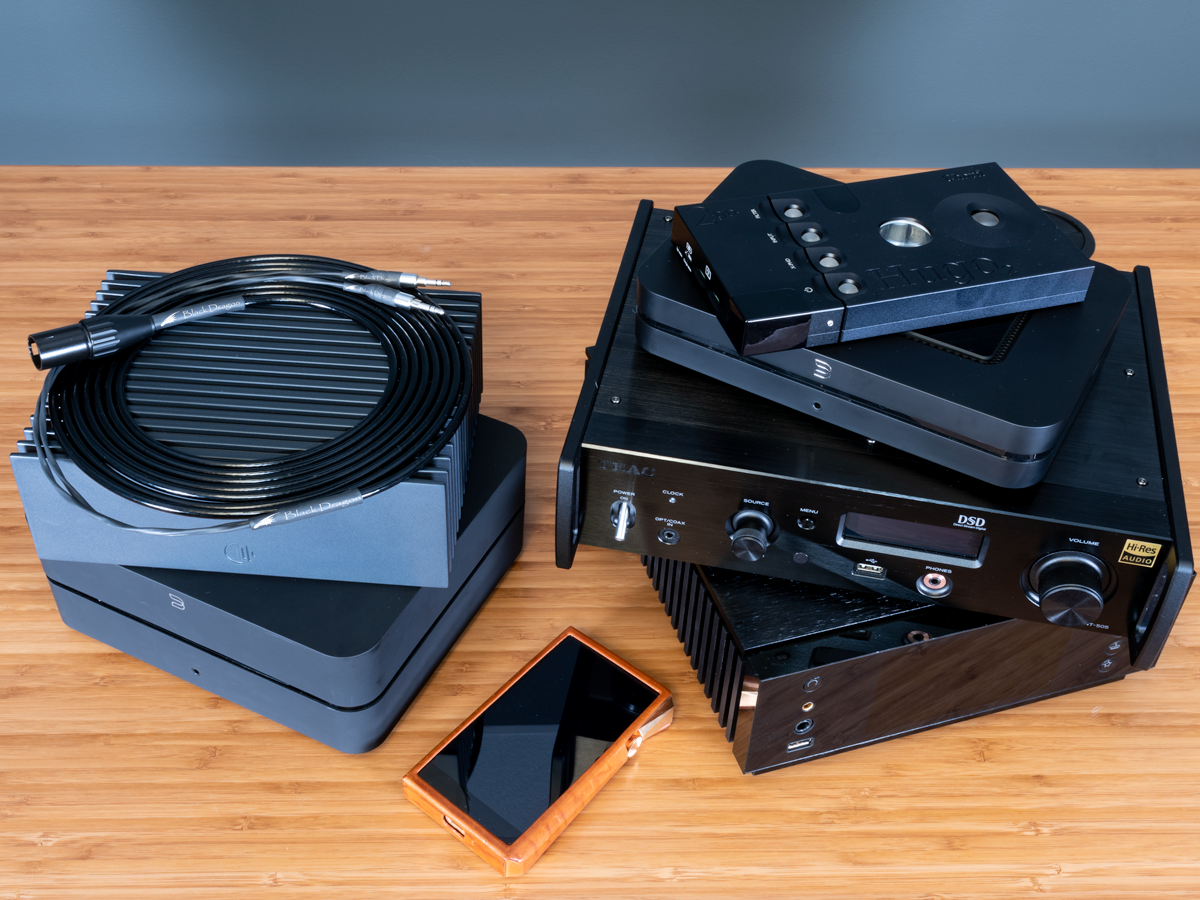 Maybe you own a ton of hi-res audio files but you've got no good way to manage them. If you're looking for a streamlined, user-friendly solution, then a steamer is for you. A great thing about a streaming device is that it puts a world of music at your fingertips, with your streamed content and personal music library all in the same place. These devices are specifically and solely designed for music database management. Now you only need one piece of software to control your streamed content as well as your stored files. With your computer, you may have had separate software for multiple streaming services; now it's all controlled with one mobile app via your iPhone, iPad, or Android device. Now you can just sit back, push a few buttons, and grow roots on your couch. OK, we don't suggest doing that. But you can't beat the convenience factor.
Now, software will vary between streamers. The Aurender Conductor app, for example, is easy to use, but only offers TIDAL and Qobuz. The BluOS app for Bluesound is chock full of options, but the software isn't as user-friendly. However, if you don't like the software with your streamer — maybe it's difficult to navigate or it's too techy — you can always use Roon music management software. Most of the brands that we sell, excluding Aurender, are Roon Ready, meaning they have compatibility with Roon.
Roon is like Wikipedia for music, putting a candy store of metadata at your fingertips. There is no right answer here; you have to decide what's best for your scenario. Just know that while browsing an app won't replace the tactile pleasure of handling album sleeves or liner notes, it can provide you with a visually pleasurable way of perusing your collection and streamed content as well as creating playlists and discovering new music. Check out these guides to learn more about Roon and Audender:
---
As previously stated, you can stream hi-res music from your computer, phone, or tablet and do just fine. Is it going to sound optimal? Likely not. A streamer is specifically designed to handle audio files in a way those other devices aren't. At the end of the day, a computer does a lot of things well, but it wasn't designed as an audio playback device. Computers are noisy; they weren't designed to be quiet from a sonic level but also from an electric standpoint. Is there a night and day difference between a computer and a streamer? Probably not. Is there a difference? Definitely. And if you're trying to squeeze out every last percentage point of performance, a streamer is the way to go.
Streamers vary in the types of files they can play, from CD quality up to 384 kHz or newer formats. When you're looking to play locally stored lossless files or access hi-res tracks from a music subscription service, you'll want to make sure that your streamer of choice supports the files types you want.
Whether or not your streamer includes a DAC, you may opt to use an external one. If you happen to own a high-end DAC, it may well be better than the one in your streamer; that's for you to determine. In our opinion, the DAC will account for about 70% of the sound quality, with the streamer accounting for the other 30%. So spend more money on your DAC (if you're buying one). But know that both are important.
Here's a general caveat about streaming sound quality. There is an argument to be made that the files that you purchase from a hi-res download site may have a better sound than some of the streaming services because there is influence of the streaming service's algorithms and how they change the sound quality of the stream. So if you're locally storing your own, purchased bit-perfect files, there is a potential for the recording to sound better. So if you're a critical listener, maybe you want to own some specific, critical hi-res downloads and then stream some other stuff.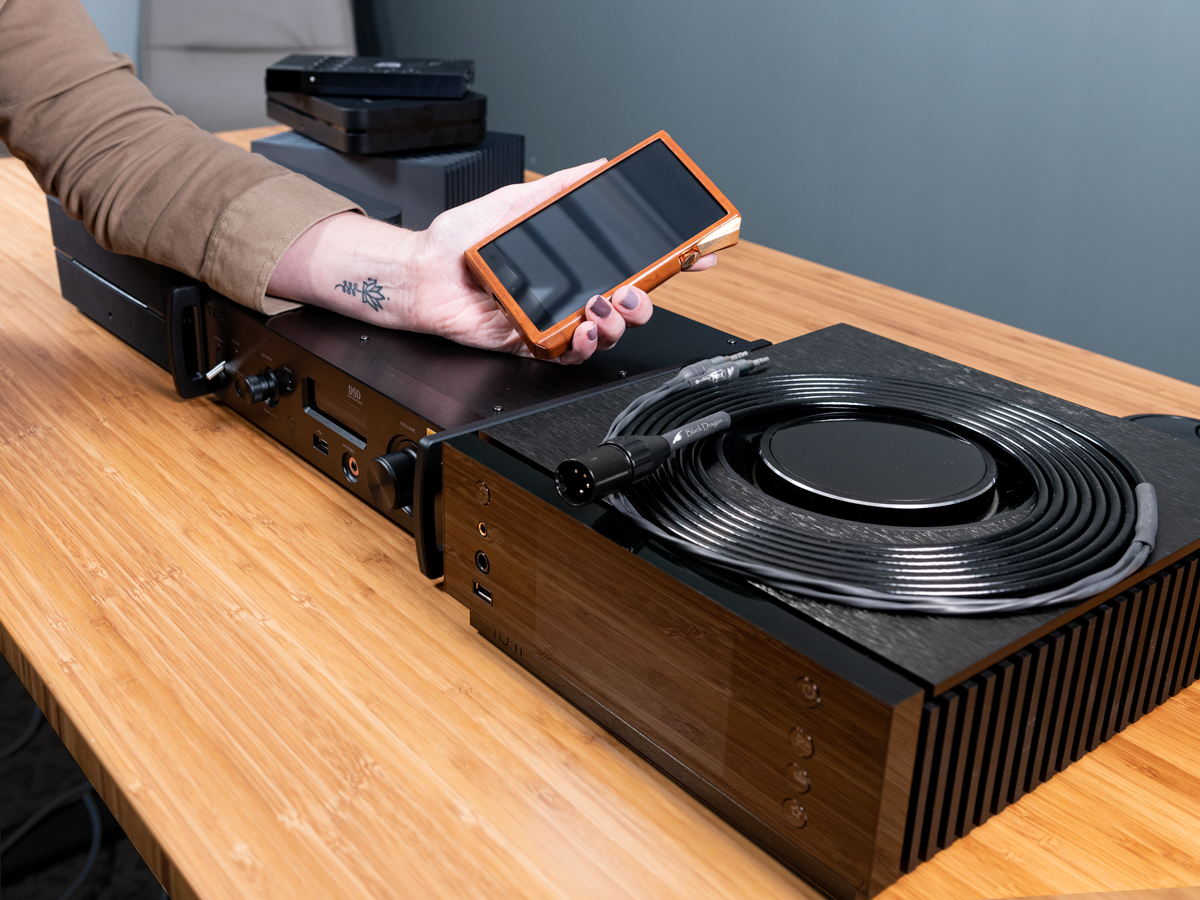 ---
Take Your Phone or Computer Out of the Playback Equation
When you use your phone or laptop as a streamer, that device is multitasking. Someone calls while you're listening to music? That can be a very unwelcome interruption in your listening. Laptop battery dies mid-song? Not cool. When you use a mobile device or computer for streaming, that device needs to be on and nearby. Essentially, you are tethered to that device. Using a dedicated streamer takes your device out of the equation -- at least as a playback vehicle; you will still be using your device to control the software on your streamer. One more benefit: A streamer with storage means you won't be storing audio files on your computer.
We've showcased a few of our favorite streaming devices below. For a more in-depth guide to buying a music streamer, with an explanation of various functionalities and uses, see How to Buy a Music Streamer.
---
Our Favorite Streaming Devices
Aurender N200 High-Performance Caching Music Server
The Aurender N200 is a wonderful streaming solution that marries exceptional audio performance with a user-friendly experience. It has the latest-generation Audio Class 2.0 USB and coaxial digital outputs, 2X isolated gigabit ethernet port, and super-capacitor based uninterrupted power supply (UPS). You also get two user-accessible dual HDD/SSD trays allowing for the installation of the drive type and capacity that best suits your needs. And, if you're streaming 100%, no drives need to be installed. All Aurender products are controlled by the Aurender Conductor app, which is supported on iPad, iPhone, Android phone and tablets. The N200, as with all Aurender models, benefits from being an inclusive design, meaning that all the necessary technology required for file serving or streaming music is incorporated within one audio component. This approach provides a high level of stability, reliability and predictability of operation which results in superior sound quality and user experience.
Main features:
Linear power supply
User-installable storage
Remote internet technical support
Ultra-high-quality SP/DIF digital audio output
Network streaming with solid-state drive (SSD) caching playback
Dedicated USB audio class 2.0 output with noise-free power circuitry
---
Bluesound Vault 2i Network Streamer
The Roon Ready Bluesound VAULT 2i lets you rip all your CDs rapidly in bit-perfect, high-resolution formats. Store thousands of tracks on its internal ultra-quiet 2TB hard-drive that doubles as a network NAS drive. Hook up the VAULT 2i to your existing gear, pair it with a set of powered speakers or stream your digital music collection in studio-quality to Bluesound players all over the home. Take control of the most versatile music streamer with the easy-to-use BluOS Controller app. With the ability to play and store audio from multiple streaming services, Internet radio stations and podcasts, as well as rip your CDs, the VAULT 2i becomes yours to command with just a few simple taps on your mobile device or tablet.
Main features:
Internal 2TB hard drive that doubles as a network NAS drive
Rip your CDs in FLAC, MP3, WAV, WMA, and many other formats
Type-A port for USB connection
Simple top-panel touch controls
Control music wirelessly with the BluOS Controller app
Works with Bluesound RC1 Remote Controller
Stream your music to multiple Bluesound players throughout the home
---
Bryston BDA-3.14 Streaming DAC
The Roon Ready Bryston BDA 3.14 gives you a full digital front-end, all-in-one unit for amazing sound. This flagship model adds streaming capabilities to the BDA-3 DAC with a few more tricks up its sleeve. The BDA 3.14 is based on a built-in music player that provides access to NAS storage, USB devices and internet radio, as well as hi-res streaming services such as Qobuz and TIDAL. Naturally for a Bryston DAC, has a plethora of digital connections: four 2-channel HDMI, asynchronous USB, optical, and coaxial.
Main features:
Dual DACs decode up to 384/kHz/32-bit PCM and up to DSDx4 natively
Digital volume control enables users to dirve an amplifier directly
Control via Bryston's Manic Moose software
Independent analog and digital signal paths
HDMI video pass-through with audio out (4K video pass-through)
---
Matrix X-Sabre 3 Pro MQA DAC
$2,999.00
The X-Sabre 3 Pro MQA DAC is a sleek and slim Roon-Ready device that functions as a network capable streaming host. It doesn't come with its own software or internal storage, but you can use Roon to stream from a NAS and streaming services. The X-Sabre 3 Pro has a built-in preamp. In addition to decoding the MQA audio stream up to 24 Bit 384kHz, the Sabre 3 Pro can support DSD1024 and PCM audio stream up to 32Bit/768kHz sampling rate. It also comes pre-installed with seven kinds of PCM digital filter options. You can choose different filters to adjust timbre conveniently. Plus, in addition to optical, coaxial, AES/EBU, USB ports, there's an IIS·LVDS input via an HDMI connector.
Main Features:
High-resolution LCD display that shows album art
Multiple filters pre-installed
Excellent clarity and detail
Fully isolated design
Sync and Async mode
Built-in preamplifier
---
Roon Nucleus Music Server
Stream and manage your music library with the Roon Nucleus Music Server, a multi-room, multi-user music server. It connects directly to your network and can be controlled via your phone, tablet, or computer. No technical configuration is necessary. Nucleus is the center of your Roon music system. It's the housekeeper, the traffic cop, and the brain that takes care of the music in your life. Using Nucleus, Roon manages all your music — on hard drives, NAS, and streaming content — and allows you to play it on all the audio devices around your home. Nucleus is the best way to run Roon at any price. Requires a Roon subscription.
Main features:
Library capacity: Up to 10,000 albums/100,000 tracks
Multiroom streaming up to six simultaneous zones
Manages your digital files stored on USB hard drives, NAS, and content streamed from streaming services
Runs Roon OS and is controlled by the Roon Remote apps for iPad, iPhone, macOS, Android, and Windows
Streams music to USB, Sonos®, AirPlay®, Roon Ready™, and many other audio devices
Silent design with no fans or moving parts
---
3 Reasons to Buy a Music Streamer
---