All that glitters is not gold ... but sometimes it really is!
The NW-WM1Z Walkman from Sony is quite literally plated in gold, lending a striking, high-end look to this flagship portable digital audio player (DAP).
Part of Sony's Signature Series, the NW-WM1Z is an evolution of Sony's previous high-end Walkman, the NW-ZX2. You may see some similarities in the design of the newer model, but it's decidedly different. At $3,199, it's also more expensive.
But the NW-WM1Z is not a "bells and whistles" or "do-it-all" device. There's no Wi-Fi on the NW-WM1Z, and thus no way to add third-party apps. And it doesn't run on Android like some newer Walkman music players; it uses Sony's own Linux-based operating system. You can, however, run Bluetooth, thanks to Sony's LDAC technology. But at the end of the day, the NW-WM1Z is simply a high-resolution digital music player -- though a very fine one at that. You can think of it as an iPod on steroids.
Designed to play high-resolution audio files (sampling frequency of 96 kHz or 192 kHz at 24-bit), the NW-WM1Z promises to deliver the subtlest nuances of studio-quality sound. And from the moment I laid eyes on the NW-WM1Z, I couldn't wait to hear how it sounds!
---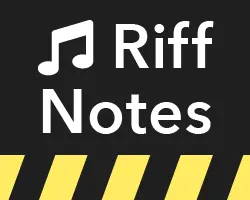 Pros:
Excellent battery life
Full-bodied, musical sound
Balanced output
Large, responsive screen
Lots of internal memory
---
At 1 pound, this thing feels heavy. In fact, it's been dubbed the "golden brick" in the audiophile world. I happen to be fresh off of reviewing in the NW-ZX507 Walkman, which is super light in comparison. But the solidity of the NW-WM1Z is part of what lends a high-end feel. This thing just feels expensive, and very well-built. In fact, it's machined out of solid copper.
The NW-WM1Z is fully encased in a high-grade gold-plated oxygen-free copper chassis for conductivity. Copper lends unique, natural acoustics. But because copper is vulnerable to environmental factors, it is plated with gold material. This gives it a rich, classy look.
The player flares out at the top to accommodate both balanced (4.4mm) and unbalanced (3.5mm) headphone jacks. Along the right side of the NW-WM1Z are large buttons for playback, volume, and power. On the left, there's a slider button for putting the player into hold mode, in case you accidentally catch one of the controls.
The rear of the player features a rectangular patch of brown leather with an NFC marker when pairing wireless headphones (if NFC is enabled). There's a small gold Walkman logo as well. The overall aesthetic is classy -- neither too spare nor too cluttered.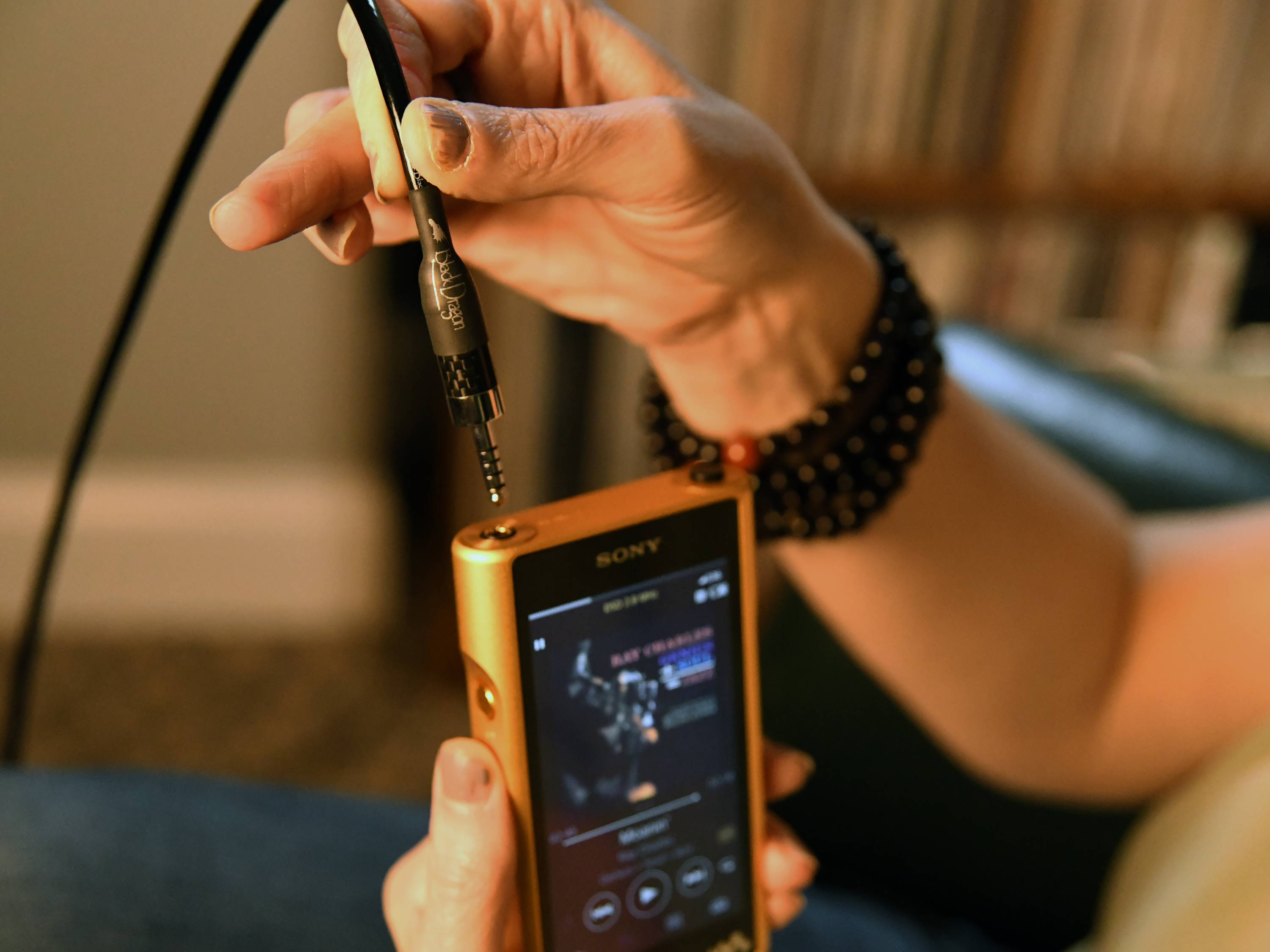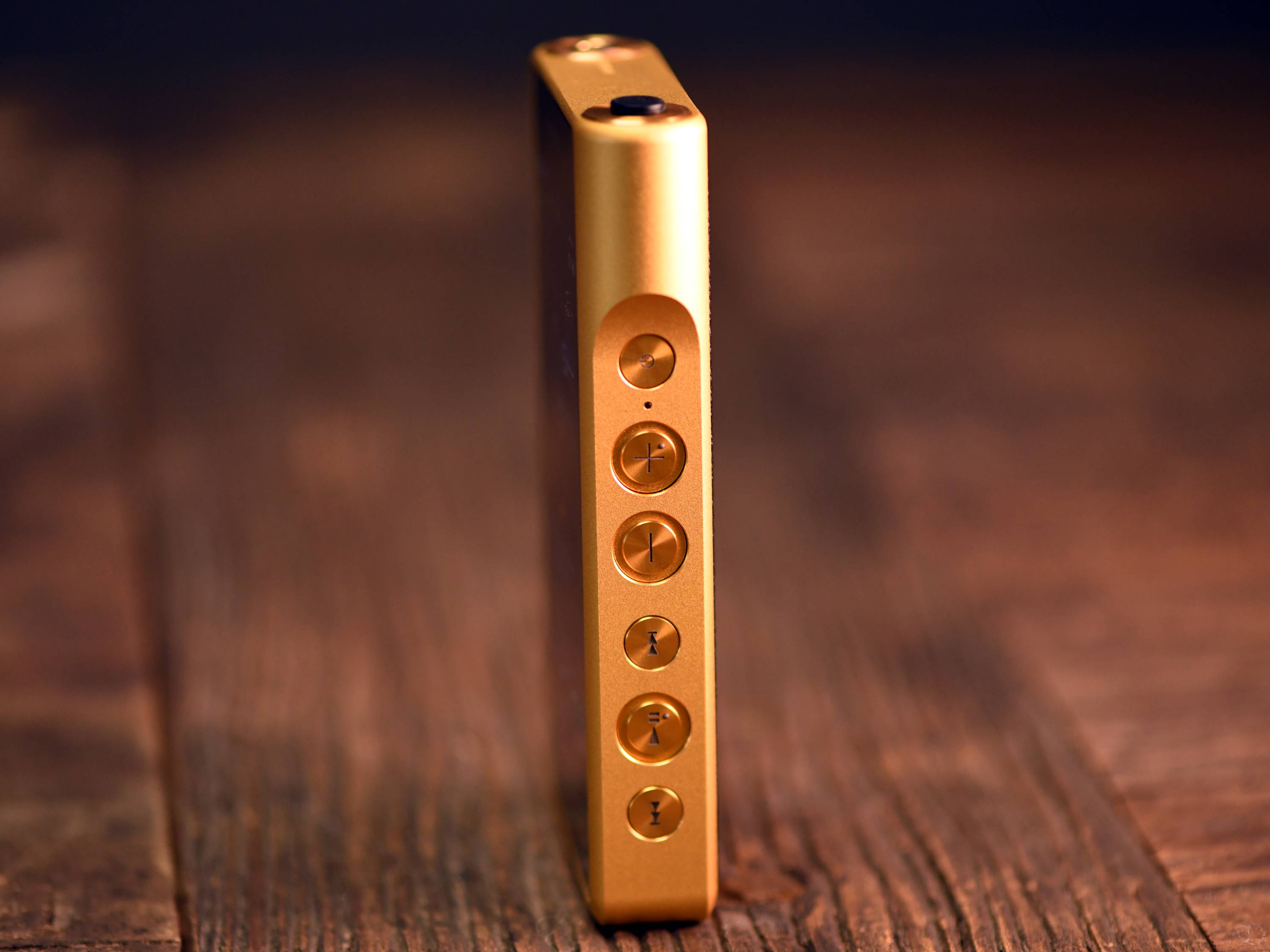 On the bottom of the NW-WM1Z, there is an opening on the left through which to loop the wrist strap. In the middle is Sony's proprietary dock to USB A connection, which is used for charging the Walkman, connecting to your computer for transferring files, and for using the device as a DAC with other pieces of equipment. Note: You can use the WM1Z as a DAC with your computer but it doesn't offer a digital output. On the bottom right is the MicroSD port. The NW-WM1Z comes with 256GB of internal storage, but the microSD card slot on the base of the Walkman gives you the option of adding up to 256GB.
The NW-WM1Z sports a fully responsive, 4-inch touchscreen display with a resolution of 864x480. To my eyes it's bright and sharp. I did not experience any lag time whatsoever when I used my fingers to navigate the display. When I made a selection, the response was immediate.
One thing I appreciate about the design is that you can differentiate the side buttons by feel -- the play/pause and "volume up" buttons have small raised dots on them. Once you quickly learn the order of the buttons, you can easily manipulate the controls without looking.
Another small but notable detail is that the balanced and unbalanced headphone jacks as well as the charging port are protected by removable rubber plugs.
---
Features & User Experience
One thing I really appreciate about the WM1Z is its user friendliness -- I didn't really have to question anything.
The device was already loaded with music when I received it, but note that you will need to download the Media Go for PC or Content Transfer app for Mac.
Once your music is on the player, you can search by all songs, artist, album, release year, genre, composer, playlist, or hi-res file.
When you choose a song in your library, you'll get a display with the album art, title, and artist. Volume is at the top. When you tap on it, you'll get a large round volume adjustment in a separate window. Under the volume bar, you'll see the file format and bit depth of the track you're listening to. Below that, there is a play/pause icon on the left and a battery indicator on the right.
Under that you'll see album art from your chosen track. If you swipe down from here, you can search your music library using the above-mentioned parameters. There are also two buttons at the top to turn on USB DAC function and to turn on Bluetooth.
Under the album art is artist and title info and play/pause/back/forward icons. To the left, you have Shuffle Playback select, and all the way to the right you have Repeat off, Repeat all, and Repeat 1 song touch control. You can click the toolbox icon to access setting, add to playlist, add to bookmark list, change playback screen, obtain song info, and see lyrics if available/applicable. The settings menu is similarly easy to navigate.
From the main Playback screen, you swipe to get to the screen on the right which has 10 Bookmark Lists, or swipe to the screen on the left which has a Play Queue.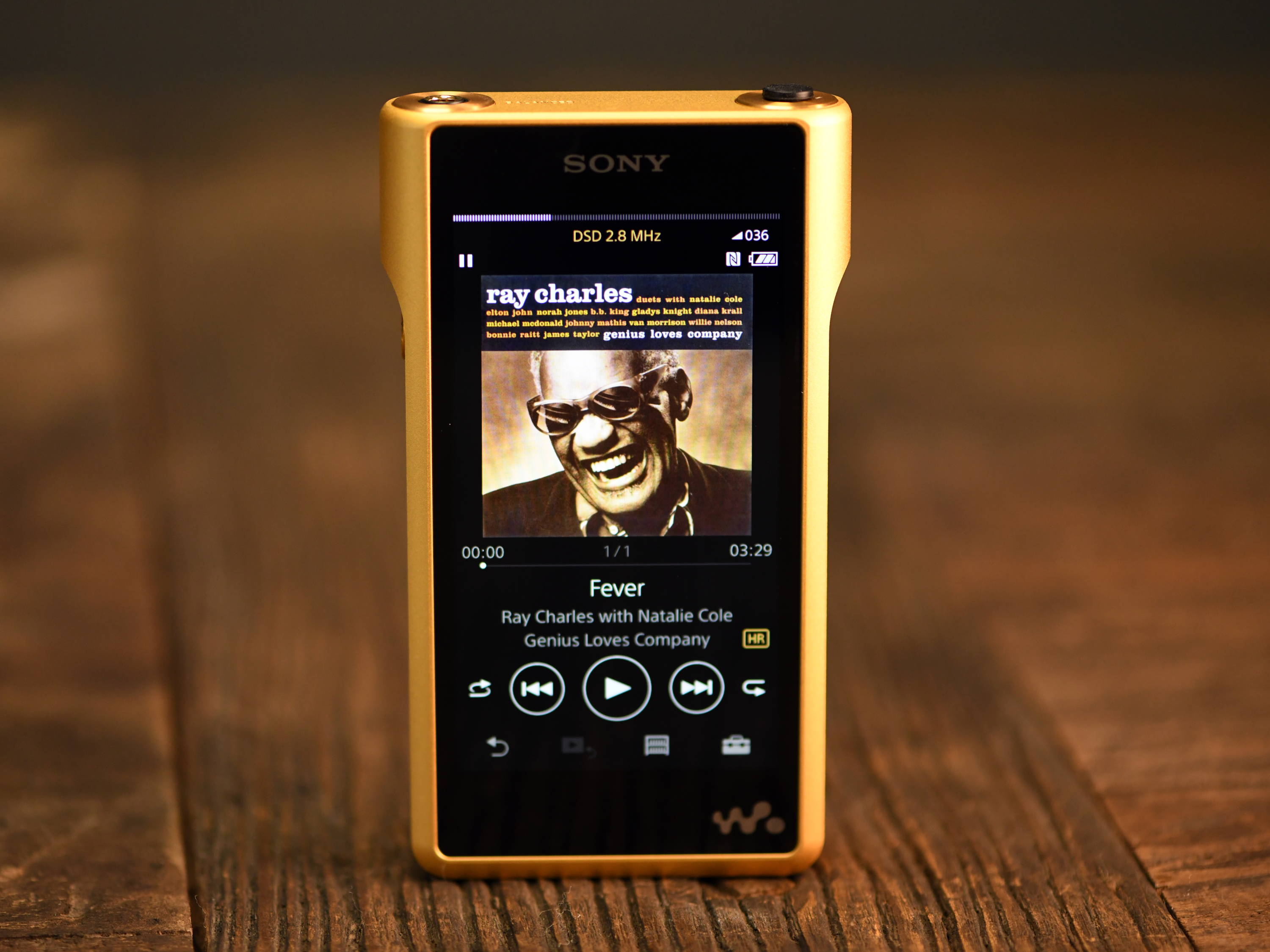 Swiping to the bottom screen brings up a selection of DSP effects including 10 band EQ, DSEE HX upscaling technology, DC Phase Linearizer, and Dynamic Normalizer. These can be disabled by selecting Direct Source On. I listened to the WM1Z using the Direct Source feature, which disables all DSP settings and allows you to listen to the DAP with its native sound.
A really great feature of the WM1Z is its amazing battery life. This is made possible by Sony's Pulse Width Modulation system, which creates market-leading battery life. You get up to 30 hours of non-stop high-resolution audio playback (FLAC 96 kHz/24 bit) and 33 hours MP3 (128 kbps). The DAP also has something called Battery Care. The description says it can maximize the life of the built-in battery by never charging it past 90 percent.
I had the WM1Z in my possession for the better part of two weeks, and I charged it twice. I never turned it off, but it's extremely efficient and it doesn't lose any power when it sits idle. After a four-day stretch of non-use, I was pleasantly surprised to find the battery level largely unchanged from the last time I had used the player.
---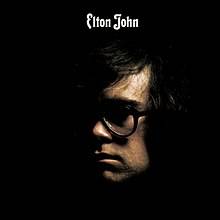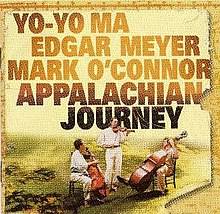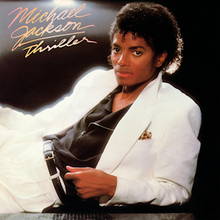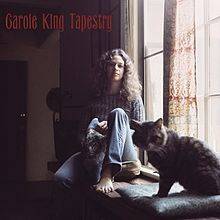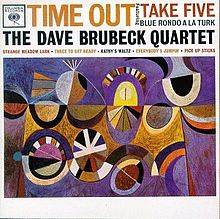 ---
Tested with Odin IEM from Empire Ears with a Silver Dragon IEM cable and with the Focal Clear Mg with a Silver Dragon Premium headphone cable.
The Sony NW-WM1Z is a phenomenal-sounding player. Or, to use the parlance of my home state of Massachusetts, it's wicked awesome.
What I got with the NW-WM1Z was a full-bodied, warm, and organic sound. But while this Walkman has a warm tonality, it's also very clear, balanced, and detailed. The best of many worlds! Above almost anything else, I want to call the WM1Z musical-sounding. That may seem like an odd thing to say about, well ... music. Isn't all music musical sounding? To me, musicality is something you know when you hear it. Your music sounds extra lively, melodic, and full of personality.
Bass on the WM1Z is warm and full but never boomy; mids are musical and emotive; and treble is sweet and detailed without being the slightest bit bright or analytical.
I started out with Bob Dylan's "Like A Rolling Stone," which sounded gorgeous and whimsical -- like being on a merry-go-round. Dylan's voice sounded like, well, Dylan's voice, though maybe slightly smoothed out. I thought vocals sounded pretty forward on this track, but not to the detriment of the other registers. Highs, in particular, were not fighting for attention. Moving on to Elton John's "Border Song" -- wow, vocals! And violins sound so lovely. I felt like there was great reach in both directions. Even in the chorale parts, the instrumentation shines through. For some classical, I listened to music from Yo Yo Ma/Edgar Meyer/Mark O'Connor's Appalachia Journey. I was really taken with the depth of the cello -- rich and visceral -- and then the light and sweet violin.
Moving on to some tracks from Michael Jackson's Thriller, I enjoyed the powerful thump in the bass. It just felt really full and, I don't know -- well-rounded? And Carole King's voice on "I Feel the Earth Move" was strong but not to the point of overpowering other elements in the song. I was able to move my attention from the bumping bass to the emphatic piano, experiencing them as distinct entities while not losing a feeling for the music as a whole.
Rounding things out with some jazz, I listened to Dave Brubek's "Blue Rondo." Never brassy or bright, I noticed that the cymbals had a light and airy sound that didn't linger. Sometimes cymbals can irk me, but they were really pleasing to me here. The overall presentation was warm. That was appealing to me, but some lovers of jazz might like a crisper sound.
Instrument separation and imaging on the WM1Z are excellent. Not only could I track every bit of a song without losing my way, I had a great sense of where the instruments lay in space. Soundstage isn't super wide, at least not in a way that I focused on. What I did get was a great sense of depth. The sound was not merely side to side in my head, but it existed on various levels, both up and down and front to back.
While this Walkman has a warm tonality, it's also very clear, balanced, and detailed. The best of many worlds! Above almost anything else, I want to call the WM1Z musical-sounding. That may seem like an odd thing to say about, well ... music. Isn't all music musical sounding? To me, musicality is something you know when you here it. Your music sounds extra lively, melodic, and real.
---
Dragon Cable Recommendations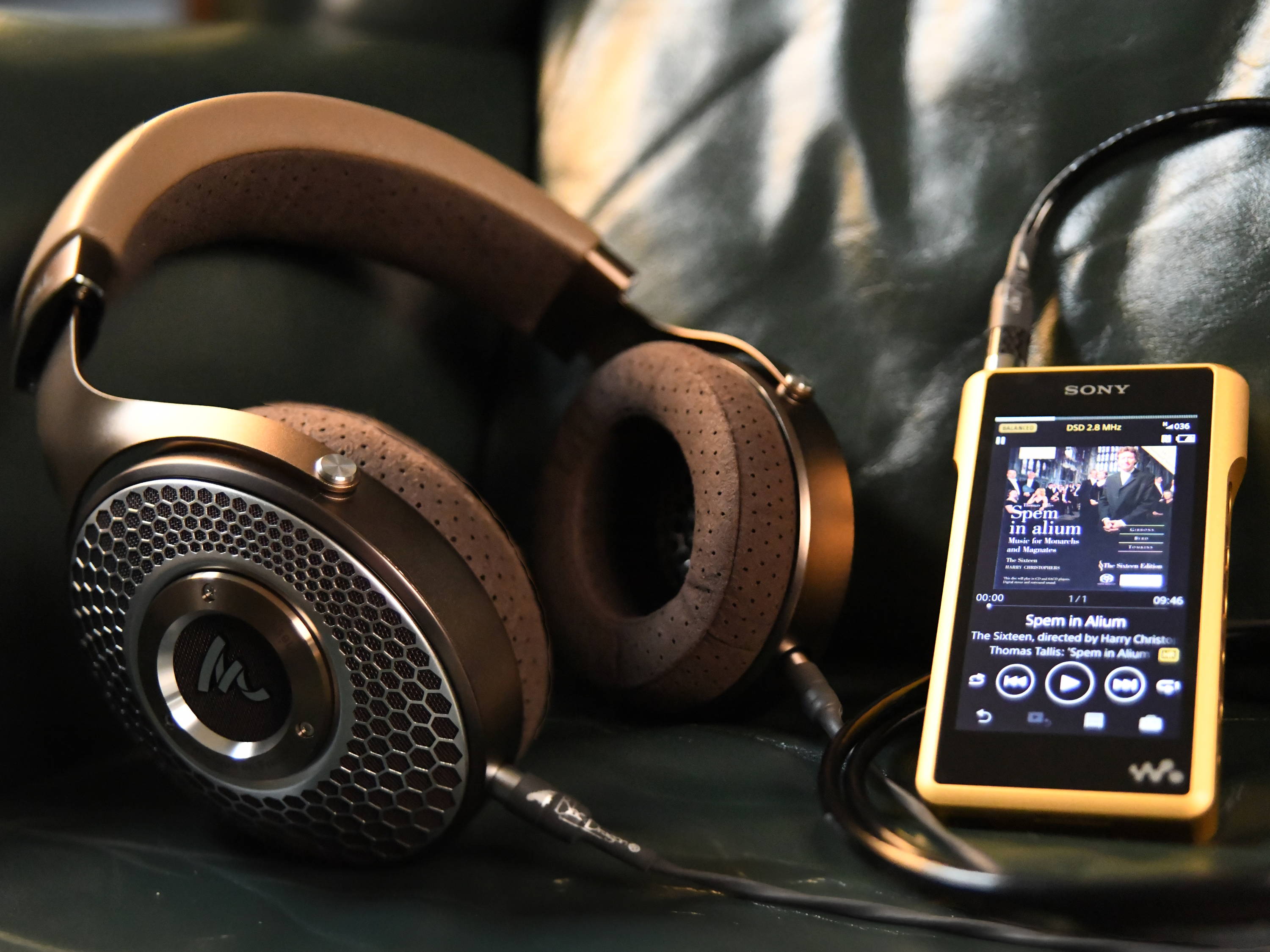 I tested the NW-WM1Z with a neutral-sounding IEM and a neutral/warm headphone. Because the WM1Z has some warmth to it, I decided in both cases to use a Silver Dragon cable.
Our Silver Dragon cables contain UP-OCC silver conductors that support detail, air, and definition in your music. The Silver Dragon IEM cable and the Silver Dragon headphone cable will open the soundstage, boost clarity, and support detail retrieval by finding "lost" mids and highs. They're a great match for warmer audio gear and for those who love to hear all of the details in their music.
Of course, for the listener who wants all of the bass, the Bronze Dragon IEM cable or a Black Dragon headphone cable would be the way to go. These copper-conductor-based cables are a great choice for self-proclaimed bassheads, lovers of EDM and rap, and more.
Dragon cables are handcrafted to the highest standards and made to order according to your audio needs. At Moon Audio, we use the best raw materials in our cables to unveil your music. We think that materials matter and your audio cables should have the same care and craftsmanship that manufacturers put into their audio components and headphones. Audio cables are ultimately the connection to your music. Feel free to contact us with any questions you might have, and we'll be more than happy to suggest a perfect pairing based on your listening preferences and gear.
---
This is a sound that I would describe as very close to perfect. I would dare say the Sony NW-WMIZ is the best-sounding player on the market today. Highs are gorgeous, lows are bountiful, but mids retain a rich and emotive presence. Everything just sounds super clear and natural. There's a happiness to the sound, but it doesn't feel contrived.
Now, technically the NW-WM1Z is portable. You can pair it with your favorite IEM or full-size headphone and take it on the go if you choose. But you have to remember that this thing is hefty, and it's also an investment piece. It's probably not something you would choose for a walk in the park. That being said, you could absolutely take it with you when you travel and listen to it in a more static setting. It's also a great choice for the office or home. And with the Bluetooth capability, you can use it with a Bluetooth speaker or in your car.
If you're looking to stream music, the NW-WM1Z won't be for you. But for the audiophile with a large music library who loves a warm, full, detailed, and organic sound, the Sony NW-WM1Z may be your hi-fi dream come true.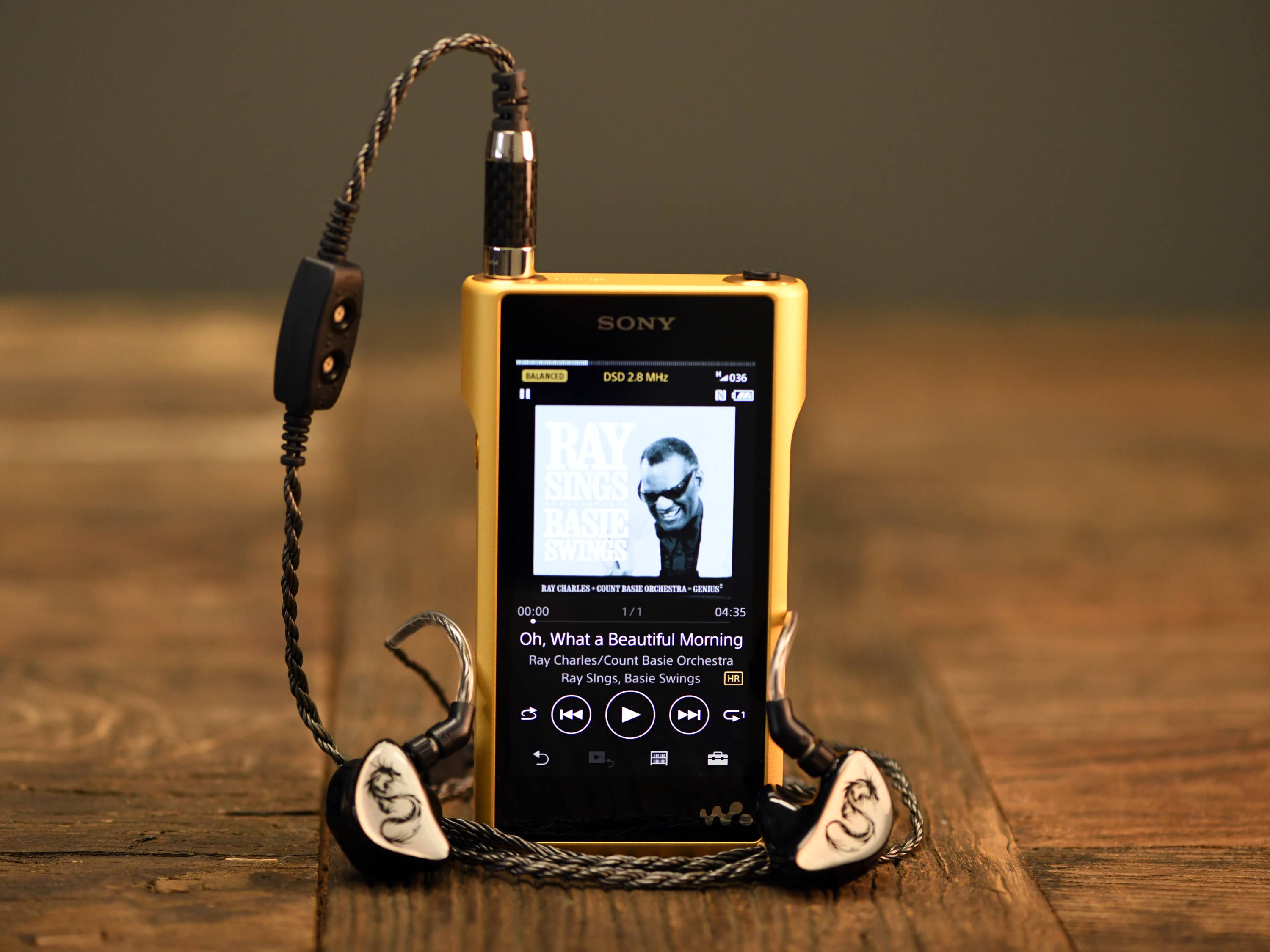 ---
---
Sony NW-WM1Z DAP: Need to Know
---
Dimensions: (W X H X D) 2.87" x 4.89" x 0.78"
Weight: 16.05 oz
Battery life - continuous playback:
-33 Hour (MP3 128 kbps)
-30 Hour (FLAC 96 kHz/24 bit)
-26 Hour (FLAC 192 kHz/24 bit) 11 Hour (DSD 11.2 MHz)
Charging time (quick charge): N/A
Charging time (full charge): 7 hours
Internal storage: 256 GB
USB connection: Hi-Speed USB 2.0
WM-PORT: 22 pins
Input and output terminals: 0.17" balanced jack, microSD slot, Stereo mini jack, WM-PORT
Wireless capabilities: Bluetooth®, NFC
Music play mode: Normal, Repeat, Shuffle
File management: No
AAC-LC (NON-DRM): No
PC external storage device: Yes
Sound effects: 10-band equalizer/Tone control (Feature exclusive), DC Phase Linearizer, Direct Source (Direct), DSEE HX, Dynamic normalizer
Audio formats: AAC (Non-DRM), AIFF, ALAC, DSD, FLAC, HE-AAC, Linear PCM, MP3, WMA (Non-DRM)
Display resolution: 854 x 480 (FWVGA)
Display type: TFT color video display
Drag and drop: Yes
Driver unit: No
DSEE HX: Yes
Dynamic normalizer: Yes
Equalizer: Yes
Horizontal / vertical display: No
Music searching methods: All songs, Album, Artist, Genre, Release year, Composer, Playlists, Hi-Res, Recent transfers, Folder, SensMe Channels
Screen size: 4 in (10.2 cm)
Waterproof: No
Operating system: Sony original OS
System requirements: Mac OS® X v10.8~10.11, Microsoft Windows® 10, Windows Vista® (SP2 or later), Windows® 7 (SP1 or later), Windows® 8.1
Touchscreen: Yes
In the Box: NW-ZX507 Walkman, Wrist strap, Proprietary Sony Dock to USB A cable, Quick Start Guide
---