New Brand, New Sonic Possibilities at Moon Audio
Face it. Being an audiophile doesn't mean you have to spend thousands of dollars on audio gear. Of course, you can if you want to, but the secret is that you don't have to. There are plenty of options out there to upgrade your sound without having to empty your wallet or spend your entire paycheck, and if you're worried about just that, then you are in the right spot. iFi is a great first step to take in making big gains in your overall sound quality from your standard consumer-level audio device. No matter if you have an Apple or Android device, turntables, looking for a Bluetooth DAC, Amp adapter, a portable USB DAC, iFi pretty much has it all for your digital audio.
Here, we'll highlight each iFi product's features and sound, and why we decided to add them to our lineup at Moon Audio.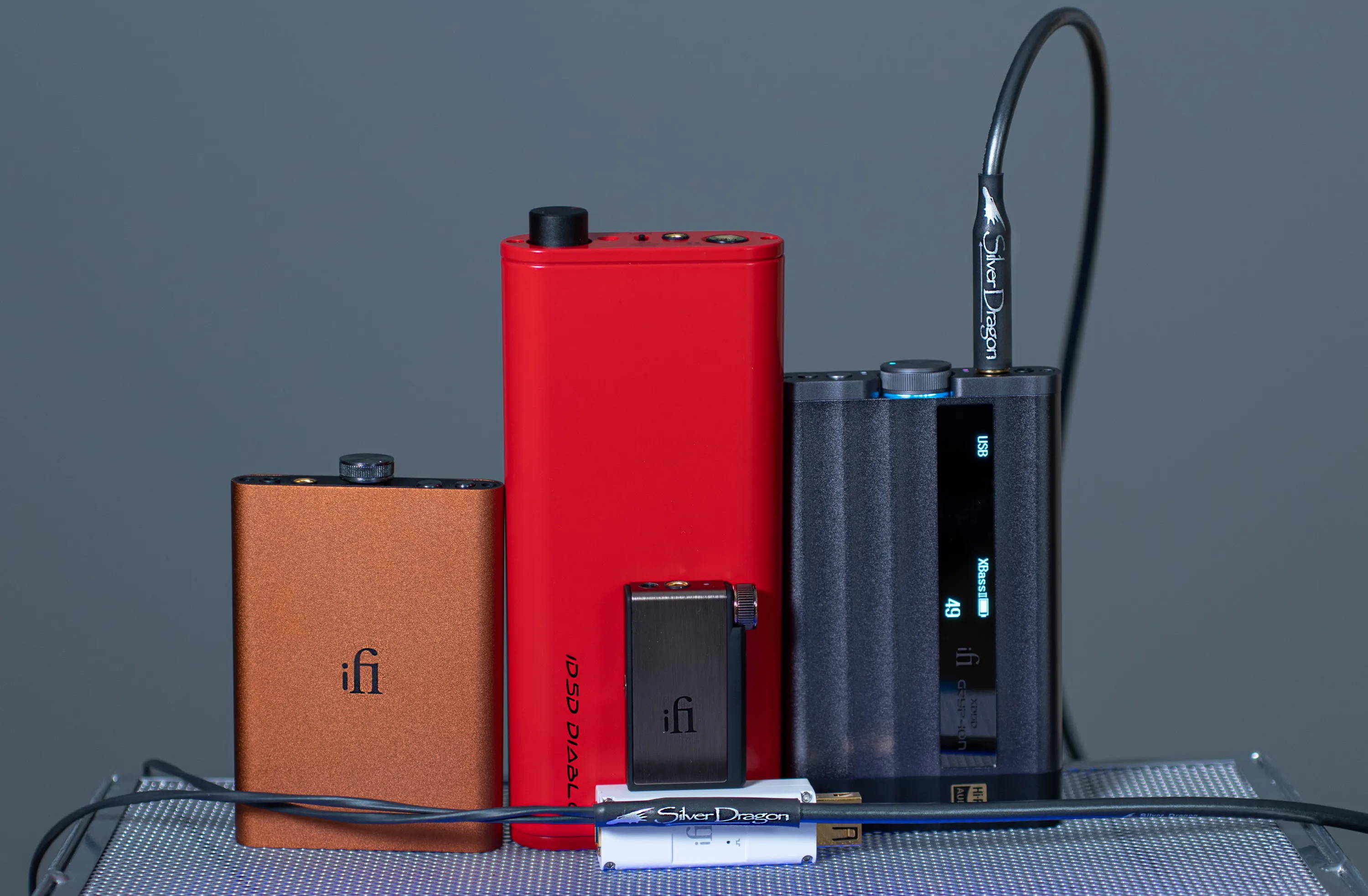 Who is iFi Audio? We recently picked up iFi here at Moon Audio. You might have seen a video Drew did with an overview of the DACs, amps, and streamers, and I reviewed the popular Gryphon DAC and Diablo amp a bit ago. iFi has been around since 2012 and is headquartered in Southport UK. They produce over 50 audio devices and their mission is to do one thing: make your music sound better. 50 products is a large undertaking for any company, but iFi represents a good balance of quality audiophile-grade gear with affordable enough prices, ranging from entry-level to mid-tiered music lovers and budgets.
Pro iDSD Signature Headphone Amp DAC Streamer
At the top of the iFi totem pole is the Signature. If you can't tell by looks alone, the Signature exudes premium quality and craftsmanship. The silver of the chassis is adorned with gold accents, making for a striking and high-end aesthetic. The Signature is an all-in-one unit featuring a reference-class DAC, preamp, network streamer, and headphone amplifier. Complete with remote control, you can control your entire music listening experience from this one device - packed with all the best features and components from iFi. One thing that sets the Signature apart from other all-in-ones is the option to select the output mode from solid-state, to tube (using a class A section based on 2 x GE5670), or "Tube+," which reduces the negative feedback and presents more of the tube's natural harmonic distortion. This "TubeState" design by iFi gives the user an extraordinary amount of control over the sound of their music, letting you tailor your sound to your individual listening preferences.
Tube and solid state signatures
---
The Zen Stream is the easiest (and best) way to get into high-resolution music streaming. It does streaming from all your favorite services, NAA, DLNA streaming, it's Roon Ready, and basically, all you need to do is connect your source and you're good to go! It's compatible with Tidal and Spotify Connect, has integrated AirPlay, and incorporates active noise cancellation and their iPurifier technology into the little streamer too. The Zen is a great size too, being about the size of a 3.5-inch internal hard drive, you can easily place this just about anywhere with options for Ethernet or wireless connections. The I/O selection in the back is also sufficient for connecting external storage, outputting to DAC via USB, coax, etc, for a great affordable and high-quality first step into a larger world of high-resolution music streaming.
Affordable hi-res music streaming
Easy setup and connectivity
iFi Desktop DACs and Headphone Amps
Zen DAC Signature V2 (& + Zen CAN Signature Bundle)
The iFi Audio Zen DAC Signature V2 is the latest upgraded version of iFi's popular DAC. They have gone out of their way to make the DAC as pure as possible, that is, a true-differential balanced circuit design, upgraded circuit components, and direct signal paths. Much of this circuitry is inspired by the design of their Pro lineup of products, featuring only the best premium materials for the best sound. With a balanced 4.4mm output and stereo RCA's, the Zen DAC Signature V2 can fit in a variety of setups, from headphones to speakers. The outputs of the ZEN DAC Signature V2 can be switched between 'variable' and 'fixed'. Variable – use this setting if you wish the ZEN DAC Signature V2 to control the volume of powered speakers or its volume as a preamp. Fixed – this option is for when you use it with downstream equipment with its own volume control. This will bypass the ZEN DAC Signature V2 as if there was a 'straight wire' from the digital source to the analog amplifier. The Zen DAC Signature V2 also comes paired with the Zen CAN series - offering 3 headphone amplifier options for pairing your favorite HIFIMAN, Meze Audio, or Sennheiser headphones.
Great price for functionality and sound
---
NEO iDSD Headphone Amp DAC
The NEO just might be the ONE you are looking for. It's iFi's 3-in-one DAC/Amp, featuring a number of features that makes it an ideal companion for both headphones and speakers. The NEO has Bluetooth 5.1 with the latest hi-res codecs, an excellent sounding Burr-Brown DAC, PureWave, iFi's GMT clock, and more that produces amazingly natural and resolute sound quality. The engineering of the chassis and overall aesthetic is modern and clean, with a sharp-looking OLED display and large multi-function volume knob, it will look great with any setup. The NEO also comes with the S/PDIF iPurifier 2 to make your games and movies sound just as good as they look on your 4K TV. It also makes a great sonic upgrade for your PlayStation and Xbox. The NEO comes packaged with the ipurifier2 and the ipurifier3 which act as noise filters for the unit and makes the perfect addition to your gaming or home audio system.
Superb way to up your gaming audio
DAC, amp, & streamer in one
---
Pro iCAN Signature Headphone Amplifier
The PRO iCAN makes some substantial improvements over the original iCAN and is iFi's flagship analog headphone amplifier and stereo preamp. It features a multitude of headphone outputs, both fully balanced and single-ended connections: 4.4mm balanced output as well as a fully balanced XLR, a single-ended 6.3mm, and iFi's unique S-Balanced 3.5mm output. iFi's S-Balanced output cuts distortion by 50% with single-ended headphones connections. The Pro iCAN Signature, ships with iFi's flagship iPOWER Elite. Coupled with the re-crafted power supply board which is up to 300% quieter, the music is buttery smooth. The Pro iCAN Signature also includes the options for solid-state sound, tube, or iFi's "Tube+." The iCAN is a pro-level amplifier with pro-level sound and options. With plenty of juice, you can be sure it will power even the most power-hungry headphones on the market.
Collection of top iFi features
---
---
Check out our newest brand... iFi Audio! | Drew's Audiophile Tech Tips

Moon Audio CEO Drew Baird, P.E. is SO excited to bring iFi products on board! Headphone amps, DACs, network streaming, Bluetooth... so many solutions for both portable and home audio. Watch here for a sneak peak of the iFi hip-dac 2, Gryphon, Diablo, GO blu and Zen Stream.
<Click to Watch the Video
---
---