We Compare the Hardware & Software to Help You Decide
There are audiophiles who love big, beautiful stacks of vinyl or wire racks full of CDs. It's a ritual of sorts, like brewing coffee. You've got the tactile experience of opening up liner notes and holding a glistening round object that seems to magically produce music. It's not instant gratification, but the ritual itself can be quite gratifying.
And then there are those who say to heck with all of that.
Enter the music streaming enthusiast. Now, that's not to say that those who enjoy streaming music don't also keep and enjoy a physical collection. But there is something to be said for the streamlined experience of having a virtual — and virtually limitless — collection of music at one's fingertips. This includes stored files from one's personal collection as well as music streamed from any number of popular streaming services.
One frequent question we at Moon Audio get from audiophiles looking to get into streaming is:
"Do I want to use Roon or Aurender?"
As with most things in life, this will ultimately come down to personal preference. It's kind of like choosing between iPhone and Android, or Windows and Mac. But beyond preference, there are practical considerations, environmental variables, and pros and cons of each that will help you decide which music streaming ecosystem is right for you.
Music Streaming terminology
What is a music server?
A music server is a device that allows you to store your entire digital music collection and to access that music quickly and conveniently with a user-friendly interface. It's the source of your music.
What is music streaming?
Music streaming is the process of pulling music from your music server or a music streaming service.
What is a music streaming service?
A music streaming service is a Web-based service that lets users stream songs to their computers or mobile devices. Examples include TIDAL, Qobuz, and Spotify.
For example, we recently received a call from a customer who was leaning toward Aurender. After chatting about his current setup and goals, Moon Audio founder and CEO Drew Baird, P.E. learned that the customer already had a BlueSound Node 2i music streaming player, which is a Roon Ready device. Drew explained to the customer that Aurender is a closed system, meaning it cannot be used with other products. Roon, on the other hand, is compatible with a multitude of brands, including Roon Ready devices that have Roon technology embedded in their software. That made Roon the right choice for this customer.
The world of audiophile music streaming has exploded, and you've got great options to help put the entirety of your personal collection and content streamed from apps at your fingertips. We created this guide to help you understand what differentiates Roon and Aurender so that you can enjoy music streaming nirvana.
---
Roon vs. Aurender: Questions to Consider
1) Are you computer savvy?
All things considered, Aurender is simpler to use. With Roon, you've got to install software and make sure your network is working. You might also have to do some settings changes to get everything to jive.
The Roon user is not afraid of a computer network. If you plan to add an internal hard drive, this will mean opening up and installing it, and then formatting it for use with the Nucleus. It's not terribly complicated, but adding servers to be cores and NAS (network attached storage) will take more network knowledge.
2) Do you want to listen to music throughout your home or in one room?
For the end user who plans to play music in one location, Aurender is a better choice. (Of course, you can put multiple Aurenders in your home, though this can be pricey!) For whole-house, multiple-user scenarios, Roon is the better option. Audio devices throughout your home will play music streamed from your Roon Core. There are Roon-certified devices at all kinds of price points, each with a different purpose intent (such as a network speaker) that provide a lot more flexibility.
3) How much music are you storing digitally?
Aurender has got more storage capacity. Several Aurender servers come with internal storage, with the option for lots of external storage. The Roon Nucleus is a much smaller device and you can add one internal hard drive.
4) Personal preference — which software do you like better?
If you have the chance to test drive either system, great! You can also watch videos to help you determine which user interface you prefer. The Aurender Conductor App is more streamlined and is easy to use, whereas the Roon app has lots of bells and whistles beyond the basic metadata like album, song title, and artist.
5) Audio quality
Drew at Moon Audio thinks Aurenders sound better than the Nucleus, but not by leaps and bounds. The Aurenders do go the extra mile with linear power supplies, filtered and isolated USB connections, and SSD caching to ensure the best possible data transfer. Either option will appeal to the hifi enthusiast. In the land of servers, your DAC does most of the heavy lifting and sound signature contribution. Your server accounts for 35% of the sound quality, the DAC is the rest.
6) Cost
Aurender can be the more expensive option. Aurender servers range from $2,700 up to $22,000. The software is free. For the cost of the Aurender, you are getting a lot more stuff. Aurenders have better technical specs and abilities and amazing customer service and technical support. The Roon Nucleus, if you opt to purchase it to use as your Roon Core, costs $1,459 ($2,559 for the Nucleus Plus), plus the cost of storage and a Roon subscription. A subscription is free for the first year with the purchase of a Nucleus, and $119/year thereafter. You can also buy a lifetime subscription for $499. Something to note is that as you add the cost of storage for a Nucleus, you get closer to the price of an Aurender.
---
Roon is a multi-room music management and listening solution that doesn't tie the user to hardware. Roon takes control of your internet radio, your music streaming services, and your own music files and sends them to audio output devices that are controlled on a series of computer, smartphone, and tablet apps.
Using your files and streaming music, Roon builds you an interconnected digital library. Roon lets you output any format at any resolution.
There are three components to a Roon setup: your Roon Core, the Roon app, and your audio devices. There's also the Roon Nucleus server, which can be used as the core of your system.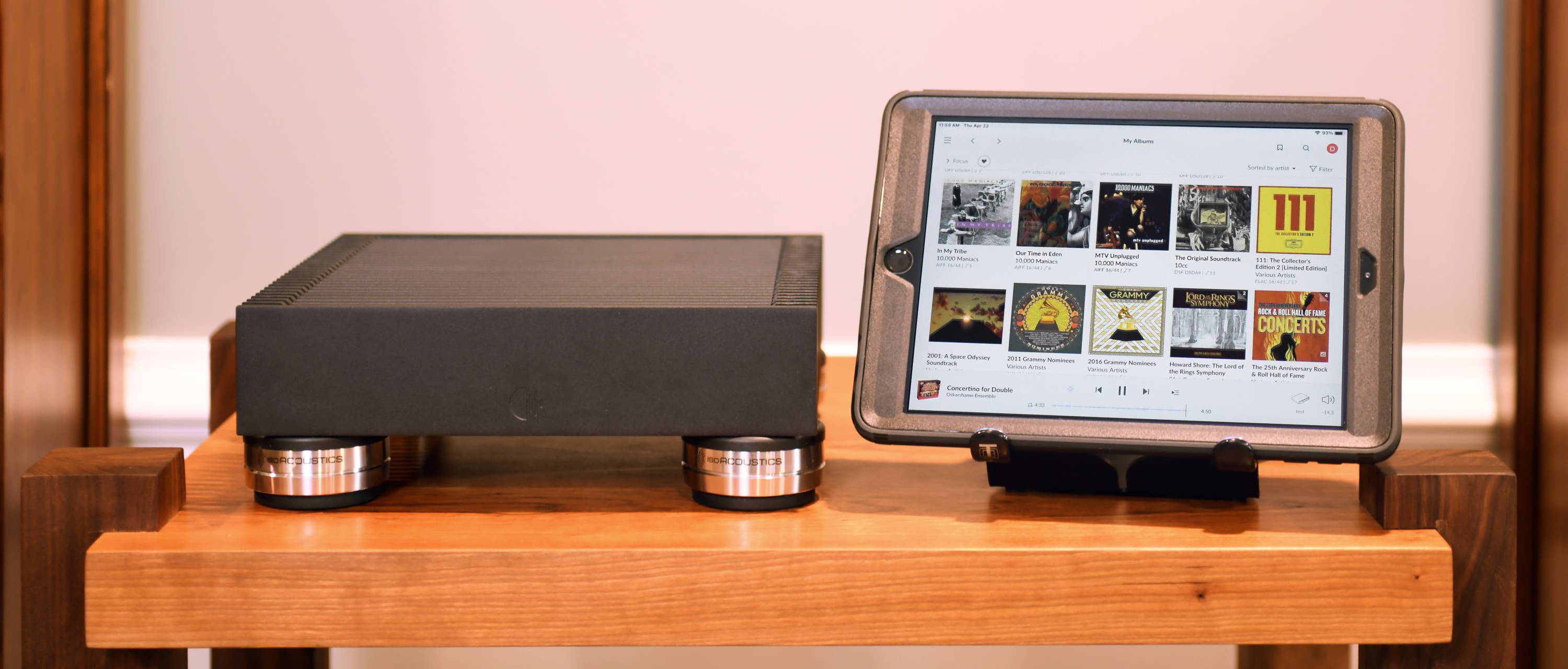 Roon Core
The Roon Core is the heart of your setup — you can think of it as a "traffic cop." You can run Roon Core on a Mac or Windows PC; several — but not all — NAS storage devices; or a dedicated music server such as Roon's own Nucleus. The Roon Core is the brain of your system. It manages your music files, streaming services, and your audio devices.
Roon is an ecosystem, with numerous components that work within the ecosystem. Let's say you have 10 systems in your house. Something has to be the "core" for everything to talk to. You have to have something that says, "Hey, I'm going to send out music to all of these different pieces in the ecosystem."
If you're going to use a computer as a Core, you tell it that it's a core by downloading the Roon Core software onto it and then you can point to it from a computer or iPad. If you don't have a server that's going to be a Core — in other words, if you don't have a place to host music — then you want a Nucleus.
Roon Nucleus
The Roon Nucleus is a dedicated device made by Roon especially for running the Roon Core. Nucleus is the easiest and fastest way to get your Roon system running. You just take it home, plug it in, and download Roon apps for your mobile devices and computers. Using Nucleus, Roon manages all your music — on hard drives, NAS, and streaming content — and allows you to play it on all the audio devices around your home. You can stream and manage your music library with the Roon Nucleus Music Server. It connects directly to your network and can be controlled via your phone, tablet, or computer.
Now, again, you don't have to have a Nucleus. But know that if you use your computer as your Core, it has to be turned on and you have to be logged in. Even though you're using your iPad, and the Core is in another room, the Core has to be on so that they can communicate with each other in order to play music. So if you don't want your computer on all of the time, you get a Nucleus. You leave it in your 2-channel system, you leave it on all of the time and it's always running in the background. You can also then put an internal hard drive in it or an external hard drive and add storage to it (whereas most people store music on their computer). You essentially become untethered from your computer.
Roon Remote App
The Roon Remote is a control app that basically works as the "remote control" for your Roon Core. It is something of a showstopper, with lots of bells and whistles. You can think of it as a "Wikipedia for music," with detailed metadata that includes things like extensive artist information, reviews, and song lyrics! The Roon apps on your devices will serve as "remote controls" for your Roon Core (more on that in a moment). You can install the free Roon Remote on as many devices as you want. It's available for iPad, iPhone, Android tablet and phone, Mac, and Windows.
Audio devices
Finally, you have your audio endpoints, the audio devices throughout your home or office. Roon boasts compatibility with a huge number of audio products. There are Roon Ready products that actually have Roon software embedded in them. There are also Roon Tested devices that don't contain Roon software but work very well with Roon. Beyond these, Roon also plays to thousands of USB, AirPlay, and Chromecast devices.
---
Designed with the digital streaming enthusiast in mind, Aurender creates high-end audio products to help you get the most from your digital audio experience. Beginning with its first music server a decade ago, the South Korean company has consistently raised the bar when it comes to build quality and audio fidelity.
Aurender's well-designed, great-sounding music servers come with a variety of functionality. You've got:
Straight-up servers
Servers with built-in DACs
Servers with CD rippers
Servers with built-in storage
An "all-in-one" model
The A30 "all-in-one" model functions as a music streamer/server/CD ripper/HDD storage/DAC/balanced headphone amp. You get 10TB of internal storage, XLR and RCA analog outputs, and everything you need to create, store, manage, edit, and play high-resolution file content in one compact solution. Aurender servers with hard drive storage support DSD (DSF, DFF), WAV, FLAC, ALAC, APE, AIFF, M4A and other major formats at native bit and sampling rates.
Like Apple, Aurender is a closed ecosystem, meaning that Aurender products will only work with other Aurender products. If you have multiple Aurender products in your home, they will "talk" to each other.
The basic Aurender setup starts at a wireless router that is then connected to your Aurender via a wired LAN connection. The router provides both a gateway to the Internet for your Aurender as well as the wireless connection to your tablet that hosts the Aurender Conductor app. A wired LAN connection to your router is always the most reliable connection for your Aurender. If you don't have a wired connection, we would recommend a wireless access point to connect your Aurender to the router. Depending on the type(s) of Aurender you have and the rest of your setup, connections will vary; for example, you'll be connecting to a DAC if your Aurender doesn't have a built-in one. For an Aurender with a built-in DAC, you would use normal interconnects to go to your preamplifier, amplifier, or headphone amp. You can read about various Aurender connection scenarios here.
Optional Storage
With high-res streaming becoming the norm for many audiophiles, the need for hard drive storage has lessened. Aurender developed a solution that satisfies the needs of both the file collector and the streaming enthusiast: optional storage. Some Aurender models come with internal storage (up to 12TB), while others allow you to add storage (traditional hard drive or solid state drive) to best meet your budget and intended use. And all Aurender models allow the user to add external USB hard drives or networking storage. Aurender lets you output any format at any resolution, and its servers come with an array of digital outputs.
Conductor App
Perhaps one of the best things about Aurender is its award-winning Conductor app. Aurender is one of the few hardware companies that have gotten it right in the software department, with a well-thought-out and powerful app that controls your music library. After all, the way you browse for and catalog your music is part of the experience. The Conductor app was designed and developed exclusively to control Aurender music servers. The Conductor app allows swift and easy access to your music with an interface that is free of complexity and visual clutter. The Conductor app incorporates the whole experience of browsing for and discovering new music and ensures easy access and swift browsing of your file-based or streaming music, handling even the largest libraries with ease. The Aurender website has videos and manuals for setting up and using the Conductor app on your iOs or Android device. Note that there is no computer interface with Aurender; everything is done from your tablet or phone.
When you create a playlist in Conductor, it will look like everything — your personal files and your streamed content — is coming from one integrated library. You can save recordings that you discover while streaming, and you can easily create playlists. And it's easy to add/edit/remove content from your library.
SSD Caching
One thing that makes Aurender unique is they have added an SSD caching drive to their servers. Caching is done from stored files on the main hard drives and for streaming content. This increases stability and improves sound quality of files when using streaming services such as Qobuz or TIDAL. If a selected song or album is already cached to the solid-state drive, the storage drive remains idle. This minimizes the system's overhead resources, and wear and tear on the hard drive. Additionally, by caching songs to the solid-state drive for playback, electrical and acoustic noise resulting from spinning disks, moving heads, and motors is eliminated. This sets Aurender players ahead of other server mediums.
Remote Support
A really nice perk with Aurender is remote support technical assistance. If you experience a glitch in your server, you can put it into maintenance mode. Then, a technician will go in and troubleshoot. (Remember that the company is based in South Korea, so depending on your time zone, this will likely occur while you are sleeping!) This is a premium service that comes standard with any Aurender product.
---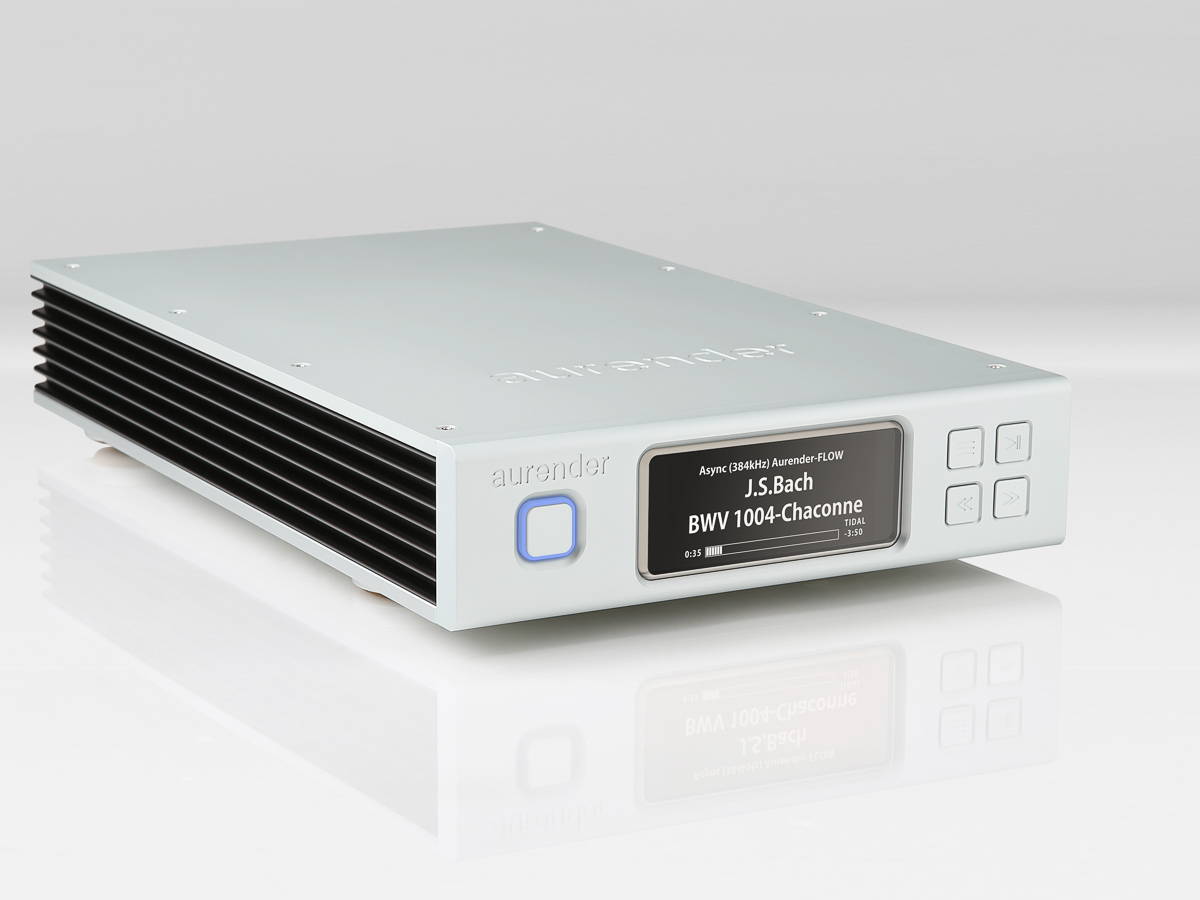 Ecosystem: Closed; Aurenders only work with each other
Hardware: More complex; more bell and whistles
Software: More simplified; minimalistic; intuitive; free
Music storage: Internally (some Aurenders come with internal storage); hard drive plugged into the back; NAS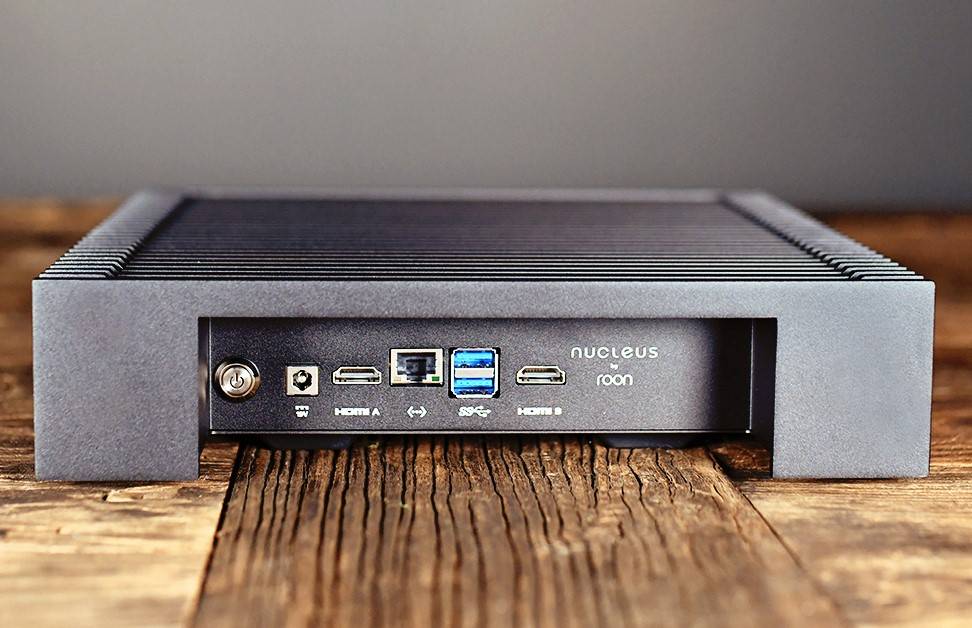 Ecosystem: Open; see partner brands here
Hardware: More simplified
Software: More bells and whistles; not as intuitive; monthly fee; "Wikipedia for music"
Music storage: Install an internal drive; hard drive plugged into the back; connect to a NAS (Note: Roon does not come with any drives)
---