Cayin Desktop & Portable Audio Gear Overview
Meet the Latest Hi-Fi Brand at Moon Audio: Amazing Quality for the Price
Meet Cayin, the newest product line here at Moon Audio. Cayin is a division of Zhuhai Spark Electronic Equipment Co. Ltd., which started out in 1993 manufacturing tube amplifiers under the brand name Spark. In 2003, the company began manufacturing audio products under the name Cayin. For the next 10 years, they focused on the two-channel market before venturing into personal audio. They launched a series of DAPs (digital audio players) and desktop audio products. Cayin also developed a series portable audio products including portable amplifiers and in-ear monitors. Cayin products run the gamut in price as part of the company's effort to make quality audio available to a range of buyers. We at Moon Audio think Cayin products are a phenomenal value for the money, easily sounding as good products in higher price tiers.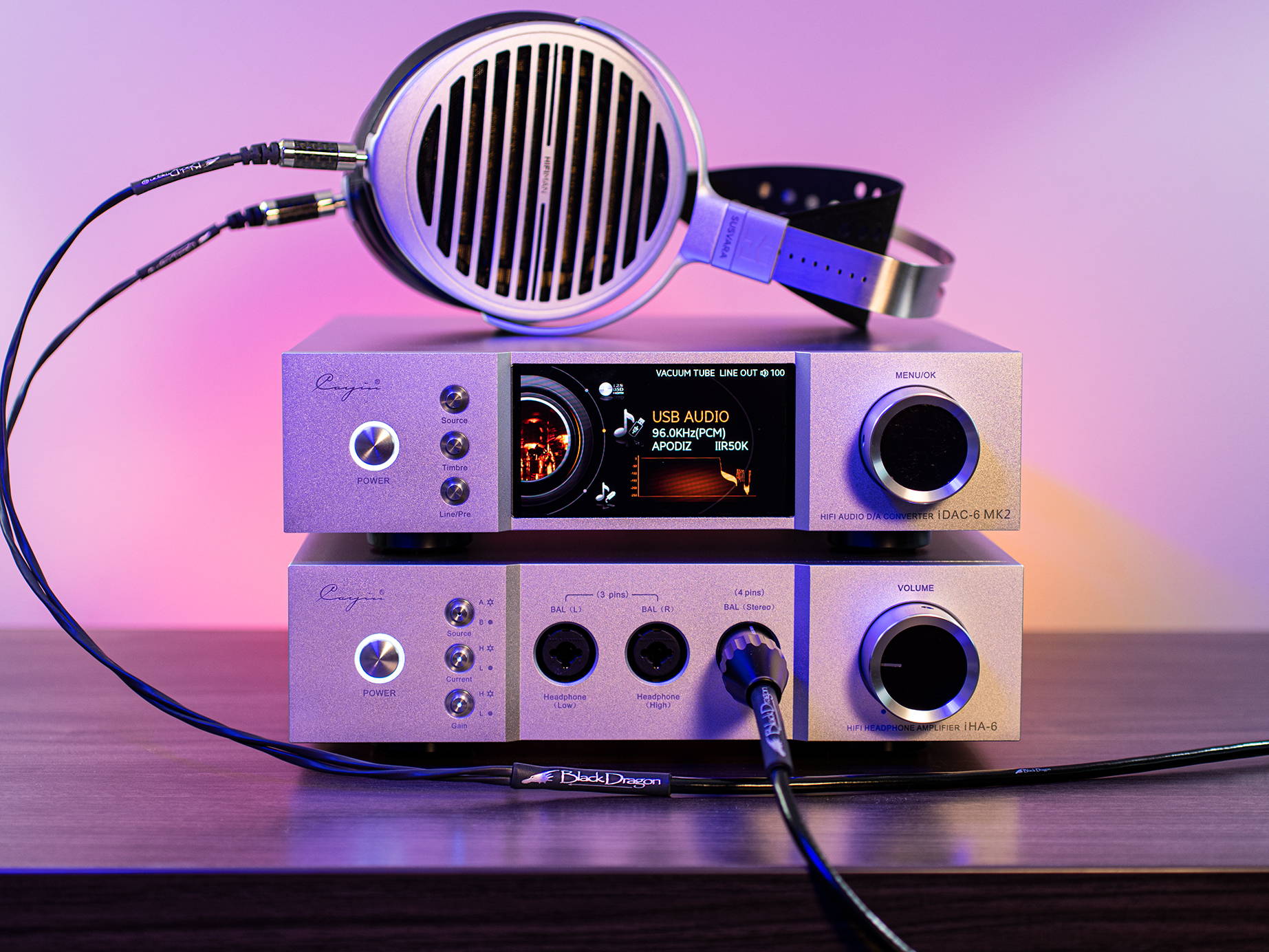 Cayin Stackable Desktop Units
The iDAC-6 MK2 is Cayin's second-generation DAC with hybrid tube preouts. Designed to be paired with the iHA-6 headphone amplifier or other amp of your choice, it can be used as a preamp DAC for active speakers. The DAC features the ES9028PRO DAC chipset and offers two choices of timbre: vacuum tube and solid state. This DAC can handle PCM files up to 32 bit 768 kHz, Native DSD up to DSD 512 and DSD via DoP up to DoP256. The iDAC-6 MK2 features 6 digital inputs, including USB Audio, AES/EBU, Coaxial 1 (BNC), Coaxial 2 (RCA), Optical, and I²S via mini HDMI. Want to stream? Connect the N8ii DAP via the I²S port. The machined aluminum alloy body features a sandblast finish to reduce noise interference, and a big AMOLED display shows off the newly designed graphical user interface.
Hybrid design: Tube or solid state
I²S port for superior sound
---
The iHA-6 is a fully balanced solid state/tube hybrid headphone amplifier with enough juice to drive even the most power-hungry headphones. You'll get 7 watts into 32 Ohms in balanced mode (2.2w in single ended)! Enjoy the neutrality, power, articulation, and detail of the iHA-6. Far from being a dry or sterile sound, the iHA-6 exudes musicality and smoothness while exhibiting a high level of resolution for the discerning audiophile. Designed to pair with the Cayin iDAC-6 MK2, the iHA-6 can also be used with the DAC of your choosing. Add the Mini CD MK2 and you've got a beautiful three-unit stack. The iHA-6 has balanced and single-ended analog inputs. For headphone outputs, you get a 4-pin XLR, a pair of 3-pin XLR's, and then a pair of single-ended 6.35mm headphone jacks (inside of the 3-pin XLR's), one optimized for low-impedance headphones and the other for higher-impedance headphones. The chassis is an aluminum alloy with sandblast finishing to reduce external interference.
---
The Cayin Mini-CD MK2 brings the CD back to the forefront of music playback. Sleek styling and impressive specifications make the Mini-CD the perfect addition to any hi-fi system. Upsampling support can greatly improve the fidelity of your favorite music, and combined with the audiophile-grade DAC you'll be finding plenty of new reasons to get your CD collection back out. The DAC chipset in the Mini-CD MK2 produces some of the best fidelity and sound quality for any CD player on the market. It's capable of upsampling from 44.1kHz up to 352.8kHz. And if you want to up your game, you can bypass the internal DAC and pair the Mini-CD MK2 with the iDAC-6. The Mini-CD MK2 has a set of digital outputs including S/PDIF RCA coaxial and i²S HDMI interface. i²S is going to take the raw data directly off your CD and send it to the DAC (whereas if you do any other digital output from a CD, it's got to be converted to that output). The VFD dynamic display is classic with a modern look, and the included remote control makes for versatile operation and complete control over your music.
i²S connection for pure raw data transfer to DAC
---
Cayin Tube Headphone Amplifiers
The HA-300 MK2 is a Class A, single-ended triode vacuum tube headphone and speaker amplifier that pushes the envelope of tube amplification when it comes to performance and refinement. This unit comes with its own specialized power supply to make sure your tube amp is getting the clean power it needs to sound its best. Together, the pieces weigh about 64 pounds. The HA-300 MK2 uses a matched pair of Gold Lion Genelex PX300B low-noise audio triodes as power output tubes for a natural and realistic sound. This unit also comes with Tung Sol driver tubes, and the power supply uses four RCA rectifier tubes. There are three headphone outputs: 6.3mm single-ended, 4.4mm balanced, and 4-pin XLR balanced. The analog inputs include a single set of balanced 3-pin XLR sockets, dual RCA single-ended sockets and to the far right a Weipu DC coupler for receiving power via the supplier cable from the PSU.
---
Enjoy a live music experience in your own private space with the Cayin HA-6A Tube Headphone Amplifier. Compared to solid state amplifiers, vacuum tube amplifiers are known for their warm, rich, rounded, and full-bodied sound. However, the HA-6A gives the listener a dual operation mode option for customizing the sound to suit their tastes and their music. Triode mode is smooth, lush and harmonic, making it ideal for vocal and string music. Ultra-linear mode is clean, energetic, and authoritative, making it ideal for music that requires a lot of punch and control. The HA-6A comes with a pair of Electro-Harmonix EL34 tubes. The HA-6A is equipped with a 4.4mm balanced jack, 6.35mm standard jack and 4-pin XLR balanced jack. The lightweight aluminum alloy front panel features two lighted VU meters for a stunning visual effect.
---
Discover the full-bodied, musical, and indulgent sound of the Cayin Audio HA-3A Tube Headphone Amplifier. The Cayin HA-3A is a transformer coupled, fully vacuum tube headphone amplifier that will skillfully drive a range of headphones, from planar magnetics to high-sensitivity earphones and IEMs. Unlike the HA-6A, however, the HA-3A will not drive the most demanding of headphones. The HA-3A uses two 6V6 output tubes, two 12AU7/ECC82 driver tubes and one single 22DE4 rectifier tube. The HA-3A has two analogue inputs: balanced XLR and single ended RCA. The outputs are: 4-Pin XLR balanced, 4.4mm balanced, and 6.35 single-ended. The amplifier offers 3 impedance settings (low, mid, high) and it is available in shiny black or silver.
---
The N8ii DAP Music Player is a premium portable music listening experience that's packed with every flagship-level feature you could want. Designed around a pair of ROHM BD34301EKV DAC chips, you can listen in either solid state or tube amp mode, thanks to a pair of Korg Nutubes. Dual amplification mode allows you to choose either Class A and Class AB mode. Mix and match these four options for a variety of sound flavors, from warm and lush to clean and tight. Equipped with Wi-Fi and Android 9, the N8ii is streaming ready. You also get 128 GB of internal memory for your own music files plus the option to insert an SD card for additional file storage. The N8ii can decode up to PCM 32BIT/768kHz files and up to DSD512. The N8ii features Bluetooth 5.0 and supports major codecs such as LDAC, AAC, and SBC, plus you'll get up to 11 hours of battery life. At about 15.5 ounces, the N8ii is on the bigger and heavier side as portable DAPs go. There a large AMOLED touchscreen display, and most of the I/O (including 4.4mm and 3.5mm headphone outs and an I²S port) are on the bottom of the unit save for the SD card slot, which is housed on the right side of the device with other control buttons. Up top you'll find a luxurious gold volume control knob.
Choose solid state or tube + Class A or Class AB mode
i²S port for superior data transfer
---
The RU6 Portable USB DAC/Head-Amp Dongle from Cayin is a portable USB R-2R DAC and headphone amplifier, allowing you to connect to your devices for high-quality, audiophile-grade sound wherever you are. The RU6 is compatible with iOS, MAC, Android, Windows, and can also be configured with DAPs via USB audio output. With features like oversampling and non-oversampling modes, high and low gain options, and volume buttons that double as menu selection, the RU6 is a petite powerhouse that offers PCM support up to 384kHz and DSD support DSD64/128/256. A 1-inch OLED screen displays playback information, which is a near feature. The RU6 also has both 3.5mm unbalanced and a 4.4mm balanced headphone jack for maximum compatibility with headphones.
Screen with playback info
---
---
Check out our newest brand ... Cayin! | Drew's Audiophile Tech Tips
Moon Audio CEO Drew Baird, P.E., is thrilled to bring Cayin products on board, including portable and desktop solutions. Watch here for a sneak peak of the lineup, including the iHA-6 Headphone Amplifier, the iDAC6 MK2, and the iDAP-6 Music Streamer.
<Click to watch the video
---