Redefining the level of audio performance achievable in a headphone system
Author Ricky Kovacs / Category Blog / Published: Jan-21-2020

---
New and now available for Preorder, the Aperio Headphone System by Warwick Acoustics is pushing the boundaries of what headphone can do. The model name for Warwick Acoustics' flagship reference headphone system is a literal match for our design goal at Moon Audio: to reproduce and reveal all recorded audio content definitively, without alteration. The APERIO is designed for the demanding professional audio market, as a reference studio monitor headphone system for High-Resolution Audio production, mastering, mixing and recording applications. Moreover, the APERIO is designed to be equally capable in ultra-high-end home consumer applications.
The APERIO utilizes a highly-refined, evolutionary advancement of technology originally developed by Warwick Acoustics for it's ground-breaking and multi-award-winning Sonoma Model One Headphone System. Long before the appellation of Hi-Res Audio even existed, a professional recording system called Sonoma was raising the bar for audio quality in ways that would define the entire category. Warwick transformed this technology for the music lover, setting a new standard for premium audio quality.
---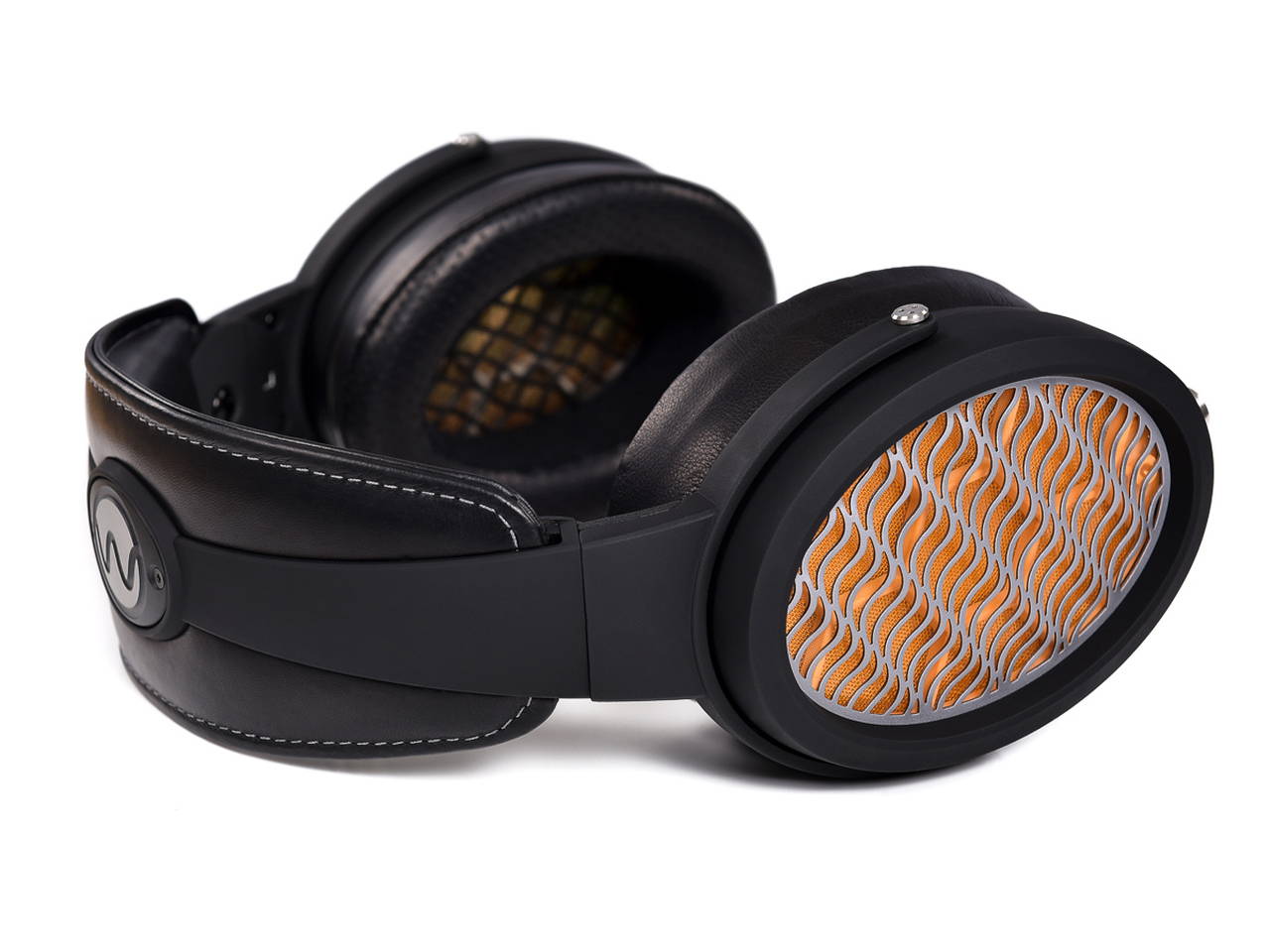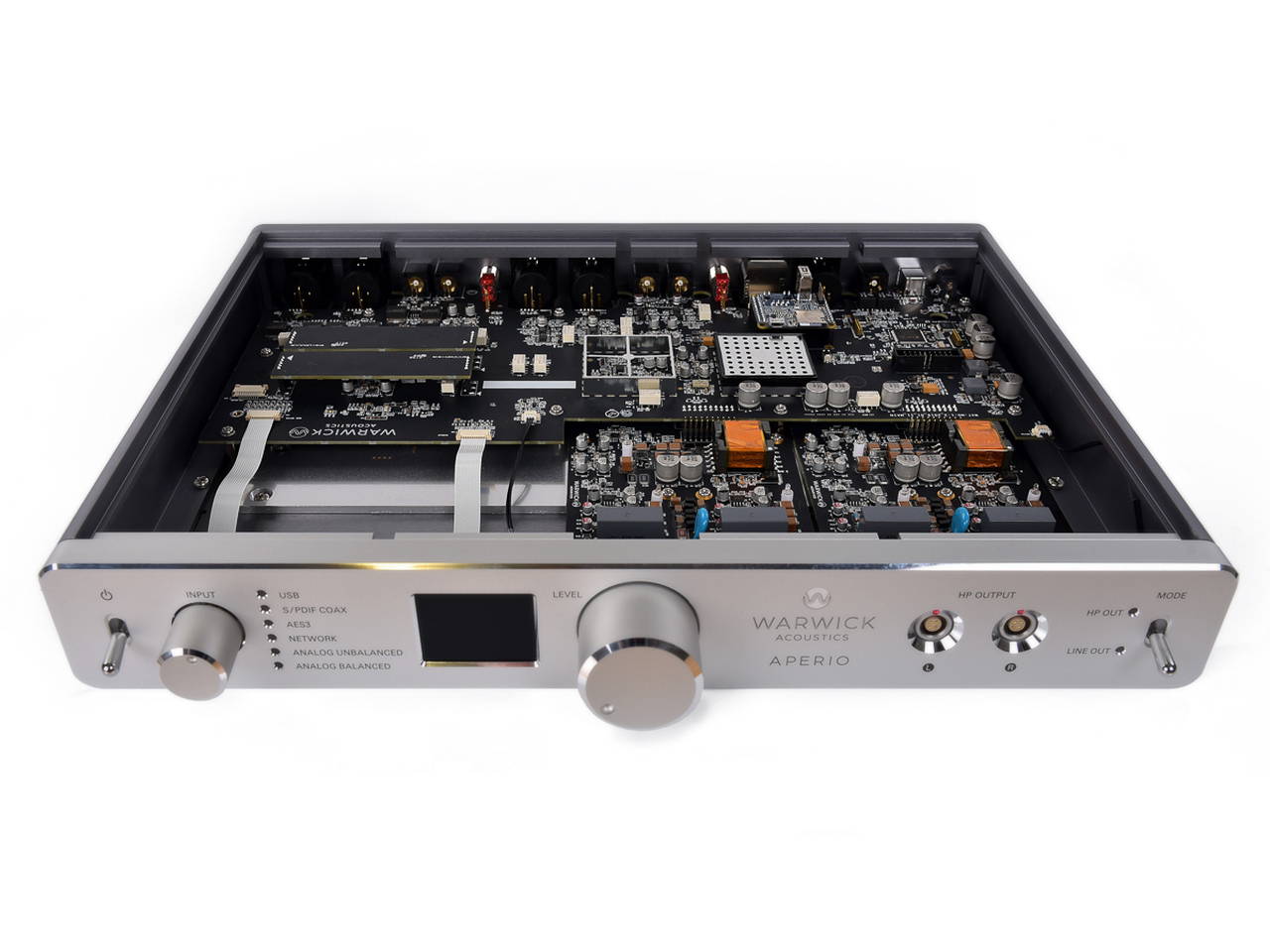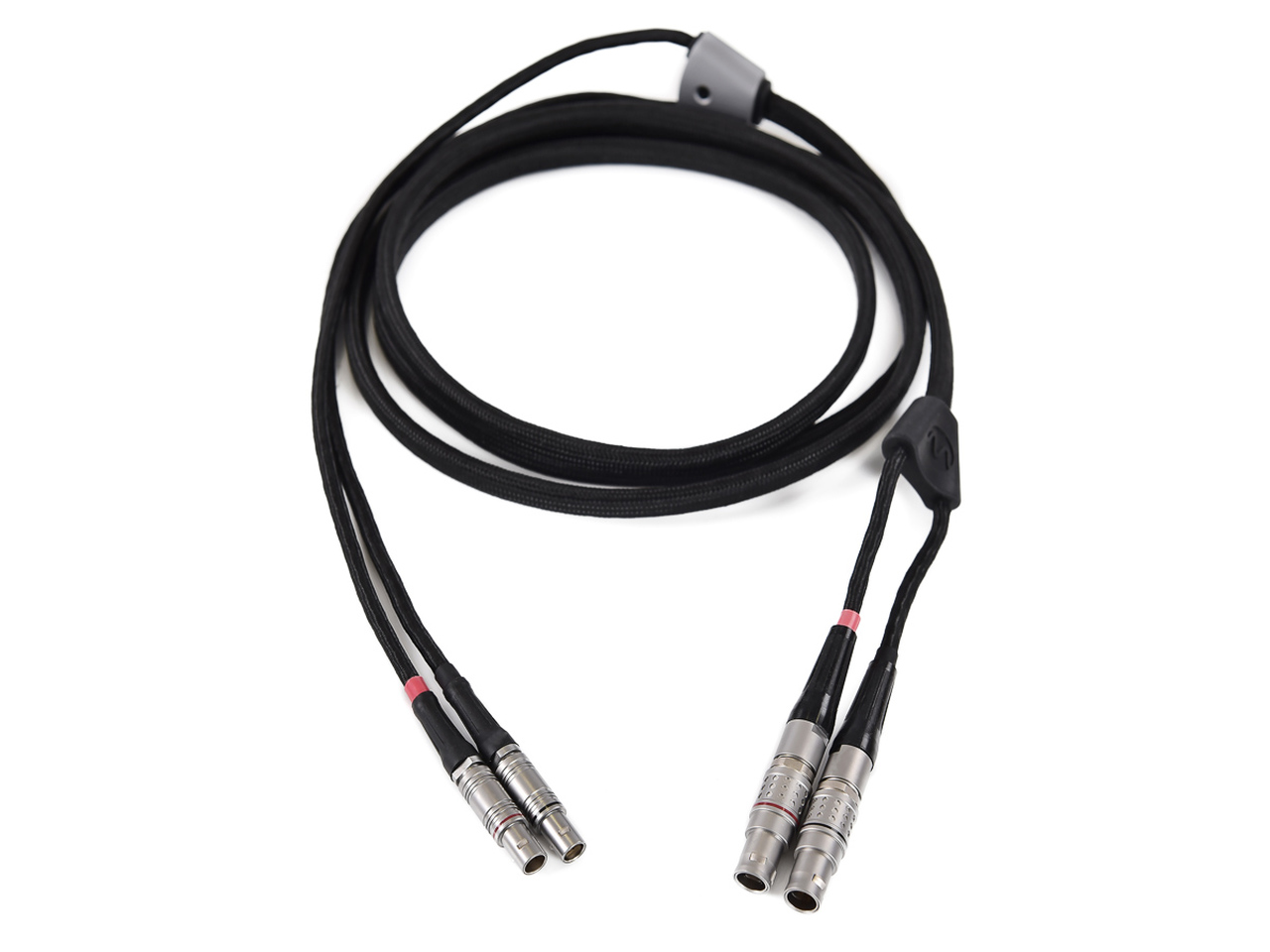 ---
The APERIO is designed for demanding applications that require ultra-high resolution and higher output levels. It has been optimized for resolving the most minute, low-level details present on any form of audio media. These capabilities must be achieved without inducing distortion artifacts and other anomalies, such as "listener fatigue". Sound reproduction quality and audio performance should be identical at all listening levels.
The device features a wide range of inputs, including balanced and unbalanced analog, AES3 (AES/EBU), S/PDIF Coaxial, USB and Ethernet (LAN). It's unique in being a fully networkable product that exceeds typical DLNA limitations and allows digital audio reproduction of native or DoP 256 fs DSD and higher sample rate PCM formats to 384 kHz. Within the unit, all audio signals are kept in their native domain and format: analog always remains analog; DSD stays DSD until its final conversion to analog; PCM sample rates are never converted. The signal path is pure, as direct as possible and unadulterated.
The APERIO also features an exceptional Line Output section for driving other electronics and sound reproduction components that include outboard amplifiers and loudspeakers. Balanced and unbalanced outputs are capable of driving very long cables to the highest levels with prodigious current delivery. For studio applications, downstream components connected by 150-meter balanced cables can be driven to 15 dBu without distortion. The Line Output feature, in conjunction with an uncompromised Digital-to-Analog Converter (DAC), preamplifier functionality and outstanding audio fidelity, enable the device to perform optimally as the central hub of a state-of-the-art, two-channel studio monitoring system or ultra-high-end home audio system.
The APERIO indicates its output level in precise 0.1 dB increments via a front panel full-color, high-resolution display. This display also alerts the user if any faults such as output clipping, overheating or disconnected cables are detected. The firmware is update-able via its USB input, using a simple APP for any Windows / MAC / Linux-based host. This feature allows users to keep the system current and up-to-date over its full lifetime.
---
Injected Magnesium Ear Cups
Major structural components of the headphone, for example, the ear cups, are fabricated of injected Magnesium – a rigid material lighter and significantly better-damped than aluminium and most polymers. Because the Magnesium is injected, complex and precise components that typically would require CNC-machining are possible. Key structural fasteners are fabricated from stainless steel for strength and durability. Gaskets are formed from closed-cell foams that are well-damped and free from compression-set. The mechanical design is robust and employs the finest materials available for each functional purpose. Even the two-stage finish was selected for its excellent damping properties and durability. The result is a mechanical foundation that is extremely rigid, well-damped and free from resonances.
The development team carefully designed the ear cup components to minimize acoustical reflections and diffraction, on both sides of the transducer. Similarly, acoustic impedance is optimal on each side of the transducer. The APERIO is extremely "open" to the surrounding air, with a minimum of obstruction between the transducer diaphragm and the listener's ear. Unlike most headphones, the APERIO does not have regions over the transducer covered with acoustical materials that impede air flow or spectrally filter the sound (aka, passive equalization). This common approach is not needed for the APERIO and has deleterious effects on sound quality, especially with regard to detail, resolution and sonic neutrality.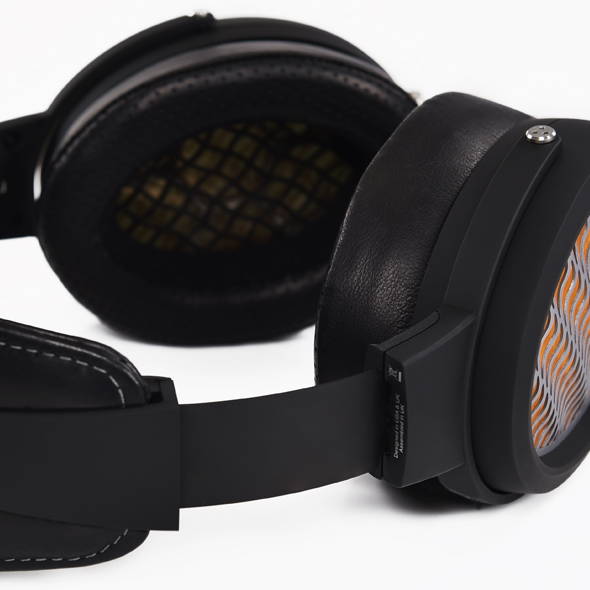 The APERIO addresses comfort by minimizing weight and optimizing geometry. The advanced materials utilized in the design, such as Magnesium and Engineering polymers, result in a very low mass of 405 grams.
The headband has been designed around the ideal geometry for a wide range of head sizes, with the optimum clamping force to ensure a good air seal and stability on the head, without excessive pressure that could be problematic during long listening sessions. The headband maintains this optimum clamping force over the full range of adjustability (extension of the headband and ear cup position).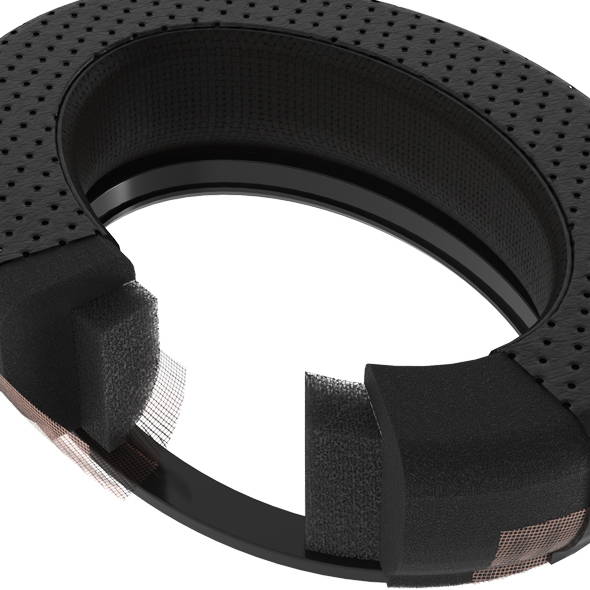 In order to achieve outstanding low frequency performance, the APERIO requires a small sealed air volume between the transducer and listener's head. The system maintains this air volume and requisite air seal through key design features that eliminate air leakage, even with variations in head and ear shape.
And in order to minimize acoustical standing waves within the enclosed air volume, which in turn create resonances, the ear cushions feature acoustically-absorbent foam around their inside perimeter. The ear cushions maintain the necessary air seal to the user's head while absorbing damaging acoustical reflections within the enclosed air volume.
The ear cushions are designed to improve cooling around the user's ears via perforated top surfaces and a copper thread mesh that dissipates heat. The ear cushions are covered in the finest, natural, top grain Cabretta leather that is sustainably sourced. Because high voltages are required for operation, the APERIO is designed with a high degree of electrical isolation and multiple safety features. The BD-HPEL transducer is electrically isolated from the conductive Magnesium components. The headphone body is electrically grounded and features double-insulated electrical connections; internal wiring is insulated with High Voltage Silicone and Teflon. High performance, polarized, self-latching, stainless steel connectors with gold-plated copper, multi-pole contacts are utilized for electrical connection to the headphone cable.
---
The complete APERIO system, (headphone, electronics, accessories), is packaged in an exceptionally durable travel case, formed of heavy-duty Polypropylene.
This case is watertight, crush-proof, and dust-proof, and features an automatic pressure equalization valve that balances interior pressure, keeping water out. The case also features a retractable extension handle, stainless steel hardware and four polyurethane wheels. This rugged case provides complete protection of the entire system and enables it to be conveniently transportable.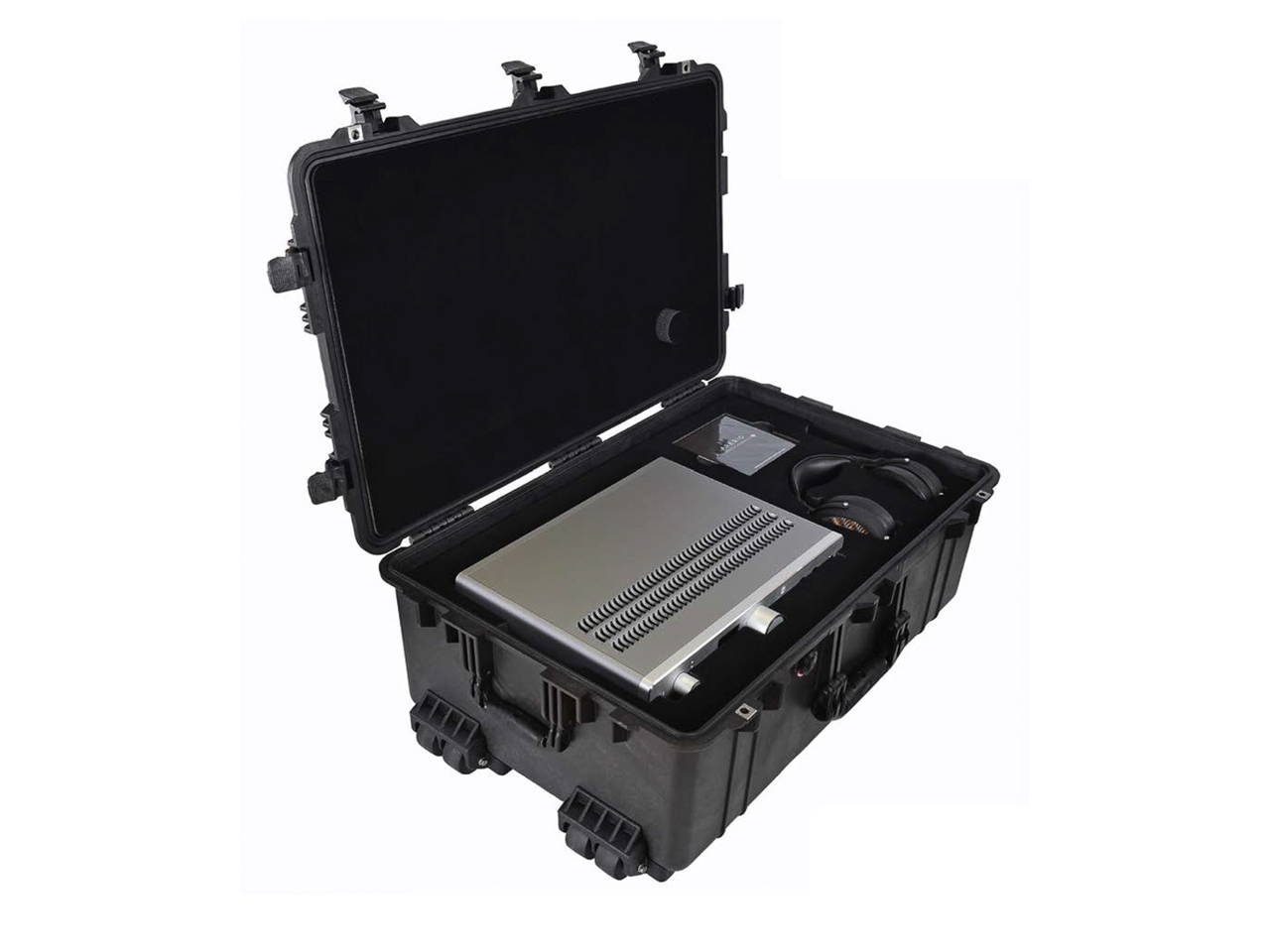 ---
The Warwick Acoustics APERIO is designed without compromise to set new standards in sound reproduction, and to redefine the level of audio performance achievable in a headphone system. For more information on the Warwick Acoustics Aperio Headphone System, check out the product page link below.
---