Unrivalled Excellence
As a pioneer in digital audio, dCS has always kept music at the forefront of everything it does. At the end of the day, dCS' goal is simple: to provide a transcendent listening experience that reveals the true depth and essence of recorded music. dCS takes a unique approach to engineering, developing all aspects of its products in house. From the software that decodes and processes audio to the clocking technology that synchronizes operations to the electronics hardware that each system runs on, dCS strives to ensure its systems are tops in sonic and technical ability.
Who is dCS?
In a brick building on a brick sidewalk in a Cambridge, England, business park lies the headquarters for Data Conversion Systems Ltd., or dCS. The outside of the building sports a simple white sign: dCS, with "ONLY THE MUSIC" displayed underneath. Those three words contain the heart of dCS' approach to the audio experience: to make the listener feel as if the world stops, and there is only the music.
dCS has been at the forefront of digital audio development for nearly 35 years, having pioneered many state-of-the-art technologies. Upsampling, oversampling, clocking, and PCM-to-DSD conversion are all areas in which the company has taken a revolutionary path, with several digital audio world firsts along the way. dCS is deeply proud of the extraordinary performance of both its legacy and current systems, and the company never stops measuring, refining, and improving. dCS makes high-end digital source components – a combination of world-class craftsmanship and leading-edge technology. dCS reference systems can comprise up to four separate units: Upsampling CD/SACD Transport, Digital-to-Digital Converter, Digital-to-Analogue Converter and Master Clock.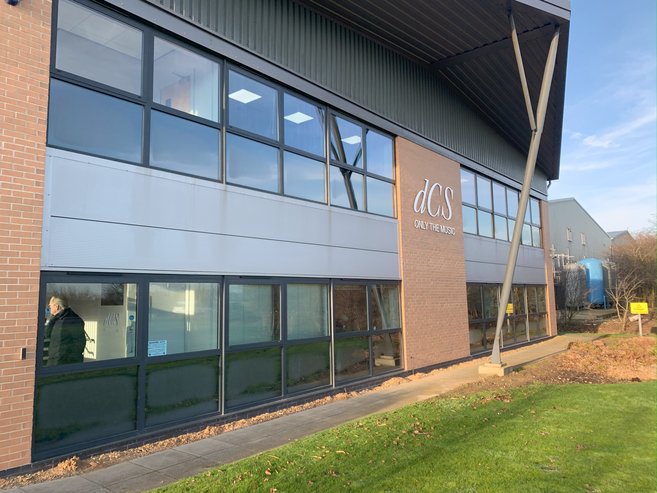 Early Days of Building the dCS Brand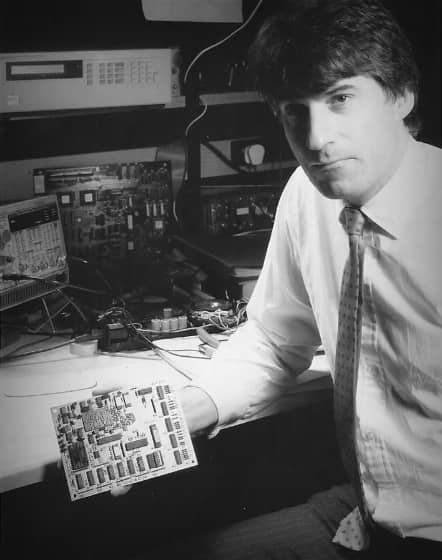 Mike Story | Credit: dcsaudio.com
The dCS story begins with, well, Mike Story. Mike had studied physics at Oxford University. He toyed with a PhD in electrochemistry, but knew in his heart was in electronics. In 1987, with a team of electrical engineers from Cambridge Consultants and some venture capital backing, he formed dCS as a consultancy, earning contracts with aviation and aerospace companies such as Ferranti, Marconi Avionics, and British Aerospace. dCS soon earned a reputation as a leading expert in signal conversion, leading to collaborations with the Ministry of Defense, including a commission to design the Blue Vixen radar system for the Royal Navy's Sea Harrier FA 2 jets.
But Mike was also an audiophile, so alongside its work in aviation, dCS began exploring how its technologies could be applied to digital audio. It turned out that the work dCS had done with the military lent itself quite nicely to digital audio. For example, they had done a lot with radar, which requires a high signal-to-noise ratio. As it happened, the BBC approached dCS for some work on their DAT (digital audio tape) machines. This was a turning point. Mike – who had friends in the recording industry – sets his sights on creating digital converters for professional studios.
In 1989 dCS started designs for the dCS 900, the world's first 24-bit analog-to-digital converter. Thanks to its innovative design and custom Ring DAC circuit, the 900 was able to record audio at a much higher resolution than conventional ADCs -- resulting in a more natural, nuanced, and spacious sound. The device became an instant hit with professional engineers, including Bob Ludwig, Tony Faulkner, and Bert van der Wolf.
Four year later, dCS released the dCS 950, the world's first 24-bit digital-to-analog converter. The company's first consumer product, a 24-bit resolution DAC designed for home use called the Elgar, followed in 1996, beginning a trend of dCS products named for classical composers. After this, dCS decided to end its consultancy business to focus solely on pro and consumer audio.
A New Direction in Leadership
In 2005, Mike Story departed dCS. This marked a new era for the company, with a new managing director, David M. Steven, and new leadership. Around this time, the company ceased making pro audio products and focused solely on playback systems for the home. First up was the p8i -- a CD player with in-built upsampler. Two years later, dCS launched the Scarlatti, a three-box system with a CD transport, clock, and DAC. The first multi-box dCS system created for home use, it transformed perceptions of digital playback with its crisp, clear, ultra-detailed sound. Its release was quickly followed by the Paganini DAC and Puccini CD/SACD player.
In 2009, dCS suffered a devastating loss with the unexpected death of David M. Steven. His son, David J. Steven – who had been serving as sales and marketing director at dCS – took on the role of managing director.
Building on his father's vision and the company's success, David and the team devised a plan to expand dCS' audio innovation work and develop platform-agnostic systems capable of playing music from any digital source. This new vision sees dCS embrace new audio formats and develop pioneering technologies to advance the standard of digital streaming.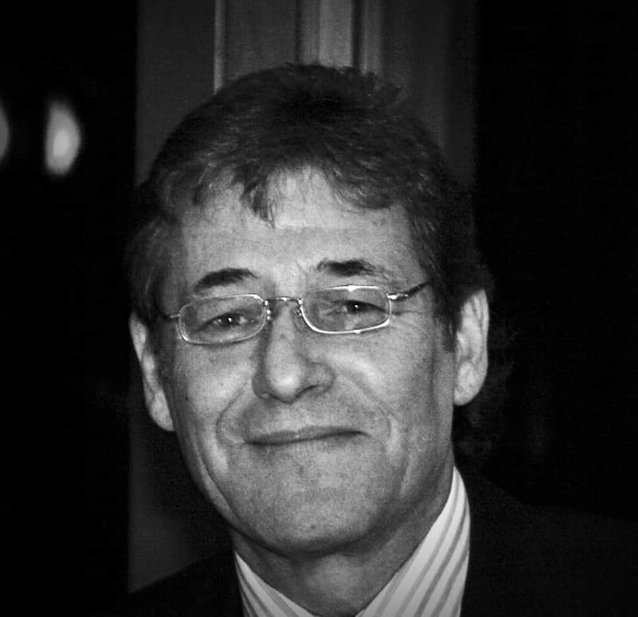 David M. Steven | Credit: dcsaudio.com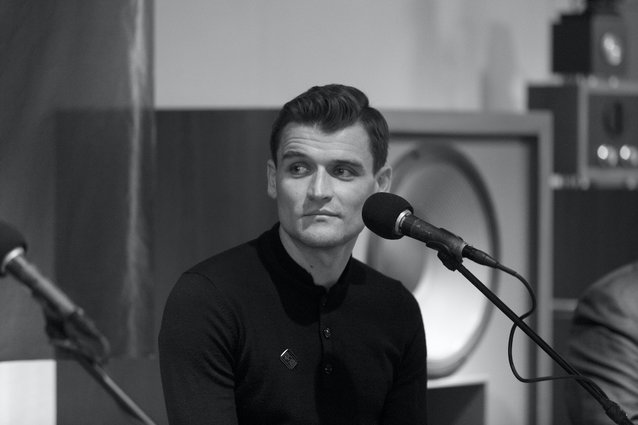 David J. Steven, current managing director | Credit: dcsaudio.com
The dCS Technology Difference
Recognizing that technology is constantly changing, dCS has developed a flexible and modular product architecture that allows the company to continually invent new features and develop new capabilities. From the digital processing platform and Ring DAC™ circuits at the heart of dCS technology to the control and user interface systems, dCS products can be easily reprogrammed. This serves as "future proofing," allowing owners to continue improving the musical and technical performance of their system throughout the life of the product.
dCS' philosophy is to create products that are unrivaled in sonic and technical performance -- products that deliver consistency, reliability, and performance like no other. It starts with all hardware and software being crafted in house. Every component is carefully chosen from the best suppliers, most of them within Britain. dCS follows a manufacturing and testing process that exceeds even the most demanding industry standards. The company uses an automated testing system that was originally designed to meet exacting military standards. For example, the upsampler in the dCS Vivaldi system undergoes a staggering 700 tests.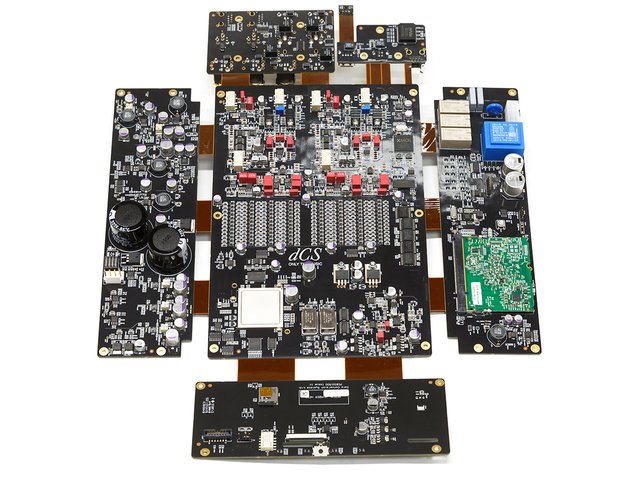 dCS LINA Network DAC Board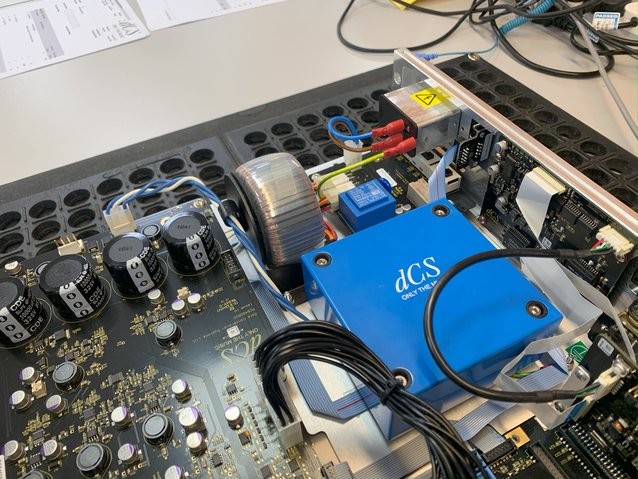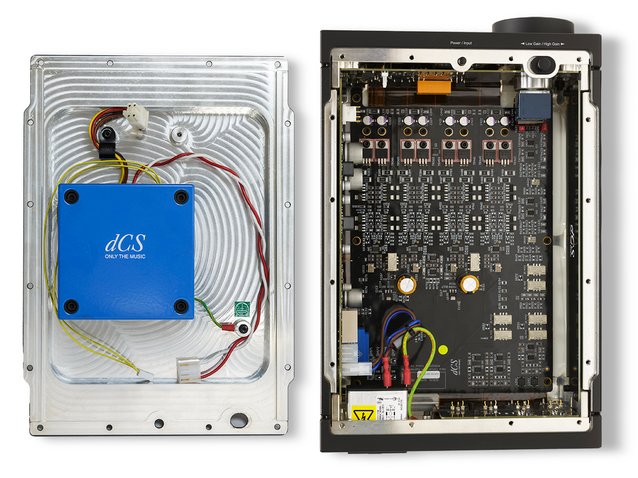 dCS LINA Headphone Amplifier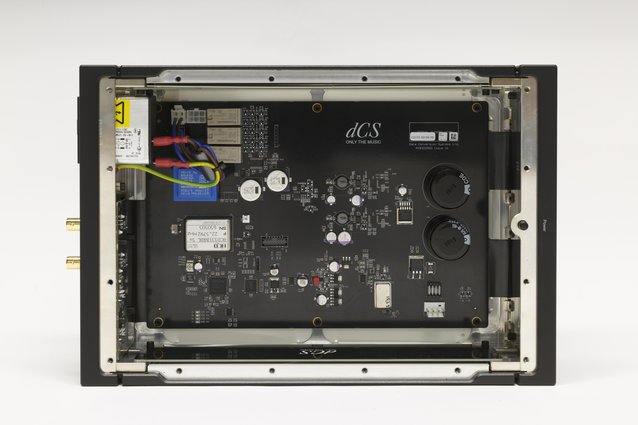 Pushing Technology Boundaries
Soon after the release of the Elgar, dCS released a digital-to-analog converter that could be used to convert audio from one native bit depth and sample rate to another. This led to dCS to discover the effect now known as upsampling. By the mid 2000s, upsampling had become a globally recognized technique, inspiring a whole new generation of audio products.
1998 marked the arrival Direct Stream Digital, with dCS being one of the first companies in the world to embrace the format. Alongside developing several DSD-compatible software updates for its existing converters and the Elgar DAC, dCS worked with Philips to create P3D, a format that enables the native storing of DSD recordings.
In 1999, dCS pioneered the use of external clocks in digital audio with the launch of the 992 master clock. Designed to reduce jitter, it allows engineers to sync multiple converters to a single reference signal, leading to greater accuracy and enhanced sound quality when using dCS equipment. The Verona, a consumer master clock, was released soon after, along with another studio clock, the 995. dCS also expanded its product range with the launch of the Delius DAC and Purcell Upsampler.
dCS' proprietary Ring DAC technology is incorporated into all of their latest products. The Ring DAC uses a network of FPGAs (field programmable gate arrays) that are running proprietary dCS software that control the digital-to-analog conversion process as well as digital filtering. The benefit to creating their own DAC is its upgradeability via firmware updates.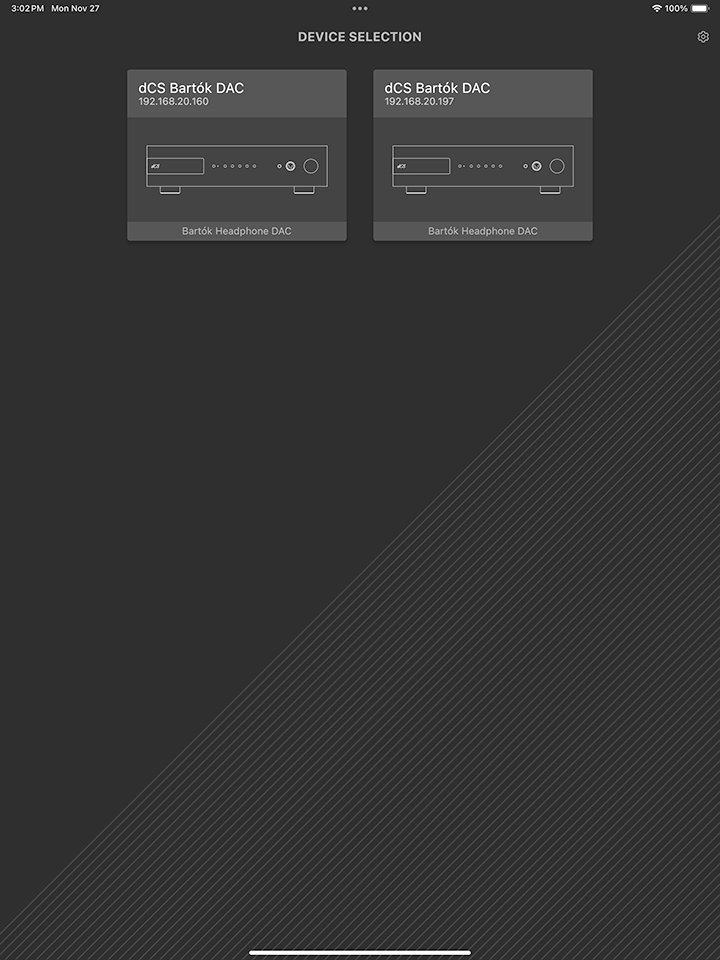 Mosaic Control Device Selection

dCS Mosaic is the name for the audio streaming and networked control functionality of dCS products.
dCS Mosaic Control allows you to access music from multiple sources and control playback on your dCS device.
dCS Mosaic Processor is the physical hardware component and associated software that is installed in the dCS product to provide streaming functionality.
When it comes to controlling your music library, a well-executed app can make the experience that much more seamless and pleasurable. Mosaic is dCS' proprietary software that allows you to browse and play music from any device running iOS or Android. The app offers an intuitive way to browse and access music from multiple sources and audio libraries. Mosaic brings together audio sources from multiple sources into a single, unified interface, making multi-source playback simple. You can use the app to browse media from various streaming services and to manage settings and configuration options for your dCS products. Mosaic is compatible with:
UPnP
USB
Internet Radio
TIDAL, Qobuz, Deezer
Roon
Spotify via the Spotify Connect app
Podcasts via Apple AirPlay
Since the LINA is Roon Ready, you can also use Roon as your media management platform. Mosaic offers a more streamlined, minimalist user experience. A great thing about Mosaic is that it's a custom code developed by dCS that can be upgraded and enhanced over time.
Browse a variety of music streaming sources
Perform content searches based on artist, album, track, or playlist name
Add tracks from any source to a playback queue which can be reordered whenever
View detailed information about the current playing track including metadata, artwork, playback position, and media format.
Perform basic functions like play/pause, skip forward/back, shuffle, and repeat.
Manage basic audio settings of dCS device such as volume level, mute, and phase.
View and manage all settings related to the digital signal processing performed by dCS device.
Control all accessible dCS devices from the Mosaic Control app.
Use Roon as a media management platform with Mosaic as a Roon Ready zone.
Cast content to dCS devices using Apple AirPlay and Spotify Connect.
_________________________________________________________________________________________
How to Set up your dCS device with Mosaic Control
1: Connect your dCS device to the network. To use dCS Mosaic your dCS products need to be connected to the internet via your home network.
2: Select your dCS device. Once connected to your network, download and open the dCS Mosaic Control app. Mosaic Control will scan your network and locate connected dCS devices which will be listed on the screen. Select the device you wish to control.
3: Check for any device updates. If your dCS device requires a firmware update, a message will appear in the Mosaic Control app prompting you to update your device.
4: Begin Exploring Mosaic Control. Once your dCS device has been selected and updated if needed, you'll be presented with the Mosaic Control home screen. From there you can find music to play, control playback, and adjust the configuration options of your dCS device. To play music you will need to login to your streaming services like Deezer, Qobuz, and TIDAL.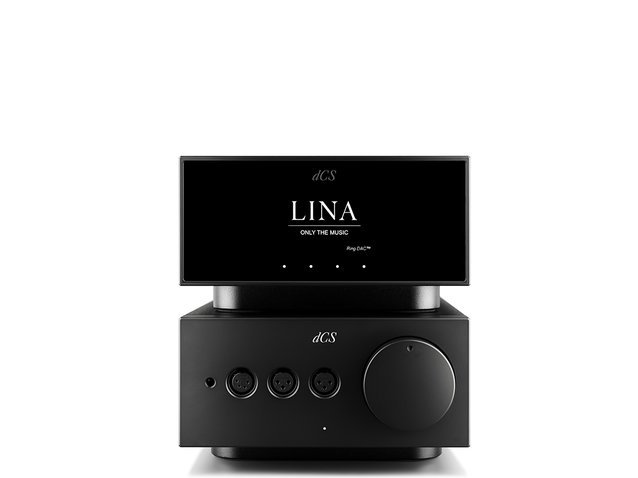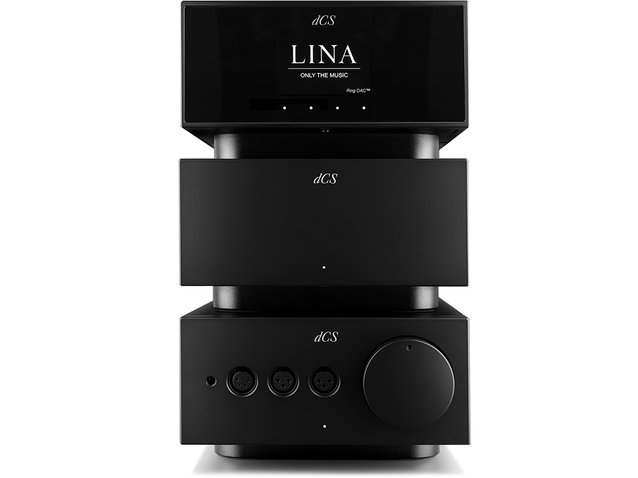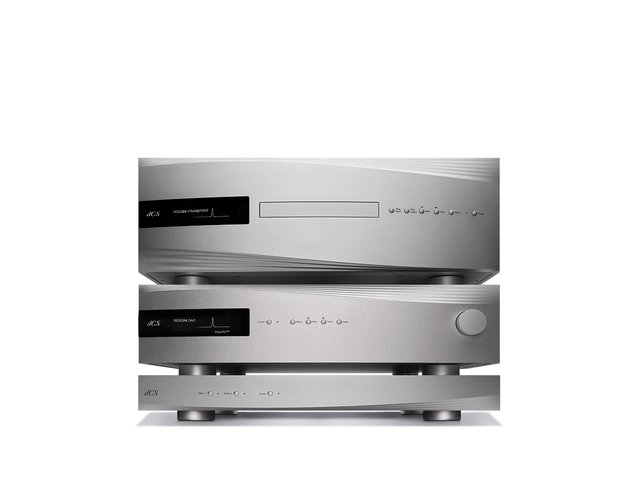 dCS LINA Network DAC & Headphone Amplifier, Bartok Apex DAC with Headphone Amplifier, dCS LINA Full System, dCS Rossini APEX
Our current lineup of dCS products includes the LINA, a three-piece modular system: a Class AB Headphone Amplifier, a Network Streaming DAC, and a Grade 1 Master Clock. You can purchase all three pieces together or as separates. We also carry the Bartok Apex DAC with Headphone Amplifier, which is the next-generation Bartok.
dCS LINA
The dCS LINA line of products delivers a sound that is rich, detailed, and deeply musical. Available as single units, you can stack the LINA Network DAC, LINA Headphone Amplifier, and LINA Master Clock and transform them into one full system. As one of dCS's smallest product series yet, you can arrange the components vertically or side by side — The LINA system is flexible to best suit your audiophile setup. Each unit in the LINA lineup is constructed with the same standards as dCS's renowned Rossini, Vivaldi, and Bartok series.
READ MORE: dCS LINA Review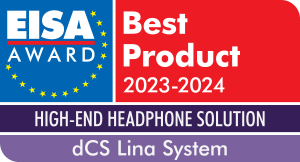 EISA's Best Product of 2023-2024: High-End Headphone Solution
At the heart of your Lina system sits the LINA Network DAC, a powerful networking streaming DAC that delivers extraordinary sound from any digital source. The LINA Network DAC features dCS' patented Ring DAC system, digital processing platform, and Expanse technology. It's fully balanced, compatible with all digital audio formats, and Roon Ready. The LINA Network DAC supports hi-res streaming from TIDAL, Qobuz, Spotify, Deezer, Apple AirPlay, Roon and more. The smooth front panel features dCS' first touchscreen UI with a customizable menu that allows listeners to easily control playback and adjust system settings.
The LINA Network DAC has exceptionally low noise performance with vanishingly low distortion, ultra-wide resolution and soundstage. The LINA Network DAC is a powerful, supremely capable product designed for use in a wide range of environments, from living rooms to studios and workspaces. With its wide dynamic range, crisp, clear playback, expansive soundstage, and tonal neutrality, it provides a deeply natural, highly detailed, and profoundly musical sound that encapsulates dCS's singular approach to audio.
Dragon Cable Recommendation: Black Dragon Power Cable
_________________________________________________________________________________________
The LINA Headphone Amplifier is dCS' first stand-alone amplifier. The fully balanced, class AB solid state design outputs 2 watts per channel into 30 ohms. The LINA headphone amp was specifically designed to provide the appropriate amount of voltage and current to a range of headphones. This is achieved through an ultra-low output impedance of < 0.090 ohms; low noise floor; wide dynamic range; and an adjustable gain switch that eliminates the risk of hiss when listening to high-sensitivity headphones or IEMs.
The front panel of the headphone amplifier features four headphone outputs: 1x dual 3-pin balanced XLR, right and left channel; 1x single 4-pin balanced XLR; 1x single 1/4" 96.35mm) headphone jack. The rear panel features several analog inputs: 1x stereo pair unbalanced RCA, input impedance 48 kΩ; 1x stereo pair unbuffered balanced XLR, input impedance 24 kΩ; 1x stereo pair buffered balanced XLR, input impedance 96 kΩ.
Dragon Cable Recommendation: Black Dragon Power Cable
_________________________________________________________________________________________
The dCS' LINA Master Clock goes to extreme lengths to guarantee stability and reliability whether you are doing internet streaming or pulling stored music from your network. The LINA clock generates world clock signals at 44.1 and 48 kHz, which have a very low jitter. The master cock allows the LINA DAC to be locked to a master reference signal for enhanced audio performance. The standalone design minimizes the risk of clock signal interference. When paired with the LINA DAC, the master clock allows the DAC's internal clock system to be locked to a master signal for even greater precision and audio performance.
The clock features a minimalistic design; the front panel is bare except for the status indicator light at the bottom. The clock has dual crystal oscillators: one for 44.1 kHz sample rates and one for 48 kHz. There are two clock outputs on the rear panel corresponding with these sample rates.
Dragon Cable Recommendations: Silver Dragon Coax Digital Cable, Black Dragon Power Cable
_________________________________________________________________________________________
dCS calls the LINA the "definitive system for headphone playback." It is very much a premium design, featuring the latest results of dCS's years of audio innovation and refinement. The LINA's firmware is upgradeable, giving it a long shelf life. Each dCS LINA system is designed and hand-assembled in the United Kingdom by dCS' expert technicians and engineers. The LINA system is fitted with flexible, FPGA-based firmware for a long product lifespan and is rigorously tested using state-of-the-art equipment.
The modular design of the LINA system allows you to either stack the three units or display them side by side. The DAC doesn't impose or create any coloration to the sound. The headphone amp is true, clear, and steps out of the way of the music. Thanks to the LINA Clock combination, there is extremely low jitter.
Dragon Cable Recommendations
dCS Bartok Apex
The dCS Bartók Apex combines a DAC, Music Streamer, Upsampler, Pre-amplifier and optional headphone amplifier, delivering you a singular listening experience. With dCS's latest DAC hardware integrated into the Bartók Apex you get an even more immersive musical sound. Fine details are heard, and textures and subtleties are uncovered, giving the Bartók Apex a level of transparency that many hi-fi audio systems can only dream of. This all-in-one unit has a range of inputs and outputs giving users limitless capabilities.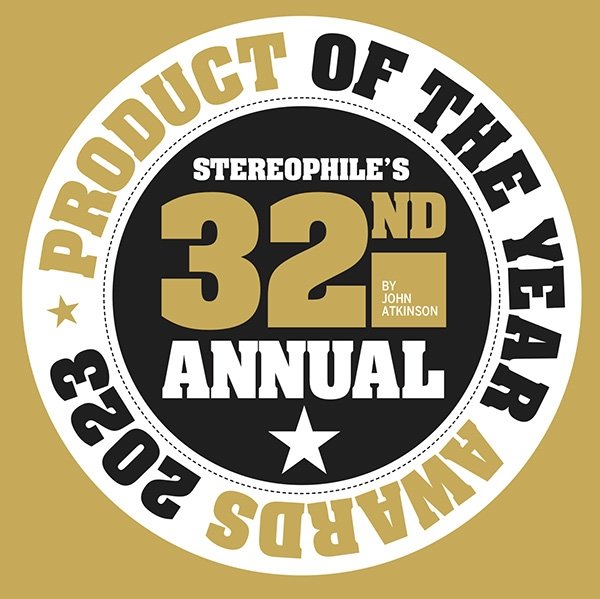 Stereophile's Digital Source Component of the Year
Bartok Apex DAC Headphone Amplifier
The Bartok Apex DAC, music streamer, upsampler, preamp, and headphone amplifier is the next generation of dCS's Bartok. The Bartok Apex is equipped with dCS' next-generation Apex Ring DAC for an even more transparent and immersive listening experience than the original Bartok. Available in silver or black, the Bartok Apex boasts an elegant and timeless aesthetic.
Enjoy powerful, dynamic, and detailed sound with new levels of resolution and refinement. The Batrok Apex supports hi-res streaming from TIDAL, Qobuz, Deezer and internet radio via the dCS Mosaic Control app. The headphone amplifier has balanced and unbalanced outputs, suitable for high and low-impedance headphones. With flexible and upgradeable software and hardware, the Bartok Apex can grow and evolve, providing a state-of-the-art listening experience for years to come.
dCS Rossini Apex
dCS latest generation the Rossini system uses state-of-the-art engineering and exquisite craftsmanship to deliver a level of performance that's equal parts detailed and expressive. Just like the LINA system you can choose from an integrated player or dedicated DAC, CD/SACD Transport, and Master Clock for the ultimate hi-fi experience. Just like the LINA system, the Rossini units can be stacked vertically.
Contact us today if you're interested in purchasing one of the Rossini line products!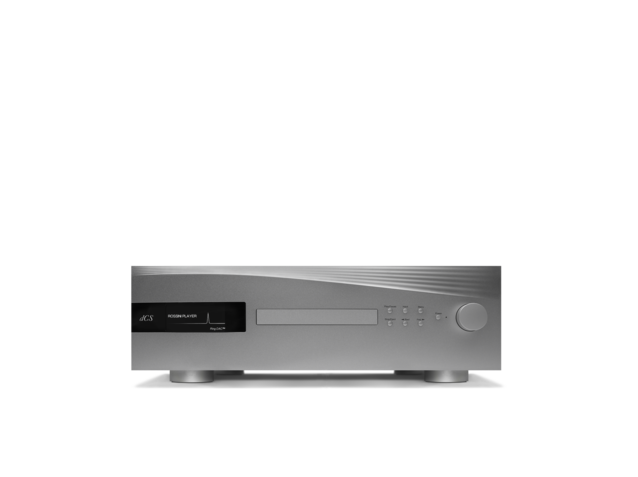 The Rossini APEX Player combines a DAC, Music Streamer, and CD transport into a single unit. It features dCS Ring DAC APEX, which is renowned for its precision, composure, and musicality.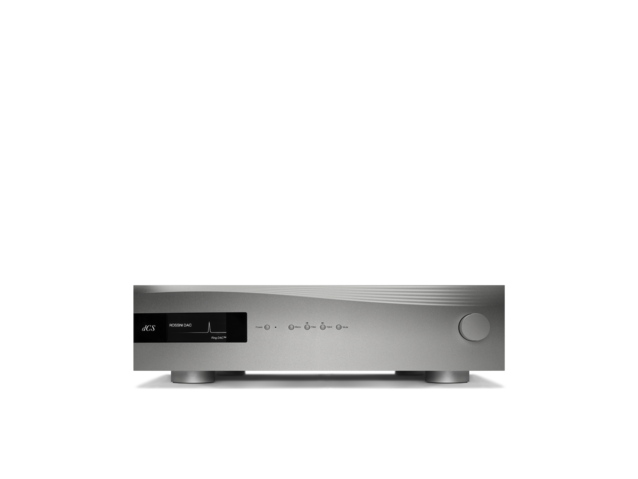 The Rossini APEX DAC features dCS digital processing platform, a high-performance streamer, and the Ring DAC APEX.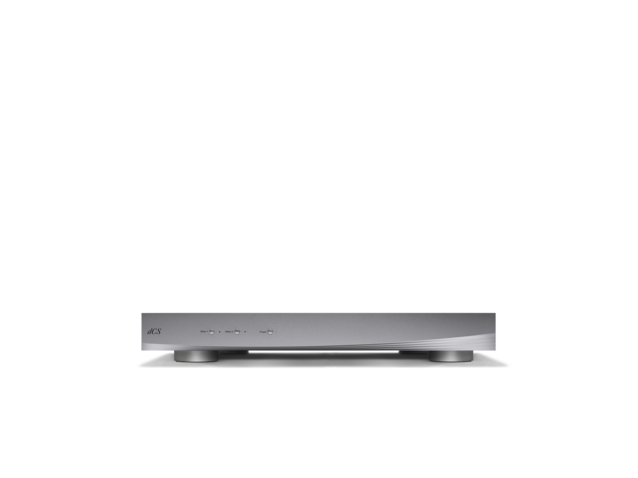 The Rossini Grade 1 Master Clock offers leading levels of accuracy and jitter control. When paired with other Rossini products, the master clock delivers an even greater sense of depth, space, and musicality.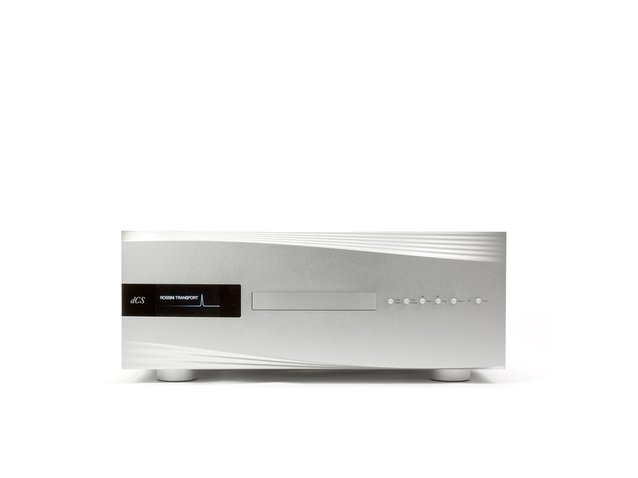 The Rossini CD/SACD Transport is designed to deliver great performance in rigidity, vibration resistance, and resonant-free operation. The master clock's performance is stable and near-silent which extracts impressive levels of detail from silver discs.
Firmware Updates
Best Music Streamers, Servers of 2023
Best Headphones for Podcast & Video Editors
4 Reasons to Ditch Your MP3 Player
Best Headphone Cables for Focal Headphones