Headphone.Guru's 2020 Golden Clef Awards
Headphone.guru puts out a buyer's guide every year recommending some of the top products in the audiophile world. Even though they also vet products before reviewing them and only pair up recommended components, some components stand out far beyond the crowd, and to honor those components they have created the Golden Clef Award which they bestow once a year to the very best of the best.
This year we are humbled to receive the Golden Clef Award from Headphone.guru for the Black Dragon Interconnects, Speaker Cables, and Power Cables. Here's what they had to say about them: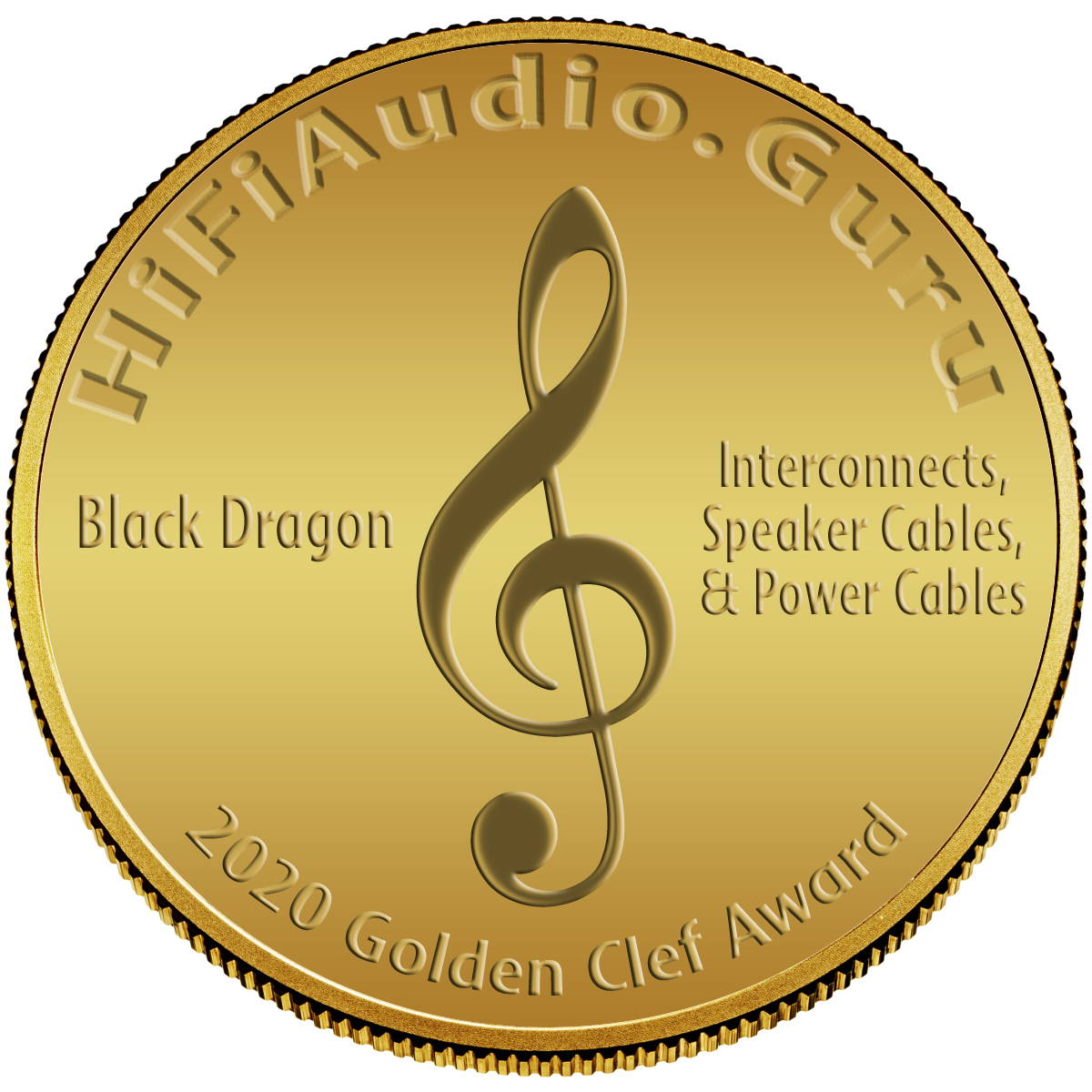 "Cables are probably the most underappreciated and least understood audio component. Black Dragon cables do what a high-end cable should do, enable the other components to perform at their best. They do this by having an extreme current capacity with a correspondingly high phase coherency, excellent noise rejection (shielding), and a minimum of induced distortion, meaning that what you have in the Black Dragon cable is a cable with increased dynamics and increased detail with a slightly warm neutral sound signature. While not exactly cheap, they do fall into the lower end of cable pricing (especially in the world of $30,000+ cables) and offer an incredible value for the money unrivaled by all but a few."

Gary Alan Barker
---
About Black Dragon Interconnect, Speaker, and Power Cables
In order to fill a gap for customers where our Silver Dragon Interconnects were just not an ideal fit, we set out to make the best possible copper cable. What we ended up with exceeded our wildest dreams. Our Black Dragon Interconnect, speaker and power cables are an extremely smooth, transparent yet not overly warm cable. For years Drew's hearing tastes have always driven him in the direction of silver-based cables: "My preference has never taken me in the direction of copper for my own systems."
"Well, that has now changed. I tried to build a cable that gave me the great detail and presence of silver but also provided the smooth jazzy sound of copper. The Black Dragon does just that. Only your ears can be the judge and we recommend you give them a try."
---
About Black Dragon Interconnects:
We went back to our old copper version of the Blue Dragon and greatly expanded on it. We took what we learned from the Silver Dragon V1 Speaker cables where we developed the right ratio of different sized strandings to optimize the overall sound. We ended up with the same geometry as the Blue Dragon but with an increased conductor gauge size and switched from solid core copper to a special stranded geometry. The strandings are all 99.9998% high quality low crystalline structure pure copper or UPOCC copper.
---
About Black Dragon Speaker Cables:
We took what we learned from the Silver Dragon Speaker cables, and came up with a different geometry which works perfect for those who were needing more depth and weight than what the Silver Dragon provided. There are 4x11awg conductors. A standard run will yield approximately 2x6awg conductors, and the bi-wire will yield 4x11awg conductors. Our Black Dragon Speaker Cables are for those looking for more warmth and musicality from their speakers.
---
About Black Dragon Power Cables:
The cable is dead quiet and rejects all EMI and RFI interference. The cable is good for 15 and 20amp rating. 20 Amp versions come with the Furutech FI-31M (gold) 20A/125V 3-PRONG PLUG Black plug that is Alpha Copper based with a 24 karat gold platting. We also stock Schuko and UK Furutech Plugs as well as an upgrade path to the Top Line Furutech Plugs.
---
Black Dragon Sound Signature
The Black Dragon is warm and smooth with a musical presentation. Copper strands enhance the body, shape, and immediacy of the music. The detail and expansiveness of the Black Dragon make it a flexible fit where a broad range of musical genres are played. It can also improve bass frequencies on bass-light headphones.
The smooth, musical quality makes it a perfect fit for headphones that tend to sound a bit edgy or bright. Despite its warmth, the Black Dragon does not have a laid back, lush sound. It is much closer to neutral, making it a very natural sounding cable.
For more information on finding your signature sound, visit our Sound Signature Guide.
---
---