One small step for music lovers, one giant leap in sound quality
---
Being an audiophile on the road is much easier than it used to be. As technology continues to get better, it also tends to get smaller and more portable. Most importantly the price of the product goes down typically the smaller it is and becomes more accessible to those who might not be ready to spend thousands of dollars on gear for the sole purpose of making their music sound better. Hi-res audio is now accessible to the consumer too.
USB DACs come in many shapes and sizes. It can almost be overwhelming to know where to start, especially if you are delving into high-fidelity for the first time. Bottom line: using an external DAC is one of the best and easiest ways to greatly improve your audio quality. What are some of the best portable DACs for hifi? USB DACs are a great place to start, so let's get down to business and check out some of the top USB DACs on the market for your digital music.
Yet our ears and speakers can't hear stored data, so we need a device that converts this data into an analog format, hence, a Digital-to-Analog Converter (or DAC for short). Sources like AM/FM radio, a turntable, etc. do not need conversion since they are already analog. CDs, digital downloads, and streaming on the other hand are all digital formats and need to be converted before they are able to be heard. The DAC is like the "Google Translate" of your audio system. The converter is a "translator" like English to Spanish, or in this case from Digital to Analog. It's only one piece of the puzzle, but it is an integral one.
---
Audioquest Dragonfly DAC Series
(Our general criteria in selecting USB DACs do not include those with internal batteries, but rather those that are used to run on the host's power via USB connection only. Typically battery life and plug-and-play functionality play a role in overall portability, but we are going to focus on those DACs without a battery due to their smaller size, price, and ease of use. Sorry Chord Mojo and Ultrasone Panther.)
---
A note here about compatible devices: These products are meant to be connected via a USB Type-A or Type-C connection. This means that all computers are compatible since most PC's and macs have these types of connections. Tablets should also be compatible with most of these DACs via a USB-C connection. Phones on the other hand are limited to Android-based devices since Apple utilizes their own proprietary lightning connector on their phones. Sorry iPhone users. Newer iOS models like the iPad that replace the lightning connector with USB-C will work, but you'll need some extra adapters to make your DAC work with most Apple products.
---
First off, not all DACs are created equal. Seems simple enough, given their relative price points, but the quality of USB DACs varies greatly. The materials and quality of the device do not necessarily impact the overall performance of the DAC, but like we always say materials matter. If the DAC is made with shoddy materials then it doesn't bode well for the longevity of the DAC or the overall confidence of the buyer.
In regards to materials and quality, the best of the pack in price to performance ratio are Clarus CODA and the Earmen Eagle and Sparrow. The CODA is built like a tank, and although on the pricier side of this collection, its build quality is deserving of the price tag. Like most USB drives, the CODA is about the size of a large flash drive. I really like the weight of the DAC, since it is constructed out of a block of aluminum. Like a flash drive, the DAC has a matching cover for the USB Type-A connector, creating a uniform-looking rectangle. Aesthetically, it's like a tiny Astell&Kern player, with the sharper angles and metallic finish, and likewise, it feels and looks premium. I really like designs like this over products that require a dongle to connect to your device. I understand dongles are sometimes necessary, but it's also one more thing to lose. Clarus smartly includes a USB-C dongle in the package however to make it easier for device compatibility. In the same way, the design of the CODA allows the potential to lose the cap as well, which is why I don't like flash drives with type-A caps. However, I can look past all these issues for the sole reason why I've never bought a $300 flash drive: the CODA DAC is a premium product and should be treated as such.
Earmen's DAC on the other hand is smooth and sleek, protected in a lovely glass finish. It looks and feels refined. We're combining these two for the review because, well, they're basically the same product with a different application. The Eagle is the USB Type-A version connector, which is excellent for a small-form and cable-free dongle. The Sparrow is the USB Type-C variant, offering an additional 2.5mm headphone jack paired with the 3.5mm, and utilizing a detachable cable system. I really like this approach as opposed to a fixed or attached cable design, because in those scenarios if the cable fails then you are left with a dead device. With Earmen's design, simply replace the cable if it goes bad and you're back in business.
iBasso's design of the DC03 is pretty much identical to the AK USB Dual DAC cable, with an attached USB-C connector on a short cable. Both units have a 3.5mm headphone jack at the opposite end of the connector side. The AK DAC is substantially heavier, however, due to its construction with a full metal housing. The DC03 is a plastic build, but a relatively sturdy one. In cases where there is an attached cable, I would prefer the lighter devices due to the fact that they will cause less strain on the connector and the cable over time. Not that I'm worried about the cable failing on either of these models, but it is just a design choice that I would not prefer personally.
Lastly, the Dragonfly is the weakest of the bunch in regards to build quality. Made with durable but cheap-feeling plastic, it'll likely handle a few falls, but it just looks like a consumer-grade product. Constructed like a flash drive, the USB Type-A connector did not fit flush in my computer and I could jiggle the DAC when it was inserted. It didn't result in any audio dropouts, fortunately, but I'm not optimistic about the longevity of the device.
Winner(s): Clarus CODA and Earmen Eagle/Sparrow

---
Now, let's get to why you're really here. Sound.
I'll start off with the lowest score on this one: the Dragonfly. The Dragonfly series DACs are popular among consumers because they're one of the oldest names in town when it comes to external USB DACs. For all intents and purposes, yes, a Dragonfly USB DAC will make your music sound better than your factory-installed, mass-produced internal DAC chip. The issue with the Dragonfly series DACs however is that they have a digital filter that over-processes the sound in our opinion. The audio produced by the DAC sound digitalized and dry. The internal ESS ES9016 chip is great, but the circuitry affecting the overall sound left us wanting. Supposedly the flagship Cobalt model fixes this, but it is especially present in the Dragonfly Black and Red models.
The iBasso DC03 is built with dual Cirrus Logic CS43131 MasterHIFI DAC chips, providing clean sound with a neutral sound signature. Given the price point of the iBasso DAC, it's hard to find a better deal for easily enhancing the fidelity of your audio. The Astell&Kern USB-C Dual DAC Cable (PEE51) is another great product, offering Astell&Kern's signature analytical sound without the bulk of a digital audio player. Astell&Kern provides a more forward presentation, bringing out details and clarity in your music. If you are a fan of their DAPs, then you'll be right at home with the AK USB DAC. Check out our review of the Astell&Kern USB-C Dual DAC Cable review HERE.
Along with the more balanced side of sound signatures, let's discuss the Earmen Sparrow and Eagle portable USB DACs. At the heart of the Sparrow and the Eagle is the ESS ES9281PRO SABRE DAC chip, a phenomenal sounding chip that has an incredibly low noise floor and includes HyperStream II modulation which aids in a stable sound field. The Sparrow and Eagle DAC also uses super high-end components and design, minimizing noise and improving the fine details in your music as a result. Sound signature is on the detailed side, providing a crisp and detail-oriented listening experience. However, the Eagle and Sparrow add an incredible amount of body and headroom over their competitors here. It's not a warm DAC, but the sound is full and resolute.
Lastly, the CODA is equipped with a more recent legendary ESS Pro Series SABRE DAC. SABRE DACs are known for their great soundstage and clarity. Some might consider the SABRE sound to be analytical in the sense that they are too detailed. I wouldn't go that far - I would classify the SABRE signature sound as more forward-leaning, but still very accessible for those who prefer a warmer or more musical sound. The SABRE is not so detailed in the sense that it sterilizes the music, but rather opens up your music to hear sonic details that are otherwise masked by competing frequencies in a lesser-quality driver.
The other thing to note here is that each USB DAC comes equipped with a headphone amplifier, which is able to produce around 2Vrms for your headphones. As the headphone amp varies, so does the headroom for your headphones (and of course depending on your personal headphone's power needs).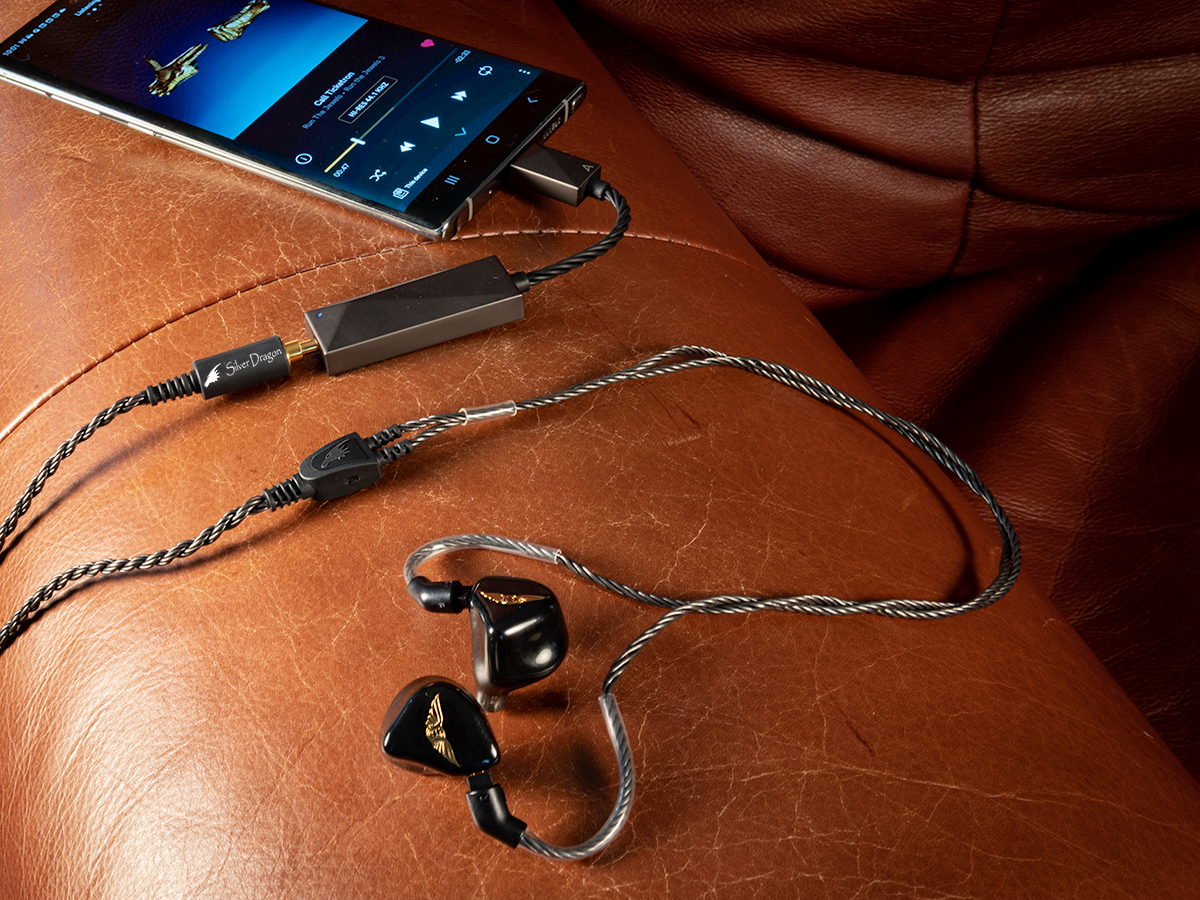 Astell&Kern USB-C Dual-DAC Cable connected to a smartphone and IEMs. A great portable setup.
---
Sound Signature Recap:
Dragonfly Red: Forward Leaning / Digitalized filter
iBasso DC-03: Neutral / Clean
AK USB DAC: Analytical
Clarus CODA: Analytical
Earmen Eagle: Balanced / Forward Leaning
Earmen Sparrow: Balanced / Forward Leaning
---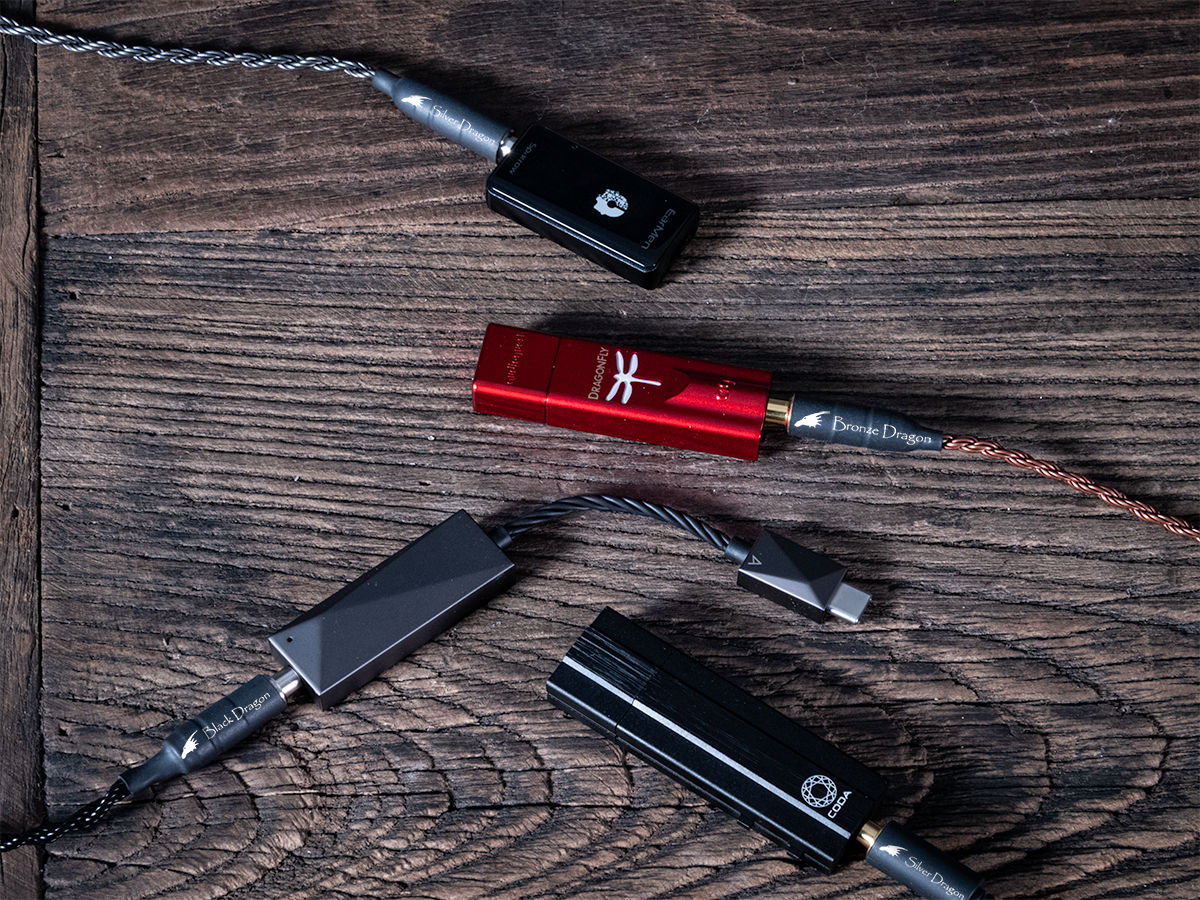 Not much in the way of features for these USB DACs as they are simple devices meant to do one thing and one thing only. The Clarus CODA DAC has additional physical buttons for volume up and down as well as for switching filters. You can read more about the additional features of the Clarus CODA DAC in our review HERE.
The Dragonfly, Earmen Sparrow and Eagle, and the CODA also have color LED indicators for the bit rate and/or sample rate information of the track you are playing. All these DACs are capable of playing back high-resolution audio from local and streaming services like Spotify, Tidal, Qobuz, and much more. When it comes to audio formats for your local music, it will depend on your source or application if your device can play that particular file format. Most USB portable DACs can handle 32bit / 384kHz and even MQA and DSD up to DSD256 and 512 (768kHz is a rarity in this price range). They are high-quality DACs that are capable of playing your audio files with the utmost precision and finesse.
---
Apart from the Clarus Coda, most USB portable DACs do not include a built-in volume control. When plugging in an external DAC to your music source, always check the audio output level as in some instances, like the AK USB Dual-DAC Cable, it will default to the maximum audio level on some Android devices. Before beginning audio playback, make sure that the audio signal is turned down so that you don't unintentionally damage your gear, or even worse, your hearing.
---
Who is this for? Everyone.
There's really not a winner or loser here. The bottom line is that ANY external DAC is going to sound infinitely better than your consumer-grade DAC chip in your phone, laptop, or desktop computer. Your best bang for the buck is the iBasso DC03 - at just $69, it's hardly considered a risk for those sitting on the fence about stepping into the world of audiophilia. You can go for all the bells and whistles with the Clarus CODA as well - and in the scheme of things - you're still looking at the low end of the price range for an exponential improvement of your sound quality. The biggest decision would be in determining what sound signature you prefer. If you like warmer and more musical presentations, then you do not want to select an analytical DAC (and vice versa). If you don't know, then just try them out - A/B test and see what you prefer.
In fact, it doesn't even have to be about consumer versus audiophile. It's really a matter-of-fact conversation here - about wanting your music to sound the best it can. For anyone who primarily listens to their music on their consumer-grade mobile devices - I dare you to connect an external USB DAC and go back to listening to your music without one. It's a small investment to get so much more out of your music. Sometimes you just need to take the leap and do it. You won't regret it - and you won't look back.
---
---
DAC: ESS Pro Series SABRE® DAC
THD+N: -112 dB
Output Voltage: 2.0 Vrms
Output Impedance: < 1 ohm
Input: USB-A
Output: 3.5mm (1/8") Stereo plug
Supported OS: Windows, Android & mac/iOS

Audio Formats: DoP, PCM, MQA
MQA Renderer
Max Resolution 32-bit (supports 16-bit & 24 bit)
Max Sample Rate: 384 kHz (supports 44.1, 48, 88.2, 96, 176.4, 192, 352.8. Dop64 & Dop128)
SNR 120 dB
Weight: 24 grams (.8oz) with cap
Dimension: 2.5" (69mm) x .9" (21mm) X .4" (11mm) with cap
Chassis: Aluminum
DAC: ESS ES9281
THD+N: <0.002% @16&Ohm; <0.002% @32&Ohm; <0.004% @150&Ohm;
Power: 1V/62 mW @16&Ohm; 1.4V/62 mW @32&Ohm; 2V/27mW @150&Ohm;
Input: USB-A
Output: 3.5mm (1/8") Stereo plug
Supported OS: Windows, Android & mac/iOS
Audio formats: DSD 64 / 128 DoP
DXD 384/352.5 kHz
PCM Up to 384 kHz
Dimensions (L x W x H): 55 x 22 x 8 mm / 2.16" x 0.86 "x 0.31"
Weight: 15 gr / 0.033 lbs
DAC: Cirrus Logic CS43198 (x 2)
THD+N: 0.0004% @ 1kHz, Unbalanced
Output Voltage: 2 Vrms (Condition No Load)
Output Impedance: 2 Ohm
Input: USB -C
Output: 3.5mm (1/8") Stereo plug
Supported OS: Windows, Android & mac/iOS
Signal to Noise Ratio: 118dB @ 1kHz, Unbalanced
Frequency Response: ± 0.030 (Condition: 20 Hz~20 kHz)
Sample Rate: PCM: Support up to 32bit/384kHz / DSD Native: DSD64(1bit 2.8MHz), Stereo / DSD128(1bit 5.6MHz), Stereo / DSD256(1bit 11.2MHz), Stereo
Output: 3.5 mm Headphone
Weight: about 25g
Dimensions: USB Plug: 17mm[W] x 50mm[H] x 10.3mm[D] / 3.5 mm Headphone: 12mm[W] x 20mm[H] x 8.2mm[D]
Body Material: Zinc Alloy
---
Best Portable USB DAC Comparison & Review (Video)
2021 Music Player Buying Guide (Video)
---
---
---