All AXPONA Updates, All In One Place
It's that time of year again: the biggest audio show in North America! Moon Audio will be at AXPONA and bringing you live coverage in real time straight from the floor and rooms of your favorite brands! We'll be uploading the latest news right here, so be sure to check back regularly for news and updates on all the best gear the audiophile industry has to offer!
We'll have a ton of audio gear at our own table too - Booth #8101 - so be sure to come say hi if you're at the show. We'll have coverage of the crowds, reactions, and more.
Our coverage starts Thursday, April 13 when we'll be arriving and setting up. Check back in regularly as we'll be posting all the latest AXPONA news and audio gear! Happy reading and happy listening!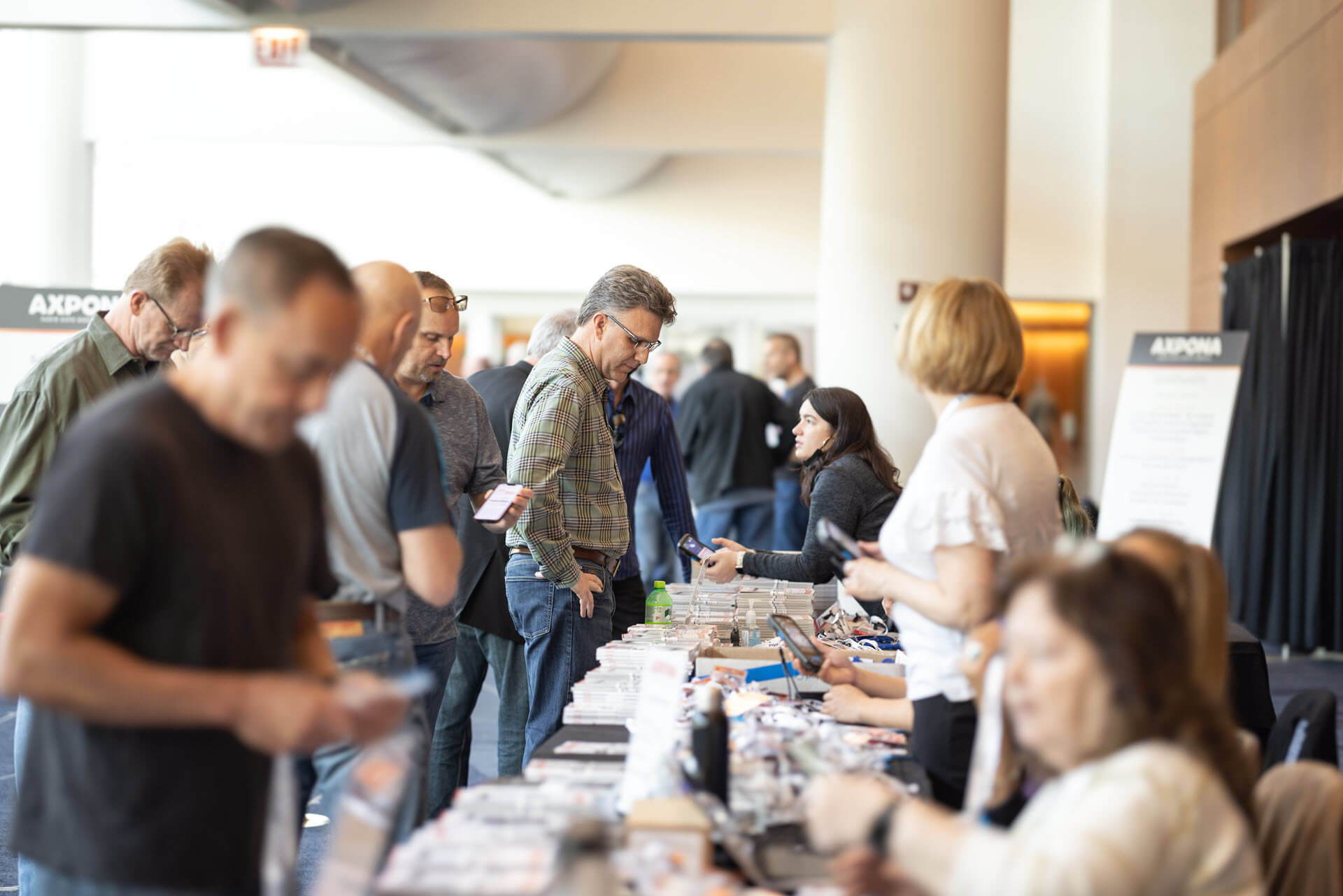 ---
---
< SCROLL DOWN FOR THE LATEST NEWS AND UPDATES >
Amping up for AXPONA 2023: April 12-16, 2023 [VIDEO]
THURSDAY, April 13, 2023 - AXPONA DAY 0
Arriving in Schaumburg today - getting the booth set up. We have a ton o boxes to unpack with lots of headphones, amps, DAPs, DACs, servers and more for you to try out. And of course, our Dragon Cables on everything. Getting excited! Can't wait for tomorrow to get here :)
Oh - and we also have new banners and artwork, so come check it out!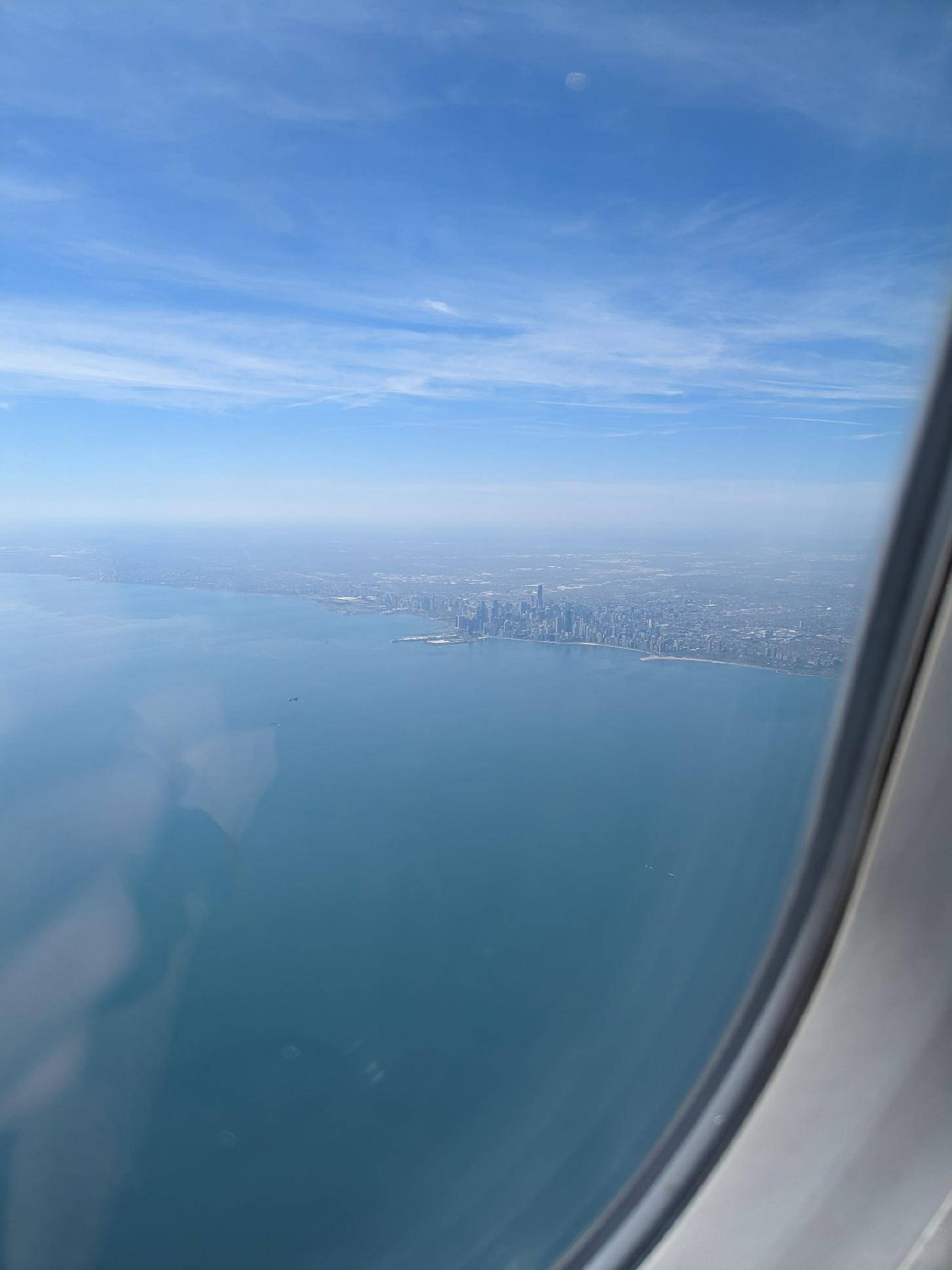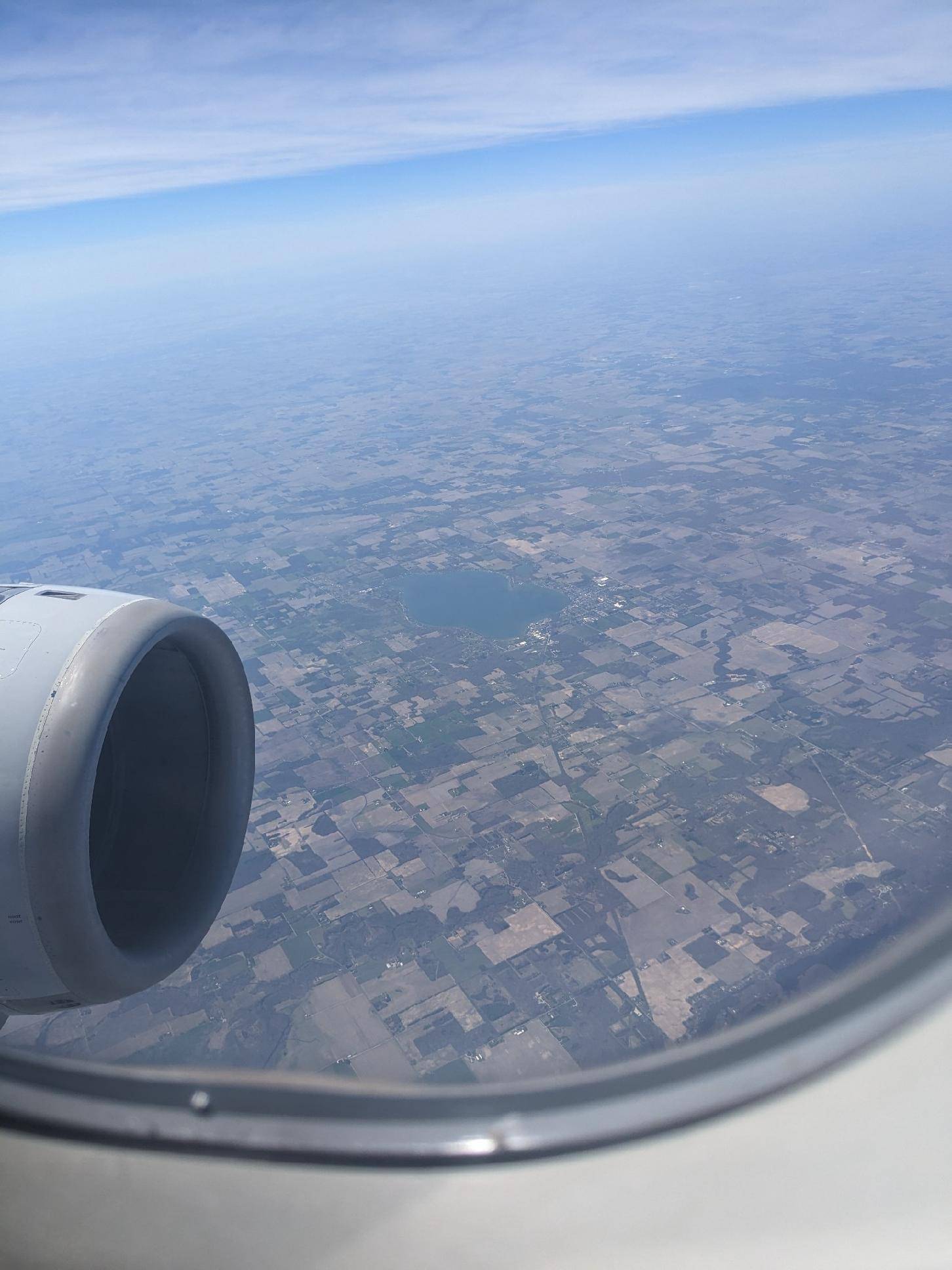 ---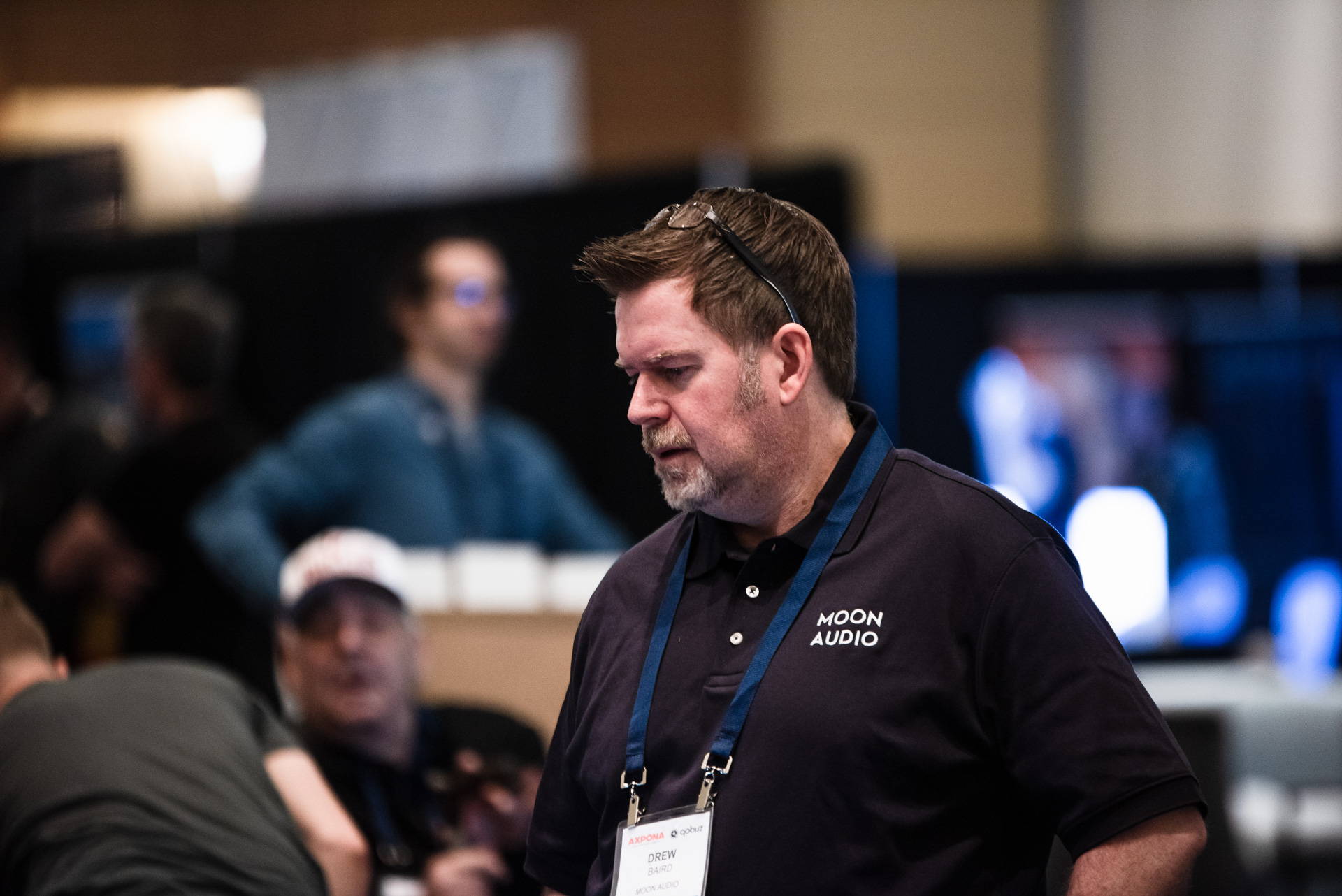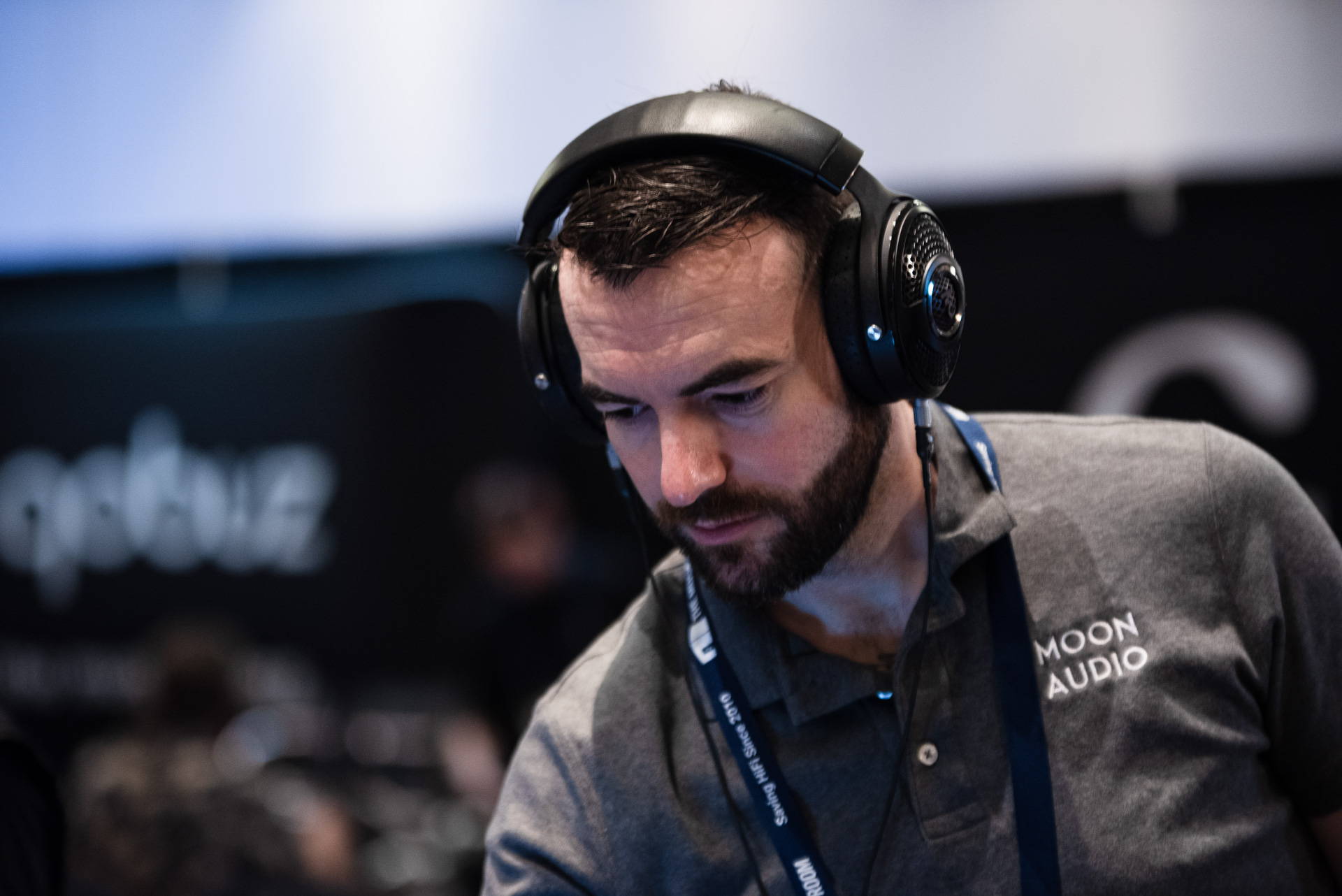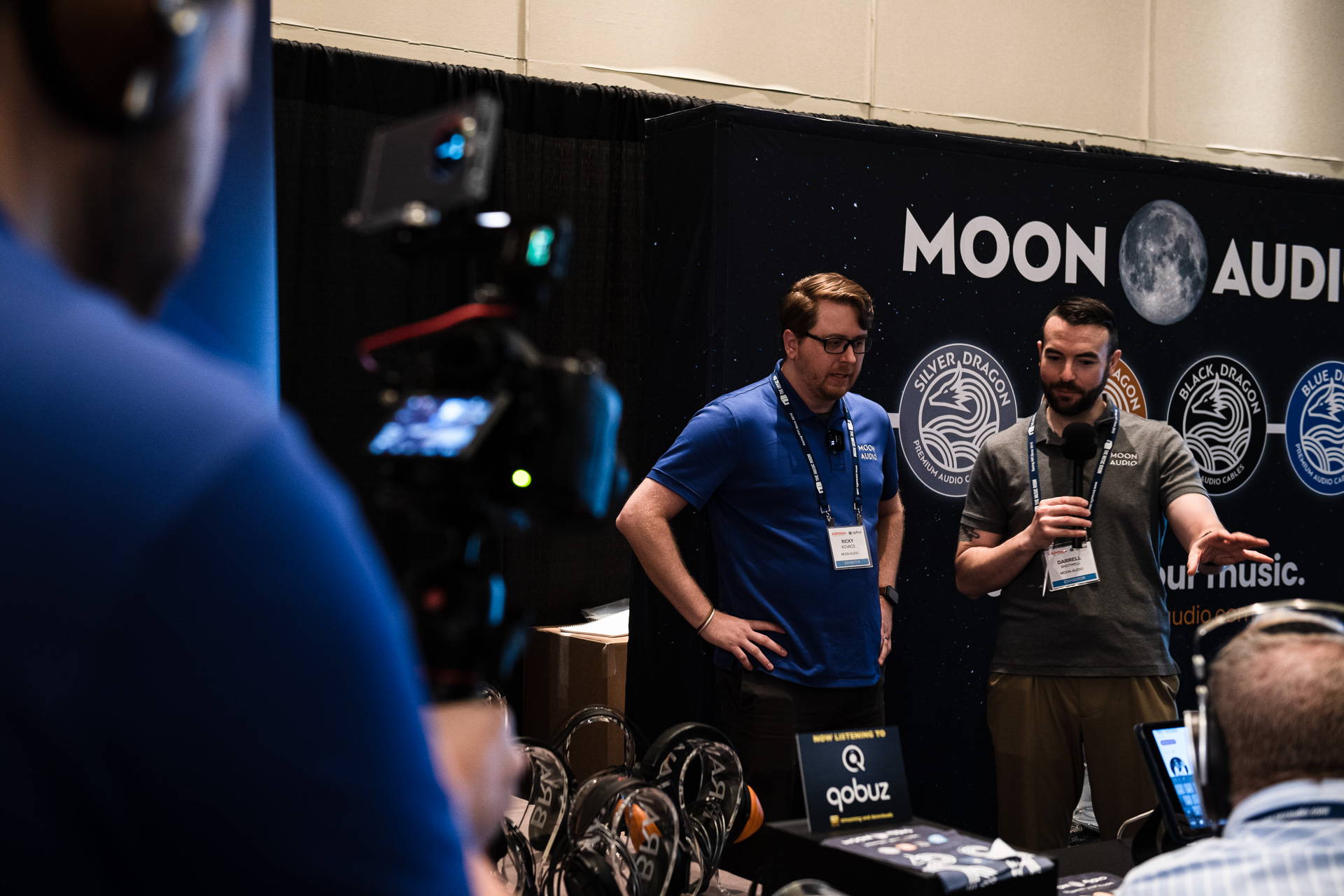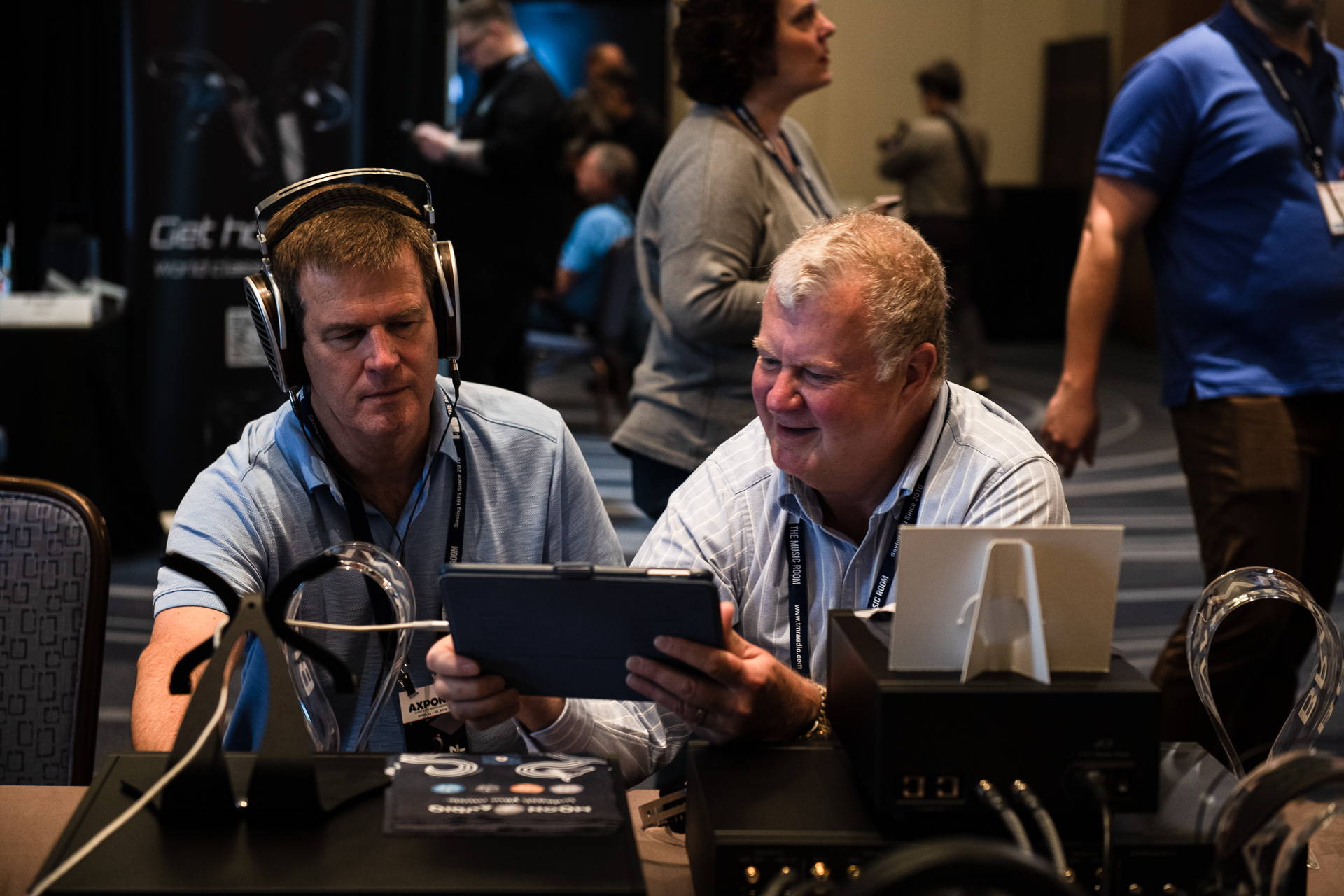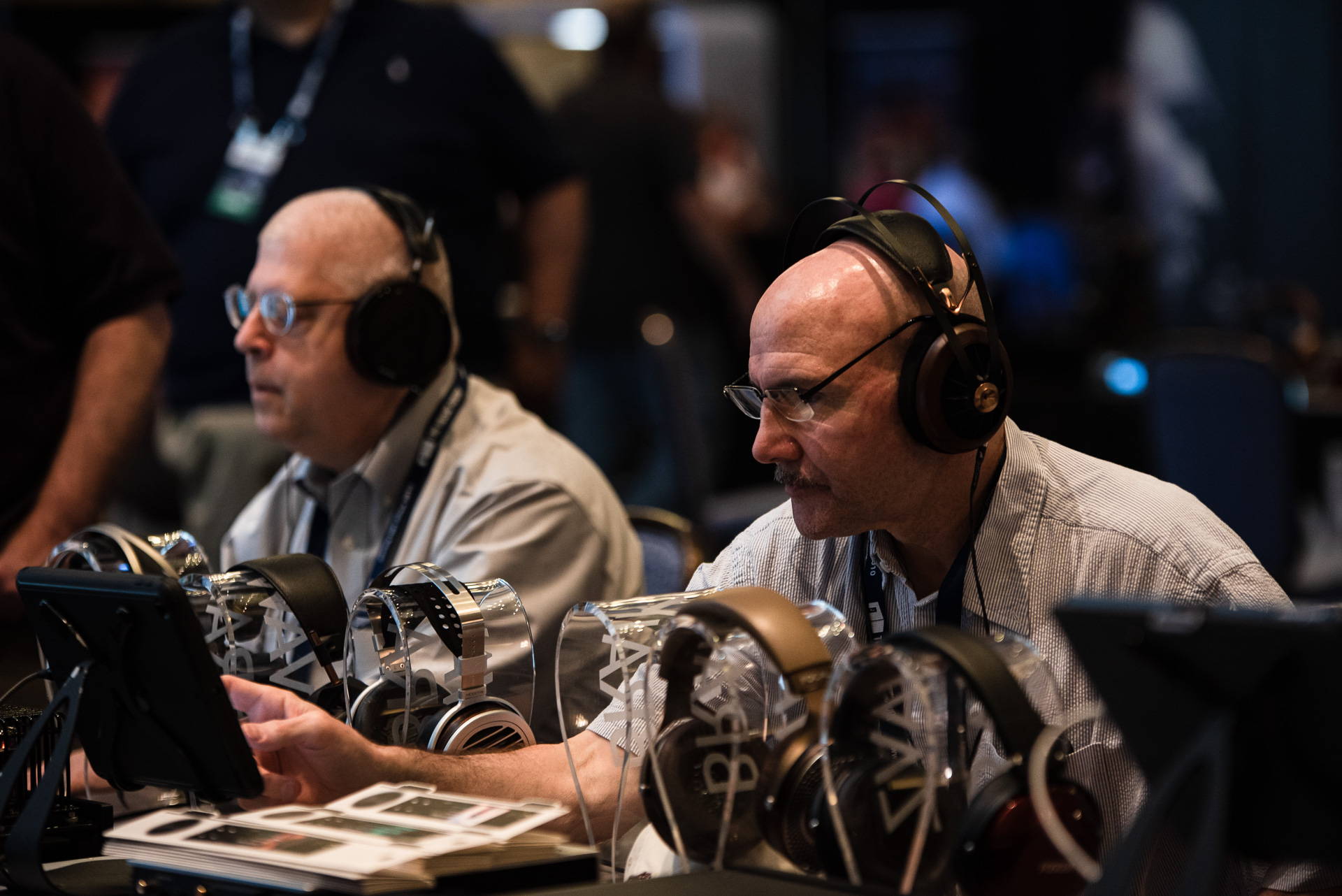 FRIDAY, April 14, 2023 - 10AM-6PM - AXPONA DAY 1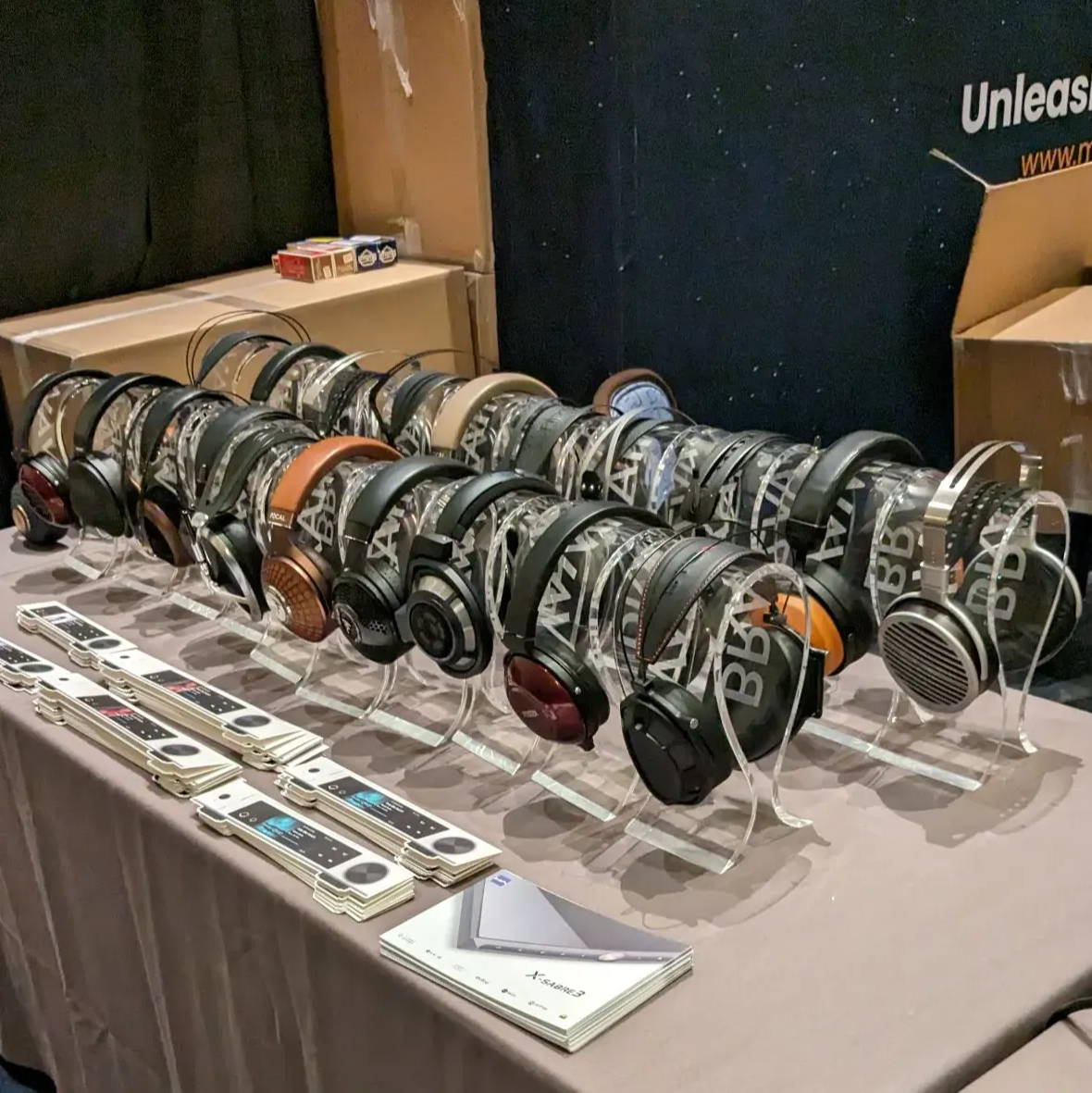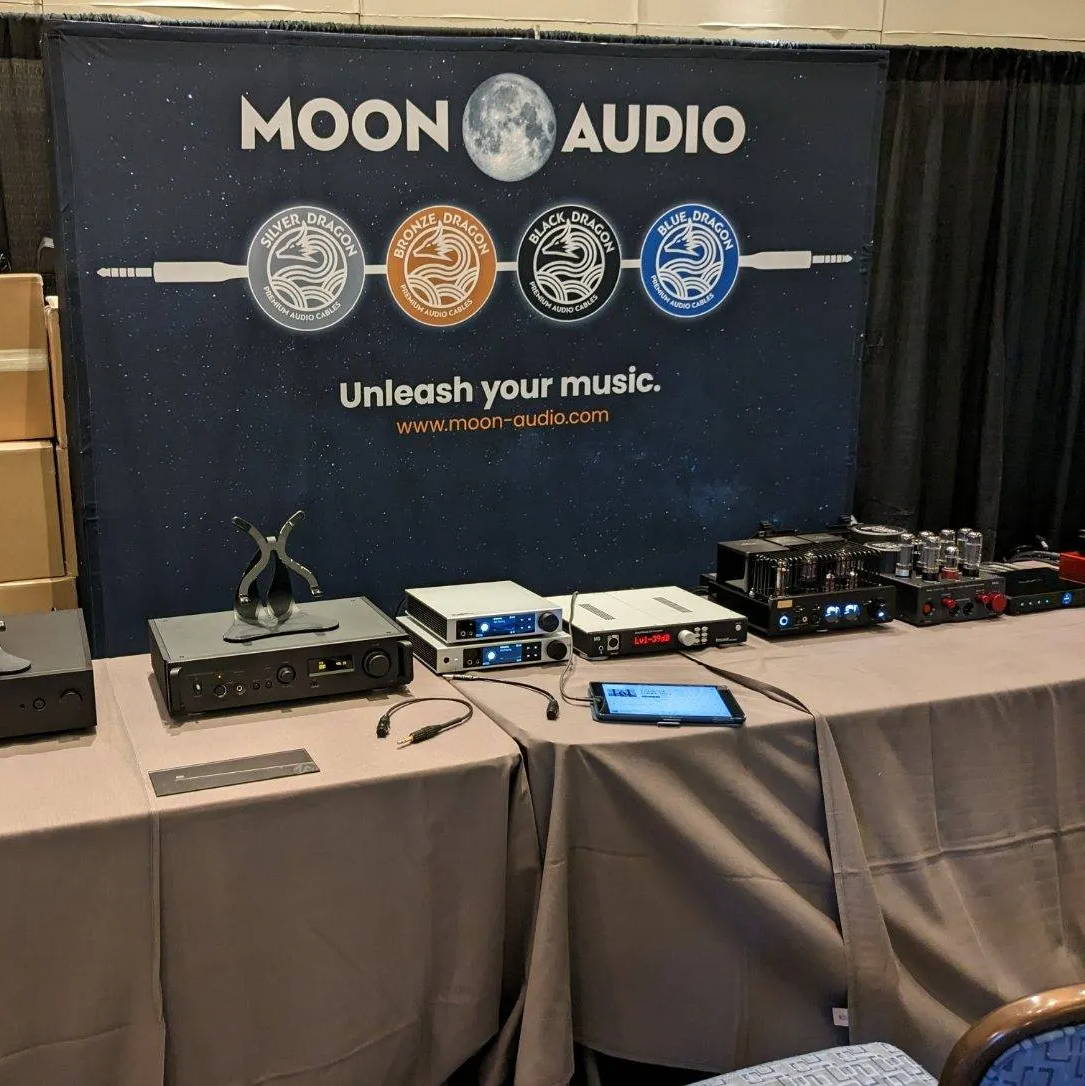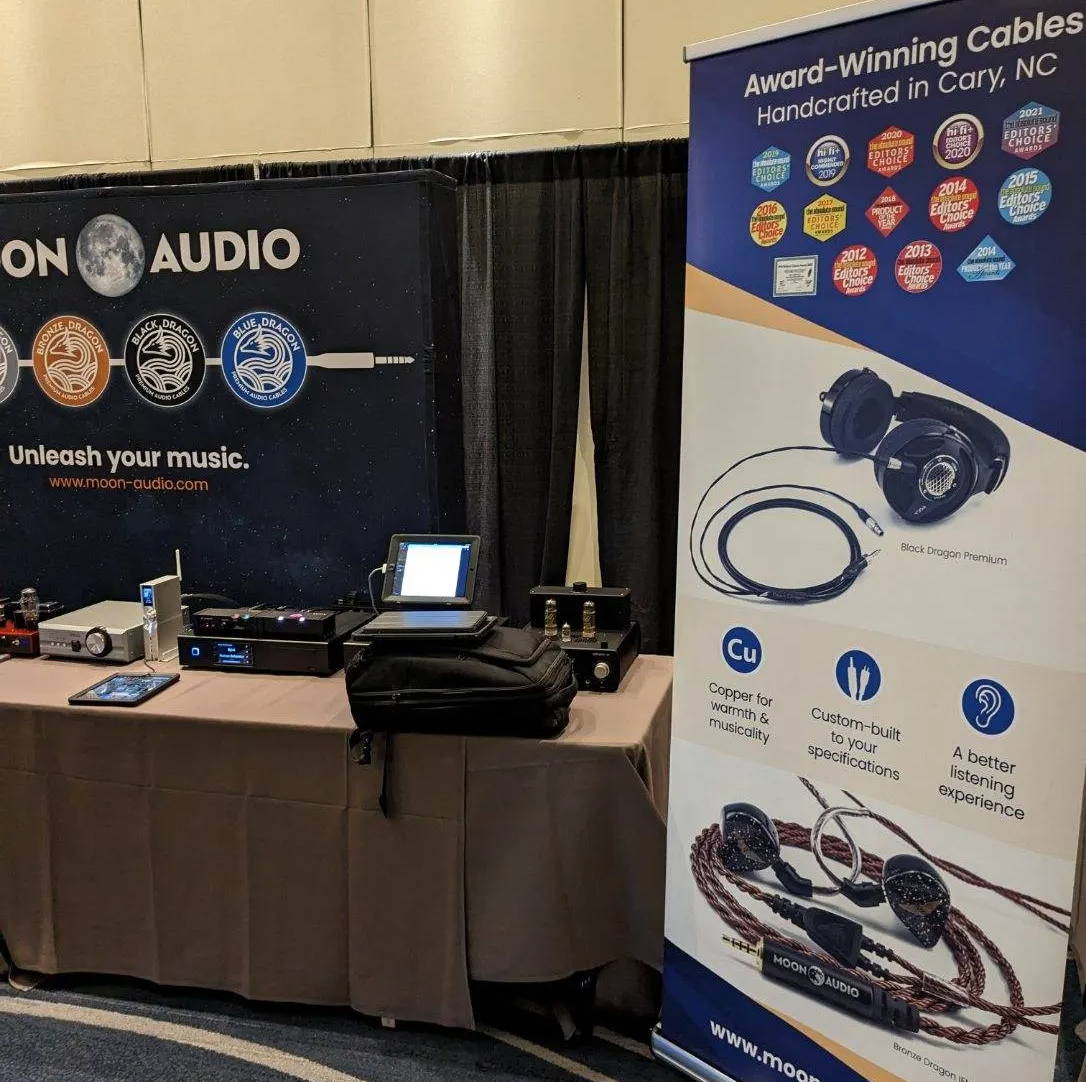 10AM: Show starts! We have everything set up in the Ear Gear Experience ballroom - we have 23 headphones and all the best gear for you to find your end game listening setup. We have our Dragon Cables paired for each headphone, and between Roon, Tidal, and Qobuz, pretty much any song on the planet for you to listen to.
We've already had a great turnout and hardly a seat left open! Check our YouTube channel for our tour with Darrell (our Lead Electrical Engineer and Operations Manager) showing you all the gear on the table. Let's check out some of the first impressions during our first couple of hours here:
Darrell shows you our setup - Booth #8101
Astell&Kern: Jason at AK gave us the lowdown on the new SR35 music player. I'll be honest, the SR25 MKII was already a great option for audiophiles and music lovers who wanted something that was small, portable, affordable, and still provided huge sound quality gains over your phone. The SR35 is a huge boost in perfromance and features. They use a quad-DAC setup for the first time in an A&Norma DAP, and the really cool thing is that you can disable 2 of the DACs for added power efficiency and longer battery life. Dual DAC mode offers a whopping 20 hours of battery life while Quad-DAC mode will still get you a very respectable 14 hours on a single charge. Versatility for the portable/traveling audiophile - I love it!
We'll have more with Jason from Astell&Kern in a later video this weekend showing us more of the latest offerings from Astell&Kern.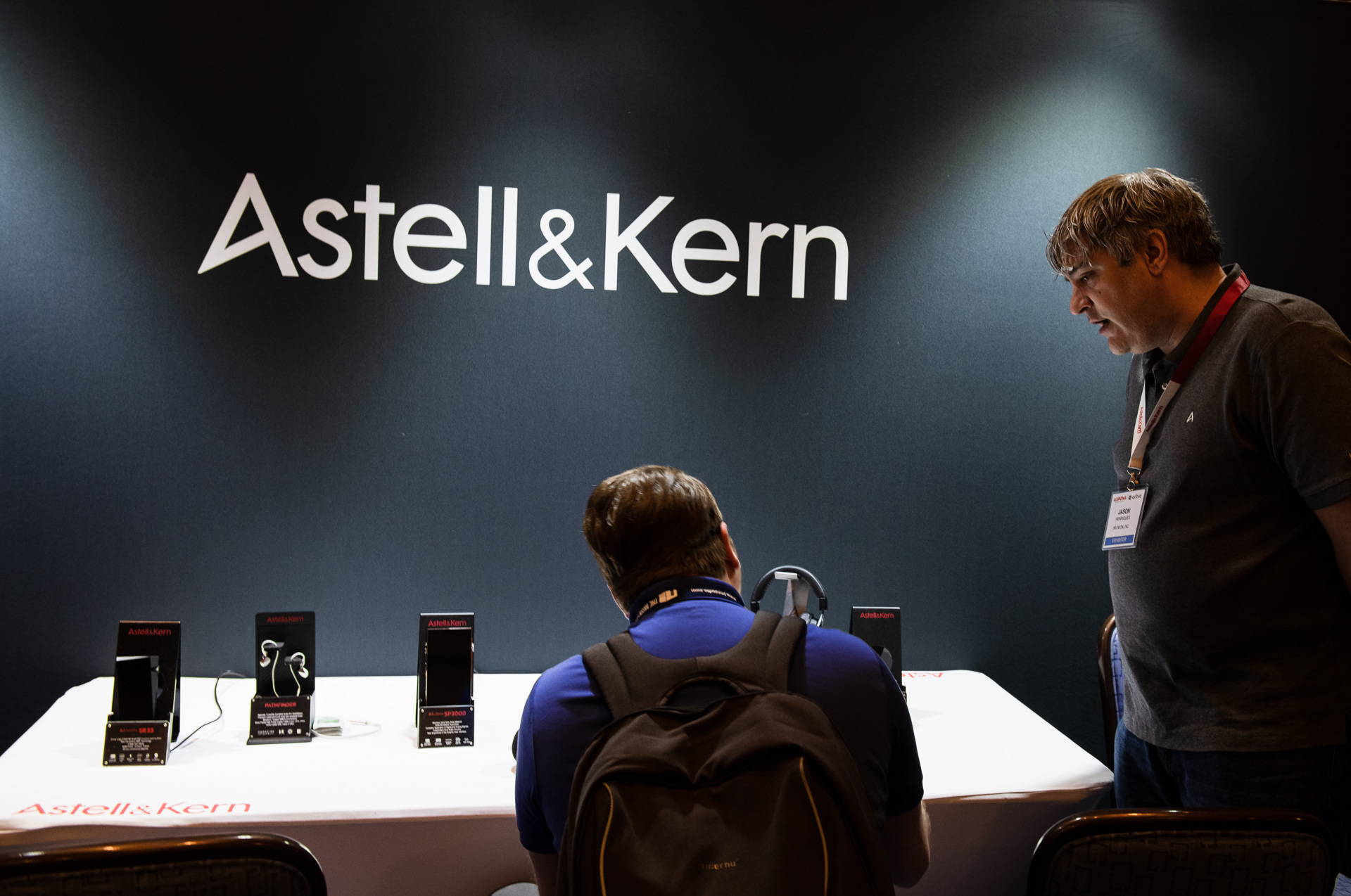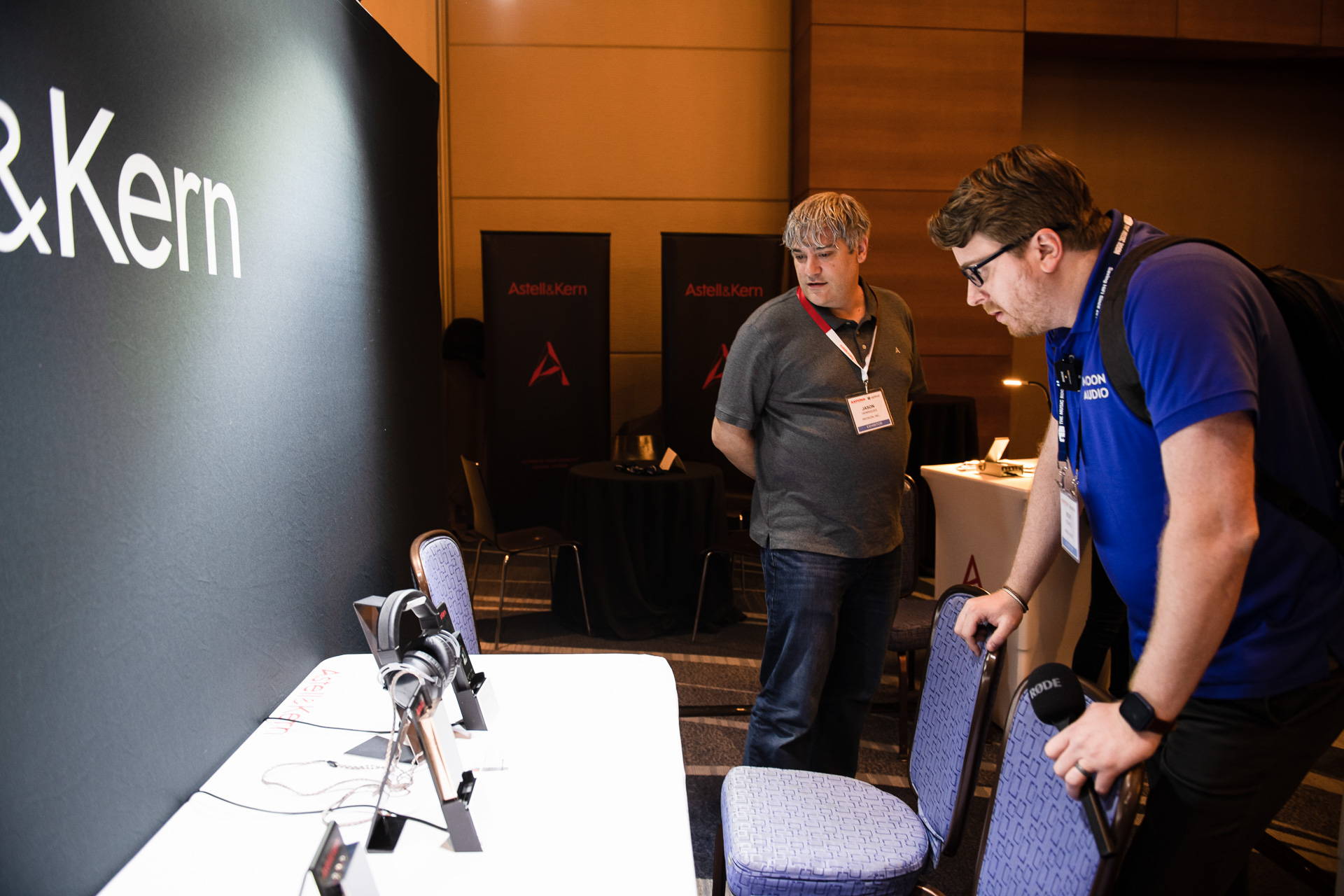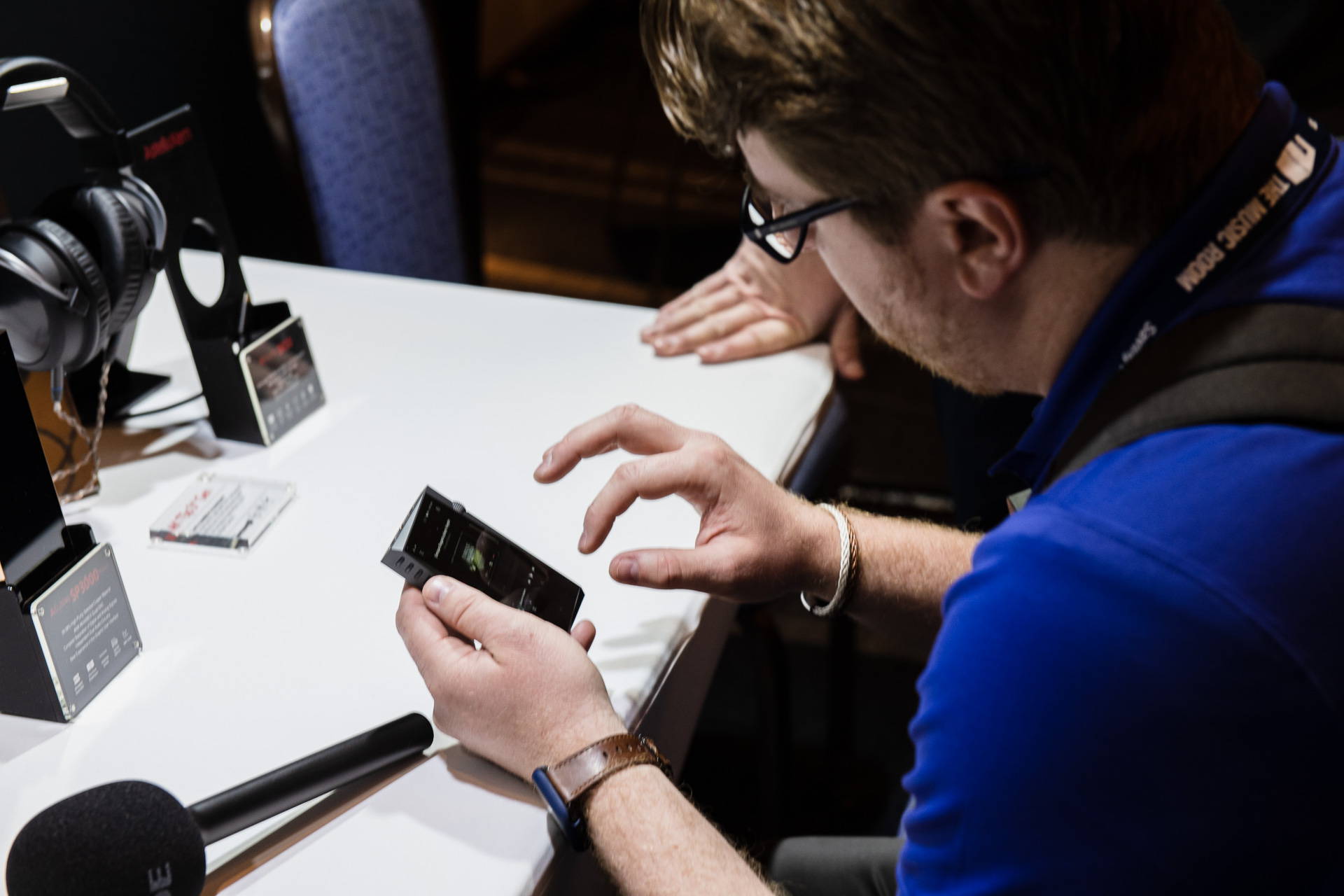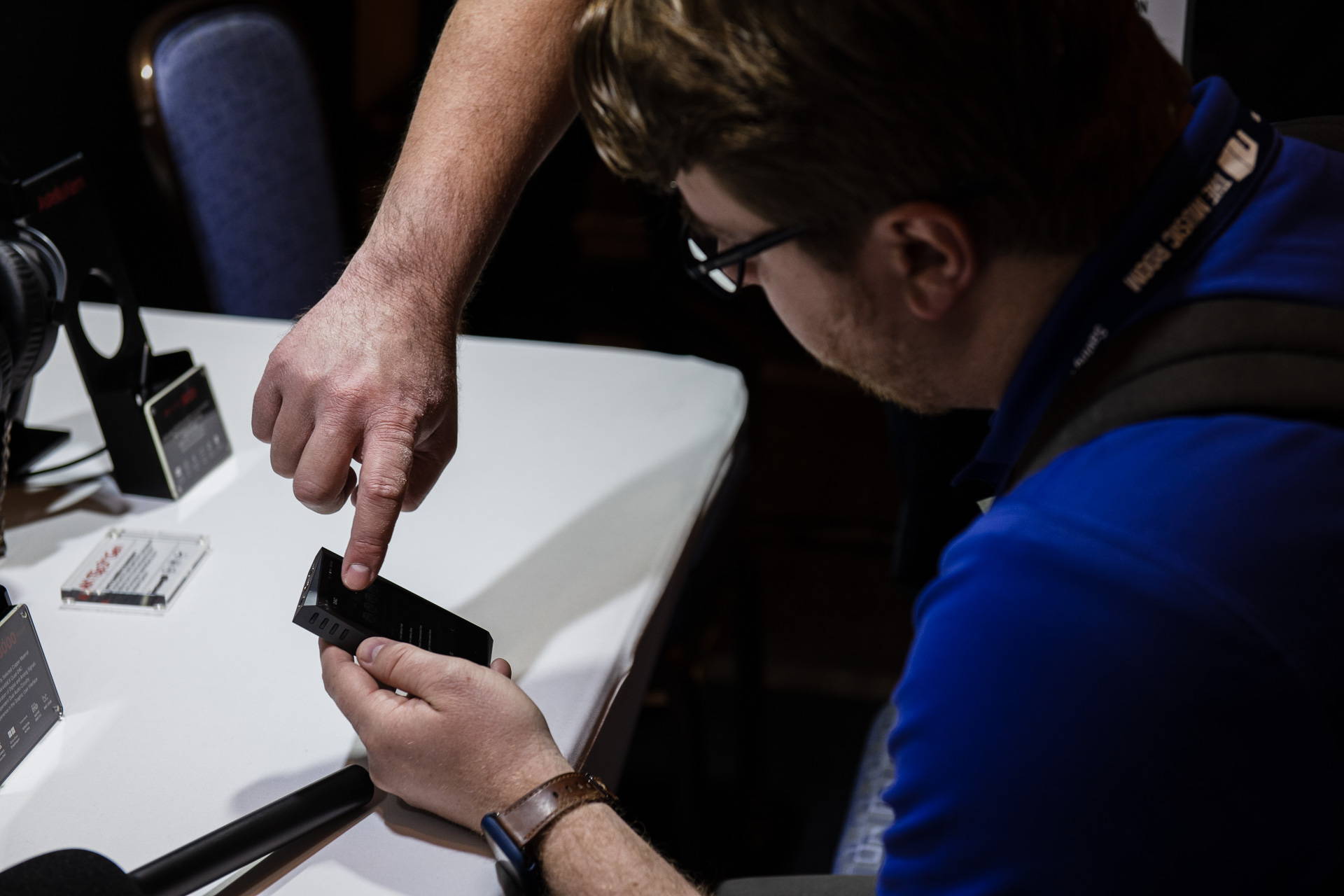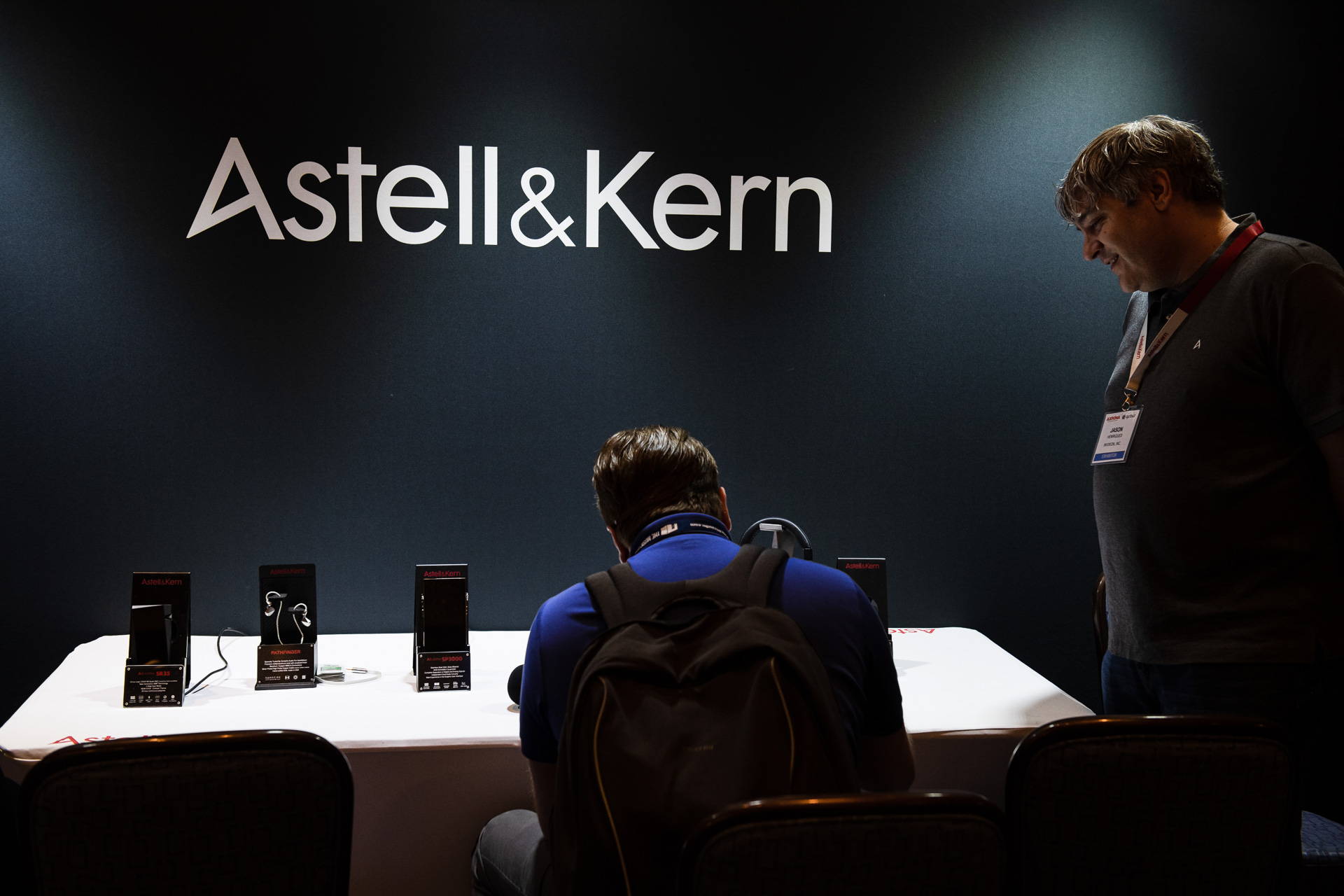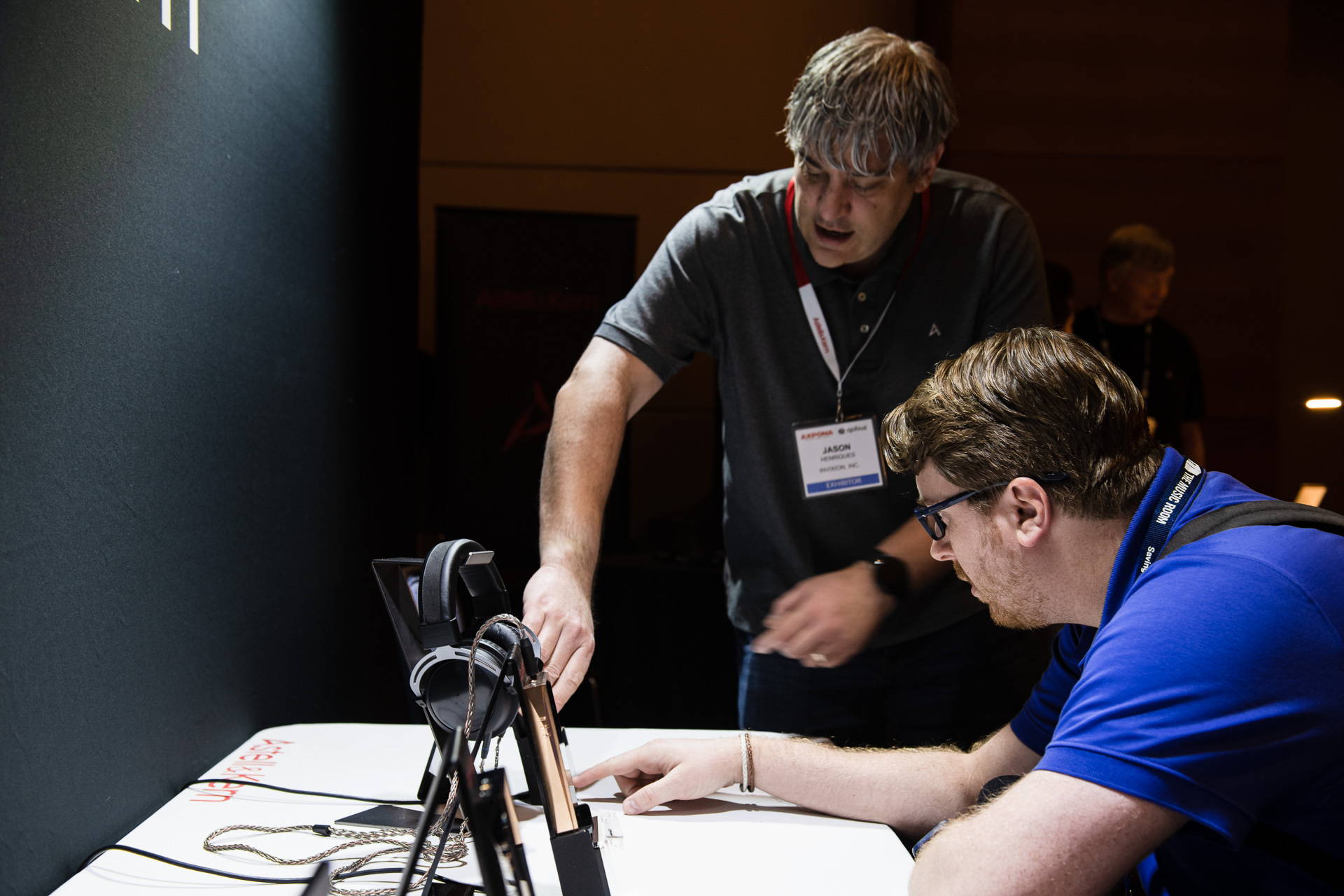 Focal: Got a chance to chat with Patrick from Focal a bit. He showed me some of their new stone speakers - guess what? They look like stones! Although you're not going to want to hide these in your garden or patio. They sound impressive - expansive and some major spread coming from a stereo setup. They also have their Sopra lineup in the new matte finishes. They look sharp and I much prefer the matte/concrete looking finishes over the gloss. They're also showing off their new multimedia system - it might be the best sounding peice I've heard today. Surround sound, incredible channel separation, and an experience you have to simple hear to believe. My words will never do it justice. Stay tuned for more Focal news - we'll be meeting with them on Sunday for some exclusive 1-on-1 time with Drew.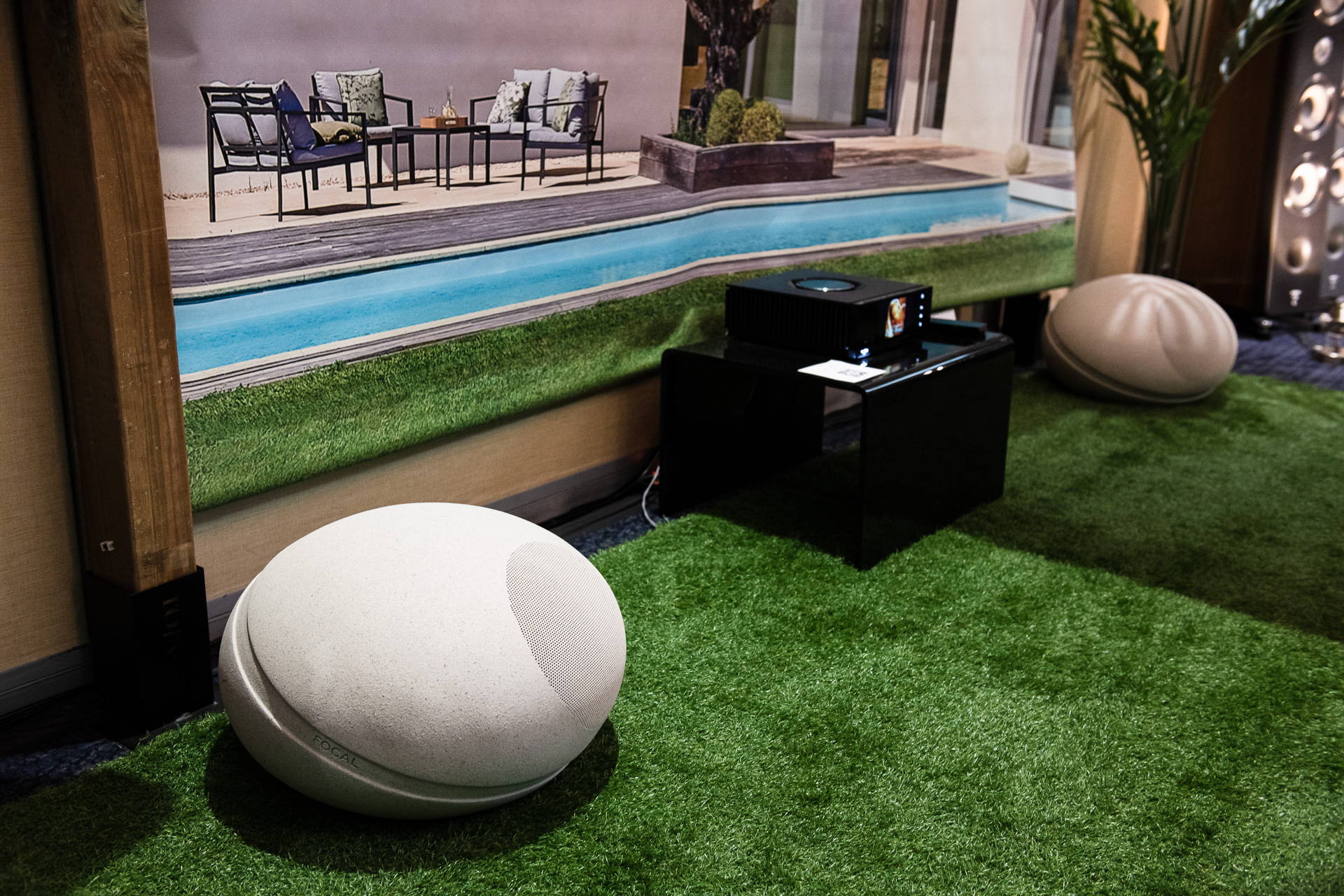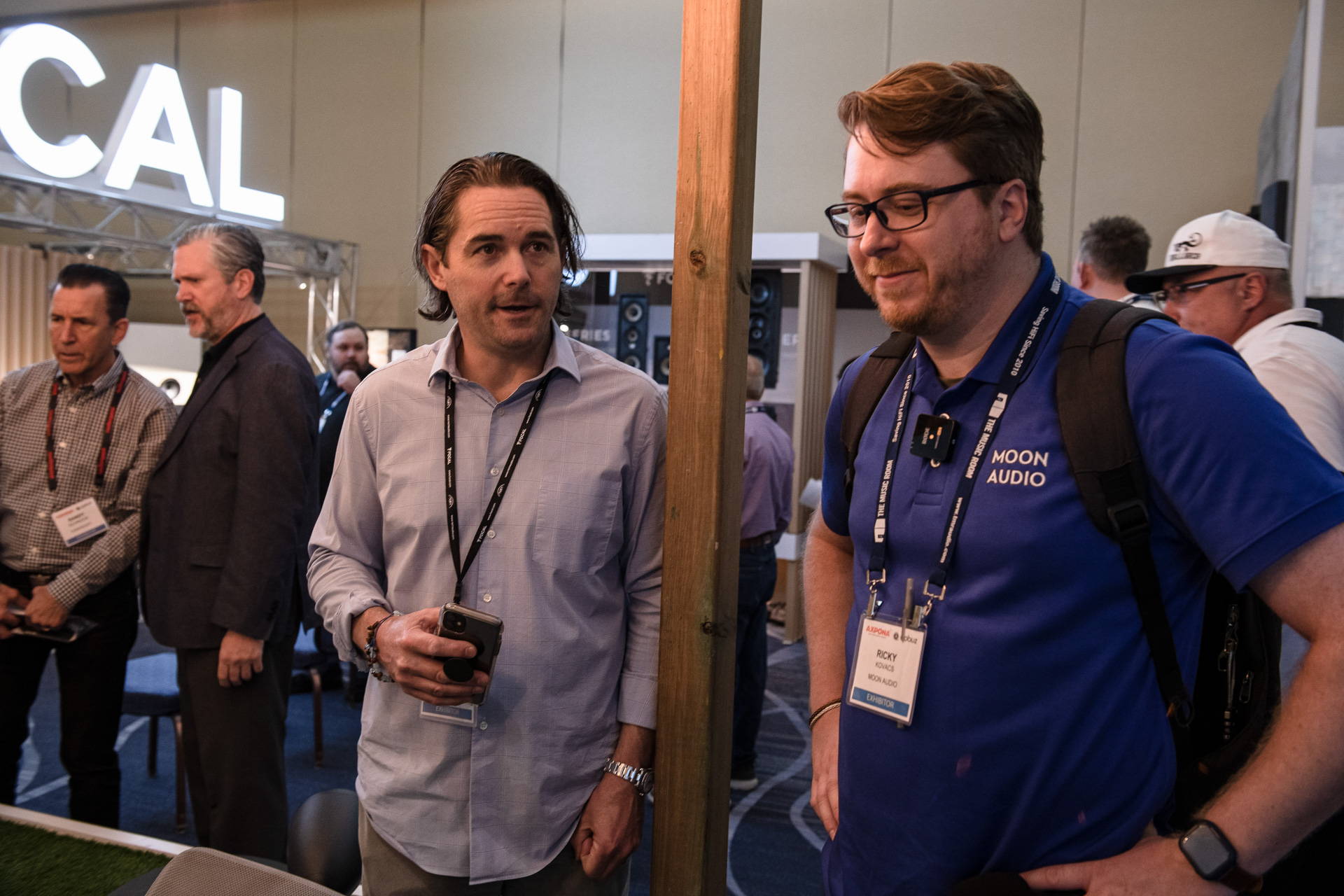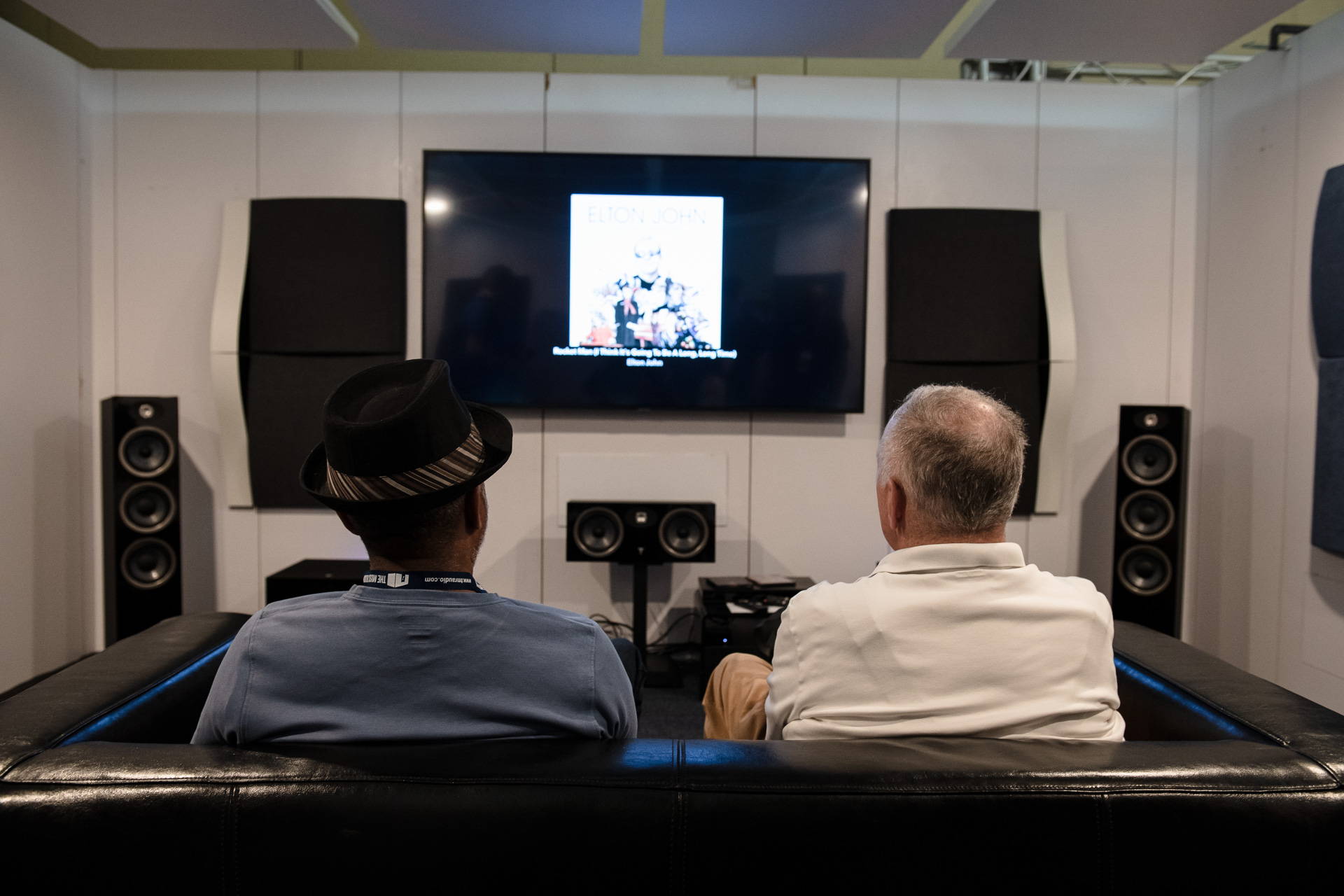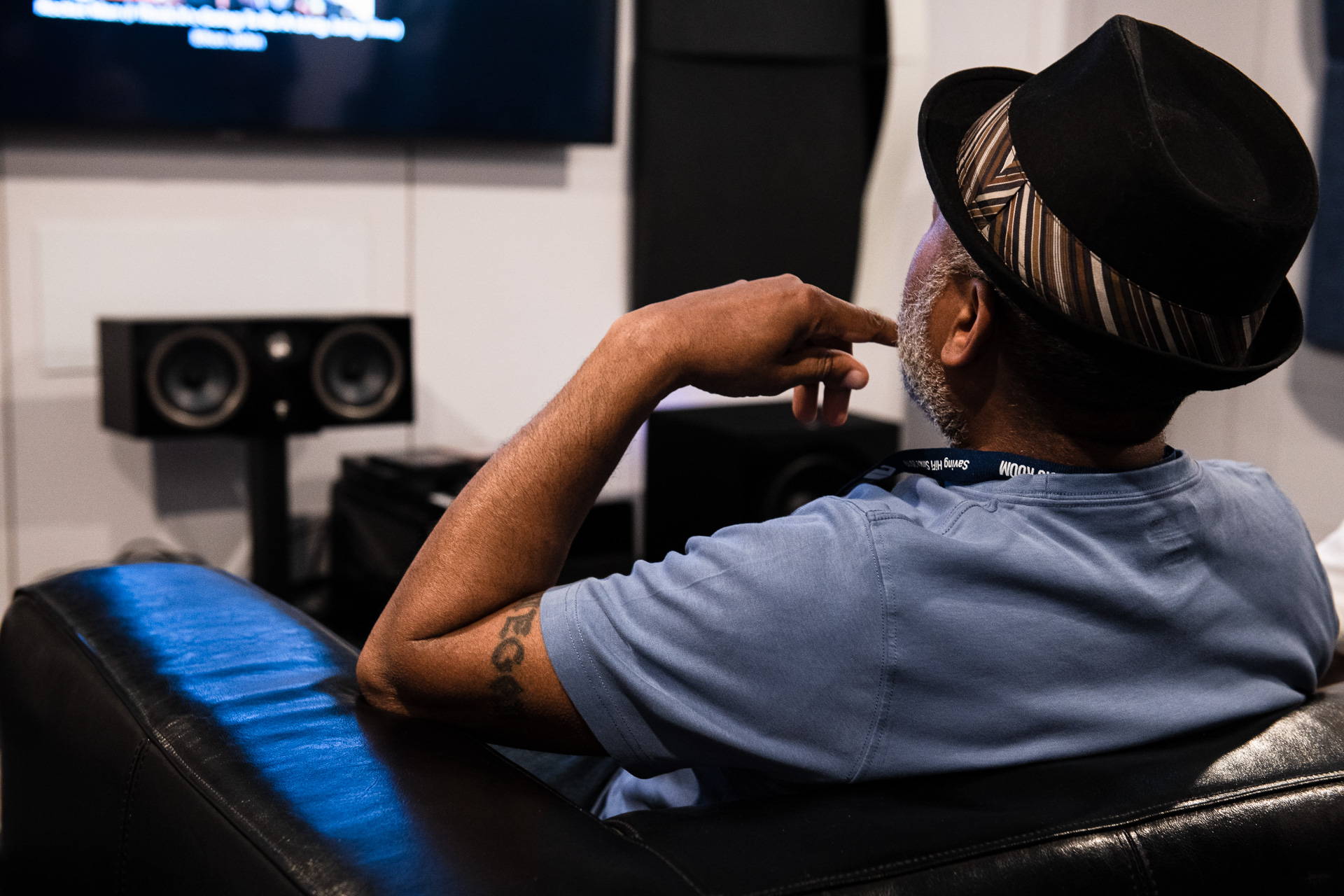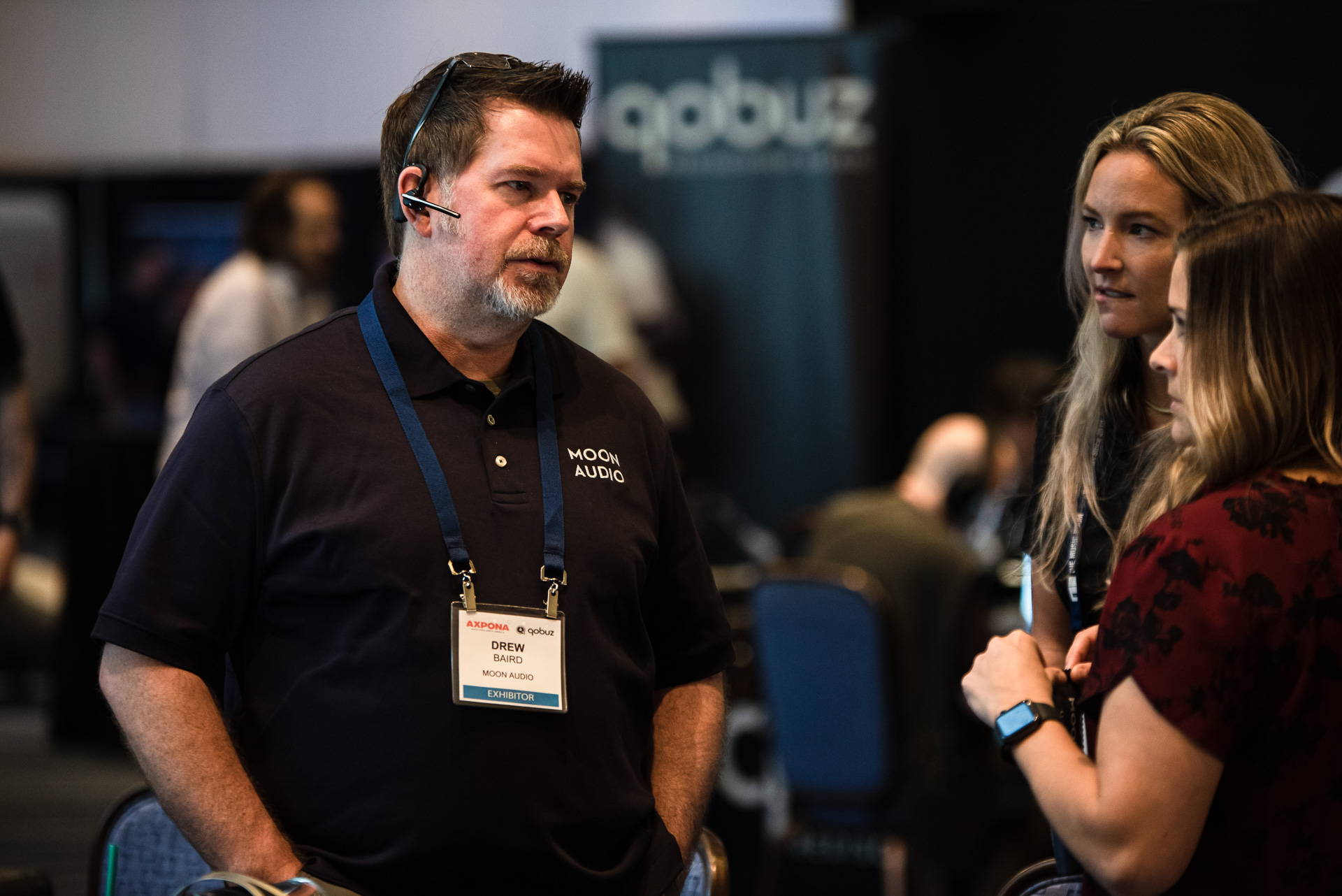 Empire Ears: So we spoke with Jack and Andrew from Empire Ears and got the scoop on the new Raven IEM. Dual W9+, 5 balanced armatures, 4 electrostatics, and the W10 bone conduction driver. Jack said it's slightly above the price range for the Odin, and is due out this summer around late May or June. It sounds more nuanced to me than the Odin, but I can't tell you definitively until I spend some more time with it. The design is stunning, and I'm sure it will be hot item this summer. Video coming soon with Jack and Andrew!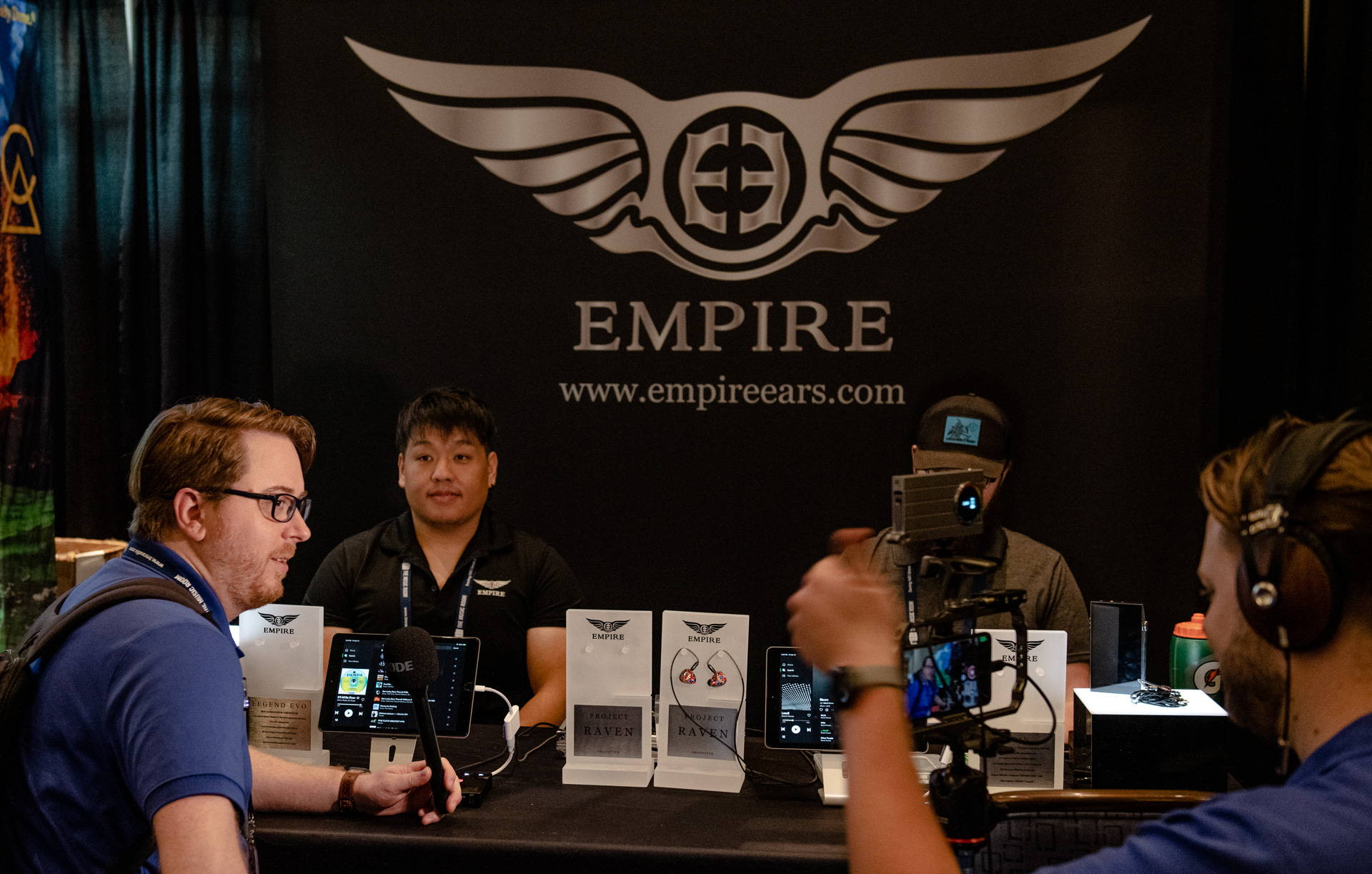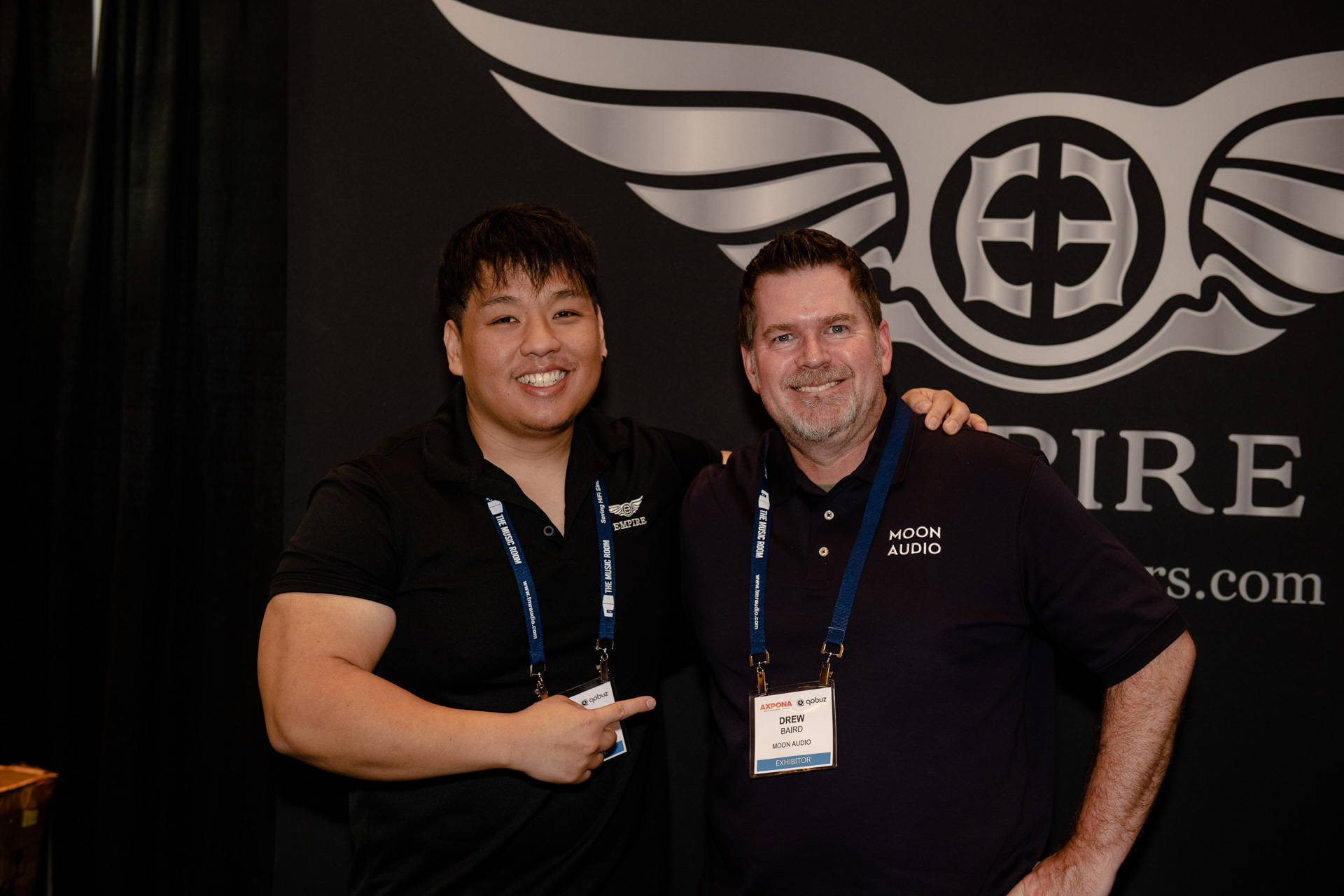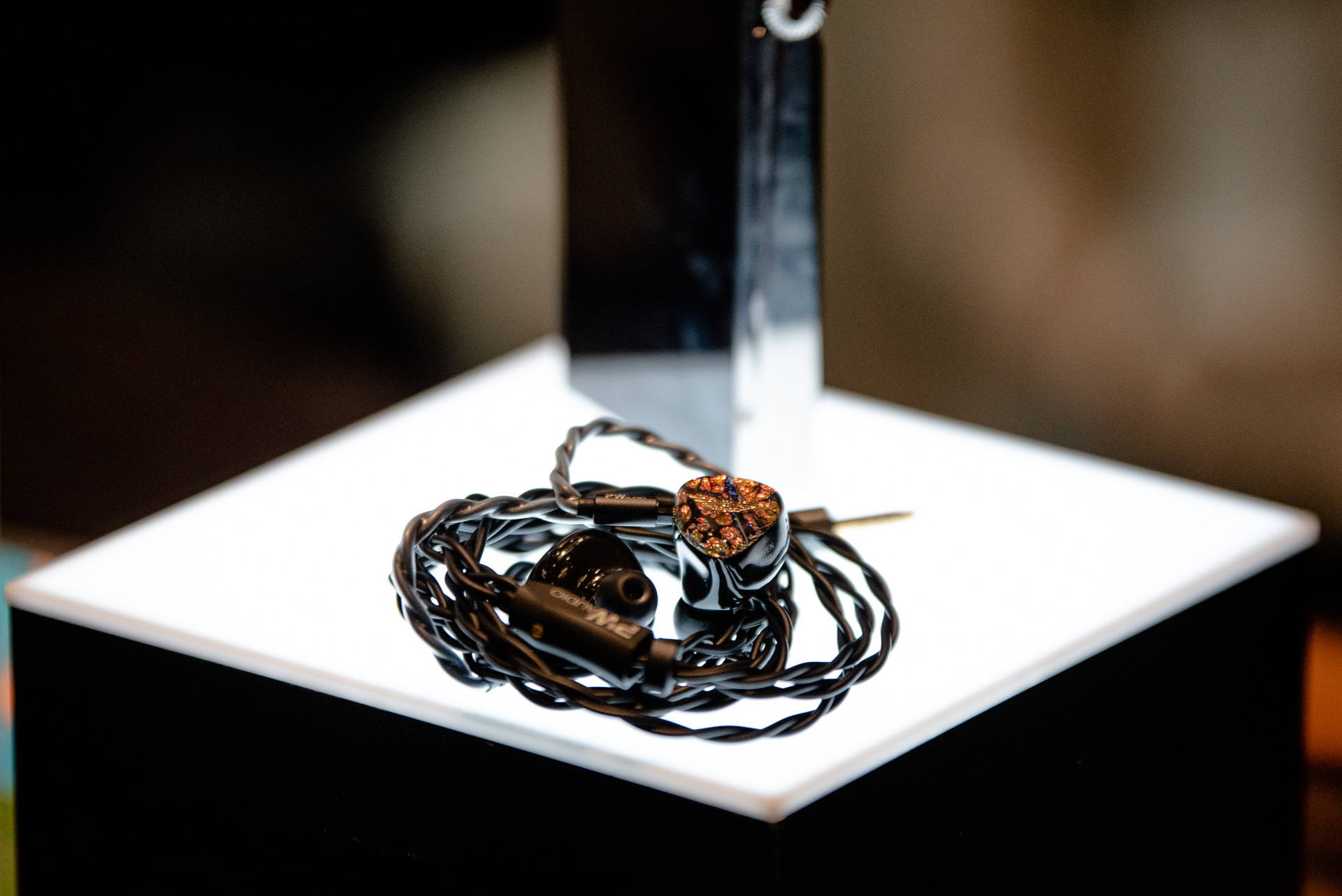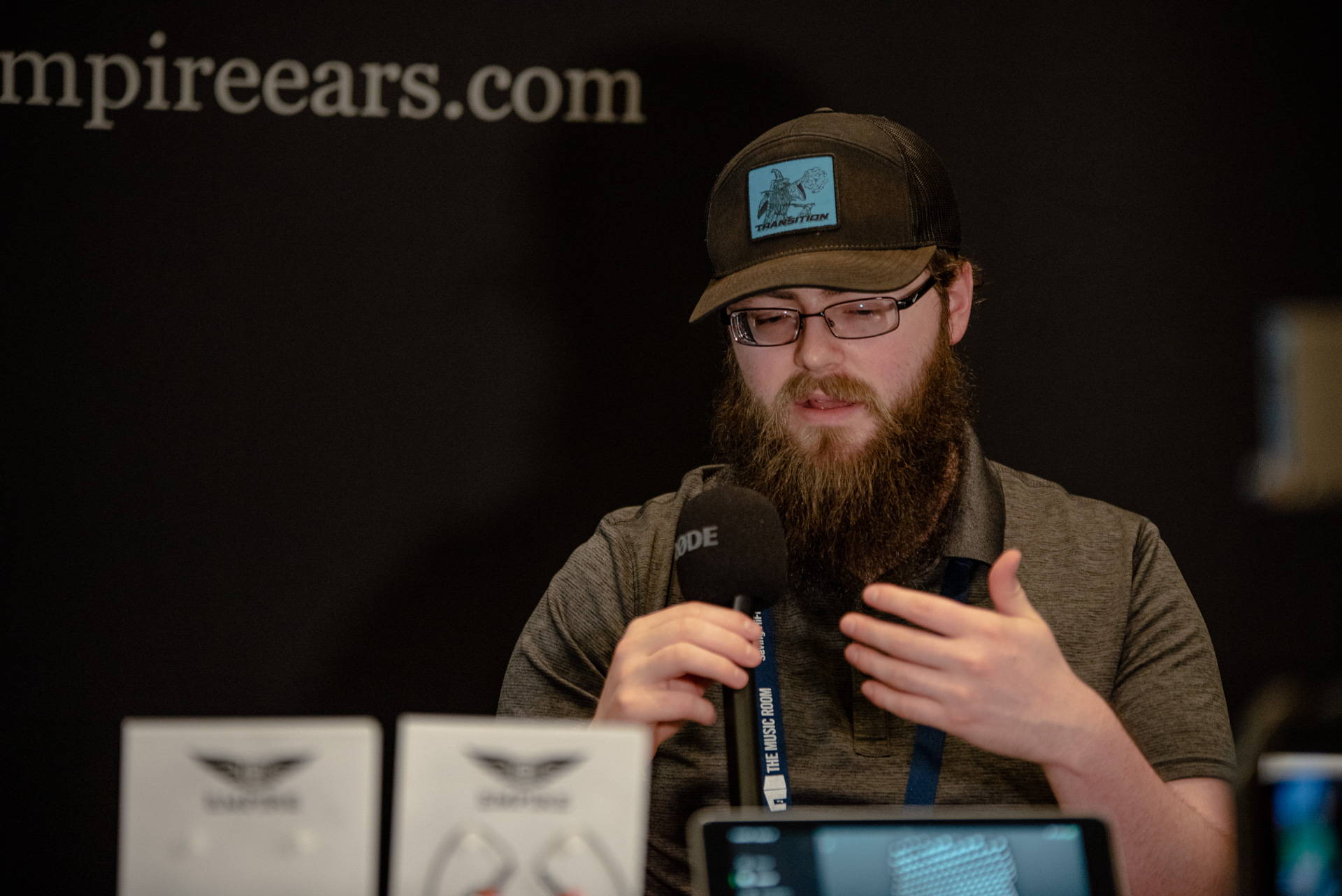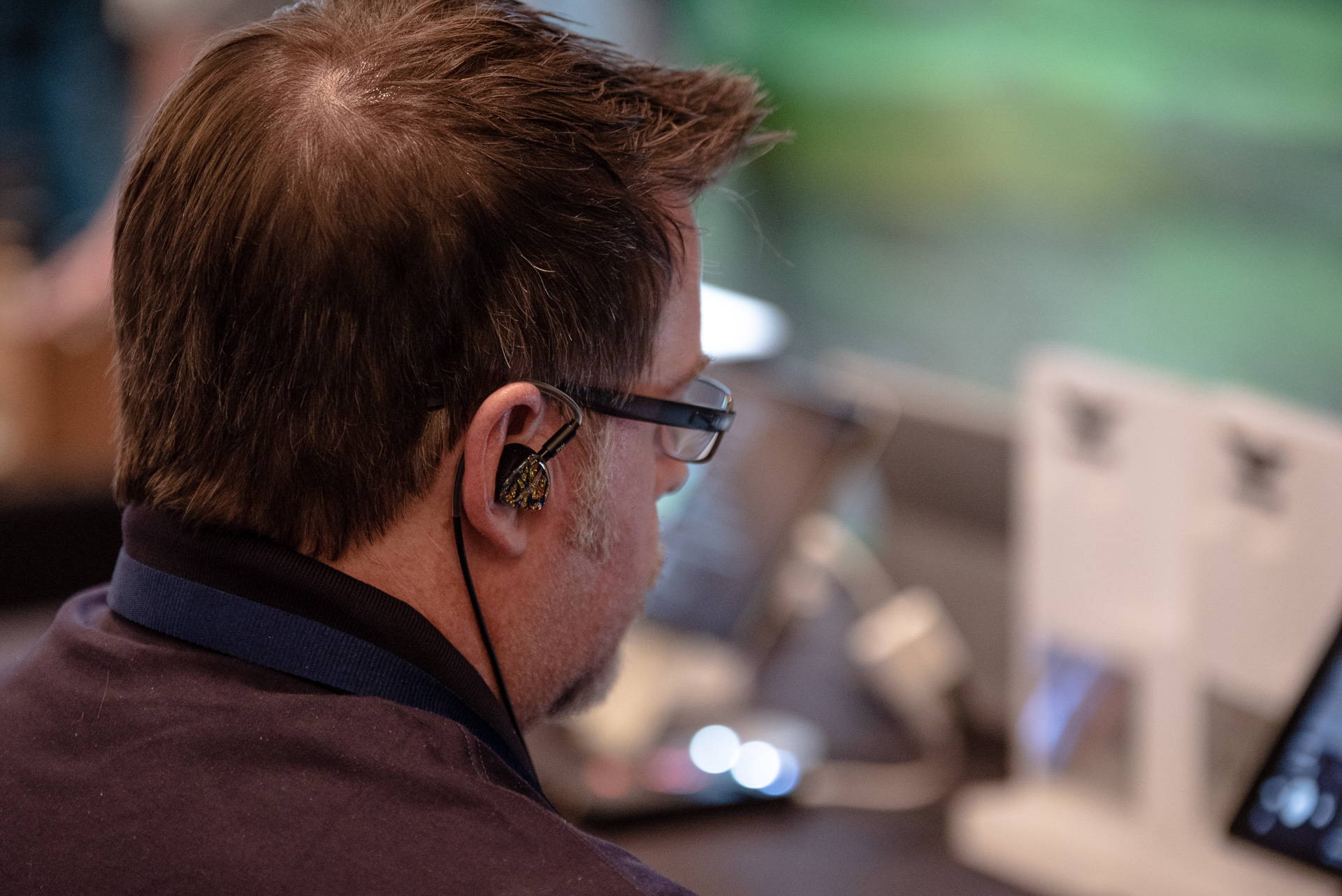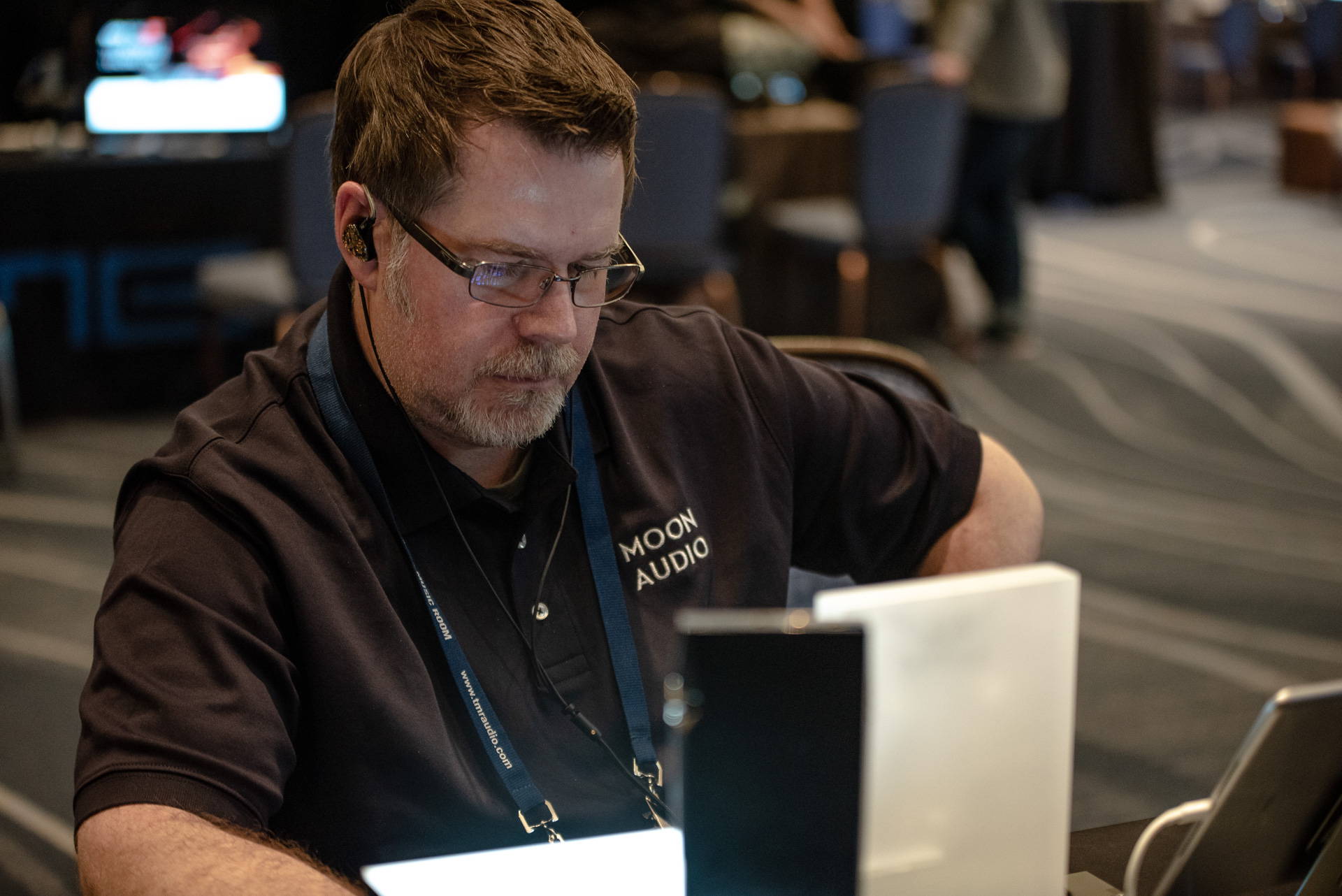 Audeze: Finally got to check out the Maxwell - the little gamer in me sqealed with joy. Like the Penose, it comes in both XBox and PlayStation variants. It connects via USB dongle, and from the short demos they had queued up the spatial audio and imaging is precise. It's not necessarily shooting to replace the Penrose or Mobius, but there's some great improvements here I can tell from the Penrose. Controls on the earcup return, and I hope I can get some more time with it later :)
The newly announced MM-100 was also at Audeze's table, but there was a line so I didn't get a chance to listen to them. There's always tomorrow!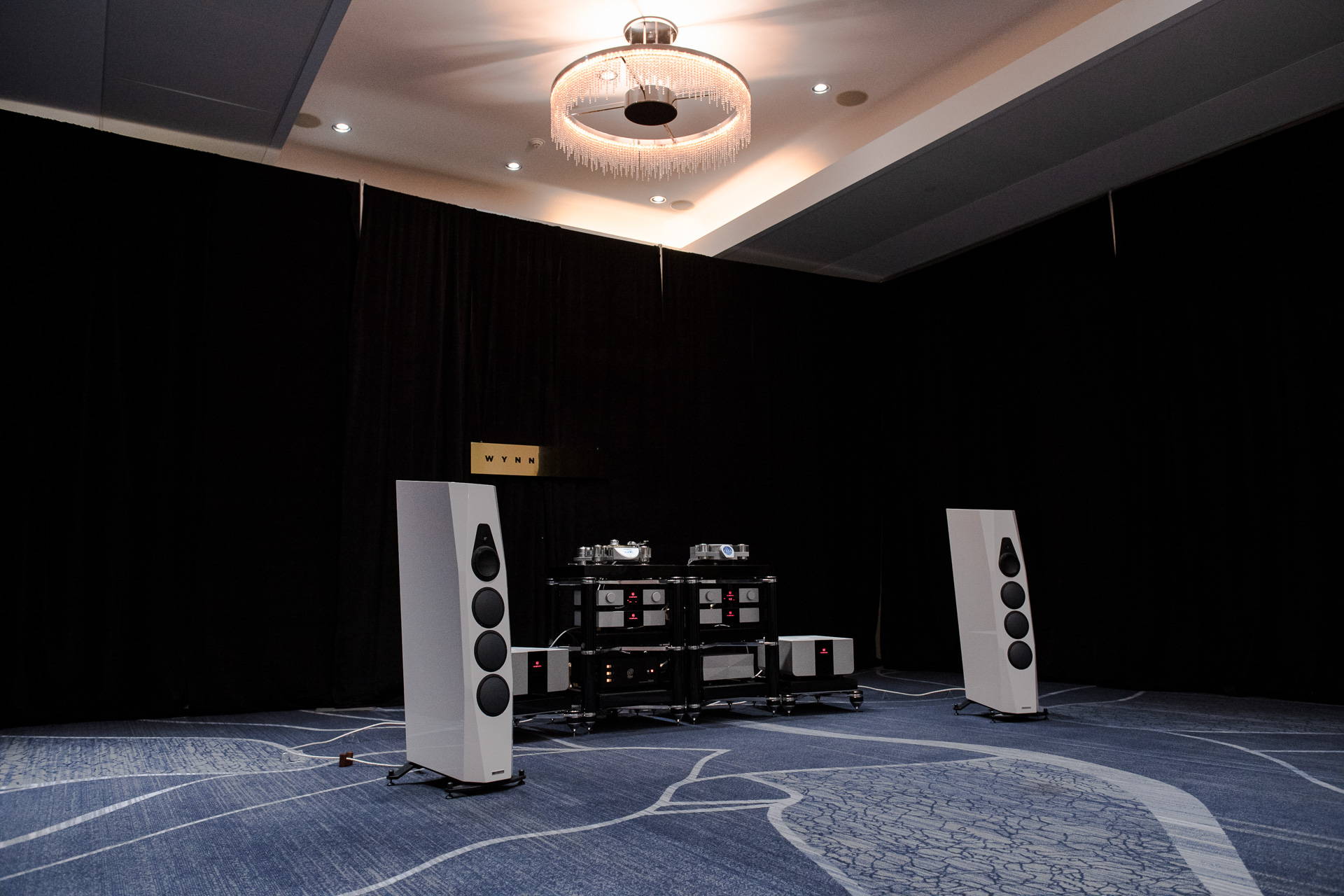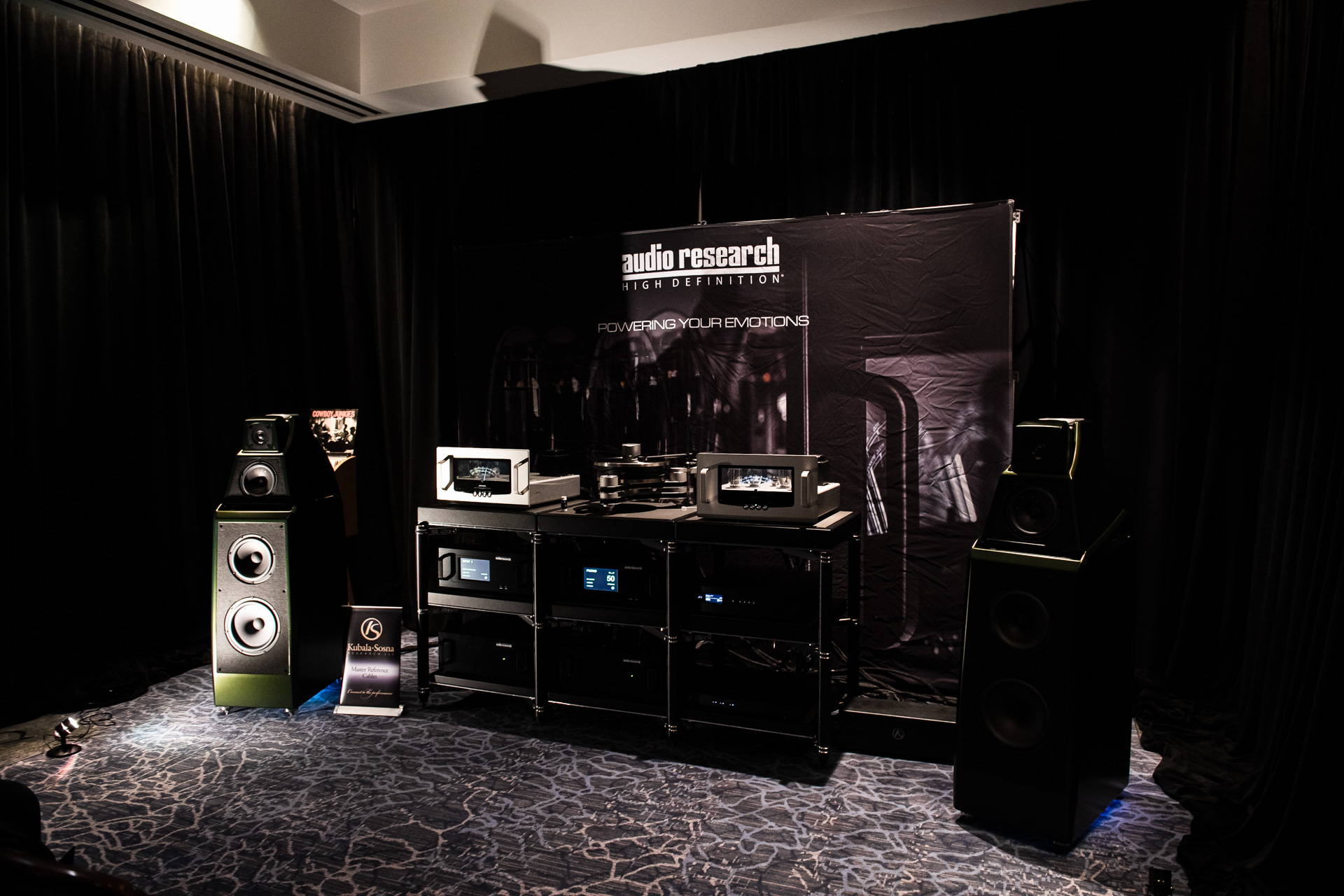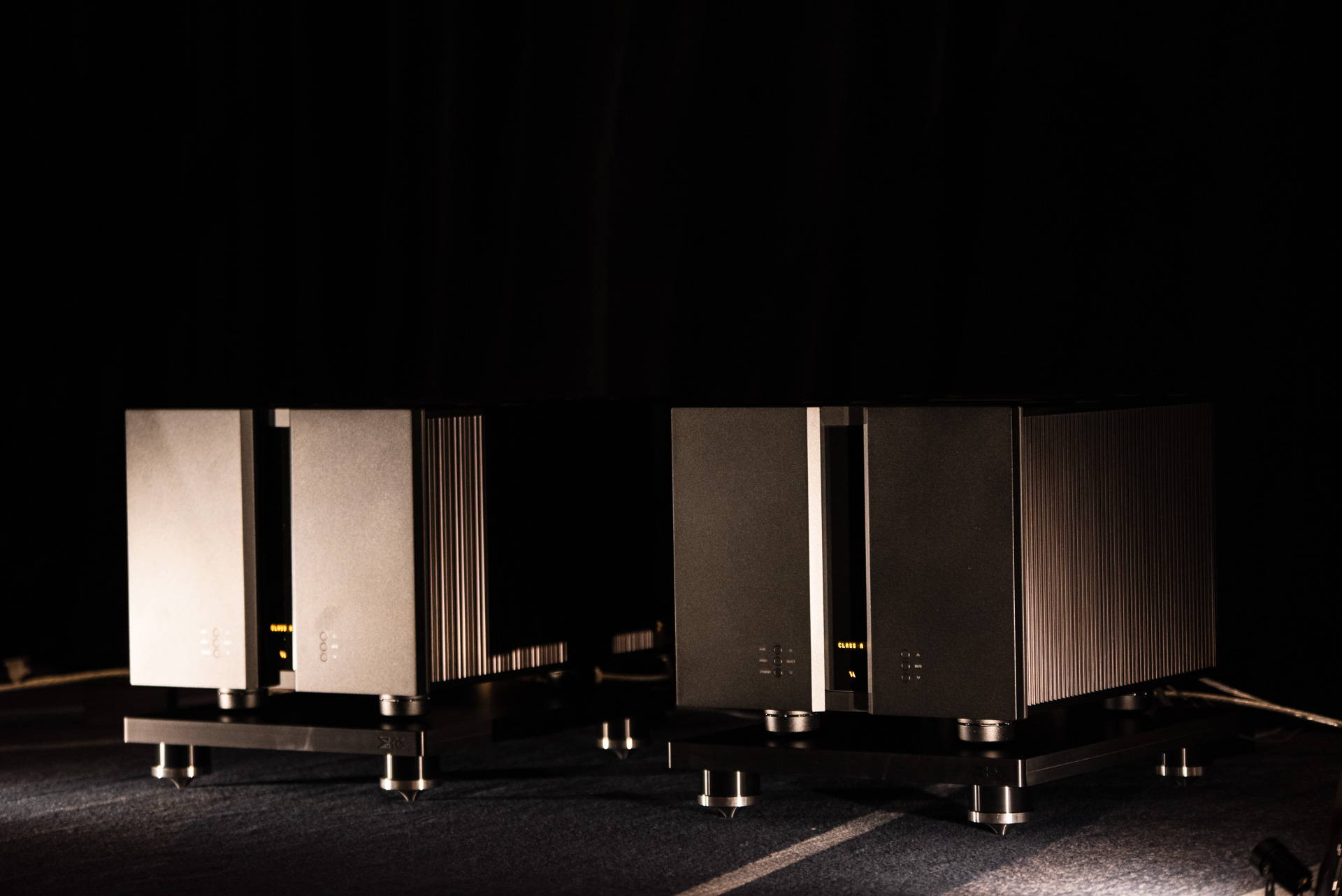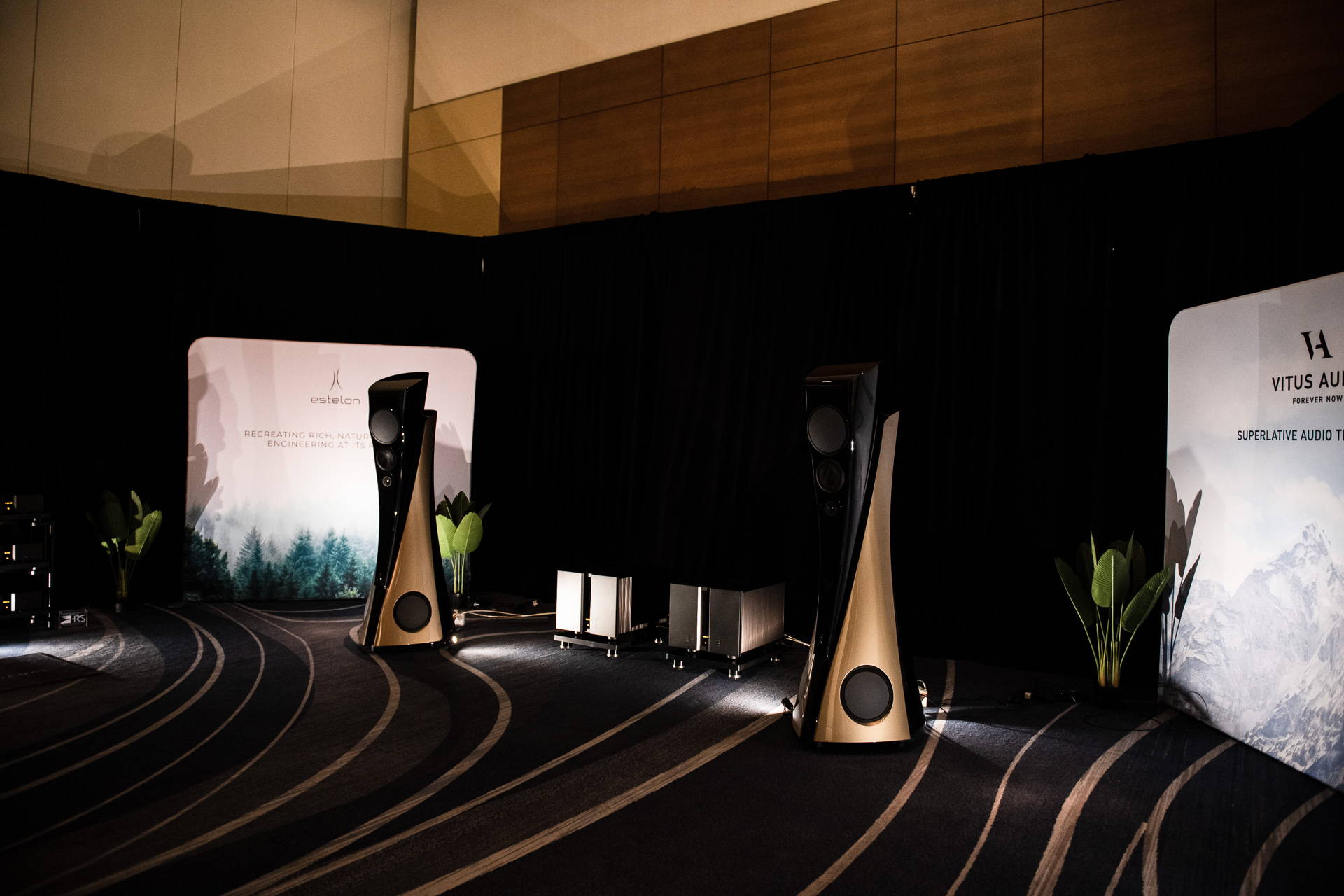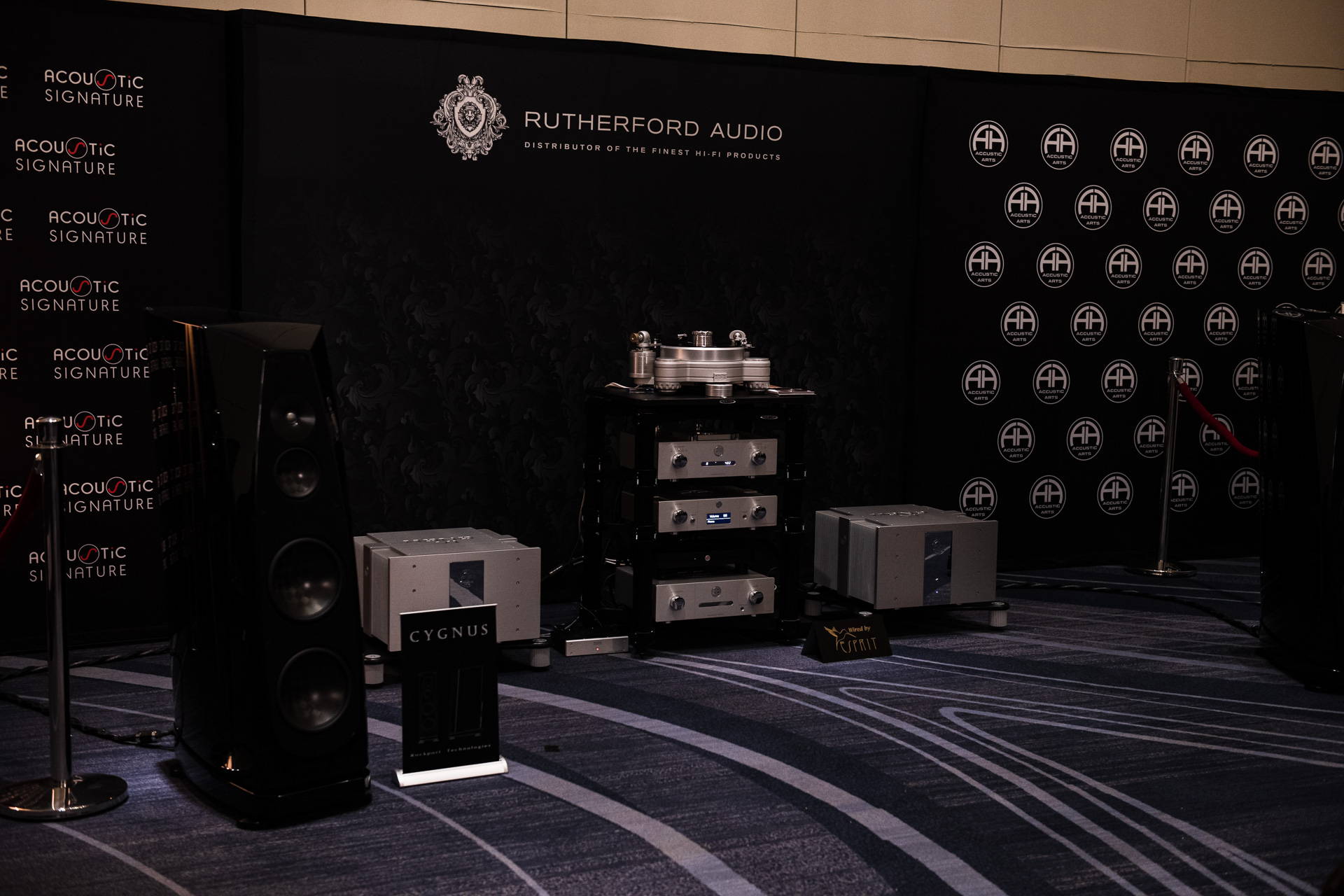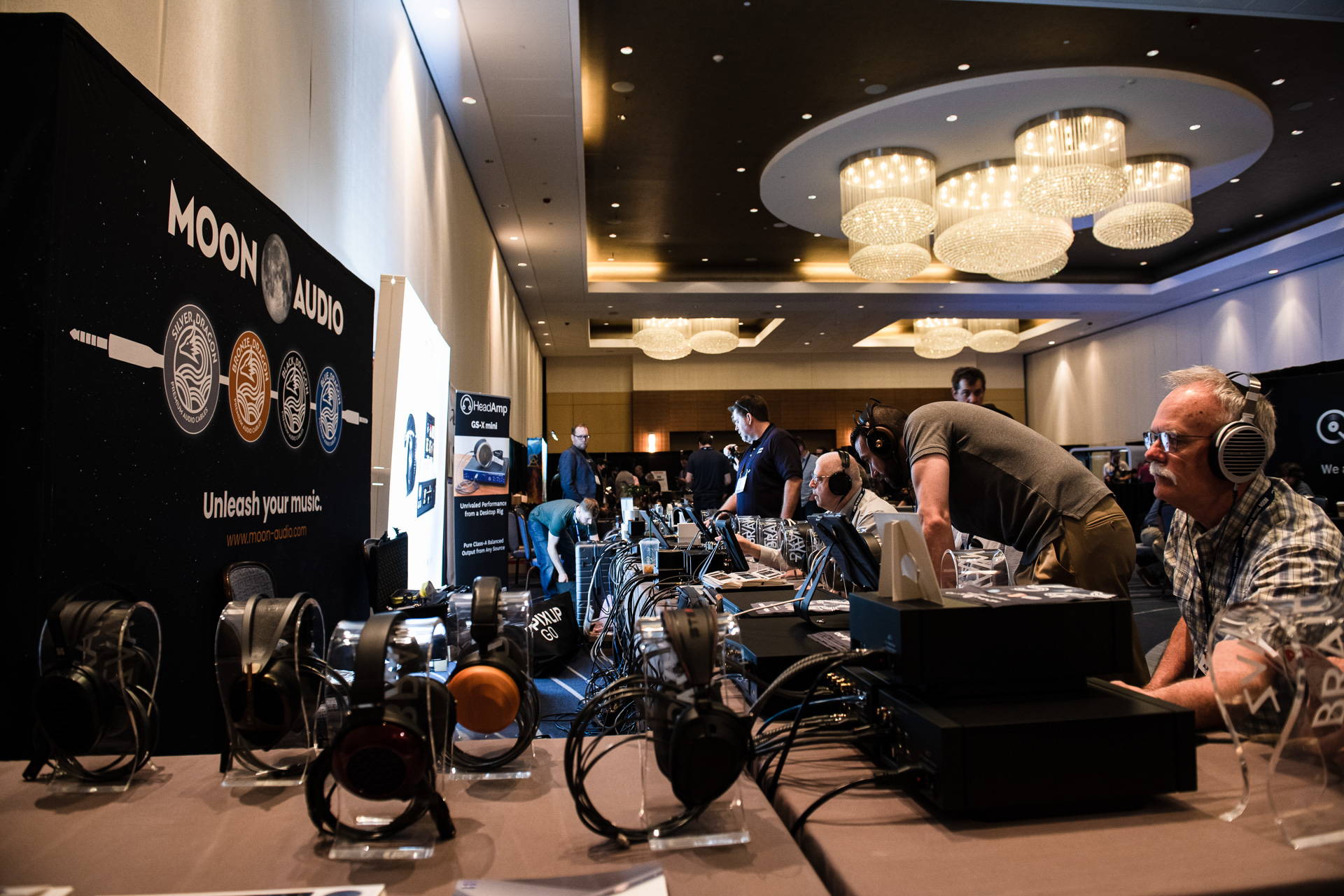 ---
SATURDAY, April 15, 2023 - 10AM-6PM - AXPONA DAY 2
Good morning! Day 2 has begun here at AXPONA 2023 - and there are tons more to see at the largest audio show in the country. Here's our first update for the day:
Pass Labs: Had an absolute splendid time with Kent and Joe today in their room. It's a different experience than I've had elsewhere at the show so far. Pass Labs had on display their INT-60 and INT-25. Joe gave us the rundown on the INT-25, and it's a great starting point for audiophiles to add to their systems. It's one of the best solid state integrated amps on the market, and a popular seller at Moon Audio. If you're looking for a sub-$10K amp, look no further.
The INT-60 was set up in their speaker room, and it was the only new piece of gear in the setup. It was an intentional move too, and Kent had a great explanation why. Axpona is a special place for music lovers. You can go into a dozen rooms and hear something completely new and earth shattering over and over again. Hear songs for the first time like never before. It's an amazing experience for sure, and something you can't find or hear anywhere else. The problem with that is that these systems are completely unattainable for most people too. Kent wanted to offer something acheiveable to the common audiophile. You can have older audio gear and with the right power and setup make it a great-sounding system. It offers you an upgrade path, and that's half the fun of being an audiophile. We all start somewhere, and starting with a solid power amp like the INT series from Pass Labs is an easy step number one. I left feeling excited in a way I hadn't in previous listening rooms. It was a sense of hope that I too can achieve a great sounding system without having to sell my first-born or a kidney. Pass Labs is offering hope here at Axpona.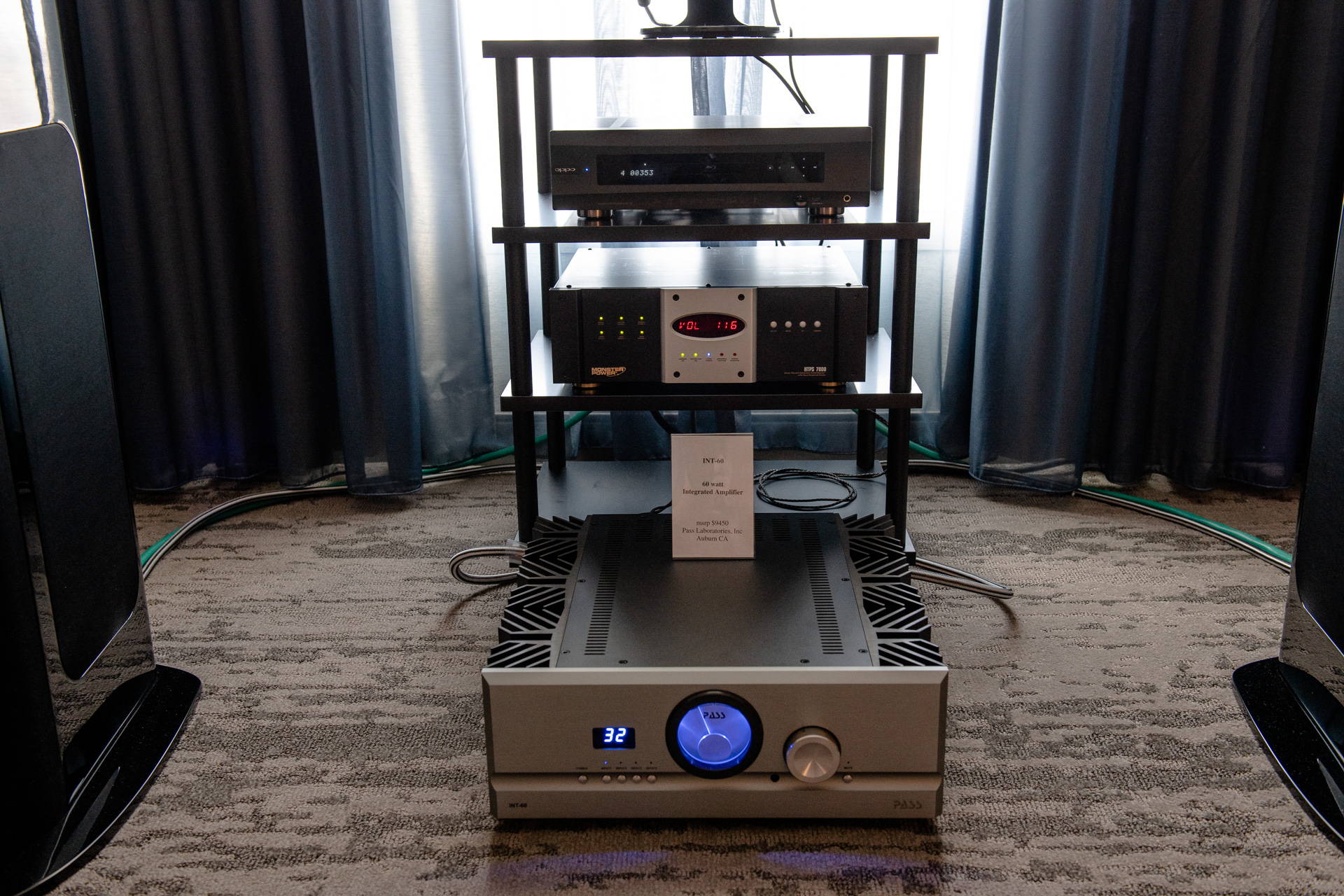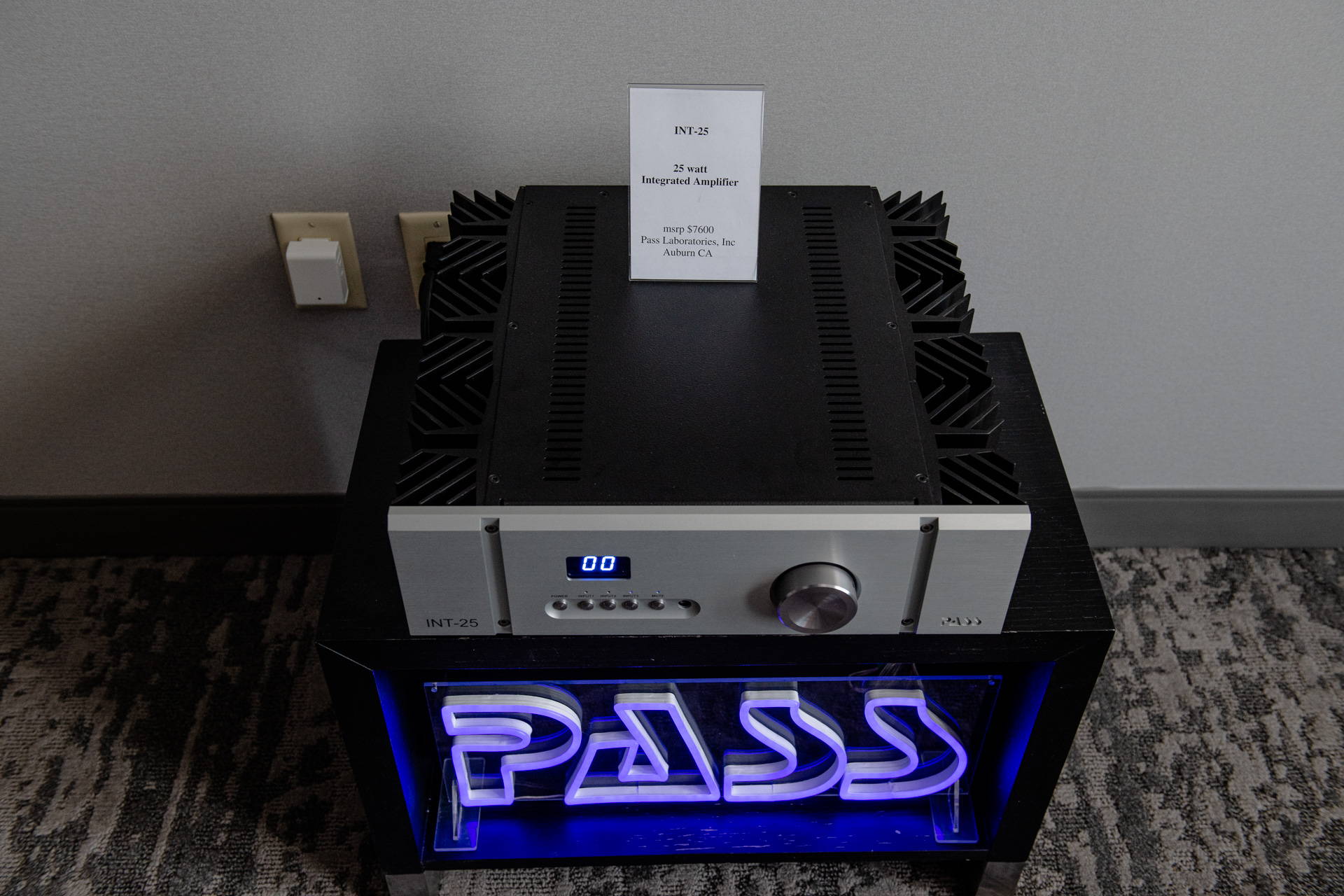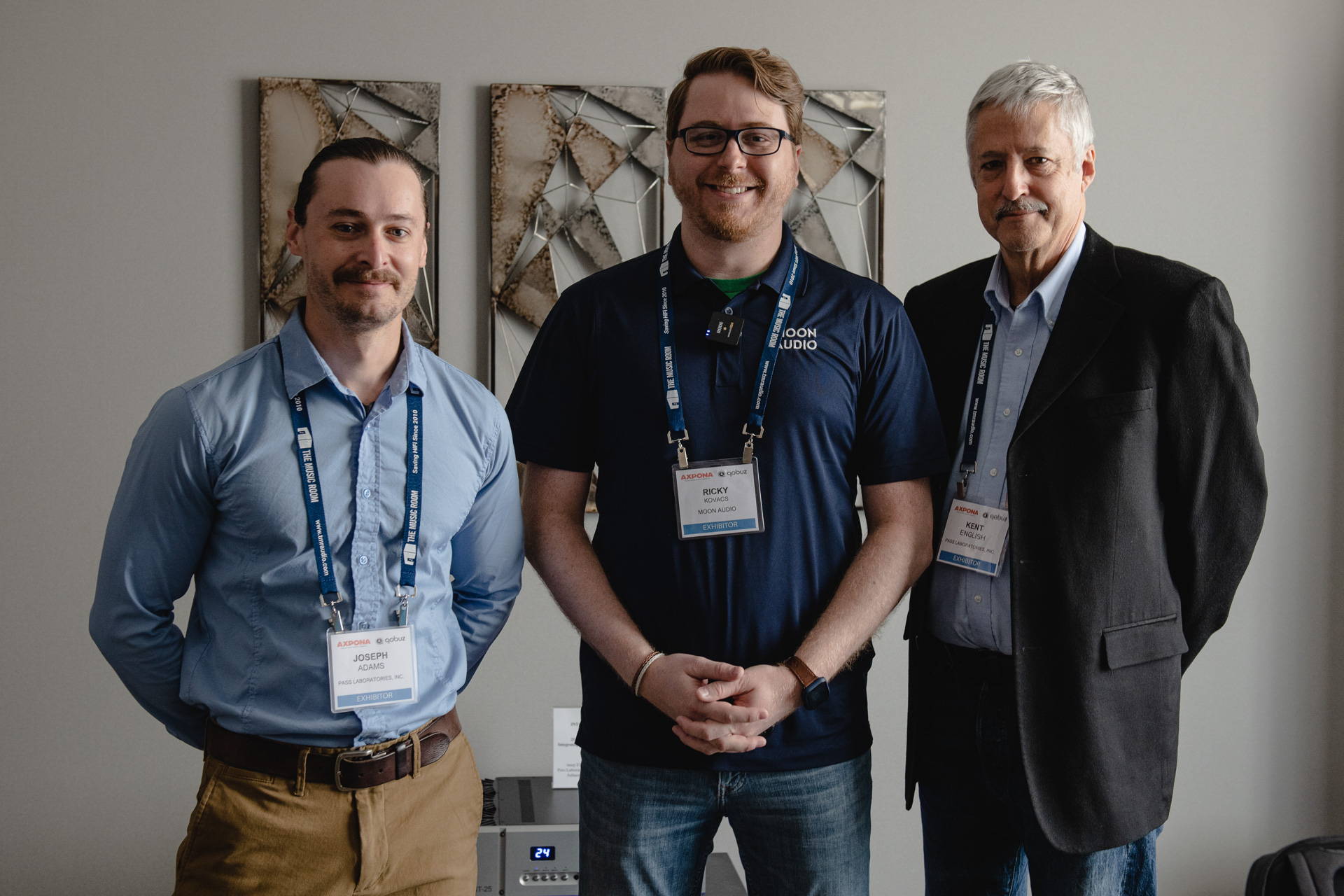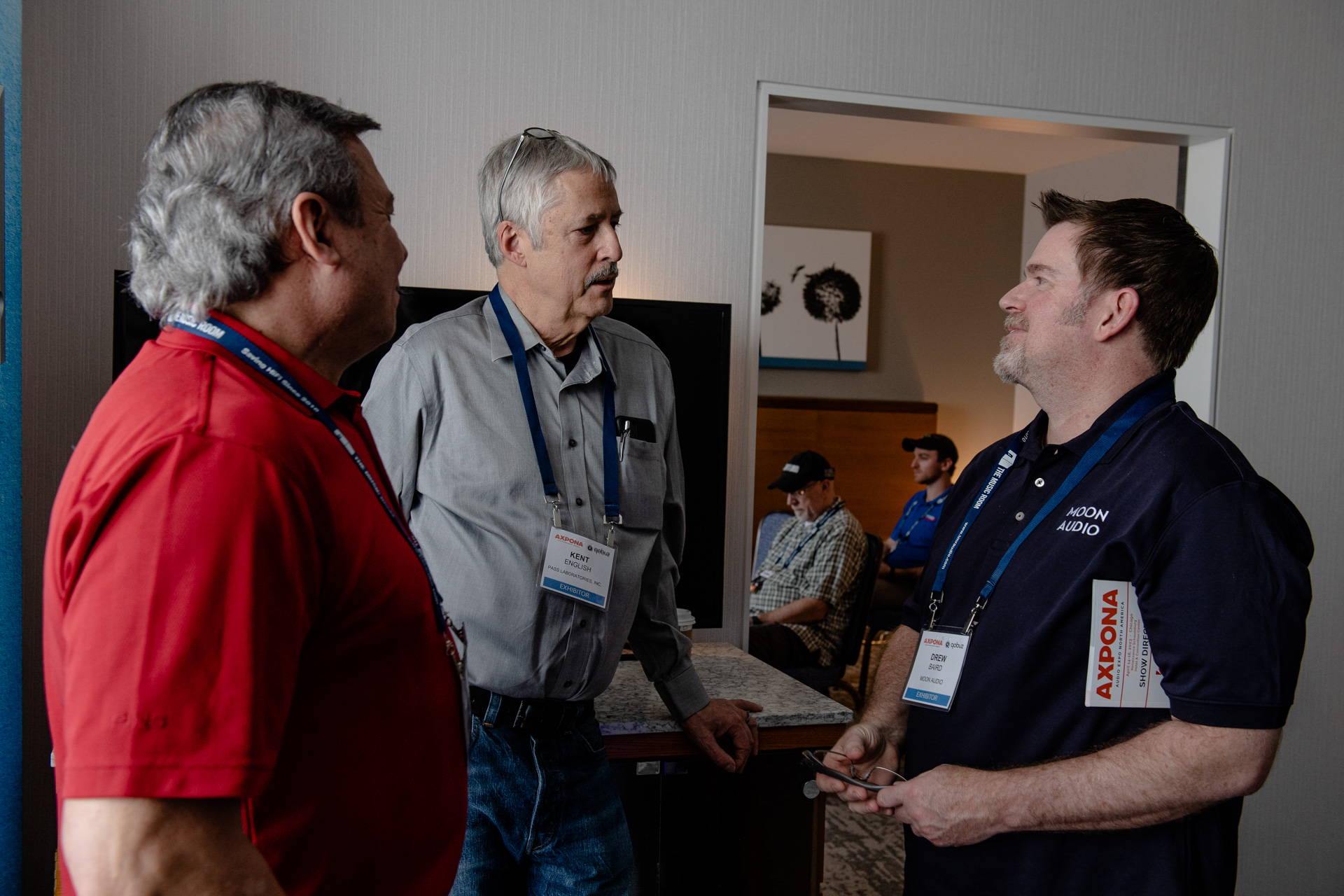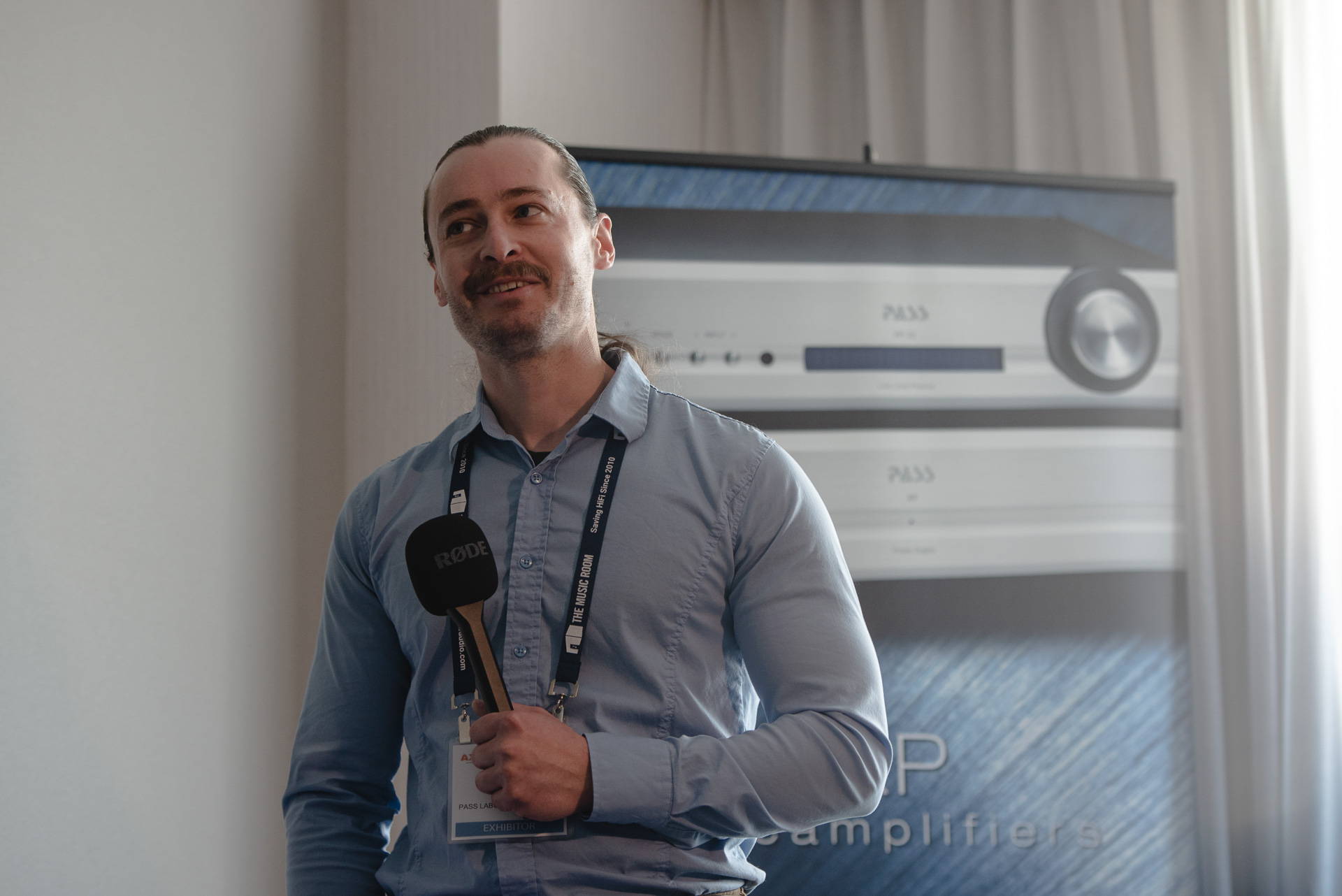 Warwick Acoustics- I had the distinct pleasure of talking with Martin at Warwick who has an equally strong passion for deep-sea diving as he does for high-end audio. They're across the room here from us in the Ear Gear Experience, and they came equipped with their private soundbooth for their flagship Aperio headphone system. It's a great setup, because after all, the last place you want to listen to your high-end open-back electrostatic system is in a loud ballroom full of people. The Aperio is the definition of getting what you pay for, and the Martin walked us through all the basics in our video with him. Look for it to go live in a bit. If you're looking for a superb all-in-one headphone system that redefines end-game sound, then be sure to check out the Aperio from Warwick Acoustics.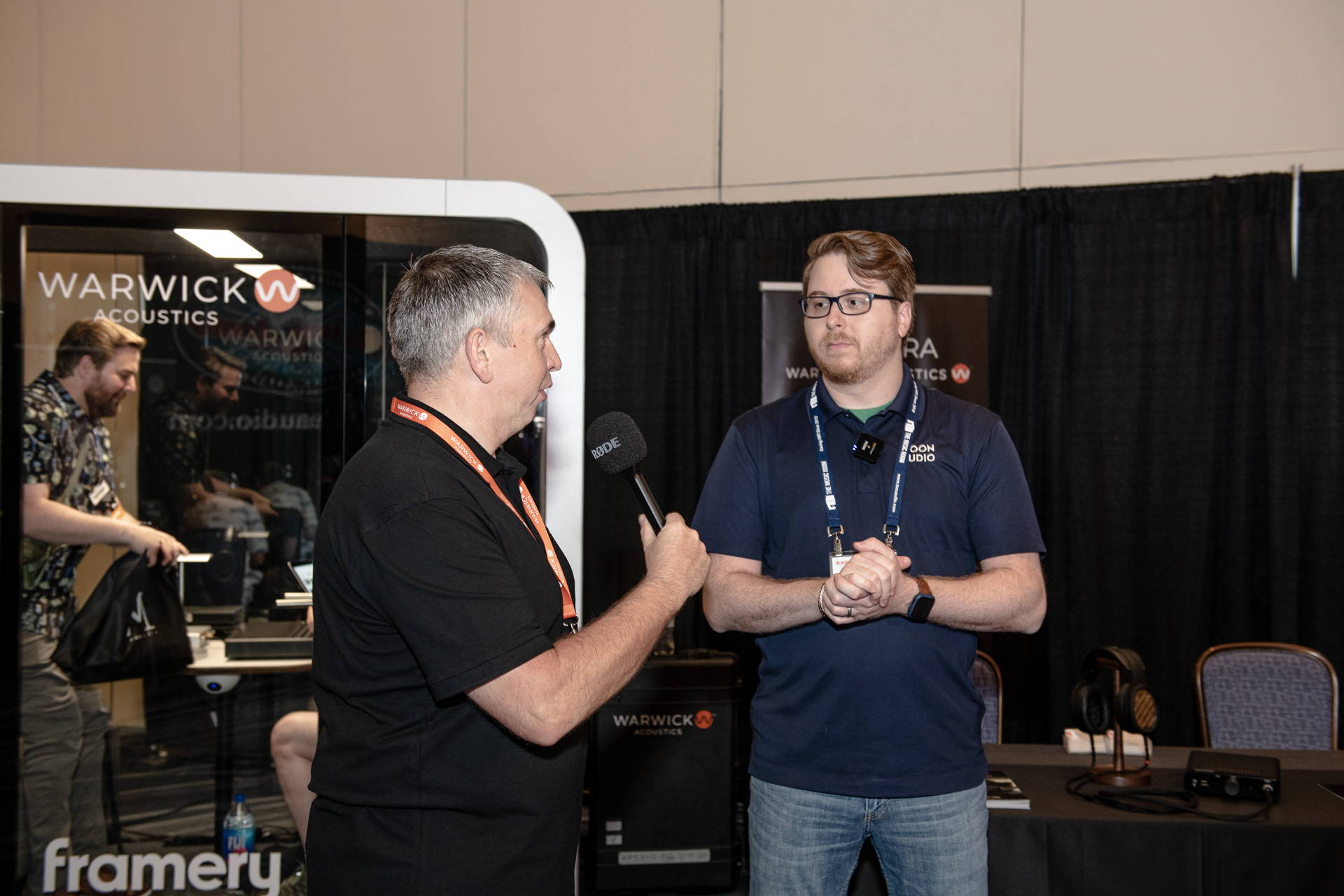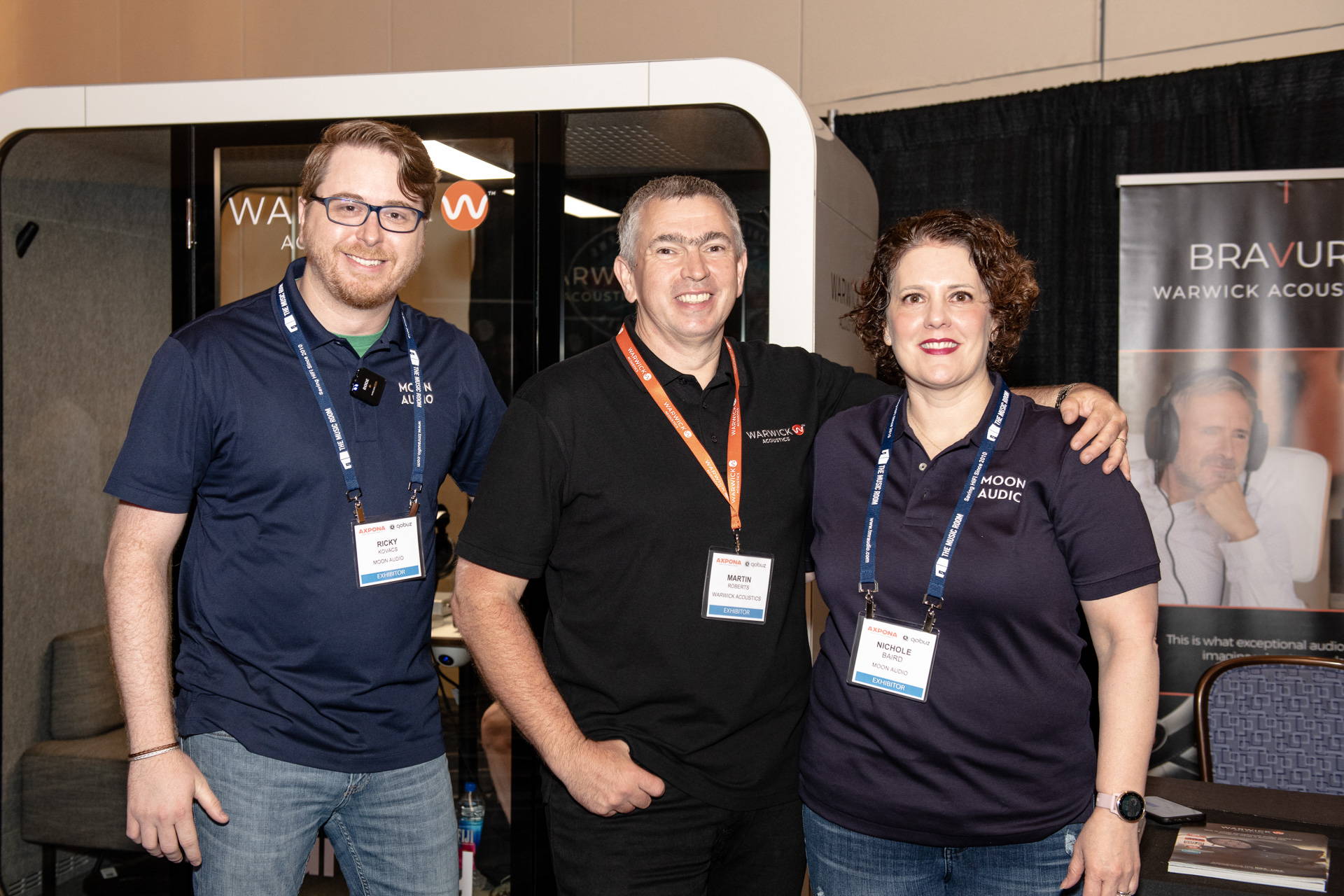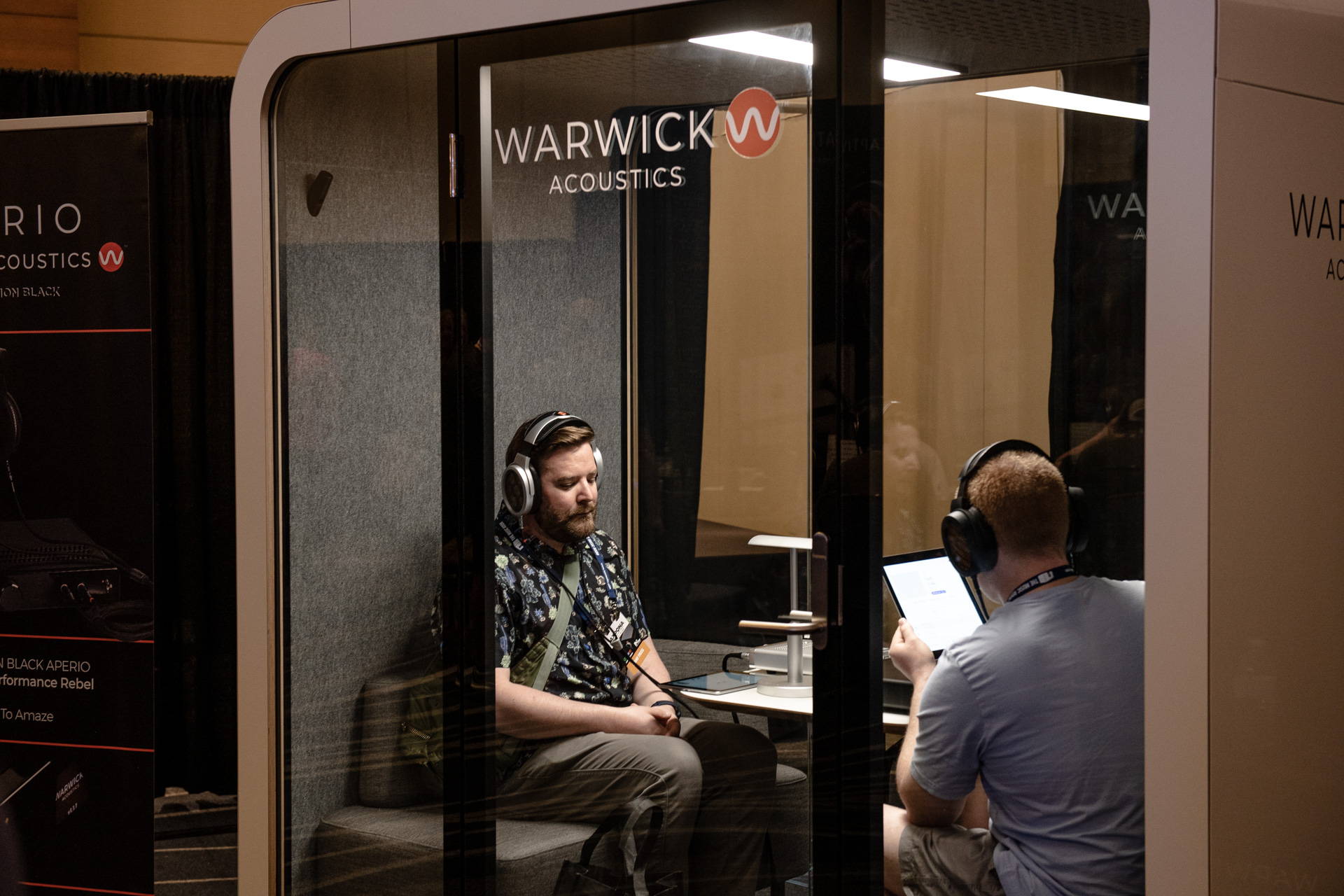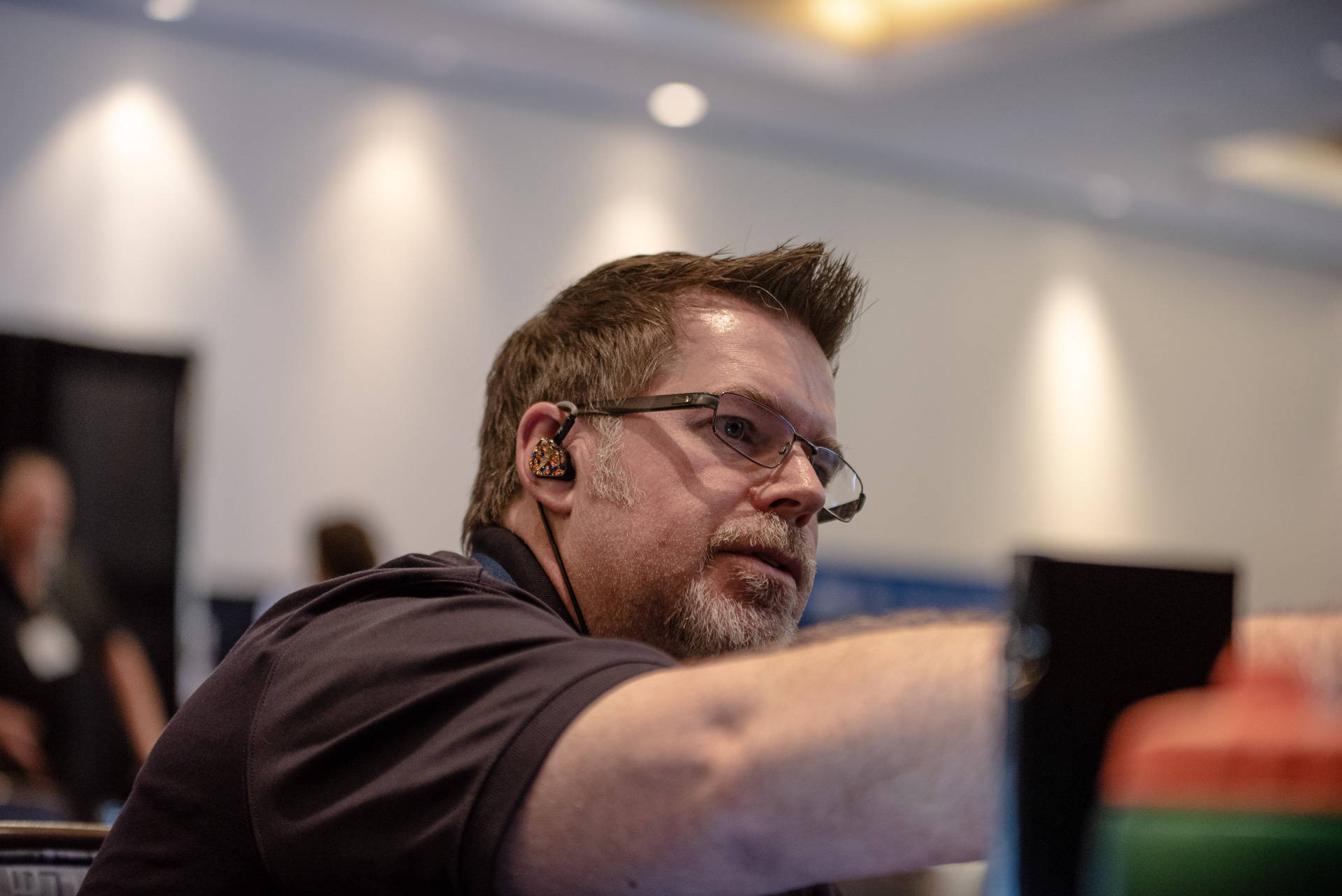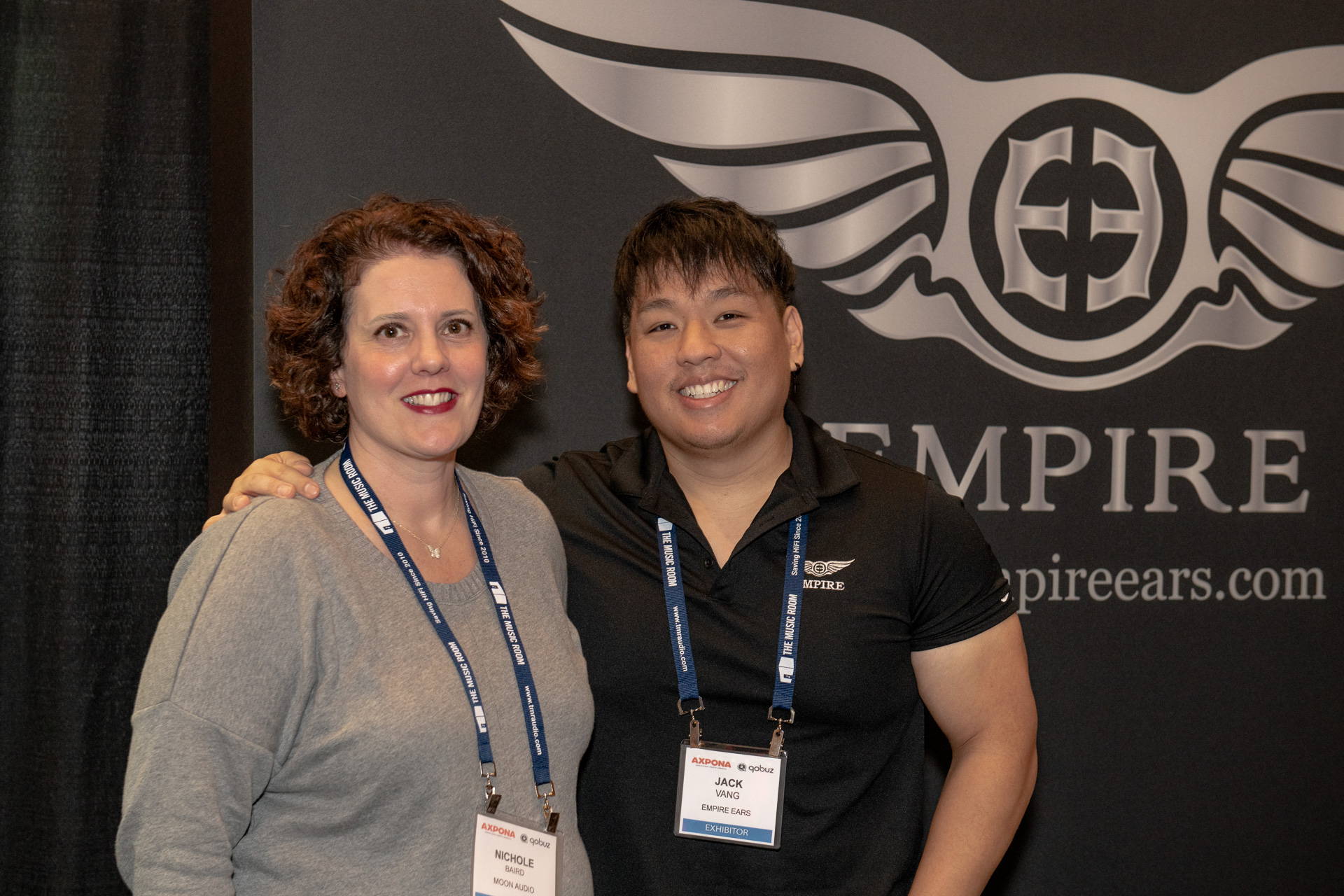 iFi Audio: Rick gave us a rundown of the iFi lineup - a lot of our favorites: the hipDAC 2, GO Blu, Go Bar, Gryphon, Diablo, Zen Stream, Neo and more. We're big fans of the brand because they represent a great value - big gains in sound quality for amazing price points. The Gryphon is still one of my favorite adiophile products on the market. The new thing is iFi's newly announced GO Pod - a wearable HD Bluetooth DAC/Headphone Amp. It's a lot like the Fostex TM2, allowing you to plug in wired IEMS or a wireless solution. You'll get about 7 hours of battery life on a single charge, and the case offers another 30 hours of charge. It has a fully balanced output, capable of 96kHz/24bit. The GO Pod comes with a built-in mic and compatible with voice calls and commands. They're waterproof as well. It's a great package, and the fact that they're compatible with your favorite IEMs makes it that much better!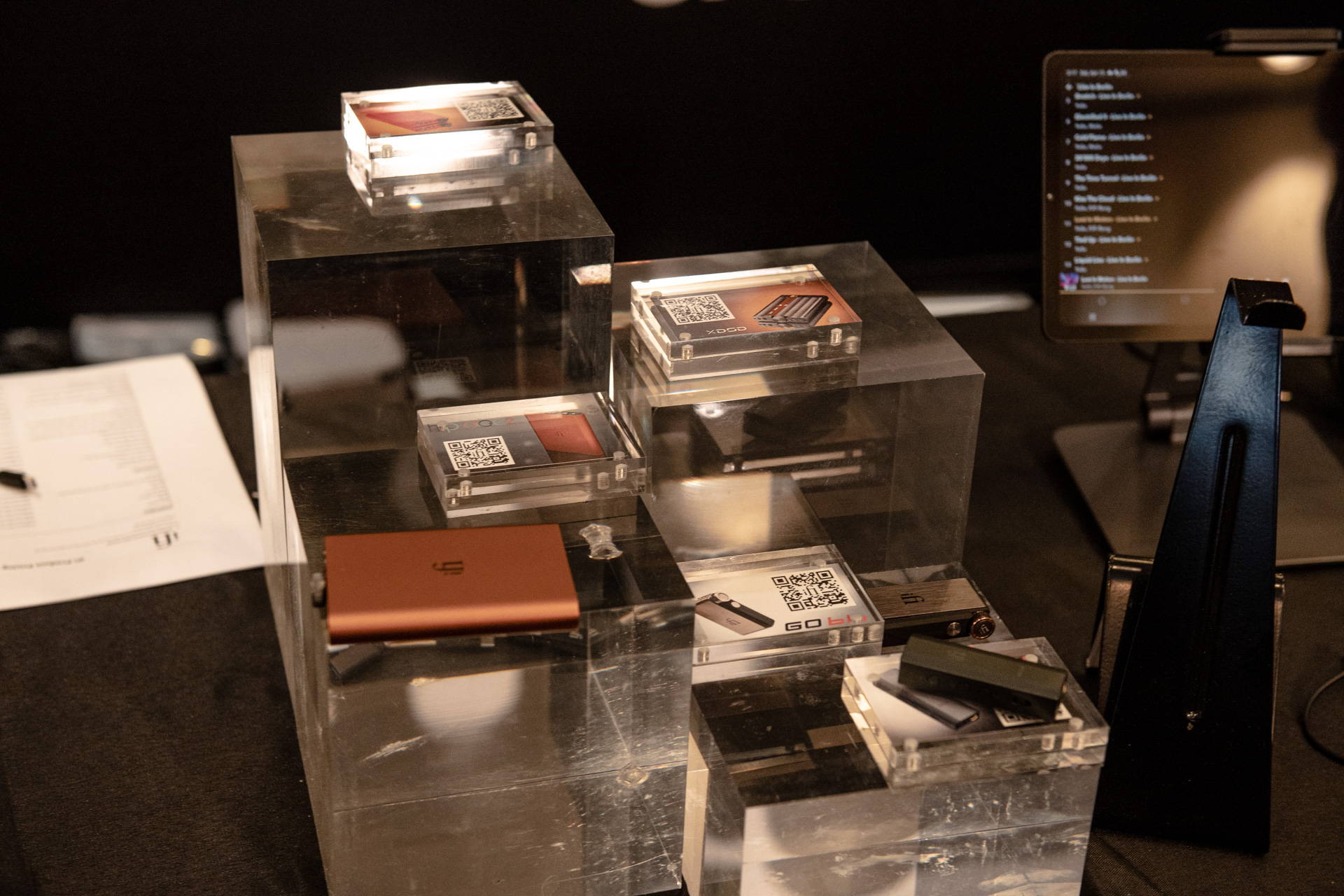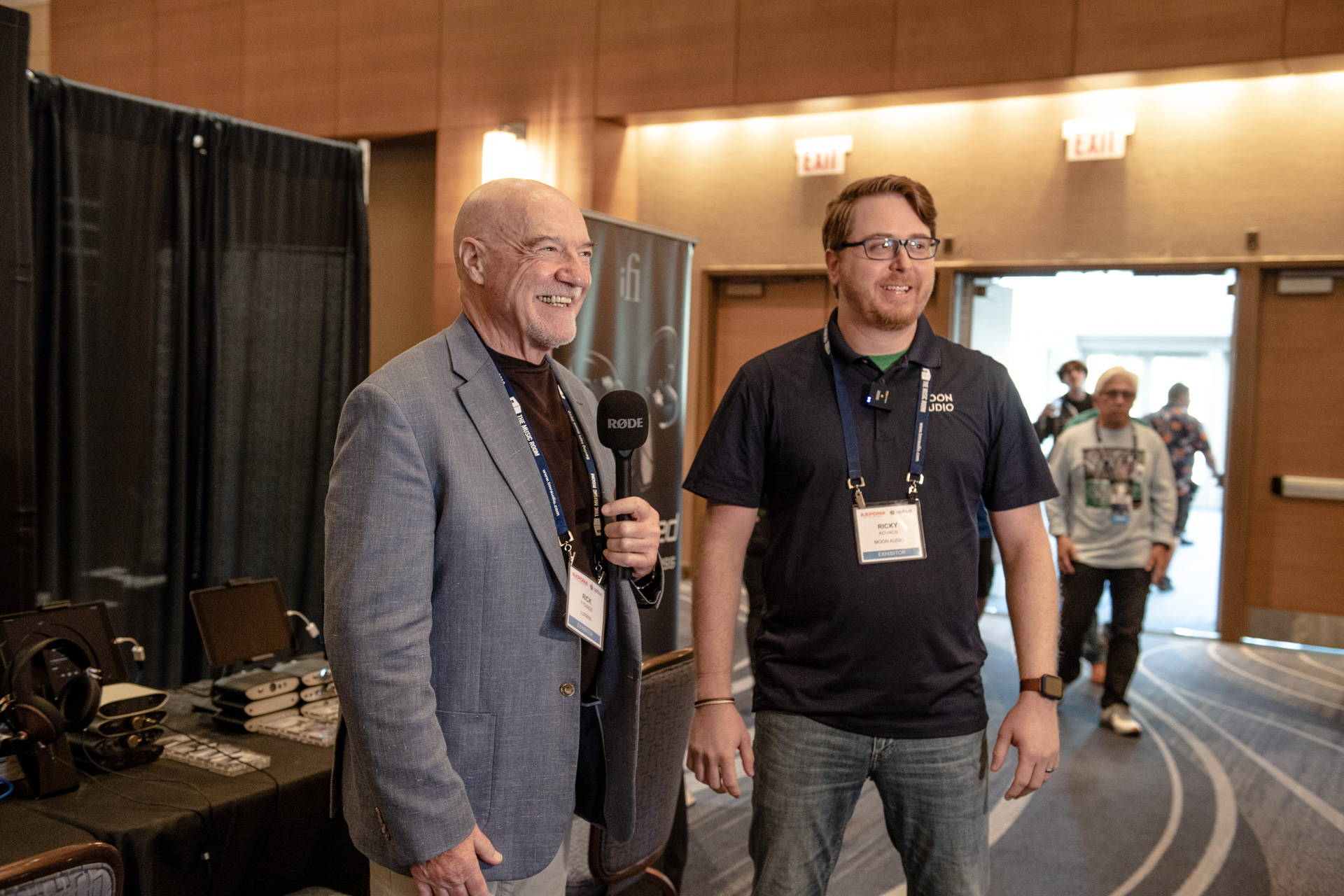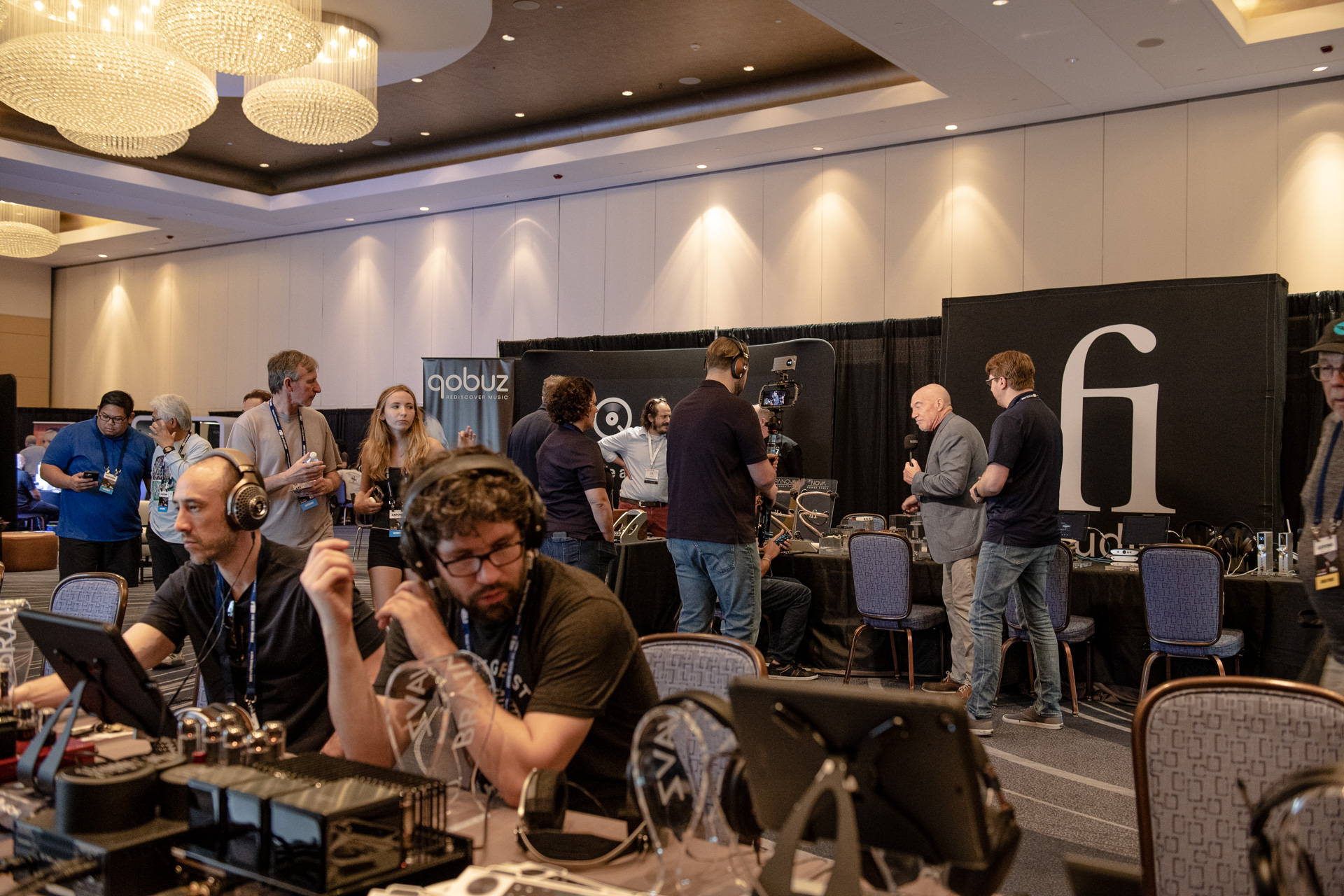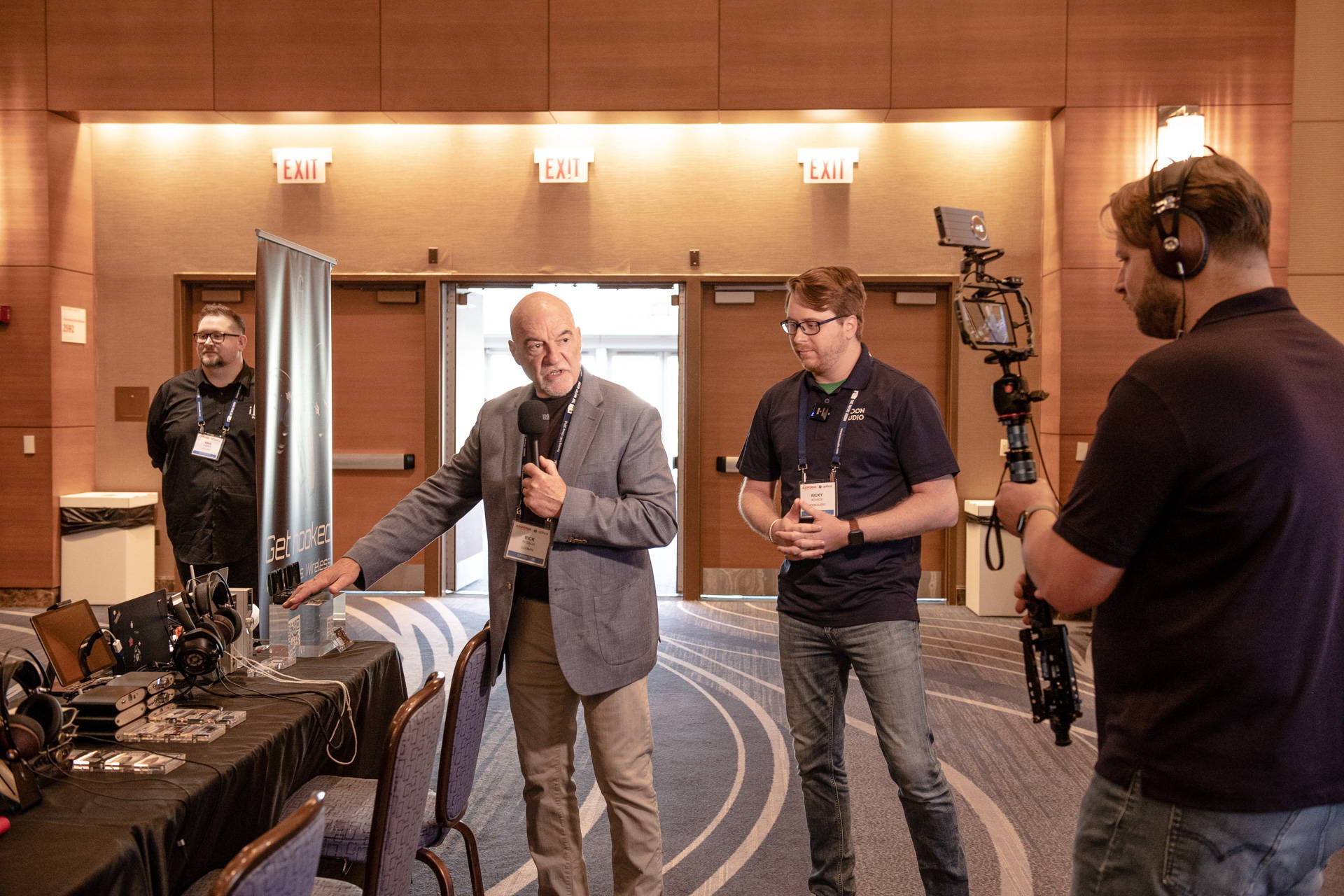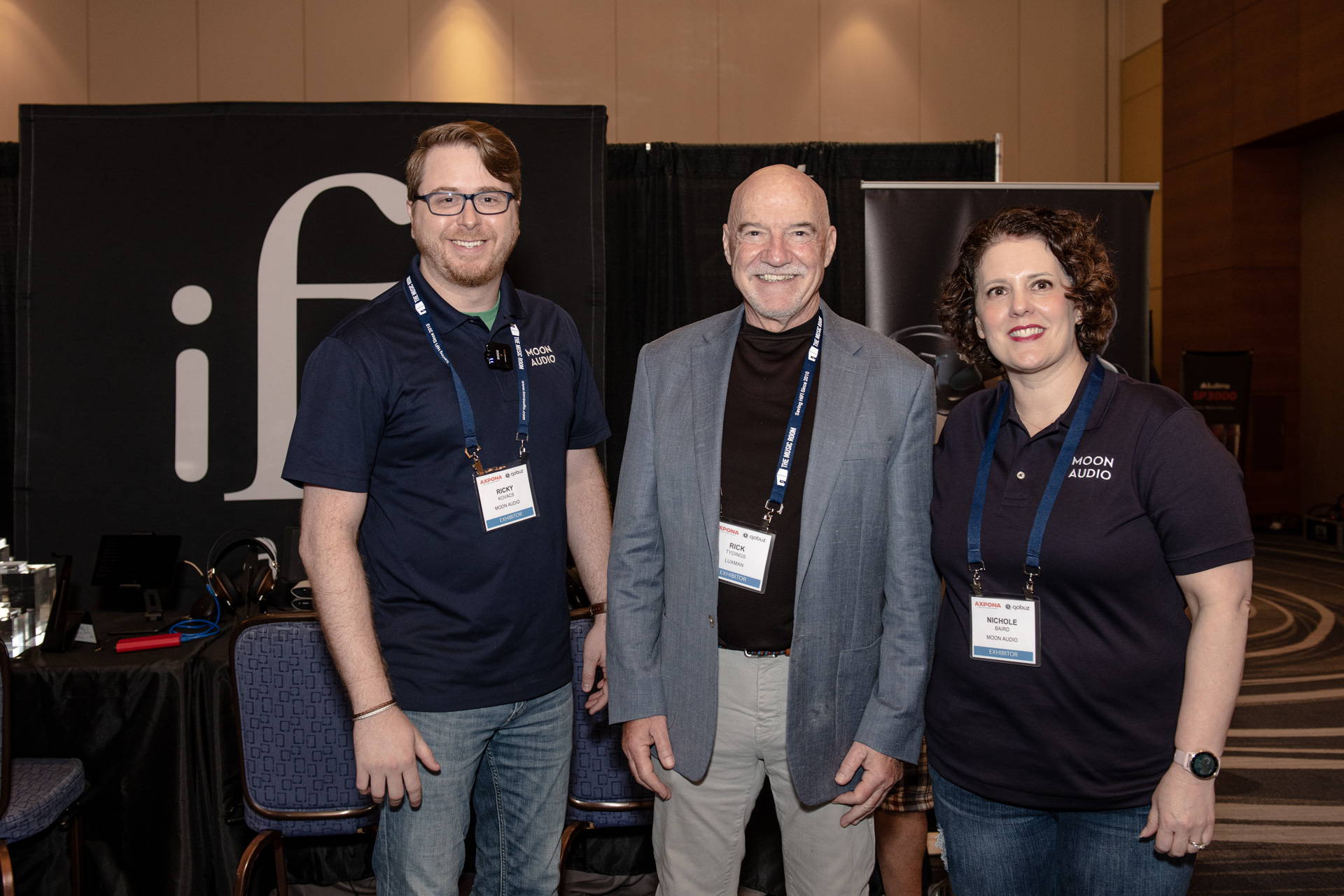 Meze Audio: So I might have fanboy-ed too hard when I got to the Meze table. Alex and Alexandra made the 12 hour flight from Romania to join us at Axpona! They were more than happy to give us a walkthough of their entire headphone lineup which they had available for people to try out: 99 Classics, 109 Pro, Liric, Empyrean, Elite, and the new Tungston finish of the Elite. The thing about Meze is that every headphone sounds amazing no matter the price point. Their overall aesthetic from their product photography, packaging, headphone design and sound is nothing but the most premium experience you can imagine. I have nothing but positive things to say about Meze's headphones and sound, so if you haven't had the pleasure of hearing some of the best sound quality the audiophile market has to offer, do yourself a favor and just get a pair of Meze headphones. I've yet to meet someone who doesn't appreciate what Meze Audio can do for your music. Check out our video where Alexandra talks us through their headphone lineup and the different signatures. Thank you Alexandra and Alex for taking time to talk with us and show our audience more of your amazing headphones!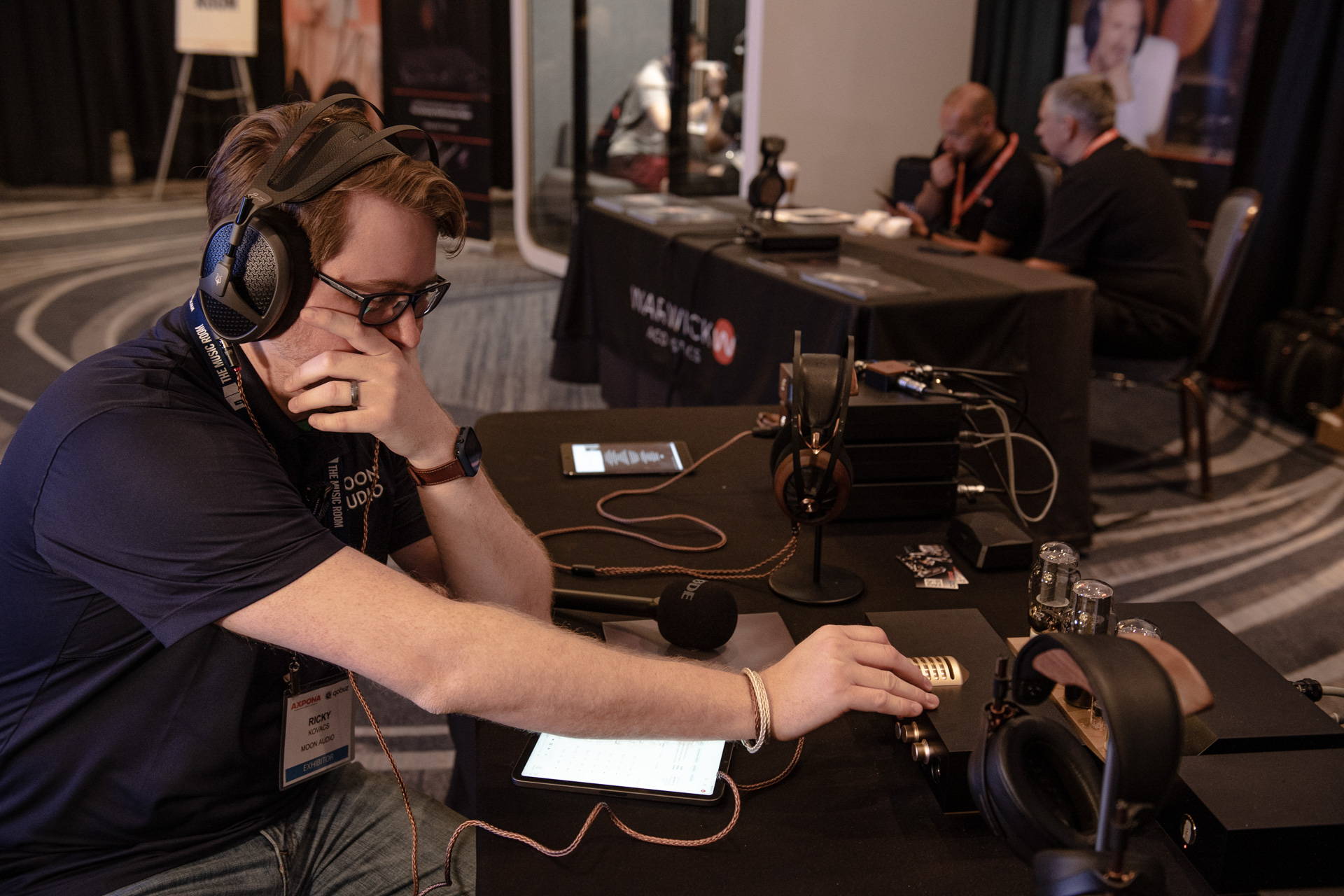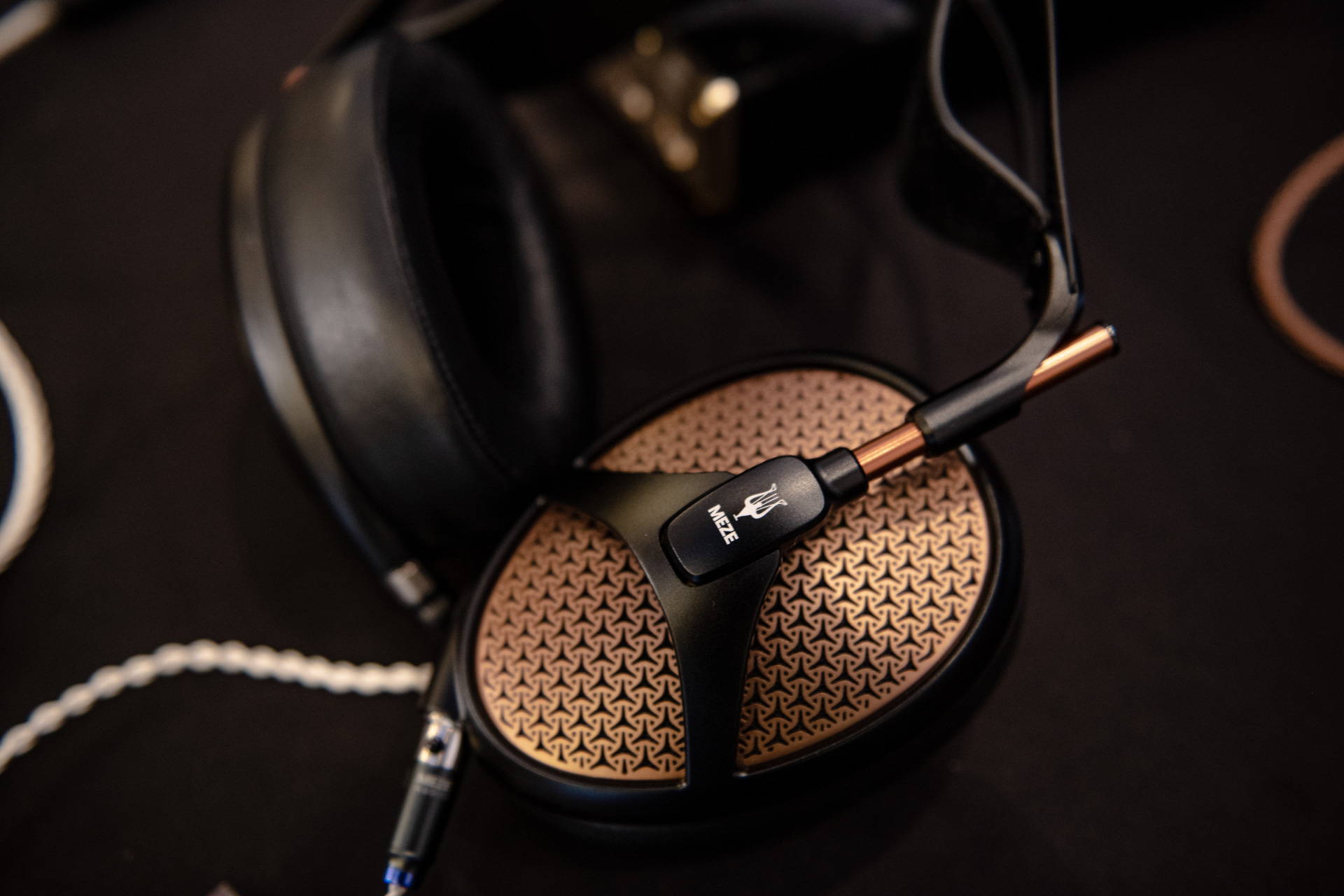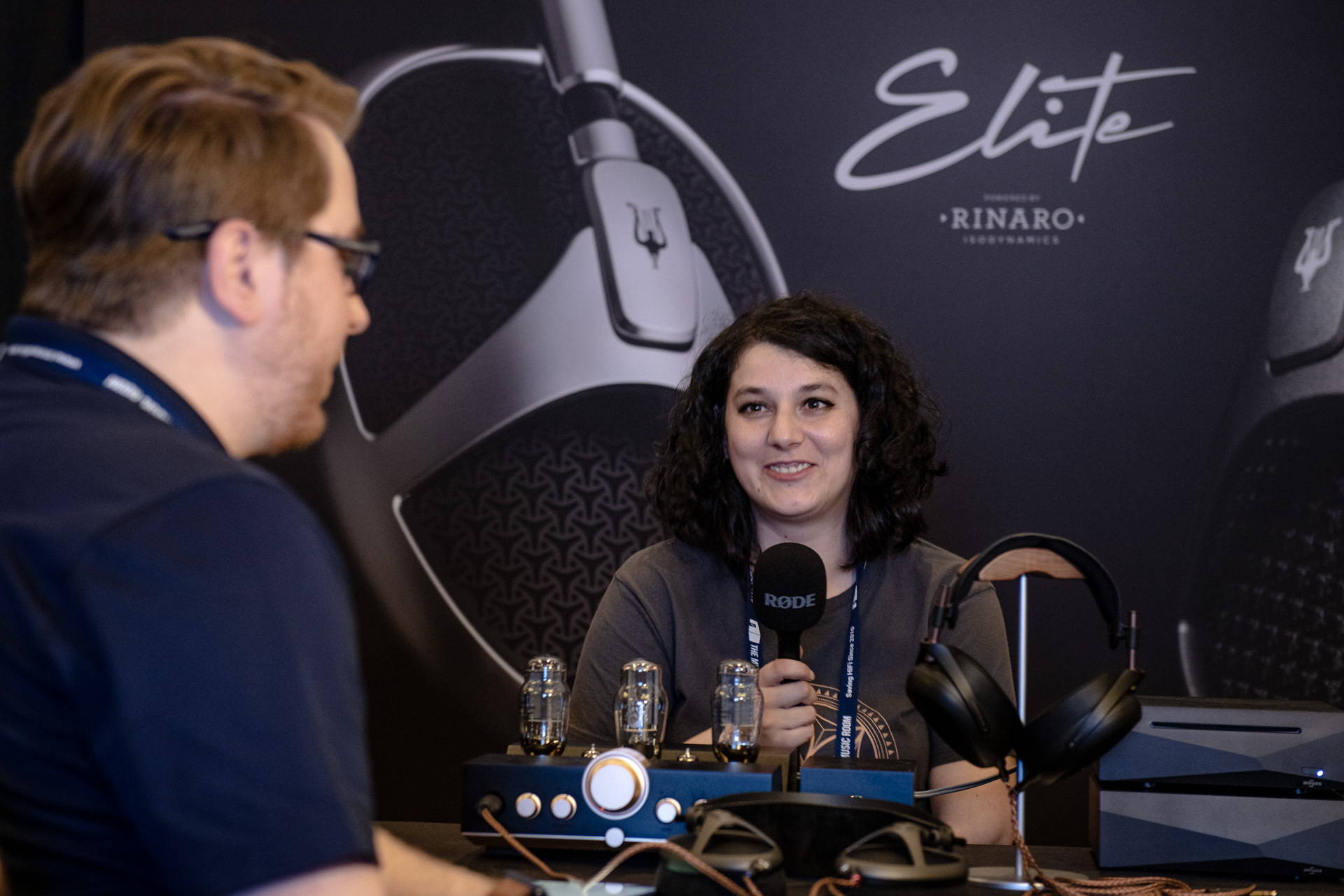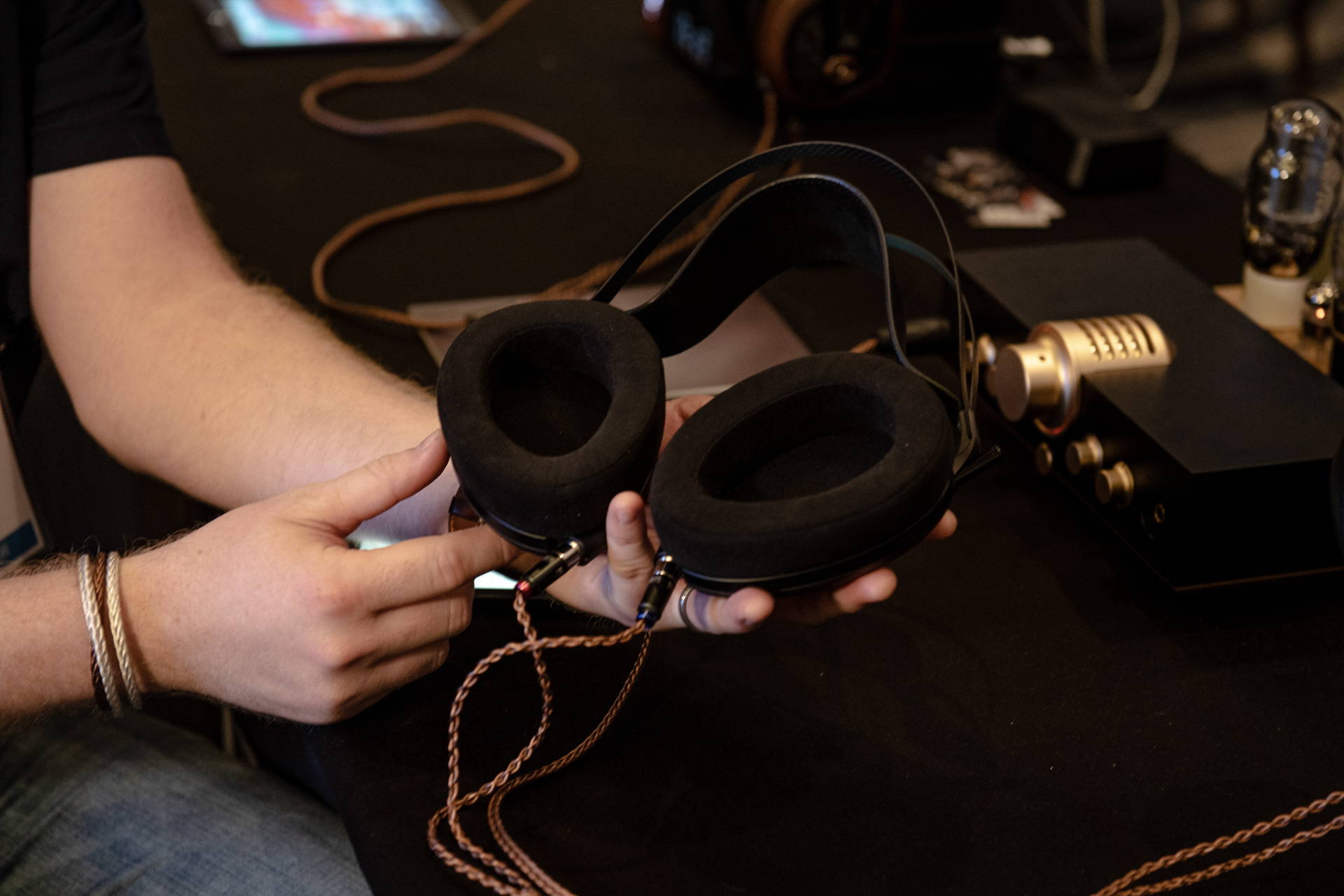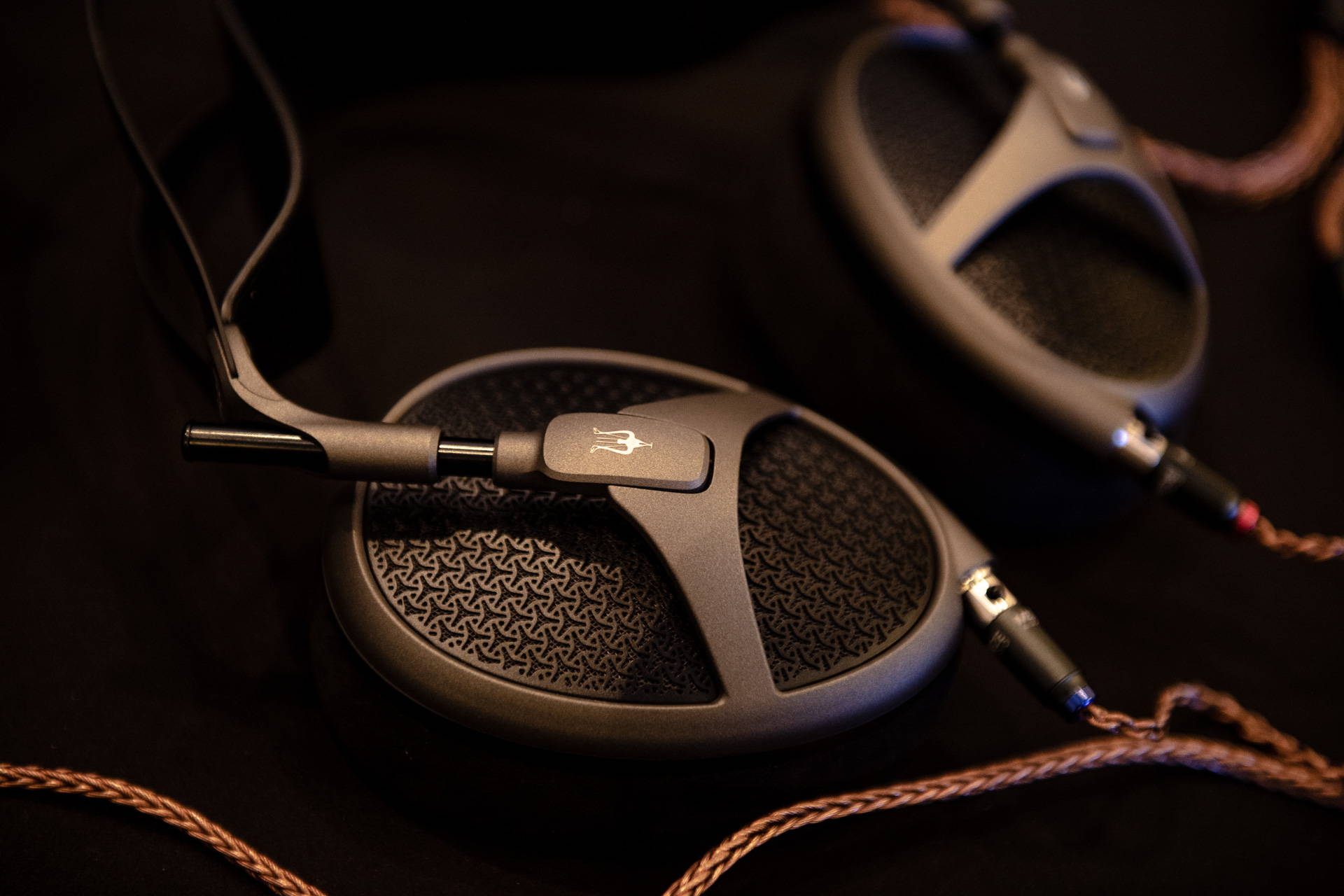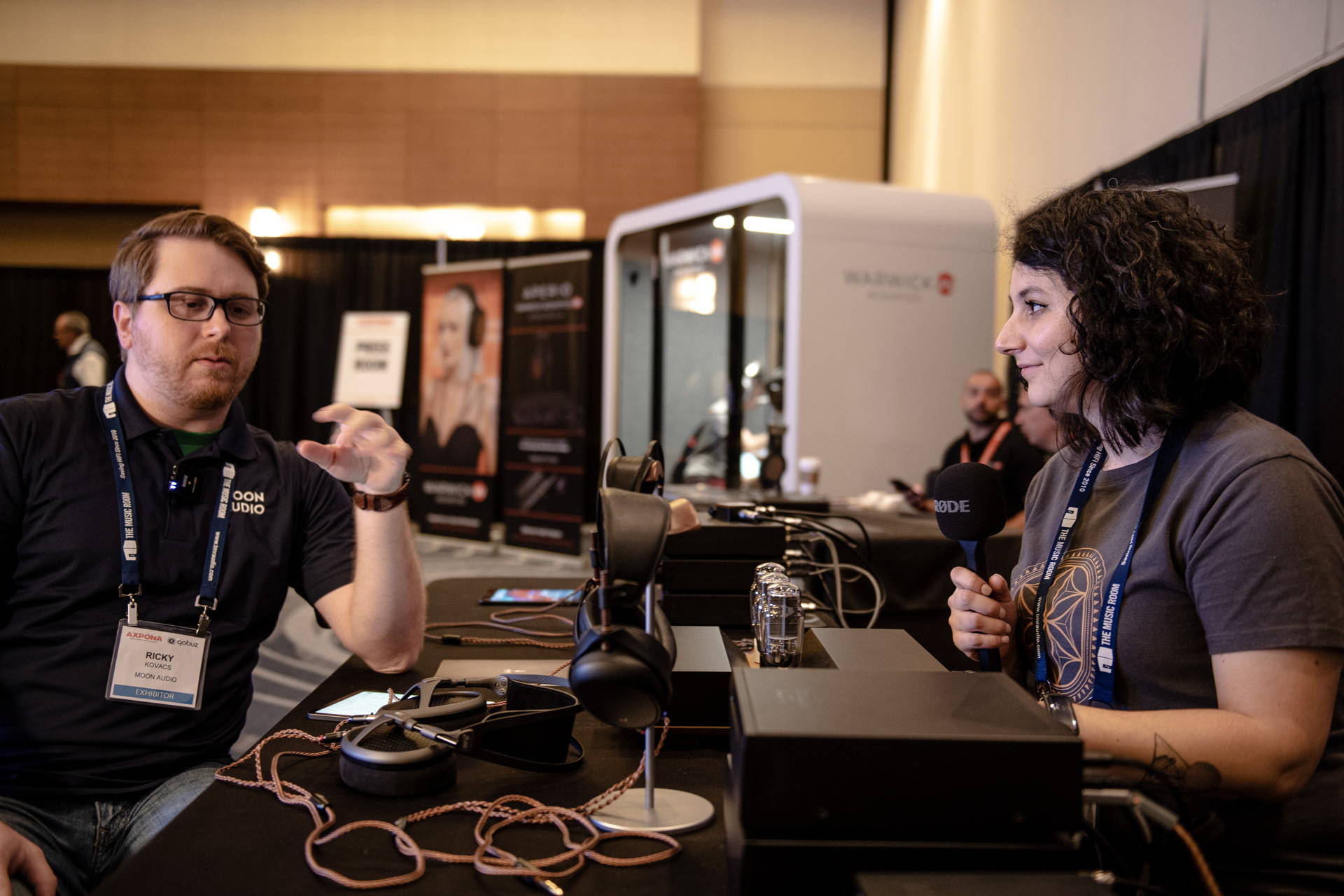 ---
SUNDAY, April 16, 2023 - 10AM-4PM - AXPONA DAY 3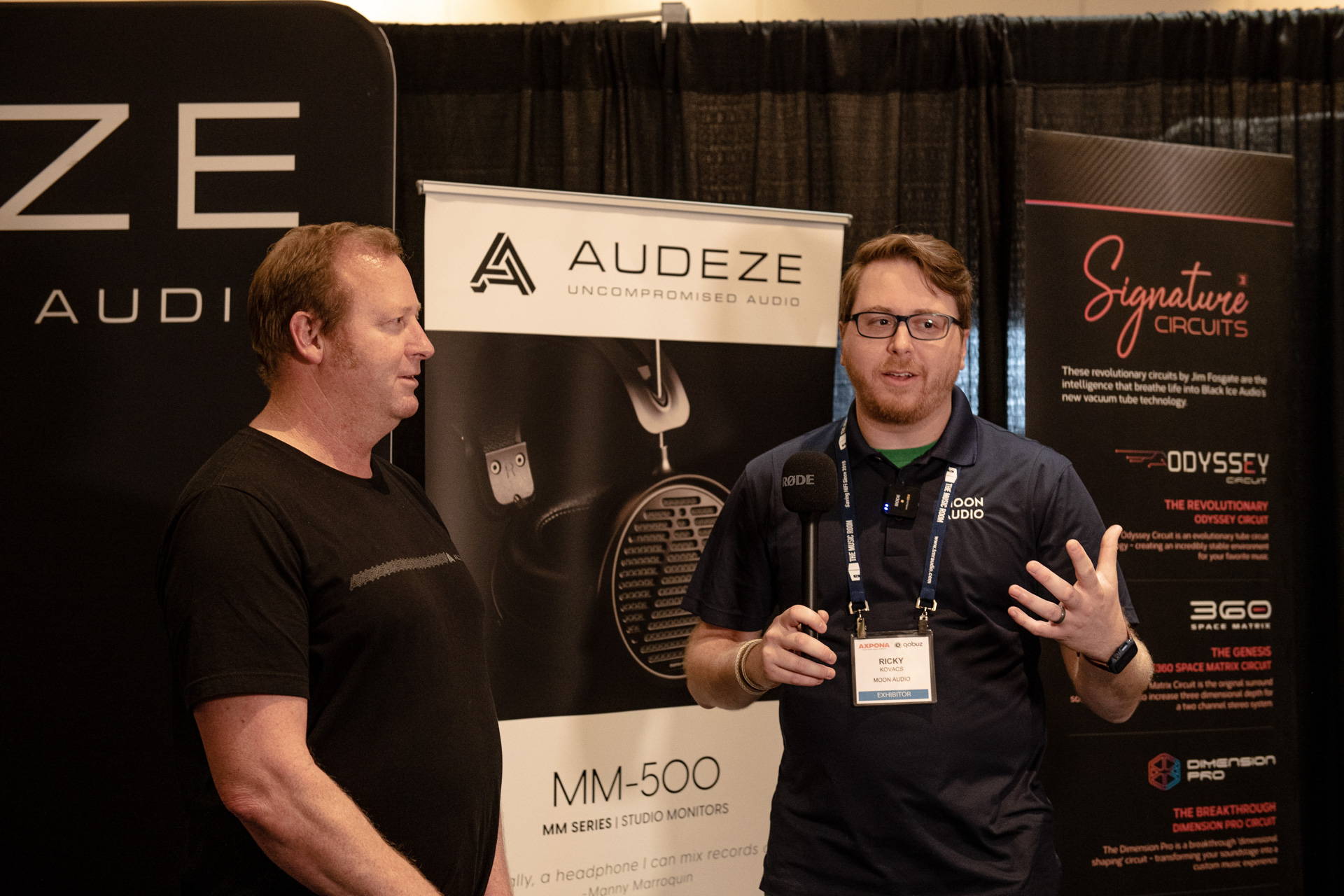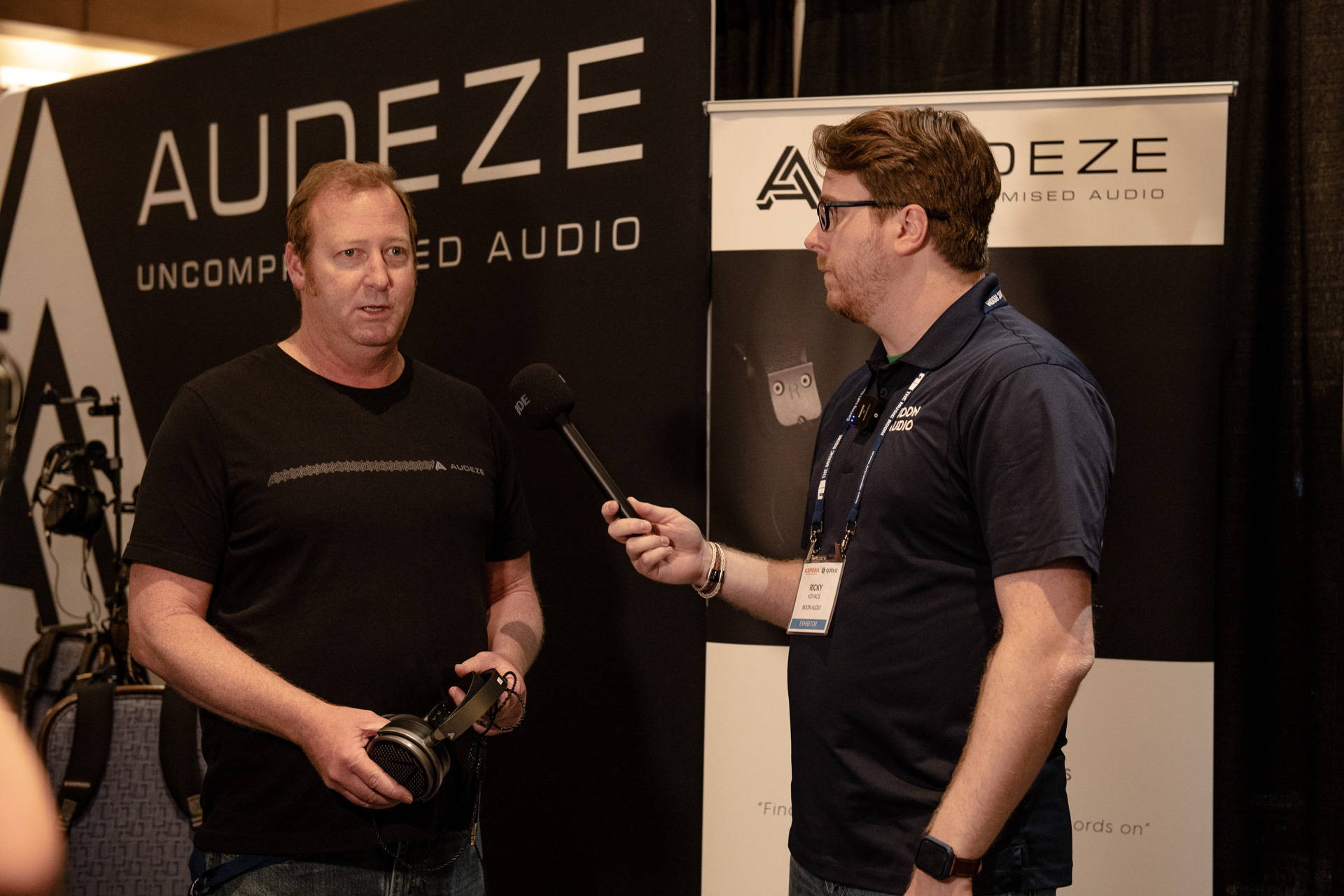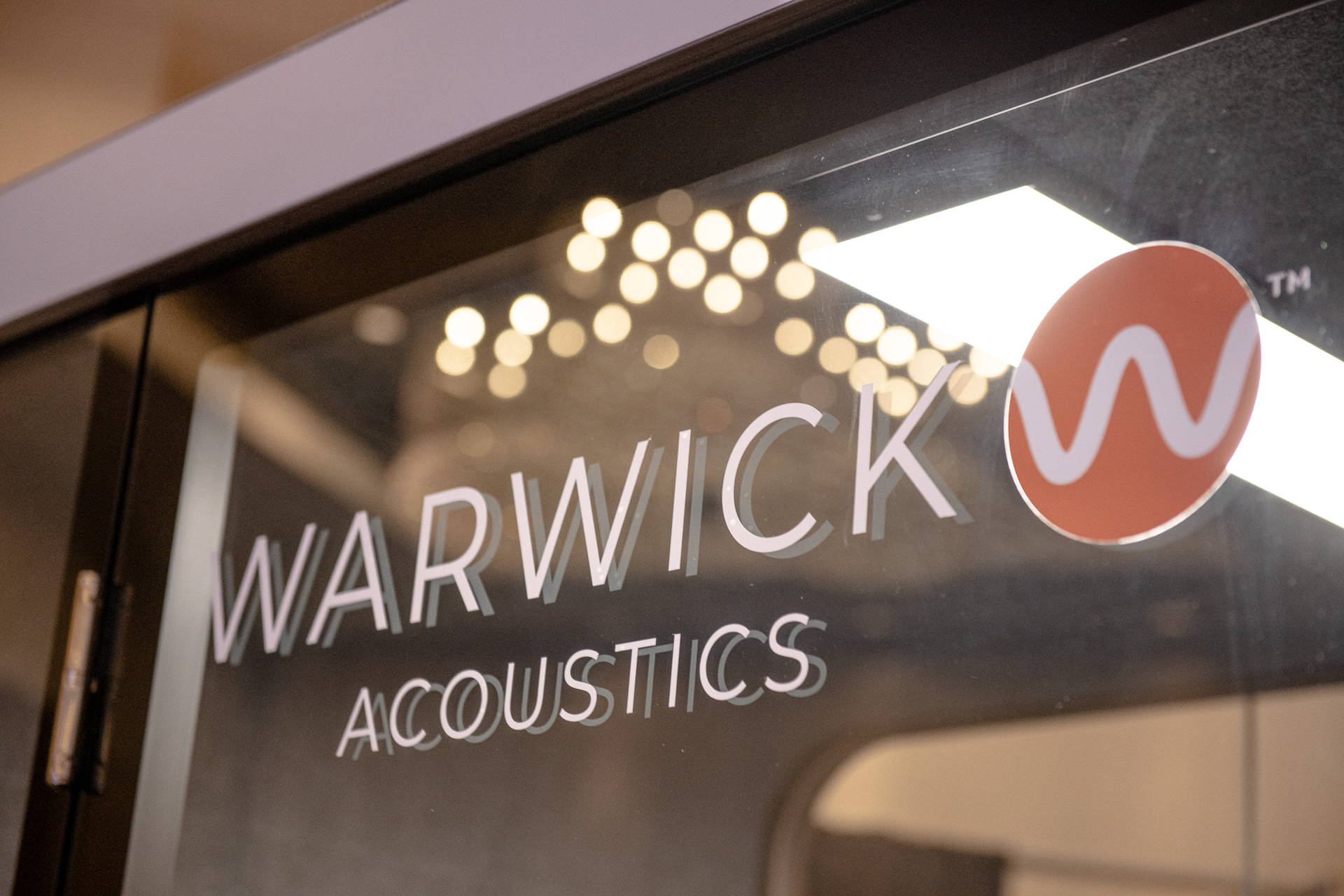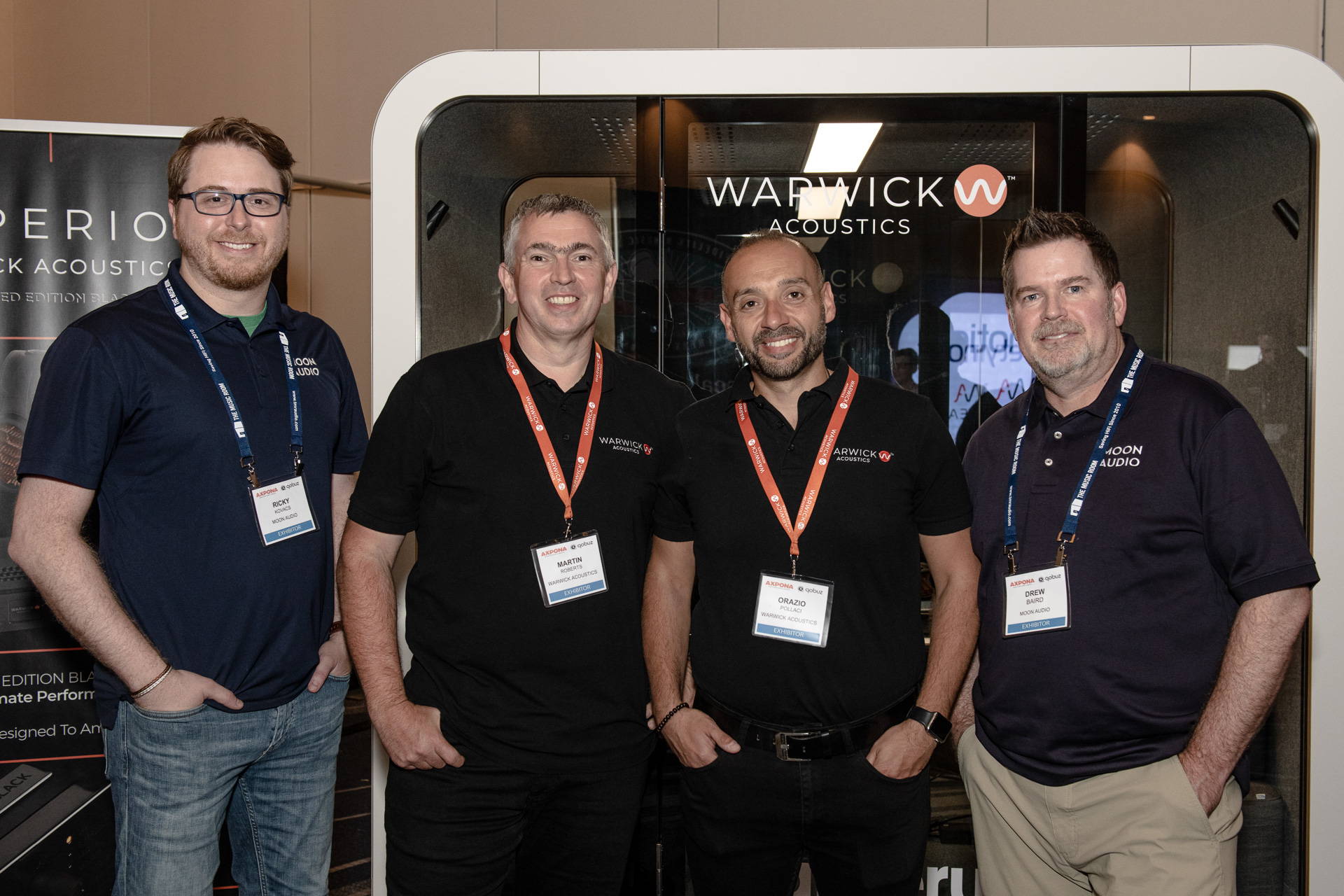 Audeze: Richard was nice enough to give us the lowdown on the new MM-100 and the Maxwell wireless headphone that's getting rave reviews. IO was excited to check out these cans in person, and it was one of the first booths I went to on Friday to hear the Maxwell (I'm a gamer). The new MM-100 have a new silver aesthetic that looks sleek. I like the new design - earcups and headband - it makes the new entry-level price more stylistically similar to their higher-end headphones. The MM-100 is still designed in collaboration with Manny Marroquin like the MM-500 headphones, so expect a lot of similarities from the sound design front - just in a much more affordable package. Comfort is excellent, and even though it's a single-entry headphone cable, Audeze has designed it with both left and right jacks, allowing you to use whichever is most convenient for you. I think these are going to be very popular, especially at the $399 price point. You can check out more in our interview with Richard below.
Focal: We had some more time with Focal this morning. Drew spoke with Tom and Chris about the Naim products, and Focal's latest and greatest headphones and speakers. Tom gave us a tour of the popular Uniti Atom series, which comes in both a Headphone Amp edition and a speaker edition. The speaker edition was connected to their latest OD Stone-8 outdoor speakers I talked about earlier. They sound awesome, and are rated for various weather conditions. The Uniti Atom Headphone Edition was paired with various Focal headphones, as the Naim partnership with Focal offers specific settings for the various Focal headphones. Its a super value for the quality and premium experience that Naim offers for an all-in-one streaming unit.
Next, Chris gave us a tour of the Focal speaker lineup. The new Theva speaker lineup is a really sexy design and Drew was impressed to say the least. The surround theater system was definitely a high point of the show and a popular attraction all around. Chris showed us the new finishes on the Kanta and Sopra speakers too - I was a big fan of the new Black Ostrea and the Brown Concrete finishes on the Sopra 2's. They had a wonderful texture and really stand out as a more premium-looking option. The Focal guys are always great to be around and the awesome products are some of our best selling products at Moon Audio.
Bricasti: Drew called it " The Best Sounding Room of Axpona 2023." We had Damon talk to us about the new finishes on the M21 and of course the new revision of the M1. It's an impressive revamp as Jose got to ask some particulars in our video which you can see below:
---
Generally, stock audio cables are manufactured with subpar materials, metals with impurities, poor geometries, and an overabundance of layers to make them look and feel like a fire hose. Inconsistency and lack of quality control in stock cables can lead to poor sound quality and a veiled sound vs what the musician intended for you to hear and feel from the music. Dragon cables are handcrafted with the highest standards and made to order according to your specific needs. At Moon Audio, we create a custom cable for you using the highest quality UP-OCC silver or copper conductors that can be manufactured. UP-OCC metals are void of impurities and are optimized for signal transfer and sound quality. We have one of the largest collections of audio and headphone connection options available online and we create limitless audio cable options depending on your specific gear and needs.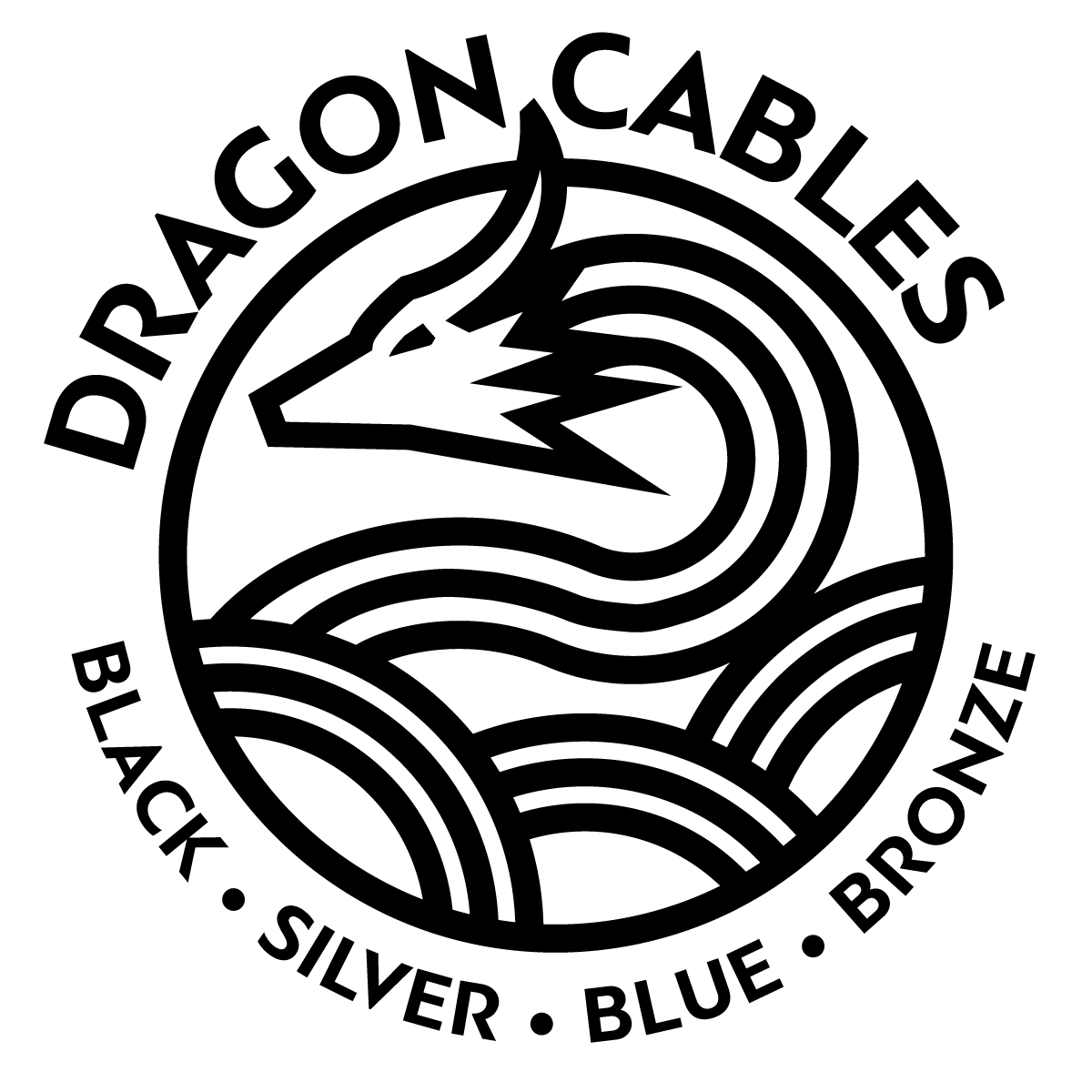 Why Dragon Cables?
You've heard the saying that a chain is only as strong as its weakest link, right? Well, the same applies to your brand-new audiophile-grade headphone or other audio components. The weakest link, in this case, is your stock cable or the cheap interconnects the manufacturer threw in the box just to get you up and running. Why is the cable always an afterthought, when it's just as important as the rest of your system? At Moon Audio, we use the best raw materials in our cables to unveil your music. We believe the materials matter and your audio cables should have the same care and craftsmanship that manufacturers put into their audio components and headphones. Audio cables are ultimately the connection to your music. The fact remains that cabling is often considered the last priority to that of the main product and a means to cut down the overall production costs. It's as simple as that.
---
Best Wireless Headphones 2022
Best Music Players, Digital Audio Players (DAPs) 2022
These Flagship Music Players Are the Best Money Can Buy
---